Interested in making money with WP Mail SMTP?
It's really easy. We will pay you a 20% commission on every sale you generate using your referral link.
All you have to do is recommend WP Mail SMTP using your affiliate link on your website, blog, Facebook, Twitter or other social networks.
Why Promote WP Mail SMTP?
WP Mail SMTP is the best SMTP plugin for WordPress. WordPress email deliverability issues are increasingly common, with the rise of aggressive spam filtering. WP Mail SMTP ensures that your emails reach the inbox, so you don't miss out on any opportunities.
WP Mail SMTP is easy to use and offers the best support in the market. In short, this is the best SMTP plugin for WordPress to solve all your WordPress email problems for good.
Last but not least, you earn 20% of every sale which can be as much as about $19.80 per sale.
Below is the commission structure:
Pro License sells for $49 – you earn $9.80
Elite License sells for $99 – you earn $19.80
Plus, signing up as an affiliate for WP Mail SMTP means you'll become a WPForms affiliate at the same time, giving you even more opportunities to make money!
Affiliates are our partners, and we want them to make money. We do our best to ensure that our affiliates are earning the maximum amount per month.
Ready to make money with WP Mail SMTP?
First thing you need to do is join our affiliate program on ShareASale.
Note: Since WPForms and WP Mail SMTP have the same affiliate program, you'll see reference to WPForms while signing up. Rest assured, you'll be able to promote WP Mail SMTP as well!
Click here to join our affiliate program
We manually review and approve all affiliates, so it can take up to 48 hours before you get approved.
Once you are part of our VIP affiliate program, you need to log into your ShareASale account.
Click on the top menu Links » Get a Link / Banner.

Scroll down to find WPForms (WPForms LLC) and then click on the Get Links link. (WP Mail SMTP is a part of the same WPForms affiliate program.)

You will be taken to the page where you see your affiliate link along with different banners.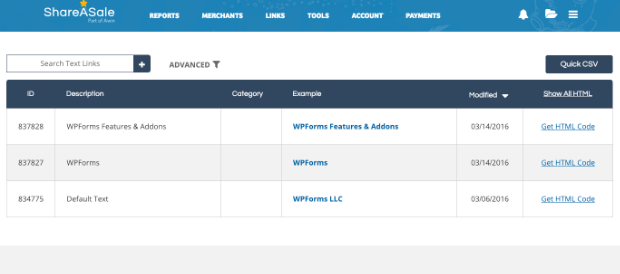 Under the actions tab, click on Get HTML Code. The box will expand and show your affiliate link.
It will look something like this:
http://www.shareasale.com/r.cfm?B=837827&U=123456&M=64312&urllink=
Alternatively, you can click on the Banners tab and see all the different banners that you can use. Simply click on the banner to see the code you can use to display it on your site.
That's it – you can start promoting WP Mail SMTP and make money!
We thank you for choosing WP Mail SMTP's affiliate program. If you have any questions, then please don't hesitate to contact us.