Are you seeing issues on your site after updating to WP Mail SMTP version 2.1.1? As of version 2.1.1, WP Mail SMTP includes a library of code called Action Scheduler. Action Scheduler is an extremely flexible tool for improving processing efficiency and strategically timing certain actions (this is why some other major WordPress plugins, such as WooCommerce, also use it).
However, a small number of sites run into issues when Action Scheduler is first set up. In most cases, this includes the error message: "There has been a critical error on your website." If you're seeing this error after updating to WP Mail SMTP version 2.1.1, then your site most likely ran into issues while creating new database tables. This can be caused be a variety of factors in your site's configuration.
In this guide, we'll show you steps that known to resolve this issue in most cases.
Note: Through your webhost account, you can check detailed PHP error logs to confirm that this is the issue you're running into. If you're not sure where to find these logs, then please check with your site's hosting provider. Within these logs, here's the specific error message you should see for this issue:
Fatal error: Uncaught RuntimeException: Error saving action: Error saving action: Table 'DB_name.wp_actionscheduler_actions' doesn't exist in...
---
1. Deactivate the WP Mail SMTP Plugin
To get started, you'll need to deactivate WP Mail SMTP. Depending on your hosting provider's options, you'll be able to do this by accessing site files through either FTP or cPanel.
Once you've opened your site files, navigate to /wp-content/plugins/. Within that plugins folder, you should see a folder named wp-mail-smtp-pro (or wp-mail-smtp if you're using our free version).
You'll need to rename this folder. To adjust the name in an FTP program like Filezilla, you'd do this by right clicking on the folder name and then selecting Rename.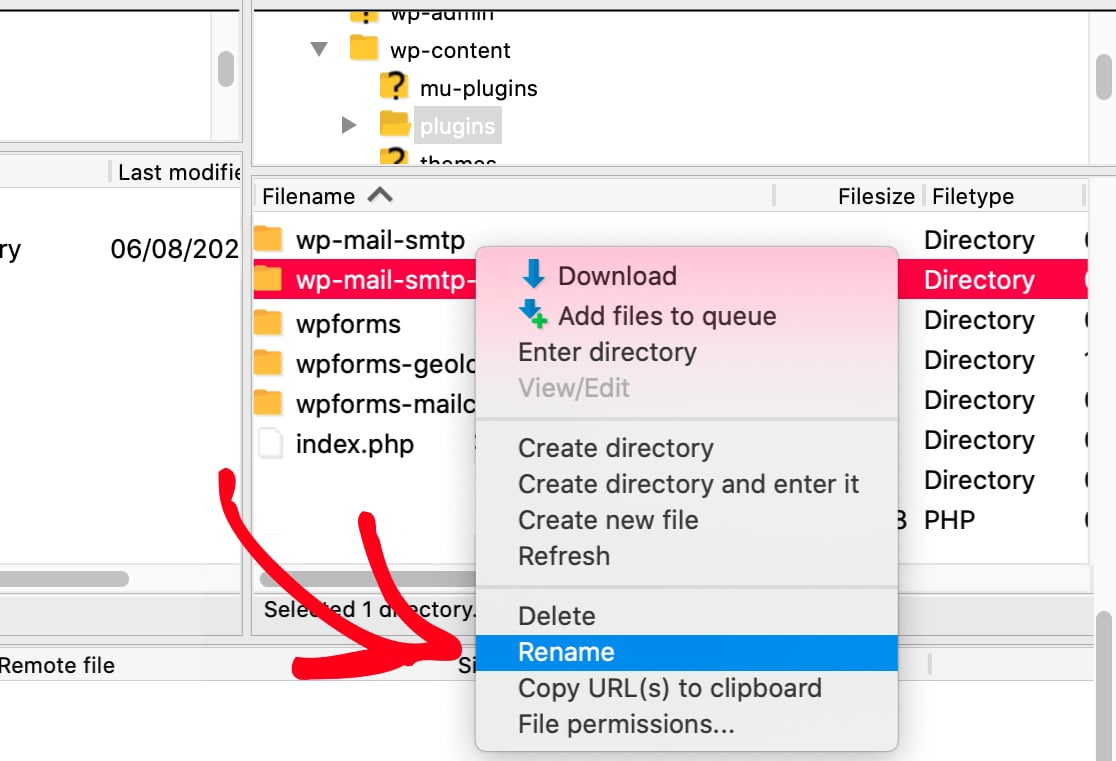 Any name change will cause this plugin to deactivate. For our example, we'll simply add -zz to the end of the plugin name (wp-mail-smtp-pro-zz).

We'll return to these site files later, so we recommend keeping this page/program open as you move onto the next steps.
2. Install the Action Scheduler Plugin
After manually deactivating WP Mail SMTP, go ahead and log into your WordPress site. The admin area should be back to working normally now.
The next step is to install Action Scheduler. This plugin will help your site to resolve any setup issues so we can get things back on track.
To download the plugin, open this link. This link will open the download page for the most recent version of the Action Scheduler plugin.
To download the plugin, click the link named Source code (zip).

The downloaded file should be named something like action-scheduler-3.1.6.zip, where the numbers match the version number.
Once you've downloaded this zipped file, you'll need to install and activate it on your WordPress site.
Note: If you're not sure how to install this plugin on your site, be sure to check out WPBeginner's guide to plugin installation. Within that guide, you'll need the section titled Install a Plugin using the WordPress Admin Plugin Upload.
3. Create Action Scheduler Tables
Still in your site's WordPress admin area, go to Tools » Scheduled Actions.
On this page, you should see two notices: "Action Scheduler migration in progress. The list of scheduled actions may be incomplete." and "It appears one or more database tables were missing. Attempting to re-create the missing table(s)."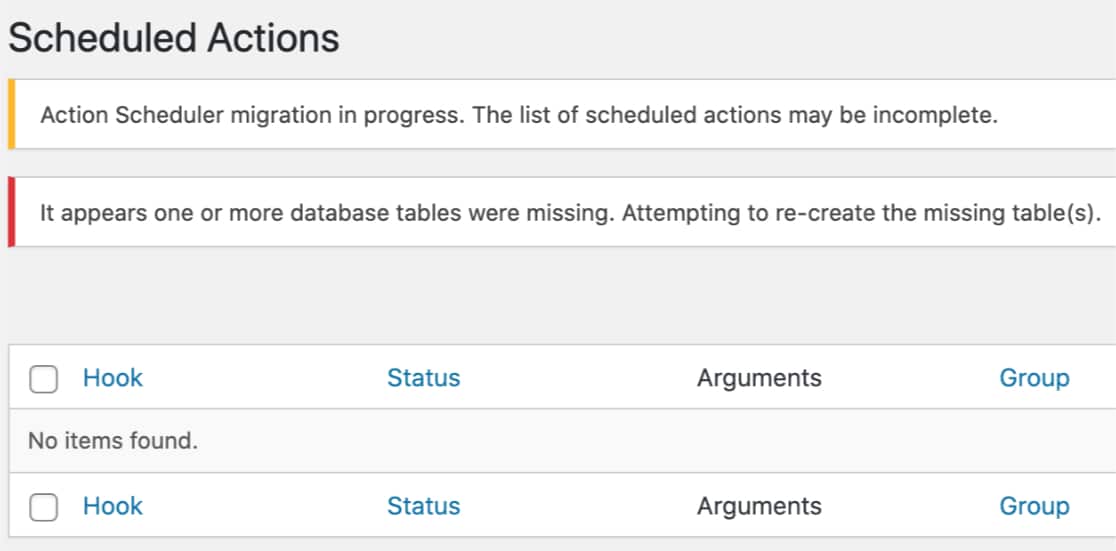 You'll need to wait at least a few seconds so that Action Scheduler has time to run. Then, go ahead and refresh the page.
Once the tables were created successfully, then the notices mentioned above will no longer be visible after you refresh the page. This means that you're ready to go on to the next step!
Note: If these notices do not disappear, then there are most likely server/database configuration issues preventing your site from working properly. Please contact your site's hosting provider. You'll need to ask them to check the site's database logs to see what's causing this issue.
4. Reactivate WP Mail SMTP
You're now ready to get WP Mail SMTP back up and running on your site.
To do this, you'll need to return to your site files. Then, change the plugin folder back to its original name (either wp-mail-smtp-pro or wp-mail-smtp, depending on which plugin version you're using).
Now that you've restored the original name, you can switch back over to your WordPress admin area. From there, go to Plugins » All Plugins. Then make sure that WP Mail SMTP is activated.
Still on the Plugins page, you'll need to deactivate Action Scheduler. After deactivating, you can delete this plugin.
That's it! If the steps above were successful, then your WordPress site should now be working properly. And now that the initial setup is complete, Action Scheduler will work properly for your site moving forward.
If you're still seeing any issues after following these steps, then please be sure to reach out to our team for extra support. If you have a paid license, then you please contact our support team. Or if you're using our free version, then please post in our WordPress.org forum.