Want to relax while our team does your SMTP setup for you? With White Glove Setup for WP Mail SMTP, you won't need to worry about following a detailed tutorial. Instead, our experienced team will do all the work for you.
This guide describes how White Glove Setup works so that you'll know exactly what to expect.
---
Purchasing White Glove Setup
Getting started with our White Glove Setup is simple. You can request this service when purchasing a new license or even at a later time.
If you're buying a new license, you can request White Glove Setup simply by clicking on the Yes! I Need White Glove Setup checkbox on the checkout page.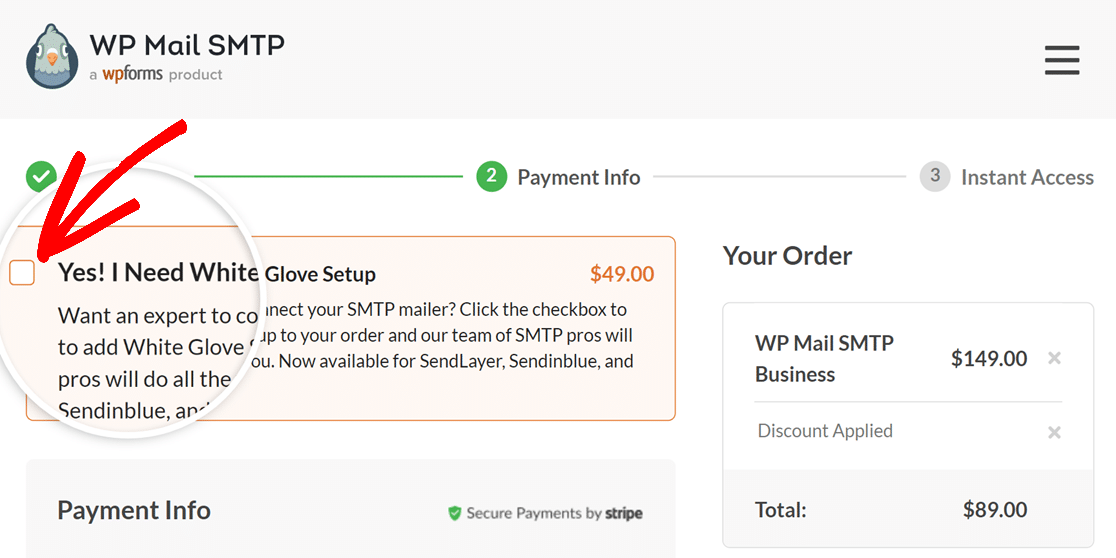 If you've already purchased a license and would like to request White Glove Setup, log in to your WP Mail SMTP account and click on the Purchase White Glove Setup button.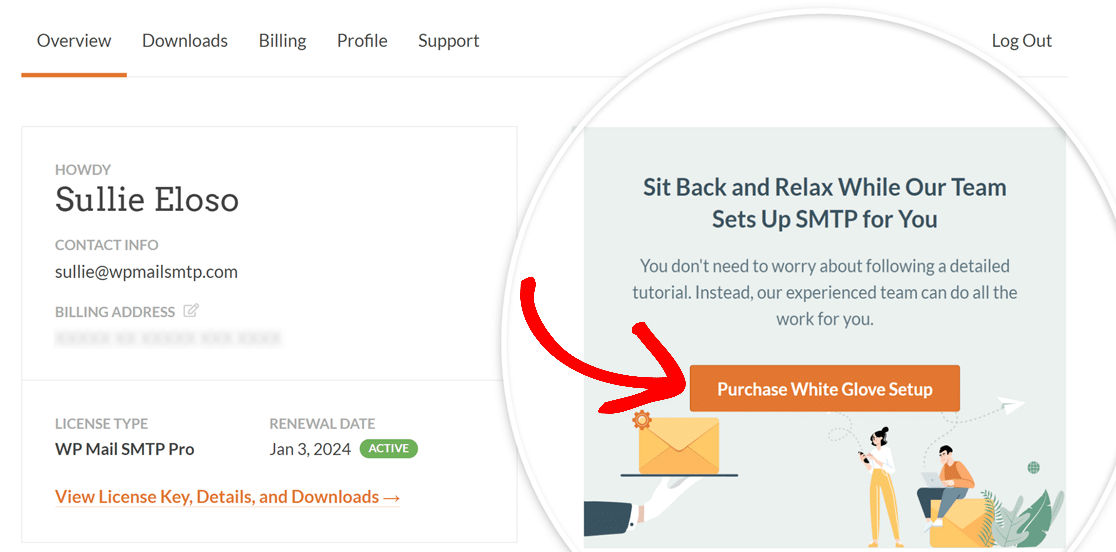 It's important to note that each White Glove Setup purchase applies to just one website. If you need the service for multiple sites, you can purchase it multiple times regardless of your license level. For example, even if you have a Pro license and decide to transfer it to another domain, you can repurchase White Glove Setup for the new site.
Redeeming White Glove Setup
After you've completed the purchase for the White Glove Setup, you'll be redirected back to your WP Mail SMTP account page.
Once there, click on the Redeem White Glove Setup button from the Overview tab.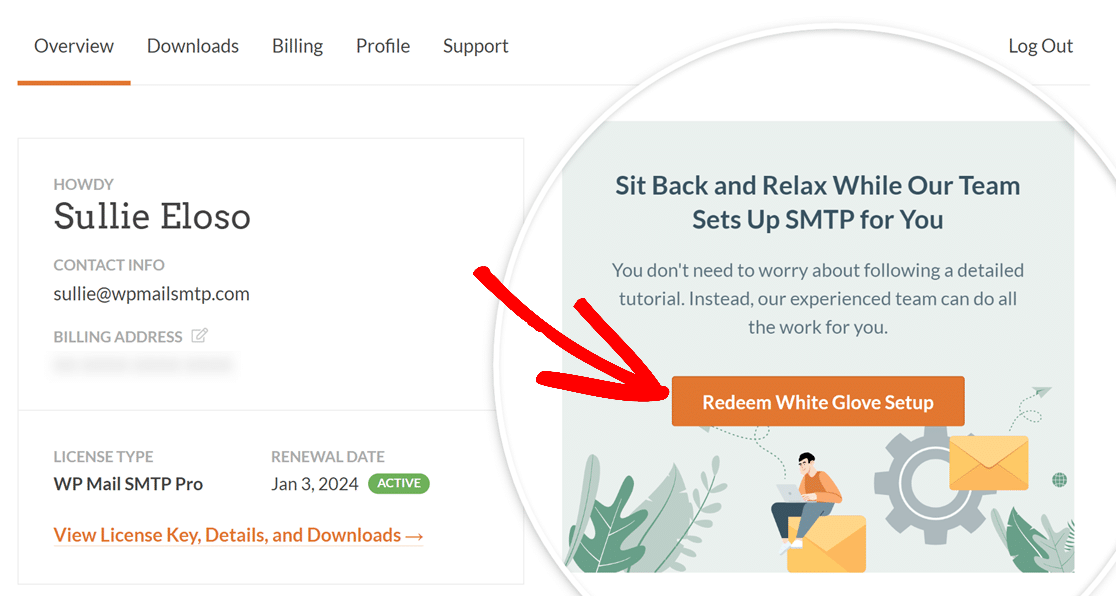 This will open the White Glove Setup Application form. Here, we'll gather all of the details we'll need to complete the setup process for you.
Here's a full list of all of the details collected in this form:
About You: Basic details to make sure our support team contacts the right person.
WordPress Website Access: We'll use this information to install and configure WP Mail SMTP on your site. You can share credentials for a temporary admin account here.

WordPress Login URL
WordPress Login Username and Password
Next up, you get a choice of which mailer you'd like our team to set up for you: SendLayer, SMTP.com, or Brevo (Sendinblue). All of these options have an excellent track record for reliability.
Based on the mailer you choose, our form will automatically update to request the details we need to set that specific option up for you.
SendLayer Access

SendLayer Login Email and Password

Brevo (Sendinblue) Access

Follow the instructions provided in the White Glove Setup Application form, then check the box next to, I have sent the invite for this Brevo user.

SMTP.com Access

SMTP.com Login Email and Password
Domain DNS Access: SendLayer, SMTP.com, and Brevo (Sendinblue) all require DNS changes to improve email delivery. The details we need to complete this step are most often the login credentials for where your site is hosted (e.g., GoDaddy, Bluehost, Siteground, etc).

DNS Login URL
DNS Username and Password
Account Access Permission

Other Information: Finally, we'll ask for a few more details so we can configure your mailer's settings in WP Mail SMTP.

Desired "From Email" Address: This is the default email address your website will send emails from. It must be at your domain name. Common emails are [email protected], [email protected], [email protected], etc.
Desired "From Name": This is the default name your website emails will use. Often it is your name or a variation of your company's name (e.g., Acme Corp, Acme Corp Team, Acme Corp Support, etc).
Message / Notes (Optional): If you have any other additional information or details to provide, then please share them here.
After you've submitted the form, our team will test your login credentials to ensure that everything works as expected. Then we'll dive into the setup process.
Note: During setup, we'll add DNS records that are required for the mailer to work. In some cases, it can take 24-48 hours for these new records to be recognized. If we expect this to take some time, then we'll send you an email with a quick update.
After we've completed the setup process, we'll also send a test email to ensure that everything is working properly. Then we'll reach out to let you know that the setup is complete.
That's it! Now you have all the details needed to request White Glove Setup with WP Mail SMTP.
Still unsure about any part of this process? Please feel free to reach out to our support team with any questions you might have. We'd be happy to help!