We've just released WP Mail SMTP 2.3 and we're welcoming another mailer into the family!
We're thrilled to announce that WP Mail SMTP Pro is now integrated with Zoho Mail.
It's an exciting day because WP Mail SMTP users now have the ability to connect with wildly popular and reliable Zoho Mail.
A Secure + Popular Email Solution
We make sure to always pick our integrations based on your feedback and what works best for website owners. And that's why we've integrated WP Mail SMTP with Zoho Mail.
It's truly more than just an email inbox. We think it's a great product and we aren't alone — Over 10,000,000 people already trust Zoho with their emails.
And not only is it a fantastic collaboration tool for small businesses, but it's incredibly safe.
Just check out these fantastic features offered to Zoho Mail users:
Seamless Integrations — Get things done right from your inbox in other Zoho apps like Zoho CRM, Creator, Projects, and Docs through integrations with Zoho Mail. And, easily connect with Zapier to use 2,000+ web applications with your mailer.
Secure & Private — Ad-free Zoho Mail doesn't sell your data and it's always fully encrypted. It's guaranteed to be private, and it's GDPR compliant with enhanced security measures like 2FA, EAR, S/MIME, and TLS.
Easy to Use Control Panel — Stay organized and manage your business emails from Zoho Mail's smart Control Panel. Add users, manage groups, moderate business email content, and more.
24/7 Support — A customer service team that's always around means you can get help anytime of the day or night.
Straightforward Pricing — There's no hidden charges with Zoho's simple, affordable, and transparent plans.
Plus, with Zoho's awesome sharing features, you can keep connected with your remote team and get input on email drafts without having to worry about forwarding or replying to internal emails.
Get Started With Zoho Mail + WP Mail SMTP Today
The Zoho mailer is available with the Pro license of WP Mail SMTP.
Connecting to Zoho Mail is simple and can be done in just a few clicks. Simply select the Zoho mailer icon on the WP Mail SMTP dashboard, then scroll down to enter your Zoho account details and you're on your way.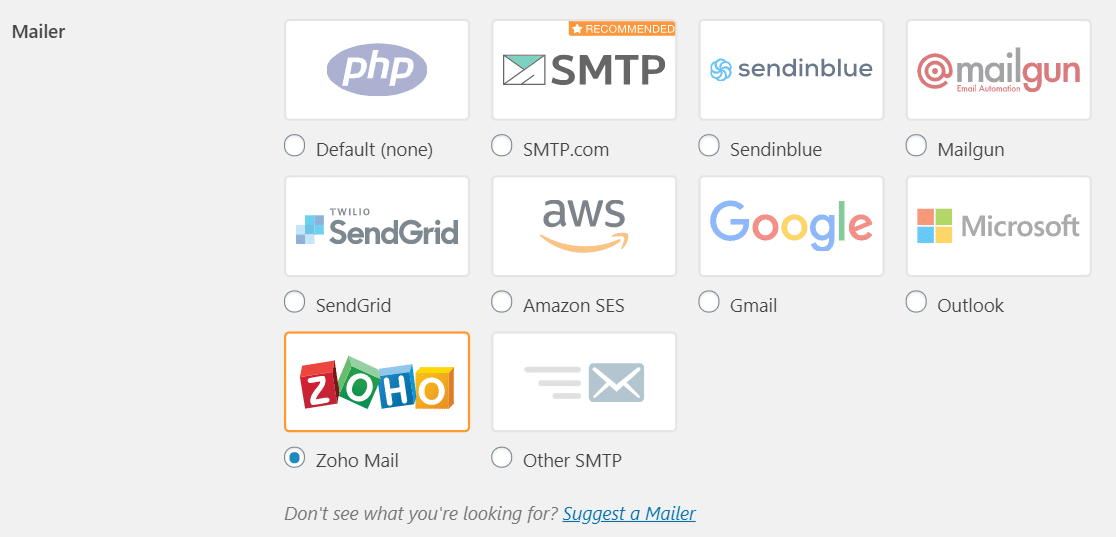 So sign up for Zoho Mail to get started. You can check out our step-by-step guide on how to set up the Zoho mailer in WP Mail SMTP for help.
What are you waiting for? Get ready to use the power of Zoho Mail with reliable email deliverability. Start using WP Mail SMTP Pro today!