Is WordPress not sending the password reset email from your website?
In this guide, we'll show you the easy way to fix this so that your users can always reset their passwords when they need to.
We'll also show you how to easily resend WordPress password reset emails if they fail.
Why Am I Not Receiving Password Reset Emails?
You aren't receiving reset password emails for 2 reasons: either they're being filed in the spam folder, or your web host isn't set up to send emails.
WordPress, by default, uses the wp_mail() function to send all emails from your website. This method doesn't add authentication which is why the emails often get lost or filed in the Junk Mail folder.
Also, we recommend using a domain-verified From email address. Not only are people more likely to trust you if you're sending messages from your own email domain, but mail servers will also have an easier time verifying your authenticity.
You can easily solve this by using the WP Mail SMTP plugin. We'll show you how to set it up.
How to Fix WordPress Not Sending Password Reset Email
When users aren't able to receive lost password emails, they're locked out of your site. That could mean less engagement or fewer sales for you. Making it easy for users to reset their WordPress login is vital to keeping your site running smoothly.
If you're the site admin, and you're not receiving your password reset email, you'll need to reset your email in the database before you can fix the root cause of this problem. Check out this article on how to reset the WordPress email in phpMyAdmin before continuing.
1. Install the WP Mail SMTP Plugin
WP Mail SMTP is the best SMTP plugin for WordPress. It reconfigures WordPress' built-in email system so you can use an external email service provider.
To download the plugin, go to the WP Mail SMTP website and log in to your account. You'll find the download button under the Downloads tab.
Switch to your WordPress website dashboard and upload the zip file to the plugins page. If you are new to WordPress or need help with this part, check out this guide on installing a WordPress plugin.

After you install the plugin, be sure to Activate it. This will start the Setup Wizard to help you configure the plugin.
2. Connect to a Mailer Service
In this step, we'll pick an email service and connect it to your WordPress site.
Click on the Let's Get Started button to start the wizard.

WP Mail SMTP offers several mailer options. If you have a WooCommerce or other eCommerce website that sends transactional emails, we recommend a premium mailer like SendLayer, SMTP.com, or Brevo (formerly Sendinblue).
Other SMTP and Gmail are good options if your site doesn't send many emails.
Once you've made your choice, click on the mailer in the Wizard.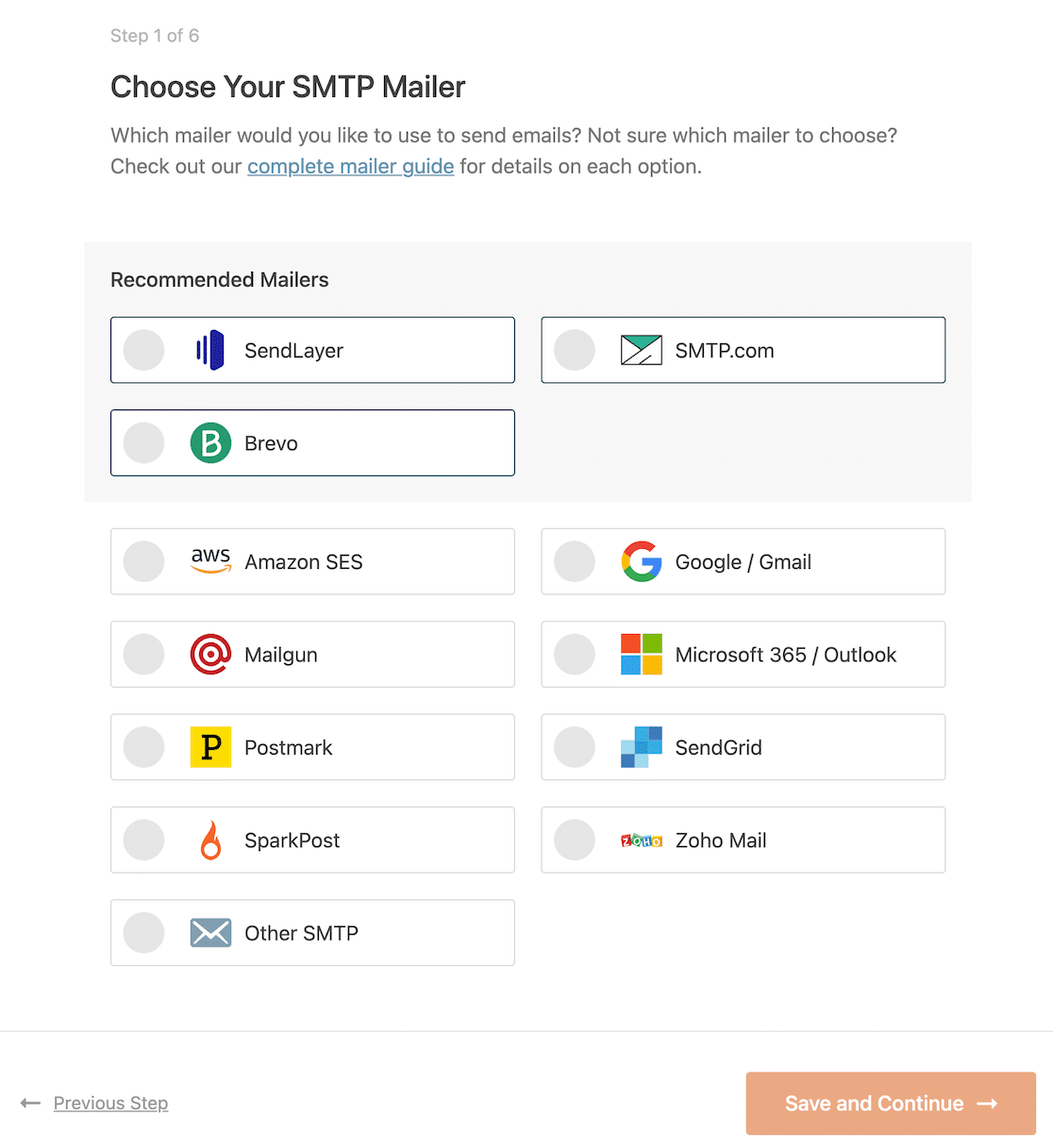 You'll now need to set up a connection between the mailer and your website.
In the table below, click on the link for your chosen mailer. This will open up our setup documentation.
When you've set everything up, switch back to this guide to follow the next steps in the wizard.
If you want to set up multiple mailers, you can do so in the Additional Connections settings once you've finished the Setup Wizard. Then you can select a Backup Connection and configure Smart Routing.
3. Enable Email Logging
On the last page in the Wizard, WP Mail SMTP will ask you which options you'd like to enable. The wizard will have 2 options enabled by default: Improved Email Deliverability and Email Error Tracking.
WP Mail SMTP doubles as the best email log plugin for WordPress, so you don't need to look for another plugin to access email logs right from your WordPress admin dashboard.
If you have the Pro version of the plugin, you can enable Detailed Email Logs.
This feature will store information about all the emails your site sends in Complete Email Reports. If you want to receive an overview of your email logs each week, make sure to also enable the Weekly Email Summary.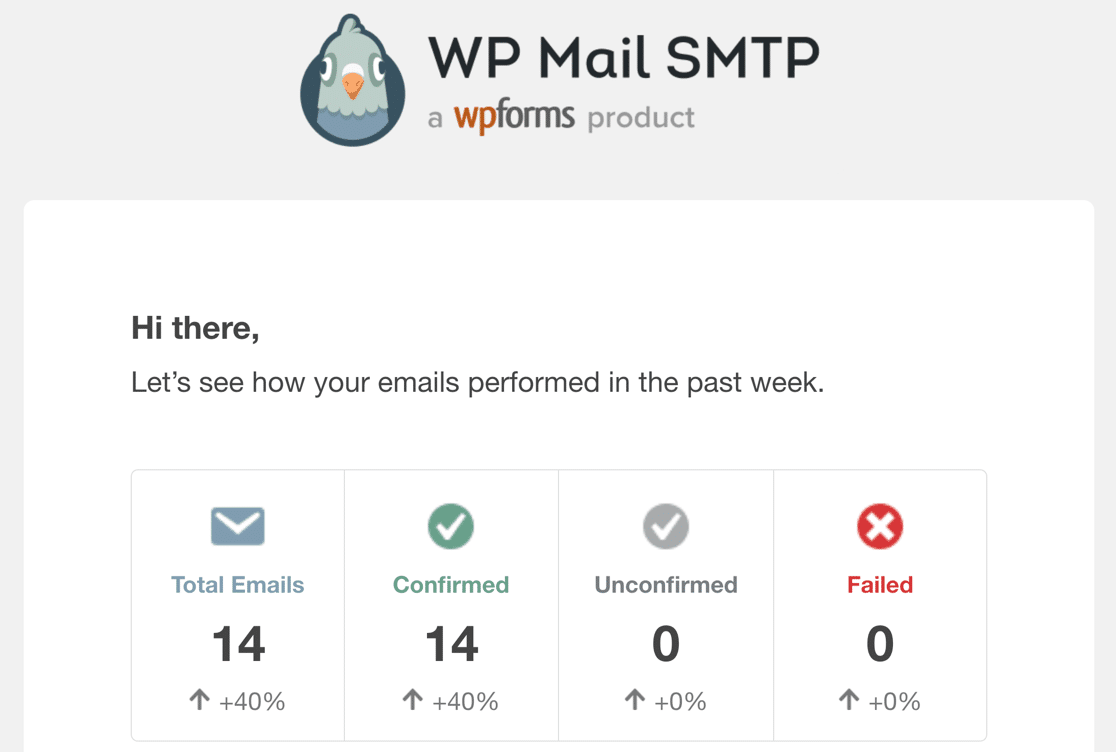 Finally, Instant Email Alerts will send you a notification if your site fails to send an email. That way, you can fix the problem quickly so your emails start sending again.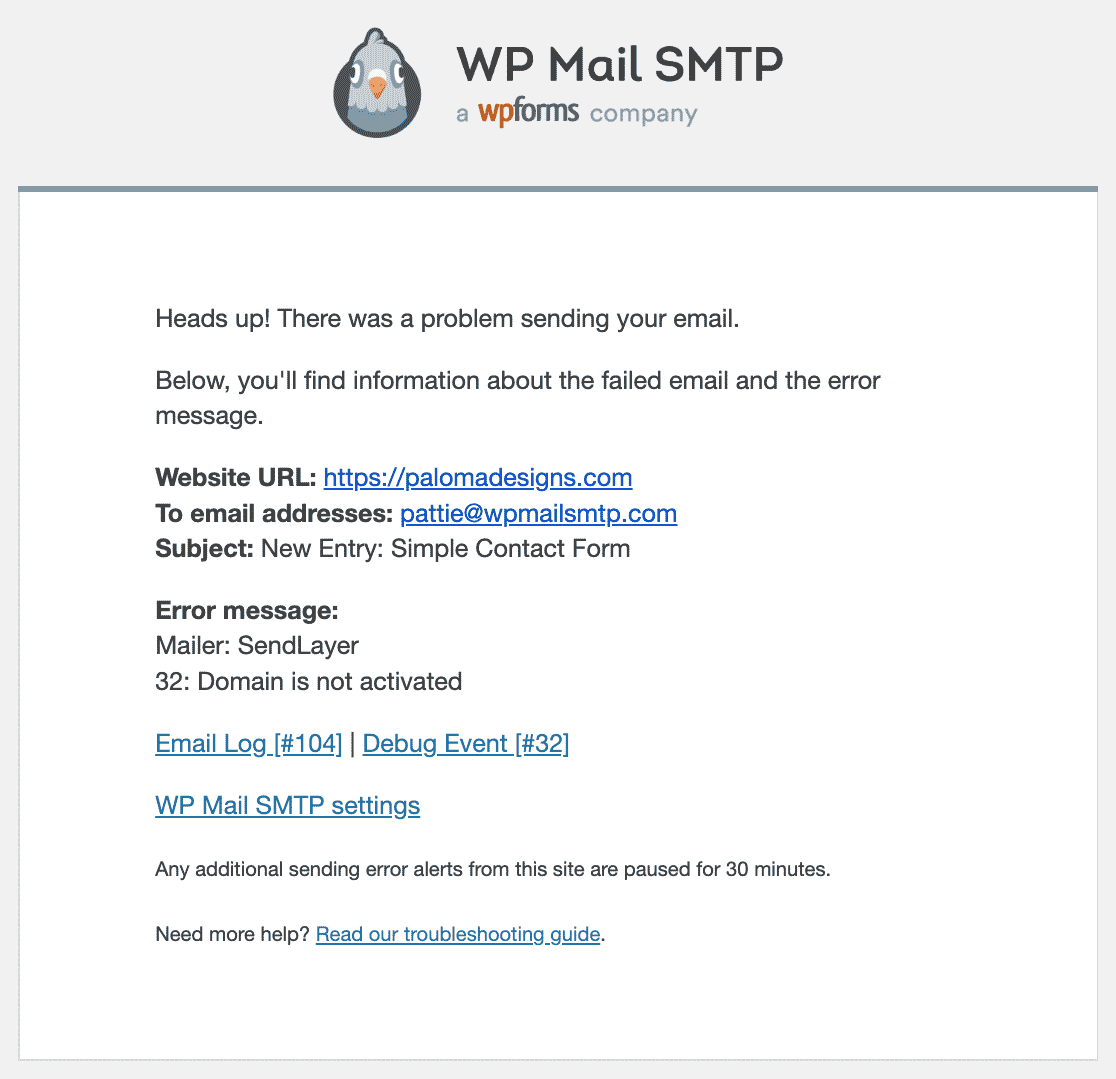 Now that you have email logging enabled, you can also resend a specific user's password reset emails. We'll show you how to do that next.
4. Resend WordPress Password Reset Email
On the next screen, you can also enable advanced email logging features.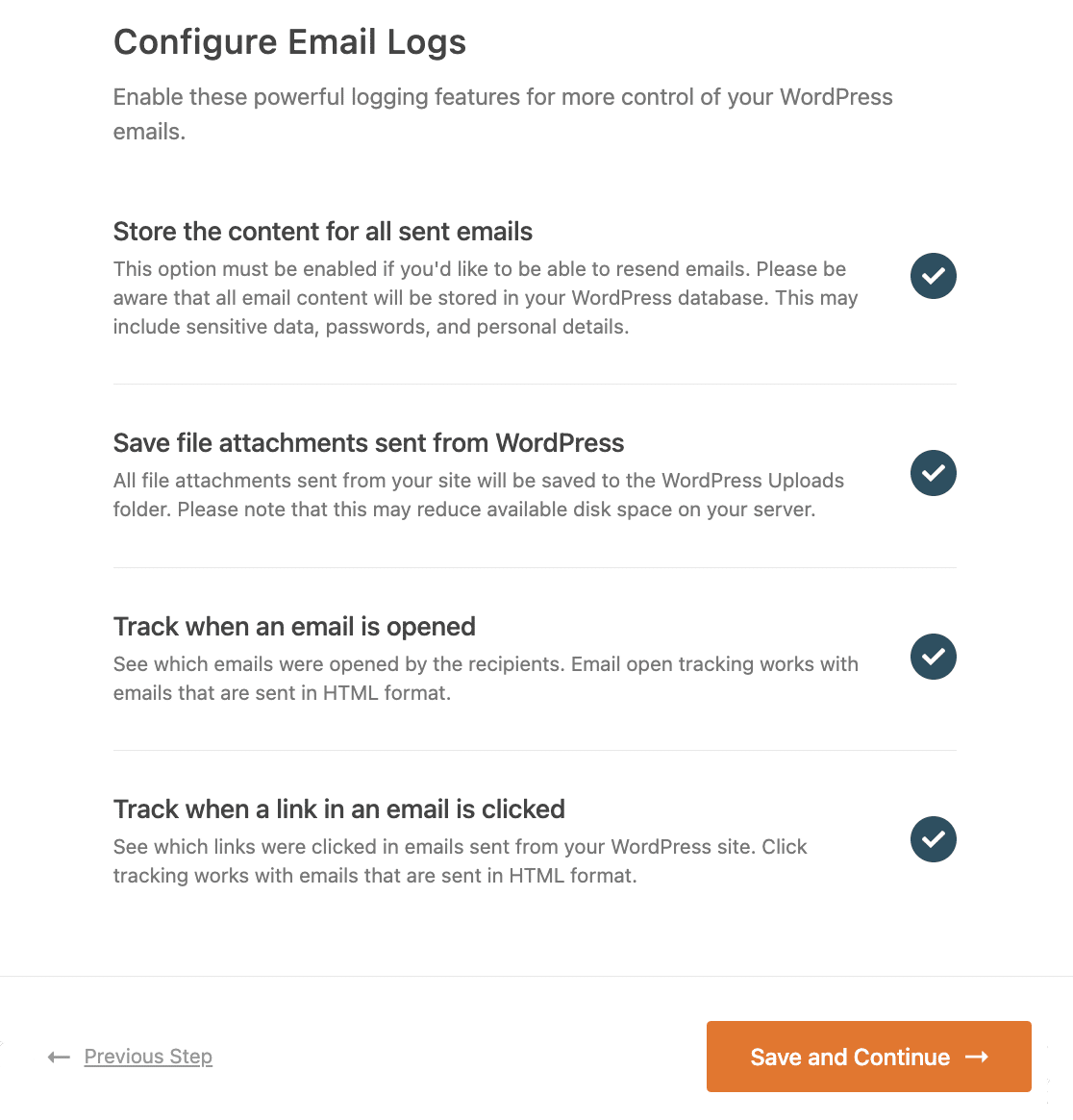 These features enable you to unlock all of the functionality you need to keep an eye on your emails, like:
Resend failed emails or forward them individually to a different address
Store attachments along with sent emails
Search and view the log file in your WordPress dashboard
Export sent emails in CSV, XLSX, or EML format
Get a weekly deliverability report by email
View multisite email logs on separate pages easily.
So be able to resend emails, you have to enable the Save the content of all emails option, but we recommend turning on all of these features.
To complete the installation, copy the license key from your WP Mail SMTP account and paste it into the box. This will enable Pro features and automatic updates.

Now we'll generate a password reset email to test out the email logging feature. Head to Users » All Users in the WordPress dashboard
Hover over a username and click the Send password reset link.

Now let's head back to the email log. In the left-hand sidebar, open up WP Mail SMTP » Email Log.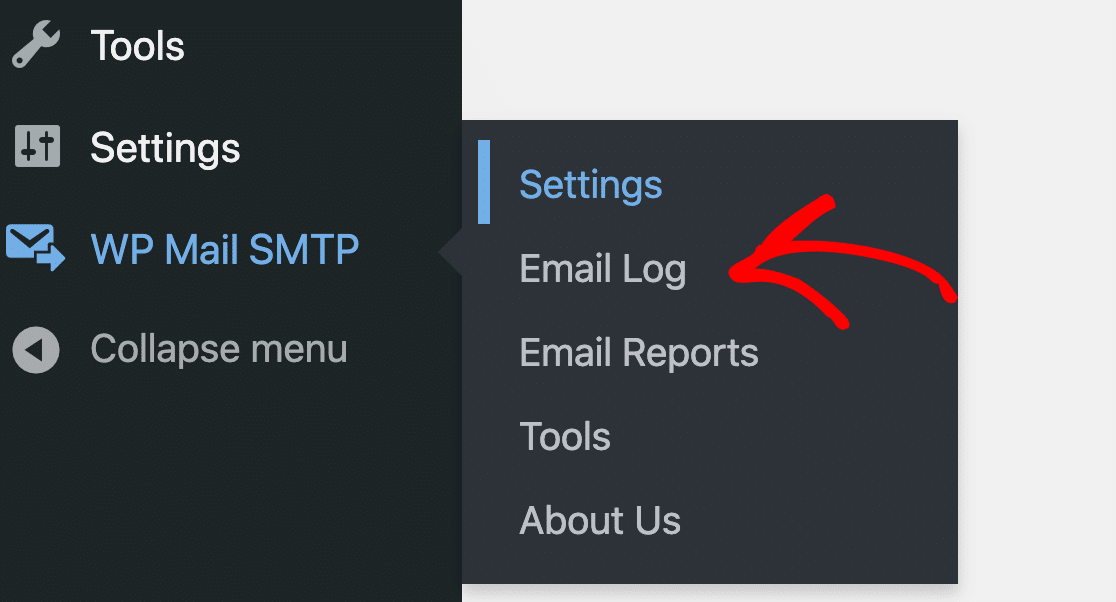 You'll see the password reset email right at the top of your email log. The green dot shows that it was successfully sent. If it failed, you'd see a red dot here instead.
Now click on the subject to open up the log.

At the bottom right, click Resend to send the email again.
You can add additional recipients or replace the original recipient if you want to forward the password reset email to another mailbox.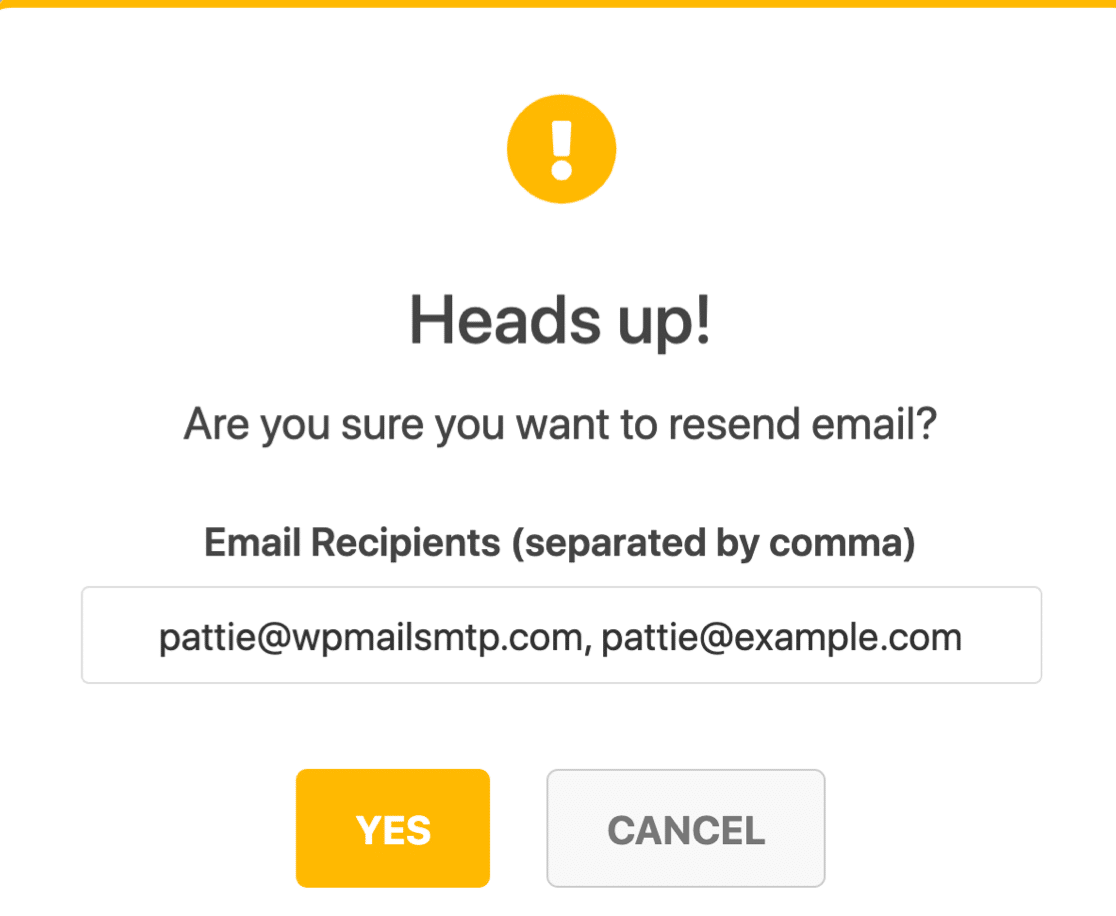 You can also resend in bulk from the mail email log screen.
For a final tip, let's look at controlling some other emails that WordPress sends out from your website.
5. Control Default WordPress Notifications
In addition to sending password reset emails to your WordPress users, your site also sends other default notifications for:
Plugin auto-updates
WordPress updates
Comments
Sometimes these emails can get a little overwhelming if you have a busy site with lots of users. That's why WP Mail SMTP lets you easily turn off the default notifications you don't want to receive.
From the WordPress dashboard, head back to WP Mail SMTP » Settings.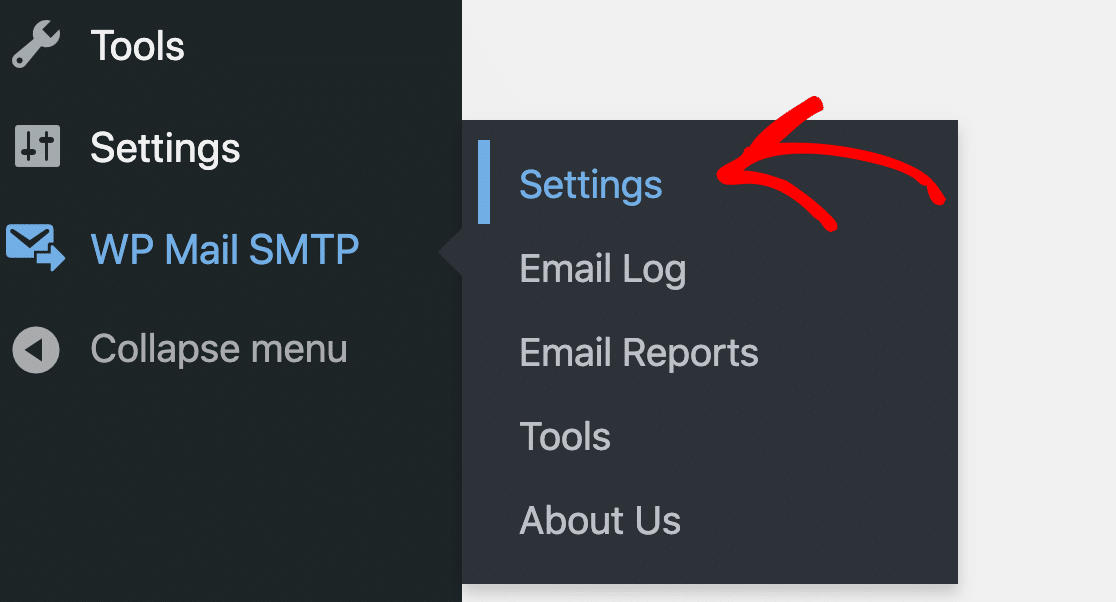 Now, you'll want to switch to the Email Controls tab at the top.

Here, you'll find all default WordPress notifications divided into sections. You can simply turn off the toggle next to each setting to stop receiving email notifications.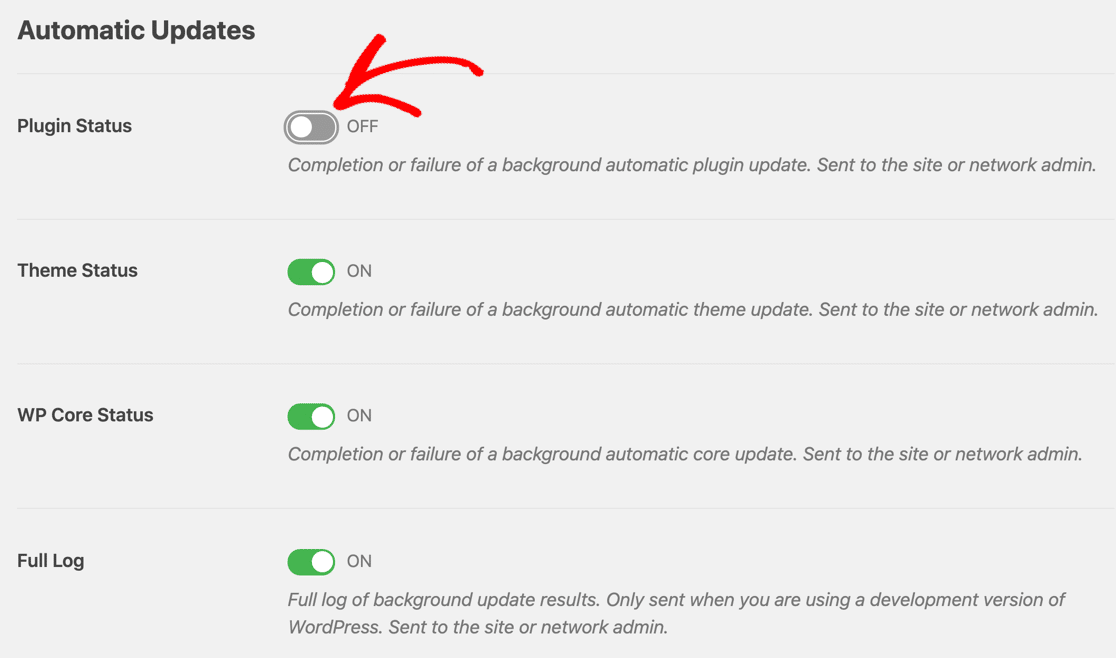 And that's it. Now you've fixed WordPress not sending the password reset emails from your website so your users can easily create new passwords!
FAQ –  WordPress Not Sending Password Reset Email
We get a lot of questions about what causes the WordPress password reset email to get stuck. Check out some of our FAQs below.
Why am I not getting password reset emails locally in a developer environment?
A local server requires an SMTP plugin to be configured to send email. The wp_mail() function won't work.
Can I customize the password reset email in WordPress?
Yes, if you use WP Mail SMTP, you can customize the email template, subject, sender names, and content.
How can I tell if the password reset email was sent successfully?
To see whether a password reset email was successfully sent, check for sent messages in your SMTP email history. If you're using a plugin that allows you to enable email logs, you can do that, as well.
Can I find email error logs in WordPress?
Yes, you can find your email error logs in WordPress at /wp-content/debug.log. It's also possible to log email failures by enabling debugging in wp-config.php.
How can I increase the password reset link expiration time?
By default, password reset links will expire in 12 hours. You can change this, however, and give users more time if you'd like. To do that, locate the PASSWORD_RESET_TIMEOUT constant in your wp-config.php file and configure it to increase the expiration time.
Next, Set Up Push Notifications in WordPress
Want to make sure your visitors are always up to date? You can easily add browser push notifications so they never miss a new blog post.
Check out this article on how to set up push notifications in WordPress.
Ready to fix your emails? Get started today with the best WordPress SMTP plugin. WP Mail SMTP Elite includes full White Glove Setup and offers a 14-day money-back guarantee.
If this article helped you out, please follow us on Facebook and Twitter for more WordPress tips and tutorials.