Are you looking for the best transactional email provider?
We've put together this list to help you find the best provider to send transactional emails, no matter what your budget.
What Is Transactional Email?
Transactional email is email that's sent automatically when a visitor takes action on your website. This might be a commercial transaction, or it might be a notification.
Unlike emails sent to a mailing list, transactional emails need to be delivered almost immediately to be effective.
If you have an online store, transactional emails are usually used for customer communication. But all WordPress sites generate transactional emails in some form, including:
Password reset links
Account activation links
Order confirmations
Shipping notifications
Invoices
Email marketing optin messages.
If you're using a basic SMTP server, it likely won't handle large volumes of email, so it's better to use a provider that specializes in fast, reliable delivery.
Transactional Email vs Marketing Email
Wondering what the difference is between transactional email and marketing email? There are 2 main differences between transactional email providers and bulk senders:
Speed: Transactional email is typically time-sensitive, so you want it to arrive near-instantly. Bulk emails, like emails sent from a mailing list, are often sent in batches.
Permission: Users must opt in to receive marketing emails. Since transactional emails are like notifications, your customers won't need to opt in to receive them.
If transactional emails fail, your customers may become frustrated. Let's look at the best providers to increase customer trust and engagement.
7+ Best Providers For Transactional Email
We're going to look at 7 providers (plus 1 bonus provider) that are good for different types of WordPress sites. If WordPress isn't sending email, any of these services will solve the problem:
For each provider, we'll provide pricing information and free plan limitations.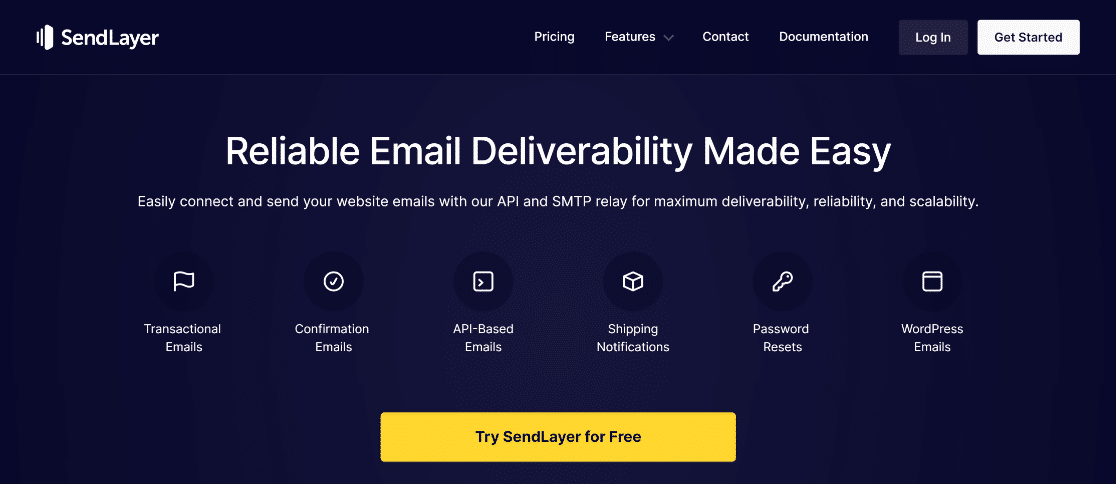 Best for small businesses and those just getting started with their websites. Eligible for White Glove Setup with WordPress.
SendLayer is a reliable and affordable transactional email delivery service. It works to send your emails as quickly as possible and helps you authenticate them so they don't end up in your users' spam folders.
One thing that makes SendLayer so great for small businesses is that it's easy to scale your plan up as your website grows. You can start with an affordable plan that sends 1,000 emails per month and then upgrade right from your account dashboard in a few clicks if you need to send more.
This transactional email provider also includes tons of insights into the emails your site is sending. You can see your messages' delivery statuses, open rates, click-through rates, and more in your SendLayer dashboard and the WP Mail SMTP email log.
Most importantly, SendLayer takes protecting your domain's sender reputation seriously. It's easy to accidentally end up on the blacklists of email providers like Gmail and Yahoo.
SendLayer uses a customizable suppression list to help you avoid blacklisting. It also sends your emails from a subdomain so that if something does go wrong, your website domain's reputation isn't affected.
On top of all that, you can have SendLayer set up for you by the WP Mail SMTP team if you with our White Glove Setup option. We're the same team behind SendLayer, so you can count on top-notch support for the platform.
Daily Sending Limits
SendLayer does not have a daily sending limit for any of its plans.
Support
If you run into any issues while using SendLayer, you can check out its extensive documentation for help. For more technical issues, billing questions, or anything else you can't figure out on your own, you can submit a support ticket and our team will get back to you as soon as possible.
Pricing
You can send your first 200 emails for free with SendLayer. There's no time limit on this trial like some other providers have.
Once you've sent 200 emails, you'll need to purchase a paid plan. Pricing starts at just $5/mo for the Starter plan, which lets you send 1,000 emails/mo.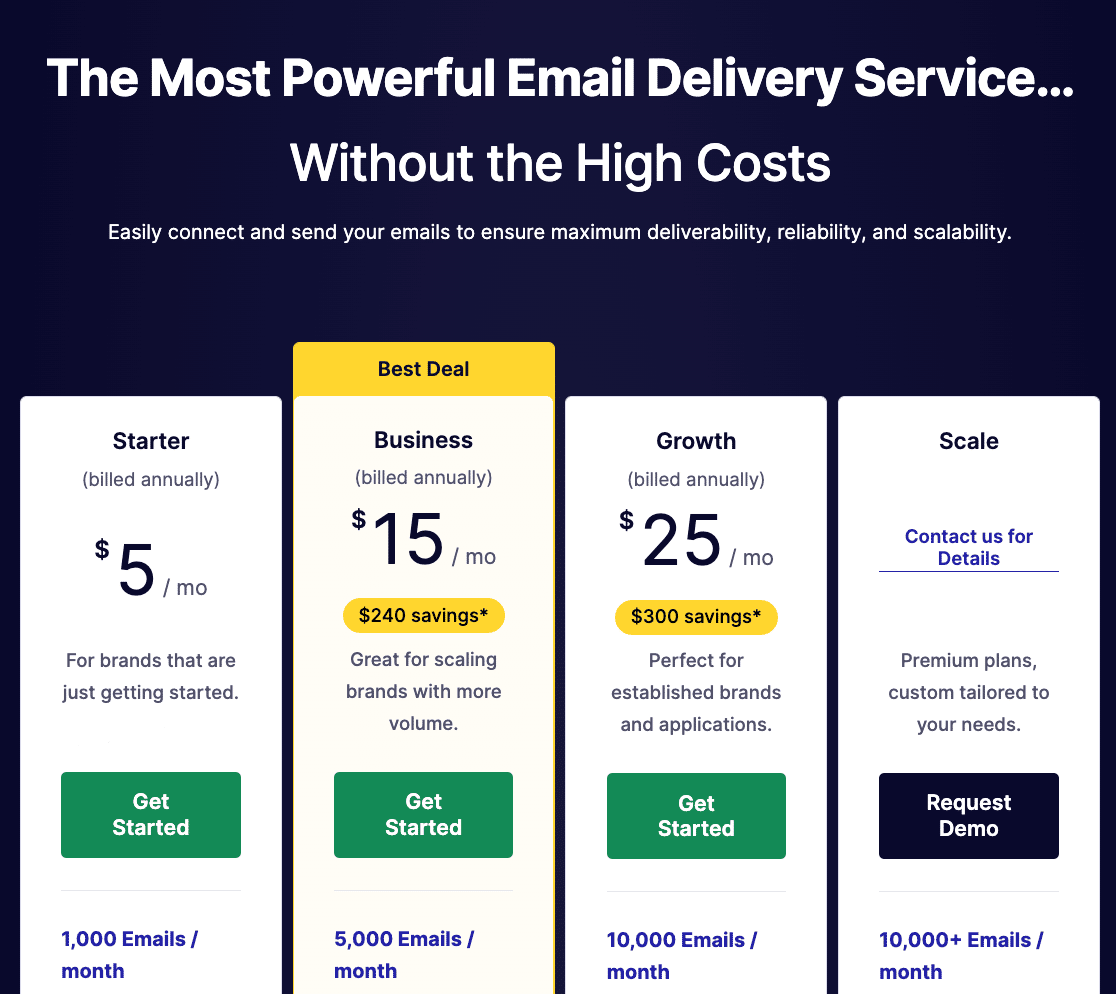 For small sites just starting out, SendLayer is the most affordable transactional email provider. It won't charge you an expensive monthly subscription with a high sending limit you don't need.
Instead, SendLayer grows with your website and doesn't require you to break the bank in the early days.
If you'd like to see more screenshots, check out this SendLayer review.
2. SMTP.com (Recommended)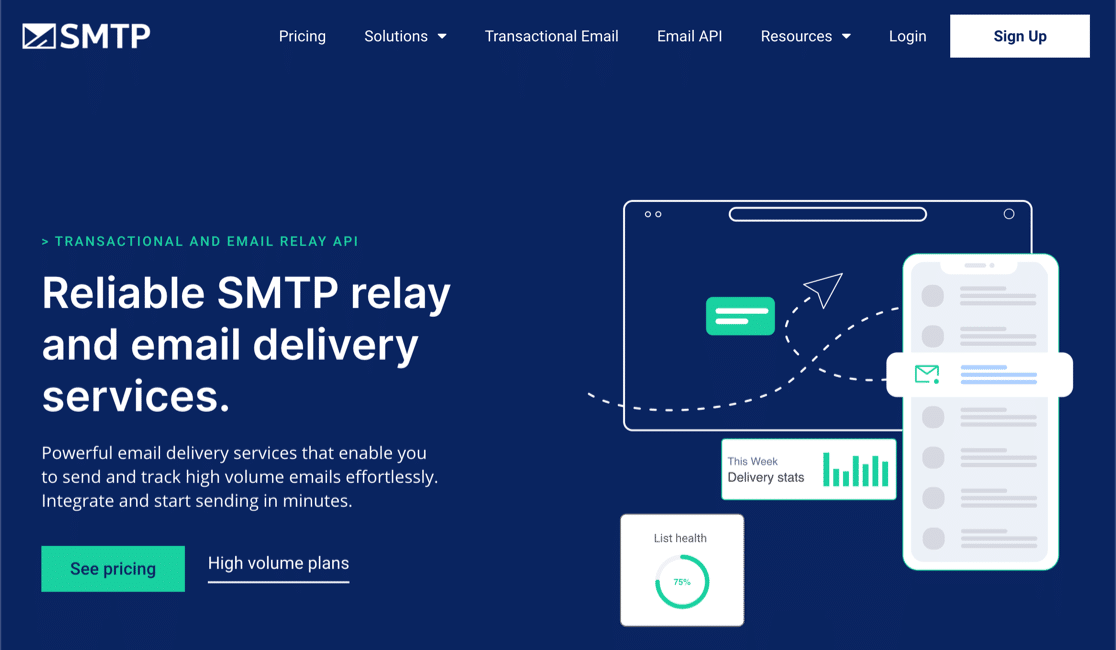 Great for established sites and anyone who wants White Glove Setup for WordPress.
SMTP.com is a leading transactional email provider for high-volume email sending. It says that transactional emails are usually received "in a matter of seconds."
If you want to create a positive customer experience on a busy site, SMTP.com will let you jump right in with 50,000 free emails in your first 30 days to help you get started.
And if tracking delivery is important to you, SMTP.com will be a great choice for sending WordPress emails. With SMTP.com, WP Mail SMTP can show you if your emails were Delivered in your WordPress email log.
This can help you to track down vital emails to make sure the recipient actually received them.
Setting up SMTP.com is simple, and you don't need to worry about all of the extra features just to get your WordPress emails working.
But if you need a hand, purchase the Elite license for WP Mail SMTP. Our experts will set up SMTP.com on your website and create the DNS records for you. It's a completely hassle-free way to get your WordPress emails working reliably.
Daily Sending Limits
SMTP.com lets you set monthly usage limits for specific senders, but there's no daily sending limit.
Support
All customers get 24/7 support by phone, email, or live chat.
Pricing
SMTP.com lets you send up to 50,000 emails for free during your first 30 days. After that, you have a choice of 4 plans. Here are the 2 most affordable plans to start out with:

The Essential plan includes 50,000 emails for $25/mo and is a great starting point for an established eCommerce store or community site.
Keep in mind that SMTP.com allowances don't roll over, so these plans are best suited to sites that will make use of the high sending limits.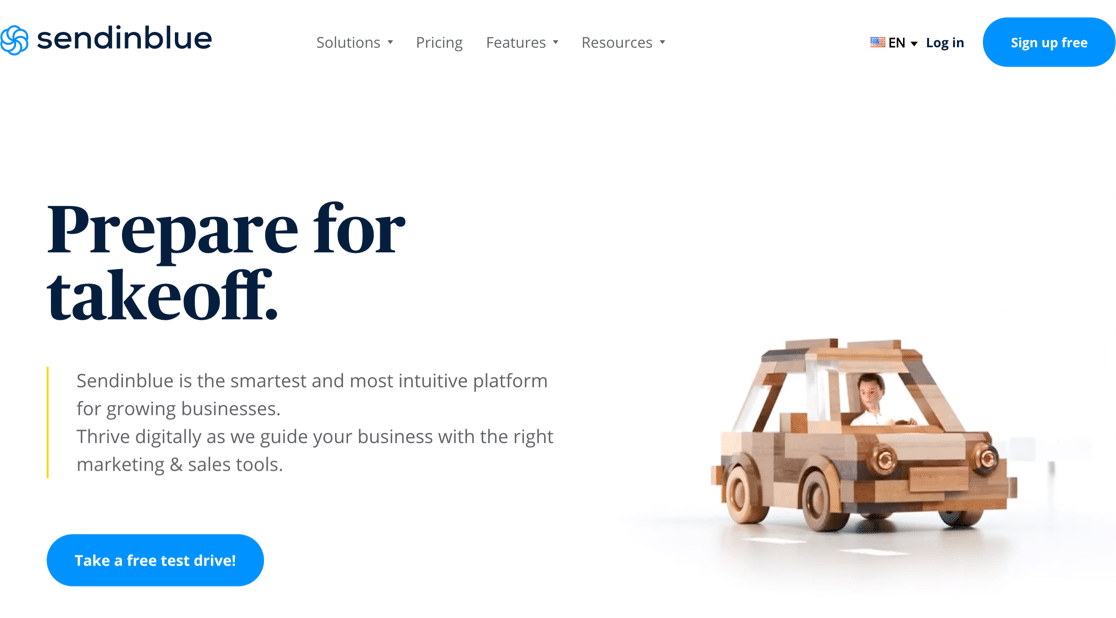 Quick signup, easy setup with White Glove Setup for WordPress, and a generous free plan.
If you're growing your site, but you don't need super high sending limits yet, Sendinblue is likely to fit with your budget for transactional email.
Many of our users choose Sendinbue because it has a free plan that you can use without a credit card. So it's one of the best transactional email services for WordPress sites that are steadily growing.
You can also use the same plan for your email marketing lists to keep all your email settings and billing in 1 place.
Even better, the Sendinblue mailer supports the Delivered status in WP Mail SMTP's email logs, giving you full WordPress email tracking.
If you want a mailer that's easy to set up, Sendinblue is a great way to improve the customer experience while your site is still getting established.
Daily Sending Limits
The free Sendinblue plan has a sending limit of 300 emails each day. Paid plans don't have daily limits.
Support
The Premium plan comes with phone support, and the Lite plan has email support. Free users need to rely on self-service help in the knowledge base.
Pricing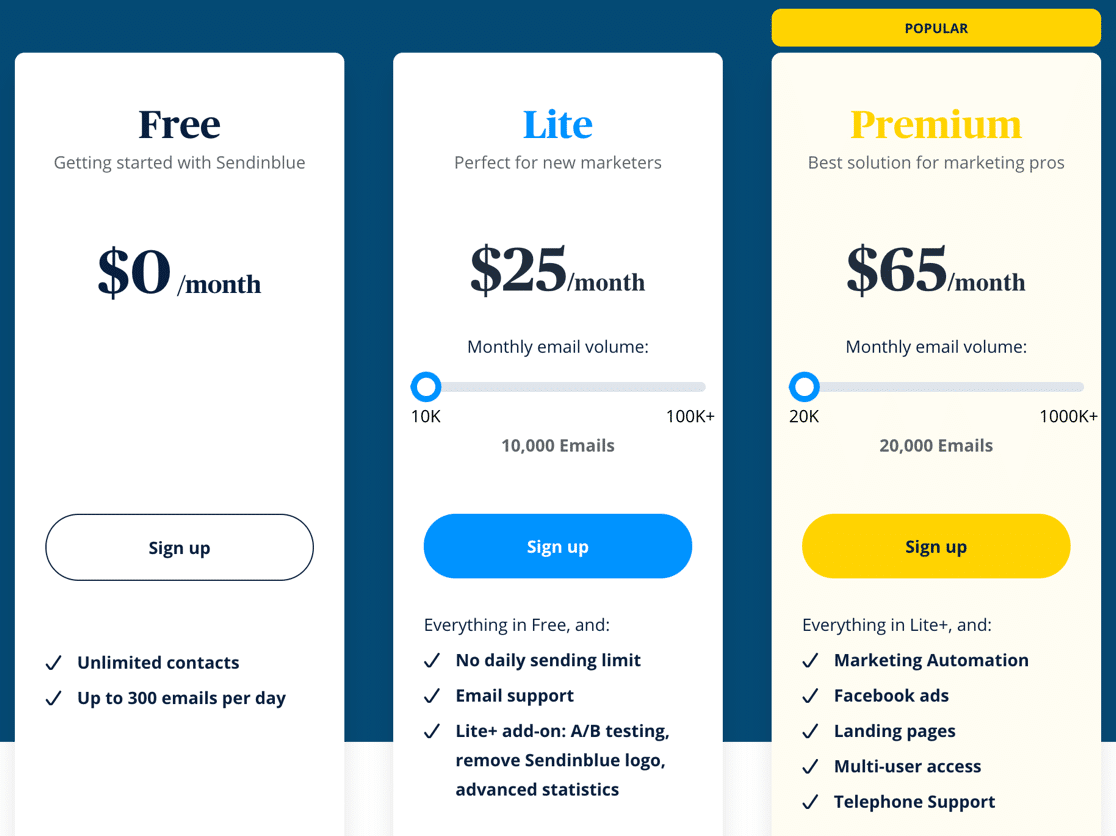 Most WP Mail SMTP users sign up for the Free plan initially. This gives you 300 emails each day without any fees, which is one of the best free SMTP options if you want something to test with.
For busier sites, the Lite plan offers 10,000 emails a day for $25/mo.

Great for sites that need custom email automation and marketing emails.
HubSpot offers a free WordPress plugin that gives you access to HubSpot's email automation tools without leaving your WordPress dashboard. It makes for a great option if you have lower monthly sending limits.
You can use the automation rules to trigger transactional emails based on users' activity on your site. Beyond transactional emails, HubSpot can also help you send marketing emails using its visual, drag-and-drop email builder.
The setup process is simple. You just need to install the HubSpot WordPress plugin on your site, connect it to your HubSpot account, and start sending emails.
Daily Sending Limits
HubSpot applies monthly sending limits, rather than daily limits. The free plan allows 2,000 emails per month while the starting paid plan allows 5,000 emails per month.
Support
All paying customers get 24/7 support via phone, live chat, or email. There's also a detailed knowledge base and free users can get community support via a forum.
Pricing

HubSpot's free plan lets you send up to 2,000 emails per month. Paid plans start at $45 per month for up to 5,000 emails.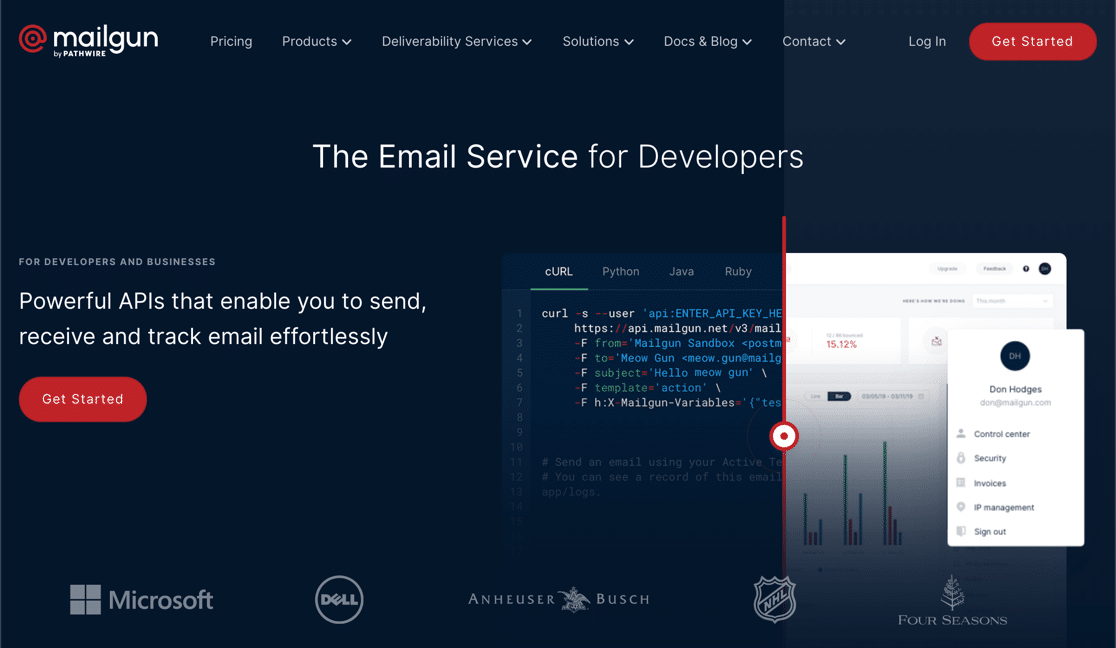 Great for growing sites.
Want to avoid paying for transactional emails you don't use? Mailgun breaks its pricing right down to bundles of 1,000 emails. That makes it super accessible if you aren't sure how many emails you'll send.
It also supports the Delivered status in WP Mail SMTP's email log so you can track your emails all the way to the recipient's inbox.
Mailgun is marketed as a "developer-friendly" email provider, but you don't need any technical skills to set Mailgun up on your WordPress site. The advanced features, like A/B testing, are available to you if you want to use them.
But if you aren't sure how to set it up, you can purchase the WP Mail SMTP Elite license and we'll do the whole setup for you.
Daily Sending Limits
Mailgun has no daily sending limits.
Support
Free users get limited ticket support 24/7. If you pay monthly, you'll unlock priority ticket support, live chat, or phone support, depending on the plan you choose.
Pricing

The 3-month Mailgun trial (capped at 5,000 emails) gives you time to test everything out before paying a cent. If you exceed the limit, you'll pay $0.80 per 1,000 emails on top.
If you prefer to pay a fixed fee, pricing starts at $35/mo for 50,000 emails.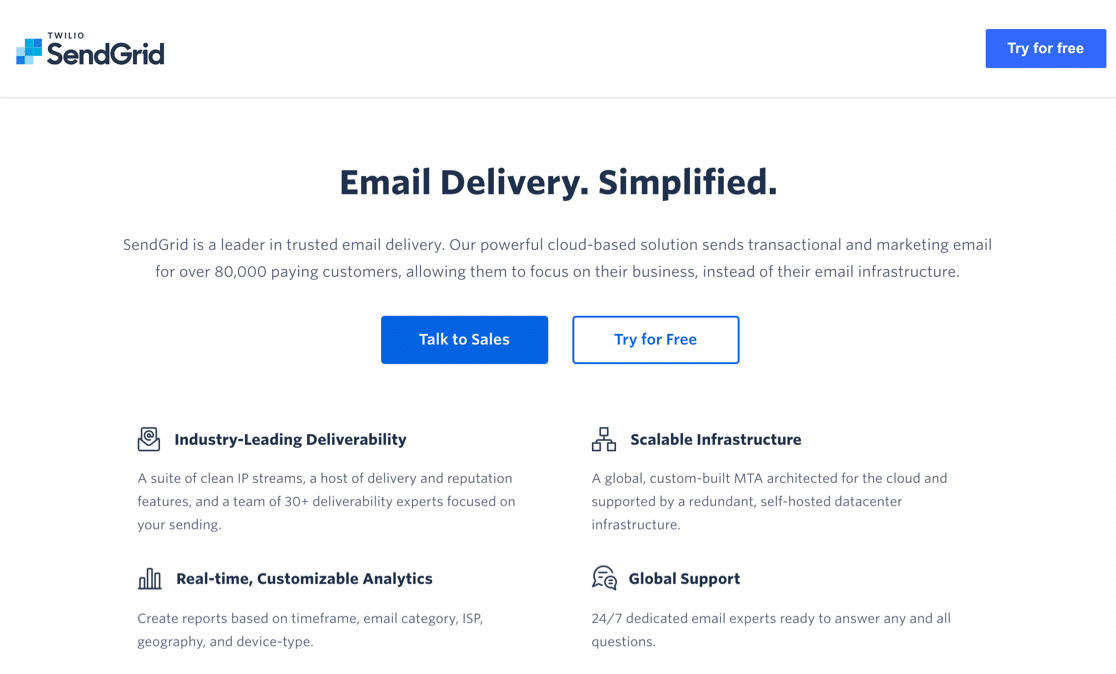 Great for hobby sites, communities, and side-hustles.
SendGrid is free for up to 100 emails a day, so it's a great choice for a hobby site or a small eCommerce store. If you want to fix WooCommerce not sending order emails, SendGrid is perfect for that.
You can also use SendGrid for community sites or forums if you want to make sure your visitors are getting important notification emails.
SendGrid lets you start your plan without a credit card, and you'll get a generous allowance to try it for free. You can also use SendGrid for your marketing emails and manage both types of email through one dashboard.
As well as being friendly to small sites, SendGrid handles high volumes of email too. It even has its own AI to protect your sender reputation and keep emails out of the recipient's spam folder. So it's a great all-around provider if you don't want to switch platforms as your needs change.
Daily Sending Limits
It's free to send up to 100 emails each day with SendGrid. There are no daily limits on paid plans.
Support
Free users get ticket support. If you pay monthly, you'll also be able to use live chat or phone, depending on your plan level.
Pricing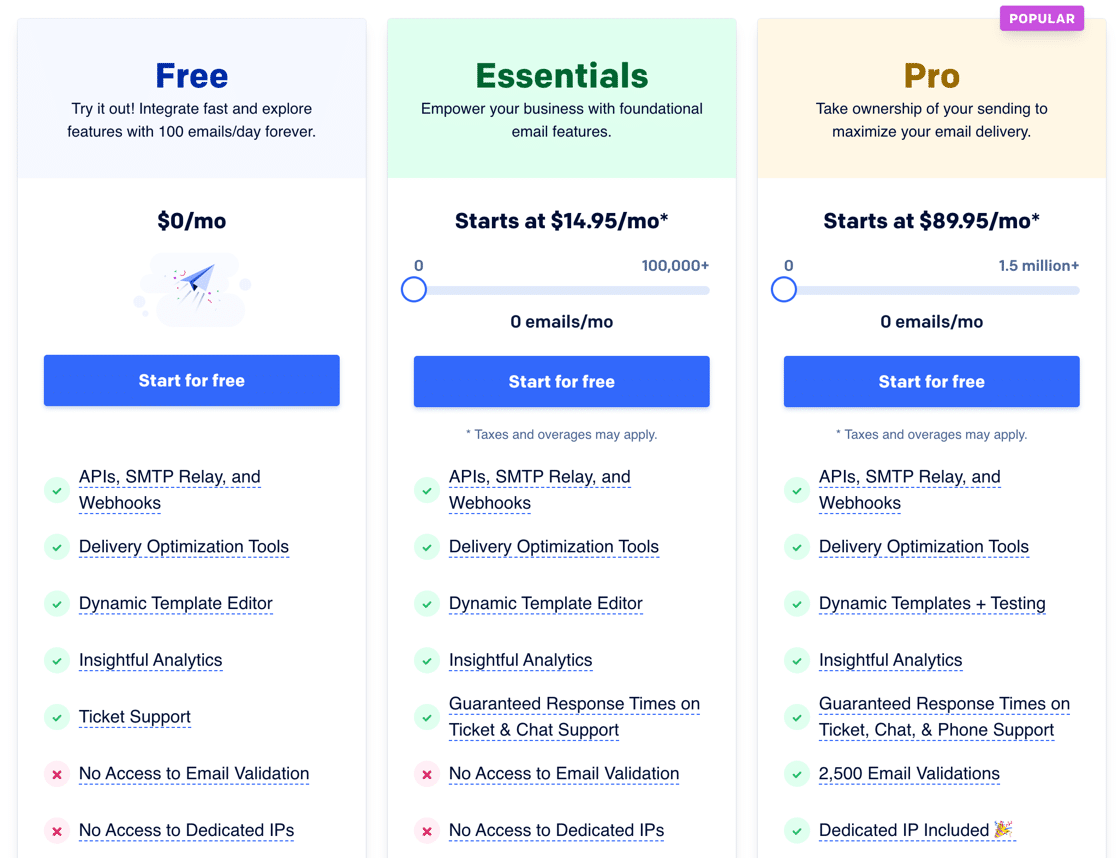 For the first 30 days, it's free to send up to 40,000 emails with SendGrid. After that, you can stick with the Free plan and continue to send 100 emails each day. Paid plans start at $14.95/mo for up to 40,000 emails.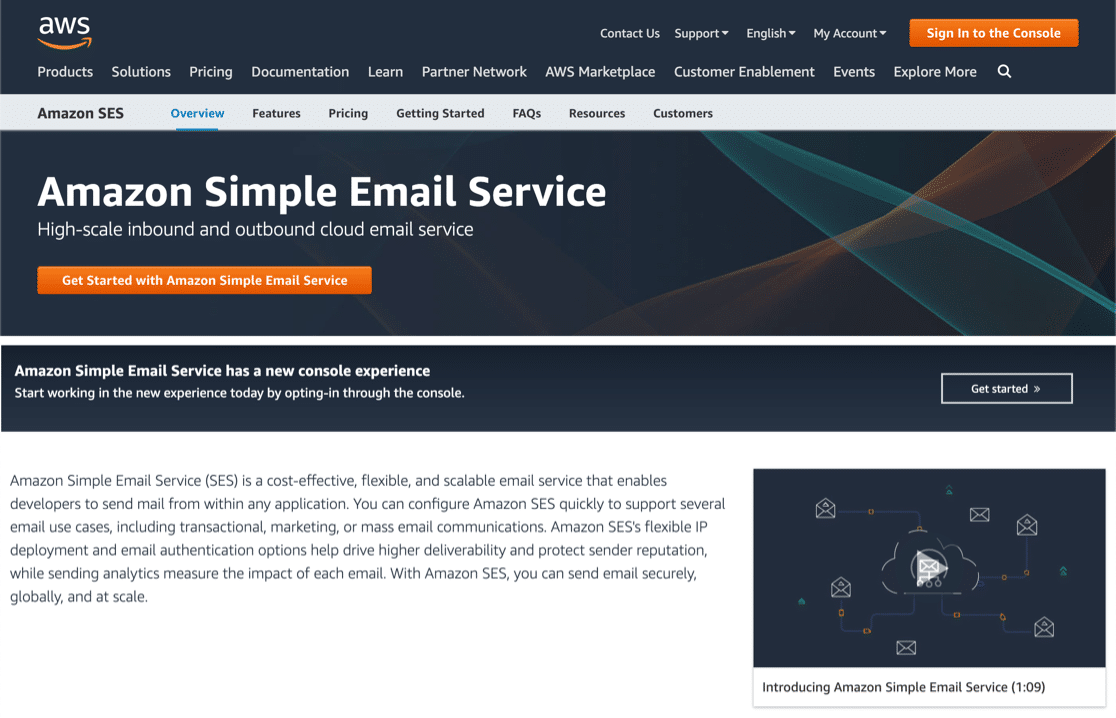 Great for WordPress sites hosted on EC2.
If you're having issues with AWS not sending WordPress email, you can use any provider with WP Mail SMTP.
But many EC2 users go with Amazon SES because it's easier to keep everything in 1 place.
Sending limits are generous, but the verification requirements are pretty strict to avoid spam complaints. Keep in mind that the setup steps are more technical and involved than other options on the list, so it's not the right choice for everyone.
If you're not using EC2, you can still use AWS to send emails if you want to. Keep in mind that SES users pay extra for attachments, so that's also something to consider if you routinely send invoices or receipts.
Amazon SES is available with the WP Mail SMTP Pro license or above.
Daily Sending Limits
Sandbox accounts are limited to sending 200 emails each day, or 1 message per second. You'll need to request a move out of Sandbox if you want to increase these limits.
Once your account is out of the Sandbox, Amazon SES sending quotas vary according to the regions that apply to your account. There are various hoops you'll need to jump through to increase your limits globally.
Support
To get technical support, you need to buy an AWS support plan separately. This is priced from $29/mo. If you don't want to do this, you can use the Amazon SES forum to get help.
Pricing

Amazon SES doesn't charge monthly fees, but exact pricing can vary depending on the region you're using it in. In most regions, you can send up to 62,000 emails free each month if your WordPress site is on EC2. On top of that, you'll pay $0.12/GB for attachments, plus the technical support fee if you chose to buy that too.
If your WordPress site isn't on EC2, you'll pay $0.10 for every 1,000 emails you send, plus $0.12/GB for attachments, plus the optional tech support subscription if you want it.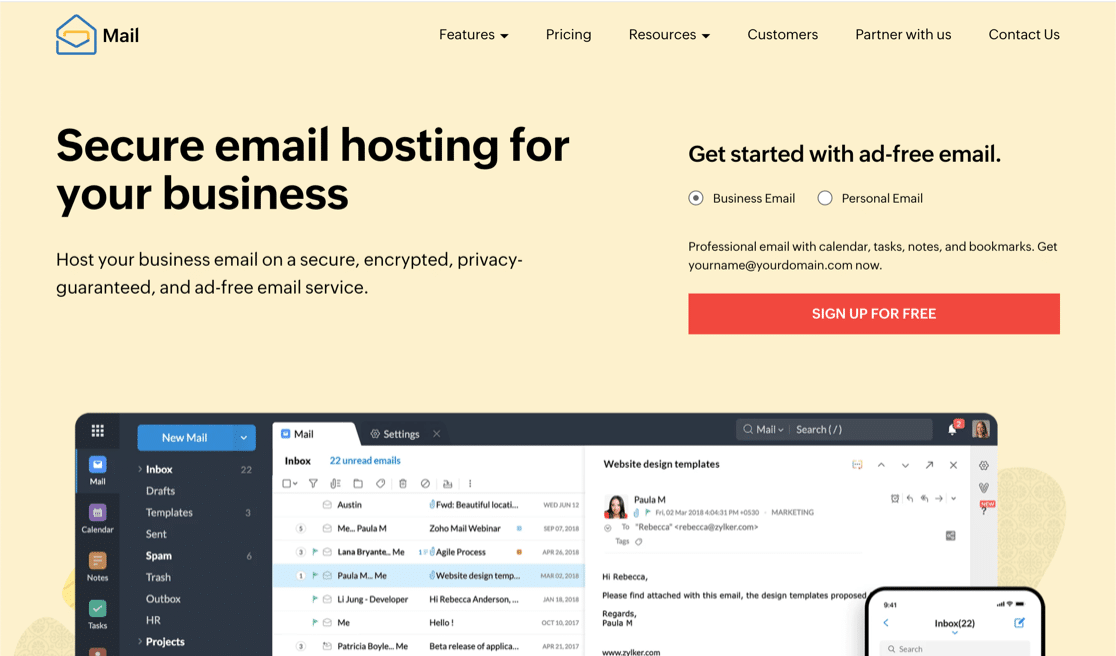 Great for nonprofit sites and existing Zoho customers.
If you're already using Zoho in your business, using Zoho Mail for WordPress will keep your billing and management in 1 place.
Zoho Mail is similar to Google Workspace in that it also gives you a user-friendly interface for webmail and contacts. Instead of using its SMTP server details for Zoho, you can use the API, which is more secure than basic SMTP integration.
Zoho's API is very easy to set up, and the Mail account itself has a generous 25MB attachment limit on its free plan, rising to 1GB on paid plans. Keep in mind that the experience for recipients isn't always great if you send huge attachments (and attachments over 25MB will often be rejected).
There are 2 minor downsides to Zoho Mail. It can't be used to send marketing emails, so you can't use the same plan for your email newsletters. It also can't support custom reply-to addresses with the API. For beginners, these limitations won't matter.
Zoho Mail integration is available with the WP Mail SMTP Pro license or above.
Daily Sending Limits
Zoho Mail doesn't publish its sending limits, but limits do apply to free and paid plans. You can improve your reputation by avoiding account misuse, or sending emails that bounce, which Zoho says will increase the number of emails per day you can send.
If you want an exact figure or cap, this may not be the best mailer for your use case.
Support
All users can access ticket, email, and phone support.
Pricing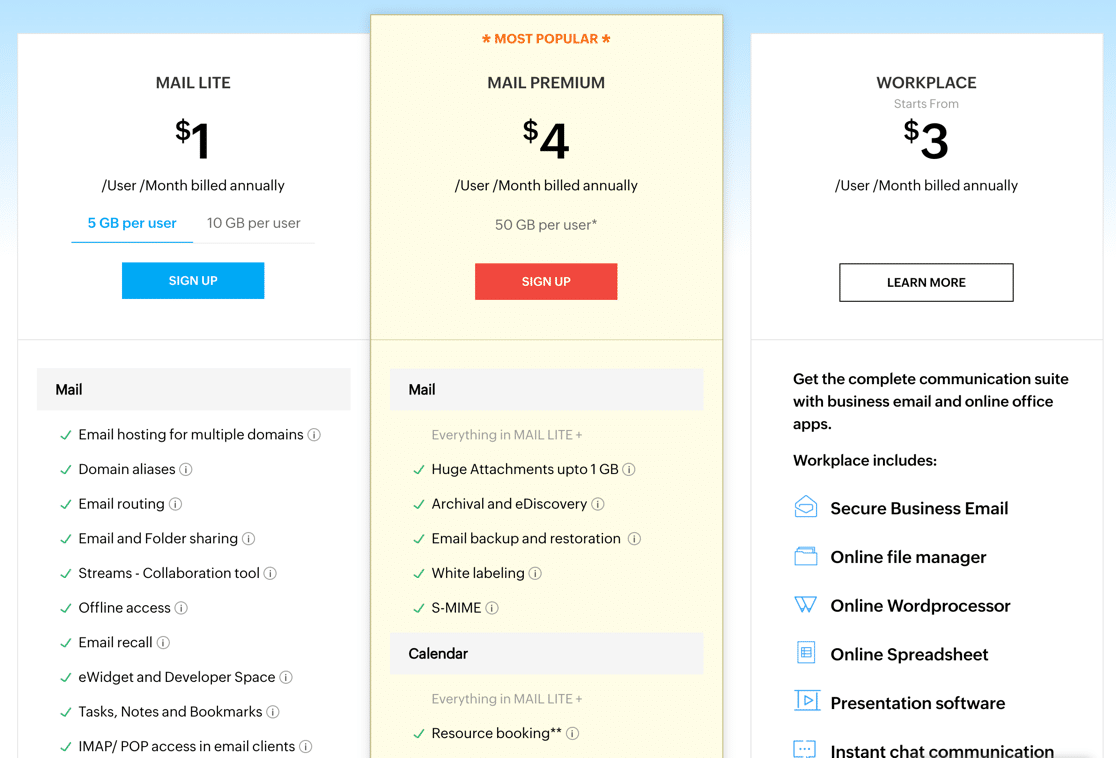 Zoho Mail has a Forever Free plan that's awesome for small sites. You can create up to 5 users without payment. Keep in mind that adding a 6th user means you have to pay for all 6 users—not just the extra one.
Paid plans start at $1/user per month, and nonprofit pricing is also available.
What About Gmail?
If you're wondering why Gmail isn't recommended as the best email service for WordPress, it's because of the sending limits and the general limits of its API.
Gmail is not designed for transactional email, and that's reflected in the sending limits it has. For example, Gmail customers are limited to 500 emails a day on free plans, and there's a limit of 2,000 emails a day for Workspace. Since those limits are shared across all Google products, you can hit the limit a lot faster than you'd expect.
Gmail works great for WordPress SMTP if your usage is quite low. But for transactional email, the providers we listed above will usually give you better reliability and capacity.
Next, Create Your DNS Records
Now you know the best transactional email providers for your WordPress site, you'll want to set up the right DNS records so that your emails don't go to spam.
To help with that, we've got a guide on how to make a DMARC record.
Ready to fix your emails? Get started today with the best WordPress SMTP plugin. If you don't have the time to fix your emails, you can get full White Glove Setup assistance as an extra purchase, and there's a 14-day money-back guarantee for all paid plans.
If this article helped you out, please follow us on Facebook and Twitter for more WordPress tips and tutorials.