Is WooCommerce not sending emails from your store?
When you're running an eCommerce store, you need to make sure customers get emails without any delays.
In this article, we'll show you how to:
Fix Your WooCommerce Emails Now
How Do I Fix WooCommerce Email Problems?
You can easily fix WooCommerce email problems with the WP Mail SMTP plugin.
By default, the WooCommerce plugin uses the wp_mail() function in WordPress. Many email servers don't trust emails that are sent this way because they aren't authenticated.
That's the main reason that emails from WooCommerce can get lost, or get filed into your customer's junk mail folder.
Using WooCommerce SMTP sends all transactional emails through a 3rd party email provider. The emails will be properly authenticated, which means they won't be caught by your customers' spam filters.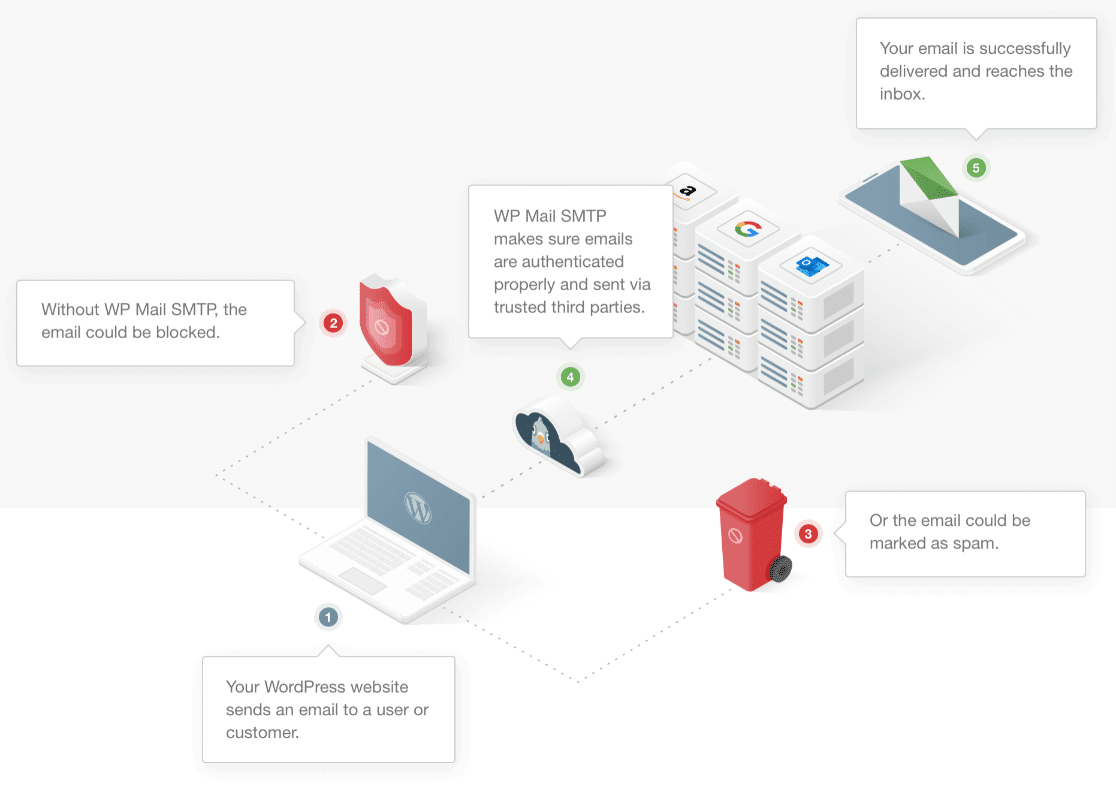 You can choose from many email providers according to your budget and the number of emails sent from your store.
This complete guide makes WooCommerce SMTP easy to configure, and you don't need to contact your hosting provider to set it up. But White Glove Setup is available with the Elite license if you'd like someone else to handle the setup for you.
How to Fix WooCommerce Not Sending Emails
Let's quickly check your WooCommerce email settings before we set up your new SMTP plugin.
Step 1: Check Email Settings in WooCommerce
To start, we're going to look at some common problems with WooCommerce not sending emails.
When you start an online store with WooCommerce, it'll create a set of order statuses, including:
Pending – Payment hasn't been received yet
Processing – Payment has been received and the order is confirmed
Completed – The order has been shipped.
WooCommerce sends emails automatically when an order moves from one status to another. But if the emails aren't set up correctly, you and your customer might not receive them.
So the first thing we want to check is that we have the right emails set up and they haven't been deactivated.
To start, open up the WordPress dashboard. In the left hand navigation, go to WooCommerce » Settings.

Look to the tabs across the screen and click the Emails tab.
In this list, you'll see all of the emails that should be sent from your store. You can check each email template by clicking the Manage button on the right.

In the email template, you'll want to check that the email is enabled.
Note that if the email is sent to the customer, there won't be a Recipient field here.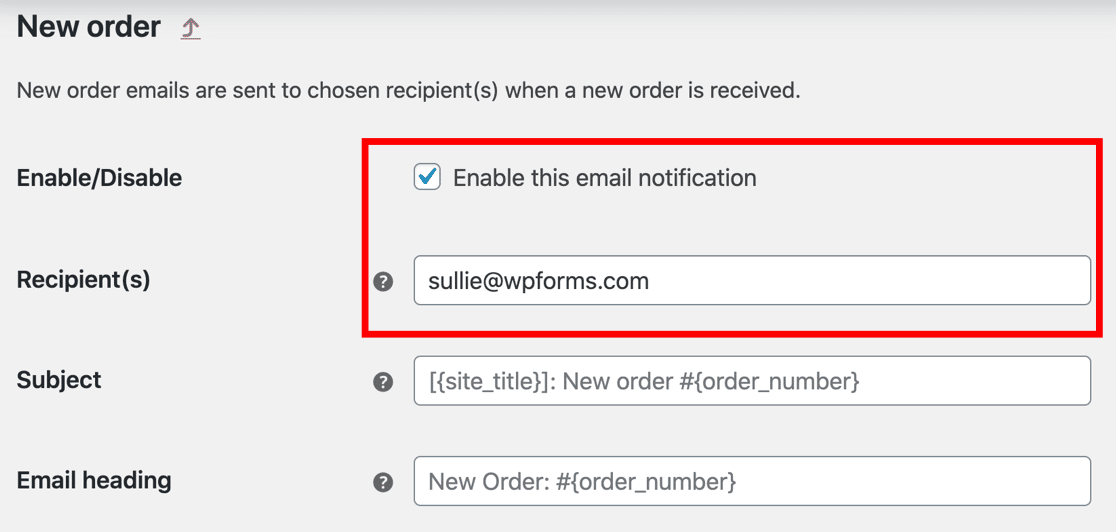 If you do see a Recipient(s) field, check that the correct recipients are added.
Sometimes emails get disabled by accident, and this can be a reason for WooCommerce not sending email. So while you're on this screen,  check out each template and make sure all of the emails are enabled.
If everything looks good, let's check that new orders are coming in with the right status.
Step 2: Check Payment Status in WooCommerce
When you get an order in WooCommerce, it will be assigned a status automatically. If payment has been taken, it should show as Processing.
If you see that new orders have a different status, it might mean that WooCommerce is not sending emails because the status is being set to something else.
To check, go to WooCommerce » Orders.

Now check the status of your recent orders. If you don't have any, you'll want to create a test order and then check the result here:

In this example, the orders are in the Pending status. By default, the Pending status doesn't send any order emails, so this could explain why WooCommerce isn't sending out notifications when you expect it to.
Are your emails going into Pending and you're not sure why? It might be because:
The order was abandoned: The customer ordered something but left before completing payment
Payments are failing: Your payment gateway is initiating payments but failing to complete them
Manual payment is needed: You have a manual payment method set up, like a bank transfer, and you need to manually confirm that the bank transfer has been received.
If your orders show the status of Processing, then both you and the customer should have received an email. If that's not happening, it's likely the emails are being treated as spam.
This is 1 of the most common reasons for WooCommerce not sending email. Let's set up WP Mail SMTP now to fix the problem.
Step 3: Install WooCommerce SMTP Plugin
In this step, we're going to install WP Mail SMTP to fix issues with your order emails.
WP Mail SMTP is the best SMTP plugin for WordPress. It lets you easily send WooCommerce order emails through a 3rd party email provider like Sendinblue or SMTP.com.
Need a hand installing WooCommerce SMTP?
Our Elite license includes a complete White Glove Setup service.
Let's download the zip file from your WP Mail SMTP account to start. You'll find it in the Downloads tab when you log in to your Account area.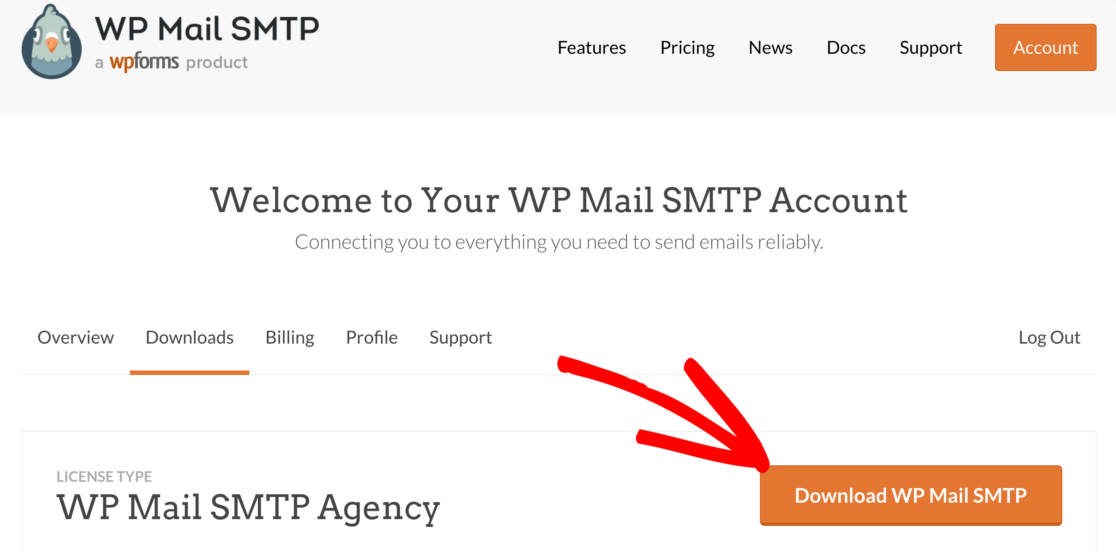 Next, open up the WordPress dashboard and upload the plugin manually. If you're not sure what to do here, read our guide to installing a WordPress plugin.

Don't forget to Activate the plugin. As soon as you activate it, the Setup Wizard will open.
You can also start the wizard at any time by clicking the Launch Setup Wizard button in your WP Mail SMTP settings.
Set Up Your WooCommerce SMTP Service
Now let's run the wizard to set up your WooCommerce SMTP.
Remember: if you already have a provider set up, running the wizard a second time might erase your settings, so it's best to do this just once.
First, click the Let's Get Started button.

And now select the email service you want to use.
Choosing a WooCommerce Email Service
Having a reliable email service provider is especially important for online stores.
That's why we recommend SMTP.com or Sendinblue. These 2 services can handle large numbers of transactional emails, which is super important if you have a busy store.
For example, the free Sendinblue plan lets you send up to 300 emails per day from your WordPress site. Pricing steps up from there if you need more capacity.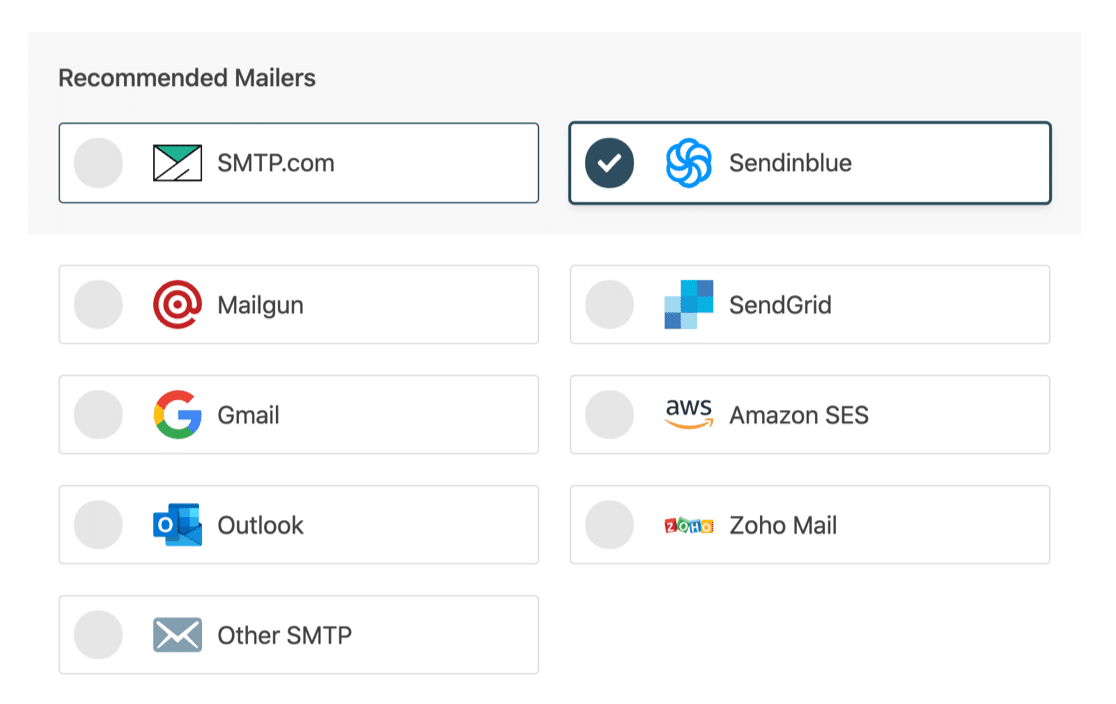 If you want, you send emails through a Gmail account using its API, or an SMTP server. But keep in mind that these 2 mailers have lower sending limits compared to the transactional email providers we talked about.
For that reason, using Gmail or Other SMTP is best for small stores that don't generate tons of order confirmations.
When you've chosen your mailer, open up our documentation to complete the setup steps on the provider's side:
At the end of the wizard, WP Mail SMTP will ask you which features to enable. By default, 2 will already be turned on:
Email deliverability
Error error tracking
To fix WooCommerce not sending email, you'll want to have both enabled.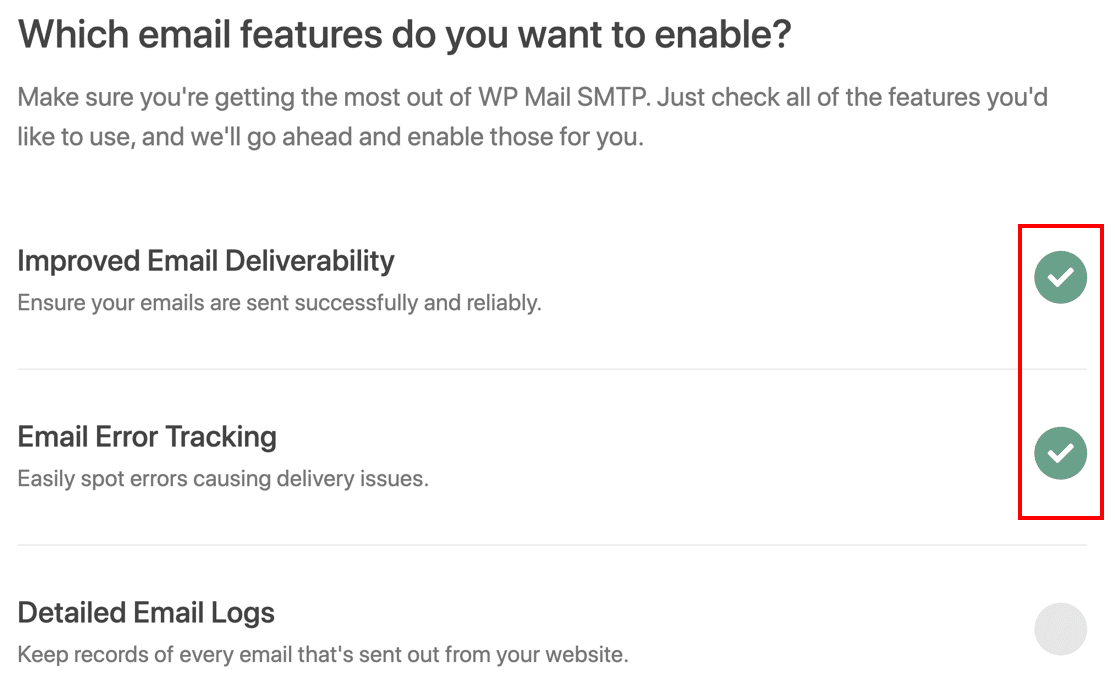 Step 4: Log WooCommerce Order Emails (Optional)
If you want, you can also turn on the Detailed Email Logs in WP Mail SMTP Pro.
Mail logging will track the status of all of the emails generated by your WordPress site, including:
Order emails
Password reset emails
Contact form emails
And more.
This WooCommerce email logging feature is super helpful because you can drill right down to individual emails to check if they were sent successfully.
Depending on your mailer, you'll see statuses like:
Sent or Confirmed
Failed
Unconfirmed (not supported by all mailers)
You can also search for specific emails on the email log page. For example, you could search for an order number or a recipient email address to show all of the emails relating to a transaction.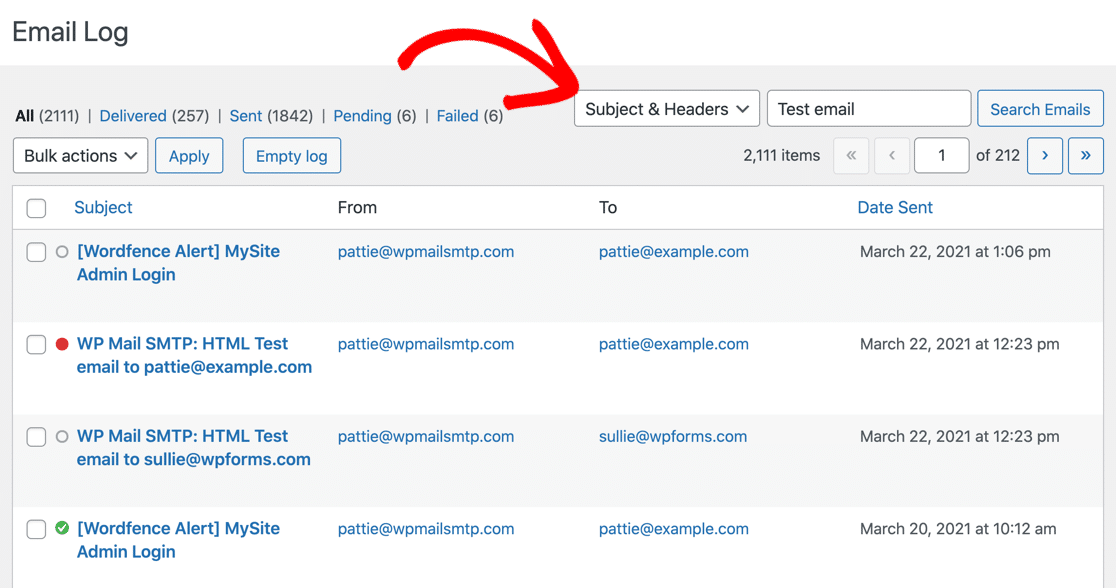 And that's not all! With WP Mail SMTP email logging, the dashboard widget makes it easy to spot issues with transactional mails over time.
This chart is displayed right on the WP admin dashboard, so you can access your email stats right next to your WooCommerce order information.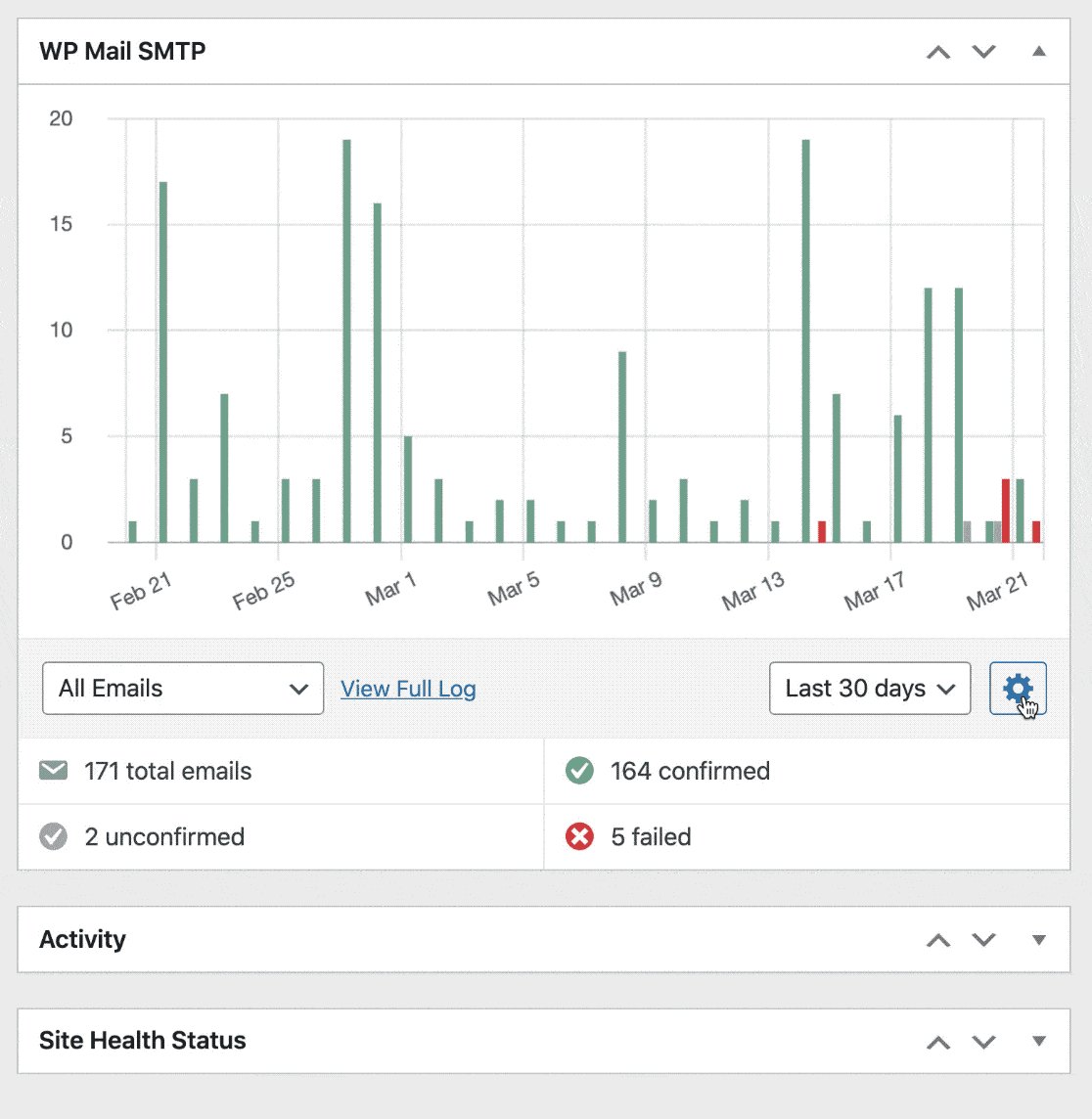 In addition to the basic email log, which logs the email headers, WP Mail SMTP also has a Detailed Email Logs option on the plugin settings page.
This will log the entire contents of each sent email.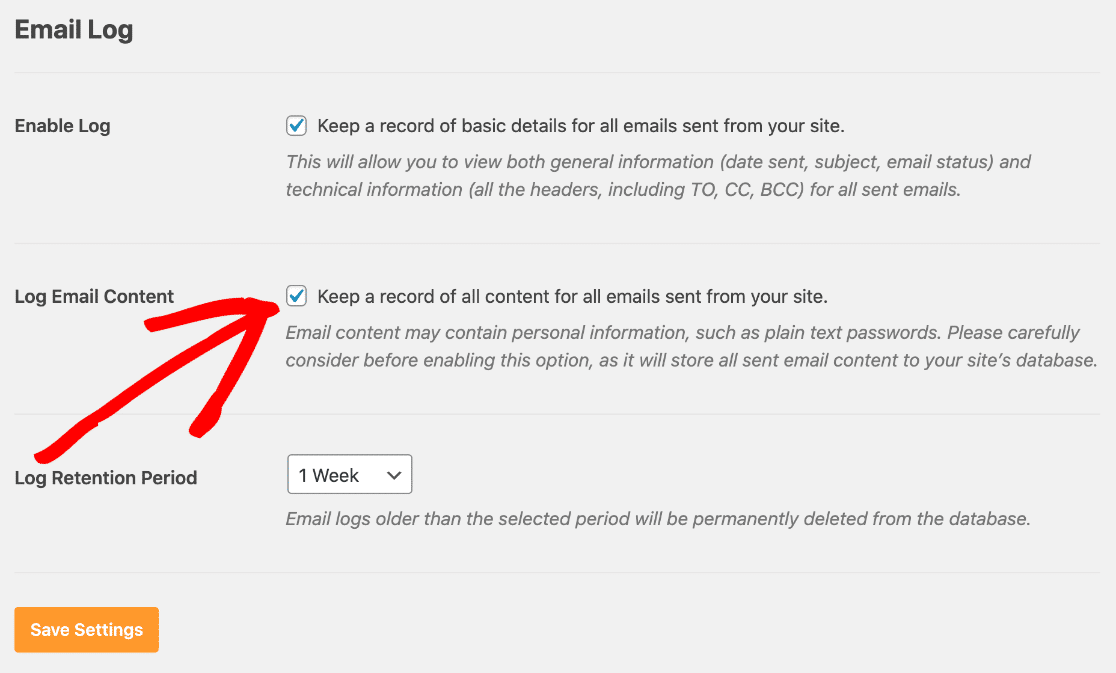 This setting will save the contents of all sent emails. We recommend that you don't turn this on for your WooCommerce store because the contents of the emails could quickly bloat your store database.
But this feature is handy if you want to see the content of the emails WooCommerce is sending. For example, if you've installed a WooCommerce email plugin to customize the content of your order emails, this setting would allow you to check that it's working.
You can easily filter and search your email logs in the WordPress dashboard to find out if they were delivered…
And you can export your WooCommerce email logs to CSV or XLS! That means you can track your WooCommerce emails in any application.
And that's it! We've walked through all of the steps to fix WooCommerce not sending emails on your site.
Fix Your WooCommerce Emails Now
Next Step: Check Your DNS Records
Next, it's time to think about your DNS records.
If you followed our guide when setting up your mailer service, you'll already know about SPF, DKIM, and DMARC records. These records often needed to be added to your domain's DNS for your emails to be delivered with the right authentication.
If you already have an email list, you might have SPF records already set up for that. It's super important that you don't add a second SPF record when setting up WP Mail SMTP because that can invalidate both of them.

Instead, you'll want to merge the SPF records so they only occupy 1 line in your DNS.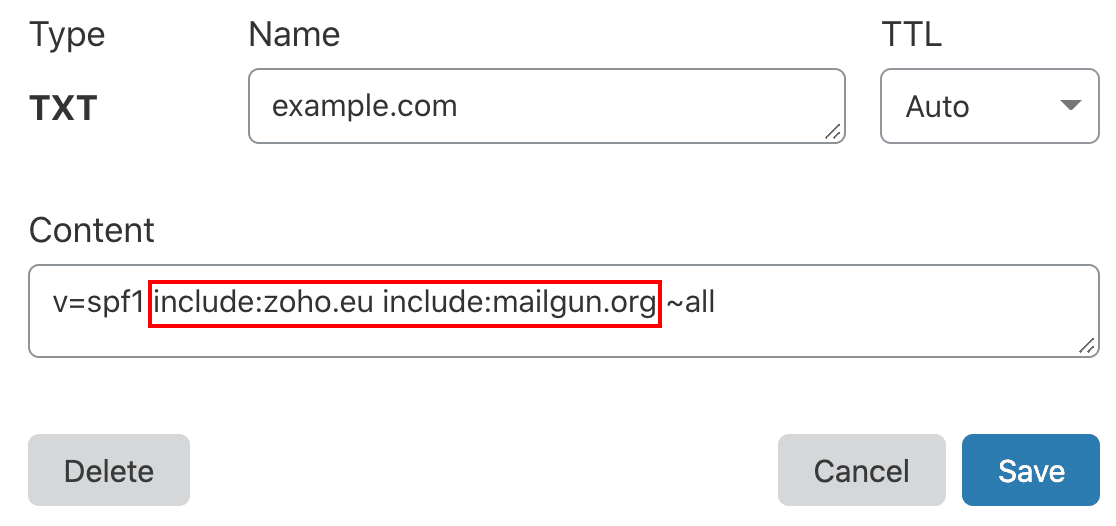 If you need more information on setting up your DNS, start with this guide to fixing multiple SPF records on your domain.
Ready to fix your emails? Get started today with the best WordPress SMTP plugin. WP Mail SMTP Elite includes full White Glove Setup and offers a 14-day money-back guarantee.
If this article helped you out, please follow us on Facebook and Twitter for more WordPress tips and tutorials.