Are you looking for an easy way to save email attachments in WordPress?
Keeping a copy of every file attachment makes it easy to archive or check the files your site's sending out.
In this article, we'll show you how to save WordPress email attachments easily.
Save Your WordPress Email Attachments Now
How Do I Send an Attachment in WordPress?
You can send an attachment in WordPress with many different plugins. For example:
If you want to get contact form messages with attachments, you can use Formidable Forms to do this. This will allow customers to upload a file through a form that you'll receive via email.
Some WooCommerce plugins let you attach invoices to your order emails. It's smart to save a copy of these so you can refer back to them in case of any questions.
You can send WordPress backups as email attachments too, but keep in mind that sending large attachments can sometimes cause problems with email deliverability.
For more information, check out our dedicated post: How To Send An Email With Attachments in WordPress.
No matter how you send attachments, storing a copy automatically makes sense. Attachments can cause email deliverability problems, so it's helpful to keep a copy of each attachment just in case.
How to Save WordPress Email Attachments
1. Install the WP Mail SMTP Plugin
WP Mail SMTP is the best email plugin for WordPress. It lets you send emails through an external email service to make sure they don't get filed as spam.
WP Mail SMTP also has a super powerful email log. We're going to show you how to use that to save email attachments.
To download the plugin, head over to your WP Mail SMTP account and switch to the Downloads tab to grab the latest version of the plugin file.
Switch back to your WordPress dashboard and upload the zip file to the plugins page.
Need a hand? Check out how to install a WordPress plugin.

Once the plugin is installed, be sure to Activate it. This will start the Setup Wizard.
2. Connect to a Mailer Service
In the first step of the Wizard, we'll connect your website to a 3rd party email service provider.
Click the Let's Get Started button to begin the process.

Now, you'll see a list of all the mailer options supported by WP Mail SMTP.
Before choosing a mailer, it's a good idea to consider:
The type of emails you send: WooCommerce order emails need to be delivered much more quickly than emails from hobby sites, so we recommend a transactional email provider for that purpose.
The size of the attachments: Amazon SES charges extra for attachments, while some other providers have attachment size limits as low as 4MB:
| Provider | Attachment size limit | Fee for attachments |
| --- | --- | --- |
| Sendinblue | 4 MB | |
| SMTP.com | 15 MB | |
| Amazon SES | 40 MB | $0.12 per GB |
| Sendgrid | 10 GB | |
| Gmail | 25 GB | |
| Google Workspace | 25 GB | |
| Outlook/ Microsoft 365 | 4 MB | |
| Zoho Mail | 20 MB | |
| Other SMTP | Varies | |
When choosing a mailer, keep in mind that a high size limit doesn't necessarily mean all of your attachments will be delivered.
Most email providers will block very large attachments. In some cases, the recipient may not have enough mailbox space to receive the message. These are both good reasons to save email attachments in WordPress.
When you've decided on a provider, select it from the list in the Setup Wizard and continue.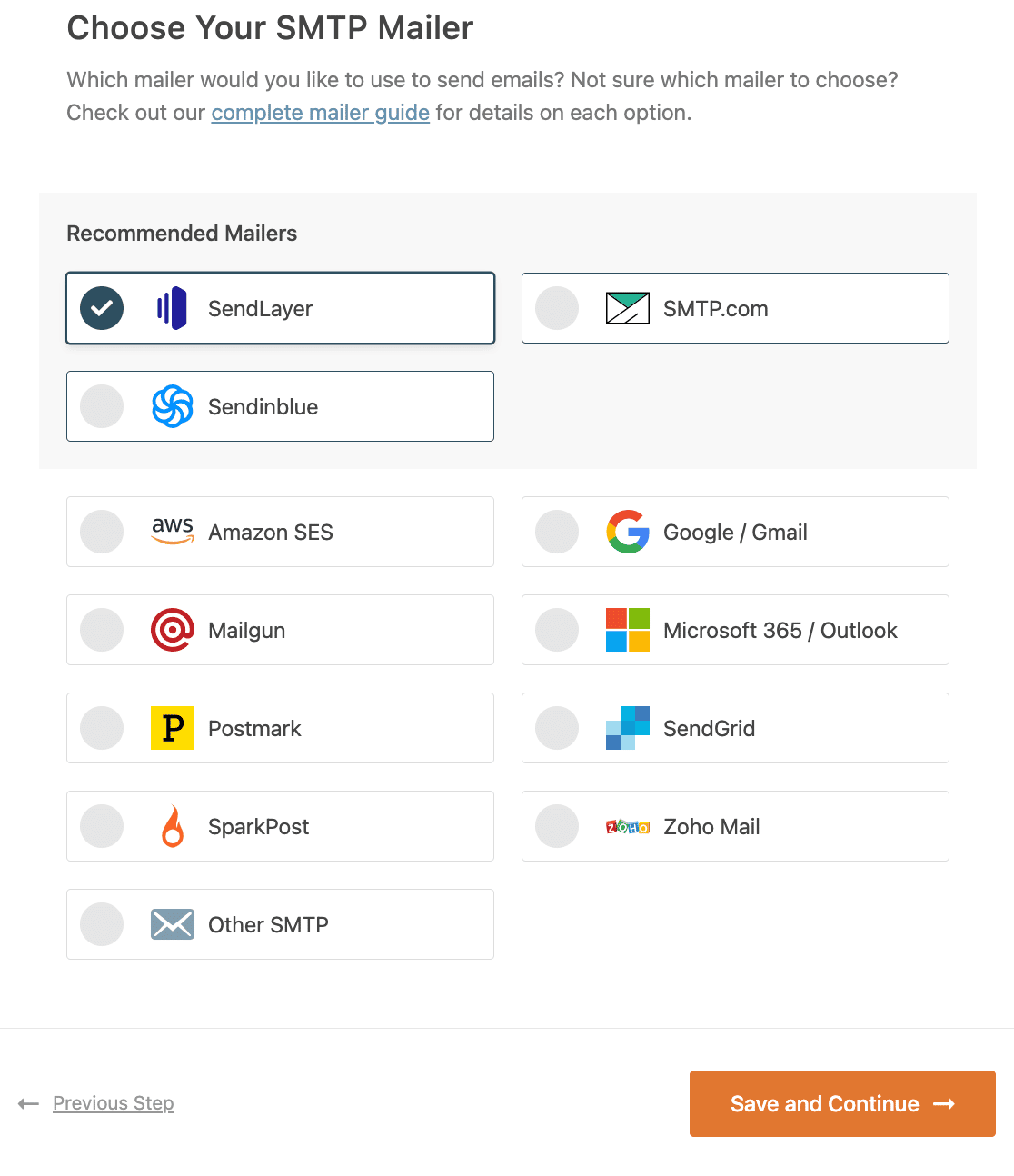 Next, click the link below to open the documentation for your mailer service.
When you've set up a connection, switch back to this guide to follow the next steps in the wizard.
3. Enable Email Logging
After you connect your mailer, you'll have the option to turn on additional WP Mail SMTP features. Be sure to turn on the Detailed Email Logs. This feature will track the headers, subject, and recipient.
When Detailed Email Logs are enabled, the Complete Email Report will be turned on automatically. We also recommend that you turn on the Weekly Email Summary so you can keep track of your emails without logging in to WordPress.
Go ahead and move to the next step of the Setup Wizard to turn on attachment logging.
4. Save Email Attachments in WordPress
The Setup Wizard will now let you configure additional settings for your email logs. These include:
Store the content for all sent emails. This feature saves the content of your WordPress emails in your site's database. It must be turned on if you want to resend emails.
Save file attachments sent from WordPress. This is the option you need to enable to save WordPress file attachments. They'll be stored in your site's Uploads folder.
Track when an email is opened. If you want to track user engagement, you can turn on this option to see when recipients open your emails.
Track when a link in an email is clicked. This feature also helps with user tracking and enables you to see when recipients click the links in your emails.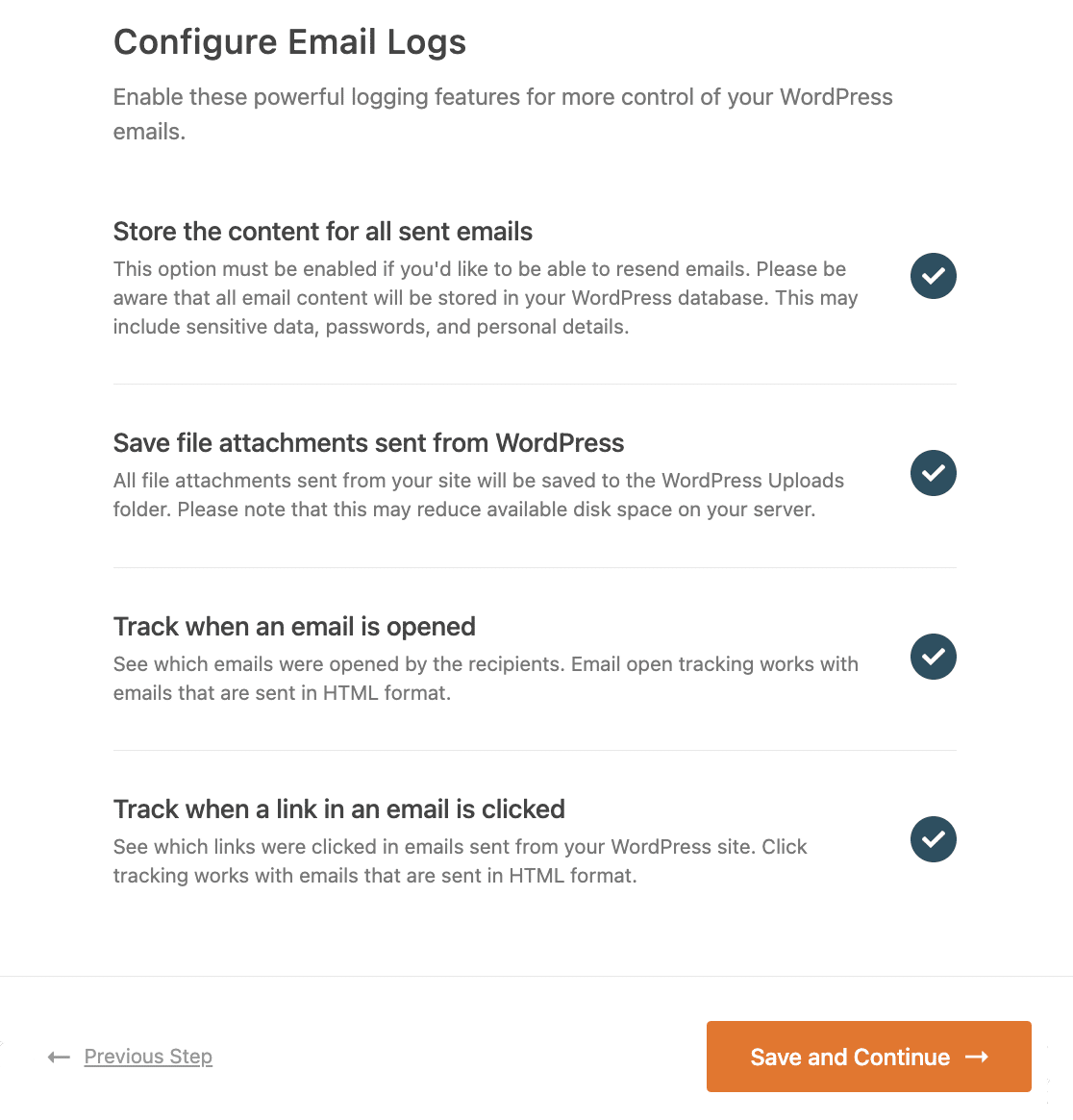 If you ever need to edit any of these settings, just go to WP Mail SMTP » Settings » Email Log.
Let's view an email attachment in WordPress next.
5. View Attachments in WordPress
Once you've sent out an email with attachments in WordPress, you can download email attachments easily from the log.
To try it out, go to WP Mail SMTP » Email Log.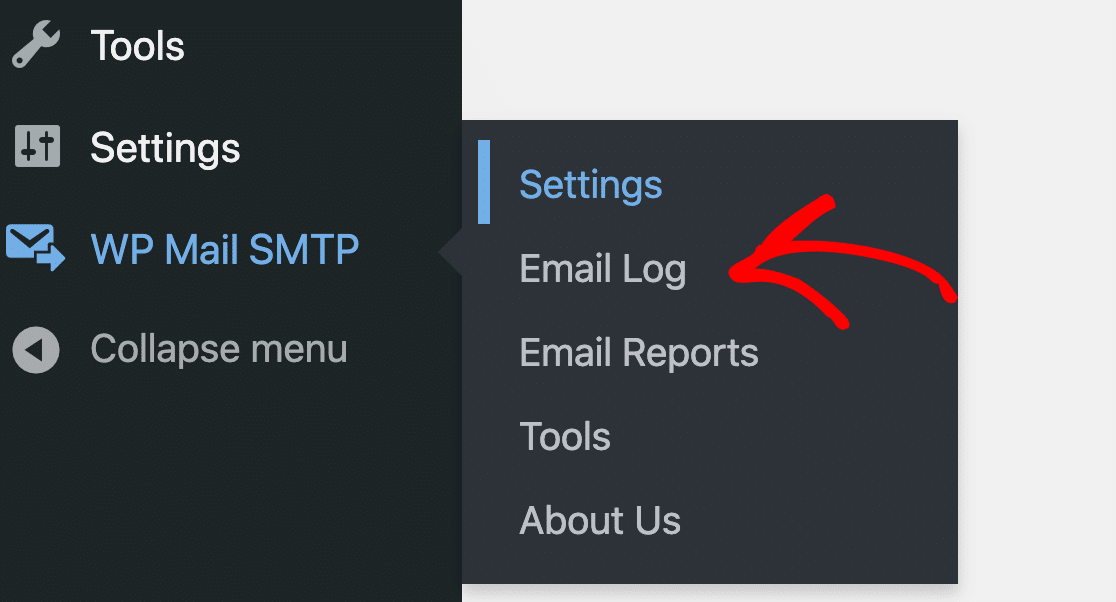 Then click on the subject line of any email to open the email log.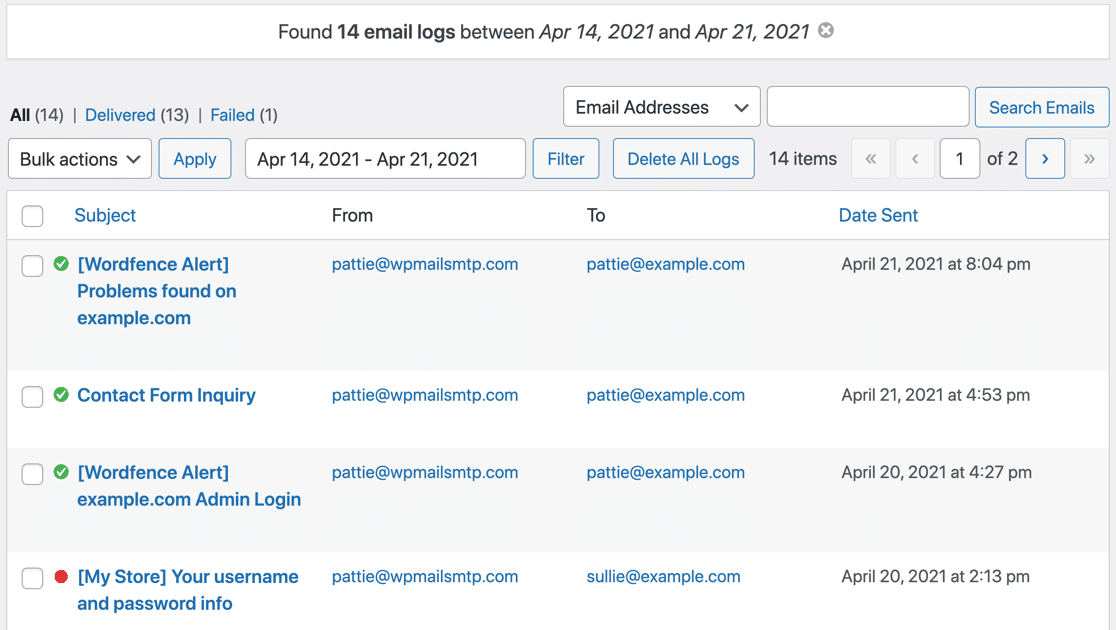 You'll see the original file attachments listed in the Attachments section. Click on the link to view or download the attachment.
Although you can see the original file name here, it'll be saved with a random file name behind the scenes. That helps to keep your files secure.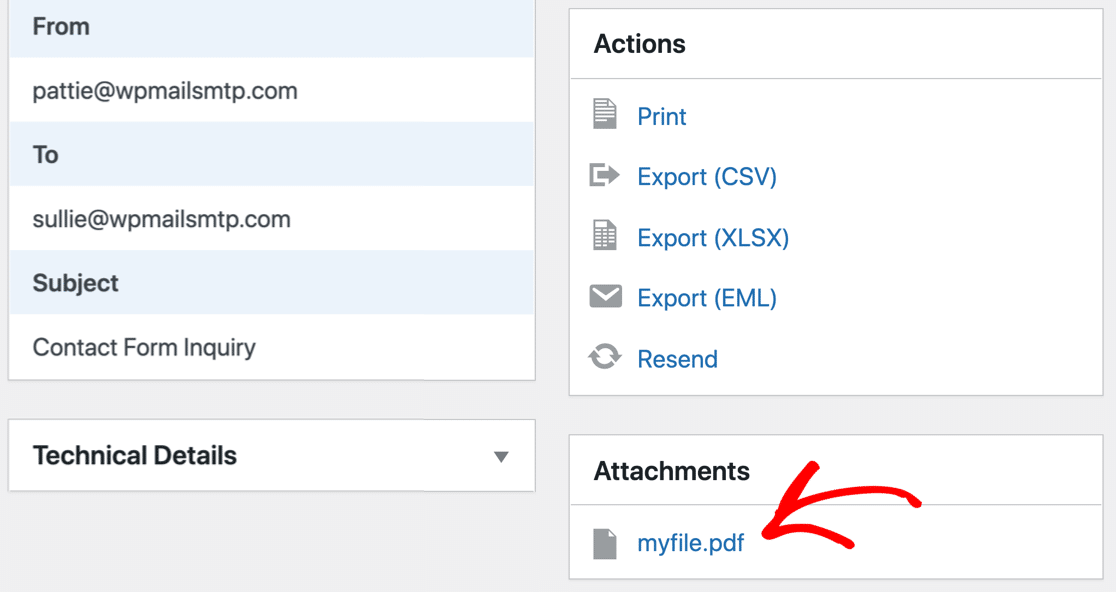 Keep in mind that the attachment files are associated with the email log. So if you delete the email log, the corresponding attachments will also be deleted from your web hosting account.
What if you want to download all attachments at once?
Let's see how we can export attachments easily using WP Mail SMTP.
6. Export Attachments From the Email Log
WP Mail SMTP lets you export the email log and attachments in CSV, XLSX, and EML format. The process is slightly different for EML, so we'll show you how to do it both ways.
To create your export file, head over to WP Mail SMTP » Tools.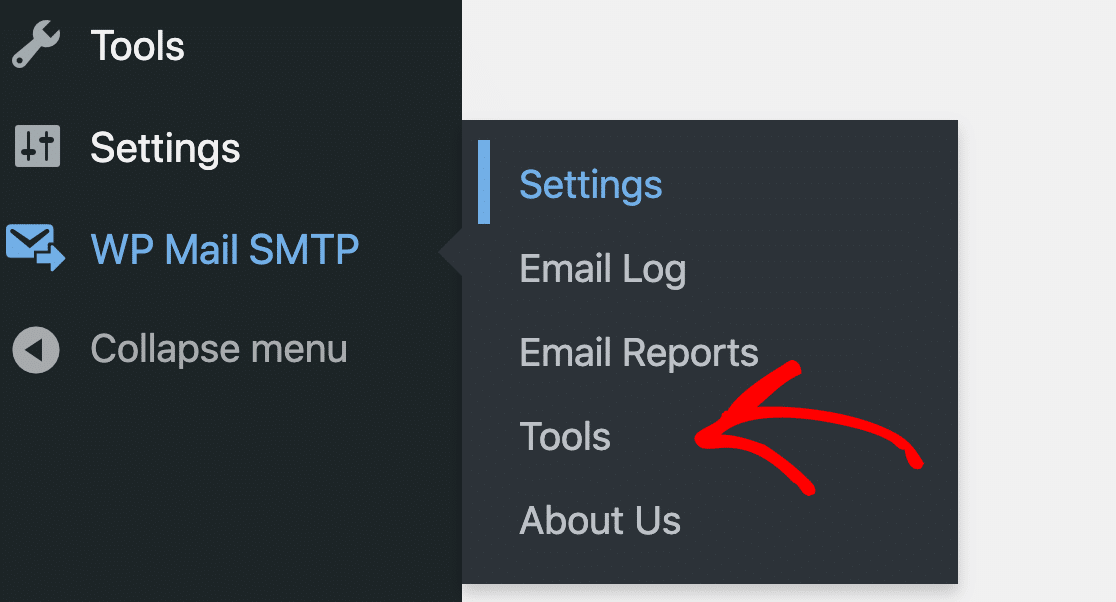 Now, click on the Export tab at the top.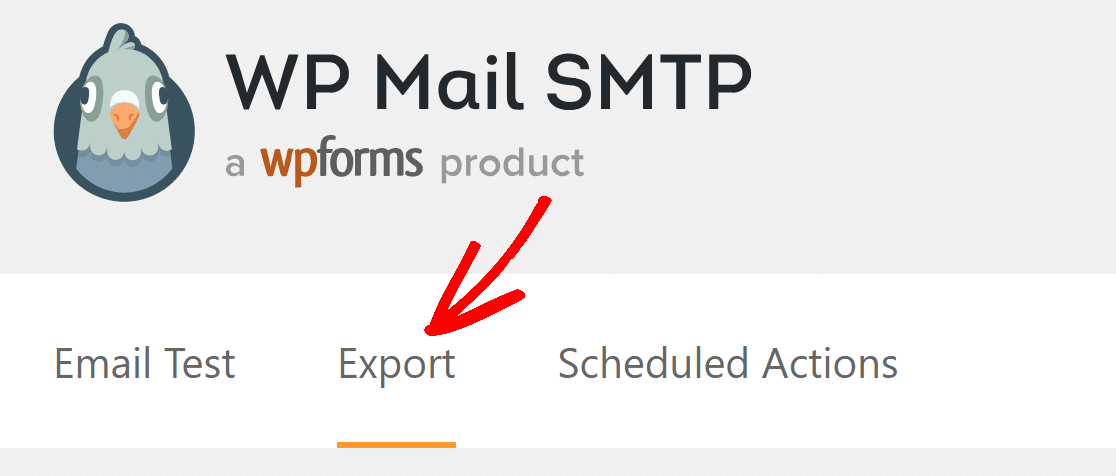 First, let's look at exporting email logs and attachment details in a CSV or spreadsheet.
Exporting Email Attachments in CSV or XLSX Format
CSV and XLSX exports include a link to each attachment file, rather than including the files themselves. This helps to keep the file size small.
First, select either CSV or Microsoft Excel under Export Type.

Under Common Information, make sure the Attachments checkbox is selected.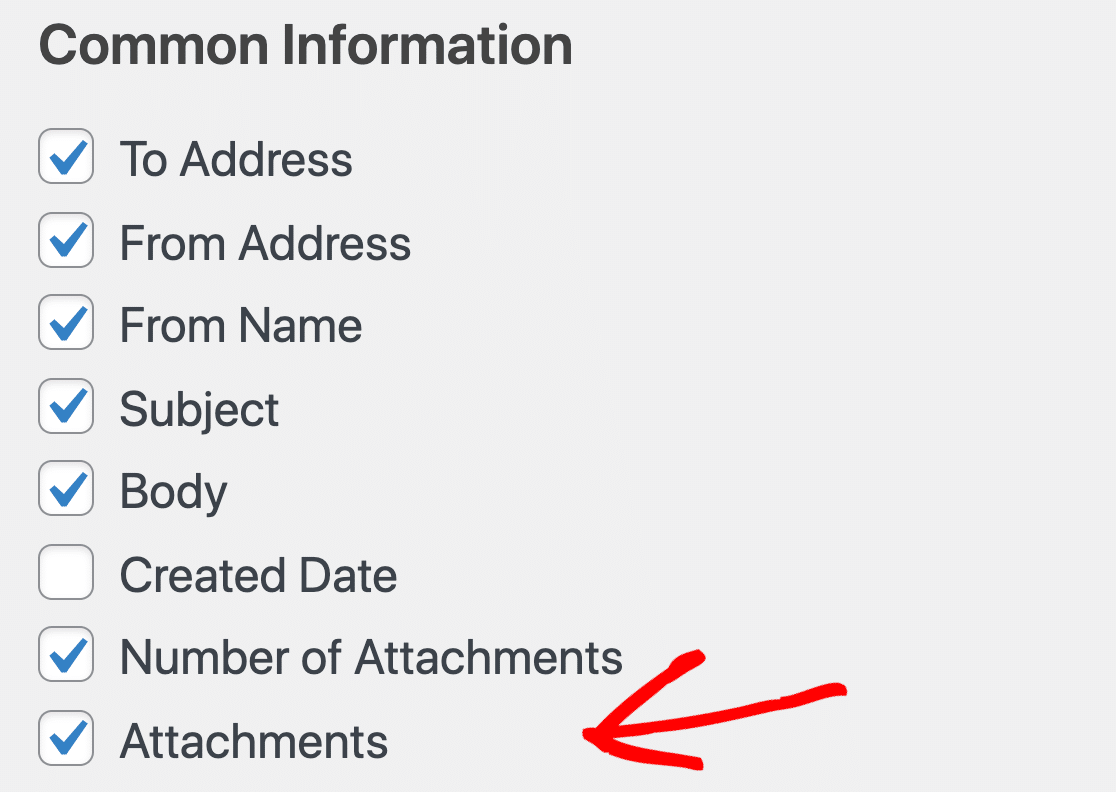 If you want, you can include more information and filter the export.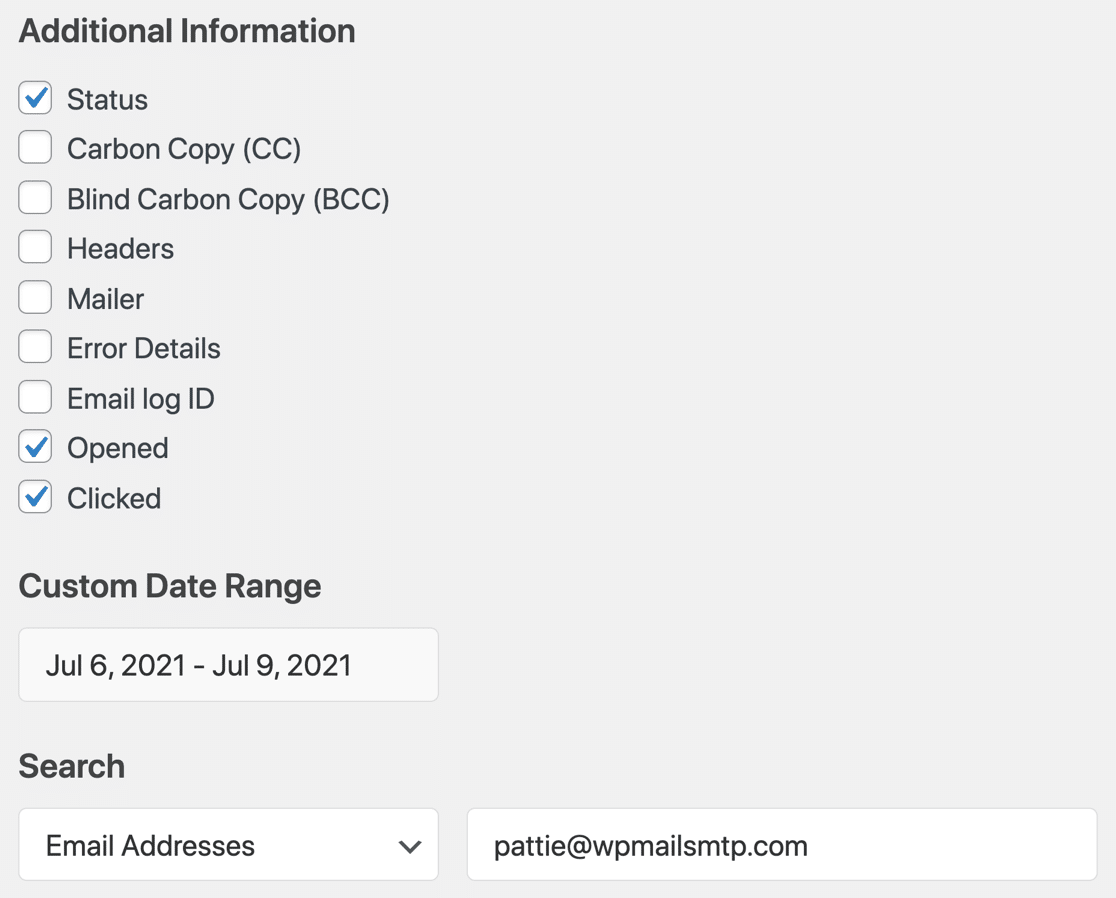 Click on the Download Export File and a file will be downloaded in the format you selected in export type.
When you open it up, the attachments are listed in the Attachments column.

As we mentioned above, the file name has been replaced with a random name for security.
Exporting Email Attachments in EML Format
If you want to export the attachments themselves, it's better to use EML format. That way, you'll get a zip file of each email including the original attachments.
To export emails with their attachments, click EML in the Export Type section. EML files contain all the detail from the log, including the email content if you chose to save that. That's why there are fewer options here compared to the CSV and XLSX export.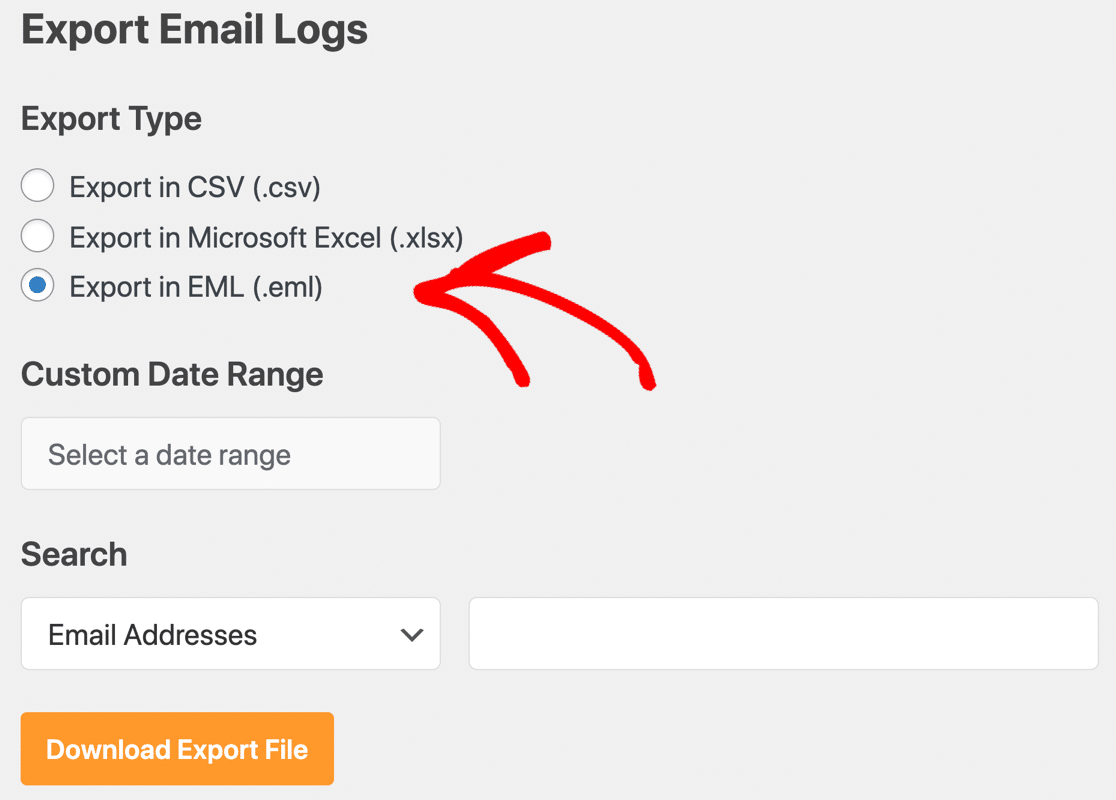 Now click Download Export File to download all the emails in EML format.
Inside the zip file, you'll see each individual email.

Click on any email to view the log and its attachments.
This is an awesome way to preview custom email templates. For example, if you're using a WooCommerce email customizer plugin, you can export your templates in EML format and try opening them in different email clients.
That's it! Now you know how to save email attachments in WordPress using the WP Mail SMTP plugin.
Save Your WordPress Email Attachments Now
Next, Enable Open and Click Tracking
Now you're tracking attachments in WordPress, you can turn on open and click tracking too.

Open and click tracking lets you see when your emails are being read. To see how it works, check out our article on how to enable open and click tracking for WordPress emails.
Ready to log your emails?
Ready to fix your emails? Get started today with the best WordPress SMTP plugin. If you don't have the time to fix your emails, you can get full White Glove Setup assistance as an extra purchase, and there's a 14-day money-back guarantee for all paid plans.
If this article helped you out, please follow us on Facebook and Twitter for more WordPress tips and tutorials.