Are you looking for the best WooCommerce plugins to increase your online sales?
Third-party WooCommerce plugins can expand the features in WooCommerce to help you sell more and manage your store.
In this article, we've listed down some of the best WooCommerce plugins to help you increase revenue and build a relationship with your customers.
Fix Your WooCommerce Emails Now
Is WooCommerce a Theme or a Plugin?
WooCommerce is a WordPress plugin. Some WordPress themes will work with WooCommerce, even if they're not designed for that purpose. For the best results, we recommend choosing a theme that's designed for WooCommerce specifically.
You can also add extra plugins to expand the features in WooCommerce. There are hundreds of plugins available – both free and premium.
So how do you decide which ones are the best for your business? Let's take a look.
17 Best WooCommerce Plugins To Boost Online Sales
1. WP Mail SMTP
WP Mail SMTP is the best SMTP plugin for WordPress. It makes it easy to ensure that WooCommerce order emails always reach your customers' inboxes.
WooCommerce, by default, uses the PHP mail() function to send all emails. This isn't a reliable method.
WP Mail SMTP helps fix WooCommerce emails by connecting your website to an external email service. You can use one that specializes in sending transactional emails to make sure you have high enough sending limits.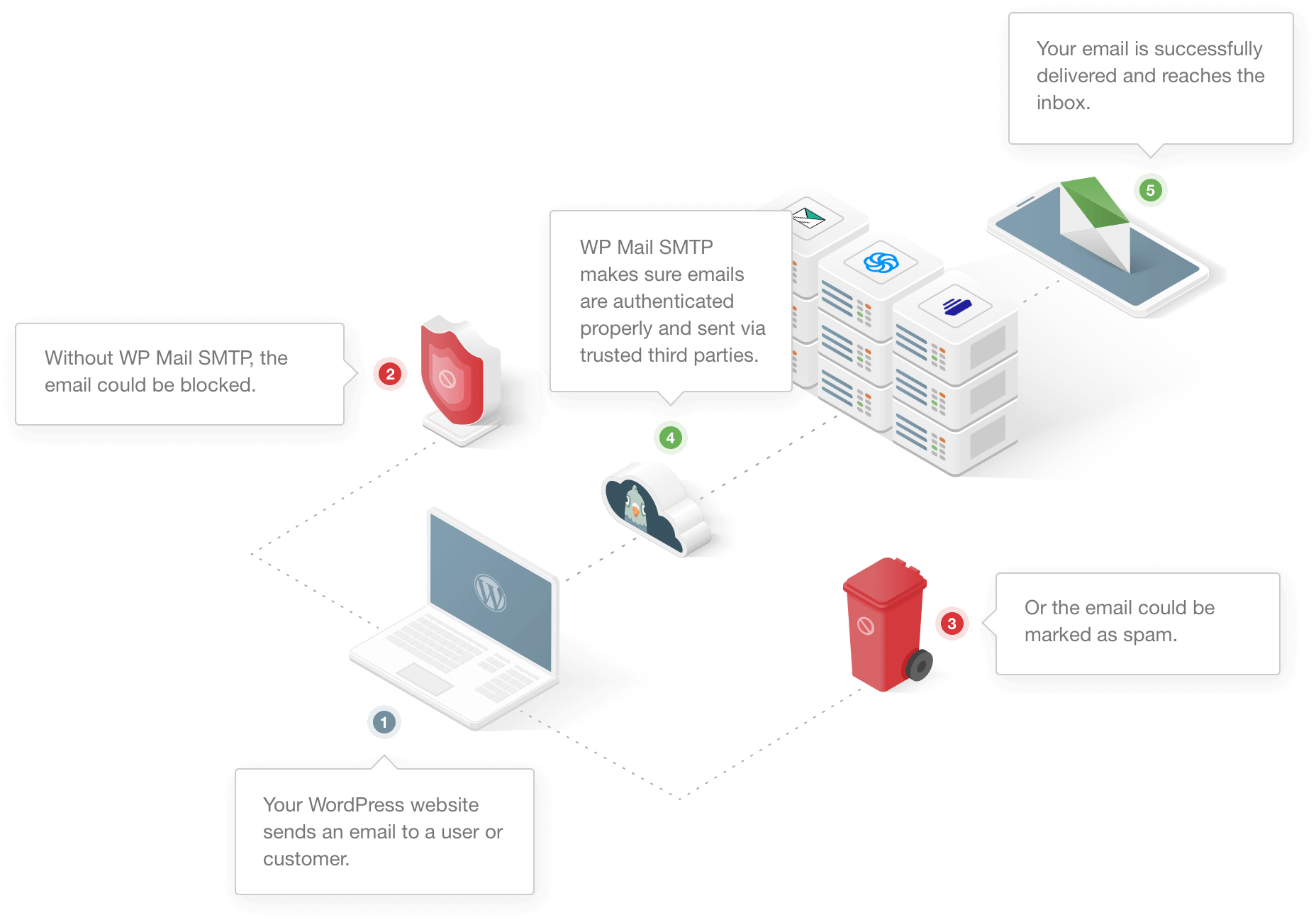 al
More than 3 million websites use WP Mail SMTP to send their emails securely. In the Pro version, you can also:
Track email opens and clicks for every WooCommerce email
Resend failed order emails or forward them to a different address
Search and view the log file in your WordPress dashboard
Export WooCommerce emails in CSV, XLSX, or EML format
Generate email reports.
Pricing: Free or $99/year for a single site license.
2. WPForms
WPForms is the most beginner-friendly contact form plugin for WordPress. It has an intuitive drag and drop form builder that doesn't require you to know any coding language.
You can use it to create forms for your WooCommerce website, including:
Contact forms
Surveys
Simple order forms
Customer feedback forms
Email marketing subscription forms
And more.
Over 5 million websites use WPForms because of its power and ease of use.
You can get started with a free version and later upgrade to the Pro version if you need more features. We highly recommend the Pro version because it unlocks a huge template library. You can view the messages you receive from the forms right into the WordPress dashboard or configure it to send email notifications on submission.
Pricing: Free or $79/year for a Basic license.
3. All In One SEO
All in One SEO is the best plugin for WooCommerce SEO. You can use it to optimize your website and get more traffic from search.
All in One SEO is awesome because it's beginner-friendly. For example, the template system here makes it easy to create post titles and meta descriptions for every page or product without writing each one individually: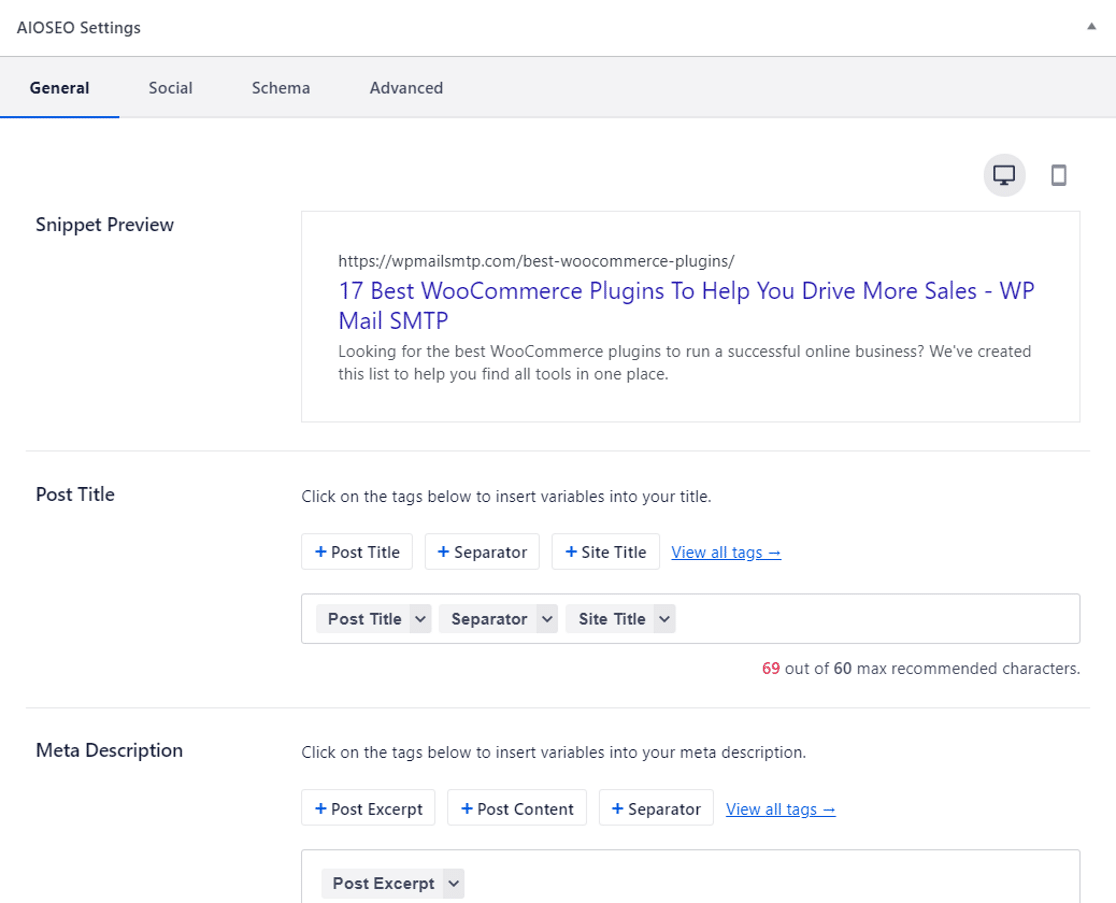 Here are a few more reasons we recommend All in One SEO for WooCommerce:
The image SEO addon helps your product images rank as well as your text content
It includes one-click breadcrumb setup that helps visitors navigate your store
You can use schema markup to display your products with rich snippets. This makes your products stand out from competitors' listings
The local SEO module is a great option for brick and mortar stores, or any online store that serves a specific area.
If you're looking to increase organic traffic to your store, we highly recommend All in One SEO.
Pricing: Free or $99/year for a Basic license.
Want to see how All in One SEO stacks up against the competition? Check out our list of the best SEO plugins for WordPress.
4. OptinMonster
OptinMonster is the best WooCommerce plugin for lead generation and conversion. It helps you capture leads using popups and optin forms.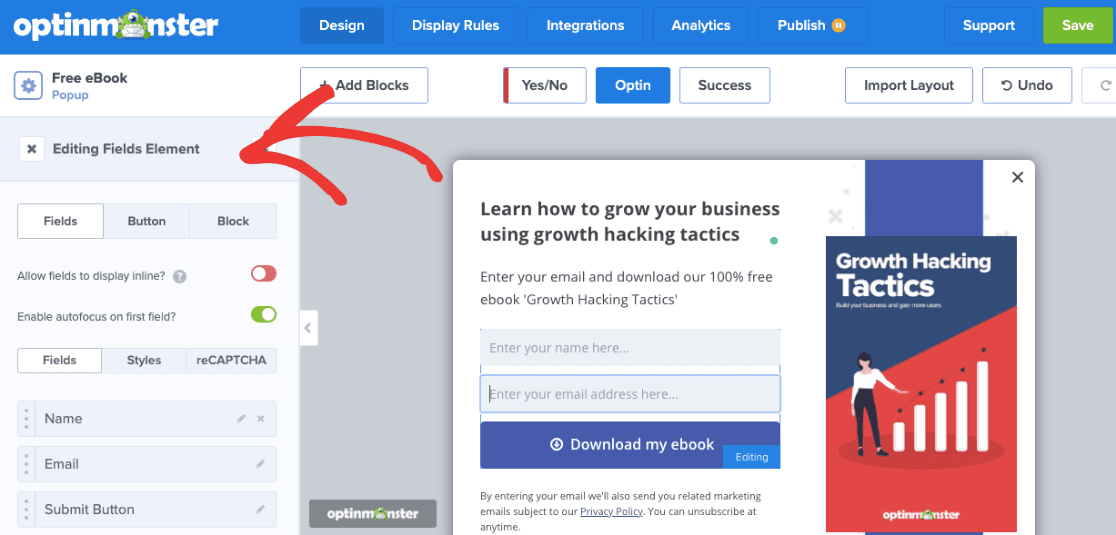 OptinMonster is easy to use and comes with a drag and drop builder to create beautiful popups, floating bars, and slide-in boxes. The floating bar is perfect for sales announcements while the coupon wheel is a great fun tool to increase sales.
You can use its signature exit-intent technology to show targeted campaigns with coupons when users are about to leave your website.
Pricing: Free or $14/month for the Basic license.
5. PushEngage
PushEngage is the best push notification service for WooCommerce. It makes it easy to send notifications about sales, price drops, or abandoned carts.
However you choose to use them, web push notifications are a powerful way to increase sales on your WooCommerce website. PushEngage lets you send personalized and timezone-based notifications that can really help in skyrocketing your sales.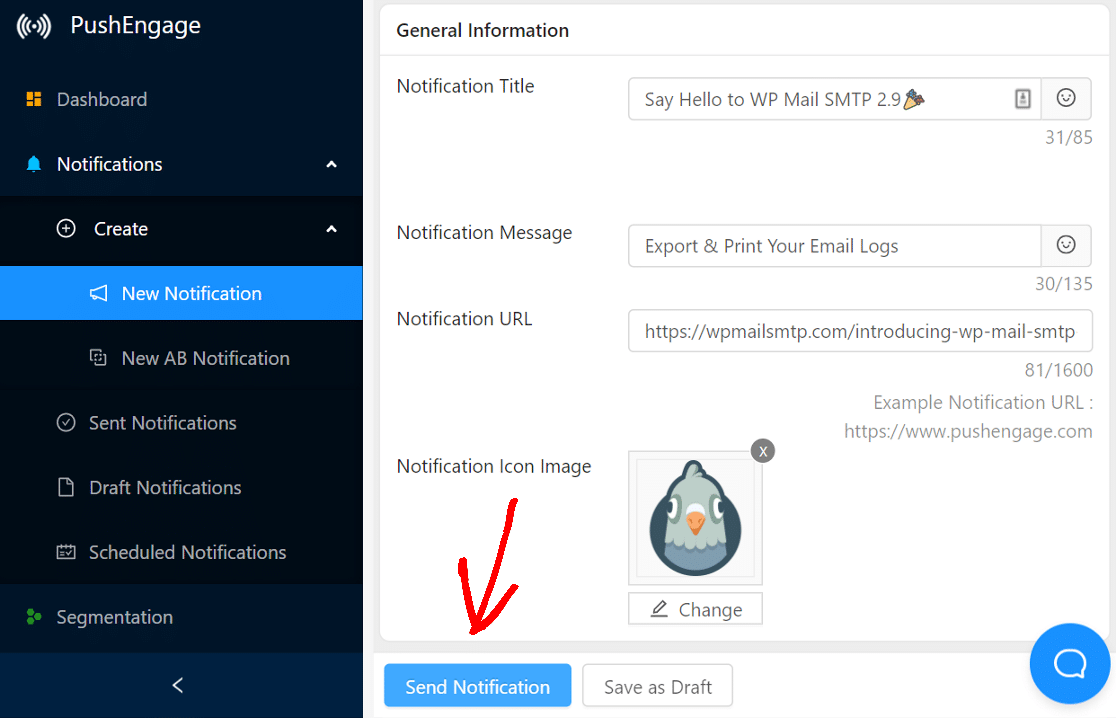 You can also:
Start drip campaigns to send a series of automated notifications
Segment subscribers based on their interests, which helps to target the right subscribers at the right time
Send abandoned cart notifications
PushEngage offers a free plan that lets you send 120 notifications a month to up to 2,500 subscribers.
Pricing: Free or $14/month for the Business license.
6. TrustPulse
TrustPulse is the best social proof service for eCommerce websites. It helps to build trust with your visitors by showing store activity and purchases in real-time.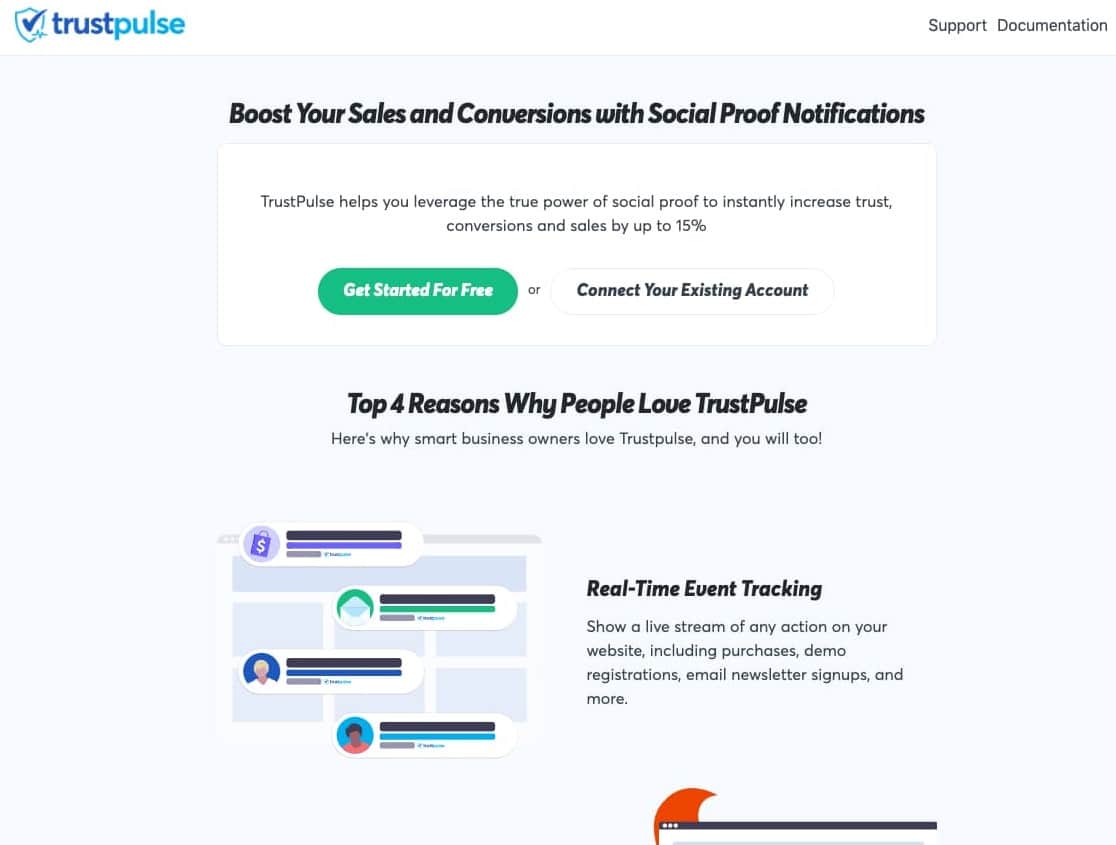 The setup takes no more than 5 minutes and you don't need to know any coding language to use it. It's easy to install on any WooCommerce store.
TrustPulse offers flexible design options to customize the look and feel of the notifications to match your website. The notifications are shown to everyone regardless of if they have subscribed or not.
You can check the analytics to see which notifications are performing and which pages are delivering the best conversion rates.
Pricing: Free or $9/month for the Basic license.
7. MonsterInsights
MonsterInsights is the best Google Analytics plugin for WooCommerce.
The plugin shows all Google Analytics data right into the WordPress dashboard. It has an additional eCommerce addon that can track the performance of your store and provides you with a detailed report.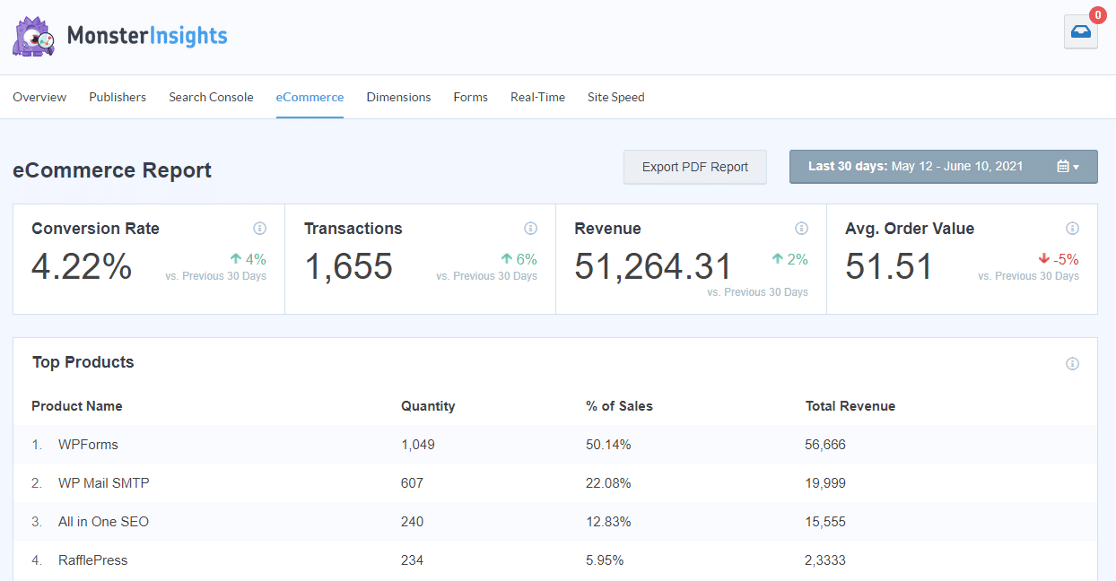 What's great about MonsterInsights is that it shows the data in an uncluttered way. You don't need to be a Google Analytics expert to understand it.
This helps you to make data-driven decisions and grow your business and sales.
Pricing: Free or $199/year for a single site license.
8. SeedProd
SeedProd is hands down the best page builder plugin for WordPress. It lets you build completely custom pages for your WooCommerce store.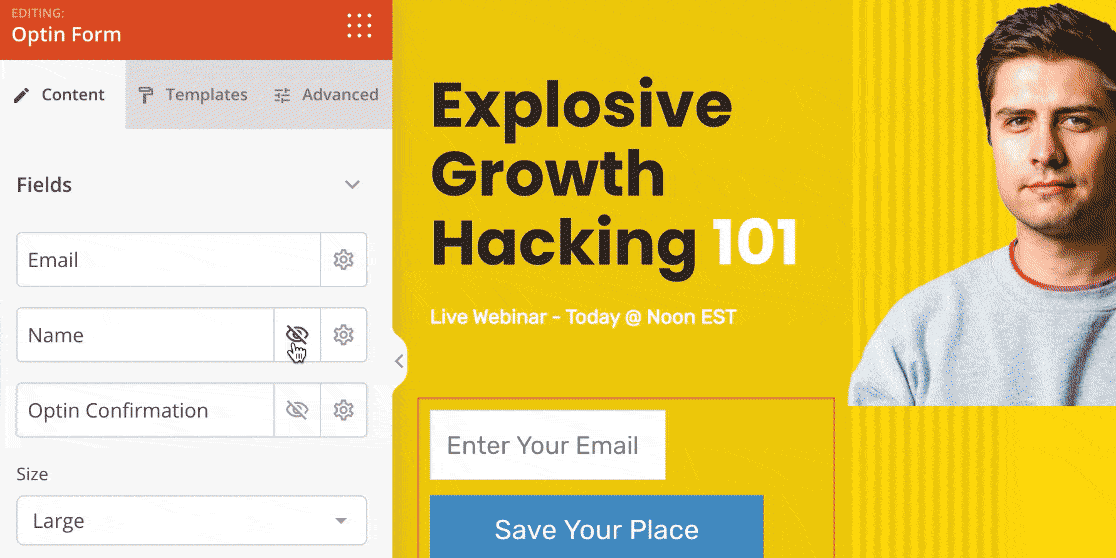 SeedProd has dedicated WooCommerce blocks, including:
Add to cart buttons
Shopping cart buttons
Checkout buttons
Product grids
Customizing WooCommerce pages can be tricky, but SeedProd makes it easy to customize the checkout page and offer a unique experience to your customers.
You can also design:
Product pages
Email opt-in pages
Coming soon pages
404 error pages
Maintenance mode pages
And much more.
Pricing: Free or $79/year for a single site license.
9. WooCommerce Wholesale Suite
Wholesale Suite is a plugin pack that lets you run a normal WooCommerce store and a wholesale store at the same time.
You can use this plugin to deal with normal customers as well as businesses who like to order in bulk.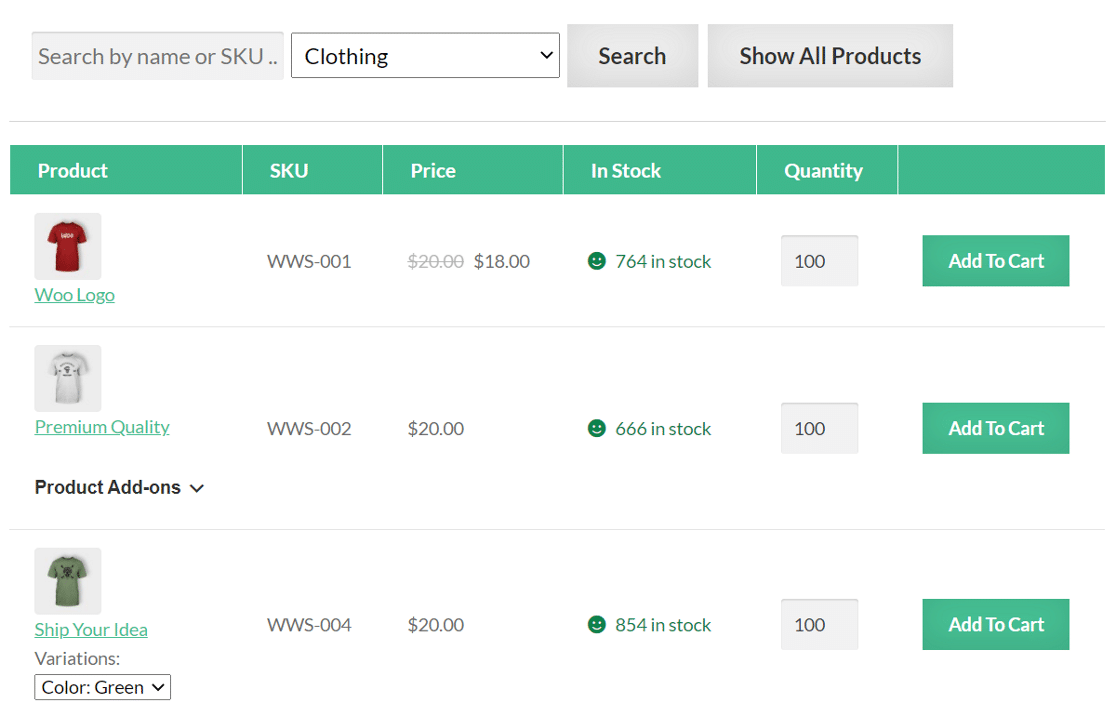 The plugin lets you easily set the minimum quantity a customer need to order to get a wholesale discount. You can show the quantities that are available in stock on the order form.
Pricing: Free or $297/year for the Growth bundle.
10. Advanced Coupons
Advanced Coupons is the best WooCommerce coupon code plugin. It adds extra functionality to the default coupon settings in WooCommerce.

Advanced Coupons integrates tightly with WooCommerce and lets you create:
BOGO offers
Loyalty program
Scheduled coupons
Shipping coupons
Pricing: Free or $99/year for the Growth license.
11. Product Import Export for WooCommerce
Some eCommerce stores have a big database of products. Manually entering the data of each product can be a time-consuming task. Product Import Export for WooCommerce allows you to import products to your WooCommerce store by uploading a CSV file.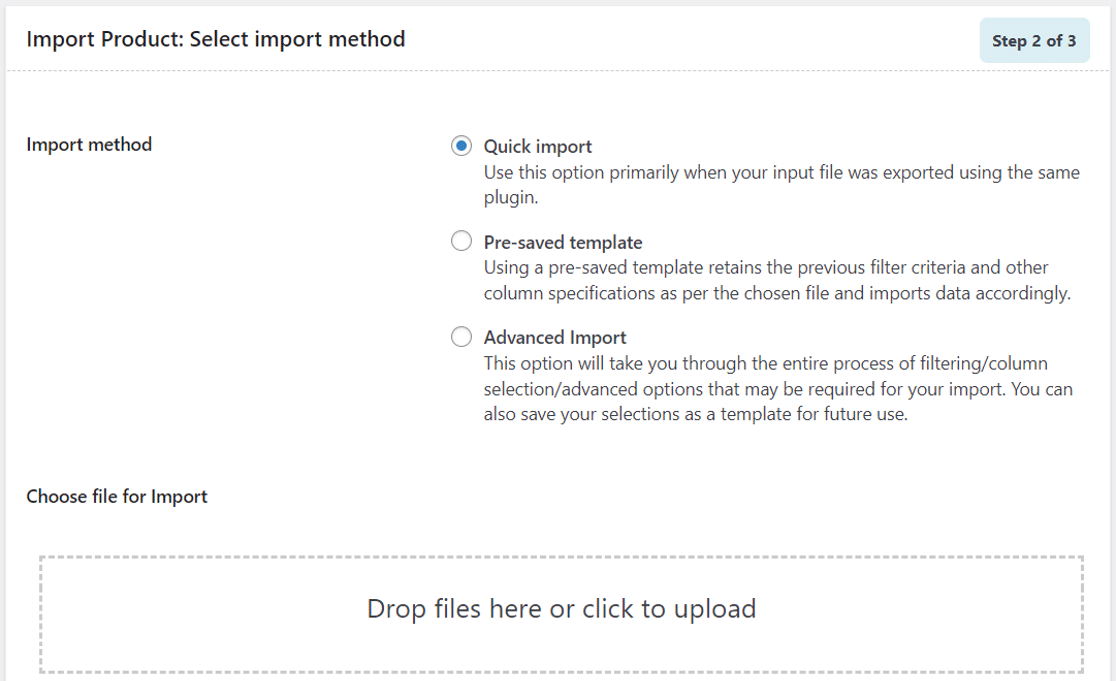 Product Import Export is a great option for combining 2 WooCommerce stores or exporting products from other platforms.
You can also use it to export your store data and edit it in a spreadsheet. That can be helpful for checking stock levels or correcting multiple listings in one go.
Pricing: Free or $69/year for a single site license.
12. StoreCustomizer
StoreCustomizer is a great customization plugin for WooCommerce. It adds extra customization features on top of the WordPress defaults.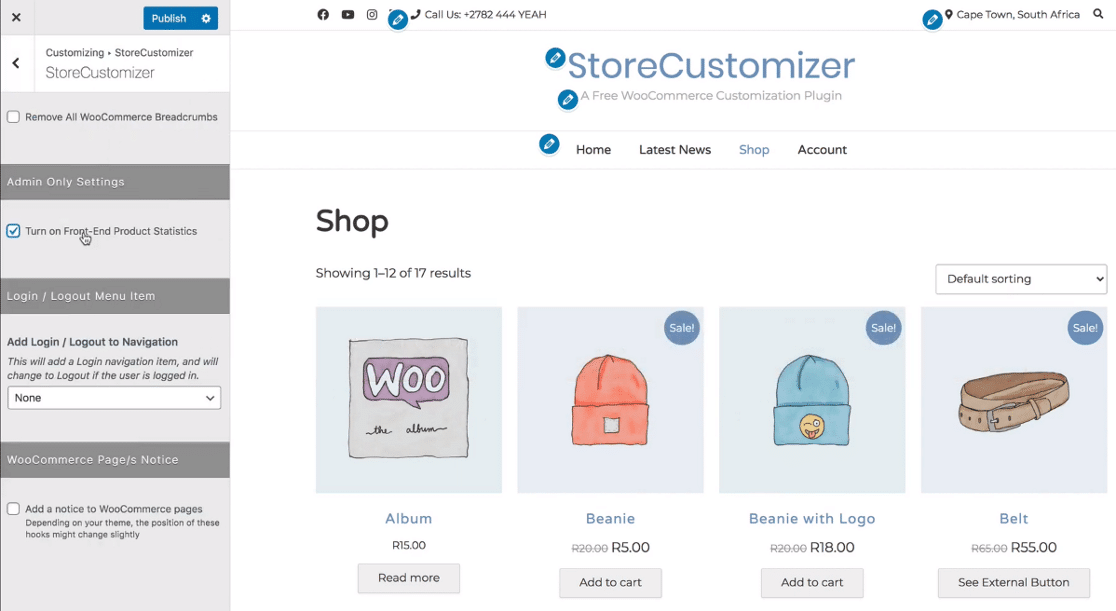 StoreCustomizer uses a familiar interface that's easy to get to grips with. You can use it to tweak your:
Product pages
Checkout pages
User account pages
Thank you pages
Pricing: Free or $49/year for a single site license for WooCustomizer Pro.
13. YITH WooCommerce Wishlist
YITH WooCommerce Wishlist is a plugin that let your customer easily create a list of their favorite products and keep it for future or share it with friends and family.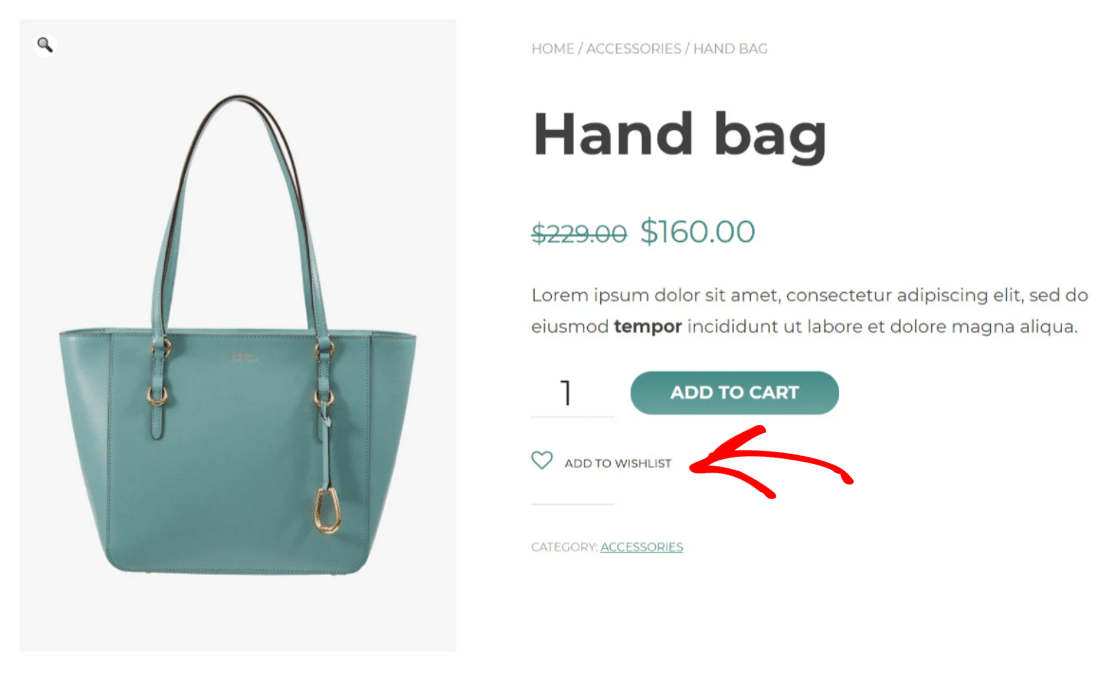 Having a wishlist feature can boost sales by letting people save items that they might want to buy on a future visit.
In addition, you can also see which items are being added to wishlists in WooCommerce, and that can help you to develop the right promotions and sales. You can also send customers alerts so customers can quickly come back and buy the item later.
Pricing: Free or $95/year for a single site license.
14. YITH WooCommerce AJAX Search
YITH WooCommerce AJAX Search allows visitors to search your products and gives instant results in a dropdown.
Speed and user experience are very crucial for an eCommerce website. A good search experience means that visitors don't have to navigate around before landing on the product page they are looking for.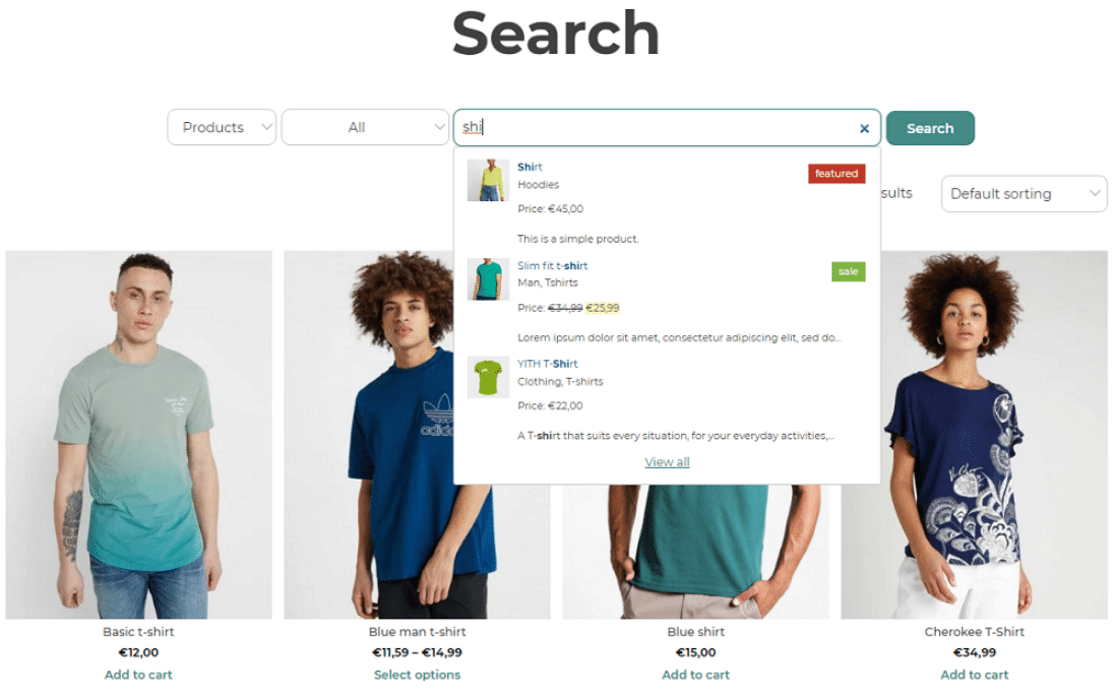 With this WooCommerce plugin, the product is displayed as soon as the user starts typing. You can also let users search within specific categories or tags and filter the results.
Pricing: Free or $69/year for a single site license.
15. YayMail
YayMail is a drag and drop WooCommerce email customizer plugin. It offers a true visual editor and intuitive interface that's easy to use for beginners.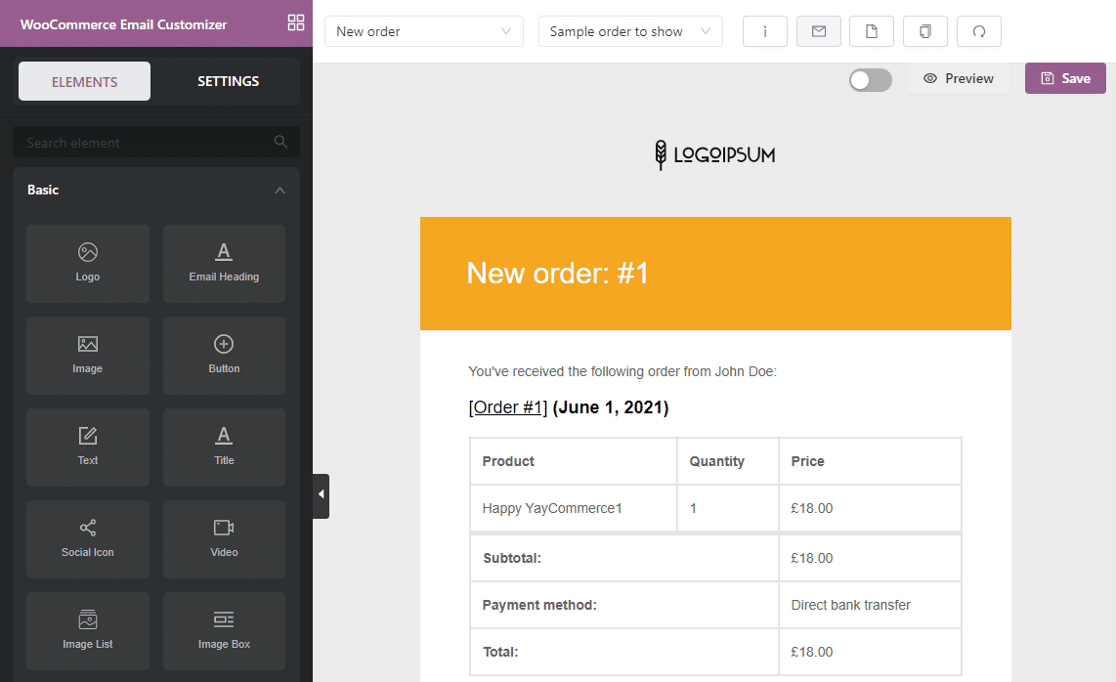 YayMail works like a page builder plugin. You can customize the design by changing the font, colors, or edit the content of the body.
The builder has WooCommerce specific elements that are dynamic in nature. This means you can personalize the email content based on the order.
The plugin also has a preview option and you can see how each template looks on different devices. If you want to see how they look on paper, you can also print your WooCommerce order emails to check the layout.
Pricing: Free or $59/year for a single site license.
16. YITH WooCommerce Compare
YITH WooCommerce Compare let users easily compare two or more products side by side to help them choose the best one for their need.

You can choose which fields to show in the comparison table and also reorder the fields.
In addition, YITH WooCommerce Compare lets you show other related products at the end of the comparison.
Pricing: Free or $69/year for a single site license.
17. WOOCS – WooCommerce Currency Switcher
If you ship internationally, WooCommerce Currency Switcher is a must-have plugin for your site. It lets you add a currency switcher to the product page so that people can buy in their local currency.
This can help to drive sales by displaying prices in a way your customers can understand.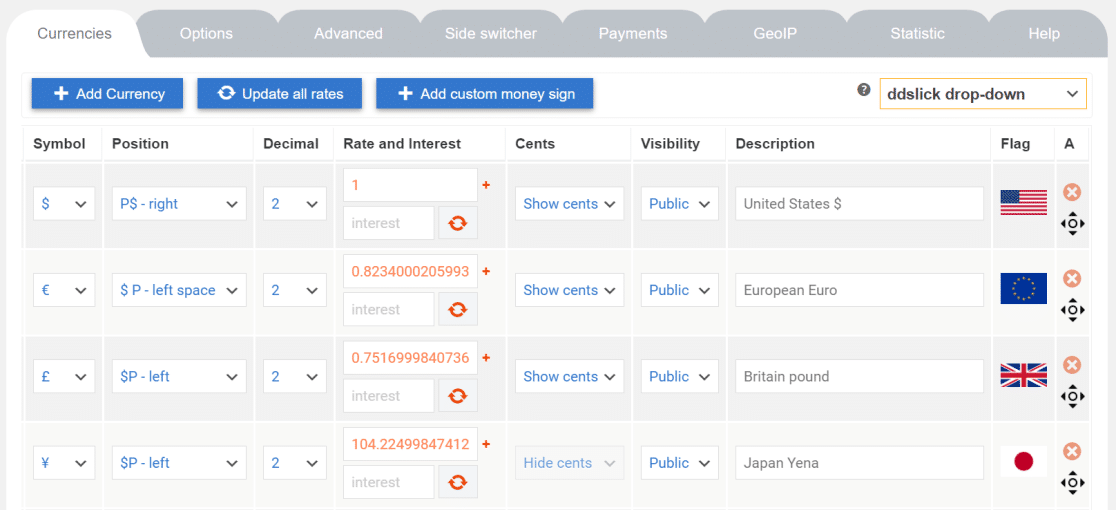 You can add the currency switcher to any page with just a shortcode. It detects the geolocation of the user based on IP address and shows the price in local currency.
The plugin is completely free and available on the WordPress repository.
Pricing: Free.
And that's it! Building a successful WooCommerce store can be a challenging task. Not when you have a list of the best WooCommerce plugins to help you in the process.
Fix Your WooCommerce Emails Now
Next, Consider Security For Your eCommerce Store
Security is important for an eCommerce store because you're responsible for storing customers' details properly.
Check out our best security plugins guide to safeguard valuable customer data. You might also find our list of the 5 Best Payment Plugins for WordPress interesting.
Ready to fix your emails? Get started today with the best WordPress SMTP plugin. WP Mail SMTP Elite includes full White Glove Setup and offers a 14-day money-back guarantee.
If this article helped you out, please follow us on Facebook and Twitter for more WordPress tips and tutorials.