Looking for the best WordPress Stripe plugin?
Stripe is a super popular payment service because it lets customers easily pay you with their banking cards.
In this post, we'll recommend the best Stripe payment plugins for WordPress that you can use to collect payments from your customers.
Best Stripe Payment Plugins for WordPress
Our top recommended WordPress Stripe plugins come with a bunch of useful features other than offering complete Stripe payment support.
Let's dive into our list.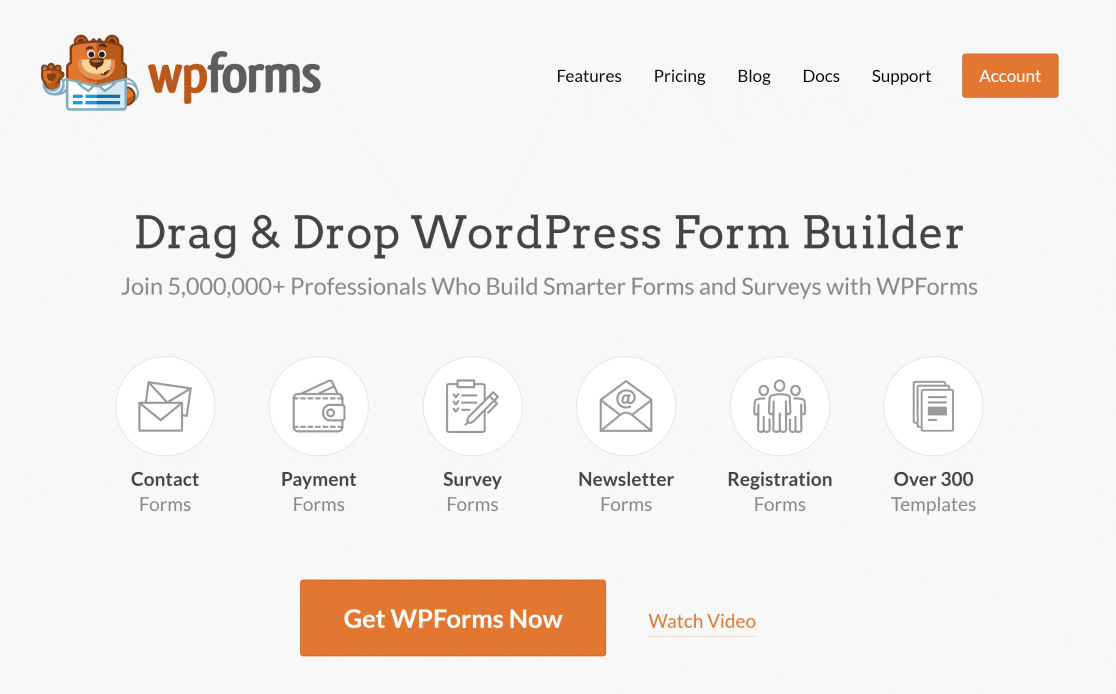 WPForms is the best Stripe plugin for WordPress. Although WPForms is popular as a contact form builder, it offers excellent payment collection capabilities with popular payment gateways like Stripe.
The drag and drop form builder provides over 1000+ customizable WordPress form templates. Many of these are payment forms and donation forms designed for different businesses, nonprofits, and other organizations, so you can get started with no hassle.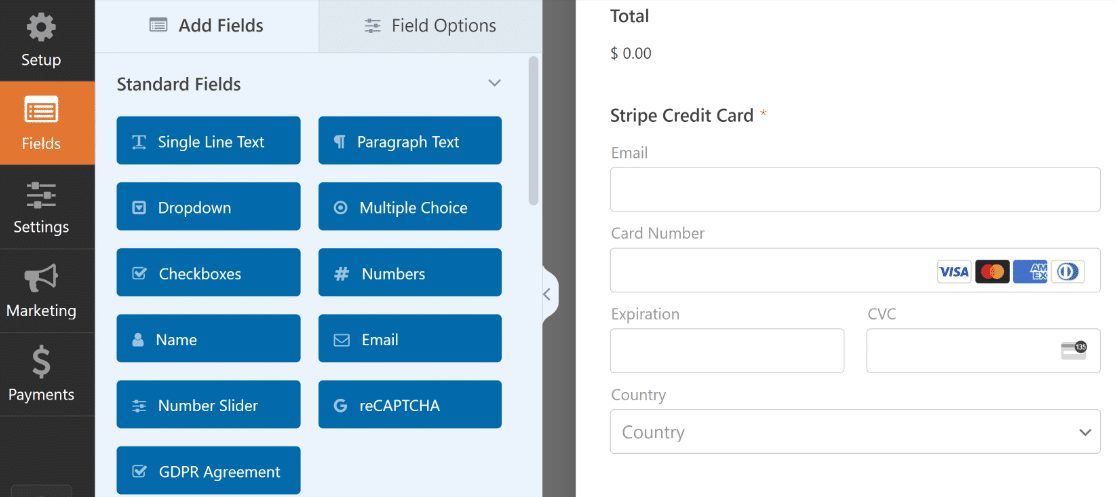 Working with WPForms to create your perfect Stripe payment form is super simple. The form builder is designed to simplify customizations, allowing you to edit any component of your form, including the field styles, payment buttons, and more without any code.
We were pleased to see that Stripe is a native integration in WPForms. That means you only need to enter your Stripe credentials to connect with WPForms. No extra configurations are needed.
Using Stripe opens up tons of payment options for your customers. That's because Stripe isn't only good for credit card payments – you can also collect Google Pay, Apple Pay, and various other options with a single integration.
The best part is that the Stripe integration is available for paid and free users both. For users on license levels lower than Pro, there's a 3% processing fee along with Stripe's regular fees per transaction.
But you can remove the 3% charge forever by upgrading to Pro or above plans.
The Pro plan also unlocks the Stripe Pro addon that adds conditional logic functionality for your Stripe payment fields. This is a great feature when you want to only display the Stripe field only if the respondent's answers match the conditional rules set by you.
With Stripe, you can also set up recurring payments. This is great if you're a membership site or a business offering subscription-based services. WPForms plugin allows you to choose a recurring period for Stripe payments too (weekly, monthly, and yearly).

Or if you're selling products with a fixed one-time price, you can easily set up single payment options just as easily using WPForms as your WordPress Stripe plugin. In fact, you can even combine multiple payment options in a single form.
Customers don't even have to leave your form page to make the payment. That's because WPForms offers a fully integrated on-site Stripe checkout functionality for maximum user convenience!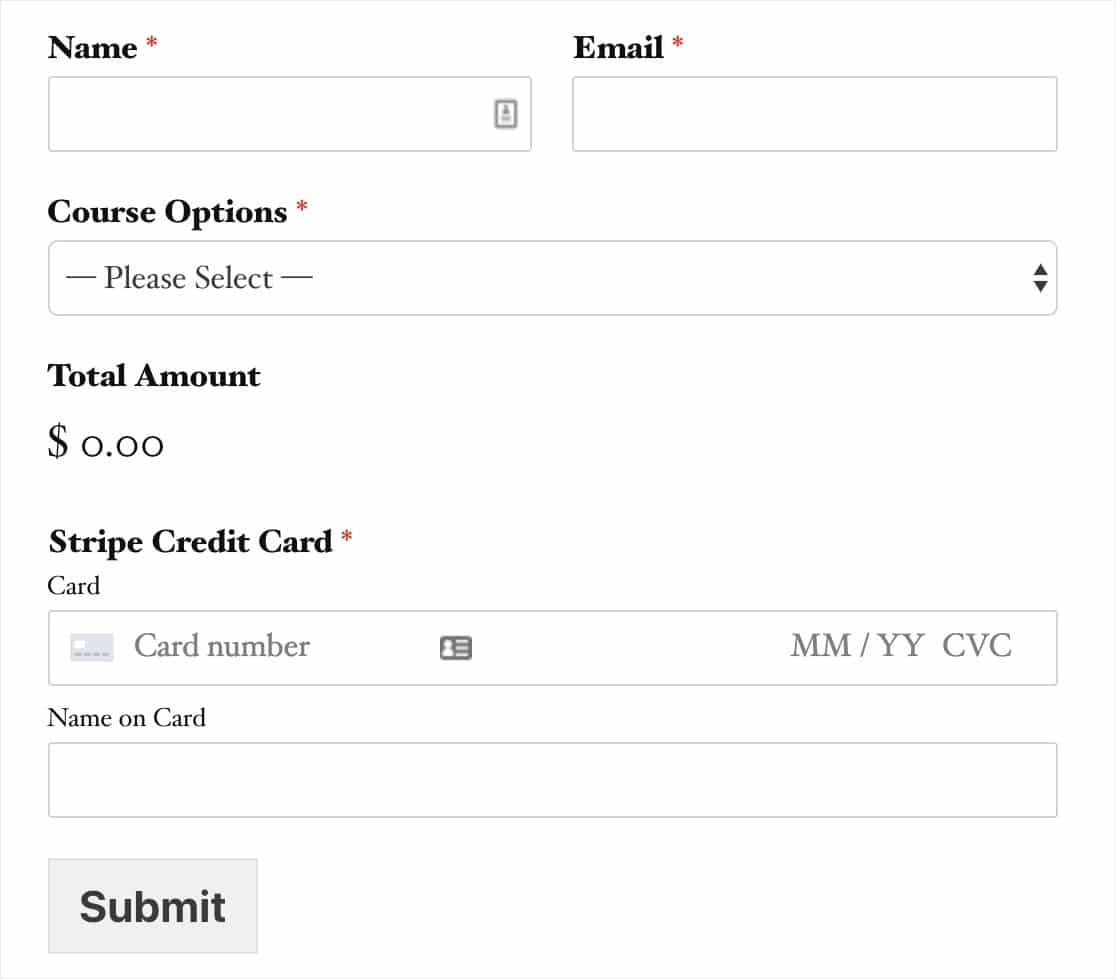 WPForms isn't just good for collecting payments – you can also use it to create and manage coupon codes for your Stripe forms to get more conversions with exciting offers.
And if you need to process a refund, you can do that with a single click from the form entry screen.
You can also use WPForms as your WordPress PayPal plugin if that's your preferred payment gateway.
Overall, WPForms is the best WordPress plugin for accepting Stripe payments on your site.
Pricing: You can access Stripe in all versions of WPForms, but the Pro plan offers the best value starting at $199.95 per year.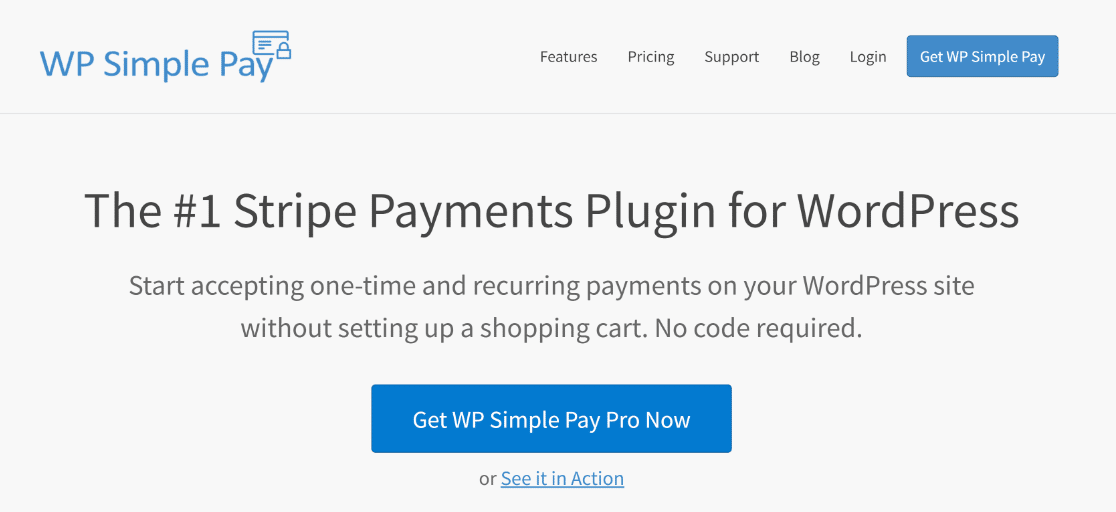 WP Simple Pay is the simplest Stripe payment plugin for WordPress websites. Despite its outstanding ease of use and simplicity, WP Simple Pay is extremely flexible, with lots of customization options.
You can set up one-time payments, add recurring payments, enable users to pay a custom donation amount, and even set up a free trial period for your online products. And that's not all – you can even add coupon codes and discount fields in the checkout.
WP Simple Pay offers a traditional embedded form display, which basically consists of a payment form having a Stripe payment field within it.
It also supports more modern, interactive payment form display types such as the overlay form display. With form overlay, the checkout screen consists of a Stripe modal that appears on top of the screen when they press the "Pay" button. It's perfect for ensuring a quick, distraction-free checkout process.
And if you want to simply redirect users to a Stripe checkout page for payment processing, WP Simple Pay makes that very easy too!
Like WPForms, WP Simple Pay doesn't require online stores to set up a shopping cart to enable Stripe payments. This way, even stores that don't have a typical WooCommerce setup can accept online payments with WP Simple Pay active on their sites.
Pricing: WP Simple Pay is a freemium plugin. With WP Simple Pay Pro plans, you get enhanced payment customization options starting at $49.50 per year.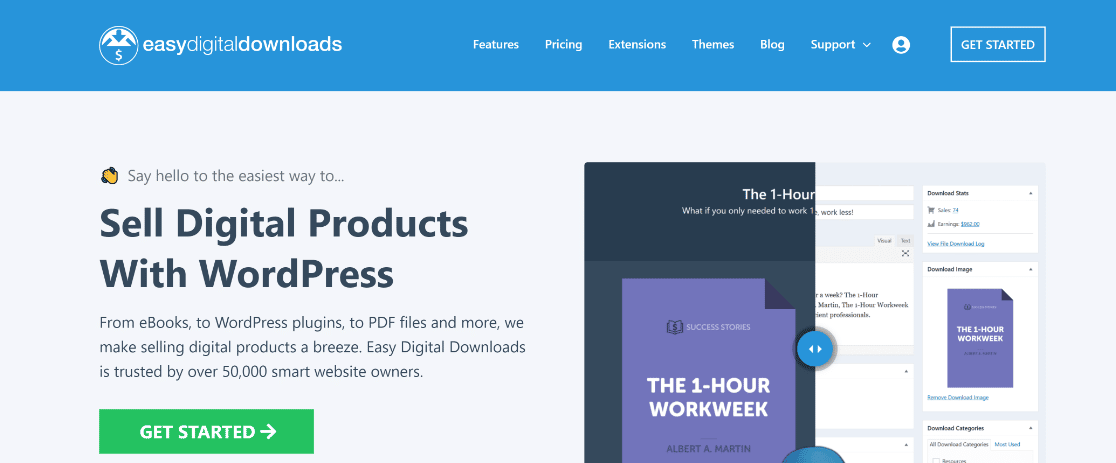 Easy Digital Downloads is an excellent eCommerce plugin for websites selling digital products. It comes with secure payment providers like Stripe, Amazon, and PayPal.
Easy Digital Downloads is a good solution for online stores that favor simplicity and ease of use.
Traditional plugins designed for selling physical products can make things a bit complicated for you if you're mainly selling digital goods like PDF files, eBooks, software programs, or music.
But Easy Digital Downloads offers just the right set of features you need to sell your digital products and accept payments with Stripe.
For Stripe payments, Easy Digital Downloads supports extensive customization options. This means you can set up one-time payments, create monthly subscription plans, and more.
It's the full-fledged WordPress eCommerce solution for stores having exclusively digital inventory.
Pricing: Easy DIgital Downloads includes Stripe payment gateway in paid plans starting at $199.50 per year.

WooCommerce for WordPress is the most popular eCommerce plugin. It is mainly used by online stores selling physical products with a shopping cart functionality.
You can turn any WordPress site into a full-fledged eCommerce store using WooCommerce, which comes with the Stripe payment gateway (but you need to set it up when first running the setup wizard in WooCommerce).
WooCommerce is an incredibly flexible plugin. Besides its core functionality, it has dozens of extensions that add a huge variety of extra features. You can add these later depending on the growing needs of your particular business.
Many stores powered by WordPress use WooCommerce to sell physical as well as digital products and use Stripe to process customer orders for the best user experience.
Pricing: WooCommerce is a free plugin, but it has many paid extensions varying in cost.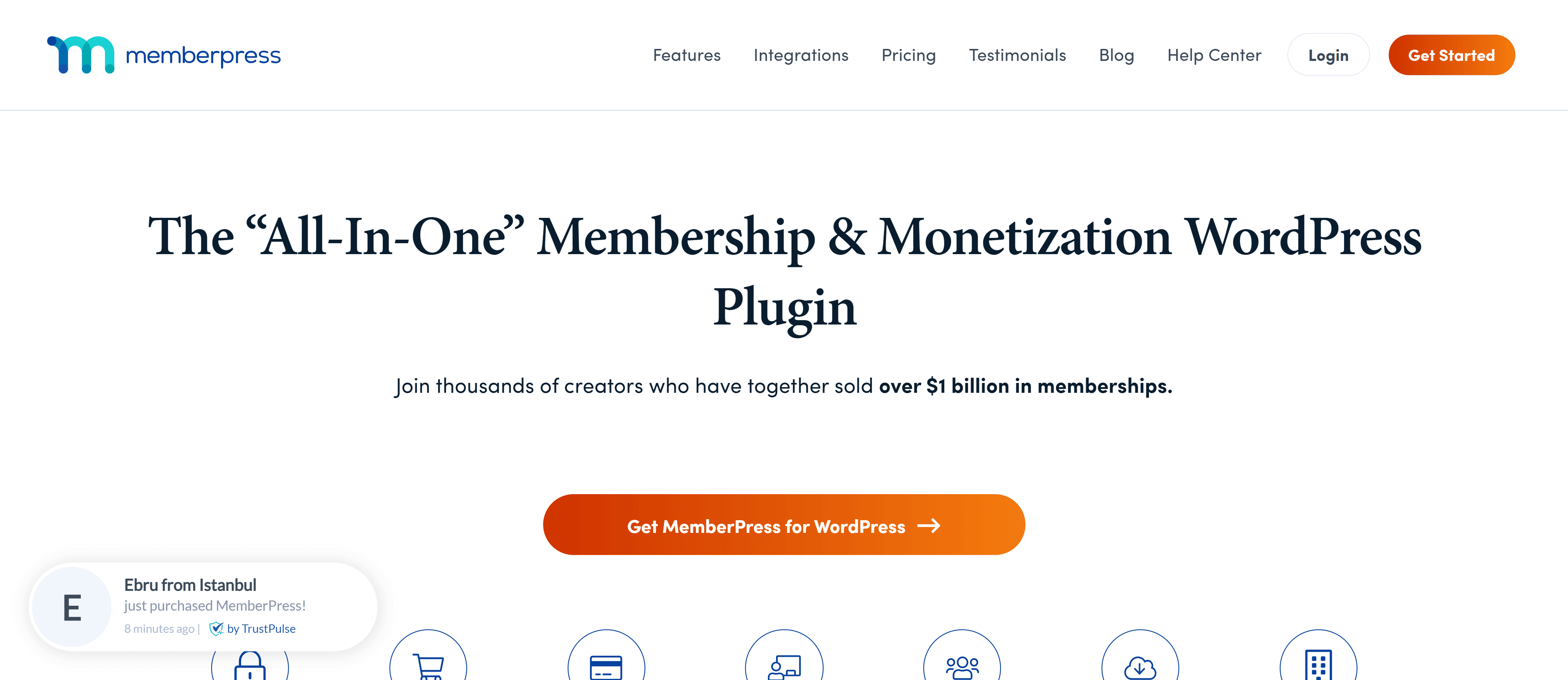 MemberPress is a plugin that allows you to run and manage membership sites in WordPress. It's a popular solution used by online institutions selling courses and other organizations offering membership programs to select customers.
MemberPress connects with popular payment gateways like Stripe and PayPal. It offers a straightforward setup process, so even beginners can get started with a membership site in various ways.
For instance, you can introduce gated content on your site that only members have access to and also define different levels of access based on the membership levels of your users.
And to make it easy for customers to purchase a membership, you can rely on the Stripe integration to enable a fast and user-friendly checkout experience.
Pricing: MemberPress subscription starts at $15 per month.
Which Stripe Payment Plugin Is the Best for WordPress?
WPForms: For most websites using payment forms to accept online payments via Stripe, WPForms is the best Stripe payment plugin there is. This is because WPForms has all the features you need to create any type of form on your WordPress site and connect a Stripe payment field to it. Plus, it lets you adjust payment schedules easily.
WP Simple Pay: This is your best option if you want even more customization options for your Stripe checkout. It's the most flexible Stripe payment plugin that works flawlessly without the need for a shopping cart.
Easy Digital Downloads: For online stores dealing in digital products exclusively, we recommend Easy Digital Downloads to sell and accept Stripe payments for your products.
You may want to use multiple plugins on this list depending on your particular goals and the range of functionalities you need.
And there you have it! You now know about the best Stripe payment plugins for WordPress.
Best Stripe Plugin FAQs
How Do I Integrate Stripe Payments in WordPress?
First of all, you need a plugin that supports Stripe integration in WordPress. The integration process is different for different plugins but user-friendly solutions like WPForms only need you to enter your Stripe credentials in order to set up the integration.
Once connected, you can immediately start accepting credit card payments from your customers on WordPress.
Do Customers Need a Stripe Account to Pay With Stripe?
Customers don't need a Stripe account to be able to make payments through it. They only need a valid credit card to pay via Stripe. This makes Stripe very user-friendly. It also supports various currencies so stores from different parts of the world can take accept payments and funds in different currencies.
How Much Does Stripe Charge for WordPress?
When integrated with WPForms, Stripe charged 3% along with a fixed charge that depends on the type and currency of payment(for example, it's $0.30 for credit card payments in USD).
Next, Send Email to Your WordPress Users
Do you allow users to register on your WordPress site? If so, you might want to send emails to your registered users from WordPress. Check out this guide on sending emails to WordPress users.
You can also read our roundups consisting of our favorite WordPress tools and plugins for different purposes:
If you're sending emails from WordPress already, make sure to track how your emails are performing.
And to make it easy for you to find the right event management plugin for your site, we created this guide on best WordPress calendar plugins.
​​
Ready to fix your emails? Get started today with the best WordPress SMTP plugin. If you don't have the time to fix your emails, you can get full White Glove Setup assistance as an extra purchase, and there's a 14-day money-back guarantee for all paid plans.
If this article helped you out, please follow us on Facebook and Twitter for more WordPress tips and tutorials.