Are you looking for the best WordPress email tracking plugins?
By tracking emails, you can see how people are interacting with the emails you've sent. You can then make informed decisions about how you can improve your email open rates and clickthrough.
In this post, we're going to talk about the best email tracking plugins that let you measure the performance of your WordPress emails.
Track Your WordPress Emails Now
What Is Email Tracking?
Email tracking is a way of monitoring the performance of your emails using metrics like opens, clicks, and send status.
With this tracking information, you get insight into whether people are enjoying your emails and engaging with them.
Some WordPress plugins can even track if your email was successfully sent or if some configuration problem is preventing emails from sending on your site.
Best WordPress Email Tracking Plugins
For WordPress, these are the best choices available when it comes to email tracking:
Let's talk about each of these in some detail.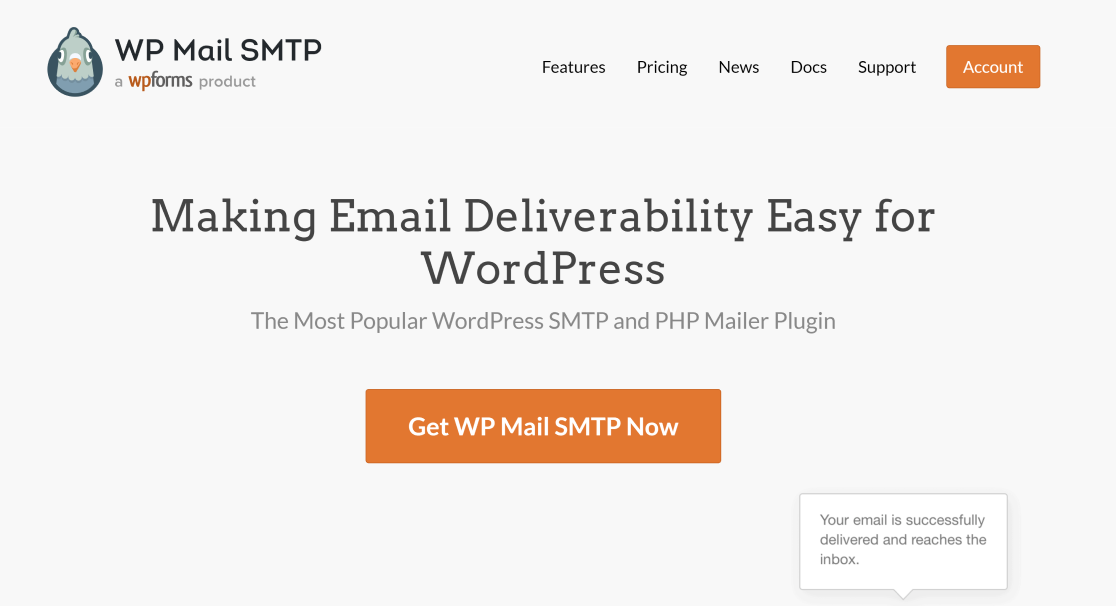 WP Mail SMTP is a feature-packed SMTP plugin for WordPress with reliable email tracking functionality.
While the main function of WP Mail SMTP is to fix your email deliverability issues, it also includes various useful extras such as email tracking.
For each WordPress email that you send, WP Mail SMTP tracks how many people opened the email and clicked any links within.
You can see all email tracking data right from your WordPress dashboard, which is a huge convenience.

These email statistics are super helpful if you want to see which emails are performing well for you. Besides, you get to identify improvement opportunities for emails with low engagement rates.
For a broad overview of your email statistics, you can also generate a graph representing your email opens, clicks, and delivery status.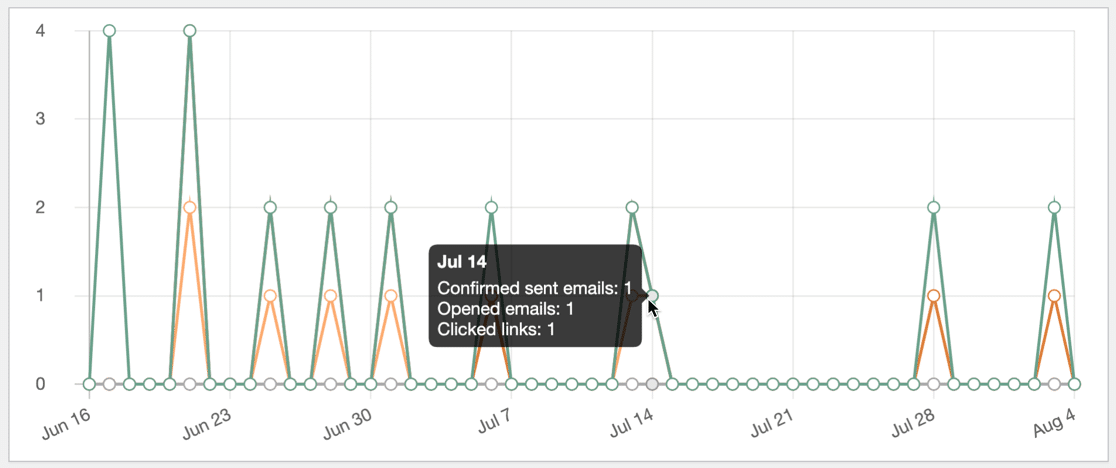 WP Mail SMTP also lets you track WordPress emails by recipient. It's easy to check if a particular subscriber opened your email or clicked any links,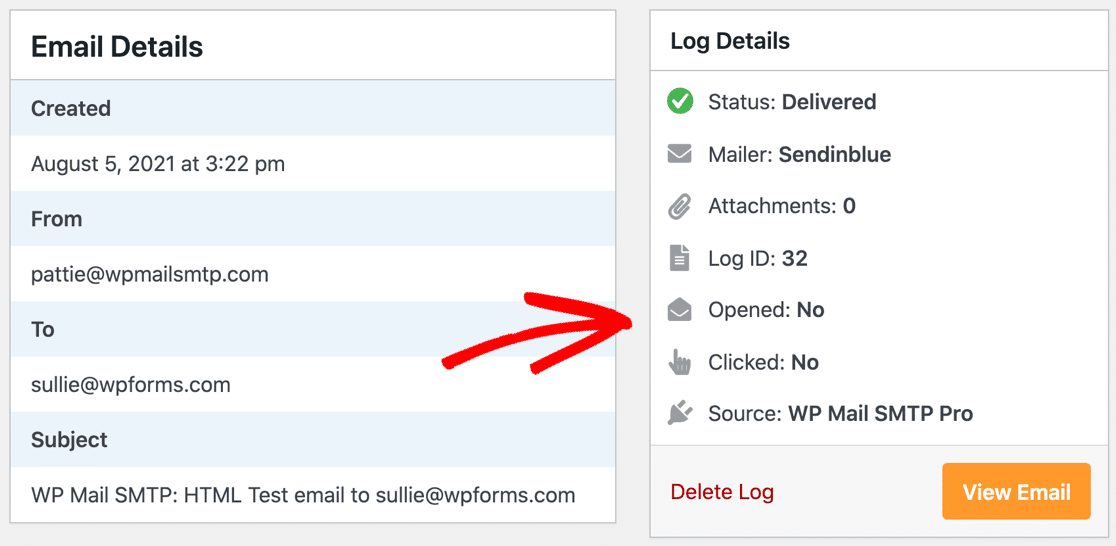 Email tracking data can help you optimize your emails in various scenarios. Whether you're sending newsletters, transactional emails, or other notifications, you can count on WP Mail SMTP to collect email engagement data.
You can then make better optimization decisions to improve your overall email performance.
You can also set up WP Mail SMTP to get email open notifications on Slack, or to get alerts when your emails fail to send in the first place.
And, other than tracking, WP Mail SMTP also logs the complete content of emails right within your WordPress dashboard.
The logs even include any attachments in the email. Most email plugins are unable to log attachments, so this is another area where WP Mail SMTP really shines.
Overall, WP Mail SMTP is the best email tracking plugin you can have for WordPress.
Pricing: WP Mail SMTP Pro starts at $49 per year.

Email Tracker is a simple WordPress plugin but it has fairly reliable email tracking features.
It maintains a log of all your outgoing WordPress emails including the subject, message, and attachments along with open and click logs.
These logs also display the date and time when the email was opened and clicked by your recipient.
Email Tracker is a very basic and lightweight plugin, so it only shows email logs in plain text. In contrast, WP Mail SMTP logs your complete in HTML view, so you can view the exact copy of your sent emails.
Moreover, you can generate graphs for a visual representation of your overall email statistics with WP Mail SMTP. This functionality is lacking in Email Tracker.
Still, Email Tracker is very useful for tracking your email opens in WordPress, especially since it offers this feature for free.
But if you also need click tracking, you'll have to upgrade to its paid version. This is very costly because it only unlocks click tracking and there are no other premium features included.
Pricing: Basic open tracking is free. For click tracking, you'll need the pro version starting at $49 per year.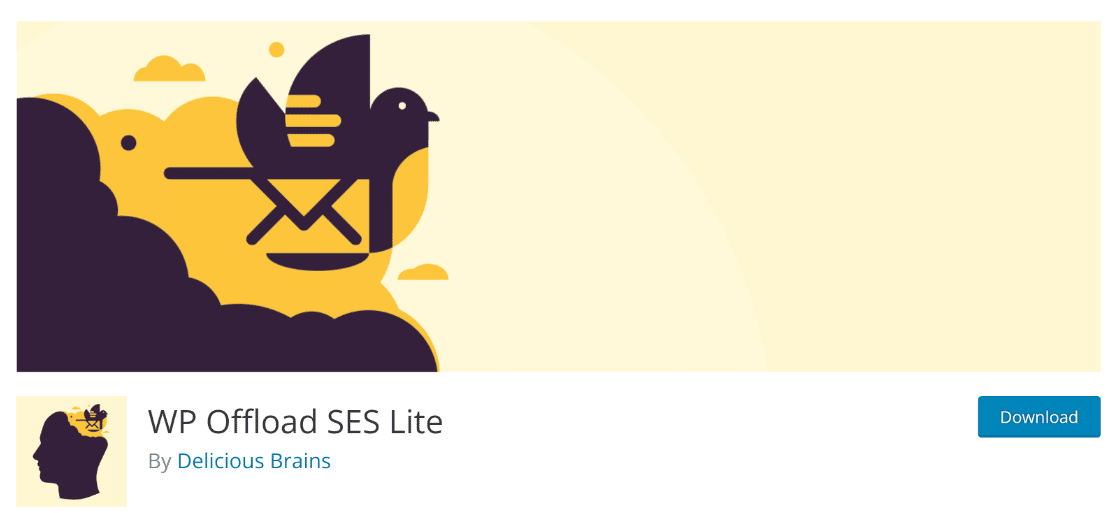 WP Offload SES is a WordPress plugin that lets you connect your WordPress site to your Amazon SES account.
But most importantly, it is one of the rare plugins that offers both open and click tracking for WordPress emails, right within your site's dashboard.
The plugin has a simple setup wizard that lets you easily configure your site to use Amazon SES for all outgoing emails.
It also logs the contents of your emails (though only in plain text rather than the actual HTML view of the original email).
With WP Offload SES, you get a broad overview of your email click and open statistics within WordPress. And you can also get the email engagement data for a particular email, which includes additional details such as the date and time of the opens and clicks.
But like most other plugins, WP Offload SES doesn't produce graphs for email engagement metrics. And the plugin is considerably expensive.
Pricing: WP Offload SES only supports email tracking in its paid plans, which start at $80 per year.

WP Sent Mail is primarily an email logging plugin, but it now also has basic tracking capabilities.
This plugin lets you preview the content of all emails going out from your WordPress site. These email logs include details such as the recipient's email address, subject, date, sent status, and opens.
Unlike WP Mail SMTP however, WP Sent Email doesn't track email clicks. So if you want to check whether recipients clicked an important link within the emails you've been sending, WP Sent Email can't give you that information.
Besides, WP Sent Email doesn't let you see your email open rates and delivery status on a graph. This makes WP Sent Mail fairly limited. And while its basic plan is priced slightly lower than WP Mail SMTP, it offers far too few features to justify the cost.
On the other hand, WP Mail SMTP has all the capabilities of WP Sent Mail and goes the extra mile with some really valuable additional features (it even fixes your WordPress email deliverability).
For these reasons, WP Sent Mail is only good if you want to monitor your emails with just open rate tracking.
Pricing: WP Sent Mail starts at $39 per year.
Which Email Tracking Plugin Is Best for WordPress?
After an extensive research, we couldn't find any plugin that covers as many email features as WP Mail STMP.
We can safely say that WP Mail STMP is the best email tracking plugin. To recap, here's why:
Detailed open and click tracking: WP Mail SMTP doesn't just count the number of your email opens and clicks. It also lets you see your overall email statistics on a chart over a custom range of time. And you can view additional engagement data details for each specific recipient.
High email deliverability: The plugin fixes your email deliverability issues, ensuring that your emails reach your customers' inboxes without fail.
Email logging in HTML: It maintains a log of all of your outgoing emails, allowing you to view the contents of each email in original HTML format. Plus, you can also view attachments and export emails.
Integrations with mailers: WP Mail SMTP integrates with the best mailers out there including SendLayer, Outlook, Brevo (formerly Sendinblue), and others.
And that's it! We hope you now have a better understanding about the best WordPress email tracking plugins and can pick the right one for your needs.
Next, Notify Authors When a Post Is Published
If you're managing a multi-author site, it's a good idea to set up email notifications for authors when a post is published. This eliminates the chances of messing up your publishing schedule and lets you check new posts as soon as they go live.
We also recommend checking out our guide on these user-friendly reCAPTCHA alternatives to counter WordPress spam. And if you ever find that your web host has blocked SMTP, here's our step-by-step guide on what to do when your web host blocks SMTP.
Track Your WordPress Emails Now
Ready to fix your emails? Get started today with the best WordPress SMTP plugin. WP Mail SMTP Elite includes full White Glove Setup and offers a 14-day money-back guarantee.
If this article helped you out, please follow us on Facebook and Twitter for more WordPress tips and tutorials.