You've probably heard other website owners talk about how important email deliverability is.
But, do you know how it applies to your small business website?
Ignoring your website's deliverability completely can negatively impact your overall email marketing strategy.
So we've put together the ultimate guide to email deliverability to explain what it is and why it matters to your digital marketing strategy.
Here's a table of contents if you'd like to jump ahead:
What Is Email Deliverability?
At first glance, email deliverability can seem a little complicated. But it's not all that hard to understand with some explanation, so we'll clarify it here.
Email deliverability is the ability of emails to be delivered to someone's inbox.
This is a metric that you can use to understand the likelihood of your messages landing in the email recipient inbox.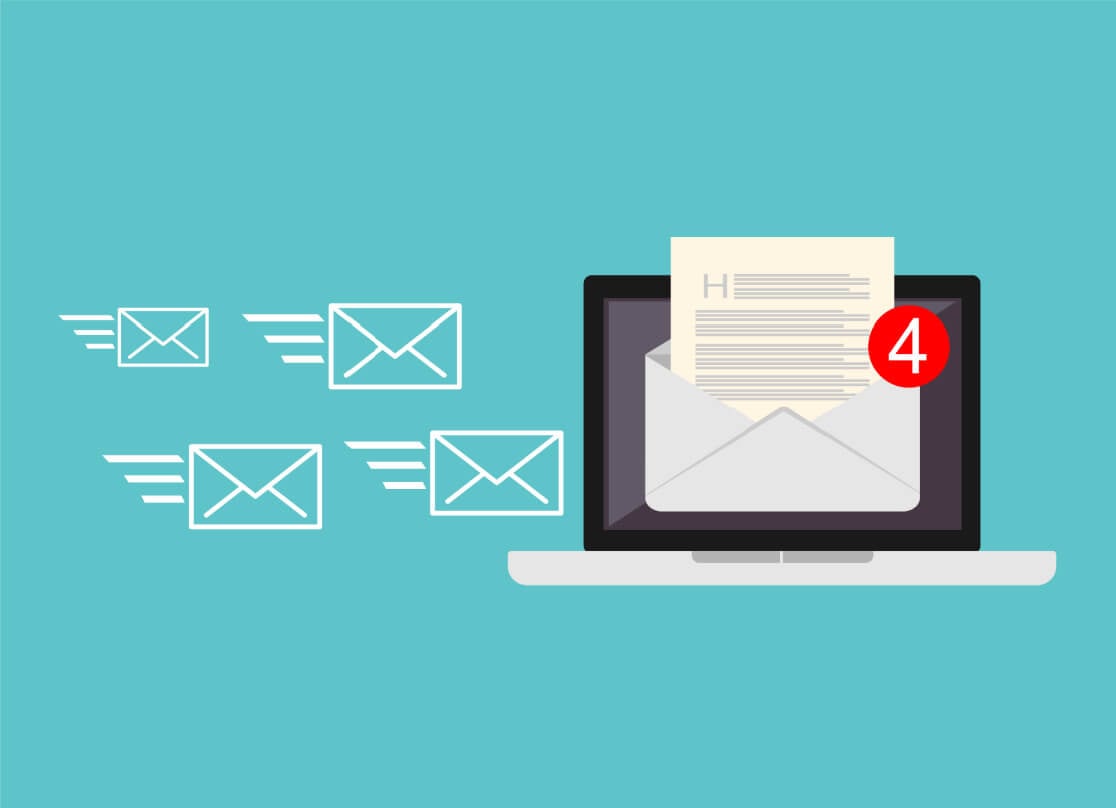 Having strong email deliverability is absolutely vital to running successful email campaigns. And, your successful email campaigns can make your small business more money with time. You can see how powerful emails can be with just a quick glance at some email marketing statistics.
And that's why paying attention to email deliverability is really important for small business owners.
So now that you know what email deliverability is, let's dive into some of the most common questions we get asked about it.
Delivery vs Deliverability
It's not uncommon for people to mistake Delivery vs Deliverability. They assume they're the same thing.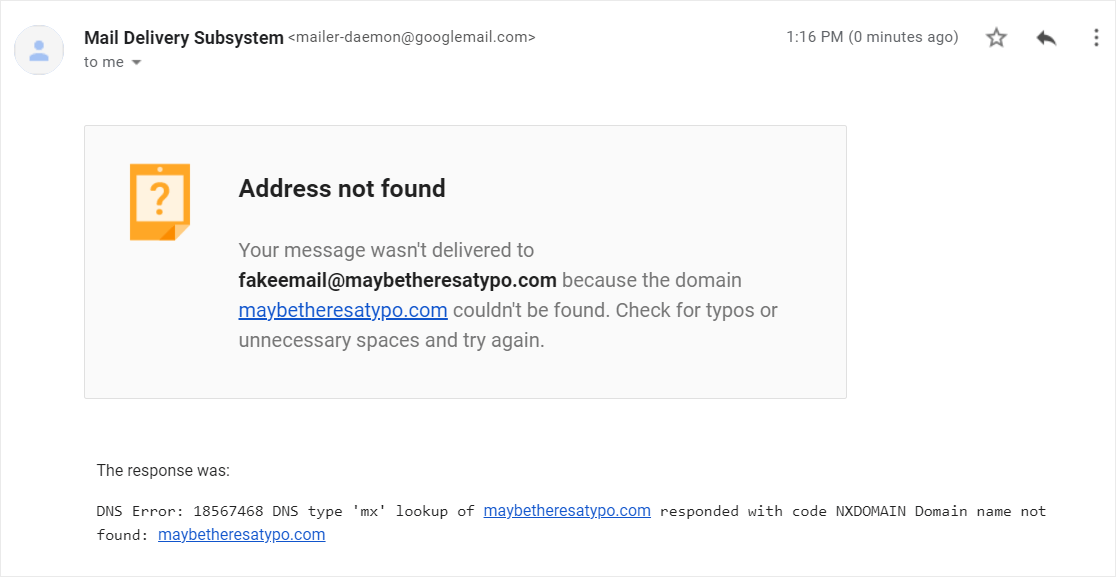 But they aren't the same. So here's a simple breakdown of the difference:
Email Delivery is whether or not your email was received by the recipient's inbox servers. Things that impact the delivery rates include email list quality, bounce rates, etc.
Email Deliverability is where your email goes once it's been accepted by the recipient's inbox servers. An email that gets delivered but ends up in a spam folder is a deliverability issue.
To summarize the difference on a very basic level we could say:
Email Delivery = if an email is received.
Email Deliverability = where an email is received.
It's important to note that even if your email marketing service dashboard is showing you have a good email delivery rate (let's say it's 98% delivery with a few bounces here and there), that doesn't necessarily mean you have a good email deliverability rate.
Wondering how to check your email deliverability? Let's look at some free tools that can help.
How Do I Check Email Deliverability?
We've put together a few free tools to check email deliverability in response to a few emails we've received with the question how do I check my email reputation?
Try checking sender reputation with these tools: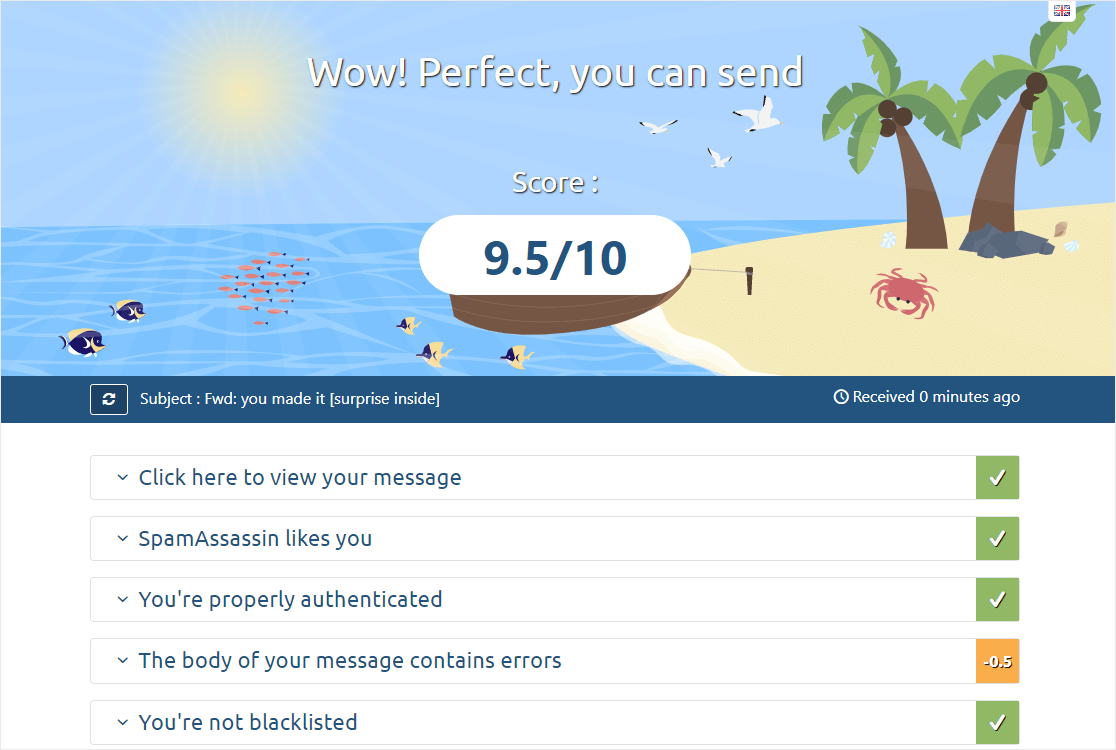 Mail-tester is a fast, free, easy tool to take a look at different aspects of your email deliverability. It's got a fun interface that helps make it a really popular tool for checking into possible issues with your email address.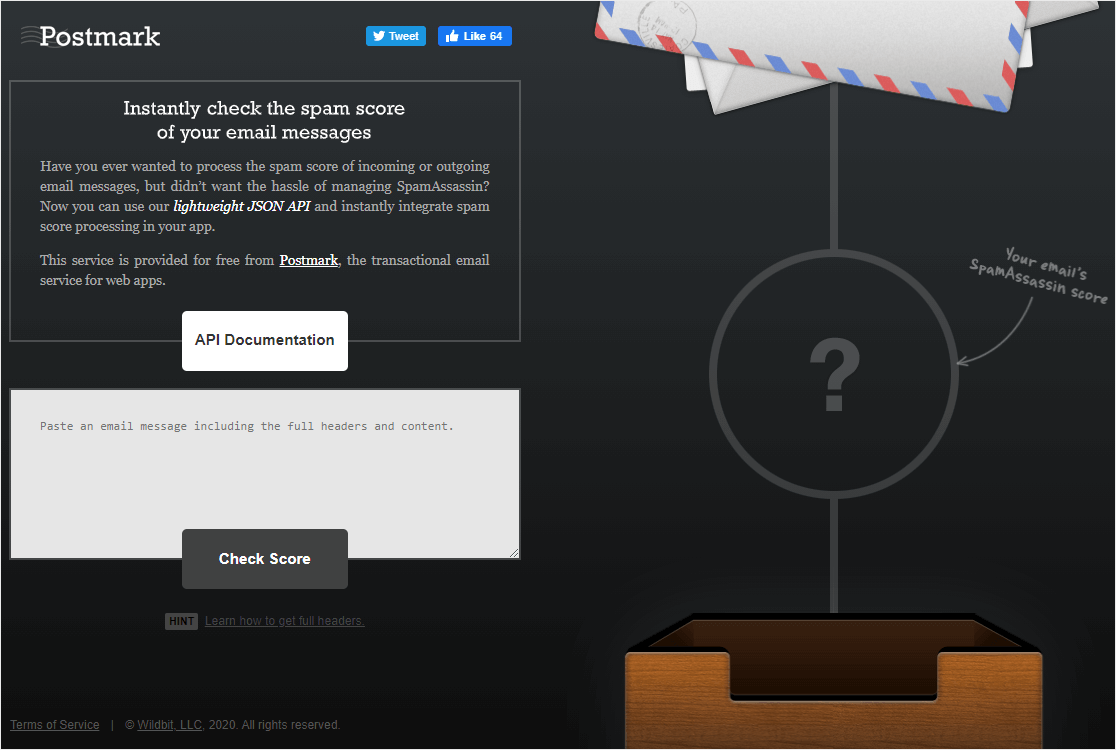 Spamcheck by Postmark is a free spam checker to help you see the quality of your outbound and inbound emails. The goal, of course, is to see what can be fixed to help decrease the chance that your emails end up in a spam folder.
Another tool to check the sender's reputation is MailGenius. This email testing app lets you see if your email is likely to end up going to spam, and they offer unlimited tests.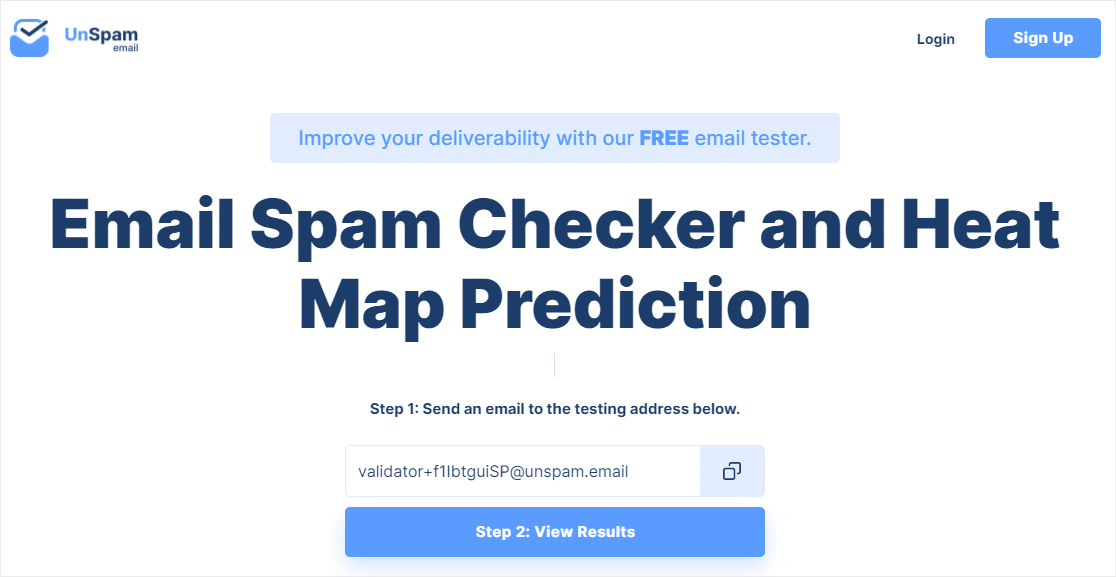 UnSpam is a free email tester and spam checker tool. They analyze several key factors about your email and gives you a sender score. They can use a heatmap on your newsletters to give you predictions, as well.
Also, Sendinblue and Mailgun are SMTP providers that offer email deliverability testing as part of their services. So, make sure to check in there if you're already using their tools and are looking for email deliverability tests.
So what do you do if your score isn't great? First, let's look at what may be impacting it.
What Affects Deliverability?
Wondering what affects email deliverability? Whenever you send an email to someone, their inbox provider runs checks on that incoming message.
They'll check for a few things, but the one that has the biggest impact on your email deliverability is authentication.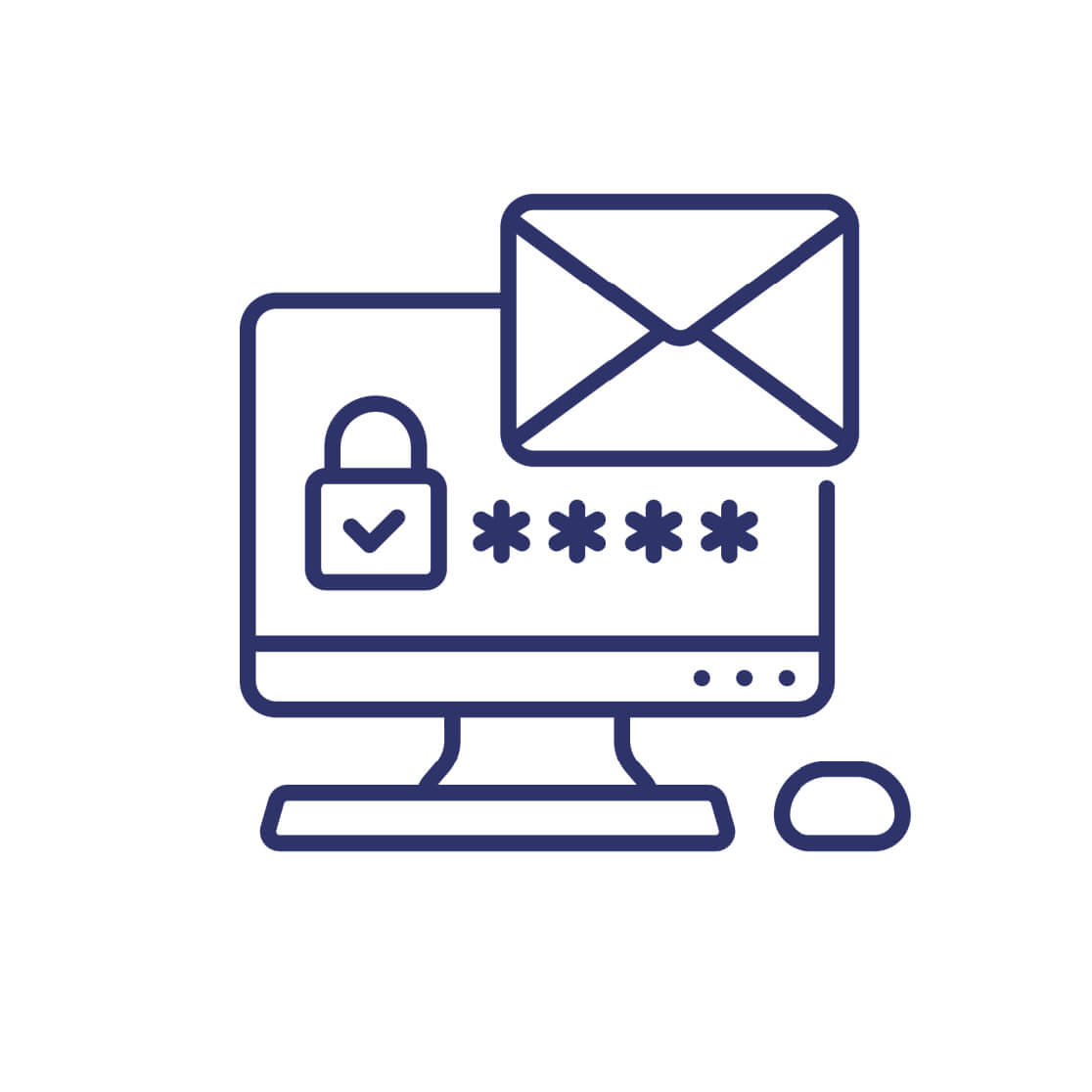 So if you take one thing away from this ultimate guide, it's this:
The #1 thing that affects WordPress email deliverability is authentication. 
There are a few things that go into email deliverability as well, like Proper IP allocation, IP reputation, unsubscribe rates, spam complaints, and avoiding blacklisting.
If you are on a shared server, you don't get the dedicated IP address. If other people on the shared server misuse the resources, your domain reputation is also affected.
However, if WordPress is not sending email, it's normally because the emails not being authenticated, we'll focus on that in this guide.
So now that you understand how impactful authentication is, let's find out how you can fix it to improve your email deliverability up next.
How Do I Fix Email Delivery Problems?
So, how do you increase email deliverability? You'll want to start with authentication.
Maybe you ended up here because you searched the web for 'Why are my emails getting blocked?"
Well, as you've learned in this guide, email deliverability failure happens most often when your message went to a spam folder or was blocked by an ISP – usually due to authentication issues.
So if you want to increase email deliverability fast, the most effective way to do it is by authenticating.
Authentication means that the email's origin is the same website that it says it's been sent from.
An email being sent from one place but with a different "from" name can be considered 'spoofing'. This could easily happen when your contact form sends you a notification when a form is completed by using the email of the person who completed it as the "from" sender (but it's really coming from your website, which is a different domain.
And that's why authentication is so important!
Luckily, authenticating your emails is a simple process with the right tool. Just think of it as 'telling' mailbox providers that you're not spam.
WP Mail SMTP is the free tool you should look out for. It's a plugin used by millions of WordPress websites. And, it works great for authenticating emails.
Even though it powers 1/3 of the world's websites, WordPress is known to receive email spam complaints more often.
How Does WP Mail SMTP Fix Email Issues?
WordPress is smart, but it's also known for disappearing emails if the default settings aren't adjusted correctly.
And that's where the WP Mail SMTP plugin comes in.
It's the most powerful SMTP and PHP mailer plugin for WordPress on the planet. Plus, there's also a free version available.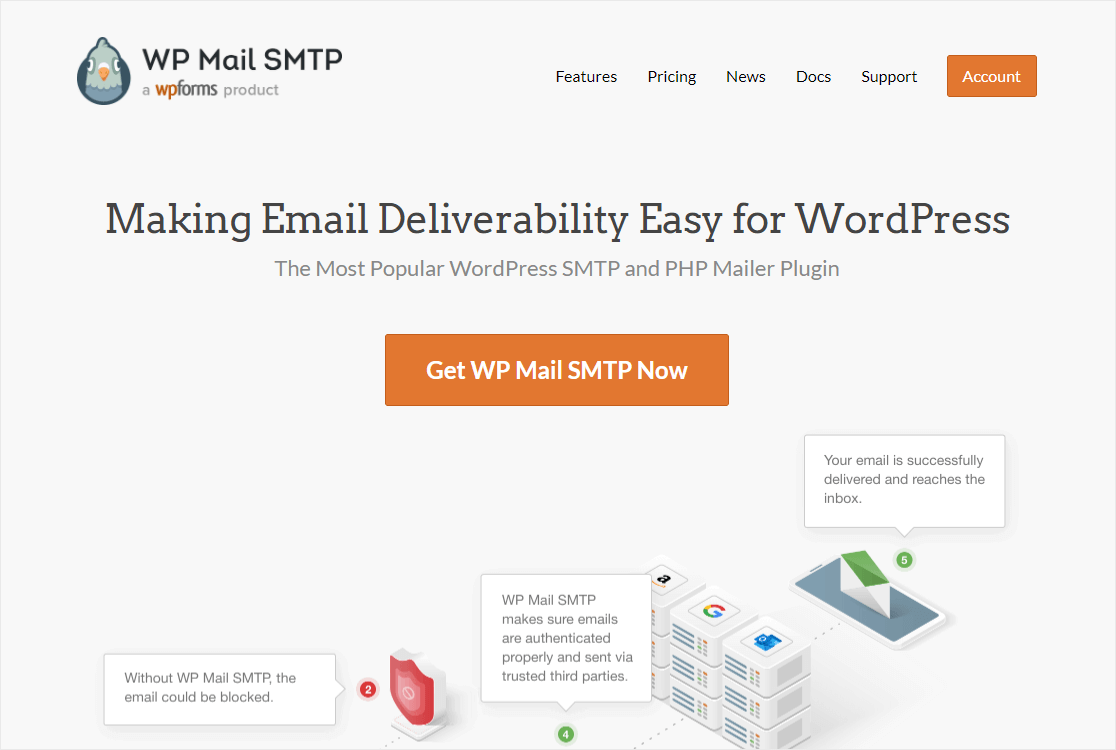 Most web hosts don't play well with PHP emails. WordPress defaults to sending PHP emails. SMTP is a better way to go.
So WP Mail SMTP works by changing how your WordPress site sends email. We reconfigure the wp_mail() function, help you connect to an SMTP email service provider, and creates an options page that lets you edit the "from name".
And one of the greatest things about the WP Mail SMTP plugin is that the Elite plan offers a White Glove Setup service where they do all the install and the technical stuff for you. Plus, WP Mail SMTP integrates with many of the most popular transactional mailers like:
Most of these mailers have free subscription plans that limit the number of emails you can send from WordPress per day. You'll likely need to get a paid plan with a Mailer if you want to send lots of emails without limits.
If you'd like to install it yourself, it's super easy to do.
How Do I Install WP Mail SMTP
To install the WP Mail SMTP plugin, first purchase a paid version or head to your WordPress dashboard to install the plugin for free.
In WordPress, head to Plugins » Add New and search for WP Mail SMTP. Then, install and activate the plugin.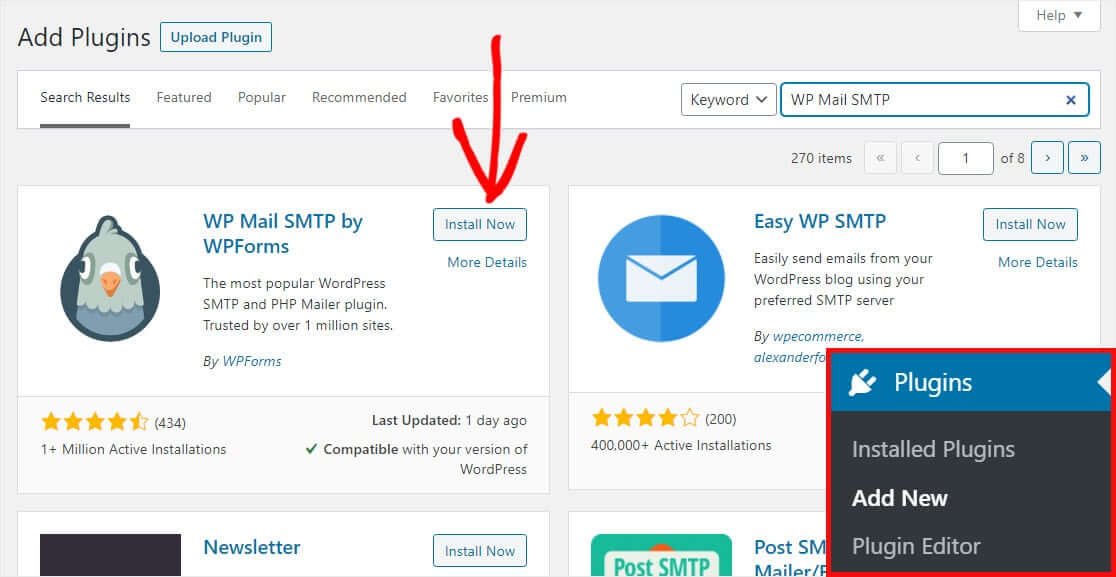 So after installing and activating the plugin, the setup wizard will automatically open.
The wizard will help you link your website to an external email service provider. This will allow you to send form notification emails using SMTP.com, Sendinblue, Mailgun, SendGrid, Amazon SES, Gmail, Outlook, or a few other SMTPs like Yahoo and Hotmail.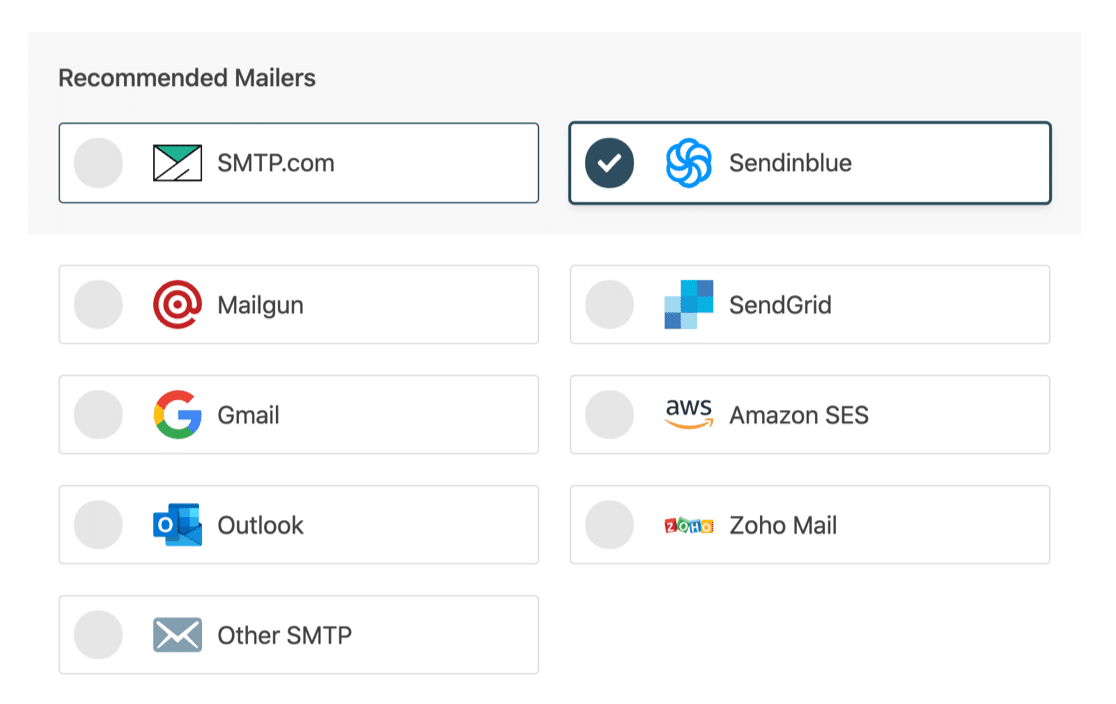 Keep in mind that you'll need to create an account with one of these services if you don't already have one.
There are different steps for each mailer you're using, so to complete setup with this plugin, check out the full guide on how to configure SMTP settings on your WordPress website.
So once you've connected your SMTP mailer to the WP Mail SMTP plugin, you're all good to go. It really is that easy to get your website's emails sending reliably.
Can I See Some Email Deliverability Statistics?
Someone recently asked what is a good email deliverability rate?
So we did some research and found that the average deliverability rate is 79.6%. Here are some other shocking stats that are important to know:
21% of emails never land in the subscribers' inboxes. [Uplers]
Of 1.5 million emails tested, 70% showed at least one deliverability problem. [Uplers]
A double opt-in flow should have at least a 70% success rate. [SmartInsights]
20.4% of all emails either go to spam or remain undelivered in a report from February 2020. This was a huge increase from 16.3% in July of 2019.  [Influencer Marketing Hub]
69% of people report email as spam based solely on the subject line. [OptinMonster]
For every 12.5 million spam emails sent, 1 will get a response. [Tech Radar]
14.5 billion spam emails are sent every day. [Spam Laws]
53% of eCommerce emails end up in the Gmail promotions tab. [SmartInsights]
45% of all emails sent are considered spam. [Spam Laws]
China is ranked #1 in most live spam issues, followed by the US and then Russia. [Spamhaus]
16% of all emails don't ever make it as far as the inbox due to deliverability issues. [EmailToolTester]
Final Thoughts
So there it is. We hope this post helped you understand a little bit more about what email deliverability is and its importance.
And now that your WordPress email notifications are all coming through reliably, start putting those notifications to work and set up a simple order form in WordPress.
Ready to fix your emails? Get started today with the best WordPress SMTP plugin. WP Mail SMTP Elite includes full White Glove Setup and offers a 14-day money-back guarantee.
If this article helped you out, please follow us on Facebook and Twitter for more WordPress tips and tutorials.