Looking for the best email plugins for WordPress?
The right WordPress mail plugins not only help you improve deliverability but also allow you to grow your email list, send important notifications, and facilitate your email marketing campaigns.
In this article, we're going to share our favorite WordPress email plugins for all of these tasks!
Can WordPress Send Emails?
Yes, WordPress can send many types of emails, including:
Sometimes it can seem like WordPress is not sending emails because the messages never reach your inbox. Emails sent from your web server can "look" like spam, and an SMTP plugin is pretty much essential if you want to avoid that. Using a custom email domain is also a recommended practice because it's a lot harder for unauthorized senders to spoof your branded email address.
So if you're having difficulty receiving emails from WordPress, jump down to the best SMTP plugins section to find out how to fix it.
15 Best WordPress Email Plugins
Best WordPress SMTP Plugins
Let's get started with the best plugins to stop WordPress emails from going to spam.
SMTP plugins change the way that WordPress sends email. Instead of using your web server, they'll send emails through a 3rd party provider instead. Here are the best of the bunch.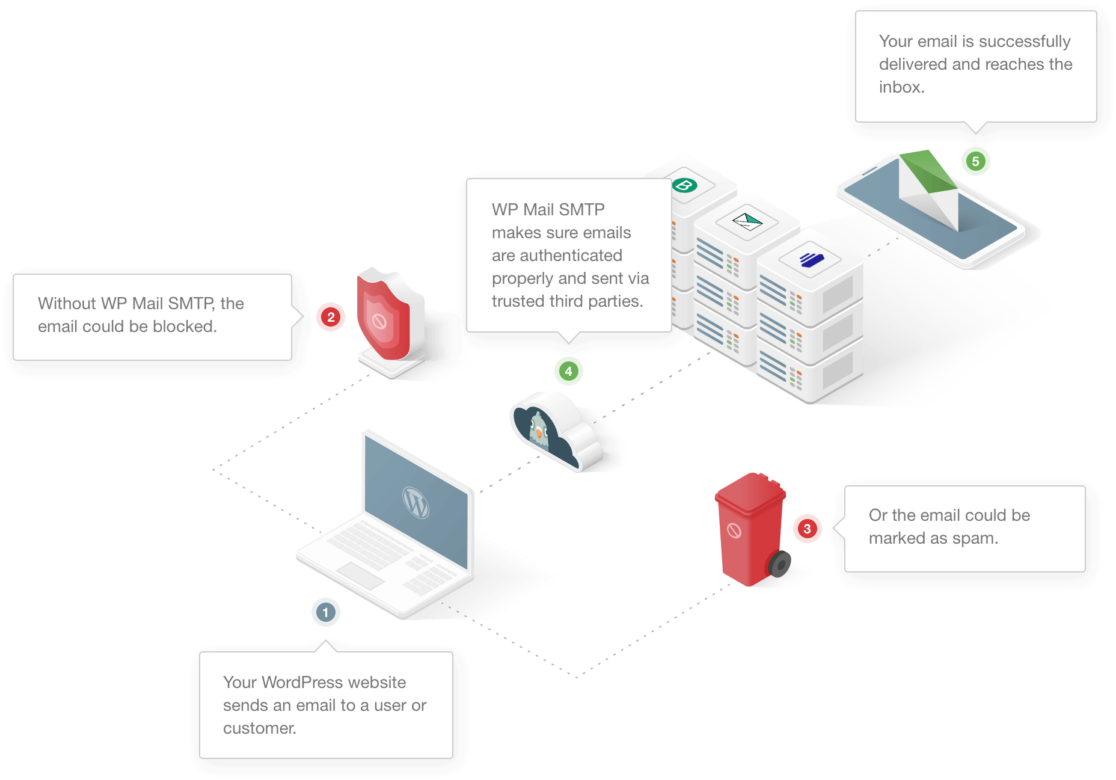 WP Mail SMTP is the best email plugin for WordPress. If you're having issues with WordPress not sending emails at all or you have too many WordPress emails going to spam, WP Mail SMTP is the solution you need.
The plugin replaces the default wp_mail() function to improve your email deliverability. In simple terms, that means that your WordPress emails are sent through an email server instead of your web host.
The Lite version of WP Mail SMTP is the most popular SMTP plugin for WordPress. It has 3+ million active installations and an average score of 4.8/5 in reviews.

There are 2 huge reasons why beginners love WP Mail SMTP:
Choice: It supports SMTP servers and email provider APIs. That means you can send WordPress email through SMTP or a separate provider like Gmail.
Ease of use: You can easily set up any provider or SMTP server using the Setup Wizard. So you don't have to work through a ton of technical settings to get your emails working. And if you'd like help, we have White Glove set up service to take care of your complete WordPress SMTP settings.
SMTP Providers: WP Mail SMTP Lite vs Pro
Here's a quick list of the email providers supported in WP Mail SMTP:
If you choose to use a regular SMTP server, you can add your account in the plugin or hard code your details using constants. That means you can save your login details in a file so that you never disclose your SMTP password in WordPress.
If you're sending transactional emails, it's best to use a provider with an API. Transactional email providers can handle much higher volumes of email compared to a basic SMTP server. Many also give you a certain number of emails each day for free, and they're typically more secure.
In WP Mail SMTP Pro, you can set up additional connections and use different mailers for different types of emails. You also have the option of selection a Backup Connection to automatically resend emails if your Primary Connection fails.
WP Mail SMTP Email Logging & Tracking Features
Most SMTP plugins for WordPress only reconfigure your wp_mail() function to fix email delivery issues. WP Mail SMTP goes way beyond that.
In addition to sending email reliably, WP Mail SMTP provides extra value with super useful features. In the free version, you can:
Use any Gmail alias to send email from WordPress, so you can use different From emails for different forms or plugins
Automatically scan your DNS records to check that your email provider is set up correctly on your domain
Send test emails from WordPress.
And in the Pro version, you also get a ton of very advanced email tracking features like:
Email logging: Logs every email sent from WordPress for troubleshooting or tracking. Includes the option to log the content as well as the headers and to search your logs for specific messages.
Delivery status tracking: If your mailer supports it, you can see if your emails are delivered right in the WordPress dashboard.
Open and click tracking for WordPress email: See if individual emails were opened, and see if the links in the emails were clicked.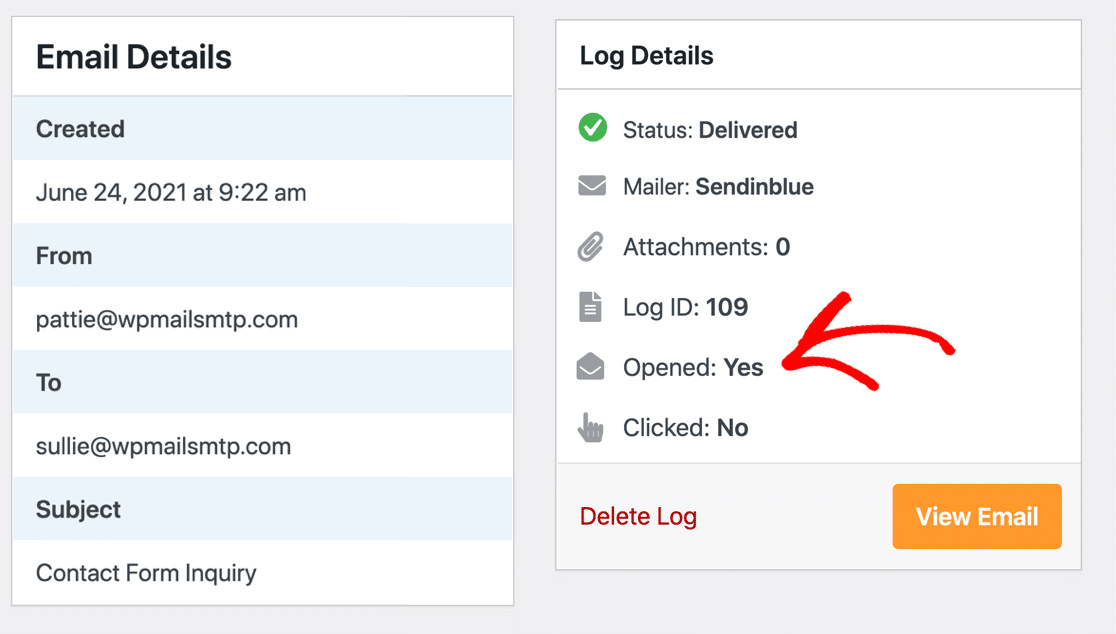 Resend emails: Click on any email to resend or forward it, or resend a bunch of emails in bulk with a couple of clicks.
Email log export: Back up your email logs to CSV, EML, or XLS so you can track deliverability in any platform or tool. You can also filter the results before exporting.
Save attachments: Want to send email attachments from WordPress? It's common to receive file attachments from backup plugins or contact forms. WP Mail SMTP can automatically save sent email attachments along with the email log and email body.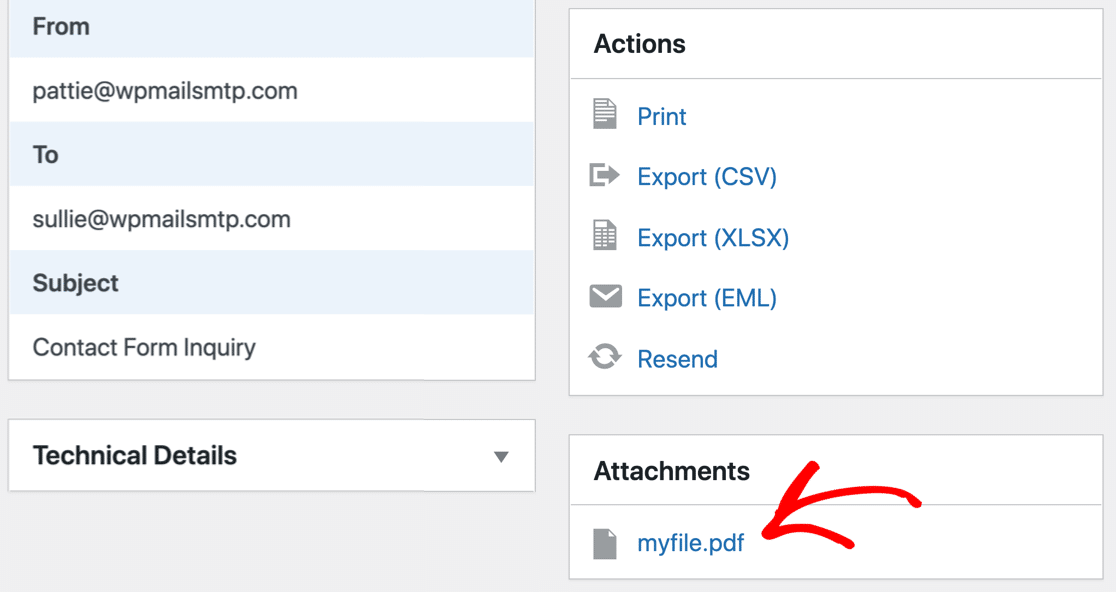 Dashboard widget: Track deliverability easily with a chart that shows emails sent, failed, and delivered (if your mailer supports the 'delivered' status).
Email controls: Disable auto-update email notifications, new user emails, and any other emails that are usually generated in WordPress.
Detailed Email Reports: Track your email deliverability, opens, and clicks on a graph.
Weekly Email Summaries: Get deliverability reports by email.
Multisite logging: Use SMTP on WordPress multisite and give each site its own settings page. It's easy for the network admin to review the email log for any site.
If you need some help getting started, the Elite license includes White Glove Setup. That means the WP Mail SMTP team will get everything working with SendLayer, SMTP.com, or Brevo on your site.
So if you want the most powerful email plugin for WordPress that supports some of the most trusted SMTP providers, WP Mail SMTP is the best choice.
Pricing: There's a free version of WP Mail SMTP that lets you use popular email providers like Gmail, Brevo, and SMTP.com. The Pro version unlocks all of the advanced functionality and costs $99/yr.
WP Offload SES is a WordPress email plugin specifically for sending WordPress email through Amazon SES. It doesn't support any other APIs or mailers.
The Lite version has 25 5-star reviews and 30,000+ active installs.

WP Offload SES allows you to:
Route your WordPress email through SES
Choose your SES region in WordPress
Set the From address
And the Pro version adds extra features:
Track clicks and opens in your WordPress emails
Automatically or manually resend emails
Get email reports
If you're having issues with AWS not sending email, know that SES isn't the only solution.
It can make sense to use it for high-volume transactional emails because it's affordable for AWS users. But if you don't need the massive sending allowance, you might prefer to use an email service that's a little simpler to configure.
Pricing: WP Offload SES Lite is free. The Pro version is priced from $99/yr and includes email support and advanced features.
Easy WP SMTP adds WordPress SMTP support to your website. It lets you send WordPress emails through a 3rd party SMTP server.
This is a basic WordPress email plugin for SMTP. At the time we last checked, it has 500,000 active installations and 184 5-star ratings.

Before setting it up, know that Easy WP SMTP doesn't support sending via email providers' APIs. We generally recommend that you use an API if you can because it's more secure and reliable. So this plugin might not work for you if you want that added security.
The Easy WP SMTP plugin also has a test email function. Apart from that, it really only has 1 purpose. The plugin's settings are a little more technical than some of the other SMTP plugins we've looked at.
Pricing: Easy WP SMTP is free to download from WordPress.org.
Post SMTP is a fork of another WordPress SMTP plugin called Postman. Postman was abandoned and removed from WordPress.org because of a security issue, so this plugin picks up from where it left off.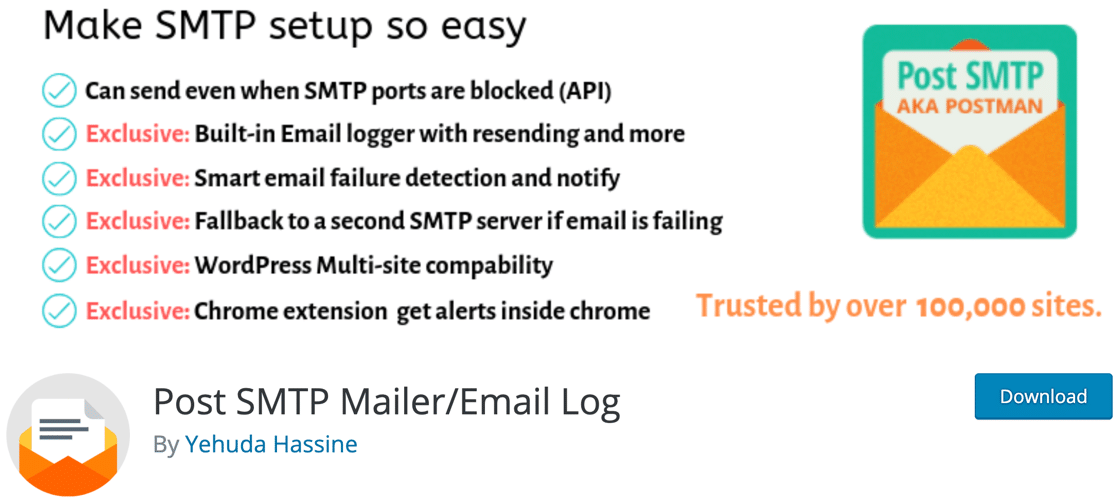 The Lite version of the plugin has 200,000 active installations and 266 5-star reviews.

Post SMTP supports API integration with 4 providers:
Gmail
Mandrill (requires a Mailchimp account)
Mailgun
SendGrid
The plugin can also log your emails and alert you via push notifications or Slack DM if they fail. You can also enter 2 different SMTP services and use one as a backup.
Like WP Mail SMTP, Post SMTP also supports WordPress multisite.
Pricing: Post SMTP is free to download from WordPress.org.
Best Email Capture Plugins
Looking to capture emails from your visitors? These plugins make it easy to collect emails that you can add to a marketing list or drip campaign.
OptinMonster is the best email subscription plugin for WordPress. It lets you capture emails anywhere on your site with popups, notification bars, and forms.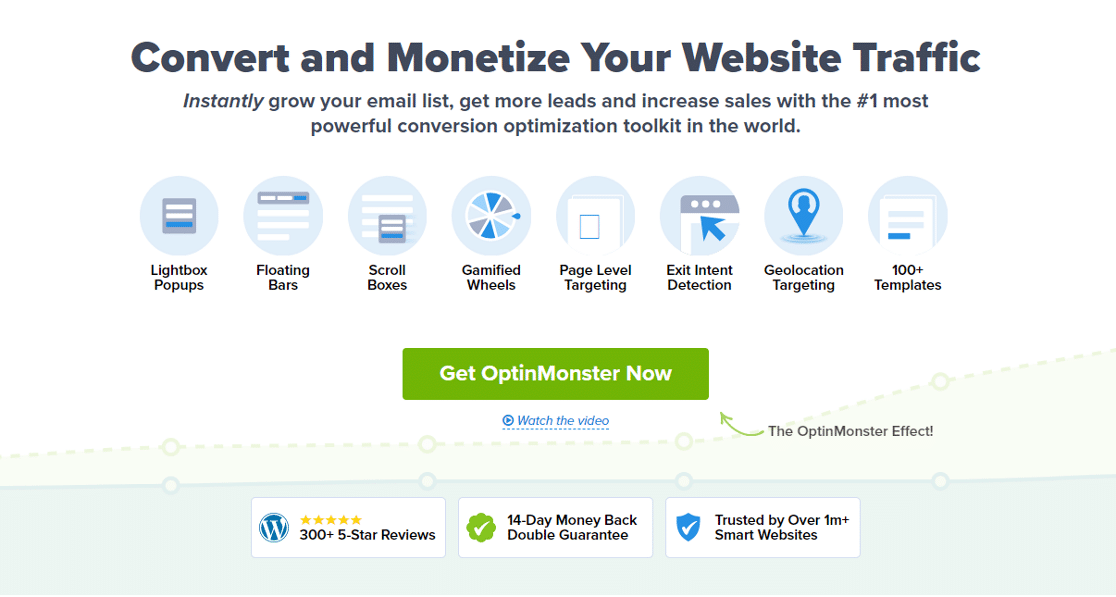 Using OptinMonster, you can easily grow your email marketing list and drive conversions using special deals. For example, you can easily use OptinMonster to create exit-intent popups that automatically appear when a visitor moves their mouse to navigate away from your website.
This gives you an extra chance to sign the visitor up to your email list by offering a coupon.
OptinMonster offers awesome support and is super affordable for small websites. All plans come with a risk-free 14-day money-back guarantee.
Pricing: You can start using OptinMonster for free. The paid version is one of the most affordable email plugins on our list starting at just $9/mo.
SeedProd is the best landing page builder plugin for WordPress. It lets you easily create landing pages and add email marketing forms, contact forms, or giveaways using an easy drag and drop builder.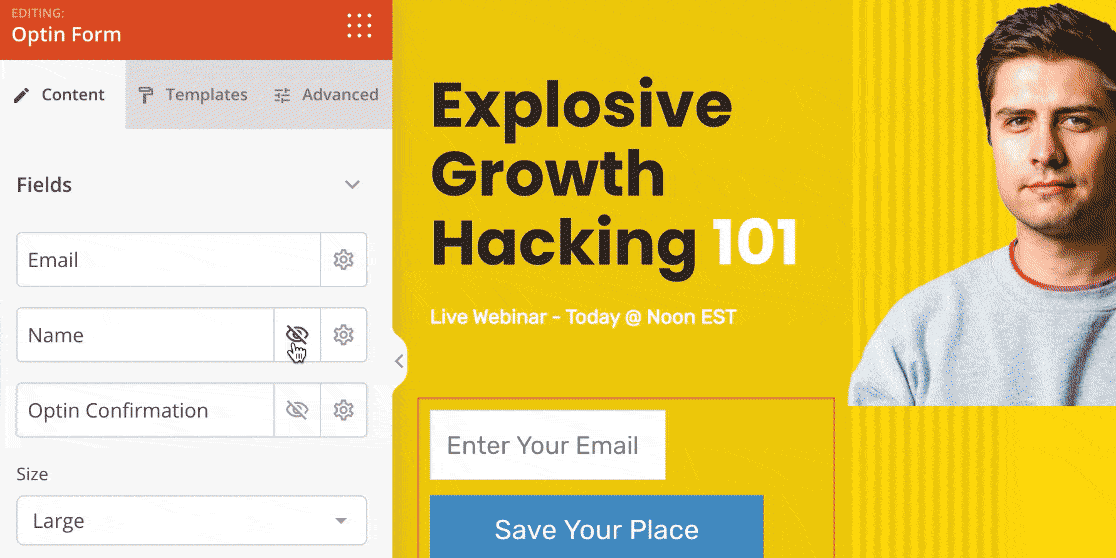 When you install SeedProd, you can instantly create landing pages for any purpose, like:
Coming soon pages
Webinar forms
Maintenance mode pages
Custom 404 pages
And more.
In fact, SeedProd is one of the best page builders for WordPress because it's super easy to use. Just install the plugin, build your page, and publish it.
All of the pages you create are independent of your WordPress theme, which makes SeedProd super helpful when growing a busy site. For example, you can a custom coming soon page with a form that lets people contact you while you continue to work on your site.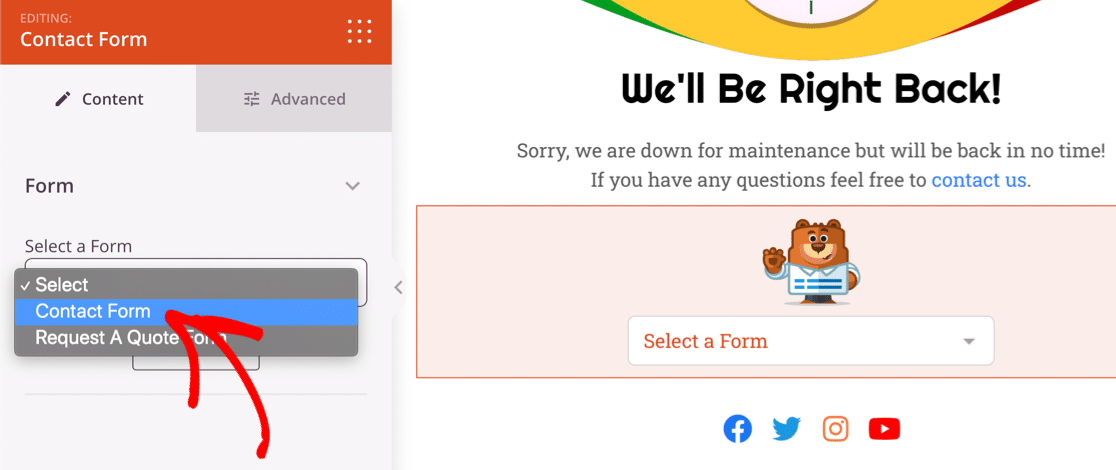 You can control:
When your page is active
Who can access it
The domain names that are associated with your landing pages
Which email marketing or automation services to connect to.
What's more SeedProd even lets you build your own WordPress theme without code. This is excellent for users that want to give their site a unique look without having to hire expensive theme developers.
We love using SeedProd to park additional domains on 1 WordPress site, each with its own custom landing page. It's a super easy way to publish email marketing signup forms on a domain you're not ready to use yet.
Pricing: Get started with SeedProd for free. The Pro version gives you tons of extra templates and blocks and is priced from $79/yr.
Best Email Notification Plugins
Want to get notified by email when something happens on your site? These email plugins all offer customizable notifications when something happens on your site.
WPForms is the best contact form plugin for WordPress, having over 5 million active installations! It lets you easily set up unlimited forms and create completely custom email notifications.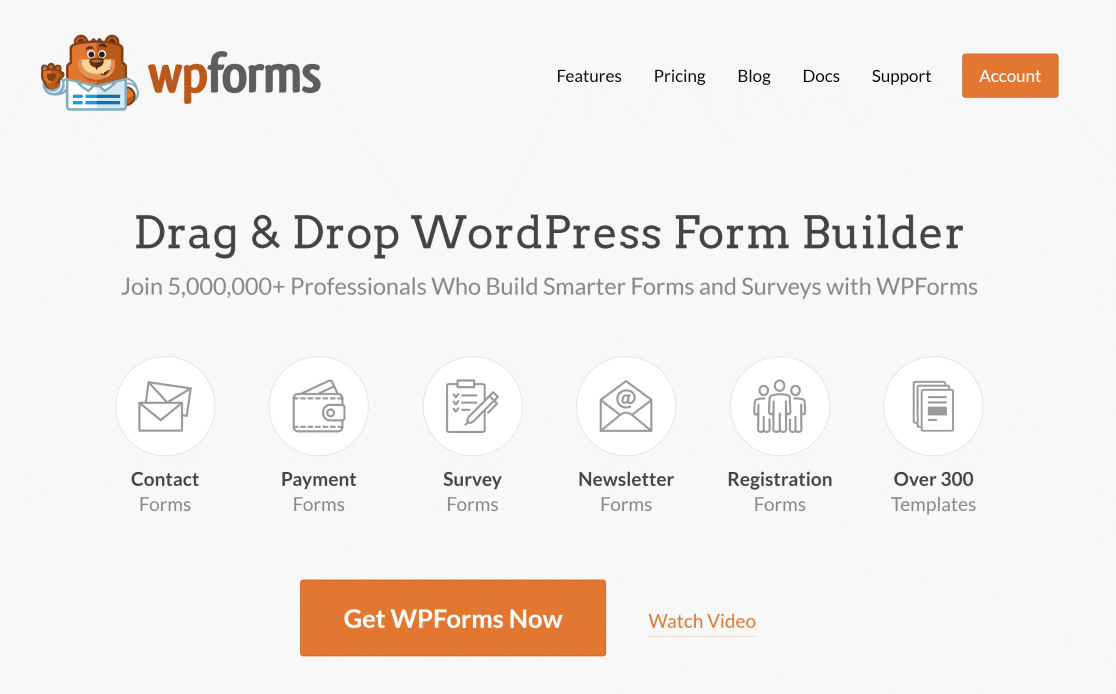 In the free version, WPForms Lite allows you to add multiple recipients to your contact form. You can do this easily by typing multiple email addresses in the Send To Email Address field.
This is awesome because most contact form plugins make this super complicated to set up.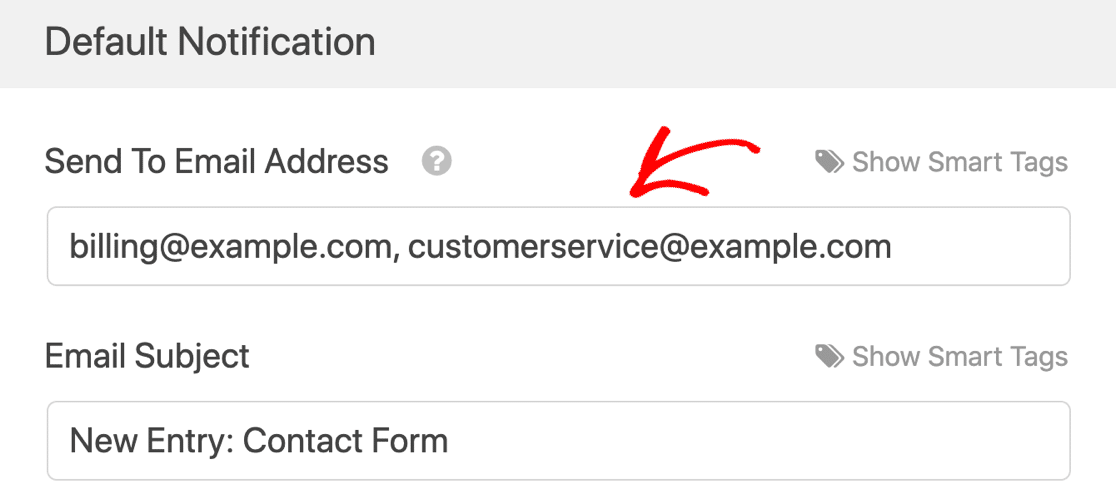 When you upgrade to WPForms Pro, you can add a ton of extra notifications to customize your emails.
For example, Pro lets you clone a notification with 1 click. That allows you to set up a different notification template for every recipient.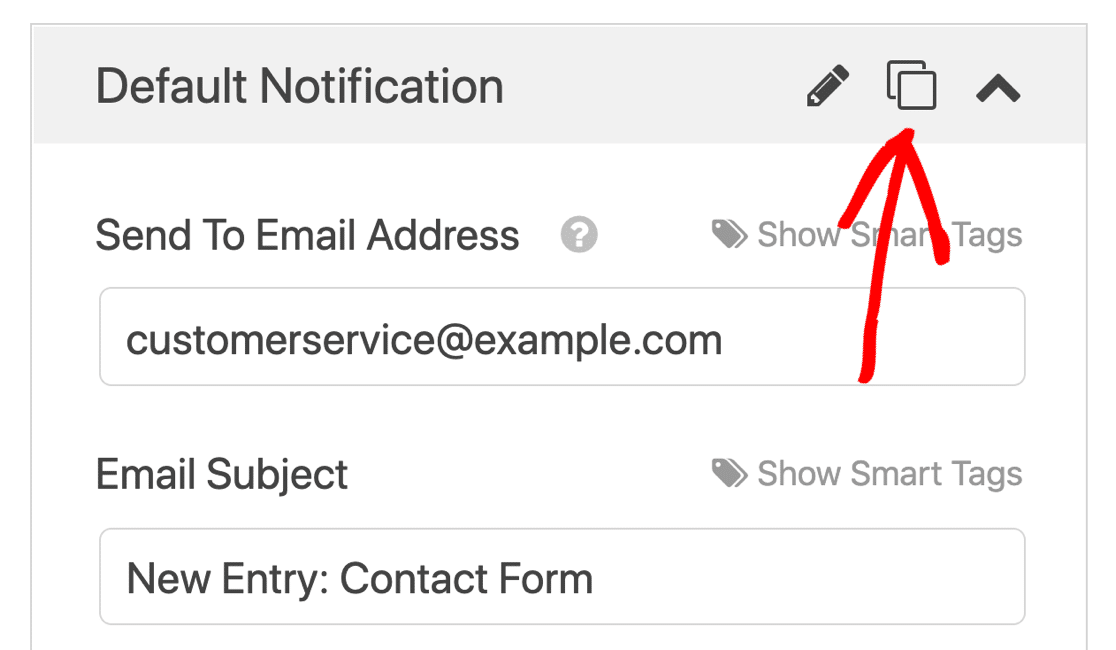 You can also let the visitor pick a recipient on your form. This is called a conditional notification, and it's a really great way to add multiple departments or recipients to 1 form.

And that's not all!
WPForms also has an awesome form abandonment addon that sends a notification even when the form isn't submitted! That could help you to recover lost leads, or get valuable survey information that was partly filled out.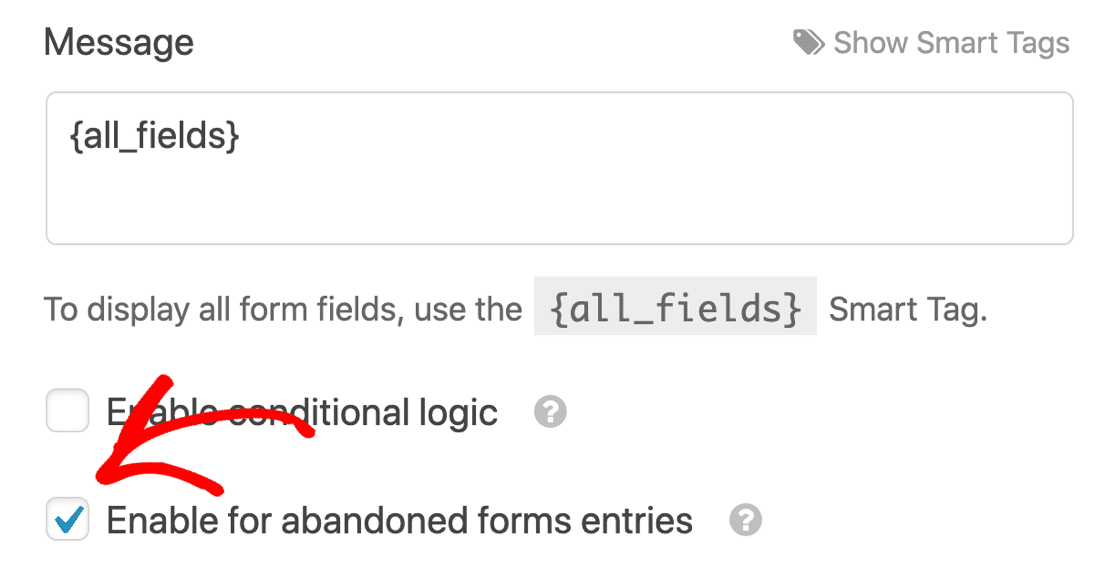 So if you want a contact form plugin with the most powerful email notification options, WPForms Pro is definitely the right choice. We recommend it as the better alternative to chatbots in certain situations too,
Pricing: WPForms Lite is free and supports 1 type of notification per form. You can upgrade to Pro for $199.50/yr to get all of the extra notification features.

Comment Reply Email Notification is a WordPress email plugin that makes it easy for your visitors to get a notification for comments. When someone responds to a comment they left on your site, it'll fire an email automatically. You can have this default to 'on' or 'off'.
Blog comments are a super helpful way to interact with visitors and get their feedback and views. Comments can also help your SEO, so keeping on top of comment management is essential.
Comment Reply Email Notification is GDPR compliant too, so it's a great alternative to Jetpack – especially if you don't want to install a huge plugin just for 1 feature.
It's a good idea to install this plugin along with WP Mail SMTP so you can easily control the sender details, like the From address.
Pricing: Comment Reply Email Notification is free to download from WordPress.org.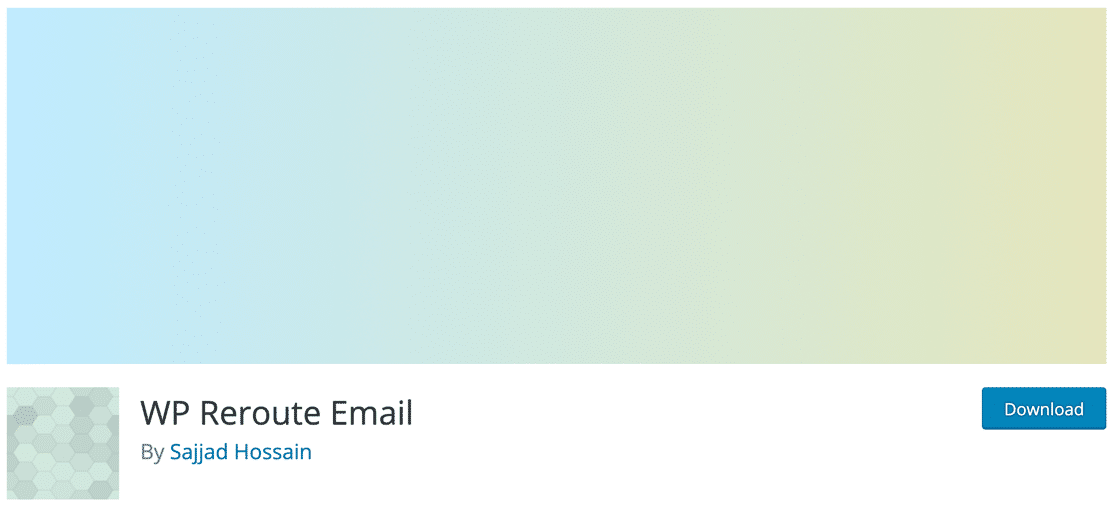 WP Reroute Email is a useful email forwarding plugin that lets you redirect all of the emails from your site to a different address.
This could be helpful if you have a staging site, or you're testing something and don't want your registered users to get emails.
You can append the original recipient's email to the bottom of the email and optionally log sent emails in WordPress.
If you're testing your site, don't forget to check out our guide to using SMTP on WordPress localhost.
Pricing: WP Reroute Email is free to download from WordPress.org.
Subscribe2 makes it easy to automatically send emails when you publish new posts on your blog.
You can send your subscribers an email for each new post, or create a digest email combining multiple posts into 1.
It's super important to use this plugin with WP Mail SMTP so you can use a transactional email provider. Subscribe2 sends all notifications at exactly the same time, and most SMTP servers have low limits on the number of emails that can be sent each hour. So as your subscribers grow, you'll definitely want to upgrade to a real email service to use this plugin effectively.
Pricing: Subscribe2 is free to download from WordPress.org.
Best Email Marketing Plugins
Want to create newsletters in WordPress? We put together a detailed list of the best newsletter plugins. Here are the top 3.
MailPoet is a free email marketing plugin that lets you make and manage newsletters in WordPress.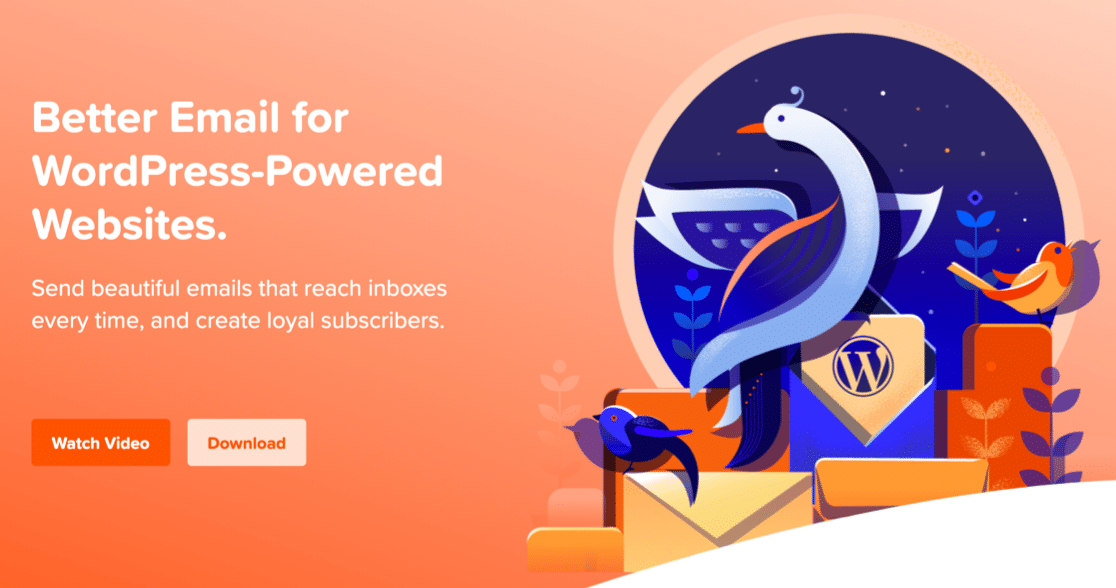 MailPoet has a full drag and drop editor for newsletter creation, and sophisticated subscriber management tools that all sit inside the WordPress dashboard.
You can create multiple lists and automatically send auto-generated emails like blog post notifications and WooCommerce followups.
MailPoet has its own Sending Service, which is essentially an SMTP service built into the plugin. When you turn this on, you can choose to have all of your WordPress emails sent this way if you want to.
However, some users have reported issues with the MailPoet Sending Service not sending emails from Contact Form 7 because it doesn't support multiple recipients.
So depending on how your site is set up, you'll likely want to explore the settings in detail to see if this setting works for you. You may find it better to use the Sending Service just for MailPoet newsletters, while using an SMTP plugin for your other WordPress emails.
Pricing: MailPoet is free to send up to 1,000 emails each month via its Sending Service. If you have more subscribers, you'll want to pay monthly to unlock higher sending limits. Alternatively, you can buy the premium version of MailPoet from $149/year without the email sending service.
The HubSpot WordPress plugin is a free all-in-one email marketing solution that lets you capture email addresses and send email campaigns, right from your WordPress dashboard.

To grow your email lists, HubSpot lets you build forms and popups using a drag and drop builder. You can also add live chat and chatbots, which provide a conversational way to capture users' email addresses.
No matter how you generate your leads, HubSpot will save everything to its built-in customer relationship manager (CRM).
Once you have some contacts, you can segment them into as many lists as needed and send them one-off emails or automatic broadcasts.
To design your emails, you can use pre-built templates and a visual drag and drop builder. You'll also get other useful features such as analytics and A/B testing.
Pricing: The HubSpot WordPress plugin is free to download and lets you send up to 2,000 emails per month. Paid plans include advanced features and higher send limits, starting at $45/month. You can also purchase HubSpot's transactional email API addon to send WordPress emails.
If you're looking for a plugin that lets you send unlimited email newsletters via SMTP, The Newsletter Plugin could be the perfect solution.

We like TNP because it works great with WP Mail SMTP and WPForms! That means you can send your newsletters via any SMTP server and add signup checkboxes to your contact forms easily. Together with these tools, TNP works brilliantly as an email subscription plugin, helping you get more signups and send engaging newsletter mails!
TNP also has a visual composer, but it doesn't use the block editor. That could be a pro or a con depending on which layout design tools you prefer.
The basic plugin is free, and you can extend it with addons. Some addons are free, including:
Popup Maker integration
BuddyPress integration
Locked content addon
There are also a large number of paid addons, including:
Automated sending
Autoresponders
WooCommerce integration
Amazon SES integration
Contact Form 7 integration
WPForms integration
Geolocation
If you're concerned about privacy laws, The Newsletter Plugin supports double optins so your site remains GDPR compliant.
Pricing: The Newsletter Plugin is free to download. You can buy bundles of extensions from $65/yr.
Best Post By Email Plugins
Posting blogs by email is super helpful if you want to be able to write posts anywhere you go. WordPress has its own post by email feature, but these WordPress email plugins make email posting a lot easier.
Postie is a WordPress post-by-email plugin that lets you create blog posts by writing an email.
Although this feature is included in WordPress, it's pretty basic. Postie has a ton of extra functionality that makes posting by email much more user-friendly.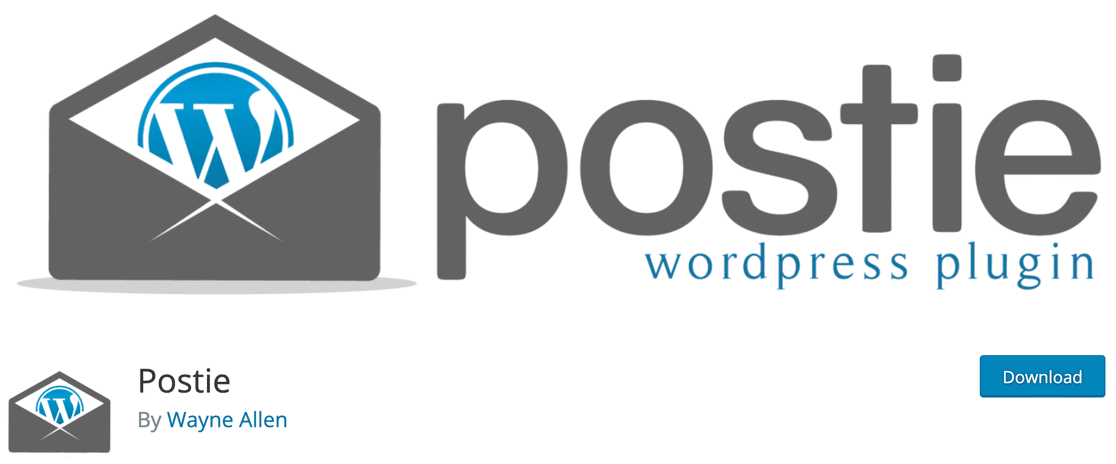 To use Postie, you write your blog post in your regular email software. When you're ready to publish it, simply send the email to a specific email address that you set up.
When Postie scans your secret email account, it'll create a blog post from the content. So the email address you use – and the SMTP details you enter – should be dedicated to receiving your blog post drafts and nothing else.
Postie is awesome because it lets you control a ton of default settings for the blogs you send via email, including:
Posting permissions
Default category, status, format, and more
Strip email signatures automatically
Control email attachments
Control image placement
Templates for images, video, audio, and more
Convert email replies to blog post comments
Once you've set up the plugin, all of your blog posts will be published the same way.
There are a ton of creative ways you can use Postie to boost your blog. As well as using it to post individual blogs yourself, you could also convert email newsletters into automatic blog posts by subscribing your 'secret' address to your email marketing list.
Pricing: Free! You can download Postie from WordPress.org and make a donation if you enjoy using it.
Jetpack has a Post by Email feature that's very similar to Postie. It generates a random email address that you can use to send posts to.
The settings for Post by Email in Jetpack work in a similar way to Postie. However, Jetpack focuses more on shortcodes and doesn't have as many settings inside WordPress.
For example, if you want to set a category for a post, you have to remember to include the shortcode in the email. If you want to set tags, you need another shortcode for that.
In addition, Jetpack can:
Strip email signatures
Strip 'nuisance' HTML tags from the email
Automatically share to social media if you include the shortcode
The main downside is that remembering all the shortcode formats can be tricky. It'd be easy to forget an important shortcode when you email your post.
We think that most people will find Postie easier if they always post with the same settings.
Additionally, Jetpack is quite a large plugin, so it's best to use it if you have a need for the other parts of the plugin as well, like the contact forms, backups, or security features.
Pricing: Jetpack is free. You can pay to add additional functionality if you need it.
And that's it! We hope our recommendations for the best WordPress email plugins will help you choose the most suitable options for your site!
Next, Set Up Push Notifications for Your Blog
Did you know that you can also send browser push notifications from WordPress? Check out how to set up push notifications in WordPress with a free plugin.
You can also take a look at our guides to the best MailerLite integrations and the best email tracking plugins to help with your email marketing.
Ready to fix your emails? Get started today with the best WordPress SMTP plugin. WP Mail SMTP Elite includes full White Glove Setup and offers a 14-day money-back guarantee.
If this article helped you out, please follow us on Facebook and Twitter for more WordPress tips and tutorials.