Do you want to configure your WordPress SMTP settings, but you're not sure where to start?
It's definitely worth setting up an email provider to stop your WordPress emails going to spam.
In this guide, we'll show you how to set up WordPress SMTP by yourself. If you're not confident in doing that, we'll also explain how to get our team to handle the whole setup for you.
Where Is the SMTP Setting in WordPress?
WordPress doesn't have any SMTP settings by default, so you'll want to install the WP Mail SMTP plugin.
WP Mail SMTP takes over the default method of sending email in WordPress. It re-routes your emails through a professional email service provider which is much more reliable.
When you install WP Mail SMTP, it's important to complete our Setup Wizard. If you don't, WP Mail SMTP won't have any effect.
We'll show you exactly how to complete the Setup Wizard below, in the section called Method 2.
How to Configure Your WordPress SMTP Settings
Let's take a look at 2 ways to set up WP Mail SMTP:
We'll start with the easiest option!
Method 1: Get Full White Glove Setup for WordPress SMTP
Setting up WordPress SMTP can be pretty overwhelming if you're a beginner.
That's why WP Mail SMTP has a full White Glove Setup service. It makes WordPress mail server setup effortless.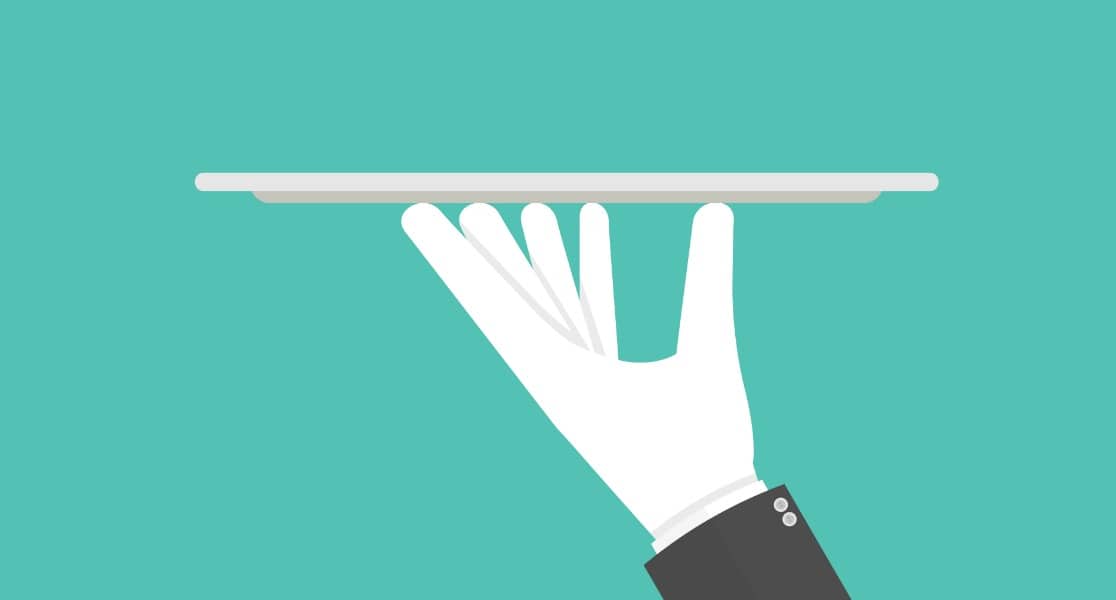 Our White Glove Setup service includes complete configuration and testing for your new email provider.
That means we'll:
Add your preferred 'From' address and sender name
Set up all of the required DNS records
Test your mailer so you know your WordPress emails are fixed.
If you want to use WP Mail SMTP without the hassle, this is likely the best option for you.
How to Get White Glove Setup for WordPress SMTP
If you want to go ahead with White Glove Setup, you'll want to purchase the WP Mail SMTP Elite license.
You can purchase a new license now, or upgrade your Pro license in your WP Mail SMTP account.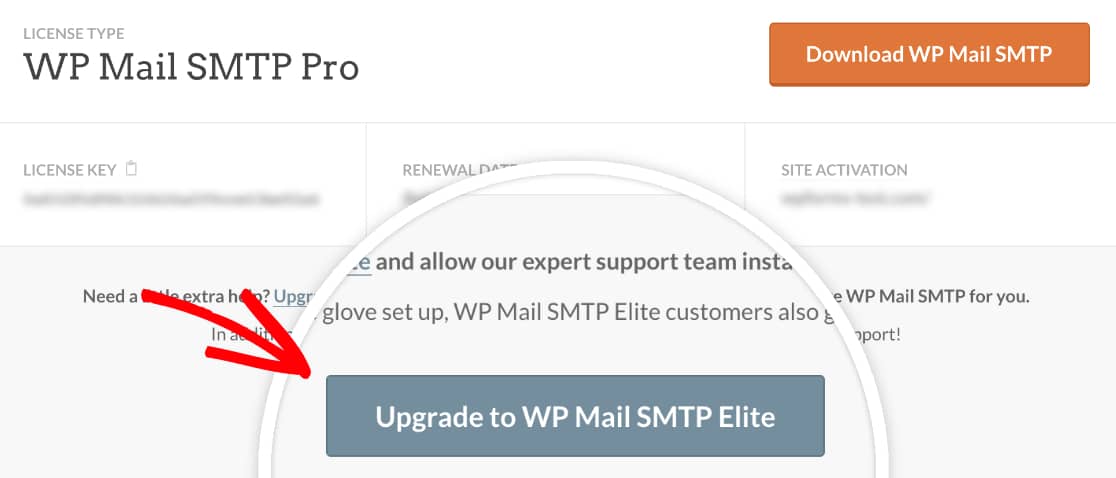 Next, you'll want to choose your mailer.
Our White Glove Setup service is available with either SMTP.com or Mailgun. Both of these email providers have a proven track record of excellent email deliverability.
All set? Start the White Glove Setup process right now in your WP Mail SMTP account. Head to the Downloads tab, then click Apply for White Glove Setup to let us know you're ready to begin.

If you'd prefer to configure WordPress SMTP settings yourself, let's walk through the process next.
Method 2: Add WordPress SMTP Settings Yourself
The second option is to create the WordPress SMTP settings yourself. This is super easy for beginners because we've already created custom setup docs for every email provider.
This method works with any version of WP Mail SMTP.
Install the WP Mail SMTP Plugin
First, install WP Mail SMTP if you haven't done that already.
If you're upgrading from Lite to Pro, you can paste your license key into the field on the plugin settings page to automatically upgrade.

If you're new to WP Mail SMTP, log in to your WP Mail SMTP account and switch to the Downloads tab.
You can download the latest version of the plugin file by clicking the orange button.
Now, log in to the WordPress dashboard and upload the plugin to install it. If you need help with this, check out this guide on how to install a WordPress plugin.

Once the plugin is installed, be sure to Activate it. This will launch the Setup Wizard in your browser.
Connect to a Mailer Service
In this step, we'll connect your website to a mailer service of your choice.
Click the Let's Get Started button to begin the Setup Wizard.

Now it's time to start WordPress mail server setup process.
If you aren't sure which email provider to use, we have some tips that might help:
For general usage, we recommend either SMTP.com or Sendinblue. These are professional transactional email providers with either a free trial or a completely free plan.
Other SMTP is a good option if you want basic email sending through an external SMTP server. But keep in mind that some hosts, including GoDaddy and A2 Hosting, may block external SMTP connections.
Our Gmail mailer is perfect if you have a Gmail or Google Workspace account. Setting up this mailer takes a little longer than some of the other options, but it allows you to send email from any Gmail alias in WordPress.
Once you have chosen a mailer, go ahead and select it in the wizard.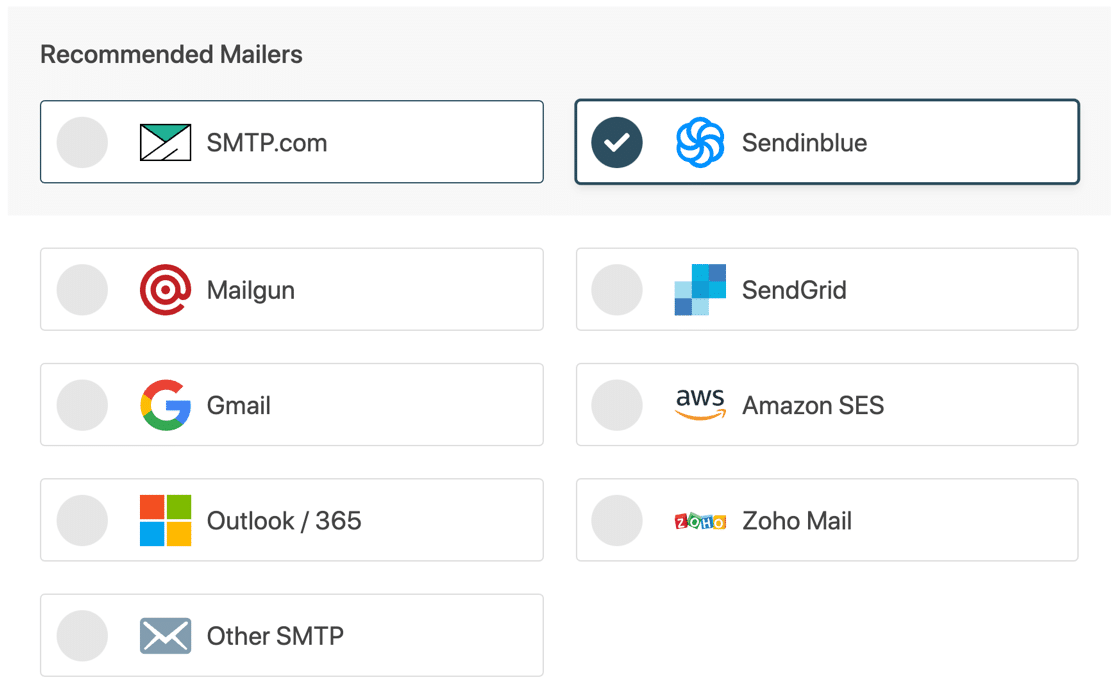 Now it's time to create your account and connect your WordPress site. We've created detailed documentation for each email provider to make this really easy.
Click on your provider in the table below to open the documentation page in a new tab.
When you've set everything up, switch back to this guide to follow the remaining steps in the wizard.
3. Enable Email Logging
In the next step, WP Mail SMTP will ask you which features you'd like to enable.
There are 2 features enabled by default:
Email deliverability
Error tracking
If you have the Pro version, you'll also be able to turn on the Detailed Email Log setting at the end of the WordPress mail server setup.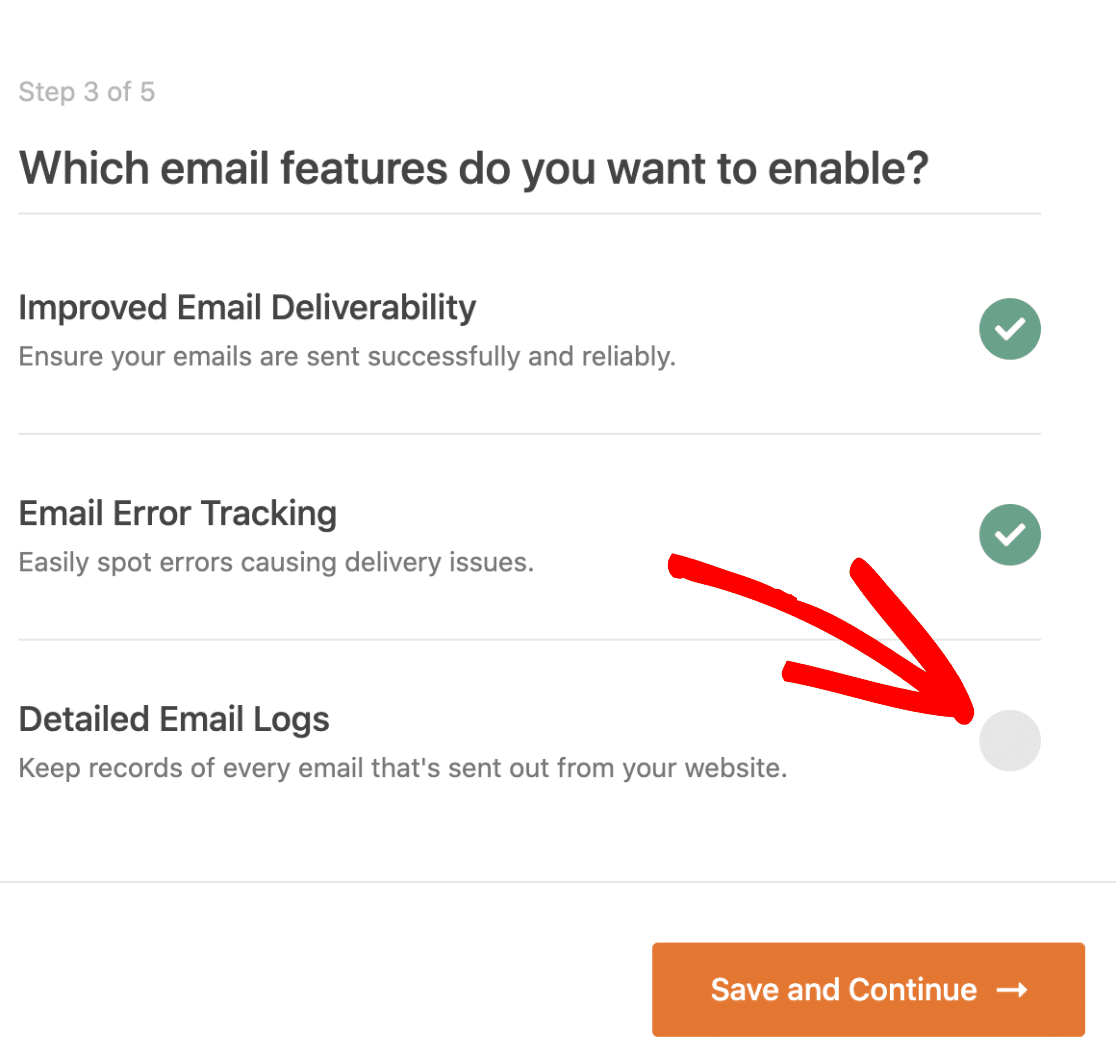 Detailed Email Logs will track the headers, subject line, and other information about the email.
You can boost your email logging by turning on extra features like:
Full logging of the email content and headers
Email resend
Email log export in CSV, XLSX, or EML format
Status reports for each email sent from your site.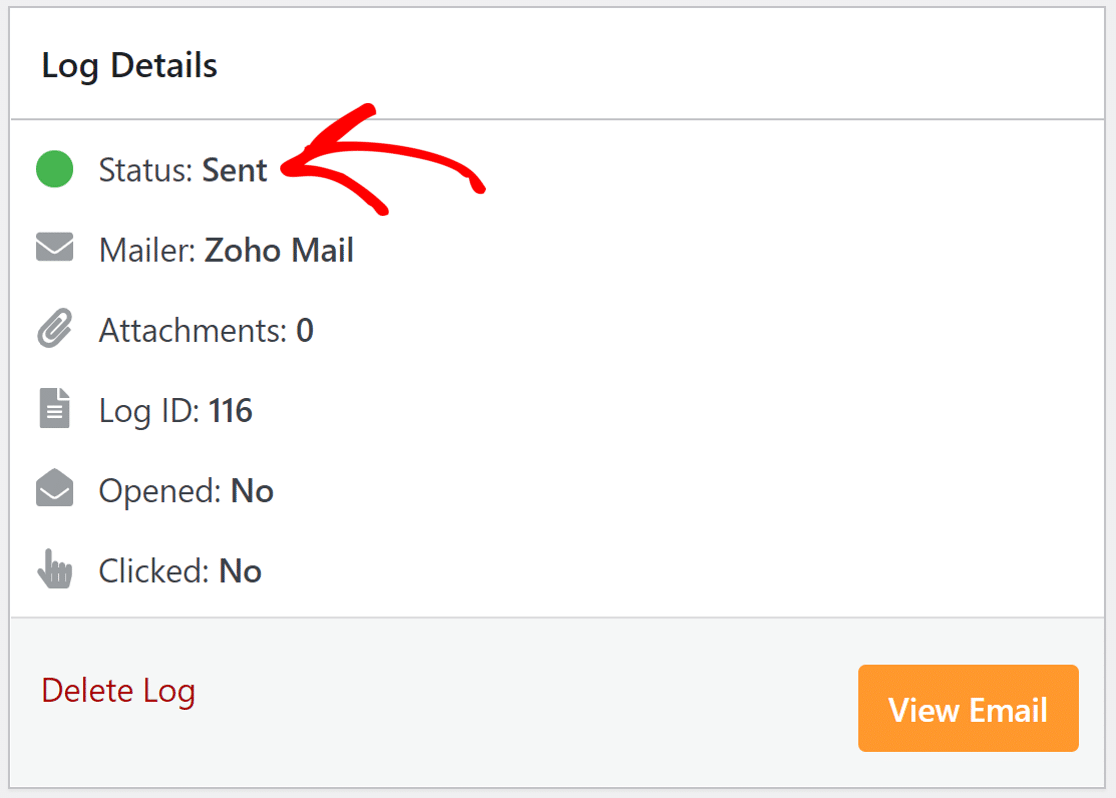 Check out how to log WordPress emails to see how it works.
For the final step, copy the license key from the WP Mail SMTP account and paste it into the box to enable Pro features and future updates.

That's it! You've done everything to configure SMTP settings on your WordPress website.
Finally, we'll show you one of our most useful Pro features: how to resend emails from WordPress. If any of your WordPress emails fail, this feature makes it easy to retry them.
4. Resend Emails Using WP Mail SMTP
If a WordPress email fails, or you want to forward it, WP Mail SMTP makes it easy to resend any email with just a few clicks.
This feature is available in the Pro license or above.
To set up email resend, we need to make sure that you're logging the entire contents of your emails first.
Let's check that in WP Mail SMTP » Settings.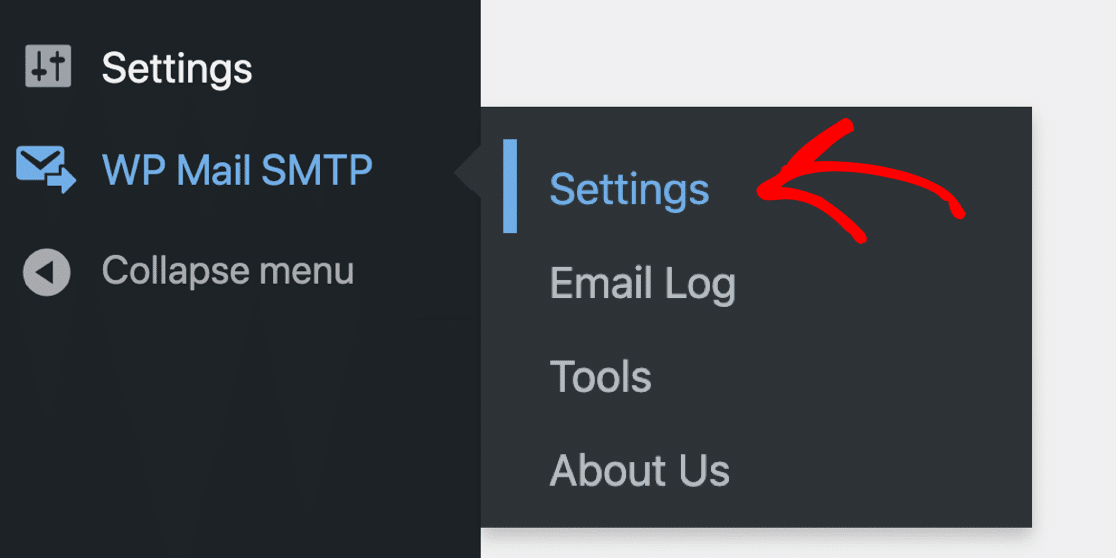 Next, click the Email Log tab to open your email log settings.

On this page, make sure you have the following settings enabled in the plugin's Email Log settings page:
Enable Log: This should already be enabled on your site, but check it now if it isn't.
Log Email Content: This setting logs the entire body of the emails WordPress sends.
Save Attachments: This will also save a copy of any sent email attachments.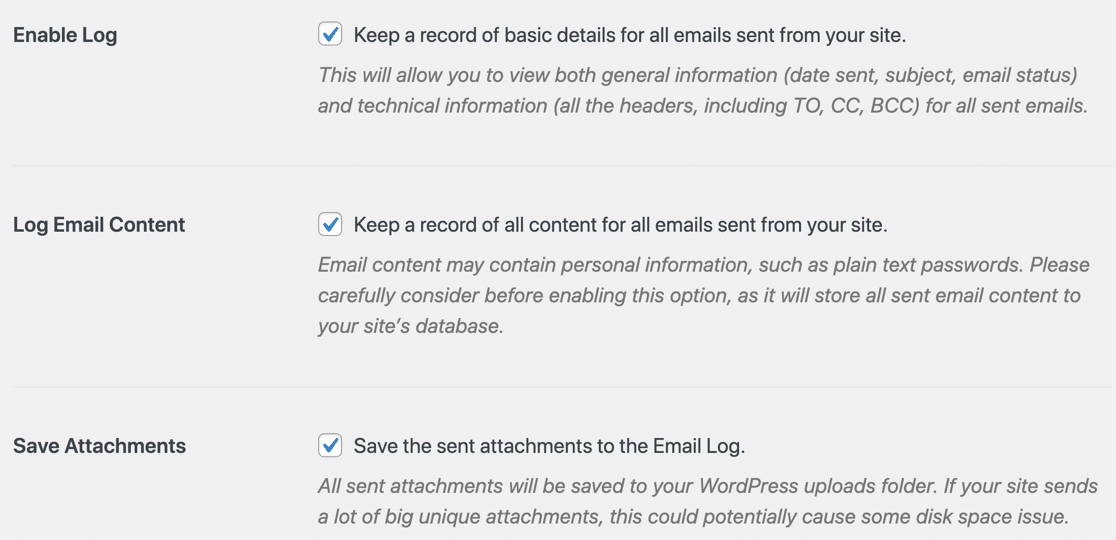 Now you'll want to send an email from your site so you have some data in your email log. For example, you could submit a message from your site's contact form, or register a new user.
Once that's done, we can test the email resend feature.
First, open WP Mail SMTP » Email Log to view your log entries.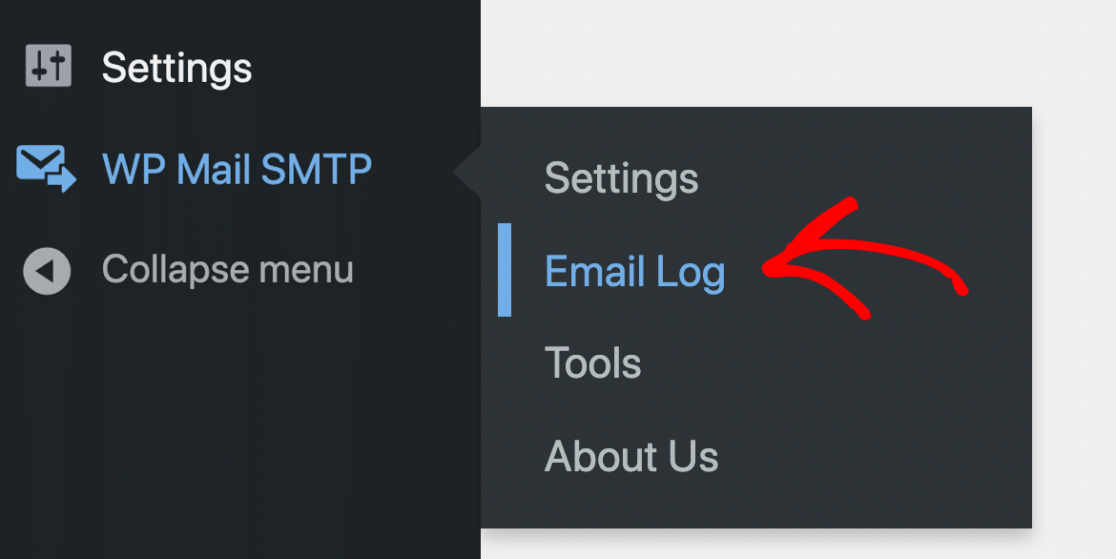 Now click on View Log for any email that you want to resend.

In the email log screen, click the Resend button under Actions on the right sidebar.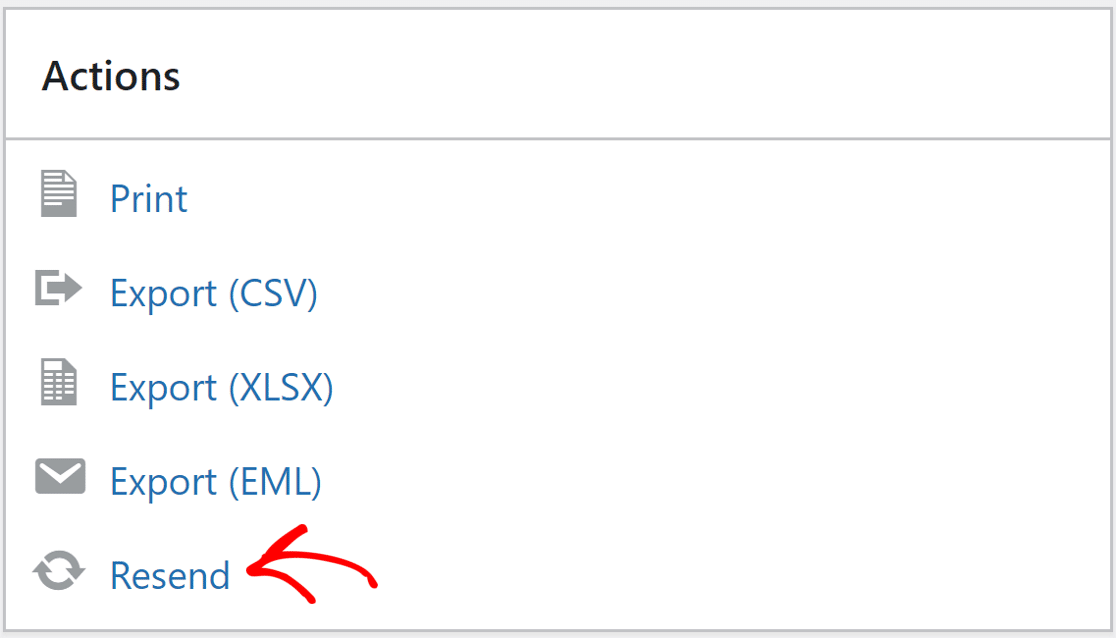 A popup will appear to confirm the email recipient. You can change the recipient or add multiple email addresses separated by commas.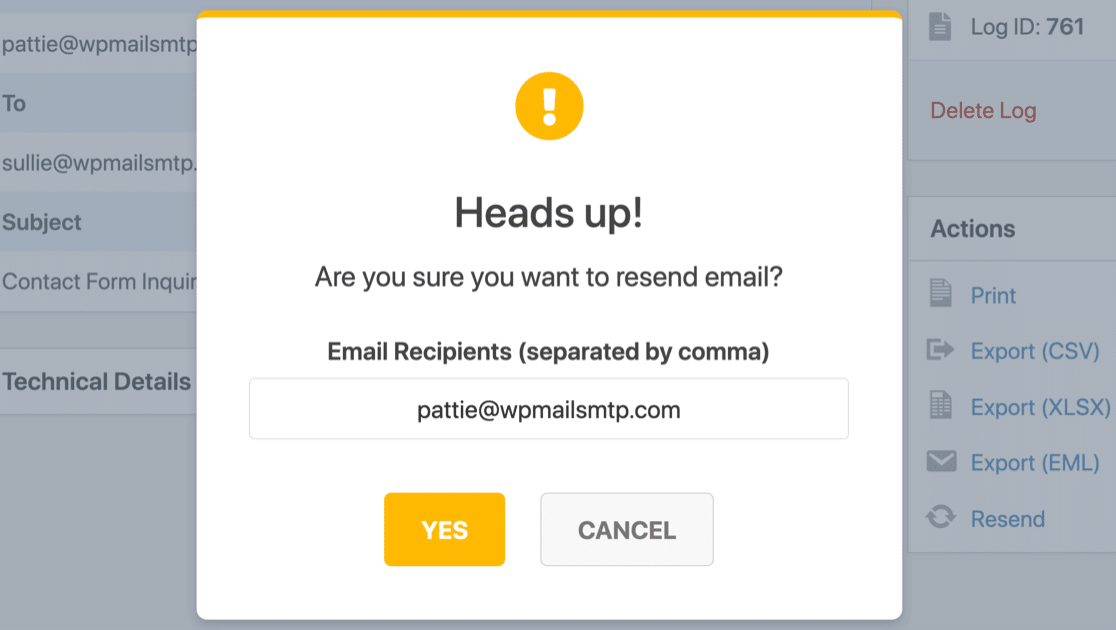 Click YES and WP Mail SMTP will resend that email to all addresses you type in.
If you want, you can also resend emails in bulk. To do that, you can select the emails and use the dropdown on the main email log screen to send them again.
This feature is ideal for resending failed emails quickly. It'll automatically resend them to the email address they were originally sent to.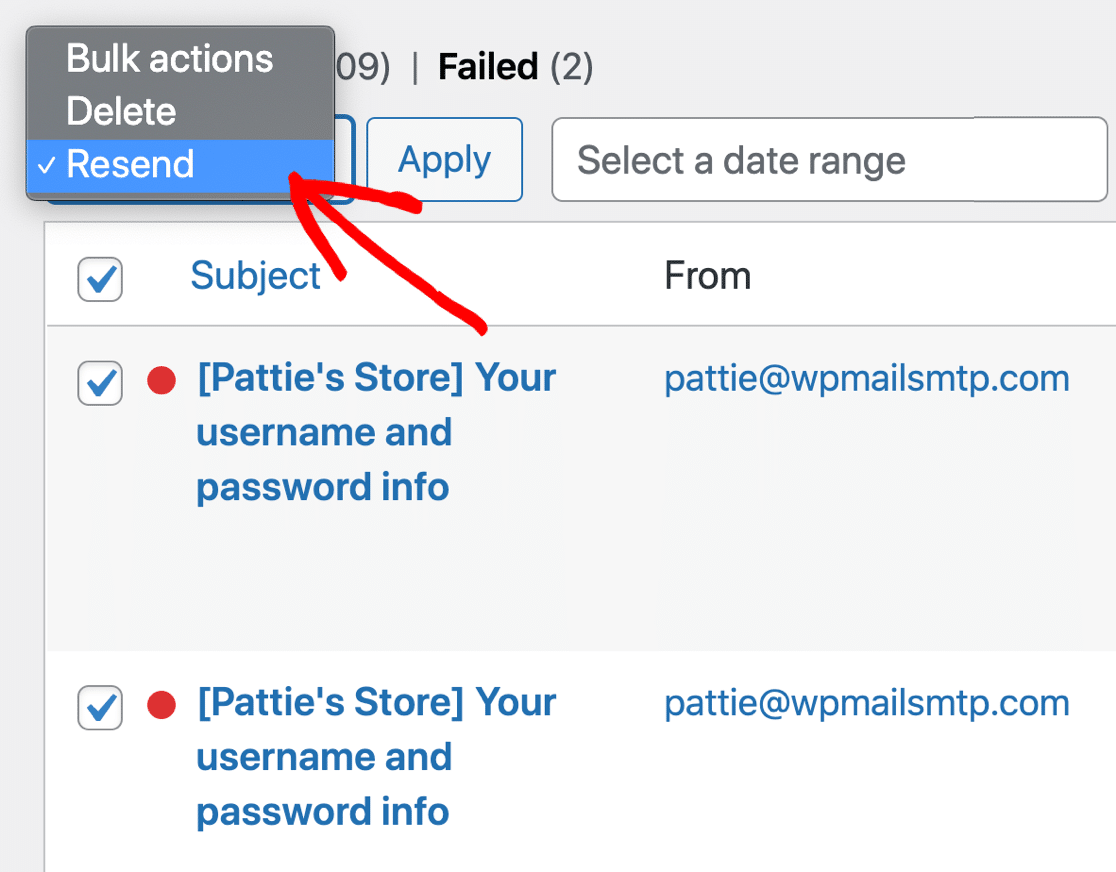 That's it! You now know how to configure your WordPress SMTP settings.
Next: Check Your DNS Settings
If your DNS settings are not properly set up, you may notice your WordPress emails go to spam.
The DNS settings are usually held by your hosting company or domain registrar. You can start by creating a DMARC record for your domain. This will save your domain from being used to send phishing emails.
Ready to fix your emails? Get started today with the best WordPress SMTP plugin. WP Mail SMTP Elite includes full White Glove Setup and offers a 14-day money-back guarantee.
If this article helped you out, please follow us on Facebook and Twitter for more WordPress tips and tutorials.