Are you looking for the best contact form plugin for your WordPress site?
Contact forms are an essential component of every website. They help you communicate with your visitors, collect new leads, and streamline the user experience on your website.
In this article, we'll compare 7 of the most popular contact form plugins for WordPress so you can pick the best one for your needs.
Fix Your Contact Form Emails Now
What Is the Best WordPress Contact Form Plugin?
In terms of simplicity and features, WPForms is the best contact form plugin for WordPress websites.
However, there are a number of other great options as well, so your choice will often depend on the nature of your website and your goals.
In general, if you're looking for plugins with advanced capabilities like building survey forms, then premium options like WPForms Pro or Formidable Forms are the ones to go for.
Best Contact Form Plugins for WordPress (Free and Premium)
We've compiled a list of the best contact form plugins based on their features and overall ratings. You can quickly jump to a short review of our top-rated plugins by clicking the links below.
WPForms is the best contact form plugin for WordPress. It has 3+ million active installations, and features a super-simple drag-and-drop form builder that makes it easy to create powerful online forms in just a few clicks without touching any CSS or other code.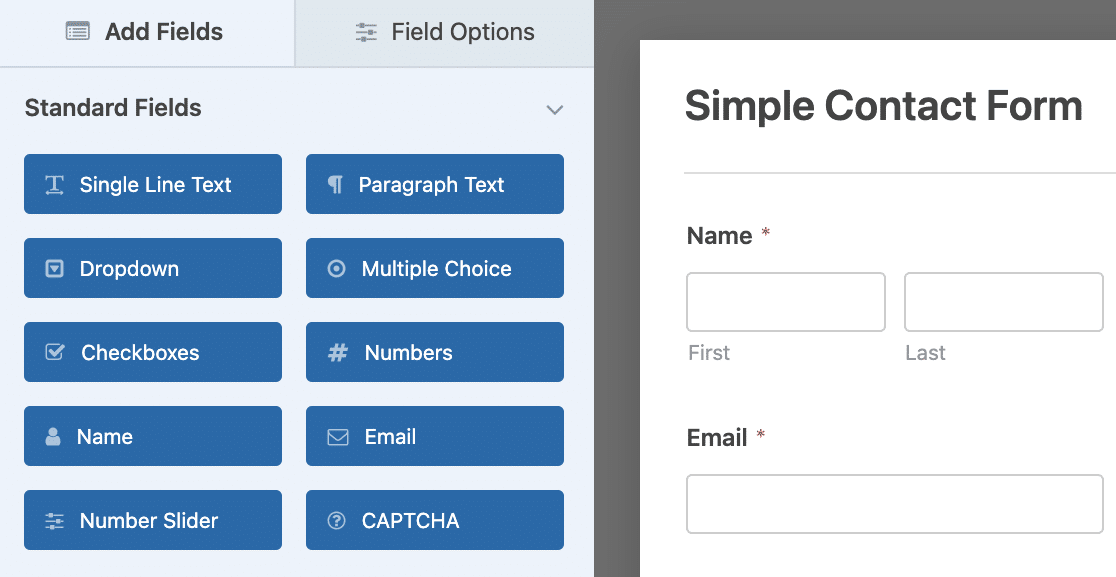 WPForms has a library of 1,200+ form templates that let you quickly build your desired form with the relevant fields pre-built into it. You can also customize these templates any way you like to make sure the final version looks exactly how you intended.
We're huge fans of this plugin because it offers tons of advanced functionalities, such as file upload forms to enable users to upload attachments in their form submission.
You also get payment forms in all versions of the plugin (including WPForms Lite) that let you collect credit card payments using Stripe. That means you won't need to set up WooCommerce or other eCommerce plugins to sell products.
On top of that, WPForms is one of the few WordPress form plugins that give you no-code style customization options for free as well as paid users. You can use form styles to change the appearance of any element of your form including the labels, fields, buttons, and error/validation messages.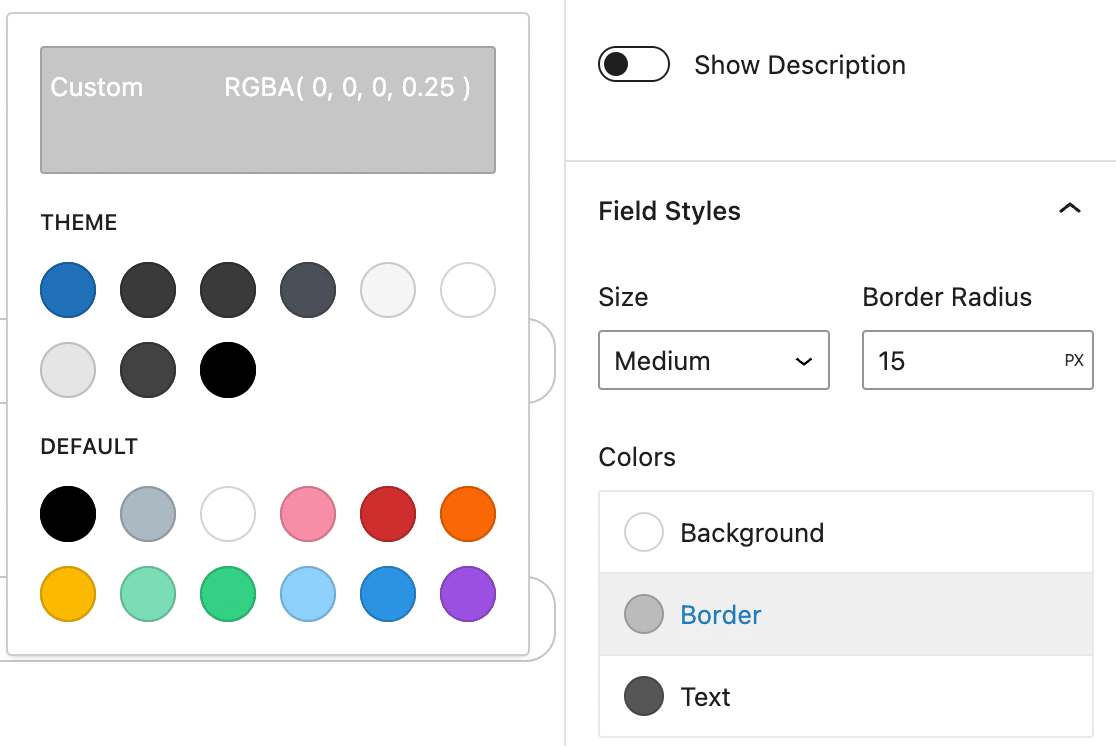 What's more, WPForms also has powerful integrations that allow you to add convenient automation to your workflow. You can connect your form with popular mailing platforms like Mailchimp or CRM software like HubSpot.
During testing, we also found an excellent range of anti-spam options. You get WPForms' built anti-spam tokens, Akismet, Google reCAPTCHA, hCaptcha, Custom Captcha, and Cloudflare Turnstile.
In fact, we were delighted to see that WPForms goes the extra mile to give you keyword and country filters as well, which is a unique anti-spam option in the WordPress form plugin industry.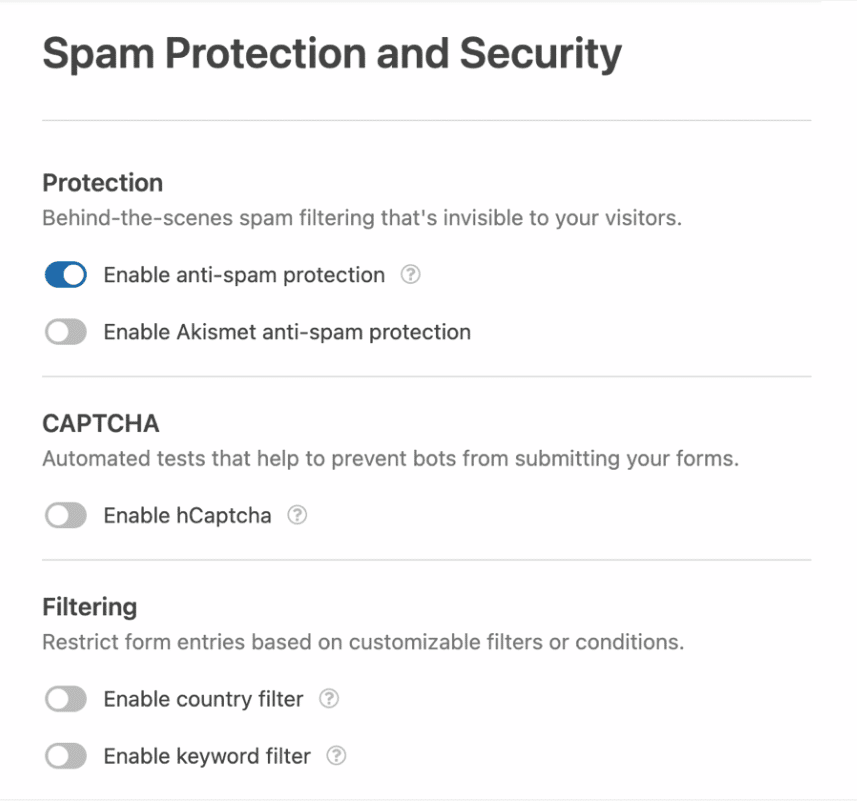 And you don't have to worry about missing any new entries with WPForms because the plugin allows you to make a form with multiple email addresses. This allows you to send email notifications to different team members depending on your customers using smart logic.
Plus, when you upgrade to Pro, you can unlock dozens of powerful addons and features that extend form functionality even further. Some of these include:
Entry storage inside WordPress dashboard
Conditional logic
Multi-page forms
Customizable form layouts
Survey, poll, and voting features
Conversational forms
Native integrations plus extra third-party app integrations with Zapier
Square and PayPal payment fields
Easy embed tool
Spam protection with hCaptcha, reCAPTCHA, or custom CAPTCHA
Overall, if you're looking for a highly customizable form builder plugin for WordPress that combines simplicity with a huge range of useful features, then WPForms is the best option available.
Average Rating: 4.8 out of 5 stars from 3,648+ 5-star reviews.
Pricing: Free or starting at $39.50 / year for the Basic plan.
Formidable Forms is another contact form plugin that comes with a drag-and-drop interface. It includes powerful features and addons that you can use to create advanced survey forms, user registration forms, payment forms, and even calculator forms.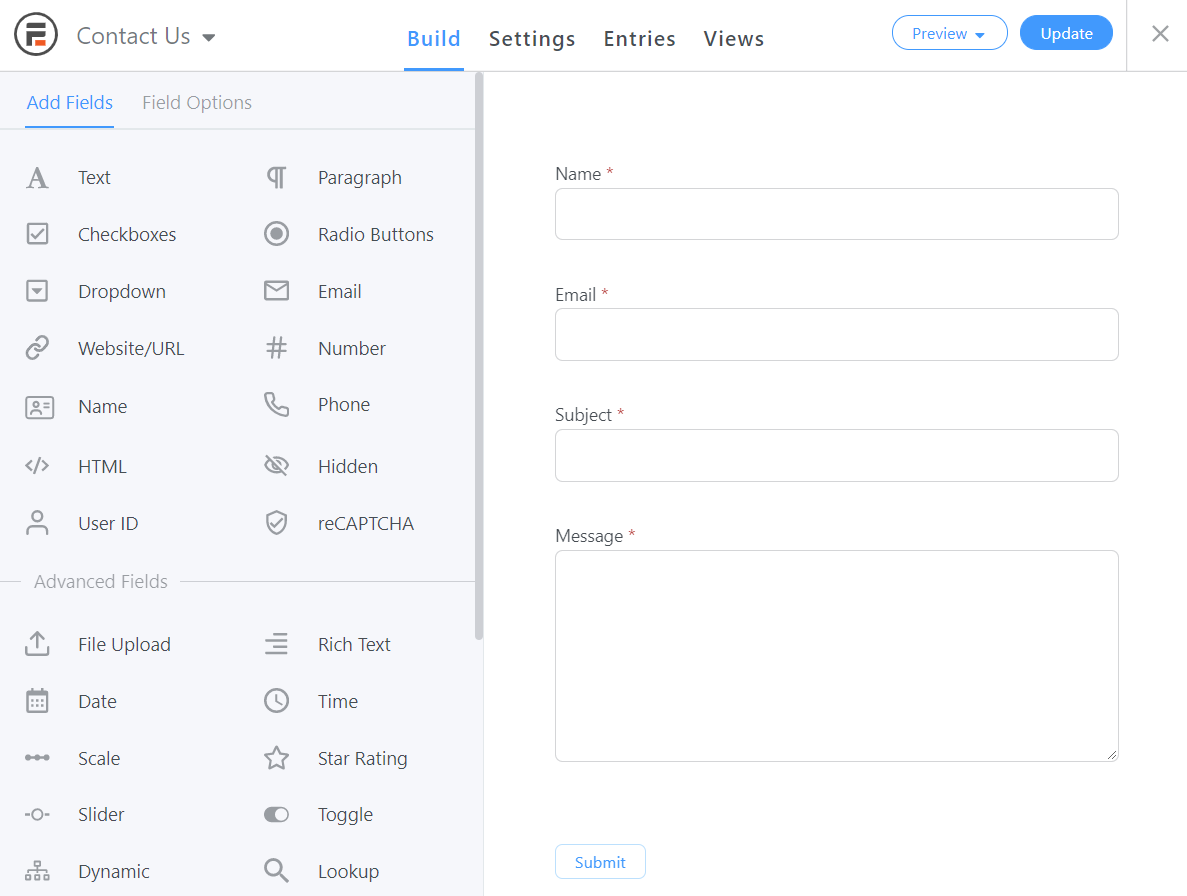 Formidable Forms stands out because of its outstanding customizability. Like WPForms, it includes hundreds of form templates that simplify your form creation process.
Apart from that, Formidable Forms impressed us greatly with its styling options. The plugin allows you to choose from pre-built style themes for your forms or manually style each element of your form without any code.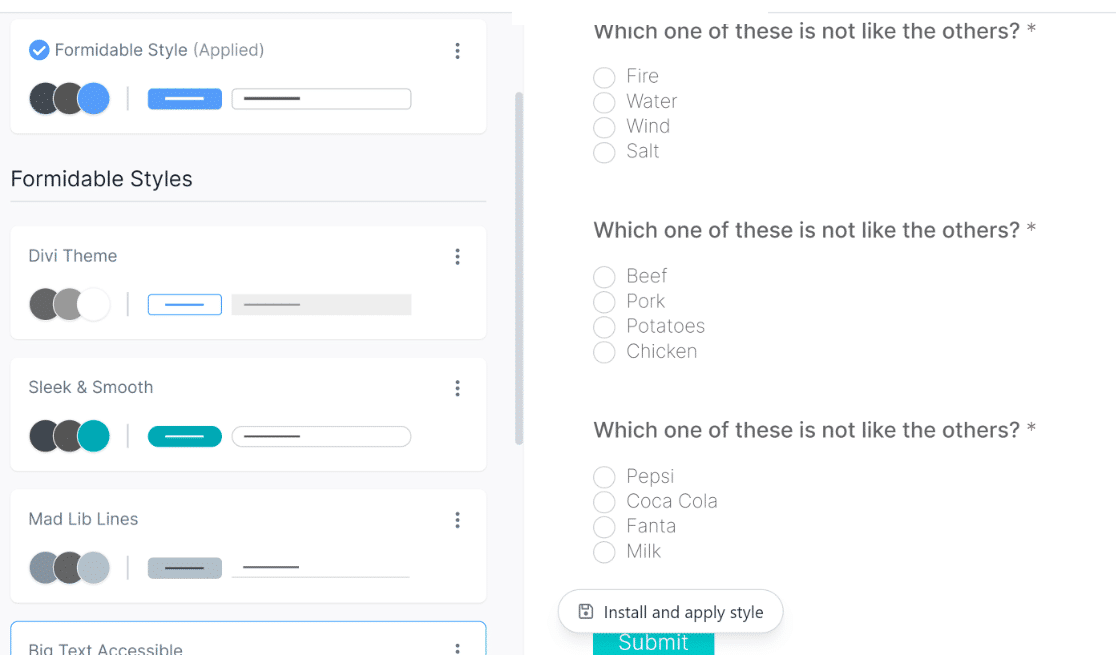 The calculation capabilities in Formidable Forms make it an excellent choice for businesses operating in technical industries like finance, engineering, and more. That gives you the flexibility to create highly complex forms or go for more basic contact forms as you see fit.
One of our top favorite Formidable Forms features is its AI field. You can use this field to let your site visitors send prompts to and get responses from ChatGPT directly from your WordPress site.
You could even create a chatbot with this functionality. The applications are literally endless.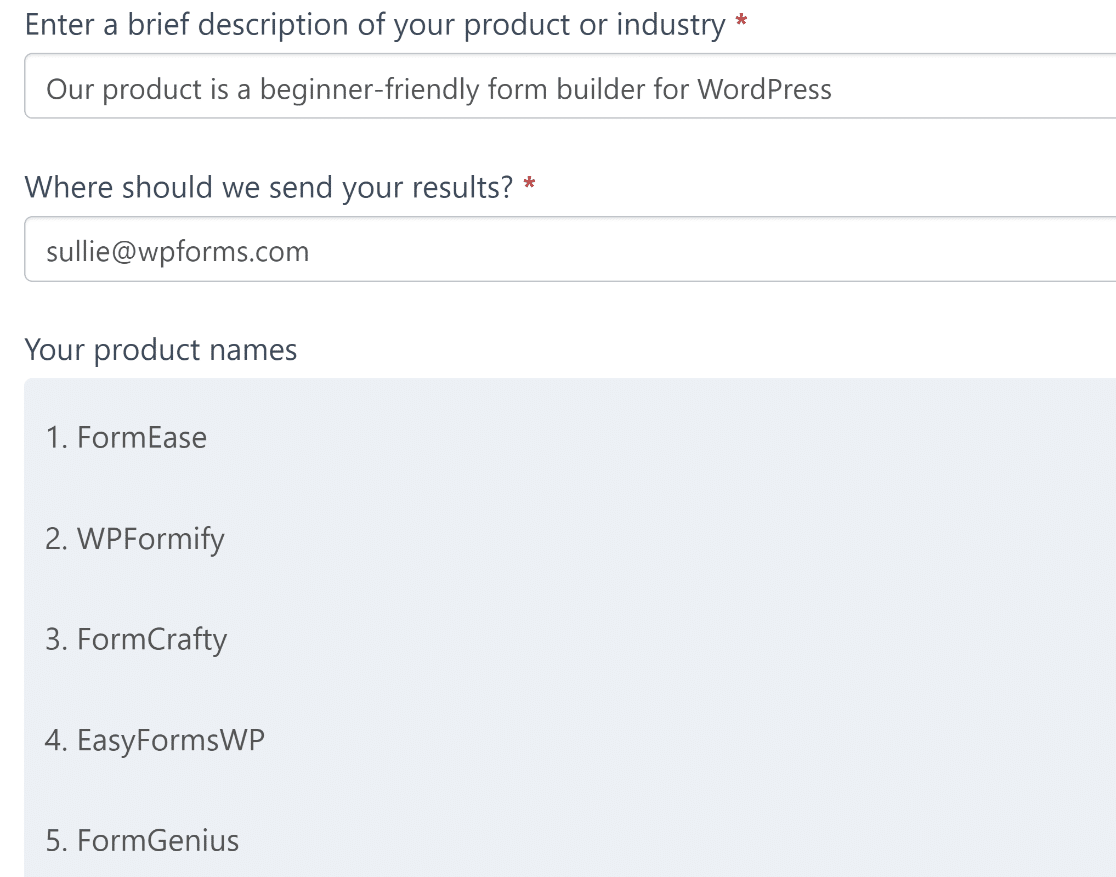 Formidable Forms also integrates with all popular email marketing services and payment gateways.
Some of the other notable features of Formidable Forms include:
Tons of form templates to help you build complex forms with just a single click
Use advanced calculation fields to build online order forms, percentage calculators, and timesheets
Formidable View lets you display, format, and filter user-submitted data on the frontend of your website
Overall, Formidable Forms is one the best-rated WordPress form builder plugins.
Average Rating: 4.7 out of 5 stars from 800+ reviews.
Pricing: Free or starting at $39.50 / year for the Basic plan.
Forminator is a contact form builder plugin that gives you a great variety of features for free.
Like all top form builders, Forminator has a visual interface that enables you to create forms using simple drag and drop motions.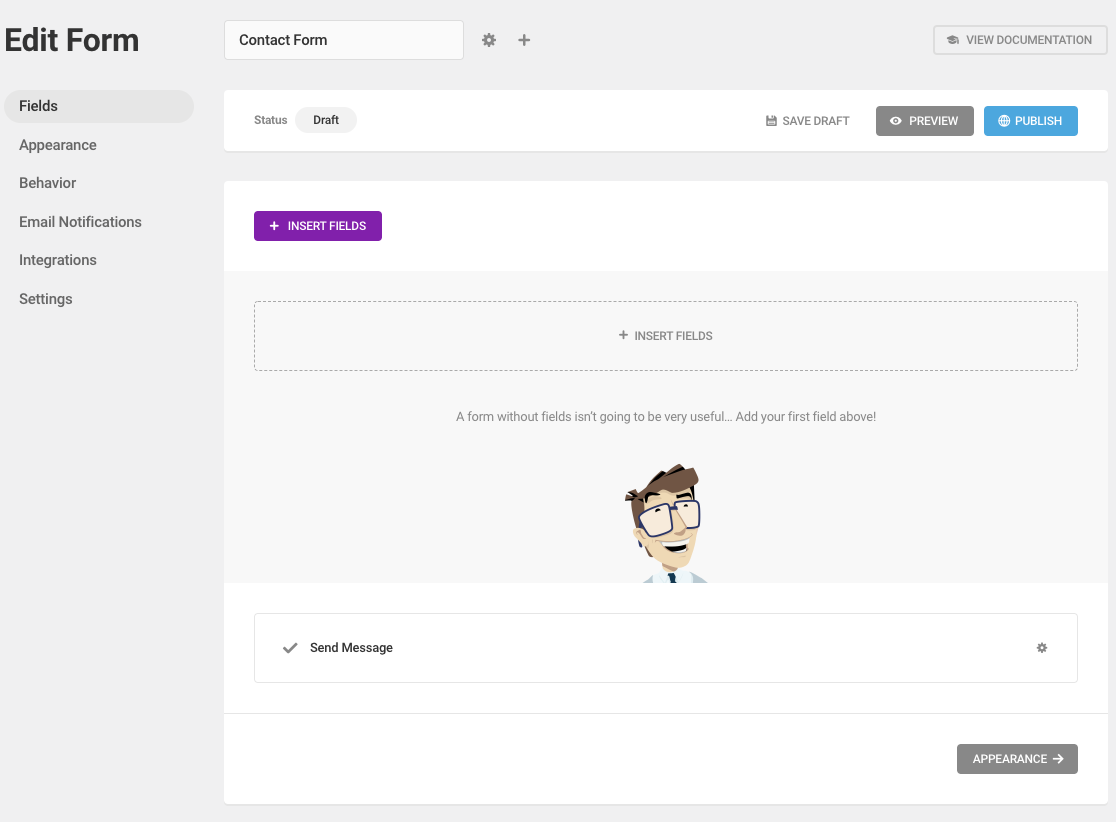 While the Forminator interface is intuitive, it's not as visual as WPForms. It doesn't display a live preview of your form as you're building – you need to click Preview in order to get an idea of what your form will actually look like on the frontend.
For beginners, it might take a while to figure out how to use Forminator, but it's really easy to use once you get the hang of it.
We were pleasantly surprised to see the range of features that the Forminator plugin offers for free. For instance, it has powerful no-code styling options that don't require you to purchase the paid plan, which is fantastic.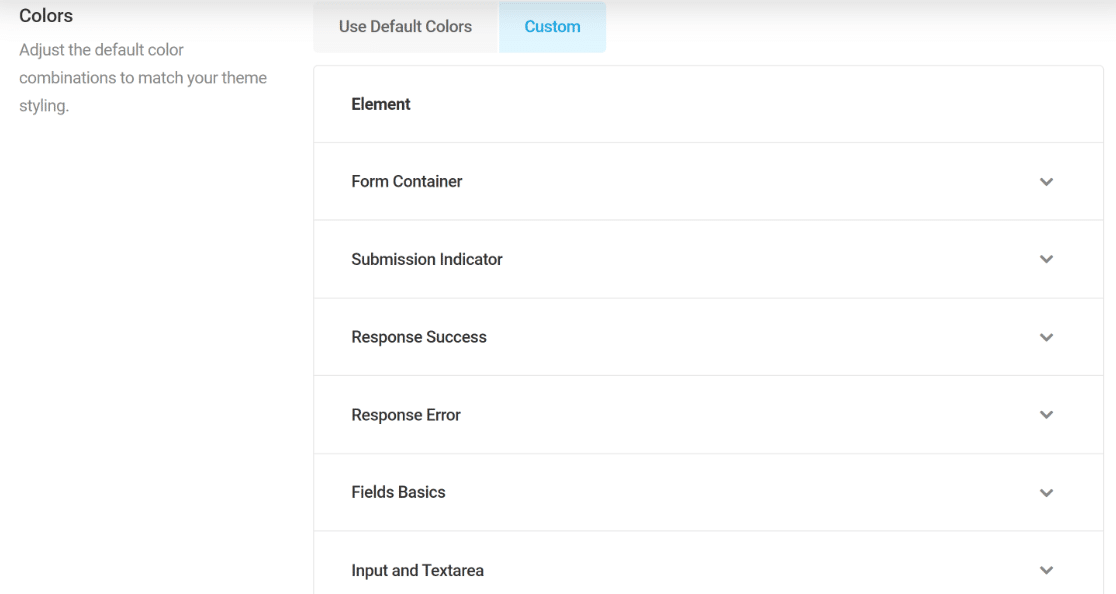 It's also one of the only contact form plugins we know that supports conditional logic in the free version.
That's not all. The plugin also enables you to create WordPress polls. You can even add a featured image to your poll to make it more appealing and gather more responses.
While it lacks some of the more advanced features like form layouts, conversational forms, coupon codes, and payment tracking, it's still a fantastic form plugin if you're looking for a free choice.
If you're not receiving your Forminator notification emails, be sure to check out our post on Forminator not sending emails.
Average Rating: 4.8 out of 5 stars from 900+ reviews.
Pricing: Free or starting at $90 / year.
Ninja Forms is another freemium WordPress contact form plugin that's used by more than 1 million websites. It also comes with a drag-and-drop form builder that's easy to use for beginners.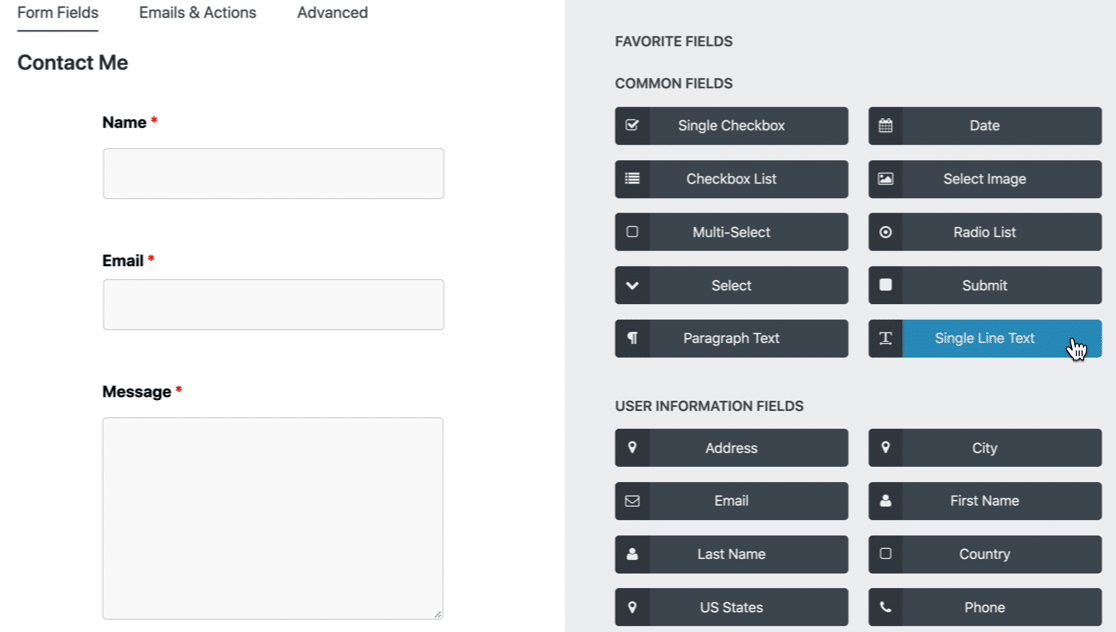 You can get the free version of the plugin from the WordPress repository. It has basic fields that you can use to create an unlimited number of forms.
There is a premium version that has features such as:
Dynamic forms using conditional logic
Multi-step forms
Integration with popular email marketing tools
The pricing for Ninja Forms is quite complicated. It offers 2 different ways to buy the plugin. The first is to buy an annual license, and the second is to buy the individual addons that you require.
Unless you need just a single addon, it's better to go with a membership plan that includes a bundle of addons.
Average Rating: 4.4 out of 5 stars from 1,100+ reviews.
Pricing: Free or $49.50 / year for a Personal plan.
Gravity Forms is a premium-only contact form plugin for WordPress. It comes packed with advanced features to help you build complex forms.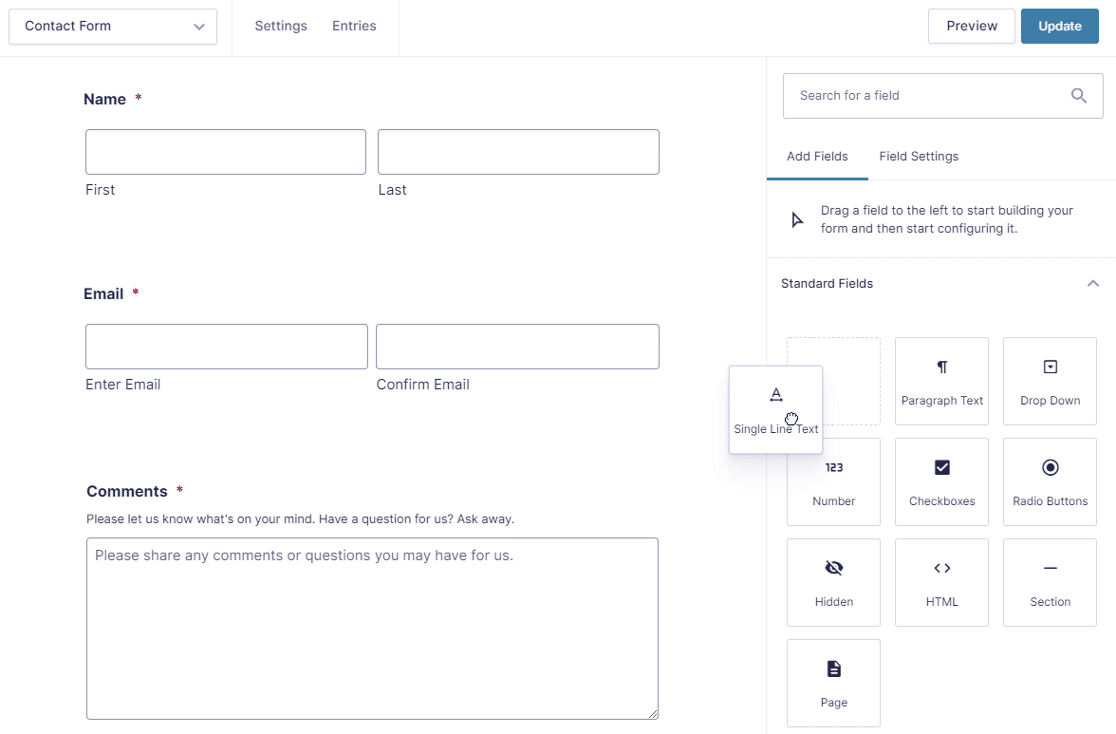 Like WPForms and Formidable Forms, the plugin has an intuitive user interface. The most recent version of Gravity Forms is designed to look like the block editor.
Gravity Forms comes with addons that you can use to create:
Quizzes
User-submitted content forms
Order forms
Subscription forms
Survey forms
Web directory submission forms
Depending on the license you choose, access to these addons will vary.
If you get stuck, Gravity Forms has got you covered with forums, FAQs, email support, and a knowledge base.
Some of the key features of the plugin are:
Access to 30+ form fields to create any type of form
Conditional logic to create dynamic forms
Let users save the form to continue at a later time.
Spam protection using Google reCAPTCHA, Really Simple CAPTCHA, and Akismet
Calculation field to create advanced math forms
Since Gravity Forms doesn't have a free version, the most affordable version is on the costly side compared to other plugins in this list.
Average Rating: Not available.
Pricing: $59 / year for the Basic plan.
Jetpack Forms is part of the popular Jetpack plugin for WordPress. The form builder is included in the free version of the plugin. You get quite a few types of pre-built forms including:
Feedback
Newsletter signup
Appointment
Registration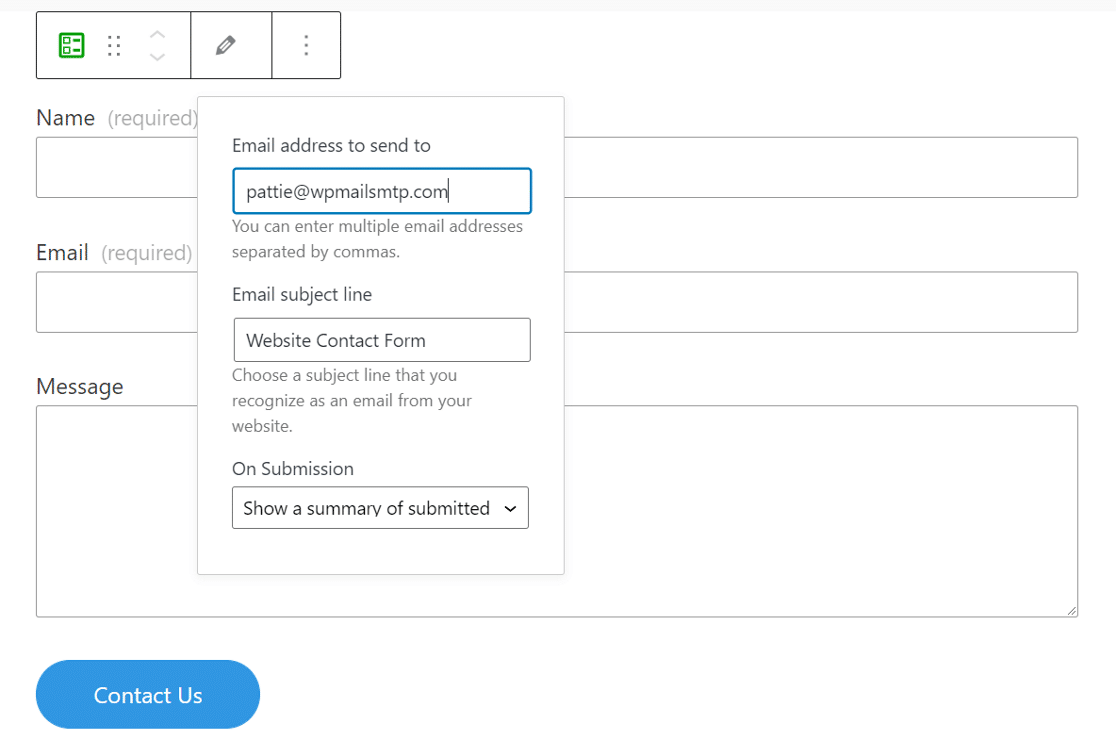 The plugin integrates pretty well with the WordPress block editor. You can:
Build customized forms with blocks
Adjust all form settings right in your post or page editor
Integrate Akismet to stop contact form spam
It's perfect for those who need to build fairly simple contact forms and already have the Jetpack plugin on their website.
However, a massive downside of using Jetpack to build your contact forms is the extra features that come pre-bundled with the plugin. While you can turn those extra features off, they can bloat your website unnecessarily and affect your site speeds.
Average Rating: 3.9 out of 5 stars from 1,700+ reviews.
Pricing: Included in the free version.
A WordPress contact form list would be incomplete without the oldest and most downloaded contact form plugin.
Contact Form 7 is a completely free plugin available on the WordPress repository. You can use it to build basic forms using code syntax.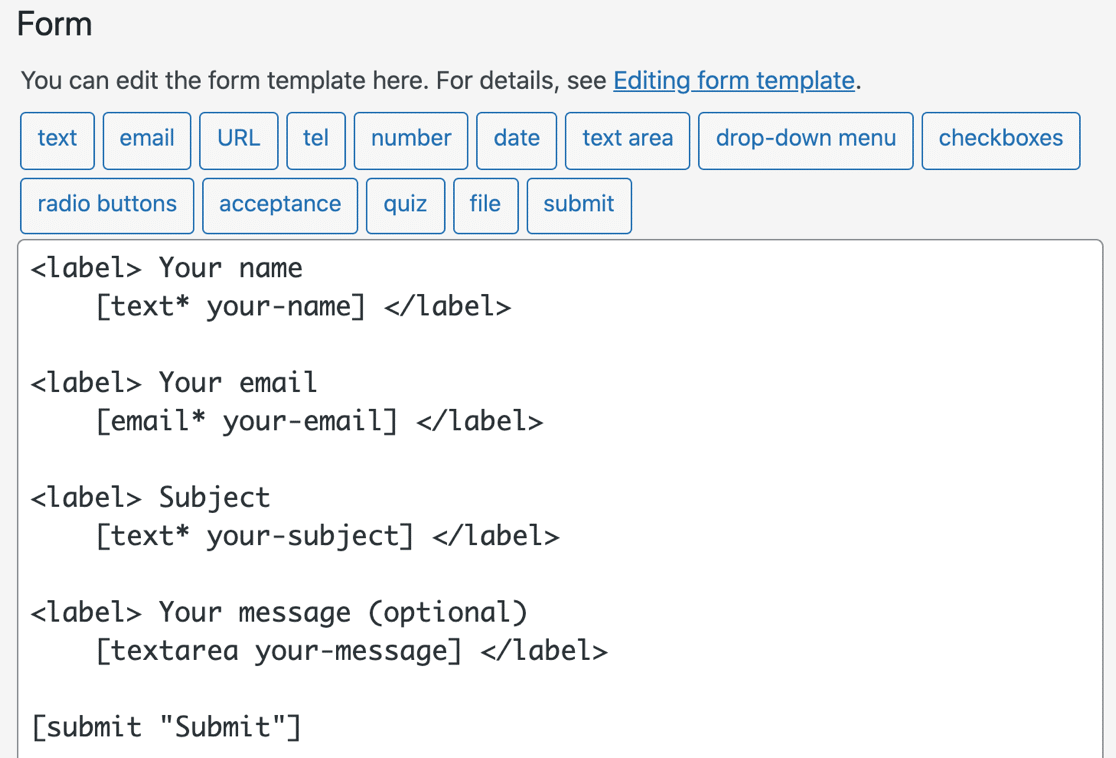 Even though it's popular, it's fairly complicated to use since it doesn't have a visual drag-and-drop builder like other form plugins on this list. Rather, the interface is HTML-based.
Some key features:
You can use it on unlimited websites and build unlimited forms
Online resources are available to learn more about the plugin
It integrates with Akismet to stop spam messages
You can insert the contact form on a page or post by just using the shortcode
There are many third-party addons available that extend its functionality, but searching for them is a challenging task because there's no central directory.
If ease of use is an important consideration for you, then Contact Form 7 is not the ideal WordPress contact form plugin.
Average Rating: 4.1 out of 5 stars from 1,900+ reviews.
Pricing: Included in the free version.
Which Is The Best WordPress Contact Form Plugin?
Having compared the features of different plugins, we can safely say that WPForms is the best contact form plugin for those looking for a user-friendly yet powerful form builder. It has all the features that most small businesses and blog websites generally look for.
WPForms was made to make it easy and beginner-friendly to build forms in WordPress without any knowledge of coding and it fulfills that purpose.
However, if you want to make forms with calculation capabilities built into them, then Formidable Forms might be a better option for you. It's aimed at those looking to build advanced forms but still has a user-friendly interface.
If you're ready to start building forms to take your website to the next level, our guide to adding forms to contact pages in WordPress will get you started.
Fix Your Contact Form Emails Now
Top WordPress Contact Form Builder FAQs
Here are answers to common questions about contact form plugins for WordPress:
Is WPForms Better Than Contact Form 7?
WPForms is considerably more user-friendly and offers a much greater range of features than Contact Form 7. With WPForms, you can create custom forms and change any element using an easy WYSIWYG form builder. Whether you want to add checkboxes, dropdowns, or radio buttons, WPForms lets you insert any field type with a click of a mouse.
Plus, you get powerful functionalities like full-screen conversational forms, multi-step lead forms, various anti-spam tools, and more. In contrast, Contact Form 7 is a decent free contact form plugin but is only good for creating simple forms. And it's not a beginner-friendly tool with a very outdated interface that's hard for beginners to master.
Is WPForms Free on WordPress?
Yes, WPForms has a free plan called WPForms Lite for WordPress. You can build an unlimited number of forms and collect unlimited submissions with the free plan. You also get various powerful features like form revisions, codeless form style customizations, a quick embed wizard, and Stripe integration without needing to upgrade to the paid version.
Next, Take Advantage of the Top Plugins
We hope this article helped you to find the best contact form plugin for your WordPress site and your needs.
But you're probably going to need more than a form builder to grow your website to its full potential. Here are a few other roundups about our favorite WordPress plugins you may want to read:
After you install a contact form plugin, you want all emails from it to reach your visitors' inboxes. WP Mail SMTP helps connect your website to an external email service and adds authentication to improve your email deliverability.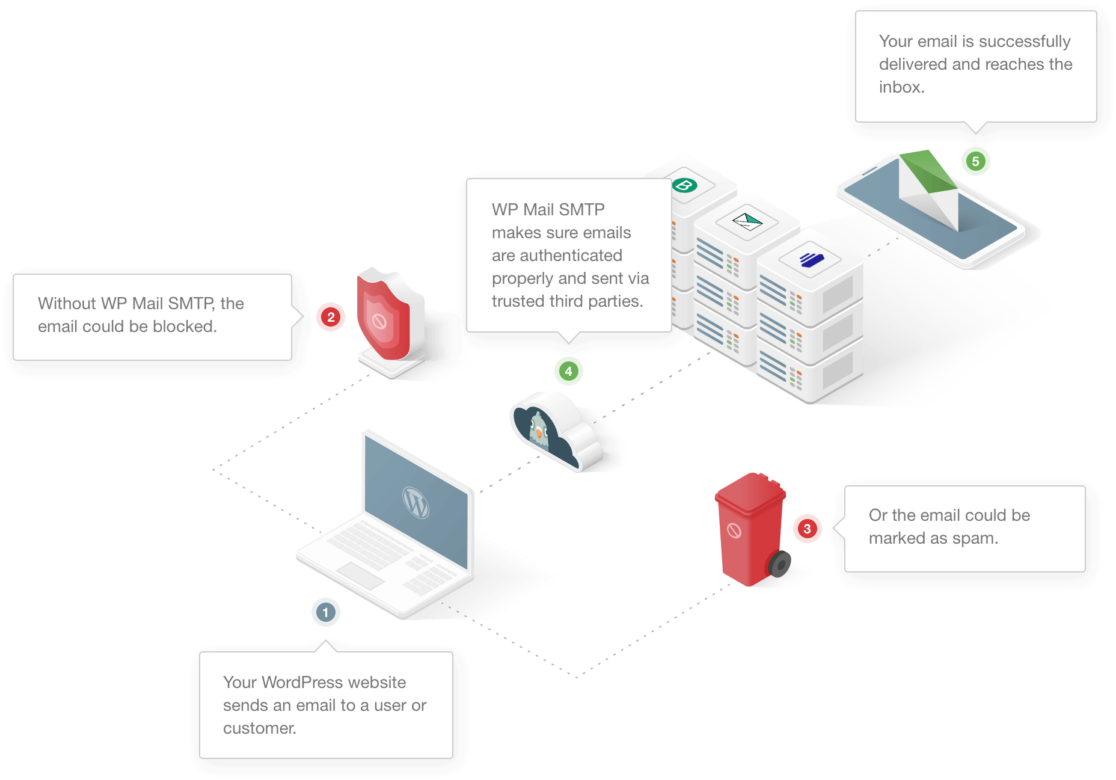 If you're having trouble with your contact form emails, we have easy tutorials for fixing your form email issues using WP Mail SMTP. Click the link below to jump to the contact form plugin you're using and solve your email problems.
Ready to fix your emails? Get started today with the best WordPress SMTP plugin. WP Mail SMTP Elite includes full White Glove Setup and offers a 14-day money-back guarantee.
If this article helped you out, please follow us on Facebook and Twitter for more WordPress tips and tutorials.