Are you looking for a way to solve the missing email issue with Contact Form 7?
As popular as the free software is, it's common for people to run into all kinds of issues with their forms not sending email. So in this post, we'll show you why contact form 7 is no longer sending emails and what you can do to get those WordPress emails working.
Why Contact Form 7 Is Not Sending Emails
Contact Form 7 emails sent but not received? You aren't alone.
Imagine this — Your website forms seem like they are functioning properly. Your lead generation form is submitted by someone and they get a success message.
But the lead never ends up in your inbox. Yikes.
Asking yourself how do I fix WordPress contact form not sending email with SMTP? The first question you'll need to answer is if you're using Contact Form 7. If you are, we'll review why it's common that Contact Form 7 is not sending emails.
You could be having issues with Contact Form 7 not sending emails because:
1. Your Emails Are Seen As 'Spoof' Emails
Spoof emails are similar to spam. Except emails that are suspected of spoofing rarely even make it to an inbox.  This usually happens because of things within Contact Form 7's configuration settings which are usually left on the default.
Unfortunately, Contact Form 7 sends you a notification when a form is completed by using the email of the person who completed it as the "from" sender. This is often flagged as spoofing because this email is coming from your website and masks the actual sender of the email (your WordPress account).
For this reason, Contact Form 7 email notifications are commonly lost and never end up in your inbox.
2. Your Hosting Company Doesn't Use the PHP Mail Function
Another reason you're likely running into the why is Contact Form 7 not sending emails issue is because of the PHP mail function and your hosting provider.
If your web host doesn't support the PHP mail function, (which is very common these days) that could be the reason Contact Form 7 isn't sending email. The PHP mail function is used by WordPress to send emails from your site, including emails generated by contact form plugins.
This is why we recommend using SMTP to send emails from WordPress instead of using the default PHP mail function.
So now that you're aware of the reasons Contact Form 7 isn't sending email, let's take a look at how to fix the problem.
How To Fix Contact Form 7 is Not Sending Email
There are 2 main ways you can fix this issue. The first is going to be for technical users only, and it isn't guaranteed to work.
1. Try Changing The From Address
Most web hosts don't allow masked email addresses, which is unfortunately part of Contact Form 7's default settings.
And even if you're getting emails right now, that could change at any time in the future if you're using Contact Form 7.
You might even be seeing the warning "Misconfiguration leads to mail delivery failure or other troubles. Validate your contact forms now" when you log into your WordPress dashboard.

If you've read our Ninja Forms vs Contact Form 7 comparison, you'll know already that Contact Form 7 errors are sometimes tricky to understand.
To fix this, you can try to make the emails sent from Contact Form 7 look like they come from your website instead of the person submitting the form. That way, they won't look like spoof emails that are masked. This is a common problem that people have with Contact Form 7 and its default settings.
First, go to your cPanel dashboard on your web host's website and find the Email settings. Here, you'll click on the Create button to add a new email address.
If you have your own domain, you can create a business email address here.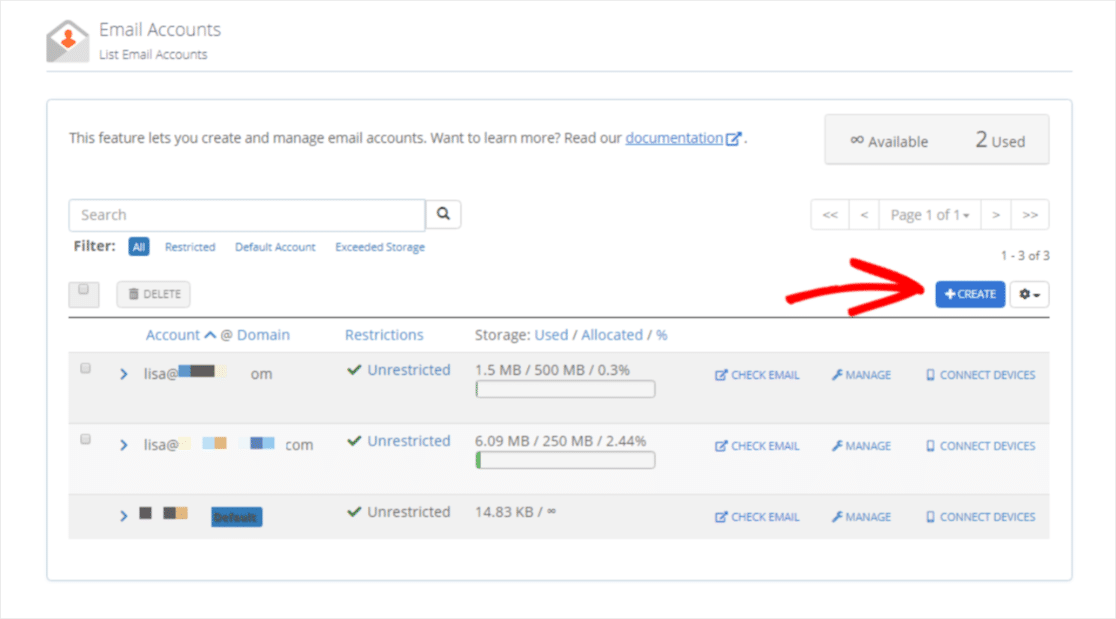 On the next screen, pick the domain name of the site you want to add the email address to from the dropdown. Then edit the user name to something easy to remember and understand like 'FormEmail'. Finally, click on the Create button to finish setting up this new email address.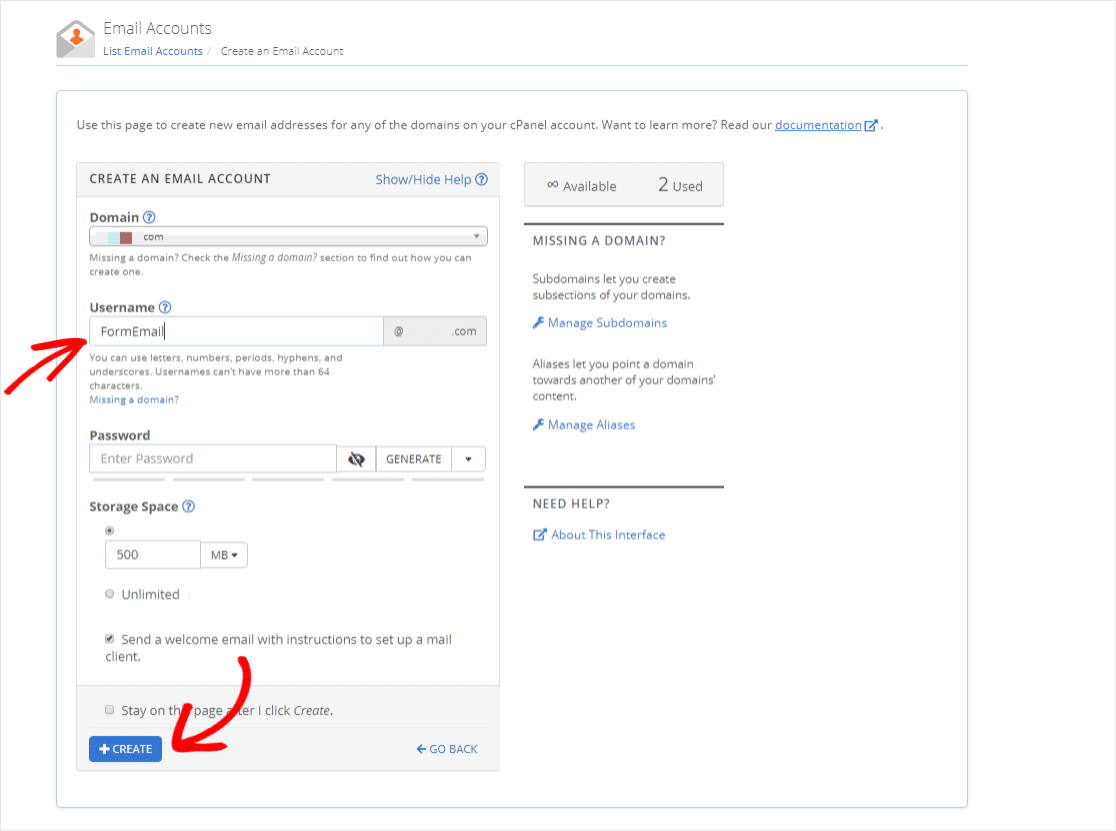 Now, head over to your WordPress dashboard and access the settings for your Contact Form 7 plugin. Here, you'll change the From field to the new email address you just created in your cPanel.
Next, update the Additional headers section to Reply-To: as [name] <[email]>. This makes it so any replies will go to the email address that was entered in the "Email" field of the form. (Even though it was sent by [email protected])
Now, hit save.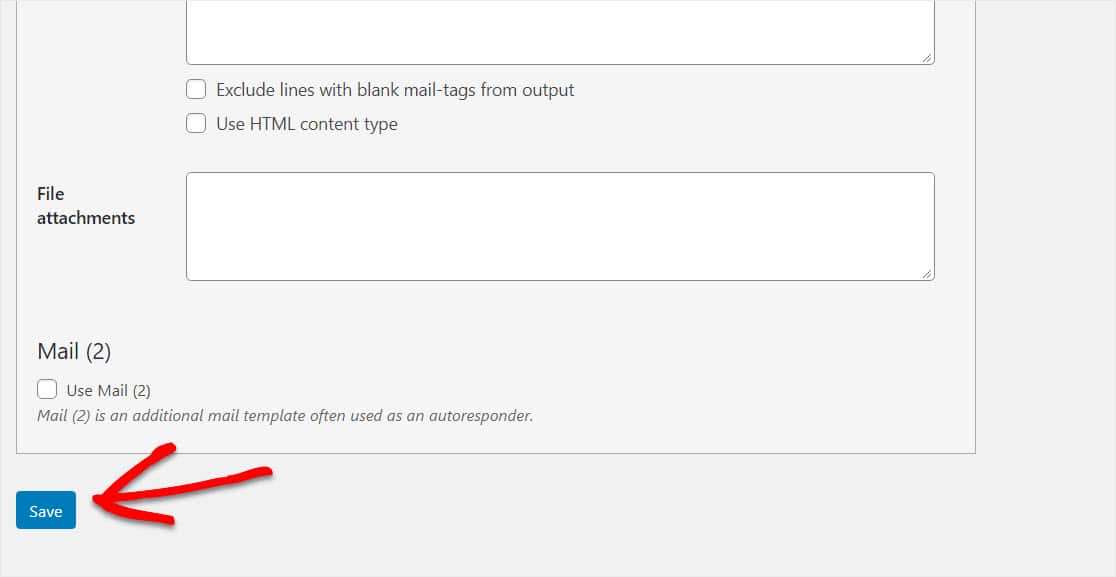 Unfortunately, you may not be an advanced technical person so fix #1 might not work for you unless you hire a developer, especially if this doesn't solve the problem completely. Luckily, fix #2 provides you an option anyone can do themselves, even beginners.
So if you are serious about fixing your email deliverability issues once and for all, here's the easiest way to fix issues with WordPress not sending email when using Contact Form 7.
2. Download WP Mail SMTP To Avoid Problems With Contact Form 7 Emails
Unless you know how to code and are extremely technical, debugging the issues with Contact Form 7's settings is very difficult. So if you're looking for reliable email deliverability, you should use SMTP (Simple Mail Transfer Protocol) in WordPress.
The easiest and most effective way to fix the Contact Form 7 is not sending email issue for most people is to use WP Mail SMTP. It's the most powerful SMTP and PHP mailer plugin for WordPress on the planet. Plus, there's also a free version available.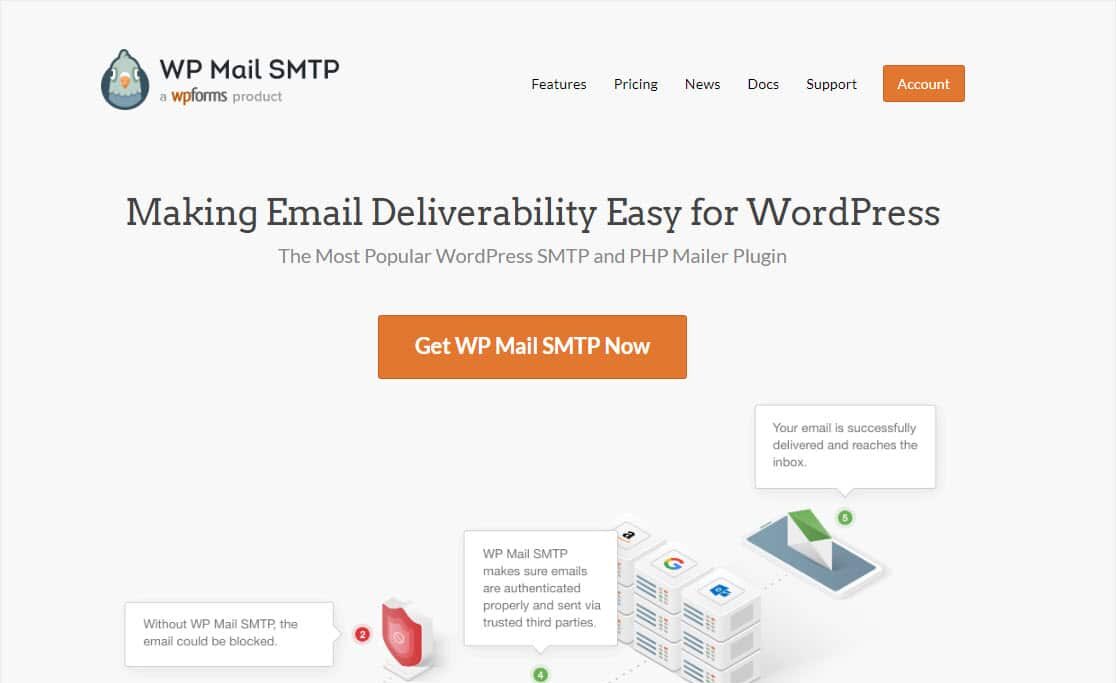 One of the greatest things about the WP Mail SMTP plugin is that the Elite plan offers a White Glove Setup service where they do all the install and the technical stuff for you. Plus, WP Mail SMTP in integrated with many of the most popular transactional mailers like:
Most of these mailers have free subscription plans that limit the number of emails you can send from WordPress per day. You'll likely need to get into a paid subscription plan if you want to send lots of emails without limits.
We talk about these options more in our article on Formidable Forms not sending emails.
To install the WP Mail SMTP plugin, purchase a paid version or head to your WordPress dashboard to install the plugin for free.
Go to Plugins » Add New and search for WP Mail SMTP. Then, install and activate the plugin.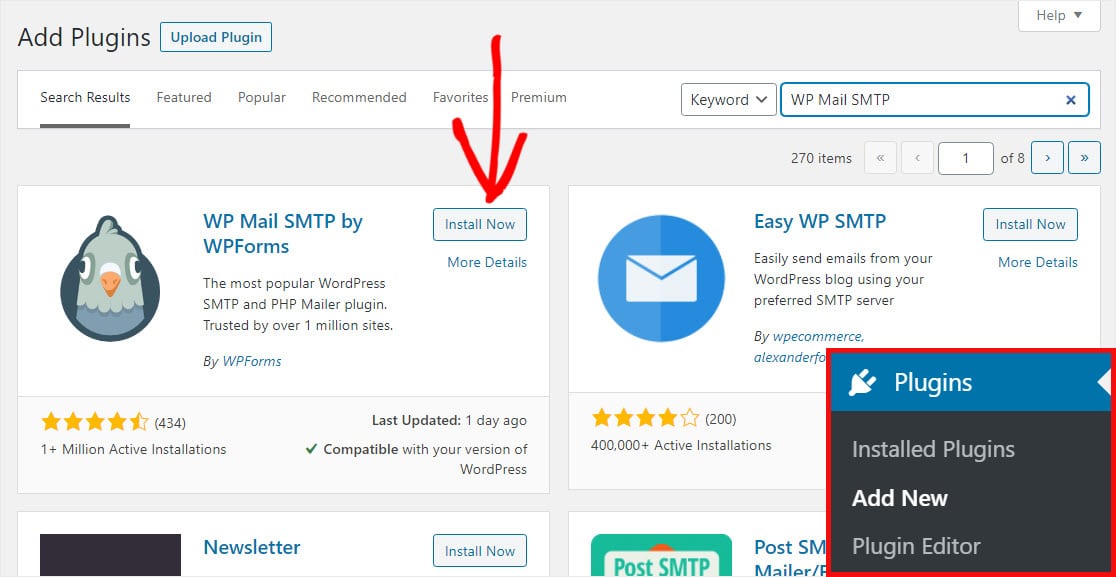 After installing and activating this plugin, go to WP Mail SMTP » Settings to configure the mail options.
You will need to set up the plugin to send form notification emails using SMTP.com, Sendinblue, Mailgun, SendGrid, Amazon SES, Gmail, Outlook, or a few other SMTPs like Yahoo and Hotmail.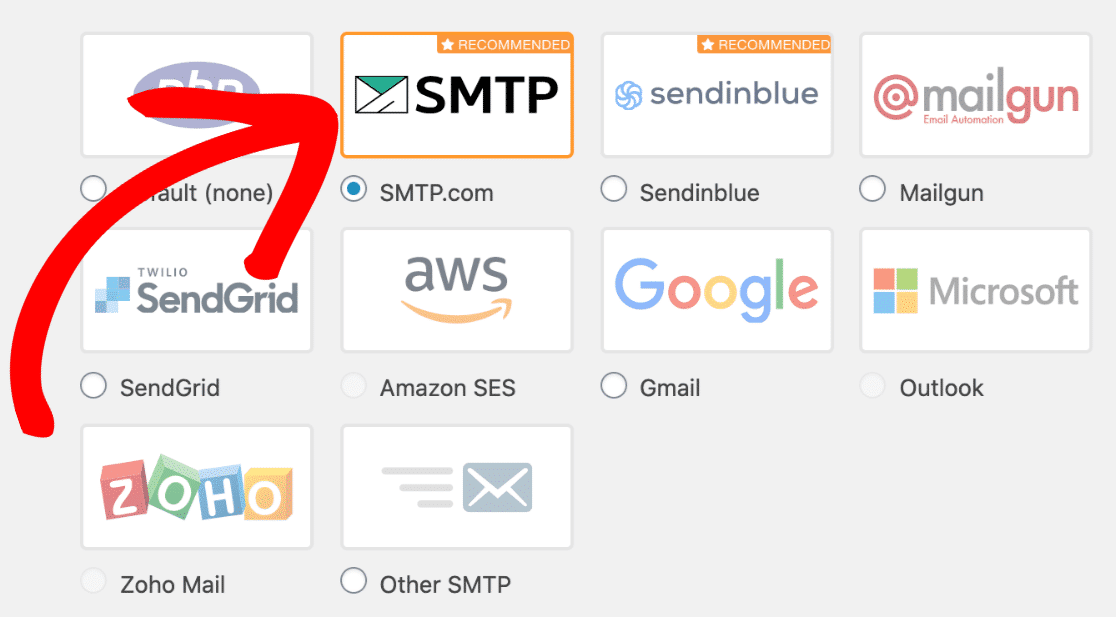 Keep in mind that you'll need to create an account with one of these services if you don't already have one.
There are different steps for each mailer you're using, so to complete setup with this plugin, check out the full guide on how to get WordPress form notifications using the WP Mail SMTP plugin. You'll be receiving email from your website in no time.
In Conclusion
And there you have it! You now know why Contact Form 7 isn't sending emails and what you can do about it. We have more tips for Ninja Forms not sending email if you're still having difficulty with your contact form plugin.
Next, you'll want to read our post on wild email marketing statistics you have to see.
If you're having trouble with Contact Form 7, upgrading to WPForms is worth it because it's so much easier to make forms. It's also a lot easier to make an Elementor contact form with WPForms vs Contact Form 7.
So what are you waiting for? Get started with the most powerful WordPress forms plugin and SMTP mailer plugin today.
And if you like this article, then please follow our sister blog WPForms on Facebook and Twitter.