Is WordPress not sending the admin email change confirmation email?
This email is crucial if you want to change your site admin email in WordPress.
In this guide, we'll show you how to fix the problem with your WordPress emails so you never miss another notification.
How Do I Fix WordPress Not Sending Email Problems?
You can easily fix WordPress not sending email by using the WP Mail SMTP plugin.
WP Mail SMTP connects your website to a 3rd party email provider. When your emails have the right authentication headers, they won't be lost on the way to your mailbox.
We'll show you how to install WP Mail SMTP in this guide. Once you've done that, you can request the admin email change again and you'll receive the notification without any problems.
How To Fix WordPress Admin Email Change Not Sending Confirmation
Here's how to get started with WP Mail SMTP to fix WordPress admin email change not sending confirmation.
1. Install the WP Mail SMTP Plugin
WP Mail SMTP is the best SMTP plugin for WordPress. We're going to install it to fix your emails before we try to resend the admin email notification.
Install the Plugin
To start, head over to the WP Mail SMTP website and log in to your account. Click the orange button under the Downloads tab to grab the latest version of the plugin file.
Switch to the WordPress dashboard of your website and upload the zip file to the plugins page. If you are new to WordPress or need help with this part, you can check out this guide on how to install a plugin.

Once the plugin is installed, be sure to Activate it. As soon as you do that, the Setup Wizard will start in your browser.
Now we're ready to connect your WordPress site to an SMTP server or 3rd party email provider.
Set Up a Mailer Connection
In this step, we'll connect the website with a dedicated mailer service.
To begin, click the Let's Get Started button.

WP Mail SMTP allows you to select from a variety of mailing services. Here are a few tips to help you pick the best one for your site:
Go ahead and choose the email provider that you think is the best fit for your business.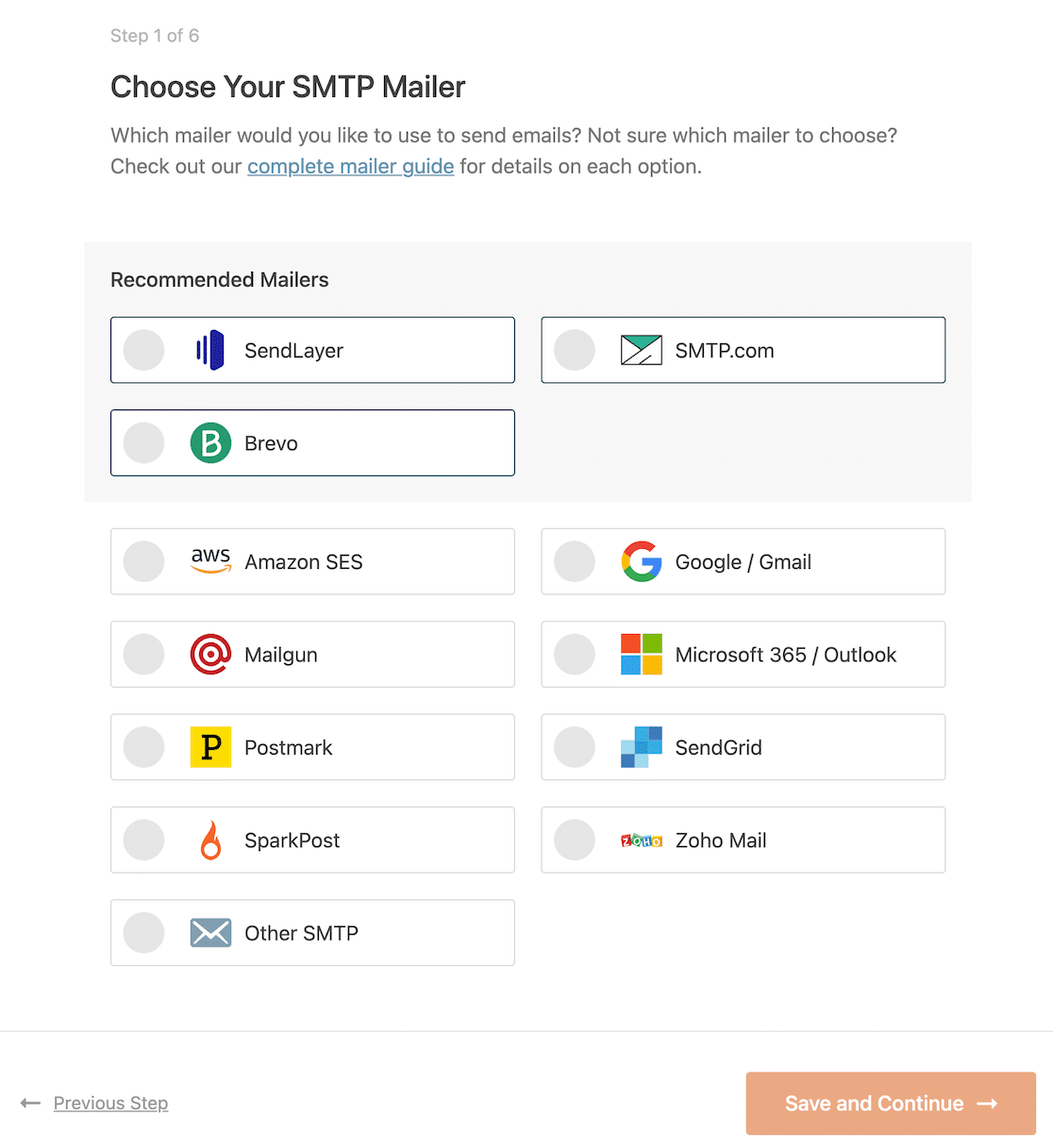 Once that's done, you'll want to set up your new email provider.
Open the documentation page and go through the steps:
If you want to set up multiple mailers, you can do so in the Additional Connections settings once you've finished the Setup Wizard. Then you can select a Backup Connection and configure Smart Routing.
When you have set everything up, switch back to this guide.
Enable Email Logging
At the end of the Setup Wizard, you'll be able to turn on the Detailed Email Log if you have a Pro license.
The email log saves information about every email that is being sent from your website, including the subject line, recipient, and headers, in Complete Email Reports.
The Weekly Email Summary will send you an overview of your logs each week.
You may also want to enable Instant Email Alerts so you'll know right away if your site fails to send an email.
On the next screen you can enable some advanced email logging options.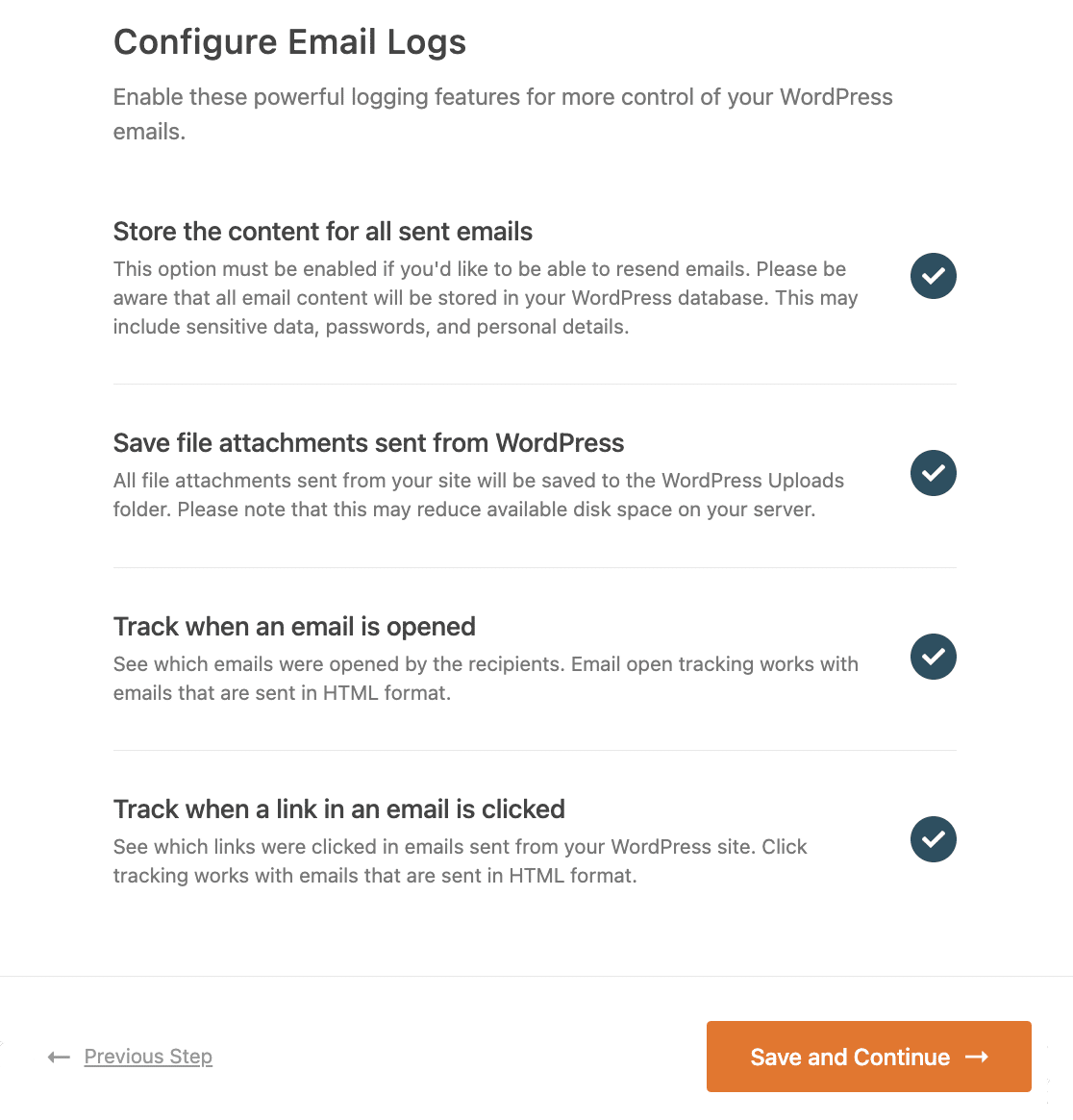 Turning on all of these options will give you access to:
Full email logging: Save a copy of the body of each email along with the headers
Open and click tracking: See open and click analytics for your WordPress emails
Save email attachments: Store every attachment sent from WordPress – ideal if you want to save copies of WooCommerce invoices or file attachments
Export email logs: Export details of sent emails and any attachments that were originally sent with them
Export in EML format: Export a complete copy of any sent email and its attachments
Email resend: Resend emails individually or in bulk
Read our article on how to log WordPress emails to get more details.
For the last step, copy the license key from your WP Mail SMTP account and paste it into the box to enable the Pro features and future automatic updates.

That's it! You've done everything you need to do to fix your WordPress emails.
Change the admin email address now, and you should receive a confirmation email without issue.
In the final step, we'll show you a quick tip that'll help you to control the email notifications you get from WordPress.
2. Control WordPress Default Notifications
Apart from the admin email confirmation, WordPress also sends out default email notifications for activity on your website, like:
Plugin and core update notifications
GDPR data requests
And more
WP Mail SMTP lets you easily control the default notifications and disable them.
To disable notifications, go to WP Mail SMTP settings and switch to the Email Controls tab.

Here, you'll find all default emails that WordPress sends and a toggle to control them.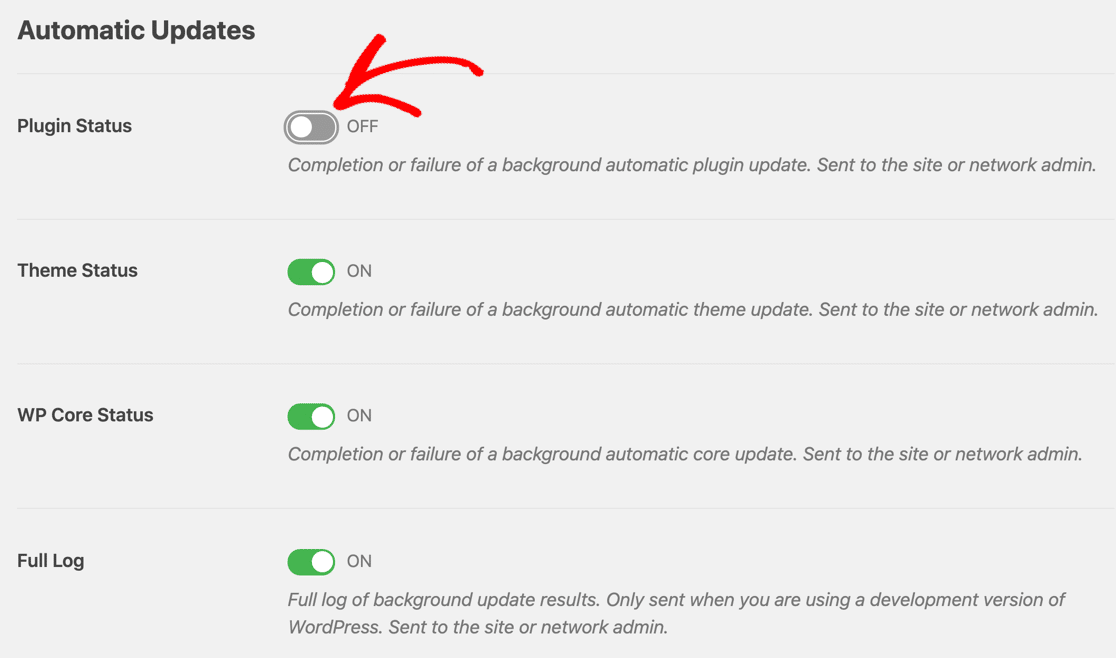 You can quickly turn OFF the ones you don't want to receive.
And that's it! You fixed WordPress not sending admin email change notifications. And you also learned how to control the other emails WordPress sends from your site.
Next, Check Your DNS Record
Now that we've got the SMTP settings sorted out, we need to make sure that your DNS settings are right.
If you have an email list, you might already have SPF records set up for that. But sometimes, a second SPF record gets added. This can invalidate both records.

Instead, you'll want to merge the SPF records so they only occupy 1 line in your DNS.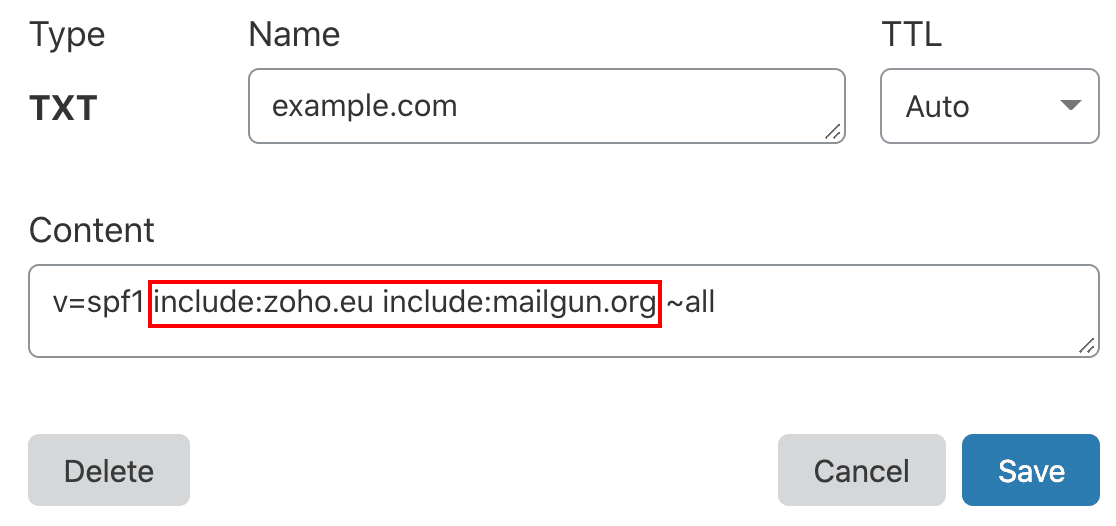 If you need more information on setting up your DNS, start with this guide to fixing multiple SPF records on your domain.
Ready to fix your emails? Get started today with the best WordPress SMTP plugin. WP Mail SMTP Elite includes full White Glove Setup and offers a 14-day money-back guarantee.
If this article helped you out, please follow us on Facebook and Twitter for more WordPress tips and tutorials.