Do you want to know how to create your own email domain? It's easier than you think!
In this post, we'll show you how you can create an email with your domain name so you can look more professional, authoritative, and trustworthy during email communication with clients.
Please note that free email domains are offered by some hosting providers as part of their premium hosting plans. So when you buy hosting for your website, it's a smart idea to choose a host that will give you free email along with your plan.
What Is An Email Domain Name?
An email domain name is the part of the email address that comes after the @ symbol. For example, gmail.com, outlook.com, and yahoo.com are all email domains.
Most businesses and professionals use a custom domain name that represents their brand and matches their official website. For example, if your website is example.com, you can create an email address in this format: [email protected].
It is a standard practice to use an email address with your own custom email domain name for professional purposes. This helps with brand recognition and it also serves as a sign of authenticity so your email recipients always know that you're an official sender associated with your brand name (which is also usually the domain name).
Can I Create A Custom Email Domain for Free?
Well, you can't get a custom email domain completely for free. Only those email domains that end with the mailing service's name are free (Gmail, Outlook, etc.)
However, you can get a custom email domain as a free extra with the web hosting plans of some providers.
So when you choose your web hosting, it makes sense to choose a provider that offers free email as a bonus!
Bluehost is one such web hosting service provider that gives you a free custom email domain once you purchase their premium hosting plan. Since Bluehost is incredibly affordable and only charges you for your site's web hosting, the custom email domain name you get is virtually free.
How to Create Your Custom Email Domain
Creating a custom email domain is actually very easy. Simply follow the steps outlined below to get started.
Let's dive into it.
Step 1: Choose a Hosting Plan and Sign Up for Bluehost
As we discussed earlier, all Bluehost hosting plans come with free custom email domains. So to start with, head over to Bluehost and click on the Get Started Now button.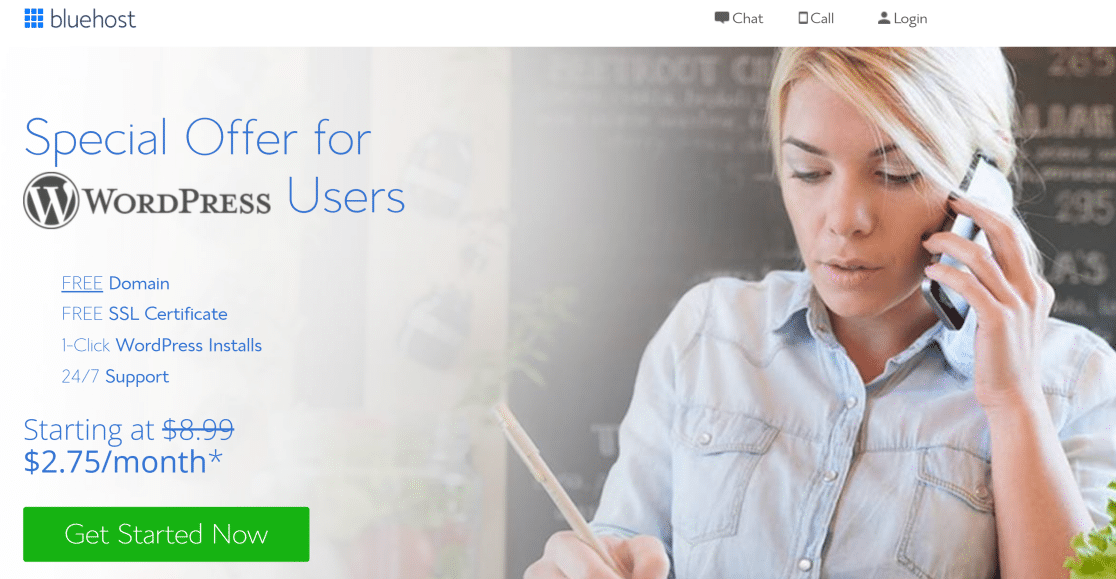 On the next screen, you'll see details of the available Bluehost plans. All of these plans will let you create an email domain for free, but you should consider all the other features to make the best pick for your needs.
Click on the Select button under your desired plan to continue.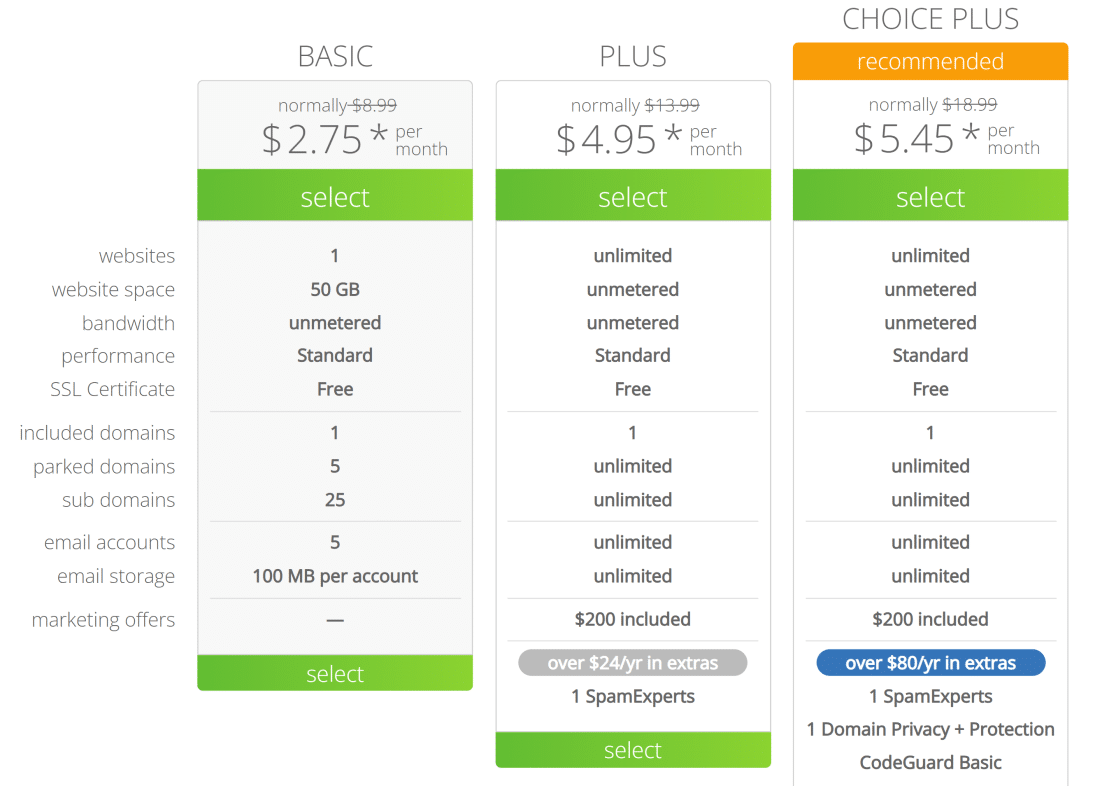 Next, we'll be creating your new domain name.
Step 2: Create Your Free Domain Name
Bluehost will now ask you to enter a name for your domain name. This domain name will be your website's name and also your email domain.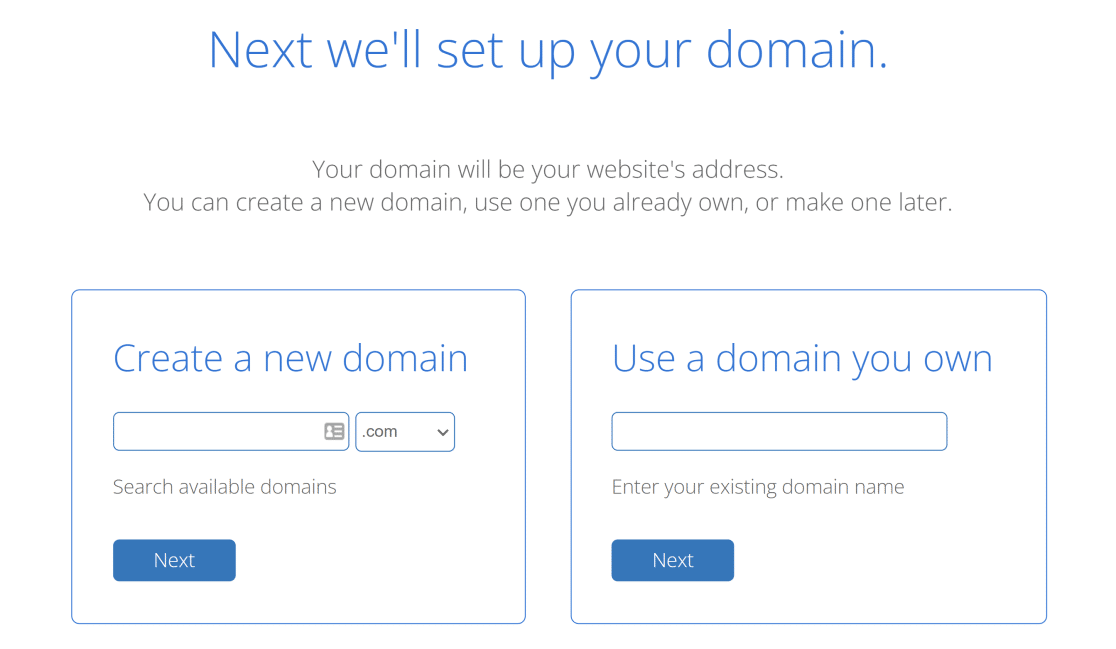 If you haven't thought of naming your business yet, now would be a good time. Usually, the website and email domain name closely matches your business name. An easy of getting business name inspirations is to use this free business name generator tool.

When you've decided on your business name and checked its availability using Nameboy's tool above, go ahead enter this domain name in the Bluehost new domain creation screen.
Bluehost will now ask for your billing information to complete your domain creation. You'll receive a welcome email from Bluehost as soon as you've finished creating your hosting account.
Now that the domain name is set up, we can create a new email address using your business name as the email domain.
Step 3: Create Email Address At Custom Domain
To create an email address at your new custom domain, first log into your Bluehost account.
Now, click on the Email & Office menu option on your left and then click on the Manage button next to your domain name.

This will you to your email account panel. Click on the Create button to continue.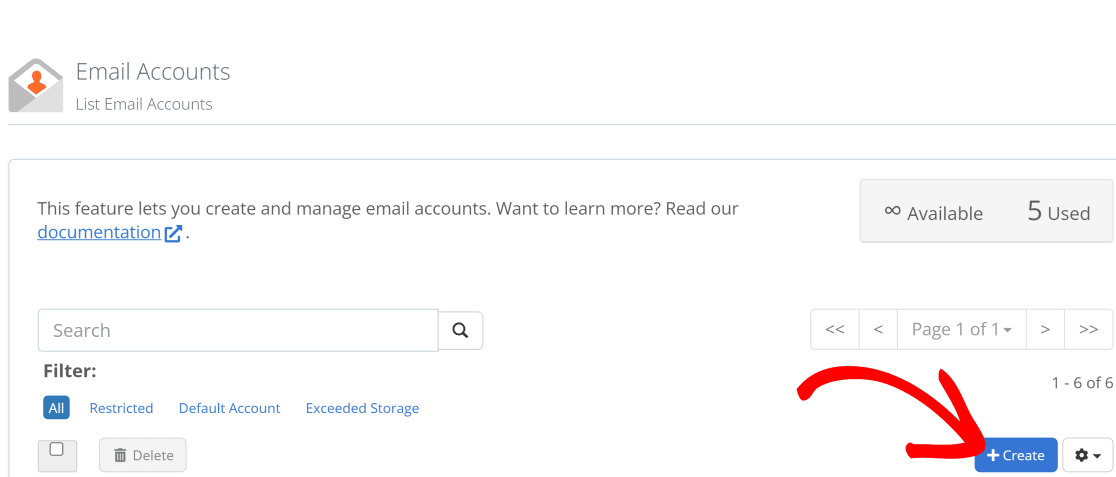 Here, you can choose any username that you want for your email. Your username is the part of the email address that comes before the @ symbol. The part after the @ symbol is already set to your custom domain name.
You also need a strong password for your email address. Simply click on the Generate button next to the password field to allow Bluehost to automatically create a strong password for you.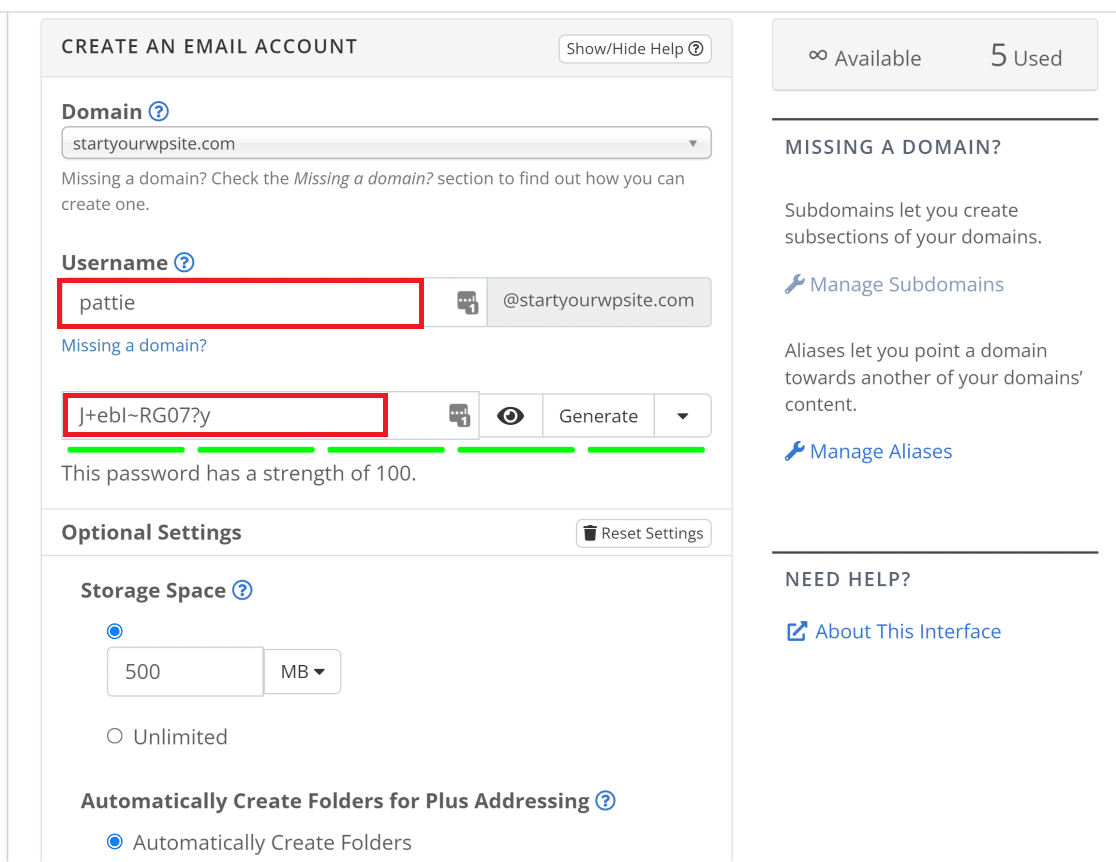 You can also set your email storage space and change other settings under the Optional Settings section. Keep in mind that the Basic Bluehost plan only allows a maximum storage space of 100 MB. So if you want unlimited storage, we recommend getting Bluehost Plus or above.
When you're done, scroll down and click Create.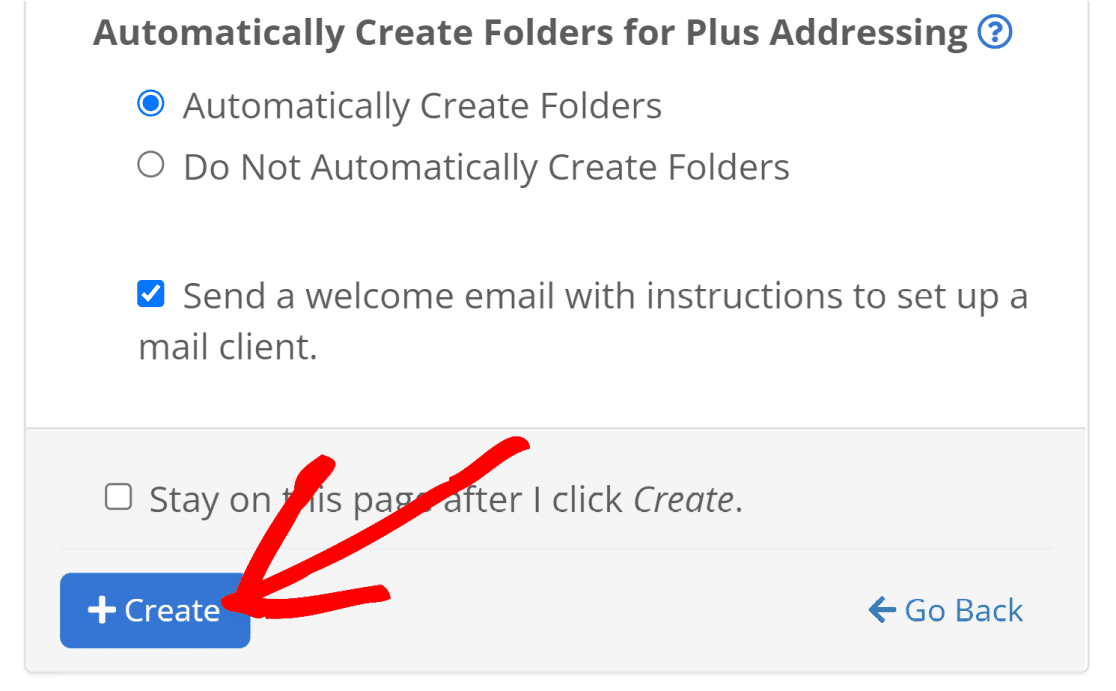 This will create your email account at your custom domain name. Now, you can access your mailbox to send and receive messages at your new business email.
Step 4: Access Your Custom Email Mailbox
Bluehost will take you back to your email account panel page after your new email address is created.
Click on the Check Email button.

Next, simply click on Open to access the mailbox of your new custom email domain.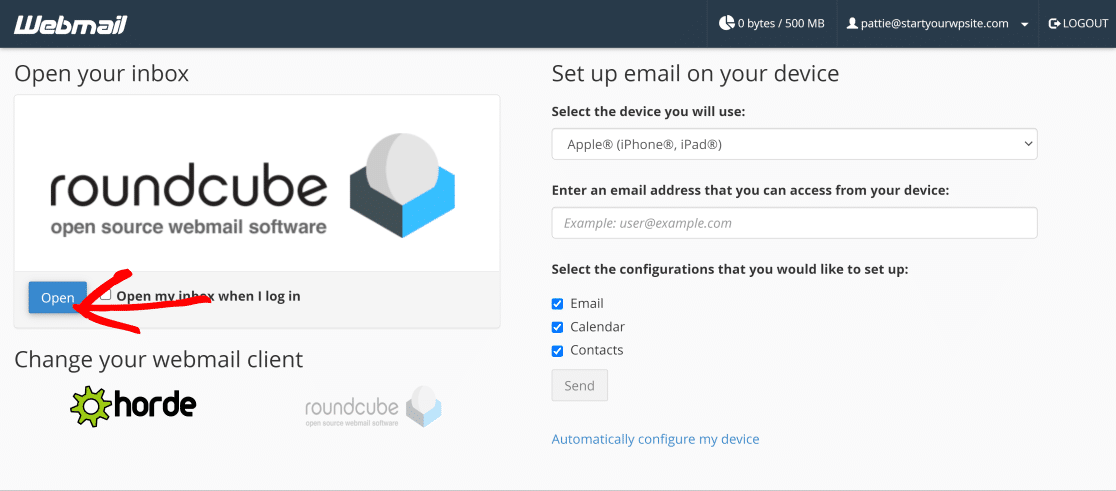 Here's what our new email address at a custom domain looks like: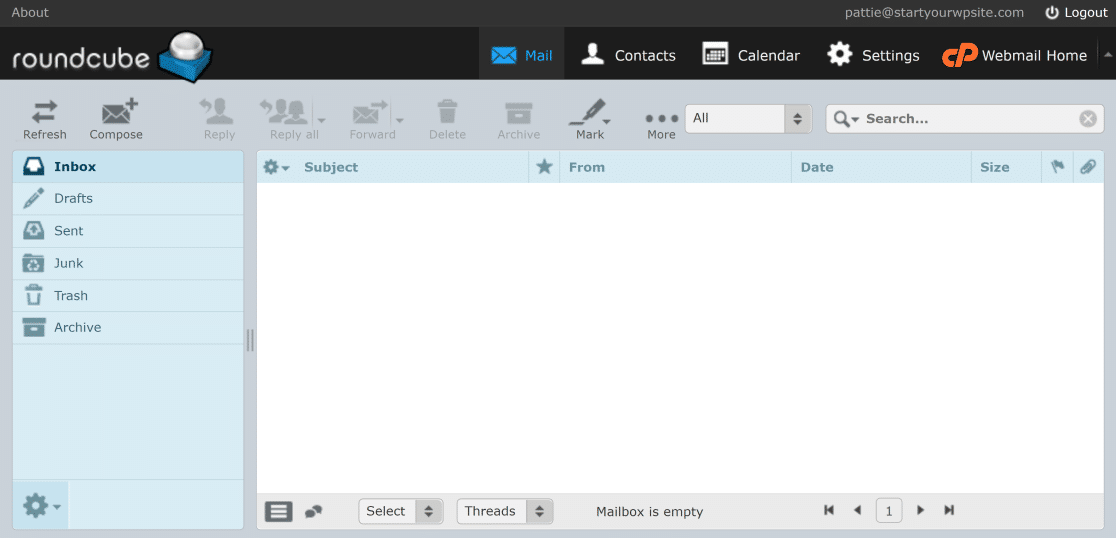 You can also connect the email address you just created with desktop mail clients like Microsoft Outlook. All you need to do is enter your email address and password (which you used when you created this new email) during Outlook configuration.
You should then be able to access your new custom email account from Outlook.
And that's it! You now know how to create your own email domain for free using a Bluehost hosting account.
FAQ – How to Create Your Own Email Domain for Free
Check out some of the most frequently asked questions we receive about creating your own free domain.
How do I set up a free email domain?
To set up a free email domain, the first thing you need to do is find and secure an available domain name. Next, register that domain name to your account and configure your DNS records to point to your email host. Finally, update your email provider settings.
How do I point the domain to my email service?
In your domain's DNS configuration, change the mail exchange record (or MX record) to match the information that your email service provides.
How long will it take for a new domain to propagate?
You can expect your new domain nameserver changes to propagate across DNS servers in 24-48 hours.
Will my email domain ever expire?
Yes, your email domain will expire. This typically happens at regular intervals, with yearly being the most common. You will typically receive several reminders leading up to the expiration so you can renew it if you'd like.
Will a free email domain cause my emails to go to spam?
There are certain free email domains that are relatively common, such as .email, .info, and even .net. You're typically pretty safe to use these kinds of free domains. There are others, however, that aren't as common. Because of that, you run a higher risk of your emails going to spam.
Next, Create An Email Subdomain
Now that you have a custom domain and email of your own, you should consider setting up an email subdomain as well. An email subdomain helps you maintain your root domain's email reputation and avoid problems like WordPress emails going to spam or failure to receive WooCommerce email notifications.
For more information about the causes of email issues, you can check out our detailed article on email deliverability.
Ready to fix your emails? Get started today with the best WordPress SMTP plugin. WP Mail SMTP Elite includes full White Glove Setup and offers a 14-day money-back guarantee.
If this article helped you out, please follow us on Facebook and Twitter for more WordPress tips and tutorials.