Are you searching for the best contact form plugins for Elementor?
With so many options available, it can indeed be challenging to determine which contact form plugin works best. Even those that work well with Elementor often lack more advanced form features.
We've looked at how well dozens of form plugins work with Elementor and tested them ourselves. In this guide, we'll list the best Elementor form plugins based on how well they performed in our hands-on tests.
Best Contact Form Plugins for Elementor: Overview
Short on time? Here's a quick overview of the plugins we looked at for this post.
| Plugin | WordPress.org Rating | Active Installs | Price |
| --- | --- | --- | --- |
| WPForms | 4.9/5 ⭐️ | 5+ million | $49.50/year |
| Formidable Forms | 4.7/5 ⭐️ | 300k+ | $39.50/year |
| Fluent Forms | 4.8/5 ⭐️ | 300k+ | $41/year |
| Ninja Forms | 4.3/5 ⭐️ | 900k+ | $49/year |
| Kali Forms | 4.8/5 ⭐️ | 30k+ | $29/year |
| Gravity Forms | 4.4/5 ⭐️ | 20k+ | $41/year |
| Contact Form 7 | 4/5 ⭐️ | 5+ million | Free |
| Elementor Forms | 4.6/5 ⭐️ | 5+ million | $59/year |
Read on for more specific information about each of these contact form plugins for Elementor.
Why Contact Form Plugins Are Crucial For Elementor Sites
A contact form is more than just a way for your visitors to reach you, it is vital for your website's functionality and user experience in a number of ways:
Integration Capabilities: Many plugins offer integrations with popular email marketing services, CRMs, and other tools. This allows you to streamline your workflow, automate responses, and effectively manage leads.
Customization: A contact form plugin lets you design a form that aligns with your website style and aesthetics. From field types to form layouts, you can create forms that resonate with your brand image.
Data Collection: Contact forms can also serve as a mechanism for data collection. Whether it's an email for your newsletter or demographic information for market research, they help you gather the data seamlessly.
Streamlined Communication: With a contact form plugin, you create a clear path for your audience to communicate with you. This reduces missed opportunities and ensures you get every inquiry, feedback, or comment.
Understanding these factors and the unique needs of your website will guide your choice of a contact form plugin for Elementor. To make the process simpler, we've taken these factors into account when compiling our list below.
8 Best Contact Form Plugins For Elementor
The first step to enhancing your website's communication and user engagement starts with a reliable contact form plugin. To assist you, we've curated a list of the 8 best contact form plugins for Elementor: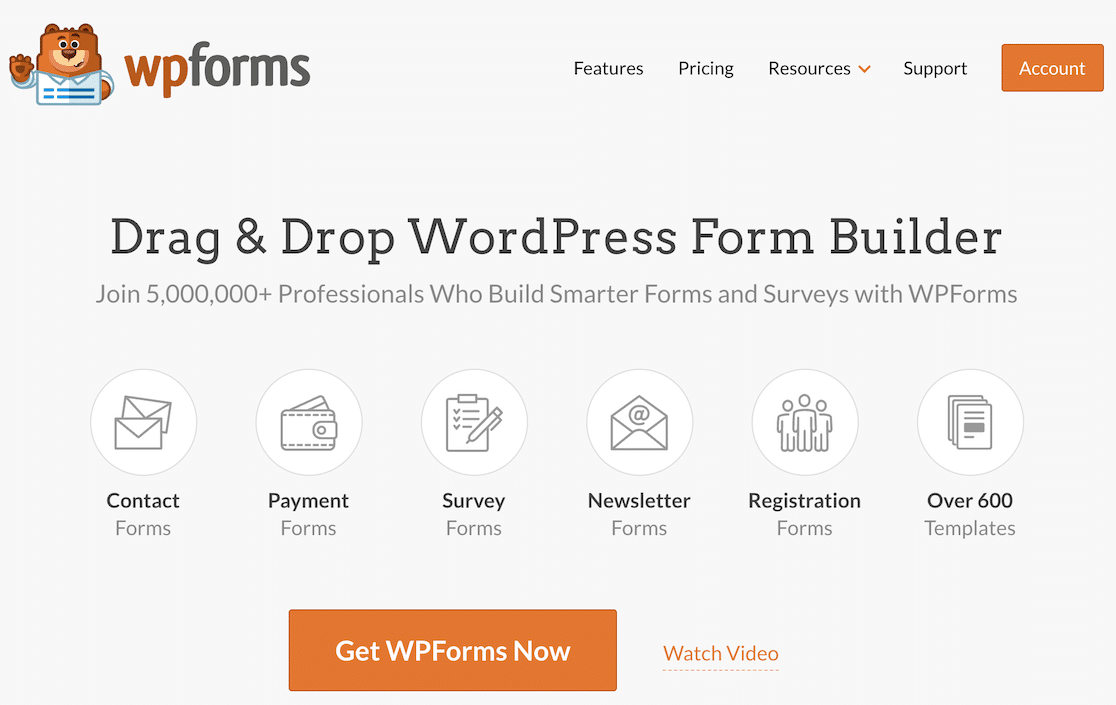 WordPress.org Rating: 4.9/5
Active Installs: 5+ Million
WPForms, the brainchild of the team that also created WP Mail SMTP, is a user-friendly plugin that revolutionizes your Elementor site's contact forms.
As a product of our own team, we have good reason to vouch for WPForms, whether you're using the Lite (free) or Pro version.
The plugin allows you to create contact forms and other types of forms in mere minutes, courtesy of its intuitive drag-and-drop form builder.
Its ease of use does not compromise its power, versatility, and availability of features, making it a tool we proudly stand by!
Our Experience
Since we've used WPForms on our own projects, we can proudly state that its user-friendliness and ease of use sets it apart from the competition.
One of the best things about WPForms is that it has its own Elementor widget, so it's super easy to add WPForms to a page created with Elementor.
Using the plugin doesn't require any coding knowledge, and building forms is straightforward, thanks to its drag-and-drop builder.
We also enjoyed enhanced site functionality by integrating with payment and marketing platforms like Stripe, PayPal, and Mailchimp.
Moreover, WPForms comes with 900+ WordPress form templates, all of which are 100% responsive, even for multi-page forms, and two-column fields.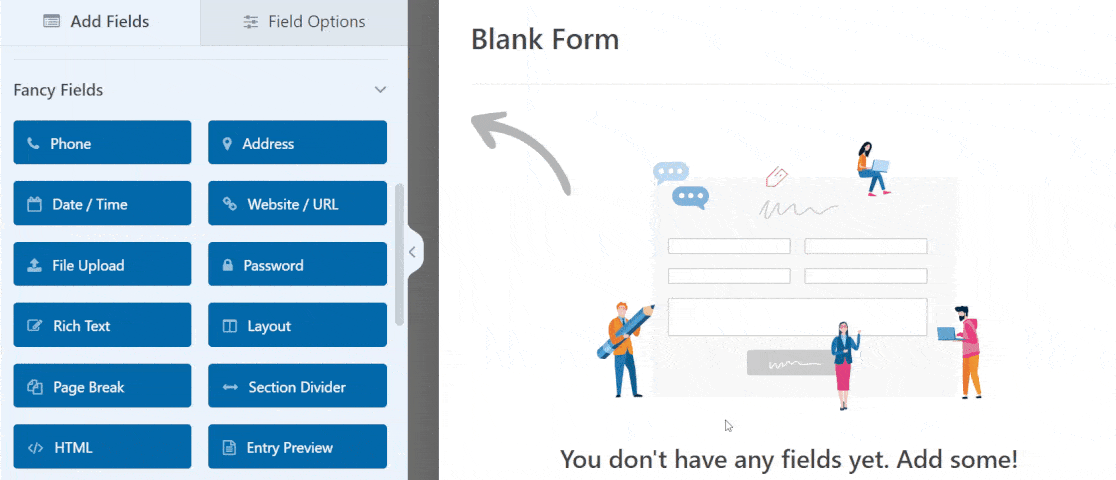 What We Liked
We love WPForms' versatility. Features like conditional logic, payment integration, form notifications/confirmations, and anti-spam features make it worth the money!
The smart conditional logic feature allows us to show or hide fields and sections of our forms based on user behavior.
Payment integration with Stripe (available to Lite users as well) helps accept multiple payment options like credit cards, Google Pay, Apple Pay, and more.
The instant notifications feature also ensures quick responses to lead inquiries, something we've found particularly useful.
WPForms' wealth of addons also supercharges your site's form capabilities. It has everything you need from integrating with Hubspot to Google Sheets!
Additionally, the anti-spam feature has proven invaluable for us. It helps us ensure that our inbox remains clutter-free.
Pricing and Plans
WPForms offers a free Lite version, and it's perfect for those who require basic form-building capabilities. For more advanced features, WPForms offers premium plans starting from $49.50/year.
Verdict
If you're seeking an easy-to-use, flexible, and reliable contact form plugin for Elementor, WPForms is an excellent choice. With its array of features and 30+ addon integrations, it provides an all-in-one solution to all your form needs.
Even the WPForms Lite (free) version comes equipped with many advanced functionalities and supports Stripe Payment integration with a Payments dashboard, which is something no other plugin is currently offering.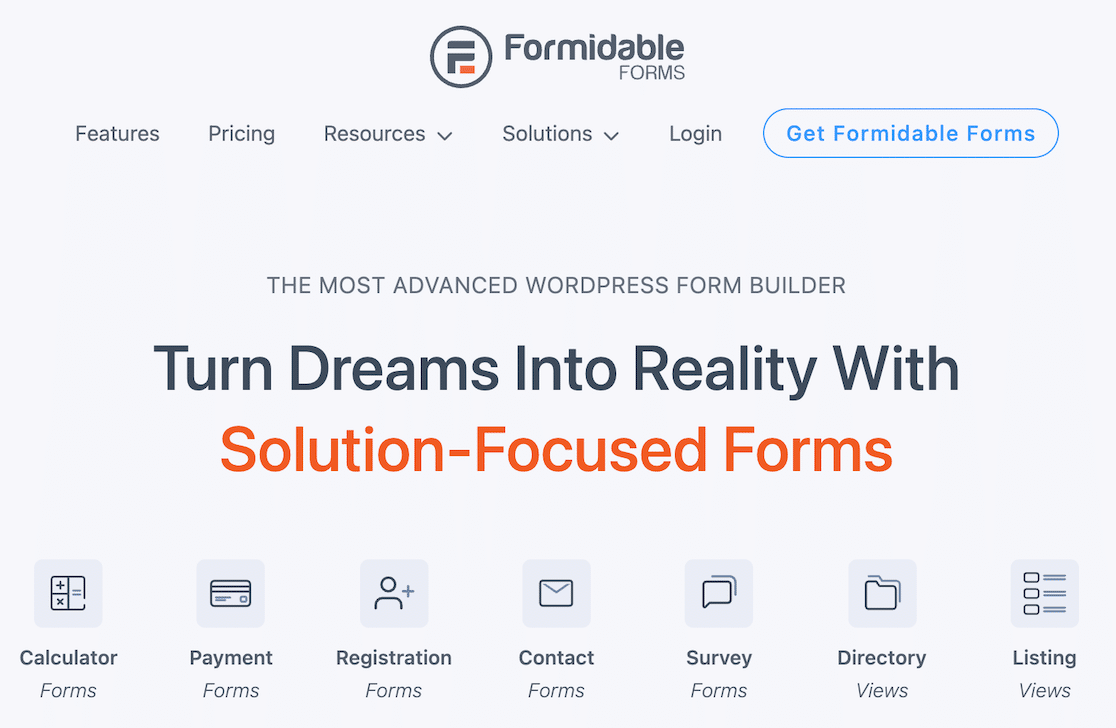 WordPress.org Rating: 4.7/5
Active Installs: 300,000+
Second to WPForms, the Formidable Forms WordPress plugin for Elementor site owners helps create sophisticated and fully customizable forms.
It's not just a contact form builder; it offers advanced capabilities such as conditional logic, multi-page forms, email marketing integrations, and more.
As a robust form solution, it serves various user needs, from simple contact forms to more complex forms with calculations and payment options.
Our Experience
In our experience, Formidable Forms shines for its user-friendliness. Similar to WPForms, it offers an Elementor widget for adding forms to your pages.
It also stands out for its dynamic form fields, which are adaptable and enable the creation of unique forms like quizzes, surveys, and even user registration forms.
The drag-and-drop form builder makes creating forms straightforward, and the abundance of predefined templates accelerates the process even more.
We've found the ability to incorporate conditional logic into our forms particularly useful, enabling us to create more personalized user experiences.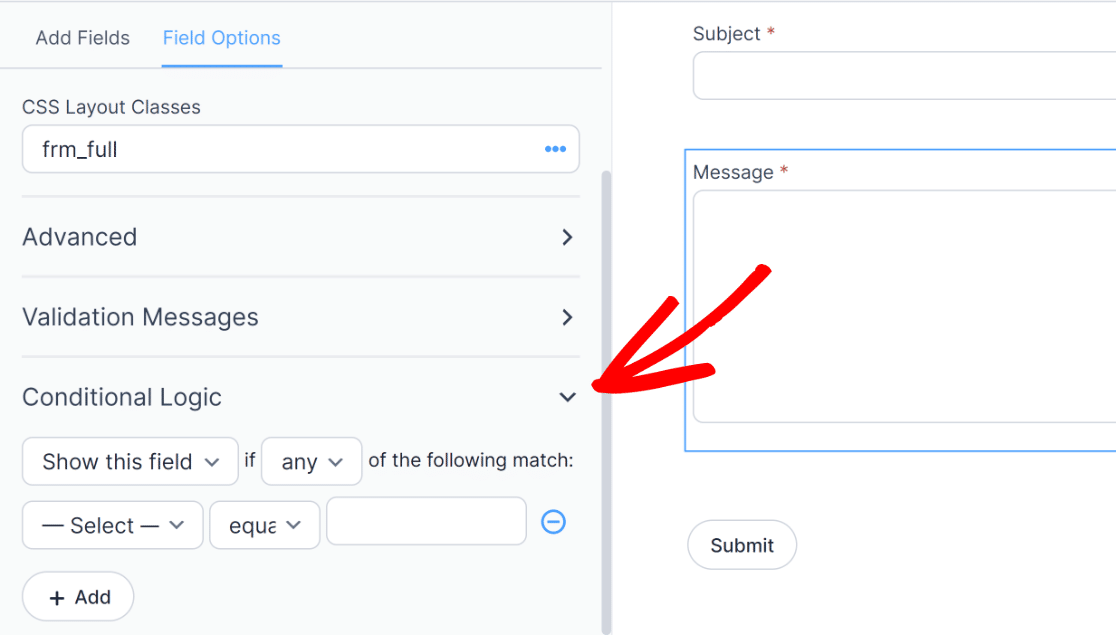 What We Liked
We appreciated the versatility of Formidable Forms. The ability to create not just simple contact forms but more complex forms, like order forms and surveys.
Formidable Forms can connect to popular services like MailChimp, AWeber, and WooCommerce, facilitating seamless data collection and analysis.
The plugin's ability to create viewable database content directly on the website also caught our attention, making data presentation more user-friendly.
Pricing and Plans
There is a free version with limited capabilities, but for the full spectrum of features, one of their paid plans is a must, starting at $39.50/year.
Verdict
Formidable Forms offers a comprehensive and versatile solution for anyone needing more than just a simple contact form for Elementor.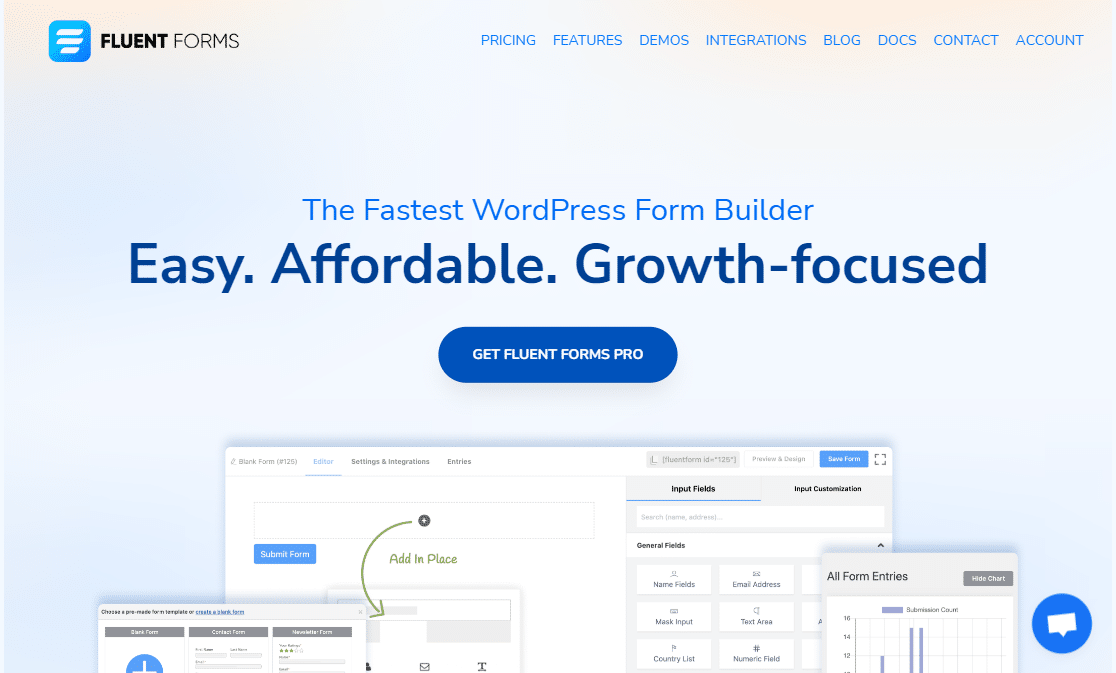 WordPress.org Rating: 4.8/5
Active Installs: 300,000+
Fluent Forms is another contact form plugin for Elementor users that has been gaining popularity in the marketplace.
It comes with 70+ prebuilt form templates, multi-step forms, conditional logic, and file uploads, making it versatile for many websites.
Our Experience
From the installation to the customization process, everything was straightforward and user-friendly.
You can also easily embed your form using Elementor by searching for Fluent Forms in the Widget section.
The extensive library of prebuilt forms was particularly impressive too, catering to a wide variety of our needs.
This and the ability to create complex multi-step forms with conditional logic offered remarkable flexibility.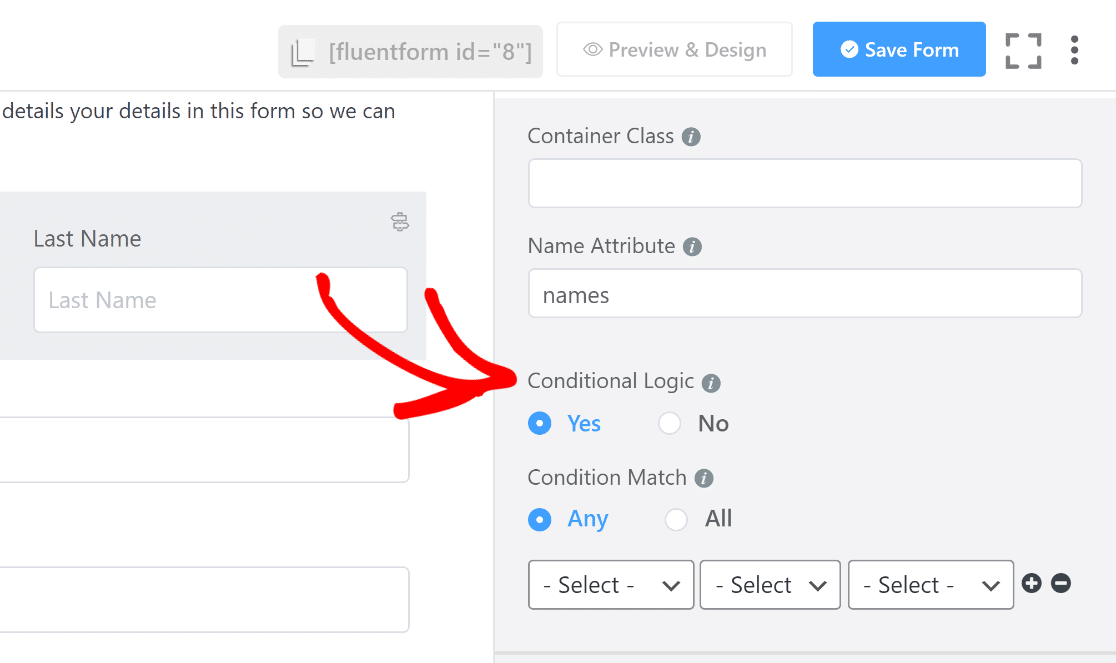 What We Liked
Regardless of our technical proficiency, we were able to create, customize, and manage forms with ease.
We also appreciated the plugin's conditional logic feature, which allowed us to tailor our forms to create a user-centric experience.
Despite the multitude of features and functionalities, the plugin managed to maintain optimal website speed, due to its performance optimization.
Pricing and Plans
Fluent Forms offers a free version with basic features. The Pro version is available in three different tiers, starting at $41 for a single-site license.
Verdict
In our opinion, Fluent Forms stands as a good choice, if you want a contact form plugin that can be used on an unlimited number of sites for $139/year.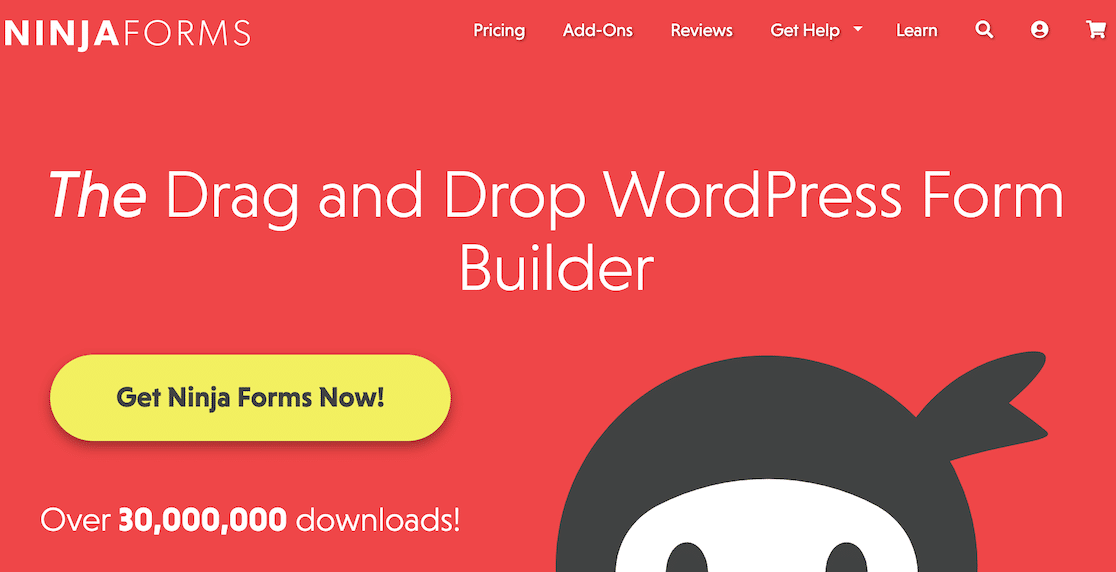 WordPress.org Rating: 4.3/5
Active Installs: 900,000+
Ninja Forms is another good contact form plugin known for its user-friendly interface and extensive features.
From basic contact forms to complex, multi-page forms, it offers a variety of solutions to meet different business needs.
Our Experience
We found Ninja Forms incredibly easy to navigate, even as beginners. The drag-and-drop builder allowed us to create custom forms swiftly.
Though some of the advanced features require purchasing addons, the base plugin offered sufficient functionality for our initial needs.
Once we were done creating our form, we could easily integrate it into our Elementor page with the Ninja Forms widget.
Other advanced features such as file uploads and multi-part forms are available through premium addons, offering additional versatility for advanced users.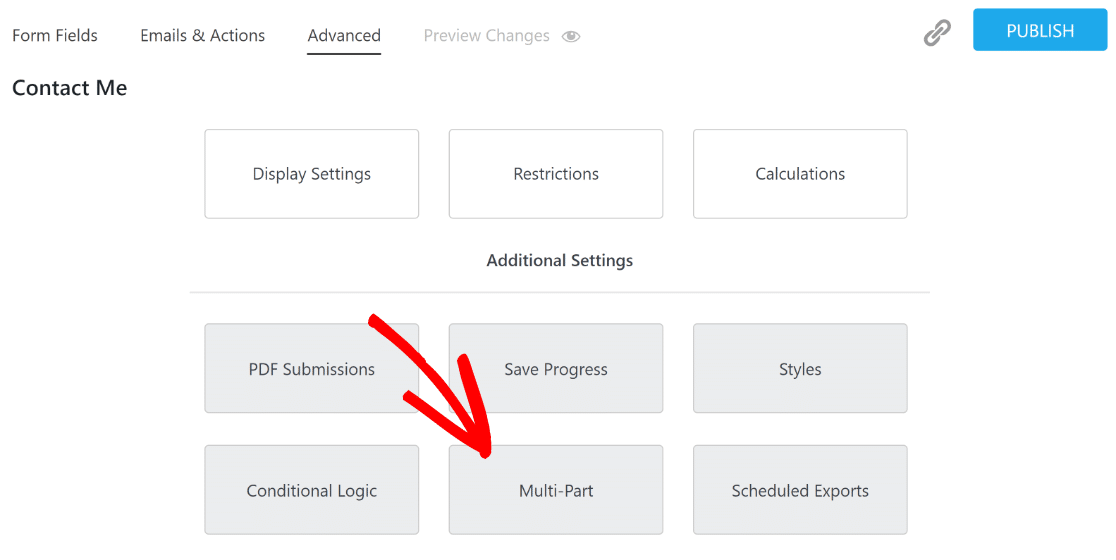 What We Liked
This plugin gives you the power to create forms that are both functional and aligned with your site's design.
Though a premium feature, the ability to use conditional logic within forms adds a level of sophistication and versatility that many other plugins lack.
It also seamlessly connects with various email marketing services and CRM platforms, making it a good tool for managing website interactions.
Pricing and Plans
Ninja Forms offers a free version with basic features for many small business needs. Meanwhile, premium plans start at $49/year.
Verdict
Ninja Forms is a robust plugin that handles various form creation needs, but its free version is rather basic, so you will need to upgrade to a premium plan.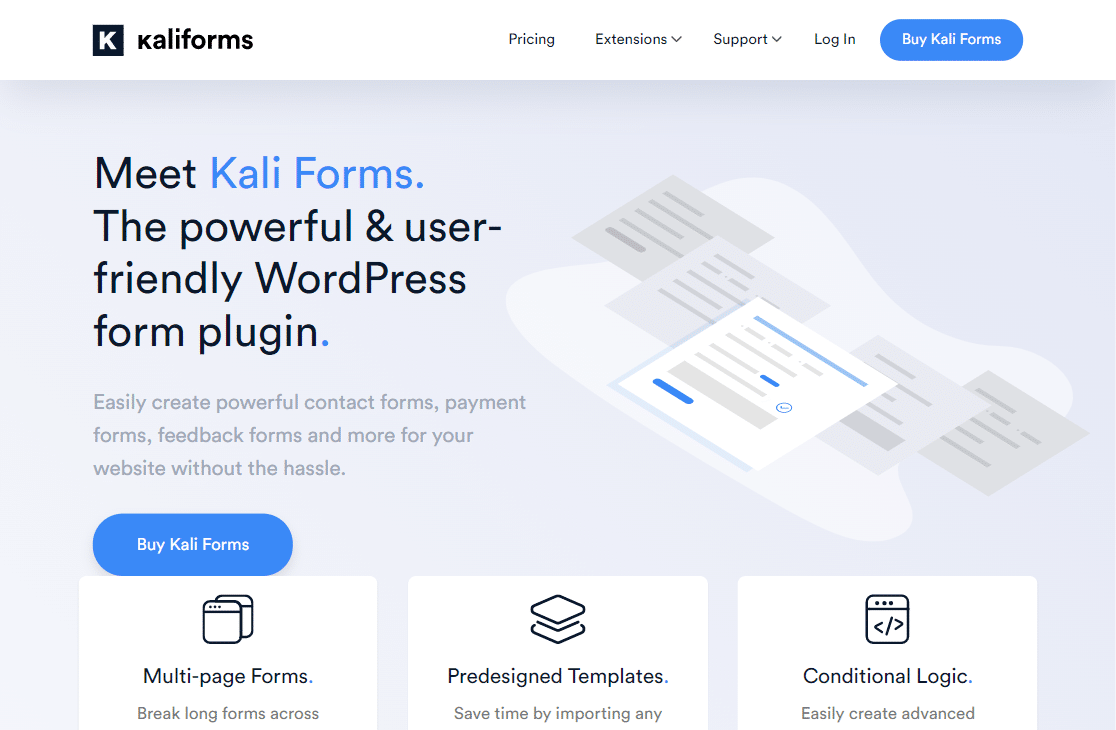 WordPress.org Rating: 4.8/5
Active Installs: 30,000+
Kali Forms is a user-friendly form builder for Elementor, designed to make the form creation process as straightforward as possible.
It offers many templates, ensuring a form for every need, from simple contact forms to more complex survey forms.
Our Experience
Despite being relatively new to the market, we found Kali Forms to be an intuitive, easy-to-use form builder for WordPress.
Although we had a few minor issues integrating with Elementor, the support team was responsive and resolved our concerns promptly.
For instance, we couldn't find a widget to add our forms to our Elementor page, but adding it via shortcode was easy.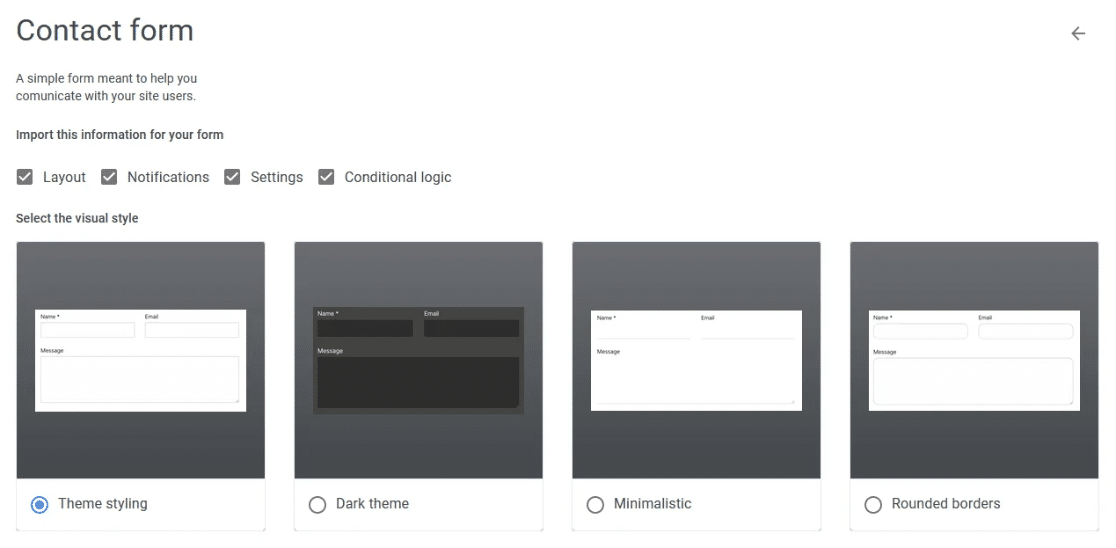 What We Liked
We appreciated the range of templates that Kali Forms provided, helping us create forms to meet various needs.
Furthermore, we liked the fact that Kali Forms incorporates conditional logic, allowing for more dynamic and interactive forms.
The availability of multi-page forms and file upload fields also added flexibility to our form creation process.
Pricing and Plans
Kali Forms offers a free version which, while limited, provides a good starting point for basic form needs. Premium plans start at $29/year!
Verdict
Kali Forms may not be as advanced as WPForms or Formidable Forms, but it is a good option for those wanting a budget-friendly form plugin for Elementor.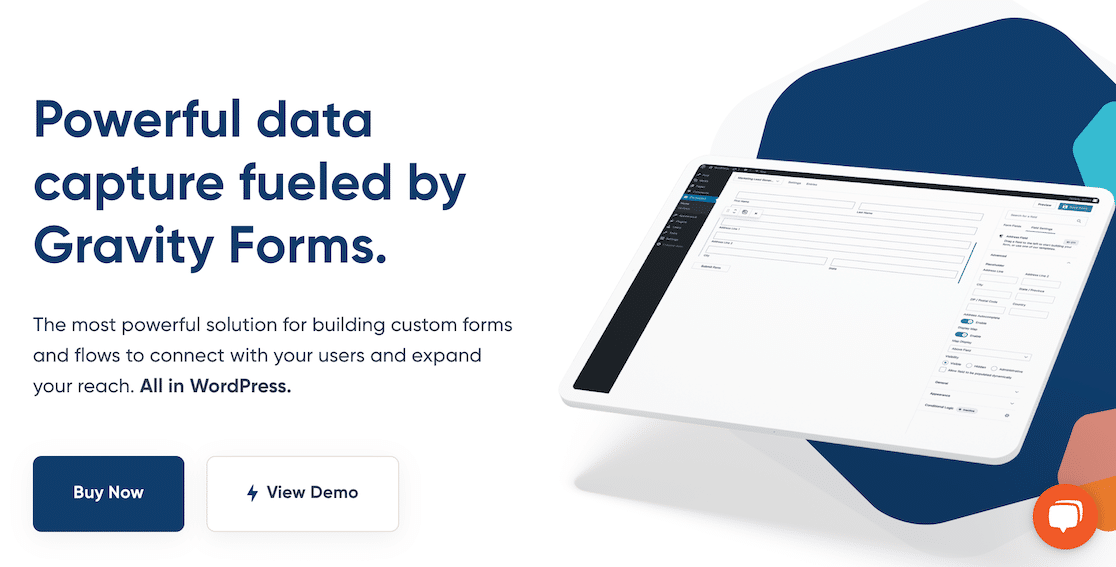 WordPress.org Rating: 4.4/5
Active Installs: 20,000+
Gravity Forms may rank lower in our list, but it can transform your Elementor site's contact form into a potent data collection tool.
Similar to others above, it's more than just a contact form plugin; it can create surveys, quizzes, and even user-submitted content.
Our Experience
Despite being a feature-rich plugin, thanks to its well-structured interface, it didn't overwhelm us. Building forms was quite easy!
The form editor was intuitive and user-friendly, allowing us to conveniently build forms by dragging and dropping the fields.
However, while some other plugins have their own Elementor widgets, Gravity Forms requires the Essential Addons plugin to make it work with Elementor.
Similarly, accessing the more advanced features also requires investing in Essential addons, but the additional cost was worth it.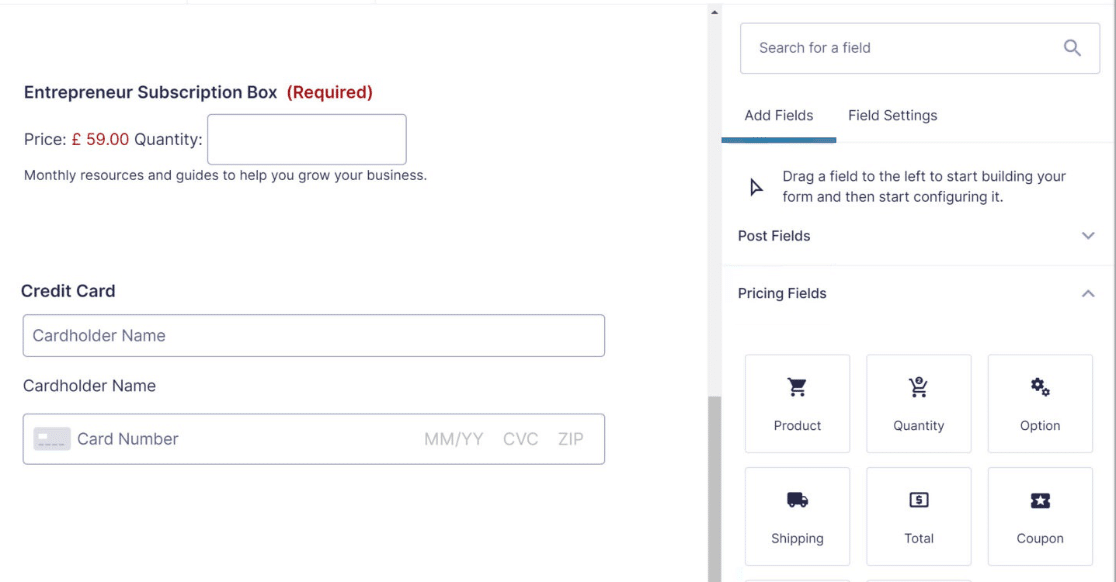 What We Liked
The freedom to style and format our forms, down to the smallest detail, was a significant advantage.
The reliable and responsive customer support we received added to our positive experience with the plugin.
We were also impressed with the extensive list of integrations, which made data management and payment processing effortless.
Pricing and Plans
Gravity Forms offers a basic license for a single site at $41 per year, providing standard features and basic addons.
Verdict
Given its intricate functionality, it might be a bit much for users seeking simple contact forms, who might find more easy solutions in other plugins on our list.

WordPress.org Rating: 4.0/5
Active Installs: 5+ million
Available for free, Contact Form 7 is a well-established contact form plugin, known for its simplicity and flexibility.
Contact Form 7 offers various options, from field types to integration, all customizable via simple HTML.
Our Experience
The plugin operates smoothly and rarely poses any issues, especially for those comfortable with HTML.
However, to integrate your form with Elementor, you may need to install another plugin, like the Contact Form 7 Widget for Elementor.
This, in addition to its reliance on HTML can be a hurdle for non-tech-savvy users. Yet, with a bit of patience and learning, one can still get decent results.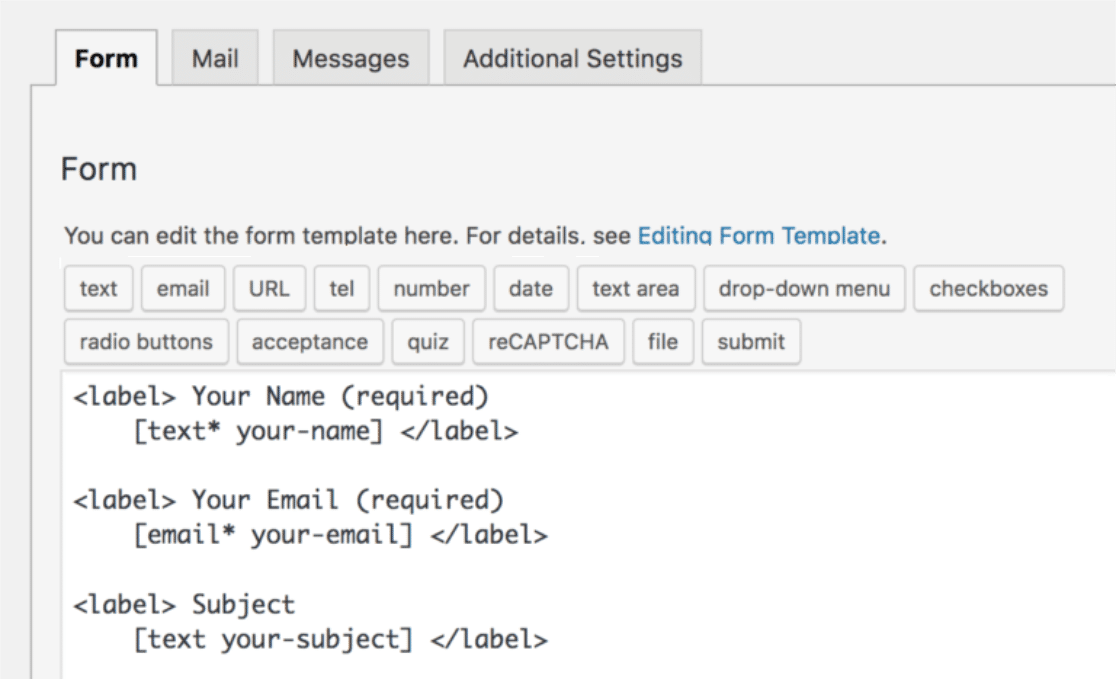 What We Liked
It covers all the basics well, providing everything you need for a functional contact form for your Elementor site.
If you're comfortable with some coding, this opens up a wide range of possibilities for form customization.
Pricing and Plans
Contact Form 7 is entirely free to use. This makes it an attractive option for those working on a budget or just starting with their website.
Verdict
If you're comfortable with a bit of HTML and want a straightforward, dependable form plugin for free, Contact Form 7 is a good option.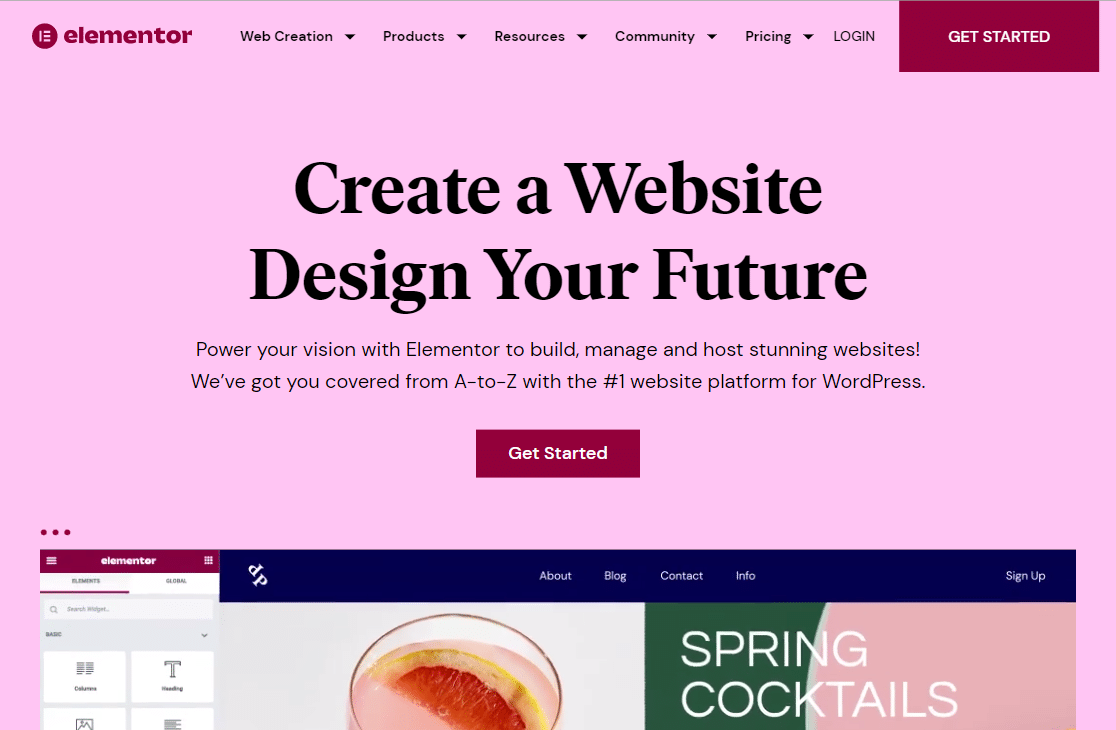 WordPress.org Rating: 4.6/5
Active Installs: 5+ Million
Elementor Forms, which is part of the Pro package, comes natively integrated with the Elementor page builder.
It may not be a standalone contact form plugin, but it offers a simple and intuitive way to create engaging contact forms.
Our Experience
Using Elementor Forms was straightforward due to its straightforward integration with the page builder.
We did notice limitations when trying to design more complex forms or when needing advanced features.
However, we didn't have to toggle between different plugins, which improved our workflow efficiency and form-building experience.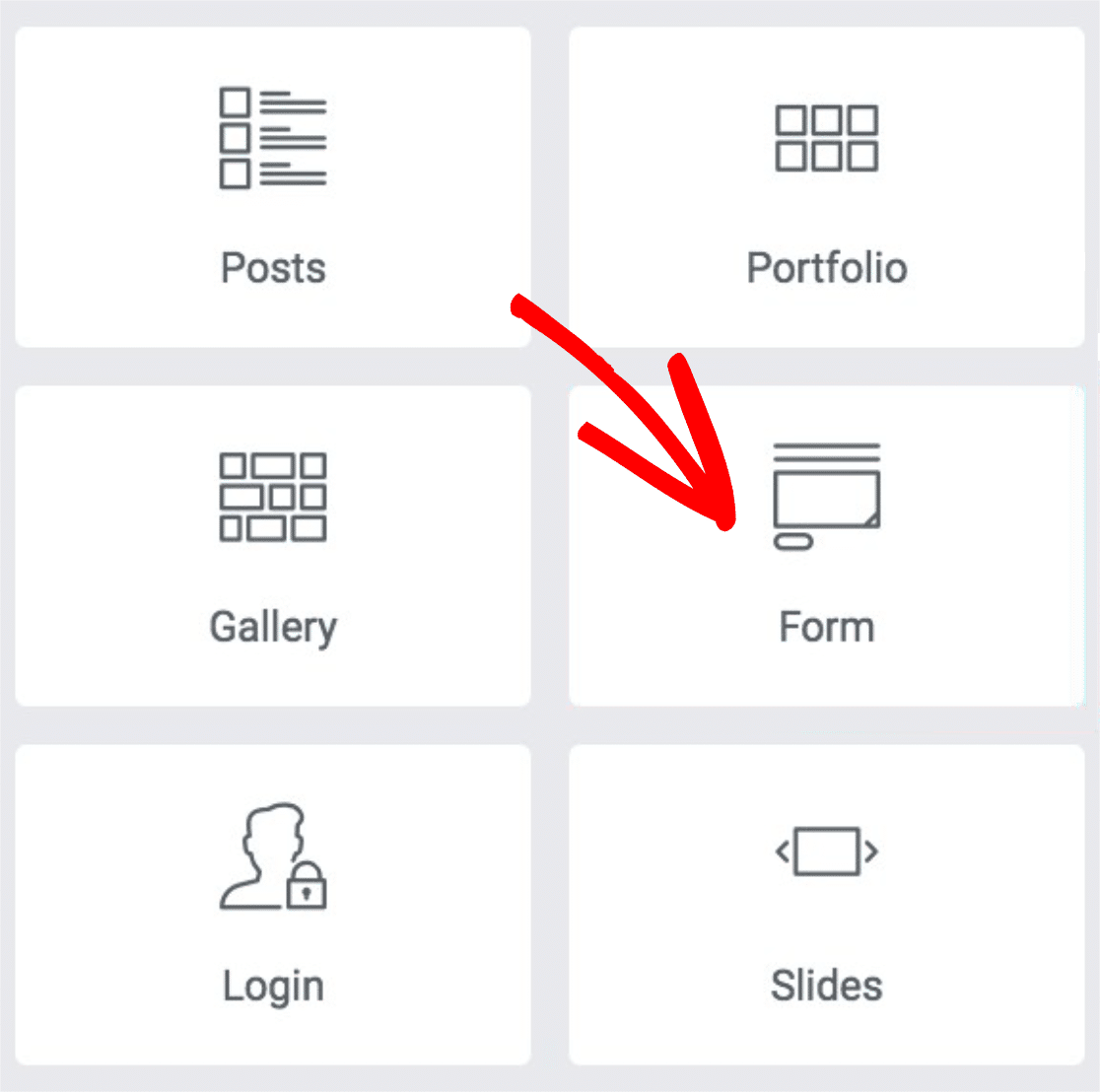 What We Liked
We appreciated the simplicity of Elementor Forms. Its direct integration into the Elementor interface made creating and managing forms convenient.
We were also able to match the forms with our site's aesthetic, resulting in a consistent user experience, which is quite impressive, to say the least.
Pricing and Plans
Elementor Forms comes as part of the Elementor Pro package. The Pro version, which includes access to Elementor Forms and other features, starts at $59/year.
Verdict
Elementor Forms serves well for simple, direct applications but falls short compared to more dedicated form plugins like WPForms.
Which Is The Best Contact Form Plugin For WordPress?
While all plugins listed are good options, based on our extensive tests, we confidently recommend WPForms as the top contact form plugin for Elementor.
Its advanced features like conditional logic, multi-page forms, and form abandonment lead capture boost the effectiveness of your conversion strategy.
What also sets WPForms apart is its seamless integration with Elementor, ensuring that the forms blend well with your Elementor site design.
But what truly makes WPForms the top choice is its lightning-fast loading speeds that do not slow down your website and its stellar customer service.
With extensive documentation, regular updates, and a responsive support team, you're never alone when you choose WPForms!
FAQs on Elementor Forms
Do you have a question about forms in Elementor? We put together some helpful questions and answers.
Does Elementor Have Forms?
Yes, Elementor has forms, but only in the Pro version. If you choose to pay for Pro, you can create unlimited forms, but the features aren't extensive as a standalone WordPress form builder plugin.
Are Elementor Forms Free?
No, Elementor Forms are not free. You can create forms for free in Elementor form by installing WPForms Lite, which is 100% compatible with Elementor.
Next, Learn About More Top Plugins
Now you have a great contact form plugin, take a look at some more roundups to choose the best tools for your new site:
Ready to fix your emails? Get started today with the best WordPress SMTP plugin. If you don't have the time to fix your emails, you can get full White Glove Setup assistance as an extra purchase, and there's a 14-day money-back guarantee for all paid plans.
If this article helped you, please follow us on Facebook and Twitter for more WordPress tips and tutorials.