Looking for the best content locker plugin to use on your site for hiding some or all of your content before users complete pre-set actions?
When used properly, content locker plugins can act as an effective tool to enhance social shares, user engagement, and email opt-ins.
In this article, we'll examine the 8 best content locker WordPress plugins and discuss how they may be used to restrict access to content.
Best Content Locker Plugins for WordPress: Overview
In a hurry? Check out this chart for a quick overview.
Plugin 💻
Price 💰
OptinMonster
$9/month
Secure Copy Content Protection and Content Locking
$49/lifetime
Bloom
$89/year
$249/lifetime
Thrive Leads
$299/year
Subscribe to Unlock Opt-In Content Locker Lite
$18/lifetime
AdWork Media Content Locker
Charged when audience takes action
OnePress Social Locker
$52.50/year
Private Content
$40/year
Read on to learn more about each of these tools.
What Is Content Locking?
Content locking provides publishers and advertisers with the ability to restrict access to particular content in exchange for an action taken by the user.
This activity might include registering for a newsletter, responding to a poll, becoming a subscriber, or sharing content on social media.
It is also an effective strategy for making money via advertising networks by limiting some or all content until a user buys a subscription.
How Do I Lock Content In WordPress?
There is no feature available in WordPress itself to lock content, but you can add the functionality of content locking with the use of plugins.
A content locking plugin will offer the dedicated features you'll require to regulate access, secure your content, and ultimately grow your audience, in addition to other benefits, such as:
Improving SEO: By locking content until users share your content on their social media, you can boost the potential of acquiring backlinks to your site or specific blog, which can boost your ranking on search engines.
Montezing Content: These plugins can help those running advertising, press release, or publishing networks that offer highly valuable content to 'charge for access,' providing an additional revenue stream to your site.
Growing Subscribers: Content locking plugins can encourage visitors to your site to subscribe to your newsletter or site by providing their email addresses to access your content, allowing you to grow your subscriber list.
Boosting User Engagement: By locking premium content on your WordPress site, you can encourage users to interact more with your site, like sharing your content or dropping a comment, contributing to higher visibility and traffic!
With that said, it's important to make an informed decision when selecting the right content locking plugin for your WordPress site. You'll be glad to hear that we've done all the hard work for you in the next part of this guide!
Best Content Locker Plugins for WordPress
Let's jump right into our list of the best content locker plugins for WordPress.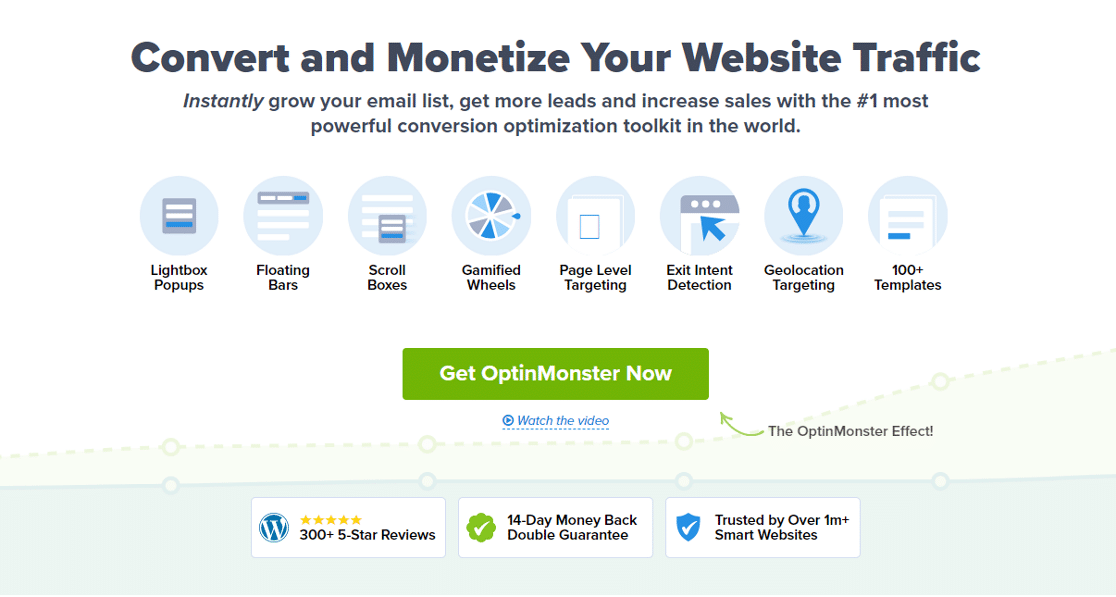 OptinMonster is the best popup creator for WordPress and a lead-generation tool that provides plenty of content locking options to users.
It comes equipped with the infamous Content Lock feature that utilizes content gating to hide some or all of your content behind an opt-in form.
What's impressive about this plugin is the fact that it doesn't hide this content from search engines. It only hides it from users.
Our Experience
Our experience using OptinMonster for content locking was quite amazing. The plugin is easy-to-use and offers many customization options for content locks.
You can easily modify the opt-in content lock form templates to match the aesthetics of your website with its drag-and-drop builder.
We also had the option of using obfuscation, where the content is blurred or fully blocked until a desired action is completed.
This allowed us to decide how much content we wanted to hide to pique the interest of our readers, achieving our content locking objectives.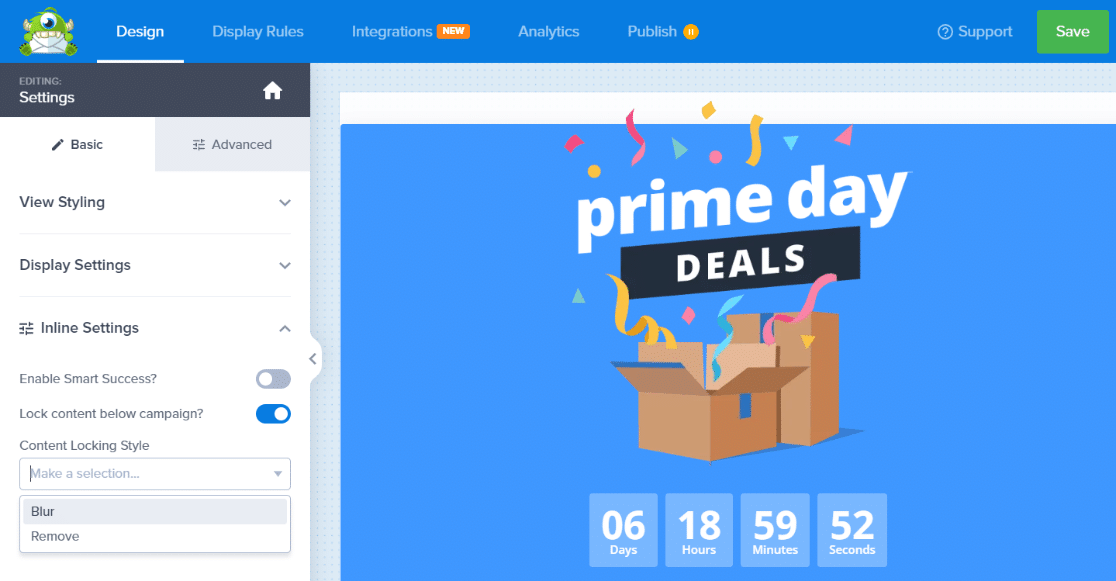 What We Liked
One of the most appealing aspects of OptinMonster is its user-friendly interface. This made the task of creating and managing our content lockers a breeze.
The variety of content locking options, like blurring or fully blocking the content provided by OptinMonster, is another feature that we greatly appreciated.
Also, the best part about using this plugin is the A/B testing it offers for content locking to try out different approaches to getting users to perform a desired action.
We could also decide when the content lock shows up and for which users (by optimizing the physical location settings).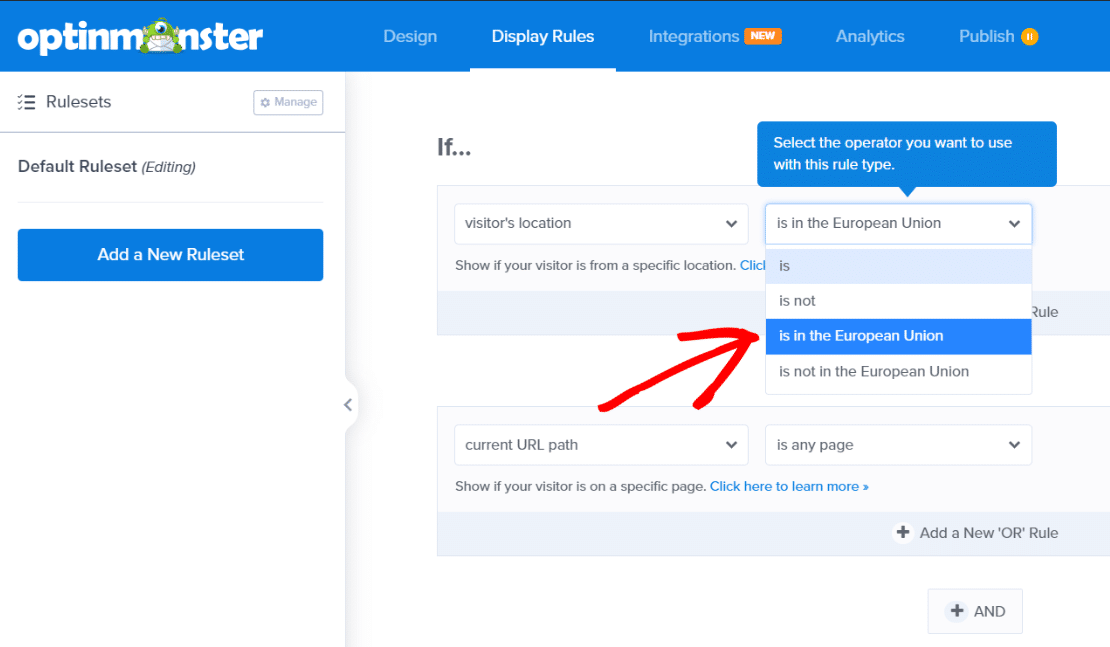 Pricing and Plans
OptinMonster offers a range of pricing options, designed to suit varying budgets. Their Basic Plan starts at $9/month. This includes all the necessary content locking features, such as obfuscation, basic opt-in triggers, and A/B testing.
Verdict
OptinMonster is a comprehensive opt-in plugin and lead generation solution, thanks to its content locking abilities. Its features, like the opt-in trigger, geo-targeting, and A/B split testing, make it well worth the money!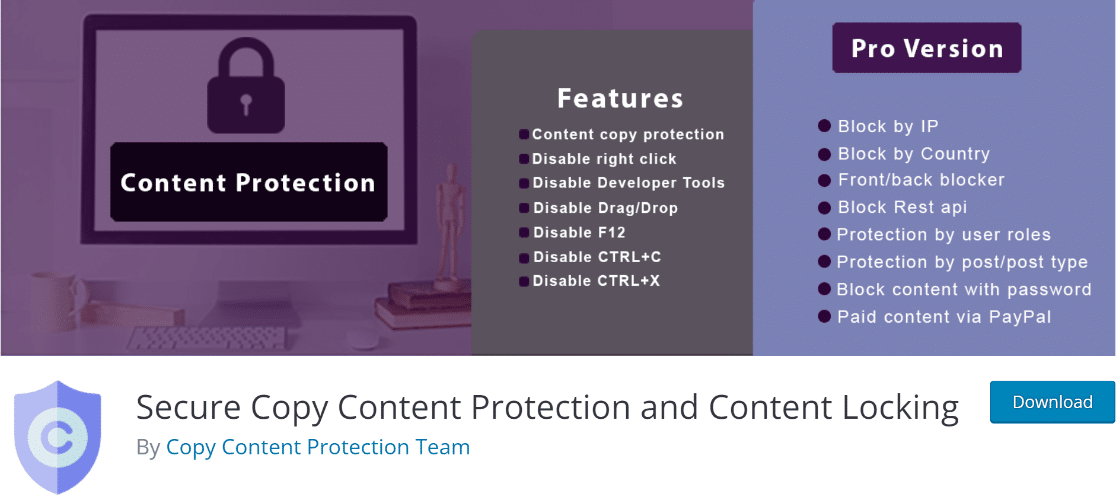 Secure Copy Content Protection and Content Locking is a dedicated content protection and locking plugin that comes with Copyright Protection functionalities, along with password content locking.
It is a useful tool for any WordPress blog owner to effortlessly lock content, until users perform a specific action like entering a password or subscribing to your newsletter.
Our Experience
Secure Copy Content Protection and Content Locking integrated smoothly with our WordPress website, and we could easily navigate through its settings to lock our content.
We had the ability to selectively lock sections of our content or block out entire posts, based on our content gating strategy to get more subscribers.
What we loved the most was their PayPal function which allowed us to enable paid content locking to add an extra revenue stream.
It also comes with a simple user interface and a shortcode function that allowed us to add content lock to any page or post.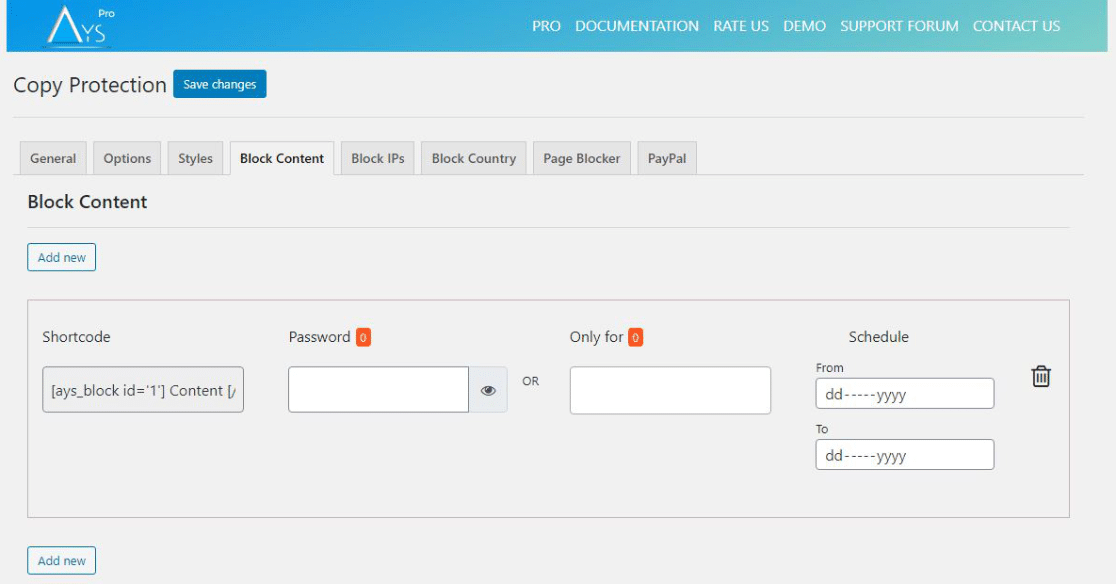 What We Liked
Secure Copy Content Protection and Content Locking offers useful Copy Protection by disabling the right-click copy and paste, which is an incredibly handy feature.
The availability of creating a password content locking campaign was also particularly impressive, which enabled us to increase user engagement.
It proved to be a great tool for enabling paid content locking as well, thanks to its PayPal integration that made the content available through subscriptions.
Moreover, we liked how the plugin maintains an SEO-friendly approach to content locking by ensuring that locked content remains visible to search engines.
Pricing and Plans
Secure Copy Content Protection and Content Locking comes with a simple pricing plan. For a $49 one-time payment, you can access all its premium features, like Paid content, via PayPal and receive a year of support and updates on five websites.
Verdict
After testing Secure Copy Content Protection and Content Locking, we confidently recommend it. The plugin's functionality protects your content from being plagiarized while enabling subscriber and paid content locking at a reasonable cost.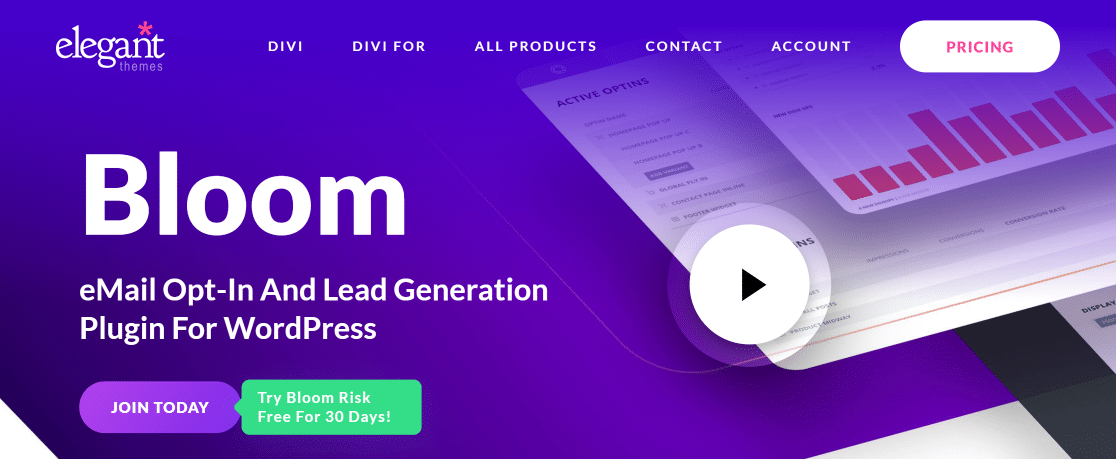 Bloom is a WordPress plugin that locks content to encourage users to sign up for your blog email list or website and follow it on social media platforms.
By using the plugin, your visitors will do what you specify, be it clicking a social media share button or entering their email address to reveal locked content.
Bloom is also compatible with many popular email marketing platforms, such as MailChimp and Constant Contact.
Our Experience
The option to personalize Bloom was a standout feature. The content locks on our site could be customized to reflect our brand's visual identity.
We also liked that Bloom worked well with other email marketing platforms. Thanks to this sync, we were able to efficiently collect email addresses and add them to our email marketing database.
You can create inline, opt-in, and fly-in popups that display only after the user comments, purchases a product, scrolls to a defined percentage, or reaches the bottom of posts, along with the ability to create Timed Delays and Inactivity triggers for your popups.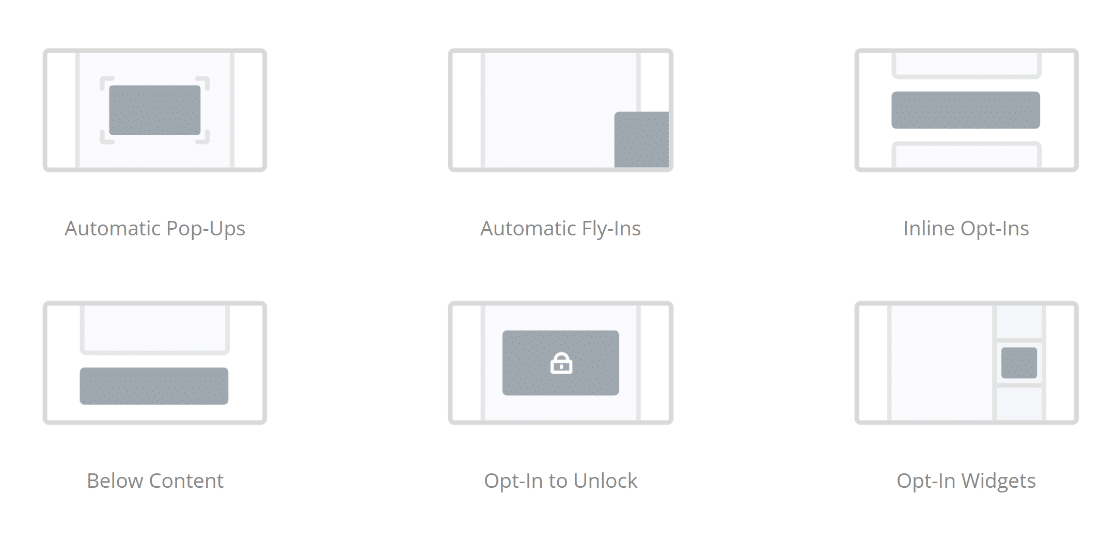 What We Liked
The Bloom plugin's many design options let us make a content lock popup that fits the rest of the site's aesthetic while still standing out.
It also allowed us to create content locks of multiple types, like clicking on a social media share button or entering an email address to reveal locked content.
Also, we like how well Bloom worked with other email marketing software and gave us the opportunity to conduct split tests for our content lock popups.
That way, we could keep track of our expanding list of email subscribers and send them more relevant emails and content to increase user engagement.
Pricing and Plans
The Elegant Themes subscription, which includes the Bloom premium plugin, costs either $89 per year or $249 for life. If you're planning to utilize a lot of plugins and themes from Elegant Themes, this subscription is the best value.
Verdict
Bloom's powerful features, user-friendliness, and smooth compatibility with email marketing services make it a product we wholeheartedly endorse. It's a great solution to your content-locking problems.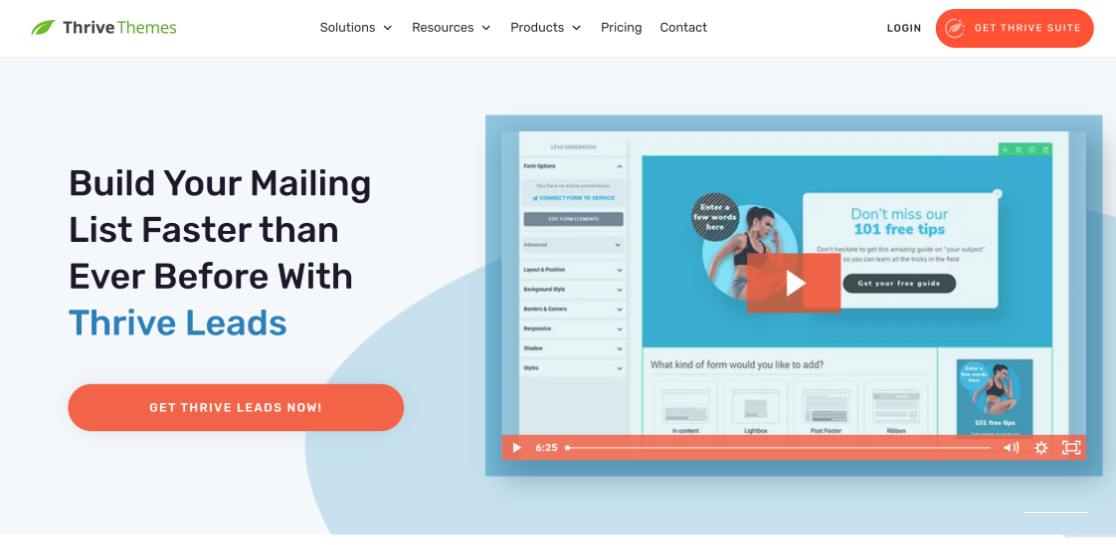 Thrive Leads is a list-building WordPress plugin that helps increase functionality and visitor engagement through content locking.
It lets you keep your premium content locked until a user voluntarily registers for your mailing list and offers many customizable content locking templates.
Our Experience
We were able to make the protected content display match our site's aesthetic because of the flexible configuration choices.
Integrating with major email marketing platforms like MailChimp, AWeber, and GetResponse is also incredibly easy.
You can also choose to create an opt-in form that allows you to grow your subscriber list with pre-made content locking templates.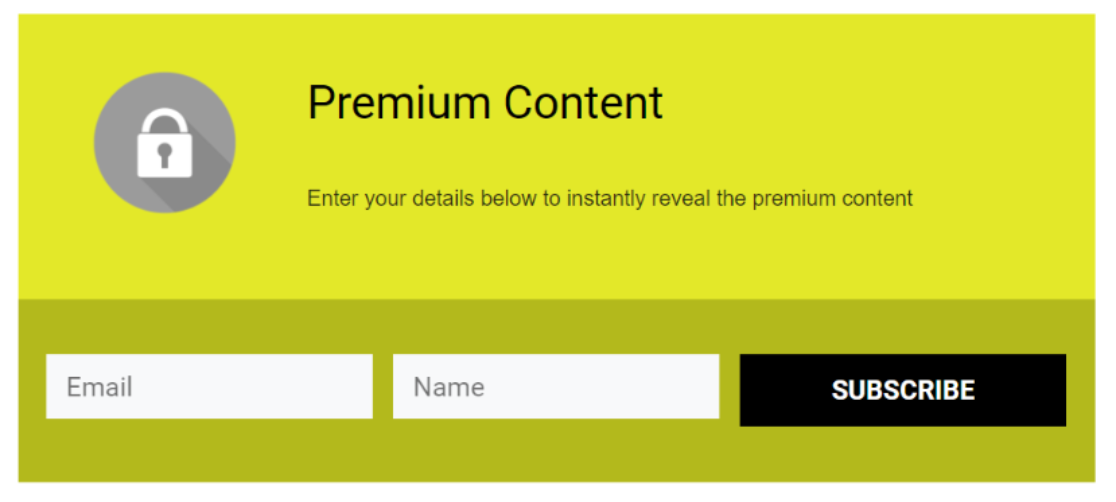 What We Liked
Thrive Leads' WordPress compatibility with numerous email providers is a feature we found very useful.
Changing the message shown to consumers is only one example of how the process goes beyond superficial tweaks, thanks to its good options for customization.
We also were able to deliberately restrict access to our most valuable material, increasing user engagement and encouraging site visitors to sign up for our newsletter.
Pricing and Plans
The Thrive Suite bundle that comes with all Thrive plugins, including Thrive Leads costs around $299/year, which is quite reasonable considering you gain functionalities of over nine plugins through a single subscription.
Verdict
If you need a reliable method of locking content on your WordPress site with basic functionalities, you should use Thrive Leads.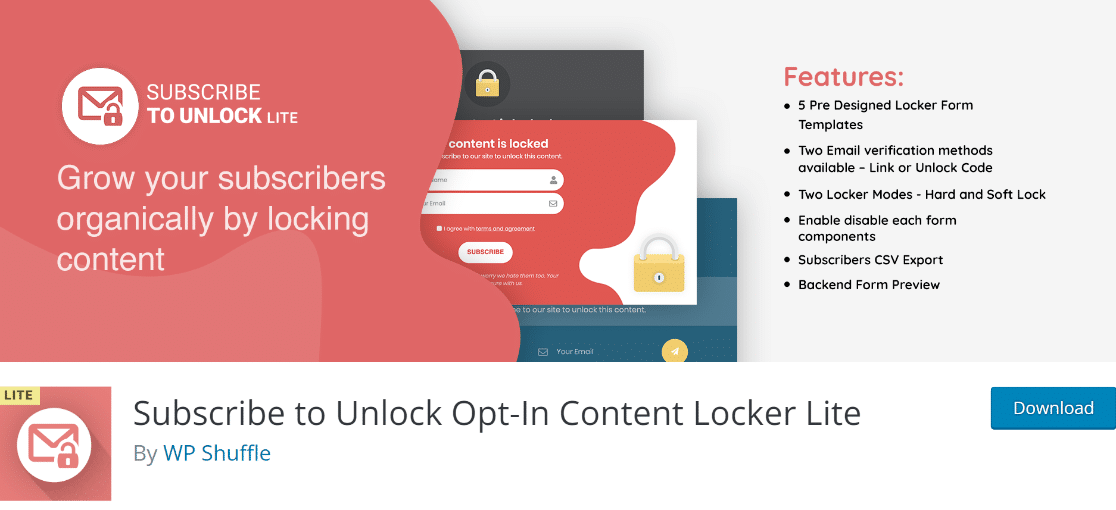 Subscribe to Unlock Opt-In Content Locker Lite is a useful solution that lets website owners protect valuable content behind a paywall.
Its intuitive design makes it suitable for novices, and the high degree of customization options makes it well worth the installation.
Our Experience
Our evaluations revealed that the plugin provided outstanding performance. There were no hiccups or crashes while creating subscription forms to reveal locked content.
The plugin's adaptability was also a big plus for us. We were able to make sure the subscription form looked good with our site's design.
What We Liked
The plugin seamlessly used shortcodes to define which content to lock, thus offering flexibility in determining the type of content to reserve for subscribers.
We also really liked how immediately a subscription would unlock the content. Immediate access is a great way to keep your visitors happy.
Pricing and Plans
The Subscribe to Unlock plugin has a free Lite version with fewer features. However, for a one-time fee of $18, you can upgrade to the Pro edition and access enhanced features, like expanded personalization settings and priority customer service.
Verdict
This plugin has all the makings of a useful content locking addition to your WordPress arsenal, thanks to its low learning curve, high efficiency, and adaptability.

AdWork Media, a global Performance Marketing Network, provides a premium content locker optimized to increase monetization and user engagement.
You have several choices for rewarding users for participation, including incentivized offer walls, CPA (Cost per Action), and CPL (Cost per Lead) lockers.
Our Experience
The AdWork Media Content Locker really shines in how flexible and adaptable it can be regarding restricting access to content.
The flexibility to tailor the locking features to the needs of our website was a major advancement, whether for boosting participation or generating revenue.
What We Liked
Thanks to the availability of CPA and CPL lockers as well as incentivized offer walls, our diverse user base, and site requirements were met efficiently.
We could also modify the locker's appearance to match the style of our site. This enhanced the overall user experience.
Pricing and Plans
You will only be charged by AdWork Media if and when your target audience takes the intended action on your site. This strategy ensures that your investment yields the greatest return.
Verdict
The AdWork Media Content Locker plugin is worth considering if you need a secure and versatile method of restricting access to content.

The OnePress Social Locker plugin for WordPress does everything you need it to do and more in terms of restricting content for social engagement.
It hides your best content behind a collection of social sharing buttons and only reveals it if the visitor loves, shares, or tweets your page.
Our Experience
The OnePress Social Locker plugin impressed us with its ease of use and ability to change the lock screen's appearance to match the style of our website.
Also, the plugin's real-time analytics is quite helpful in measuring the value of our locked content and its performance in terms of social engagement.
What We Liked
We think OnePress Social Locker's approach of combining social networks with content locking is brilliant. It offers nothing less, nothing more.
The locking screen can also be customized in various ways to match the look and feel of your site, which is quite handy, to say the least.
Pricing and Plans
There is a free version of OnePress Social Locker with fewer functionality and a paid version with more advanced features, additional styles, comprehensive analytics, and technical support. Paid plans start at $52.50/month.
Verdict
OnePress Social Locker is a safe bet for individuals who want to secure their content while also increasing their social media following.

Private Content is a simple WordPress plugin that helps restrict access to certain pages or posts on your site until a desired action is performed.
You have complete control over what your users view since you can limit their access to individual pages or even certain parts of pages.
Our Experience
The dashboard's clean interface makes it simple to monitor usage, assign permissions, and examine data.
You and your users will enjoy the streamlined user management process, form creation, and activity tracking.
What We Liked
Private Content has several redeeming features. The ability to centralize the management of users, permissions, and registration forms is great.
The plugin's intuitive interface was also a plus. The installation went off without a hitch, and maintaining the plugin afterward was just as simple.
Pricing and Plans
For $40 per year, you can access Private Content's entire set of services, which includes the content locking feature and dashboard to monitor usage, assign permissions by user role, and activity tracking.
Verdict
Private Content is the best option for protecting your WordPress content and creating content locks for premium content or multi-level membership sites.
FAQs
There are a few common questions on content locking that we frequently hear from our readers. Here are some of them:
Which plugin helps with content locking?
When it comes to maximizing your online content's potential, content locking can serve as a key strategy, and OptinMonster is a great tool for this. Not only does it enable you to lock content effectively, but it also allows you to create eye-catching pop-ups and well-designed opt-in forms with obfuscation features.
Can you hide content on WordPress?
Wondering if it's possible to hide content on your WordPress site? The simple answer is yes, it's entirely feasible, thanks to the functionality provided by WordPress Content Locking Plugins that allow you to create paywalls, gated content, and opt-ins, which require users to perform a certain action before revealing all the content.
Next, Learn More About Top Plugins for WordPress
Now that you're familiar with the best content locking plugins, it may also be a great time to dive into some other helpful tools for your website:
Facing issues with receiving WordPress emails for new orders or form submissions? You may want to check out the WP Mail SMTP plugin.
Get started today with the best WordPress SMTP plugin. If you don't have the time to fix your emails, you can get full White Glove Setup assistance as an extra purchase, and there's a 14-day money-back guarantee for all paid plans.
If this article helped you out, please follow us on Facebook and Twitter for more WordPress tips and tutorials.