On the hunt for good WordPress social media plugins?
Whether you want to aggregate social feeds on your website, add social icons to your content, or automatically share your blog posts to your social following, you need a good social media plugin.
We've tested many WordPress social media plugins to determine which are the best. In this post, we'll share our findings.
Let's go!
What Is a Social Media Plugin?
In its most basic form, a social media plugin makes it easy to share your content and build your social following. It helps you integrate your social networks and web presence.
The exact function often depends on the plugin, however. For example, some plugins are created to add simple social icons to your site and make social shares easier. Some aggregate all of your social media feeds into a single feed that provides social media content back to your site. It's important to research all the features to find which plugin is best for you.
Best Social Media Plugins for WordPress
Let's take a look at the best social media plugins for WordPress.
1. Smash Balloon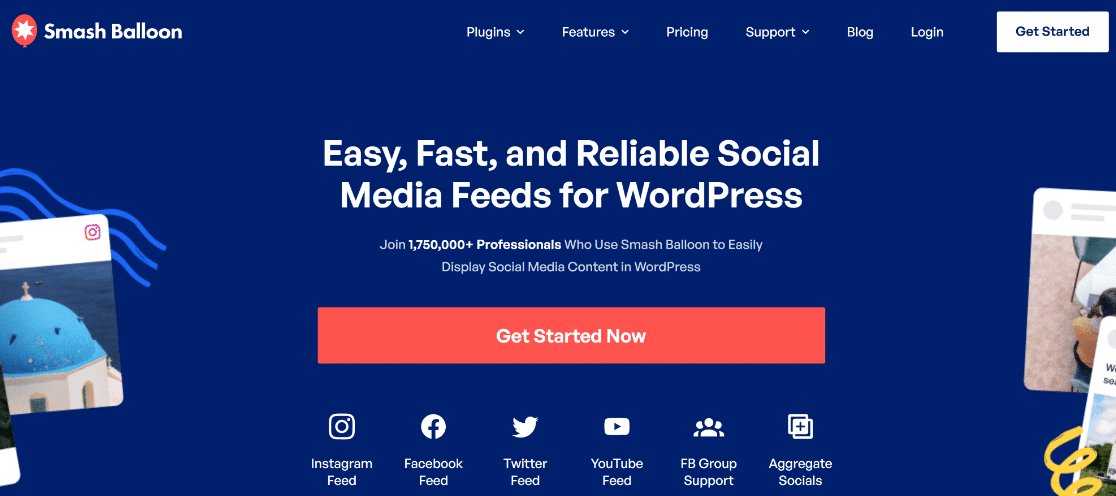 Smash Balloon is interesting because it's a comprehensive suite of social media plugins. You can decide whether to buy them individually or as a bundle, depending on your site goals.
Each one lets you display a different social feed on your website, giving you more content while also encouraging people to connect with you on social media platforms. There's also an option for a social wall, which is an aggregated page displaying your social feeds in tile form.
Creating the wall is easy. There's a page in your plugin settings where you add all the feeds you want to include.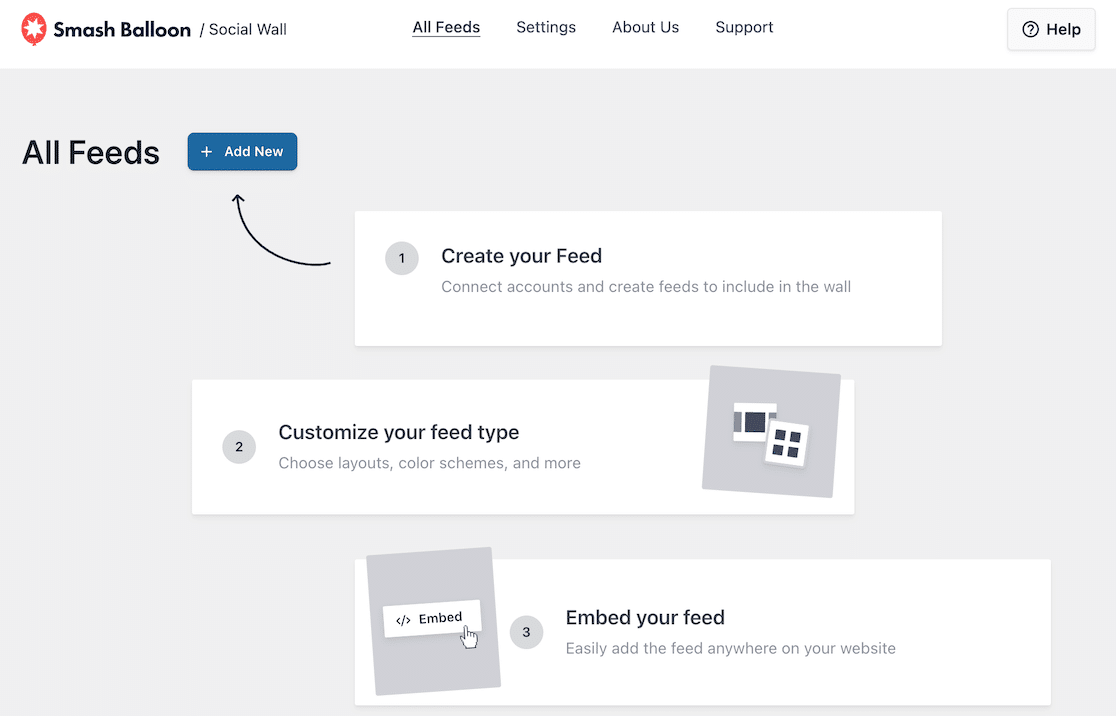 Once your feeds are connected, you'll have a social wall to display on your site.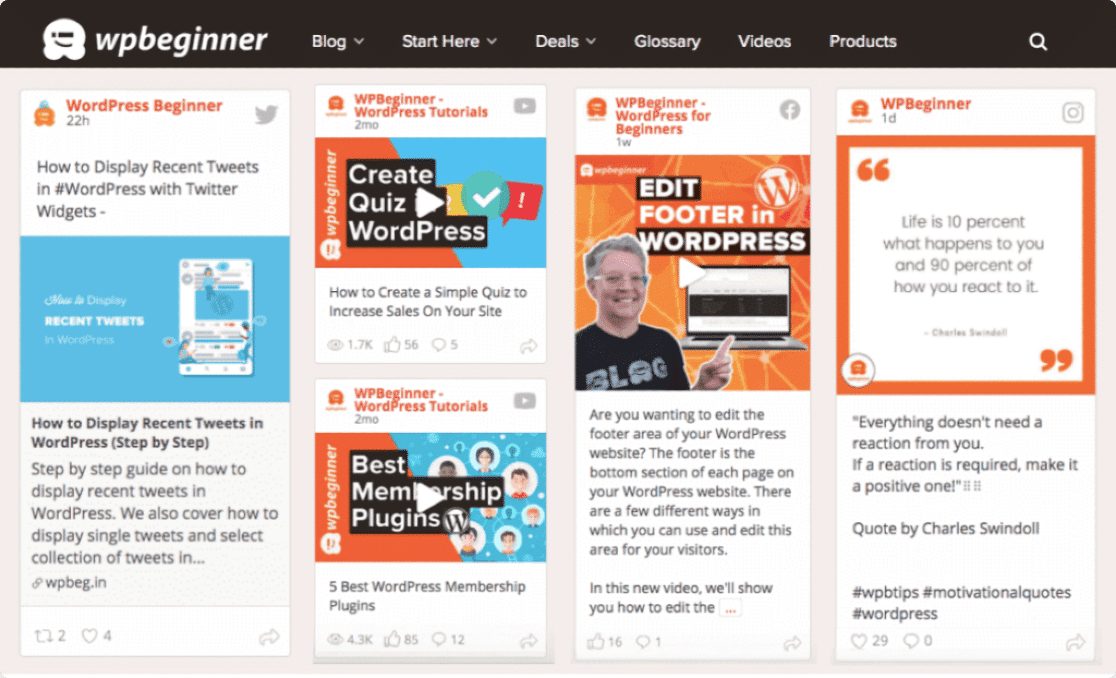 Other Features We Love
Highly customizable with no need for code
Display testimonials and reviews (Pro feature)
Generate feeds containing your content or other public content (Pro feature)
Lots of features in the free version while still making an upgrade worth the investment
Built for performance with speed optimization and SEO boost
Choose individual plugins or download the whole bundle, which includes Facebook Feed Pro, Instagram Feed Pro, Twitter Feed Pro, YouTube Feed Pro, and Reviews Feed Pro
oEmbed lets you embed social posts with only the permalink
Cost
Each individual plugin starts at $49 and the bundle starts at $299.
Overall, this is a solid plugin. It's feature-rich enough to be appealing to more tech-savvy users, but it's intuitive and simple enough to be accessible to new users, too. If you're looking for a way to incorporate social feeds into your website, definitely give Smash Balloon a look. It's got over 1.75 million active installs for a good reason.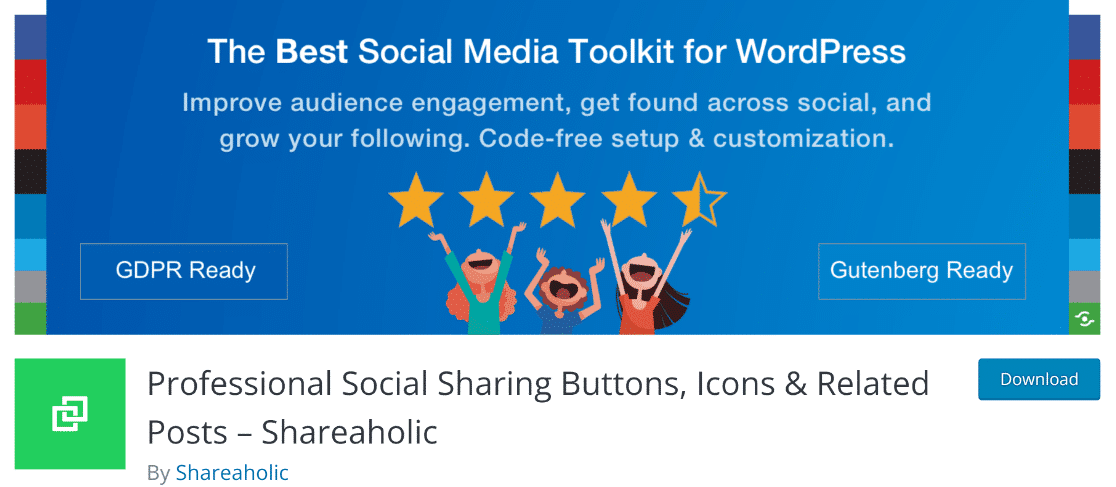 Shareaholic is a powerhouse when it comes to audience growth and engagement. Need social share icons and follow buttons? It has them. Want to add related content to your blog posts? You can do that. Looking for content analytics that integrate with Google Analytics? They've got those. Ready to monetize? The tools are there.
The UI is clean and easy to use, which gives it a definite edge. The settings are all well-organized so they're quick to find when you want to fine-tune something.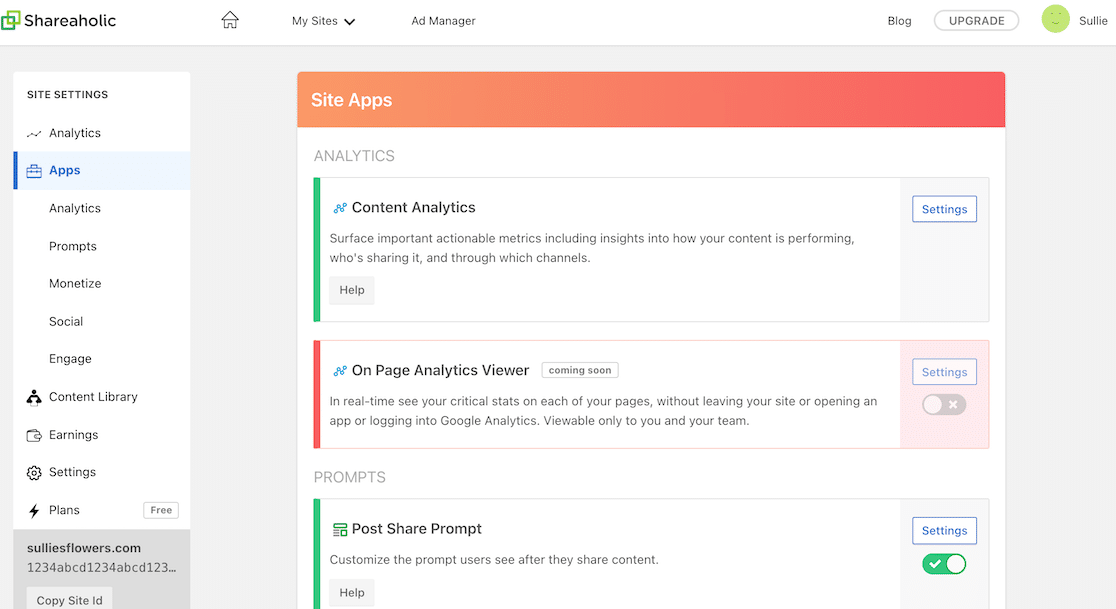 Whether you're setting up easy social share buttons or ads on your content, you can do so with a visual, which we loved. Toggle settings on and off and know immediately how it will look.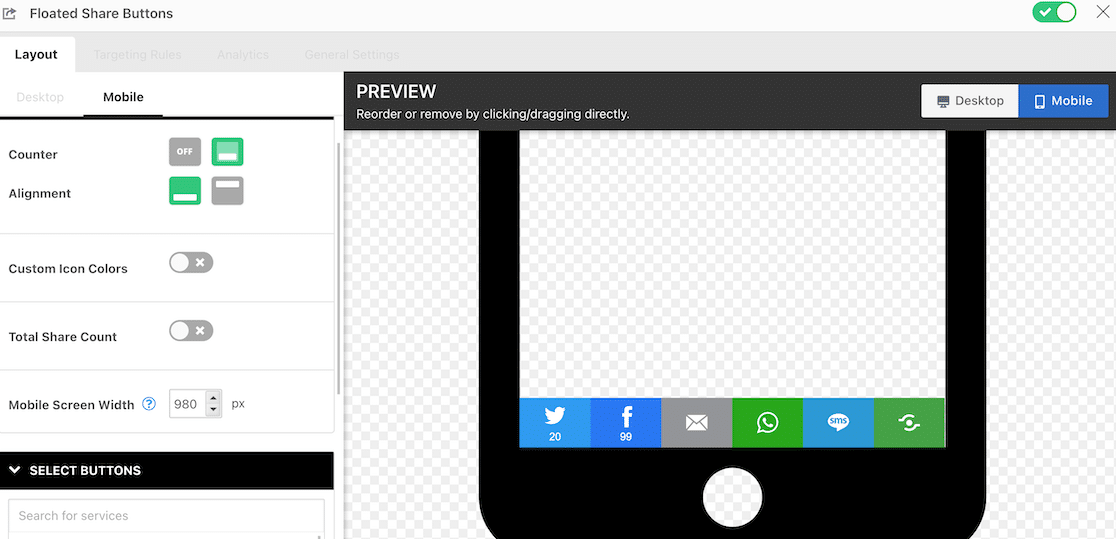 You can even create specific targeting rules.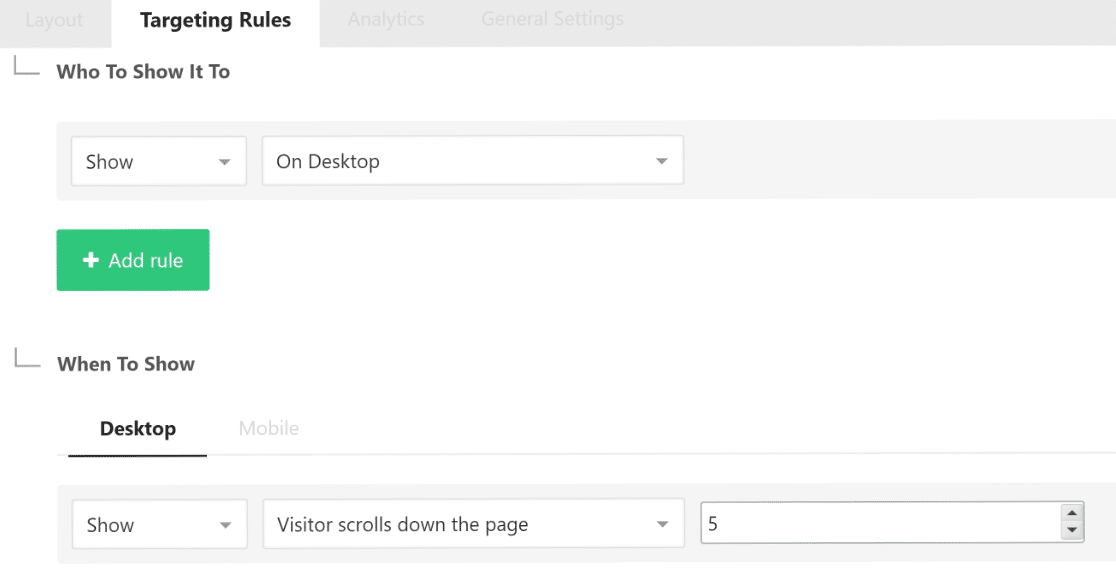 If the default placements aren't your style, you can use shortcodes to place the social media icons exactly where you want them to appear.
Other Features We Love
Drag-and-drop configuration with no need for code
Feature-rich free plan
Speed! Selective and lazy loading keeps it lightweight with faster load times
Scalability
100% customizable so you can match it to your site
Option to display share counts for social proof
Option to use developer-friendly APIs
Cost
There is a very generous free version, and it's free for life. When you're ready to upgrade, the premium plugin starts at $96/year.
Overall, if you need a social media sharing plugin, definitely give this one a spin. With all the features you can access for free, you might find that it's exactly what you've been looking for.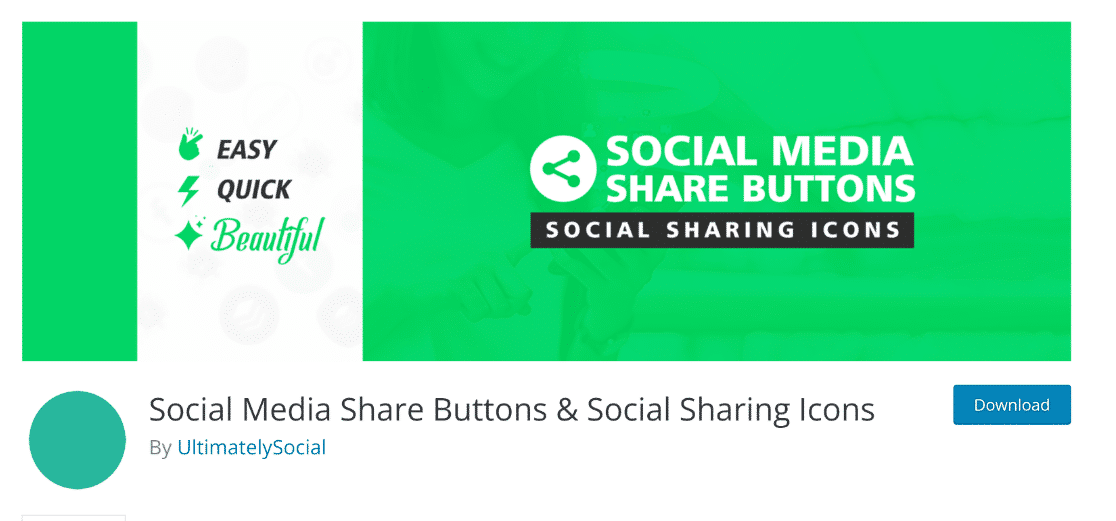 If you're looking for a plugin to add social sharing icons, Social Media Share Buttons & Social Sharing Icons gives you tons of options. We tested the free WordPress plugin for this review, and there were still plenty of features and options.
Although it doesn't have the prettiest UI, setup was relatively easy. After installing and activating the plugin on WordPress, it prompts you to answer some questions about your preferences. Some are required and others are optional.
During this initial setup process, you can add share icons to your site for RSS, email, Facebook, Twitter, YouTube, WhatsApp, and many other major social platforms. If you upgrade to the premium version, you can add icons for Amazon, Spotify, Twitch, Vimeo, and more.
There are also several options for displaying your social icons. We've all been on a website with a floating sidebar that obscure the content. You won't have to worry about that with this plugin. You can choose a location that works with your content.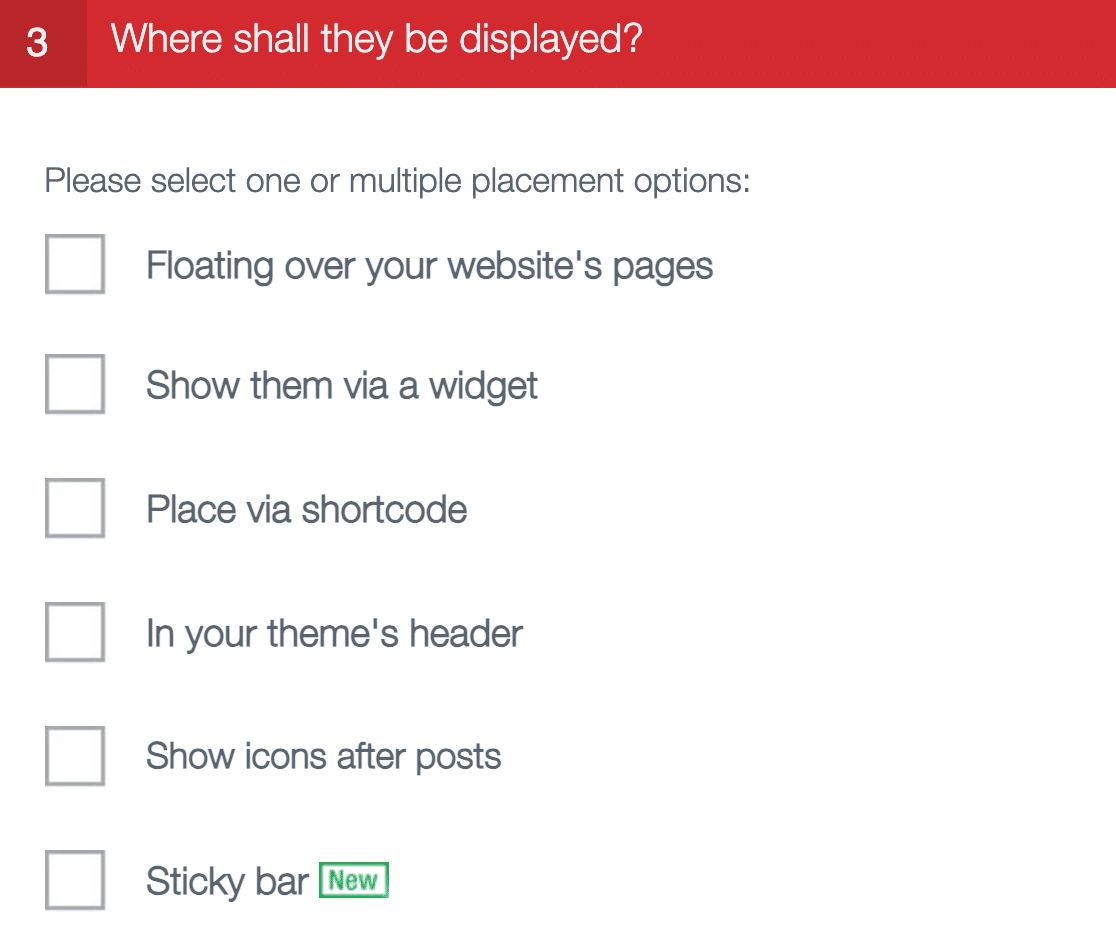 They do make a pretty specific note that their popups use cookies, so if you want your site to be GDPR-compliant, you will either need to not use that specific popup, or you will need to include a disclosure to users that your popup uses cookies.
Other Features We Love
Gutenberg widget for easy access
Let readers subscribe to your blog via email
Add animations to icons
Include options to like or follow your page from your icons
Fine-tune all of your settings to create exactly what you want
Additional designs, animations, and social platforms with the premium account
Cost
There is a free version, which is what we've reviewed here. If you want to upgrade, it's $29.98 for non-commercial sites and $39.98 for commercial sites.
Our overall impression is that this is a good choice if you're on a budget but still looking for a social sharing plugin with plenty of customization options. The one drawback is that the user interface can be a little clunky. There are a lot of options, but they're under different headings, so it's not always easy to find them.
4. Blog2Social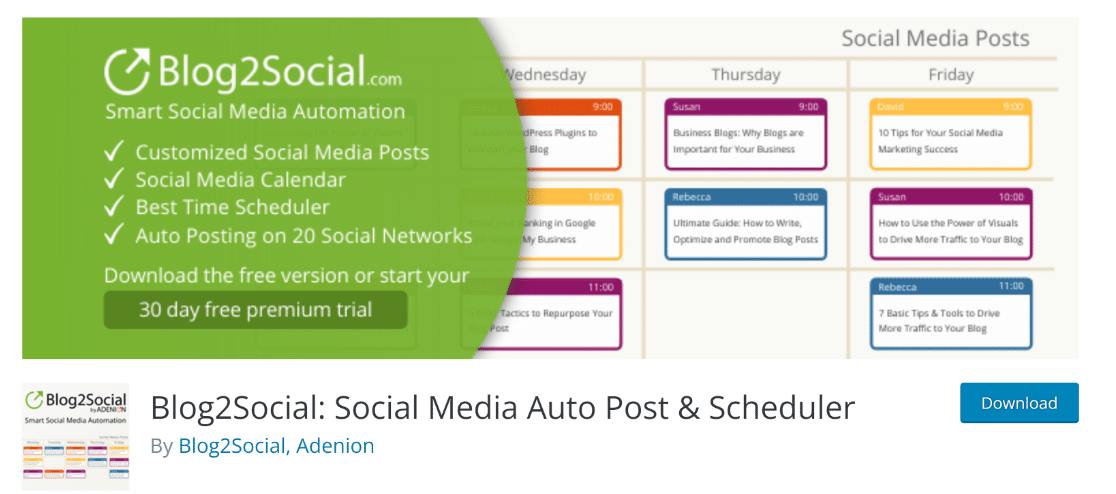 If you manage content, you need a reliable way to integrate content sharing with your social media. That's where Blog2Social comes in. It connects to your popular social networks and has a calendar feature that makes scheduling your content a breeze.
Whether you're re-sharing existing content or premiering something brand new, this plugin means you never have to jump from platform to platform, losing time to scheduling.
We found it super easy to drag and drop the content you want to share right onto the calendar. And you can see it all at a glance.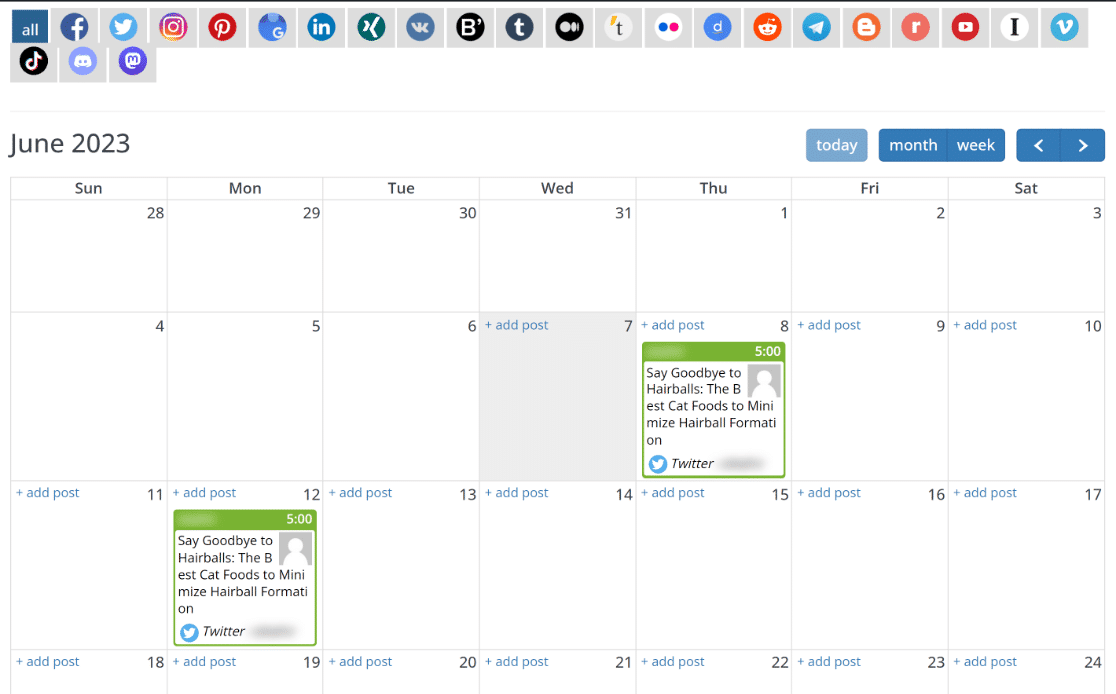 You can also auto-post to share every piece of content when you publish it. It even takes the tags you add to your content in WordPress and turns them into social media hashtags.
The UI isn't the most modern, but there's plenty of functionality to make up for it.
Features We Love
Choose from pre-determined "best times" to publish or choose your own
Set existing evergreen content to automatically repost on a periodic basis
Customize social media posts with post templates
Access social media metrics
Cost
There's a limited free version, but it doesn't include the scheduling calendar. To use that and other advanced features, you'll need to upgrade. Paid versions begin at $7/month when billed annually.
5. Nextend Social Login & Register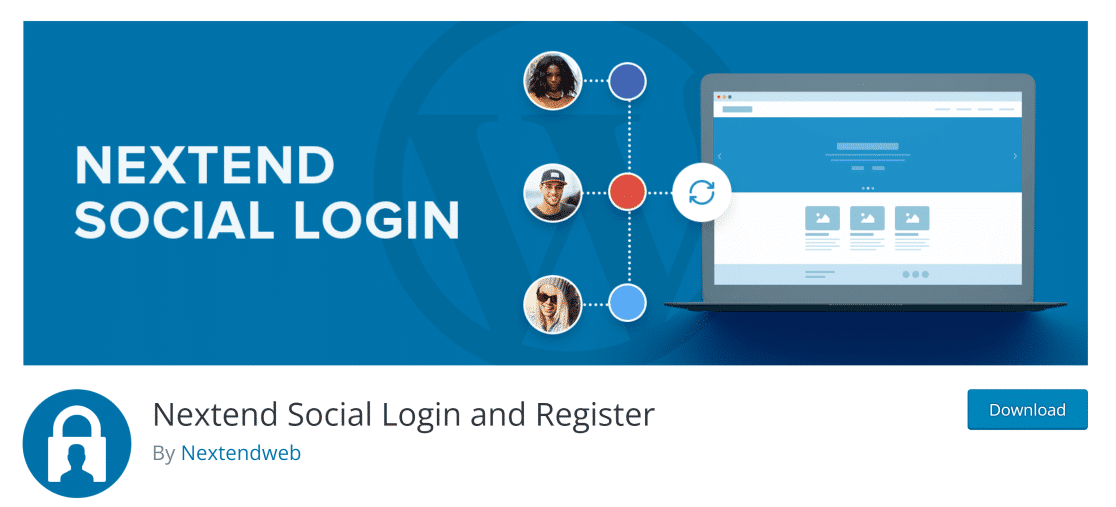 Nextend Social Login lets you add more options for login. It's super common these days to land on a login page and see that you can create an account with your email address, or you can just log in with one of your social media profiles. Users love this option because it's a breeze.
After you install the plugin, you can select the providers you want to use for social login and configure them.

We found Nextend Social Login easy to use, and the user interface was simple to navigate.
It's worth noting that if you go with the free version, you can only use Facebook, Twitter, and Google for social login. You need to upgrade to access the others, including Apple, LinkedIn, and Amazon.
Other Features We Love
WooCommerce integration
Choose icons or buttons and customize the layout for your login page
Ability to forbid social login for specific roles
Video tutorials make it easy to learn your way around
Cost
There is a limited free version. Pro versions start at $49.
6. Simple Author Box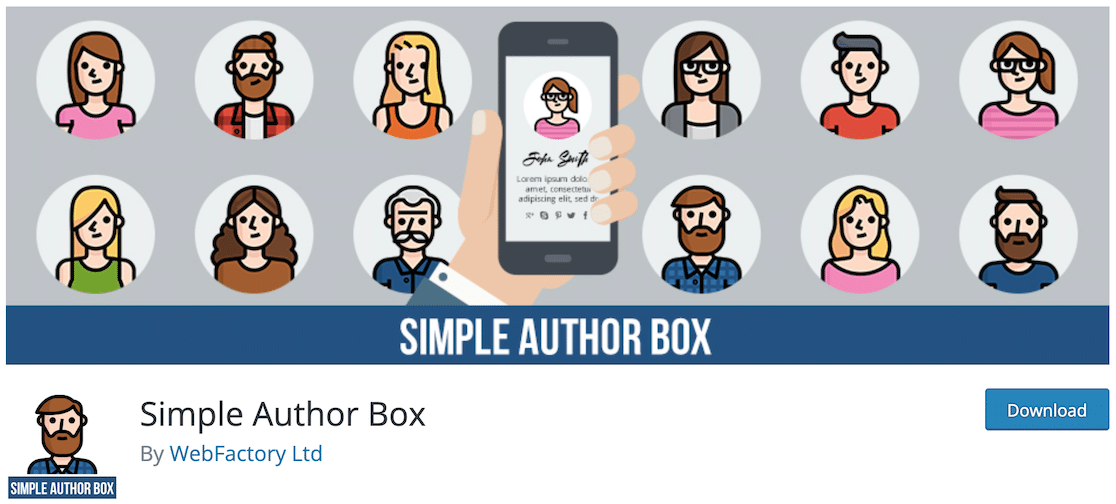 Simple Author Box simplifies author bios and social connections. This plugin is a great add for bloggers and content marketers in terms of establishing authority and increasing social share counts.
Simple Author Box places a box at the end of each blog post. That box contains the author's Gravatar photo and bio information as they've entered it in their WordPress profile. It can also add social icons for each author. How many depends on whether you're using the free plugin or paid version.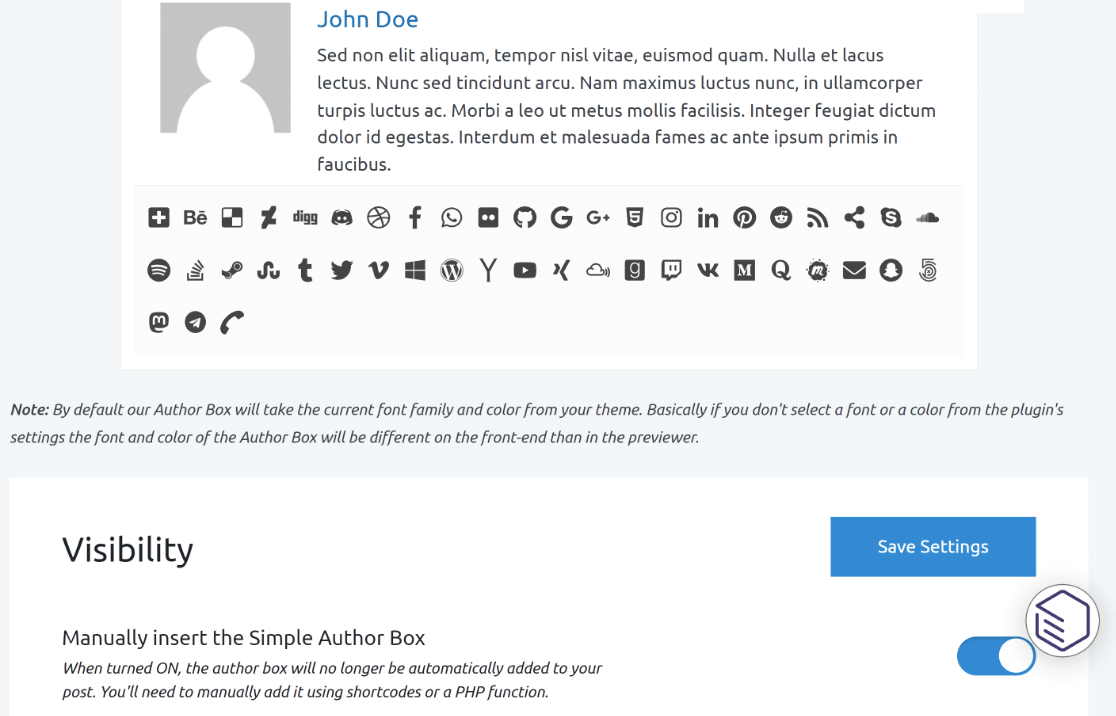 The reason this is a big deal for content marketers is because it lets the author bio explain why they're qualified to write about any given topic. In that sense, it helps to establish authority and lend credibility to the author's words.
What's more, the author can add social icons so readers can follow their work if they like. Typically when someone is an established thought leader, they're also sharing their expertise on social media in snackable portions in between blog posts.
Other Features We Love
Fully customizable so you can match your theme and site style
Add your Author Box automatically or manually with a Gutenberg block
Automatically nofollow author bio links
Specify the types of posts where you want the Author Box to appear
Top Authors widget you can embed in your sidebar
Cost
A limited free version is available. For more features and functionality, upgrade to a paid account starting at $39/year.
7. Revive Old Posts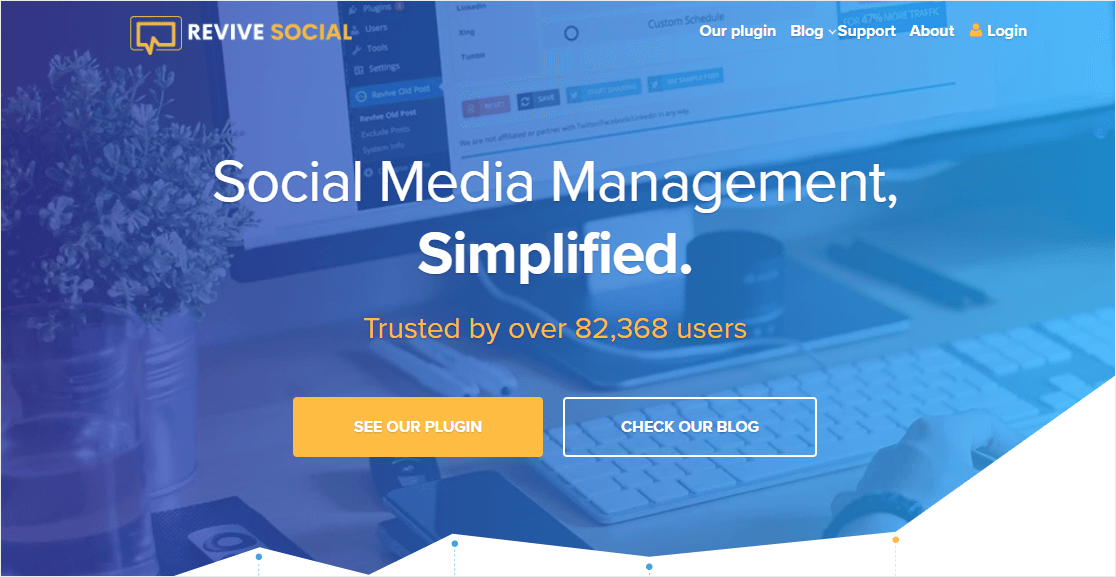 If you want a free way to share your WordPress posts on Facebook and Twitter, Revive Old Posts by Revive Social might be the plugin for you. You can share them manually or automate sharing.
Once it's set up, Revive Old Posts will populate a calendar showing your scheduled content shares. This is really nice to have, but if you're using the free version, just know that you can't change this schedule.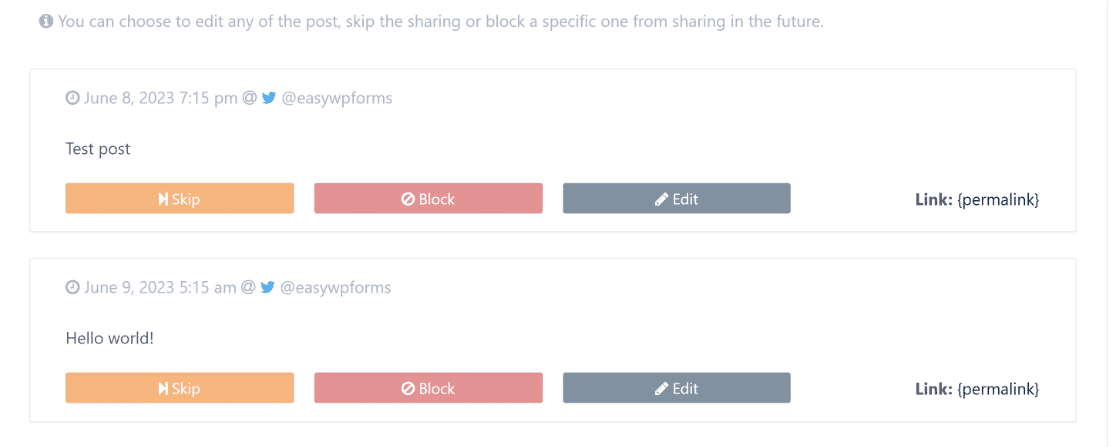 To make changes or create your own schedule, you need to update to the paid version.
Essentially, the free version is great for automatically sharing posts as soon as you publish them. Paid accounts are better for creating a content-sharing schedule to feature your evergreen posts.
Other Features We Love
In addition to posts, share pages, media, and custom post types
Google Analytics integrations for campaign tracking so you can track posts with UTM links
Create message variations for your shares
Determine the tags and categories you want to share and which you don't
Cost
There's a limited free version of Revive Old Posts. To get more features and create a schedule of your evergreen content, you'll have to upgrade. Licenses start at $75/year.
FAQs
Can Social Media Plugins Help Increase Website Traffic?
Social media plugins can absolutely help increase website traffic. When you can easily share your content on social media, you grow your reach. When you make it possible for readers to easily share your content through their social media networks, they grow your reach even more. The more social shares you get, the more people will come back to your site to read what you have to say.
Can Social Media Plugins Help Build Email Lists?
Yes, social media plugins can help build email lists. Many social media plugins include the ability to add a form so readers can subscribe to your content. When these forms are placed well, it encourages readers to opt in, thereby building your email list.
Can Social Media Plugins Track the Performance of Social Media Shares on a WordPress Website?
Many social media plugins include the ability to access analytics where you can monitor shares, clicks, and engagement. Not every plugin has this functionality, though, so be sure to do your research first.
Next, Find the Best WordPress Plugins
If you have a vision for your WordPress site, chances are good that there's a WordPress plugin that can help you make it happen. Check out some of our other plugin roundups. Who knows? You might find some new tools and get inspired!
Ready to fix your emails? Get started today with the best WordPress SMTP plugin. If you don't have the time to fix your emails, you can get full White Glove Setup assistance as an extra purchase, and there's a 14-day money-back guarantee for all paid plans.
If this article helped you out, please follow us on Facebook and Twitter for more WordPress tips and tutorials.