Looking for the best GDPR plugins for WordPress to ensure your website complies with data protection and privacy laws in the European Union?
GDPR compliance is a necessary prerequisite for any website dealing with EU customers and visitors. Fortunately, there are many plugins that can help streamline your GDPR compliance efforts.
To help you stay on the right side of this data protection law, we've compiled a list of the 11 best WordPress GDPR plugins and provided an in-depth analysis of their capabilities.
What Is GDPR and Why Does It Matter?
The General Data Protection Regulation, commonly known as GDPR, is a European law that regulates how websites use, store, and handle personal data for EU visitors.
Basically, if your website collects any type of data, including IP addresses or email addresses of those residing in the EU, you'll need to comply with GDPR.
It is important to keep in mind, though, that despite being an EU legislation, GDPR applies to data management everywhere, not just in Europe or the US.
This is due to the Extraterritorial Scope of the EU Regulation. As a result, some non-EU organizations can be subject to enforcement by EU data protection authorities unless they comply with the regulation.
However, knowing the law is not enough to comprehend the implications of GDPR. It's about recognizing two essential factors: the rights of individuals and the obligations of data controllers and processors.
The rights of individuals include the following:
Right of access: Individuals have the right to request access to their data and information about the data's use.
Right to erasure: Every person has the right to have their personal information erased if they so choose.
Right to be informed: Individuals have a right to know how and why their personal information is being collected and used.
Right to rectification: Individuals can request modifications to their data if it's inaccurate or incomplete.
Right to restrict processing: Individuals have the right to prevent or restrict the processing of their personal data.
Meanwhile, the obligations of data controllers and processors include the following:
Lawfulness and transparency: Processing must be lawful, fair, and transparent to the data subject.
Purpose limitation: Personal data should only be collected for specified, explicit, and legitimate purposes.
Data minimization: Data controllers should only process the personal data necessary for processing purposes.
Storage restriction: Personal data should be kept in a form where the identification of data subjects is stored no longer than necessary.
Accuracy: Data controllers should ensure that personal data is accurate and, where necessary, kept up to date.
Bearing these factors in mind, GDPR compliance might seem complex and overwhelming, but that's where WordPress GDPR plugins step in to make the ePrivacy process more manageable for websites worldwide.
11 Best GDPR Plugins for WordPress
Here are the 11 best WordPress plugins that offer GDPR compliance options. Some of these plugins help your site function as a secure "data processor." At the same time, others give you more command over data storage.
Keep in mind that no single plugin can guarantee you 100% GDPR compliance, so please consult an Internet Attorney to ensure you are complying with the data management and user privacy laws in your jurisdiction.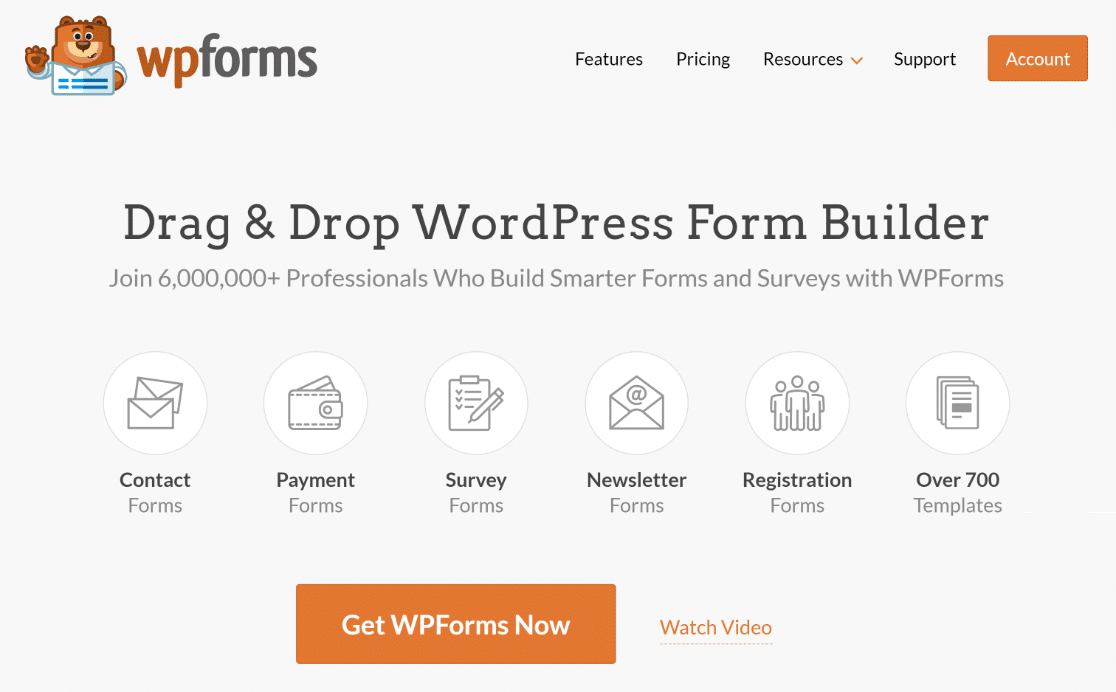 WordPress.org Rating: 4.9/5
Active Installs: 6+ Million
WPForms is a user-friendly contact form plugin that offers an intuitive drag-and-drop form builder and robust GDPR compliance features.
The plugin provides a straightforward way to build GDPR-compliant contact forms, ensuring user data protection at every step.
It also facilitates the addition of a GDPR agreement field to your forms, enabling users to provide explicit consent.
Our Experience
In our hands-on experience with WPForms, we found it incredibly straightforward to implement GDPR compliance.
The plugin also supports form submissions without storing them in your WordPress database, an extra step towards ensuring users' privacy.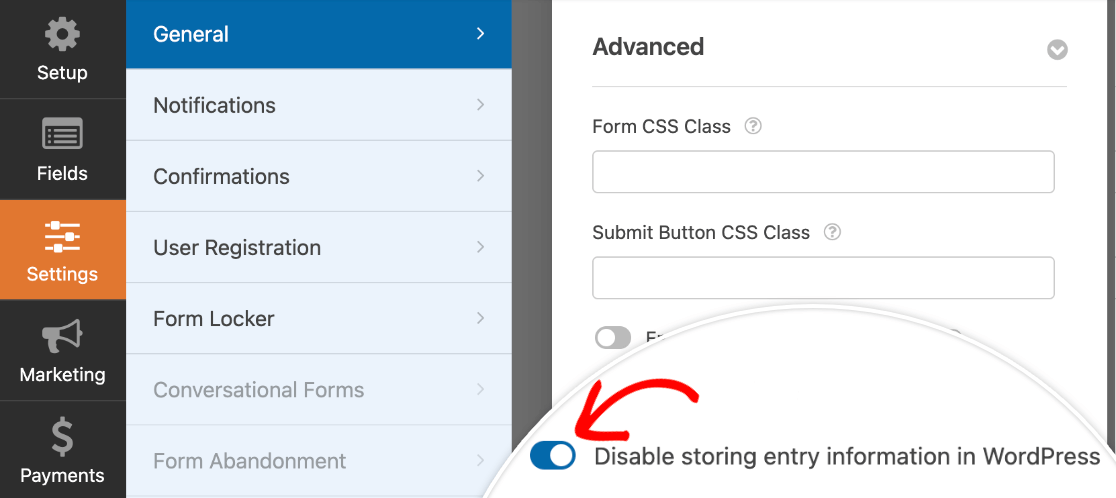 The user interface is instinctive, which makes the creation and customization of GDPR-friendly contact forms a breeze.
We were also particularly impressed with the GDPR Agreement field, which allowed us to state our data handling practices clearly and ensured users knew exactly what they were consenting to.

What We Liked
The user-friendliness of the plugin is worth mentioning. Despite its advanced GDPR features, WPForms remained easy to navigate and use.
The drag-and-drop form builder, combined with the GDPR Enhancement features, made the task of creating compliant contact forms efficient and straightforward.
The option to disable User Cookies and User Details was also beneficial. It saved us from unnecessary data management hassles and potential GDPR violations.
This feature is especially beneficial for websites that don't necessarily need to store user data after form submission, minimizing any risk of data breaches.

Pricing and Plans
WPForms is available in both free and premium versions. The free version includes basic form creation features and GDPR enhancements. Fore more advanced features, you can sign up for their premium plan starting from $49.50/year.
Verdict
All in all, WPForms is a powerful GDPR plugin for WordPress users looking to create compliant contact forms effortlessly. The GDPR customization options further enhance its value, allowing users to fine-tune their data management.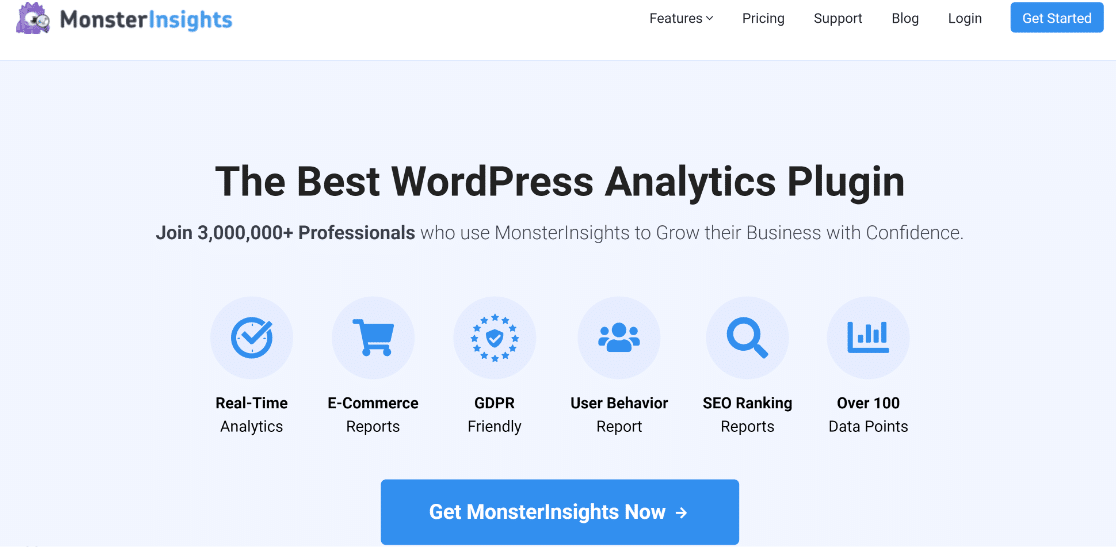 WordPress.org Rating: 4.6/5
Active Installs: 3+ Million
MonsterInsights is the best Google Analytics plugin for WordPress, which also offers options to make your website data tracking compliant with GDPR seamlessly.
Making Google Analytics compliant with stringent data protection regulations like GDPR, PECR, and CCPA is as easy as installing the EU Compliance addon.
This gives you customizable GDPR options that allow for easy compliance, disabling personal data tracking without losing valuable insights.
Our Experience
Using MonsterInsights has made our GDPR compliance journey incredibly smooth. Installation and setup were straightforward.
The plugin's ability to anonymize user data before it reaches the server gave us peace of mind that we're meeting GDPR obligations while gathering valuable website data.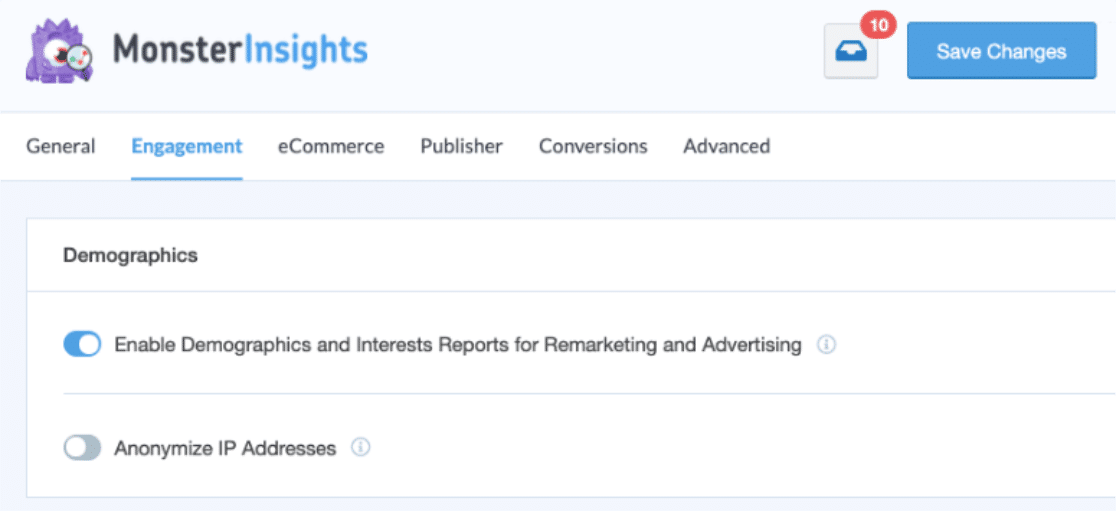 We also appreciated the plugin's emphasis on data minimization, significantly reducing our data management burden.
The EU Compliance addon proved to be an invaluable toolkit, allowing us to tailor our compliance efforts without sacrificing crucial data analytics.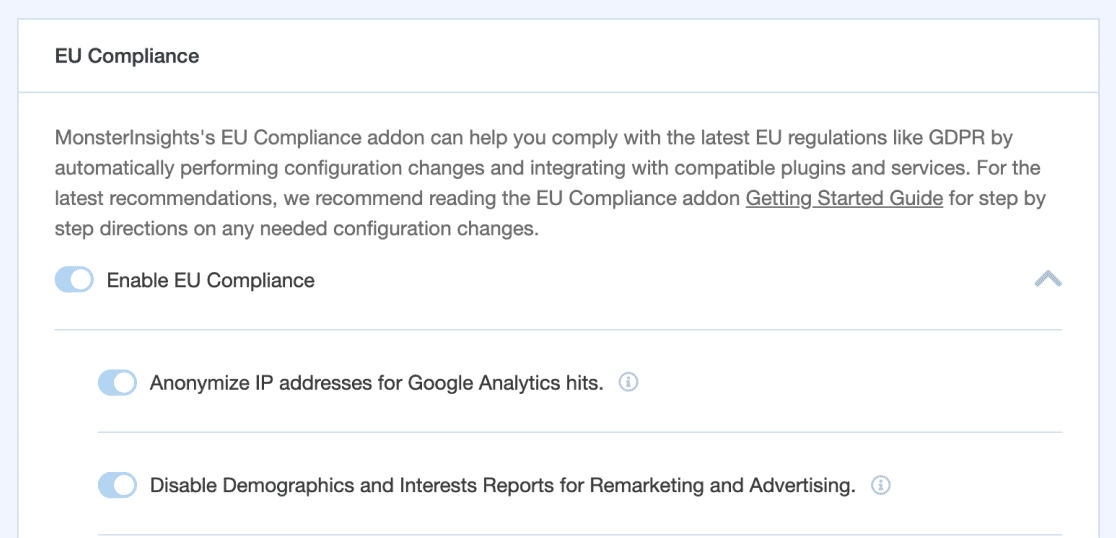 What We Liked
MonsterInsights has made it possible for users with limited technical skills to achieve GDPR compliance without any hassles.
The automated consent tracking feature via Google AMP made it easier to adhere to the "right to be informed" and "right to restrict processing" principles of GDPR.
As a result, until and unless a user themselves does not provide their consent, no data of theirs will show up in the Analytics report from MonsterInsights.

This, along with other features of the EU Compliance addon, ensures that while your website gathers analytical insights, it remains fully compliant with user privacy laws.
You can disable UserID tracking, Author tracking, and Demographics & Interests reports, all while enabling ga() Compatibility and Integration with the Cookiebot or Cookie Notice plugins, which are also mentioned in this list.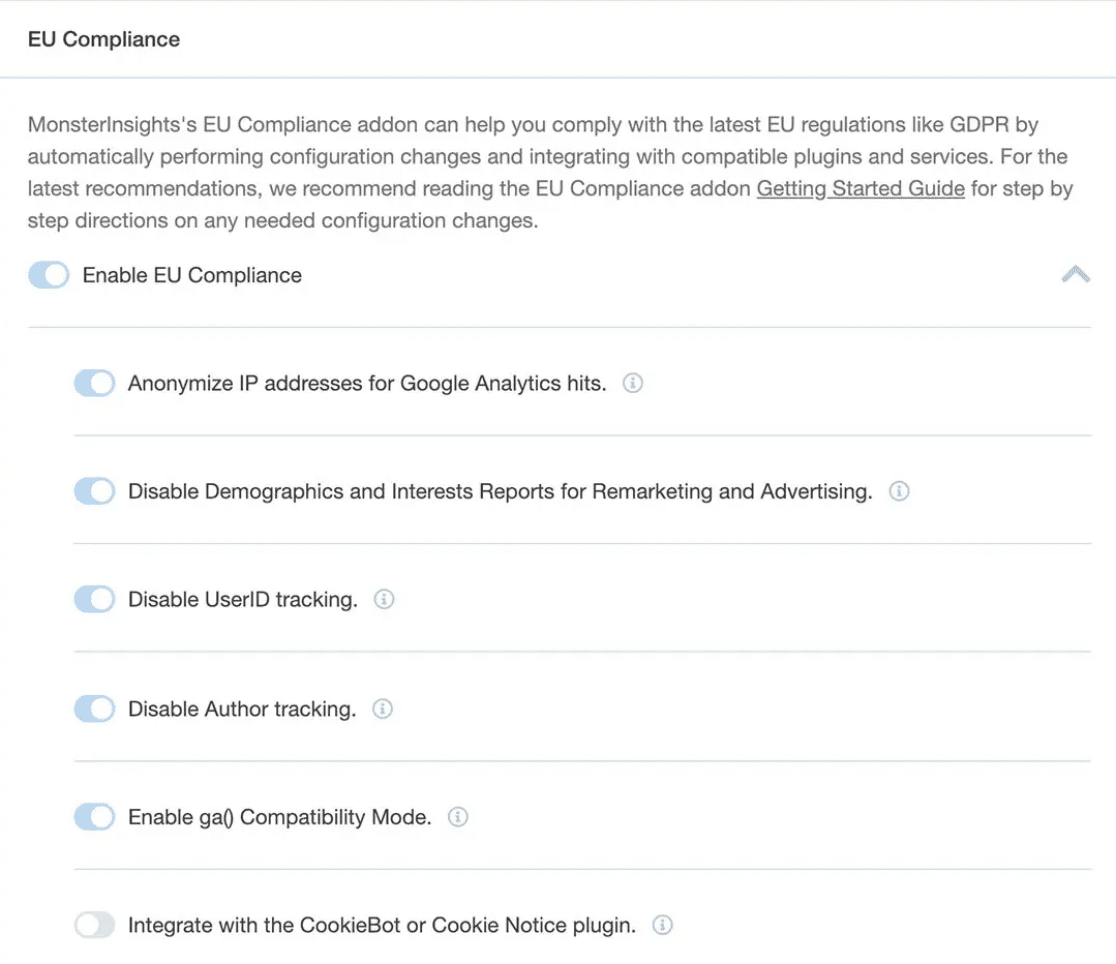 Pricing and Plans
MonsterInsights offers a free version with basic tracking features, ideal for beginners. If you want to avail more advanced features to make your website data tracking compliant with GDPR seamlessly, premium plans start at $99.50/year.
Verdict
In our view, MonsterInsights is an effective solution for WordPress websites aiming to achieve GDPR compliance. Its broad approach to managing data ensures your website remains within the bounds of EU law.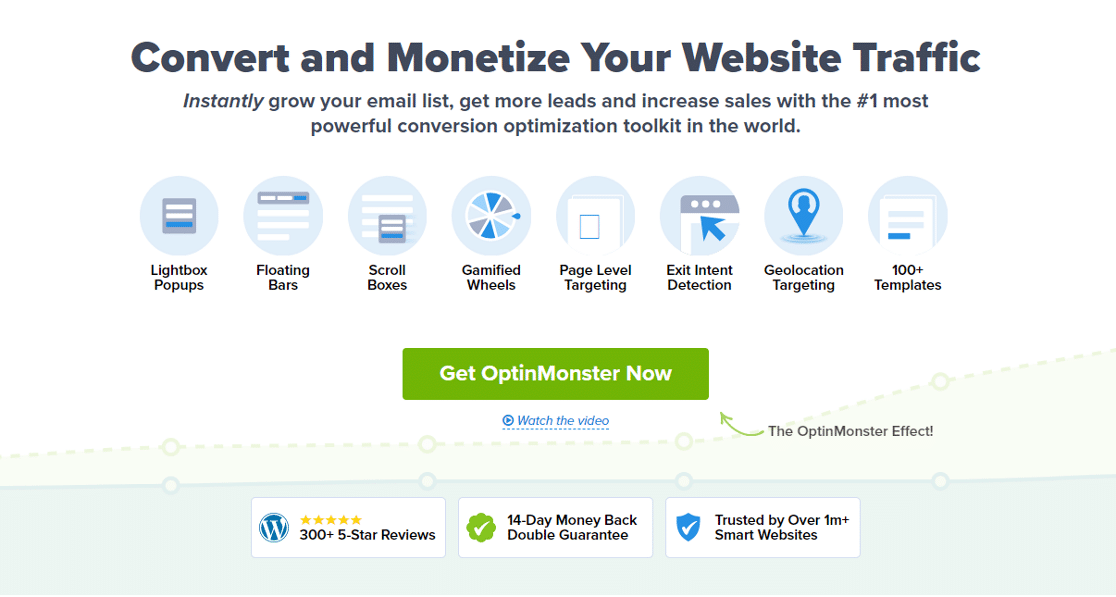 WordPress.org Rating: 4.6/5
Active Installs: 3+ Million
OptinMonster is the best popup creator for WordPress and a lead generation tool that offers plenty of GDPR compliance options.
Its versatility allows you to deploy lightbox popups, fullscreen welcome mats, floating bars, and opt-in forms, all of which can be made GDPR compliant.
Our Experience
The integration with WordPress was seamless, and setting up GDPR-compliant forms was a breeze thanks to the explicit GDPR consent checkbox feature.
This enabled us to segment our audience based on their consent, which opened up possibilities for more targeted and compliant campaigns.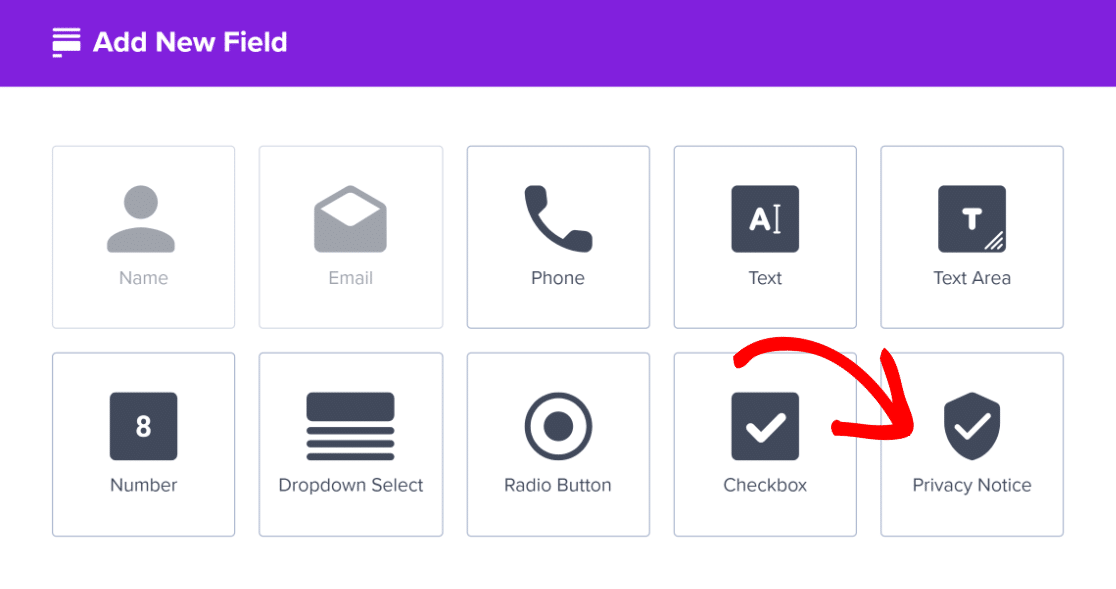 Using this Privacy Notice, you can customize lightbox popups, fullscreen welcome mats, floating bars, and more to be made GDPR compliant.
The best part is you can even customize this Privacy Notice to state data handling practices clearly to ensure users know exactly what they are consenting to.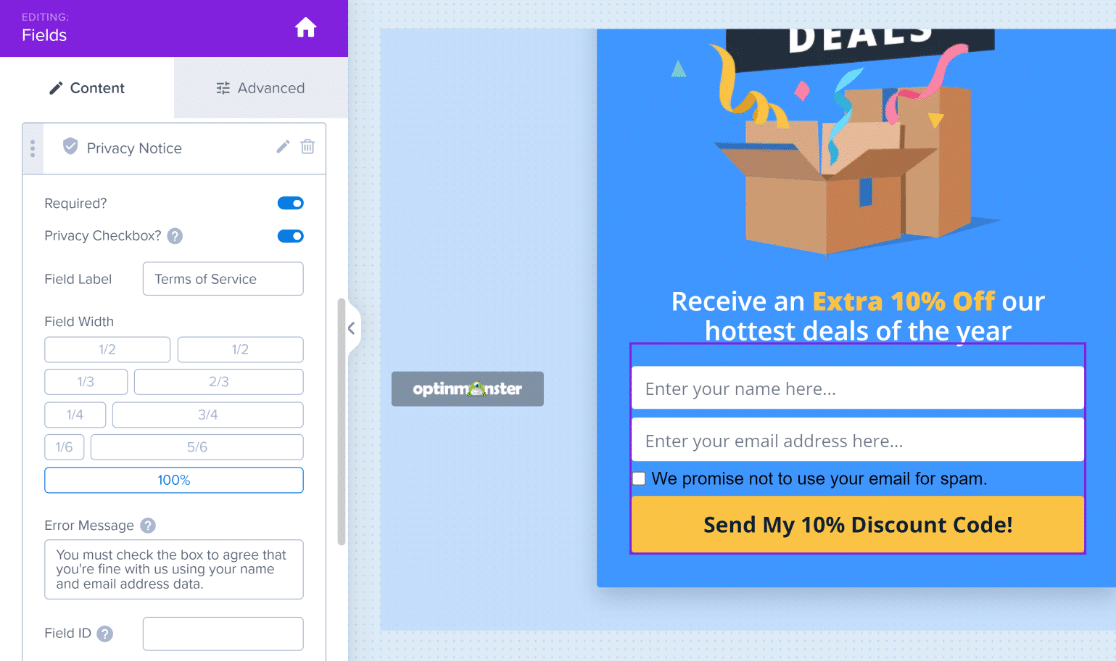 What We Liked
The first thing that struck us about OptinMonster is its Privacy Notice consent checkbox, a simple yet efficient tool for ensuring compliance.
We also appreciated the geo-targeting feature, which allowed us to customize the user experience based on their location.
This feature is particularly useful in ensuring that your data collection is compliant, especially for visitors from the EU.
You can easily configure any popup or opt-in form to a visitor's location and show them if your visitor "Is In the European Region."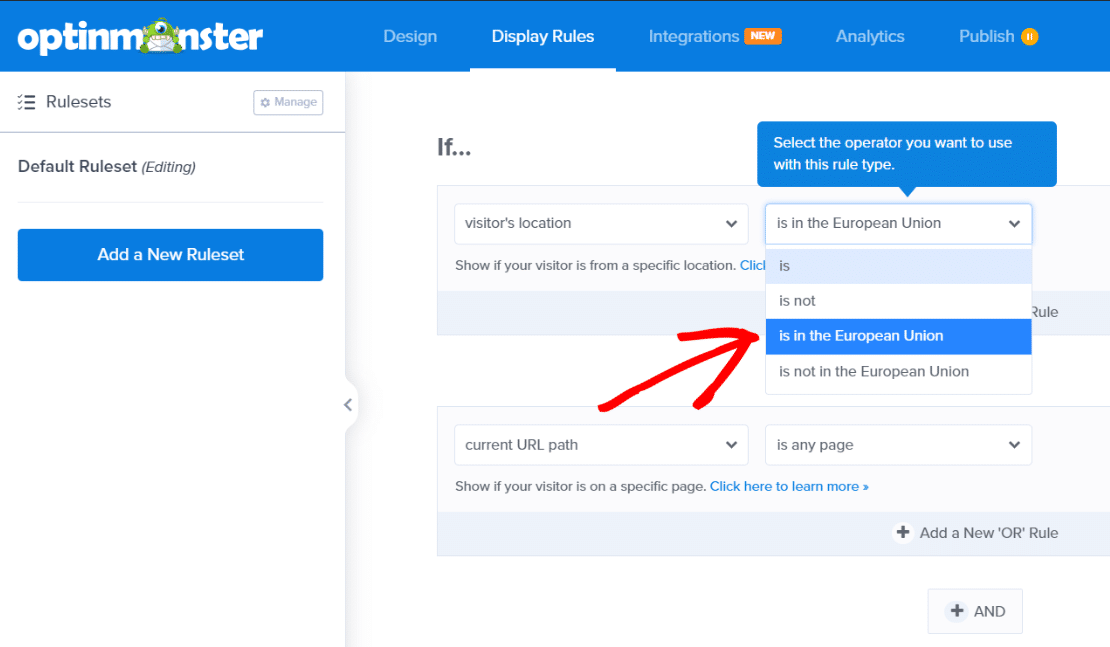 Pricing and Plans
OptinMonster offers a range of pricing options, designed to suit varying needs and budgets. Their Basic Plan starts at $9/month. This includes all the necessary GDPR compliance features, such as the consent checkbox and basic popup triggers.
Verdict
OptinMonster is a comprehensive solution for lead generation and GDPR-compliant popups and forms. Its features, like the GDPR consent checkbox, geo-targeting, and more, make it well worth the money!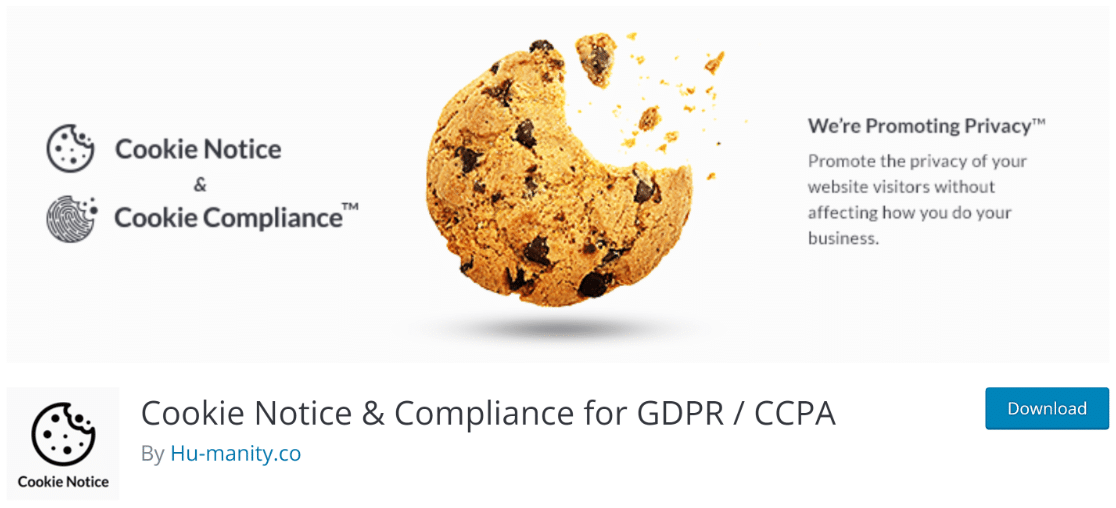 WordPress.org Rating: 4.8/5
Active Installs: 1+ Million
The Cookie Notice for GDPR & CCPA plugin is an essential tool for WordPress users needing to fulfill the consent requirements of both GDPR and CCPA.
At its core, it allows you to display a clear cookie consent notification on your website, ensuring your users are informed about your use of cookies.
Our Experience
We had the plugin installed and running in just a few minutes, and it was straightforward to configure it to match our website's style and colors.
The plugin is fully customizable, allowing you to modify the message, button labels, and even the cookie expiry to suit the design and tone of your website.
From setting the cookie expiry date to managing the scripts blocked until user consent, the granular control over cookie management was also incredible.
We also appreciated the availability of a Consent Analytics dashboard that allows website administrators to view all consent activity.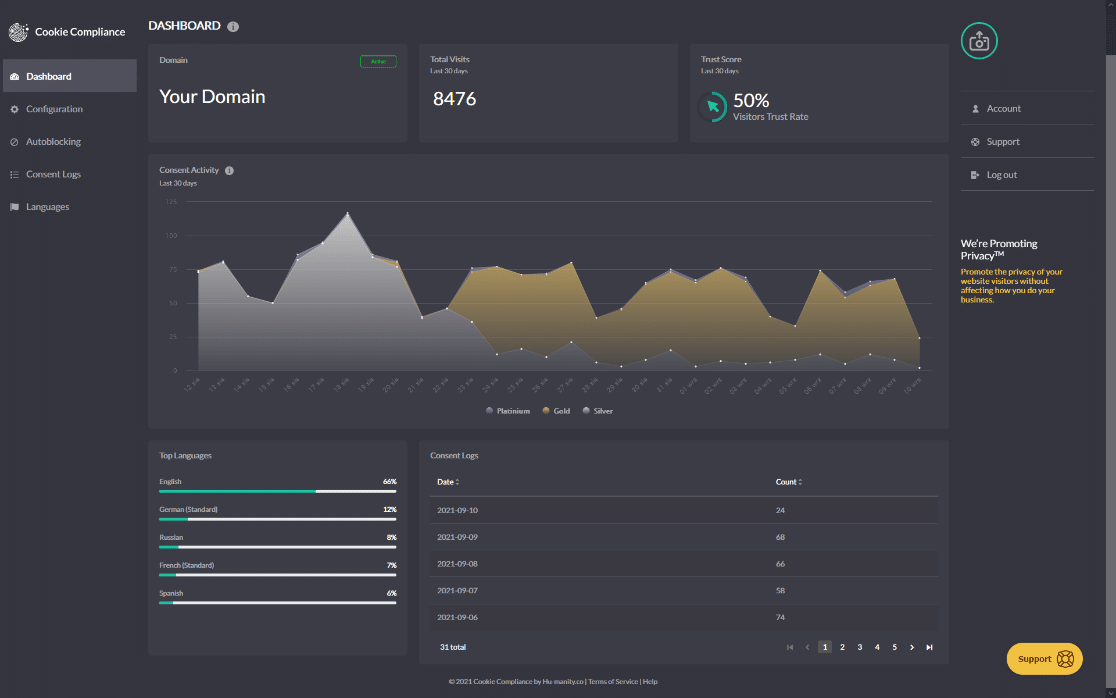 What We Liked
The plugin's ability to block 3rd party non-functional cookies until user consent was a standout feature for us.
Moreover, it offers full WPML and Polylang compatibility, ensuring your cookie notice can be translated into any language.
There is also a Compliance status bar, which lets you know what compliance features are active and inactive. This is quite helpful for novice users.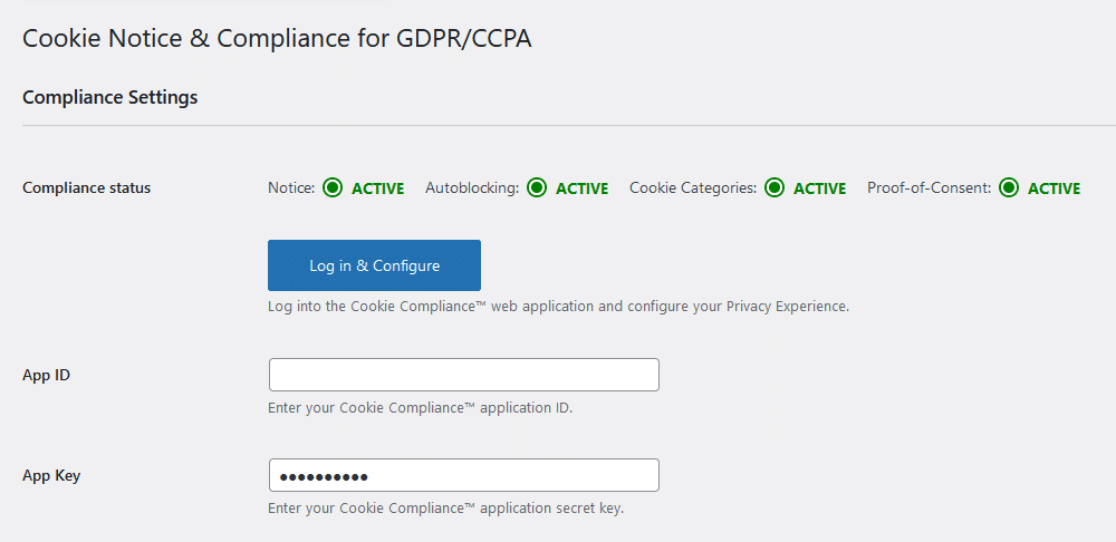 Pricing and Plans
One of the best parts about Cookie Notice for GDPR & CCPA is that it's free. You can download it straight from the WordPress plugins directory. To avail more features, you can also upgrade to their Professional plan starting at $149.50/year.
Verdict
If you run a WordPress site and want to increase your compliance with GDPR and CCPA without diving into complex code, Cookie Notice is a straightforward solution to one of the most crucial GDPR requirements: the right to be informed.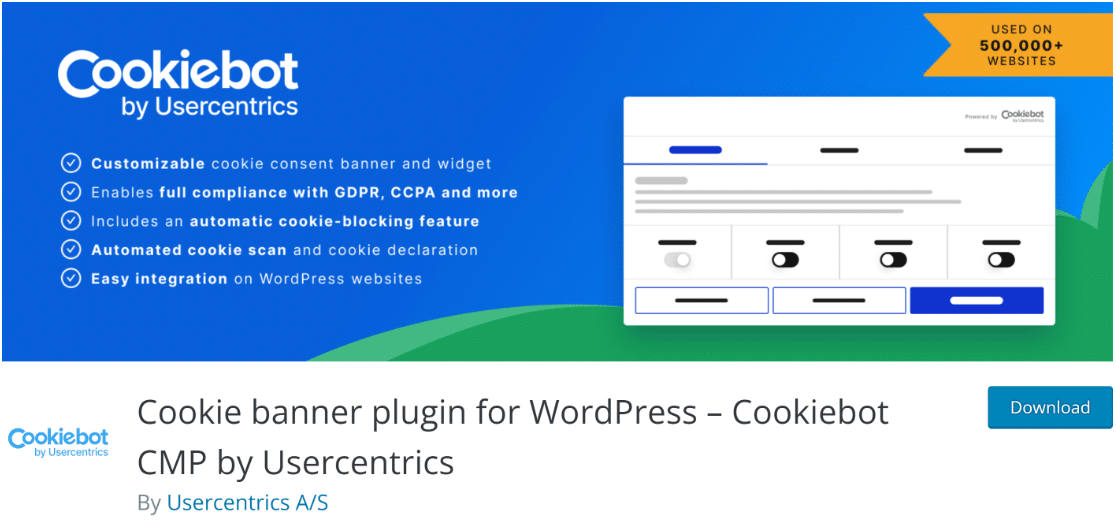 WordPress.org Rating: 4.4/5
Active Installs: 100,000+
Cookiebot is a straightforward GDPR plugin that primarily manages cookies and online tracking on your WordPress website.
As the name suggests, it doesn't overcomplicate stuff and primarily focuses on controlling cookies in accordance with GDPR guidelines.
Our Experience
The plugin employs a highly effective consent management system. It ensures that users have given their informed consent before any non-essential cookies are processed.
Cookiebot even supports a consent log where all user consents are stored, providing the necessary documentation for GDPR compliance.
There is even an Automatic cookie-blocking mode that prevents any cookies from being placed on the user's device (except those deemed "strictly necessary") until the user specifically allows them.

What We Liked
We were particularly impressed with Cookiebot's automatic categorization of cookies, which proved to be a significant time saver.
Additionally, the consent log functionality was a critical feature. It offered an easy way to document proof of user consent, which is a critical aspect of GDPR compliance.
Meanwhile, modifying your consent banner, privacy trigger, declaration, content, and scripts from a single location was indispensable.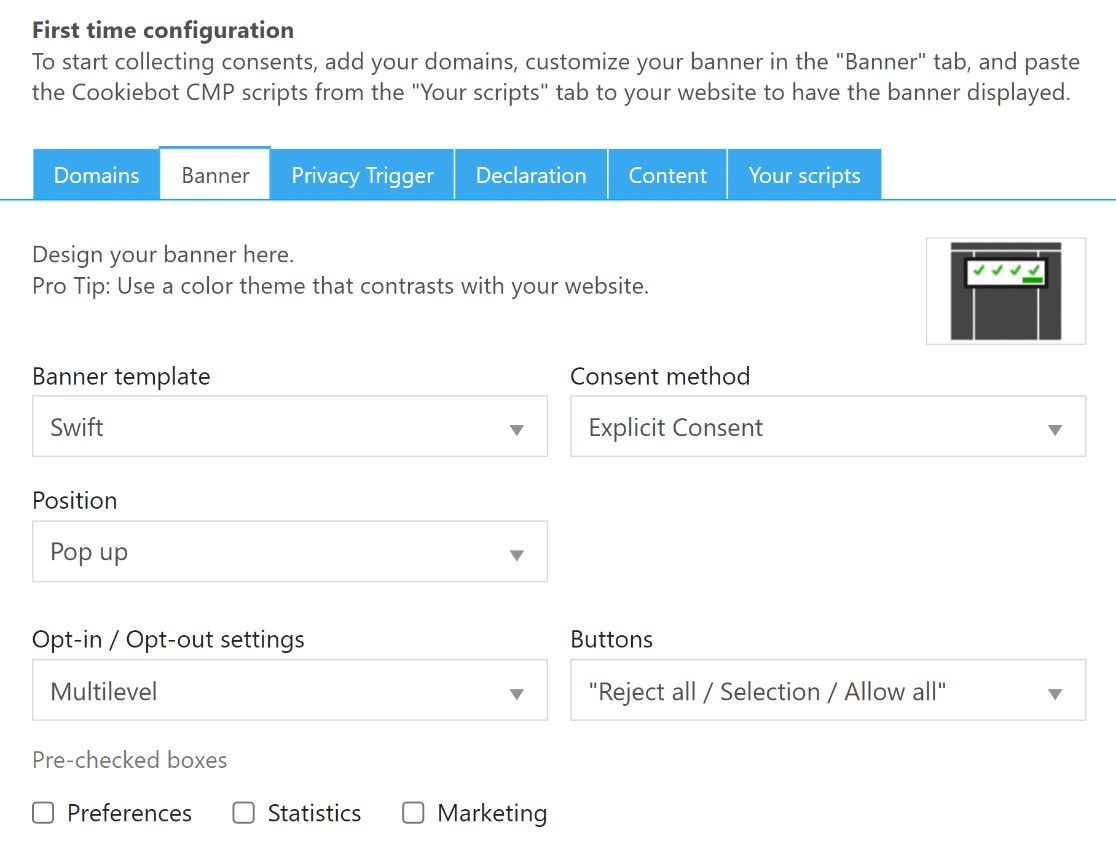 Pricing and Plans
Cookiebot offers a free plan suitable for small websites with up to 100 pages. It includes all basic features, such as cookie control and consent logging. For larger websites, there's a subscription-based pricing model that starts at €12.
Verdict
Cookiebot is an excellent choice for websites seeking robust GDPR compliance, primarily focusing on cookie control. Its consent log and automatic categorization features can benefit any WordPress website.
WordPress.org Rating: 4.8/5
Active Installs: 1+ Million
Like Cookiebot and Cookie Notice, the GDPR Cookie Consent plugin helps configure your cookie settings to be GDPA and CCPA-compliant.
With this plugin, it is incredibly straightforward to customize your cookie notice, banner, and policy to match your website's design aesthetics.
Our Experience
Using the GDPR Cookie Consent plugin was incredibly easy, as it allows you to enable explicit consent, where users must click "I Agree" to ensure GDPR compliance.
The plugin also supports CCPA compliance by allowing you to display a 'Do Not Sell My Personal Information' link to users from California if needed.
We also liked how the plugin allowed us to generate the necessary legal pages like the Privacy Policy and Cookie Policy, saving us significant time.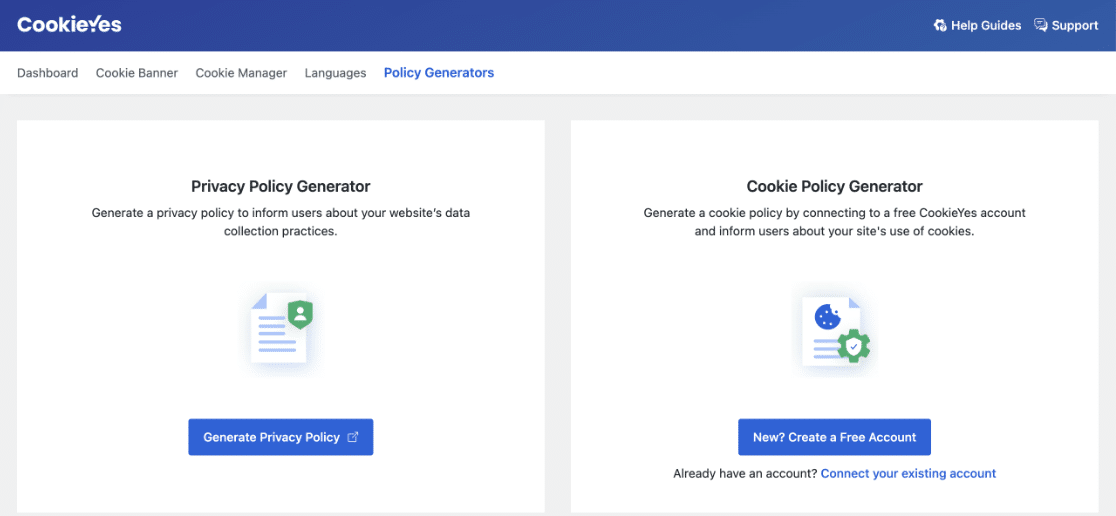 What We Liked
We appreciated the GDPR Cookie Consent plugin's automatic cookie scan feature, which identifies and categorizes cookies on your website.
The plugin's customization options were another point of appreciation. The flexibility to tailor the cookie banner and settings according to our website's design is very useful.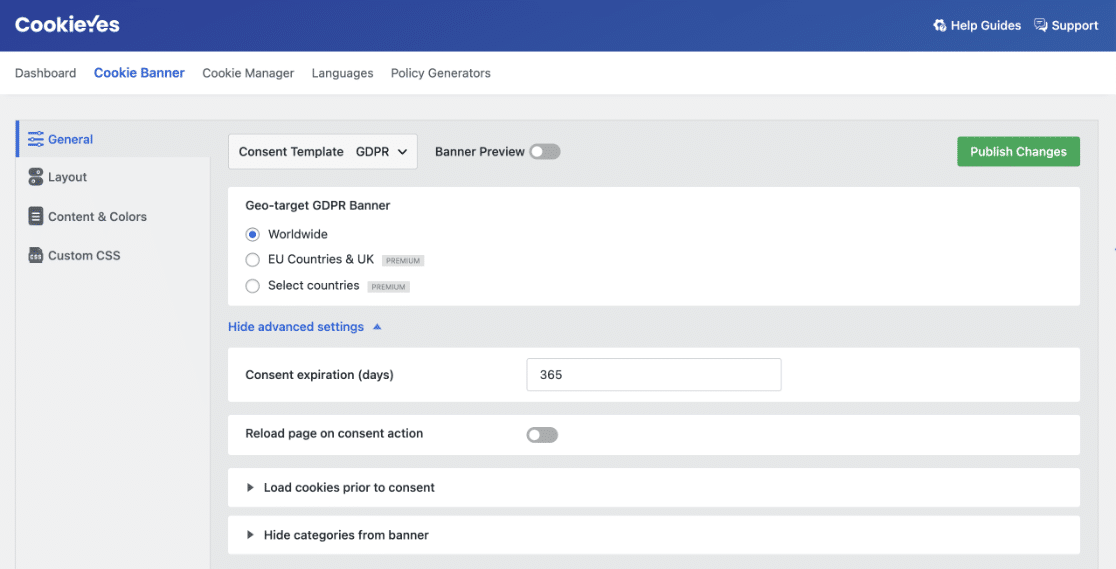 Pricing and Plans
The GDPR Cookie Consent plugin offers a free version with basic features. For features like automatic cookie scan, IP-based exclusion, and cookie policy generator, you must upgrade to their premium plan, which starts at $69/year.
Verdict
For those seeking a flexible and comprehensive solution for GDPR and CCPA compliance, the GDPR Cookie Consent plugin is an excellent choice. Its automatic cookie scan and customization options make it a standout tool.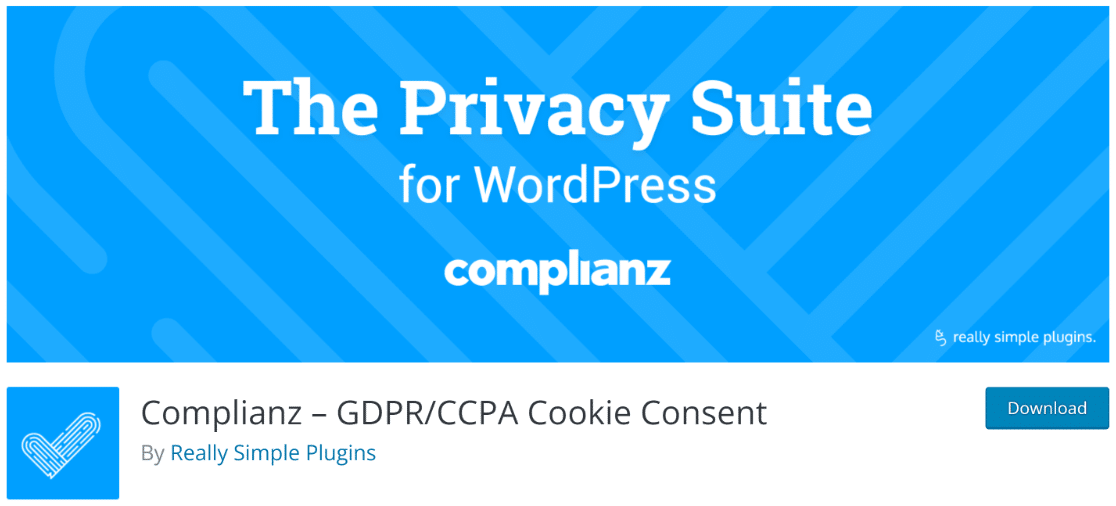 WordPress.org Rating: 4.9/5
Active Installs: 700,000+
With Complianz, you can generate cookie notices for the European Union, the United Kingdom, the United States, and Canada.
You can put it to use to make a "cookie wall" in compliance with GDPR and create other banners that adjust your site's privacy requirements based on the user's location.
Our Experience
During our use, we appreciated how Complianz automatically generated necessary legal pages like the Cookie Policy and Privacy Statement, saving us significant time.
We also noticed these pages were tailored to our specific website settings, making the compliance process even more streamlined.
The plugin also allowed us to efficiently manage Cookie Consent by presenting numerous options like Functional, Statistics, and Marketing.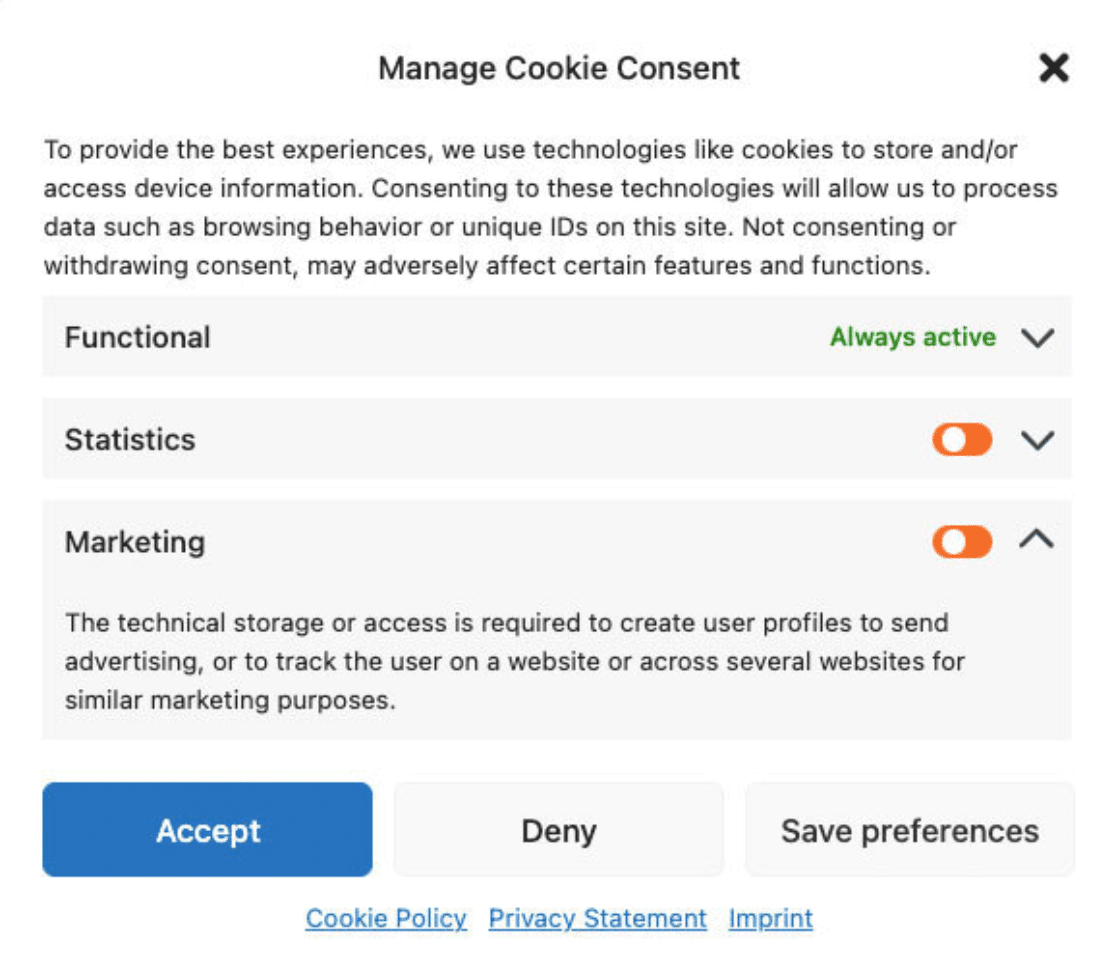 What We Liked
We were particularly impressed with Complianz's cookie consent management that ensures your website only places cookies after visitors have given explicit consent.
The GeoIP determination was another feature we valued. Depending on the user's location, Complianz adjusts the cookie notice and consent requirements.
Finally, the A/B Testing feature is a fantastic tool to test different versions of your cookie notice to see which results in more acceptance.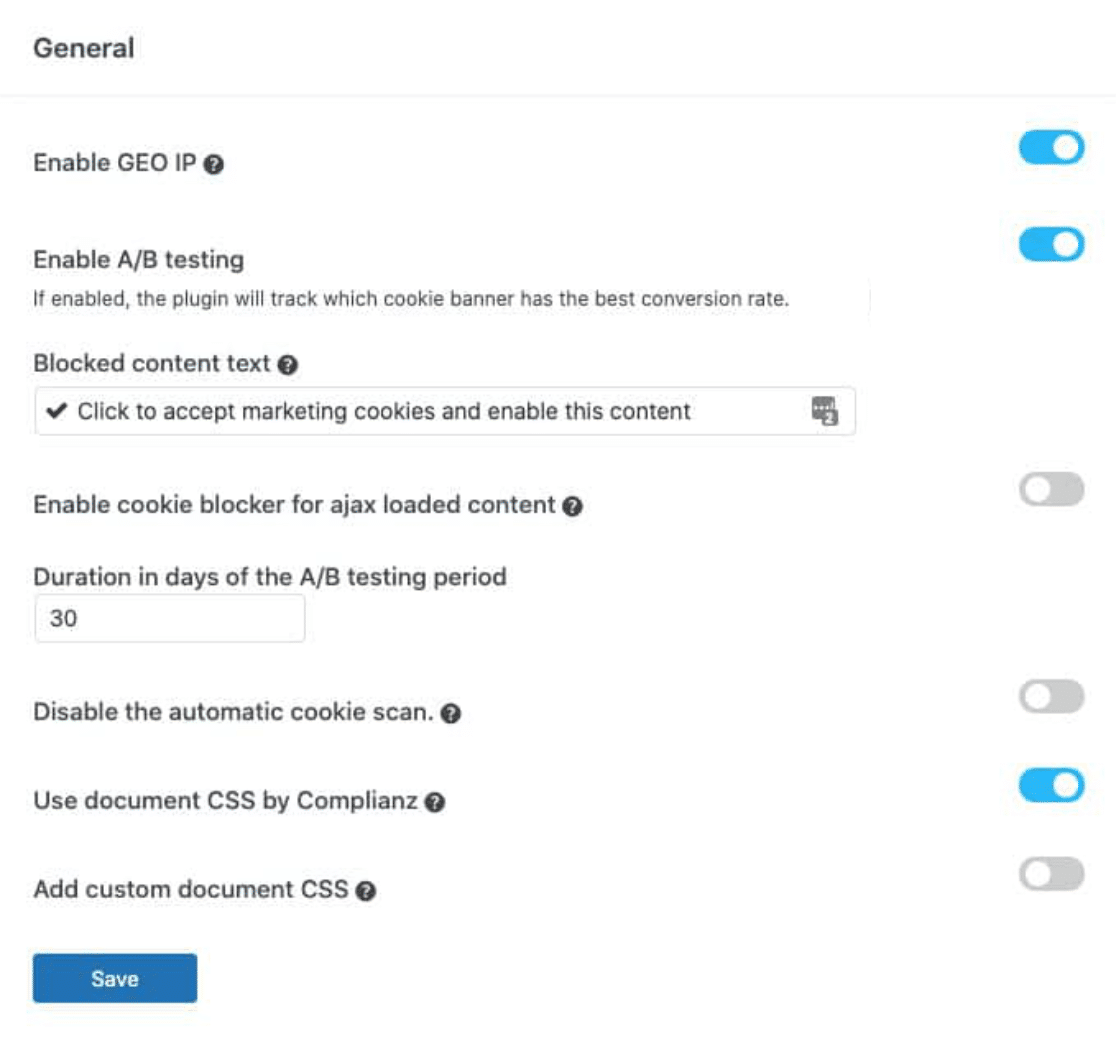 Pricing and Plans
Complianz offers both a free version and a premium version. The premium version starts at $49/year for one website and includes GeoIP determination, A/B testing for cookie banners, and a legal document portal.
Verdict
Complianz is an excellent GDPR plugin for WordPress. Its automated features, integration options, and GeoIP determination make it a powerful tool for GDPR compliance for those not well-versed with the law.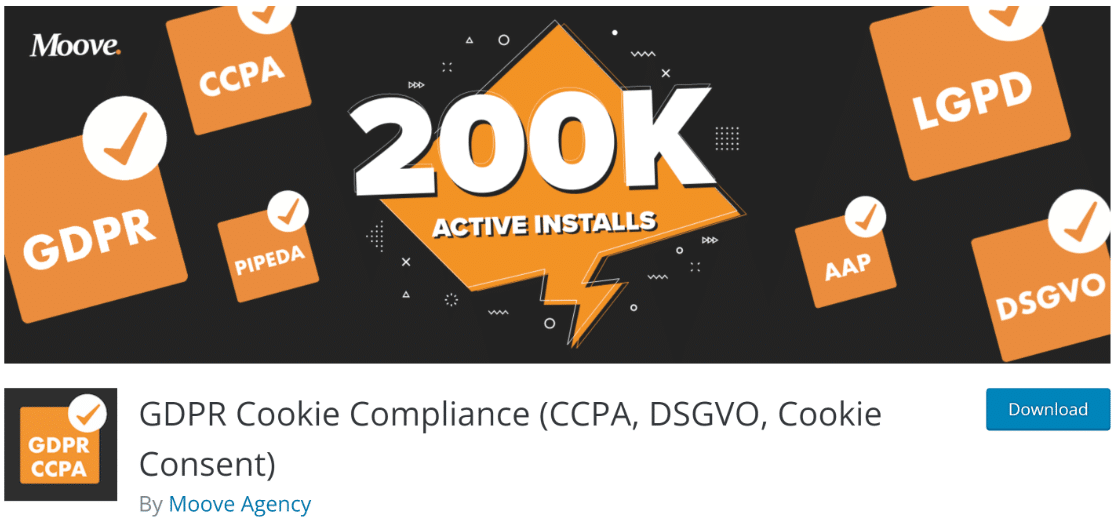 WordPress.org Rating: 4.5/5
Active Installs: 200,000+
The GDPR Cookie Compliance (Moove) plugin is a useful plugin for Website owners who want to let users enable or disable cookies on their sites.
It also provides a straightforward interface for managing cookie categories, making it easy for website visitors to understand and manage their cookie preferences.
Our Experience
We appreciated the option for website visitors to accept or reject cookies individually. This flexibility allows for greater trust between the website and its visitors.
We also liked that the cookie permission notice is completely editable and modifiable, so you can use whatever text, logo, colors, and fonts you want.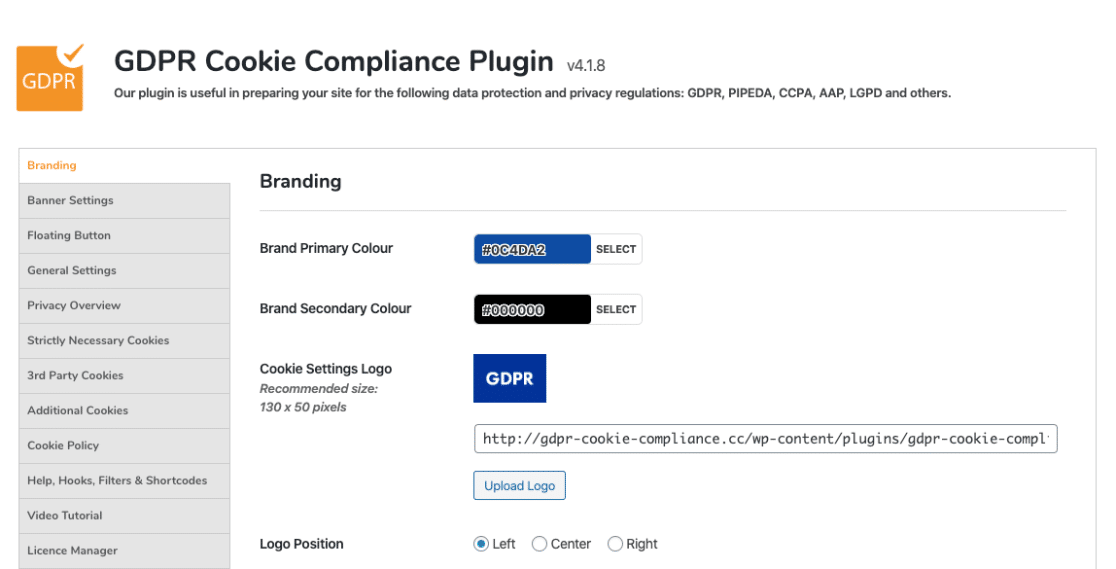 What We Liked
The ability to tweak the look and feel of cookie notifications to match our website's aesthetics is a valuable feature.
Also, the multi-language and multisite support features offer a significant advantage to ensure websites remain GDPR-compliant, regardless of the visitor's geolocation.
There is also a Privacy Overview menu that allows administrators to configure Strictly Necessary Cookies, 3rd party cookies, and any additional cookies a website uses.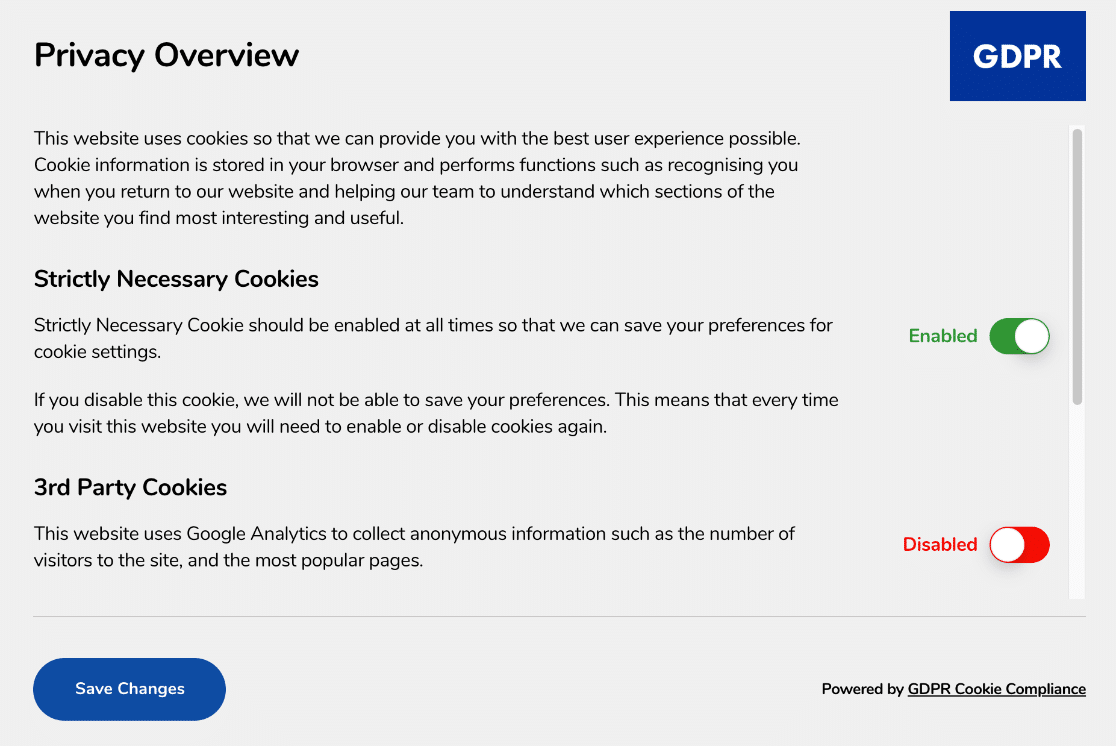 Pricing and Plans
The GDPR Cookie Compliance plugin offers a free version that covers essential features. For more advanced features like multisite support, cookie banner customization, and premium updates, it costs £59 (GBP) per year.
Verdict
Whether you're running a small blog or a multi-language business site, GDPR Cookie Compliance (Moove) provides a reliable pathway towards GDPR disclaimers through its cookie categories, preferences, and banner customization features.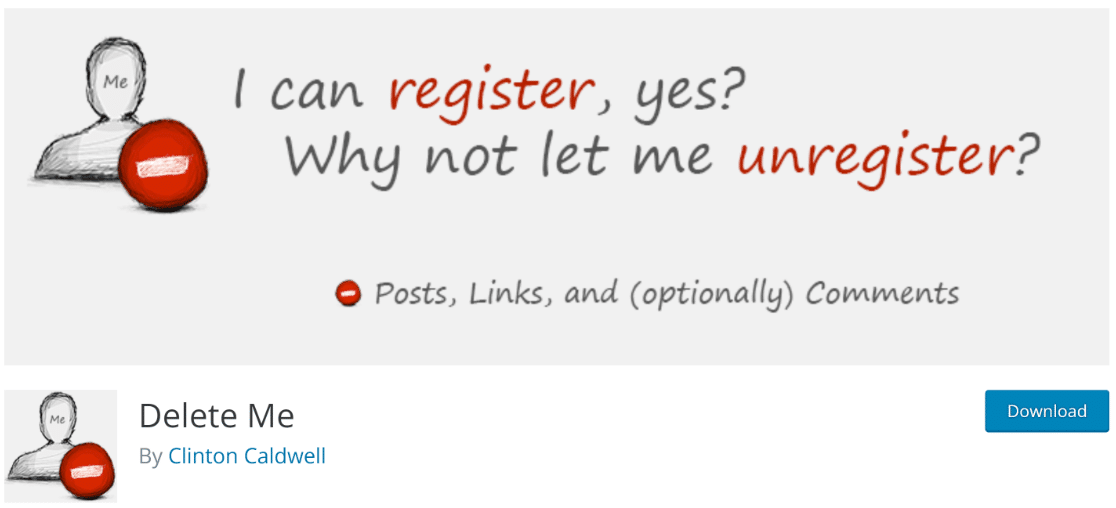 WordPress.org Rating: 5/5
Active Installs: 10,000+
The Delete Me plugin caters to the specific user need for the "right to erasure" or "right to be deleted" as part of the GDPR compliance laws.
Therefore, as the name implies, the plugin primarily gives website visitors and users the option to remove their own information at any time.
Our Experience
Delete Me is designed to be simple and user-friendly. With the plugin, we could easily control who can delete their accounts by user roles.
We also appreciated the ability to use a shortcode in any post or page to add a "Delete Me" button to self-delete posts, comments, and links, if required.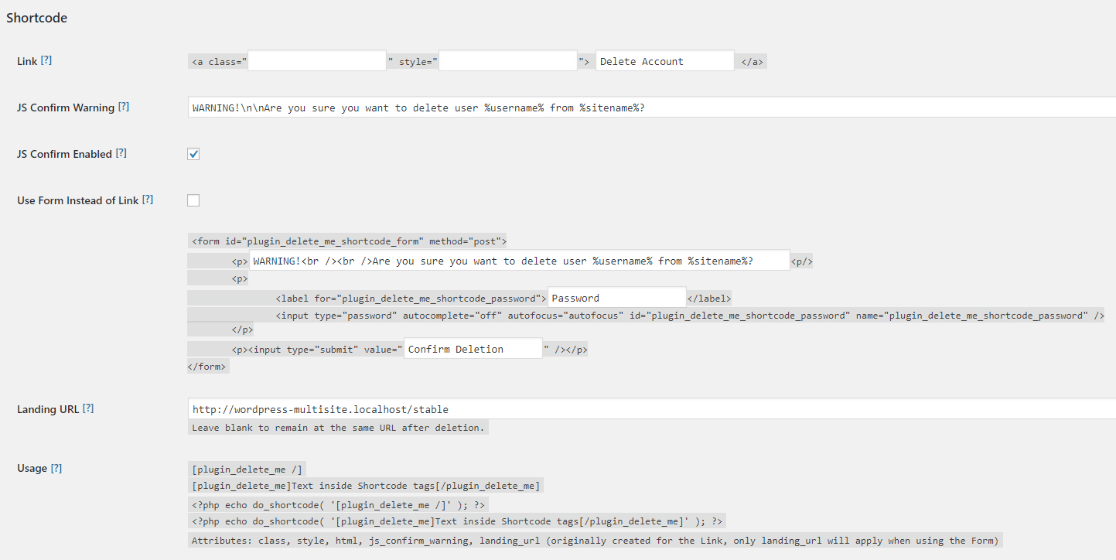 What We Liked
The plugin performs consistently well in allowing users to easily delete their accounts, which are removed from the WordPress database immediately.
This feature makes it a great tool for community sites, as it provides a positive experience for the user and lessens the data management burden on administrators.
We also liked how site administrators can configure which users can delete their profiles on their role through simple checkboxes.

Pricing and Plans
Delete Me is a free-to-use plugin, making it an excellent choice for those seeking a cost-effective solution to meet GDPR's right to erasure.
Verdict
Delete Me accomplishes its goals with grace. If you want to allow your users to erase their accounts and bring your site into compliance with GDPR's right to erasure, Delete Me is an excellent plugin.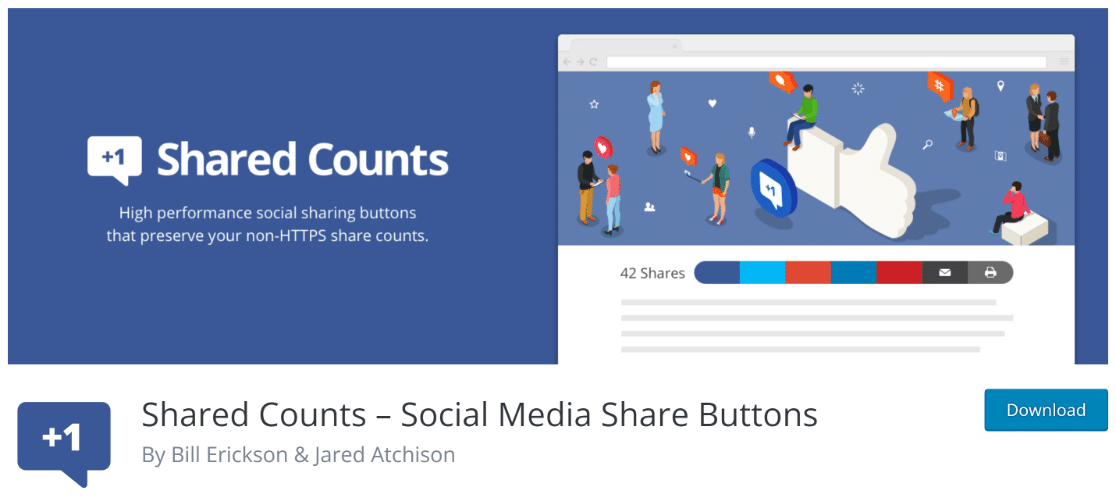 WordPress.org Rating: 4.9/5
Active Installs: 10,000+
Shared Counts is a WordPress plugin that offers a blend of share buttons and social proofing for your website while ensuring GDPR compliance.
Recognizing the importance of maintaining user privacy and being GDPR-compliant, this plugin avoids cookies, tracking scripts, or storing user data.
Our Experience
In light of GDPR, it doesn't use 3rd party JavaScript, so Shared Counts significantly reduces privacy concerns and data potentially shared without consent.
This plugin also provides an easy and seamless way to add various popular share buttons on your site without affecting its loading speed.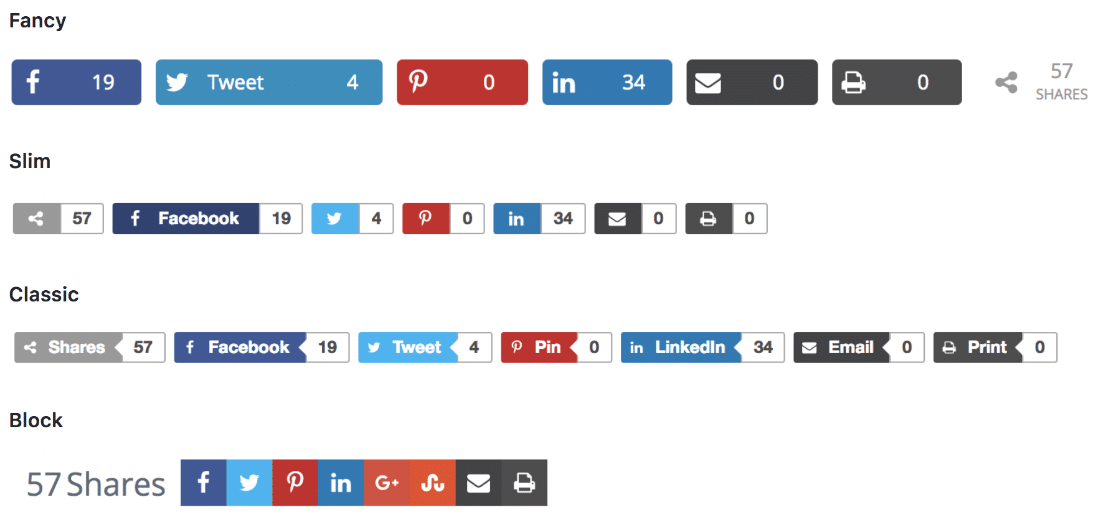 What We Liked
The no-cookies and no-tracking policy of Shared Counts stood out as an admirable commitment to data privacy.
The Cache Method proved to be a pivotal feature in our liking for Shared Counts, as it ensures that API calls are cached.
We were also impressed by the variety of share button styles and placement options Shared Counts offers to maintain the aesthetic integrity of our site.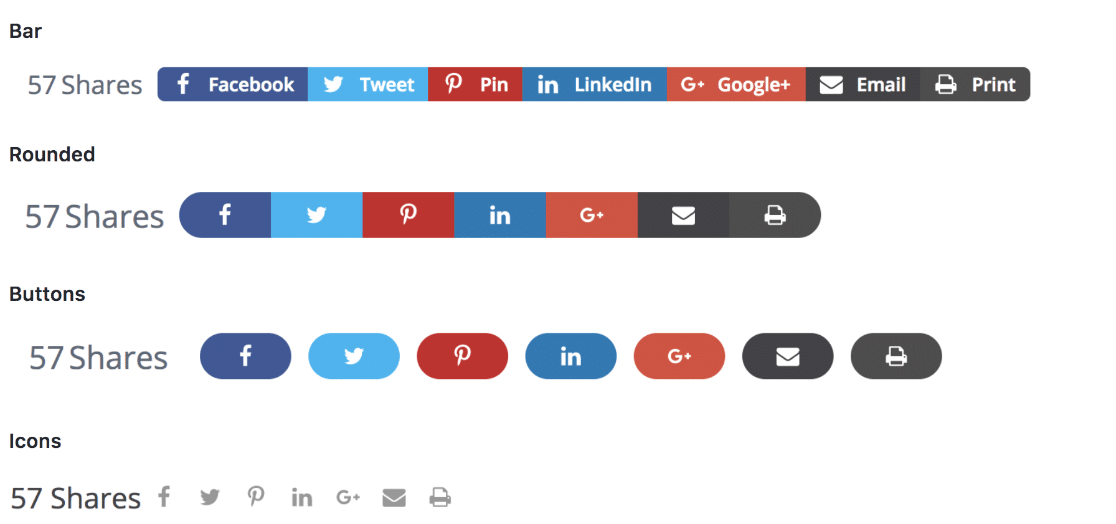 Pricing and Plans
Shared Counts is a free plugin with all basic features, including multiple button styles, placement options, and the all-important Cache Method.
Verdict
If you're looking for a WordPress plugin that ensures GDPR compliance while offering a solid social sharing solution, Shared Counts is a great option. Its privacy-centric approach makes it a trustworthy tool for websites dealing with EU visitors.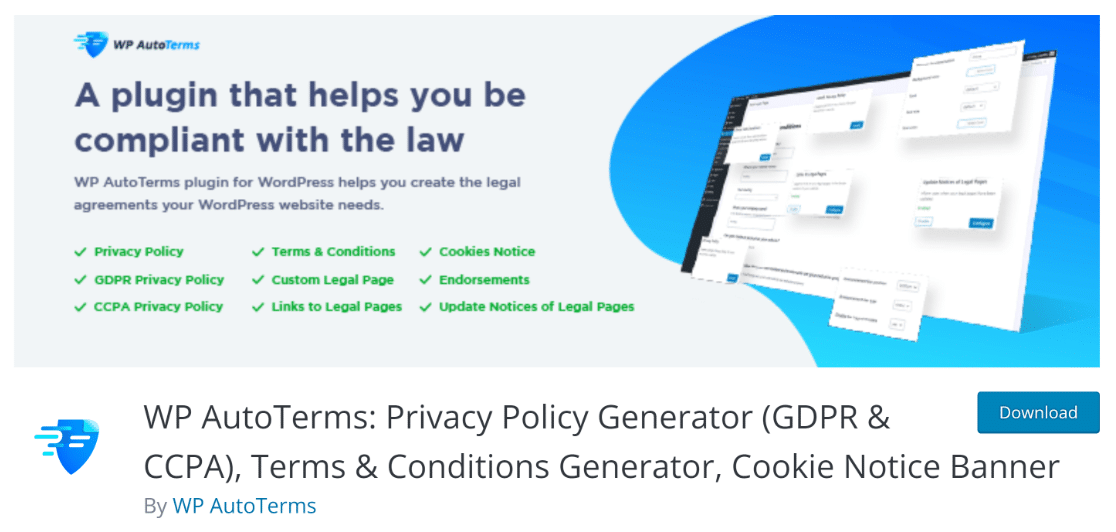 WordPress.org Rating: 4.8/5
Active Installs: 100,000+
WP AutoTerms is a WordPress plugin that primarily focuses on helping website owners create legal pages and agreements.
The plugin simplifies GDPR compliance by including a cookies policy section in its privacy policy templates.
Our Experience
The easy-to-use interface makes it simple to create legal pages, even for those with limited technical knowledge.
We appreciated the pre-designed templates for Privacy Policies and Terms & Conditions. Not only did they save us time, but helped us with GDPR compliance.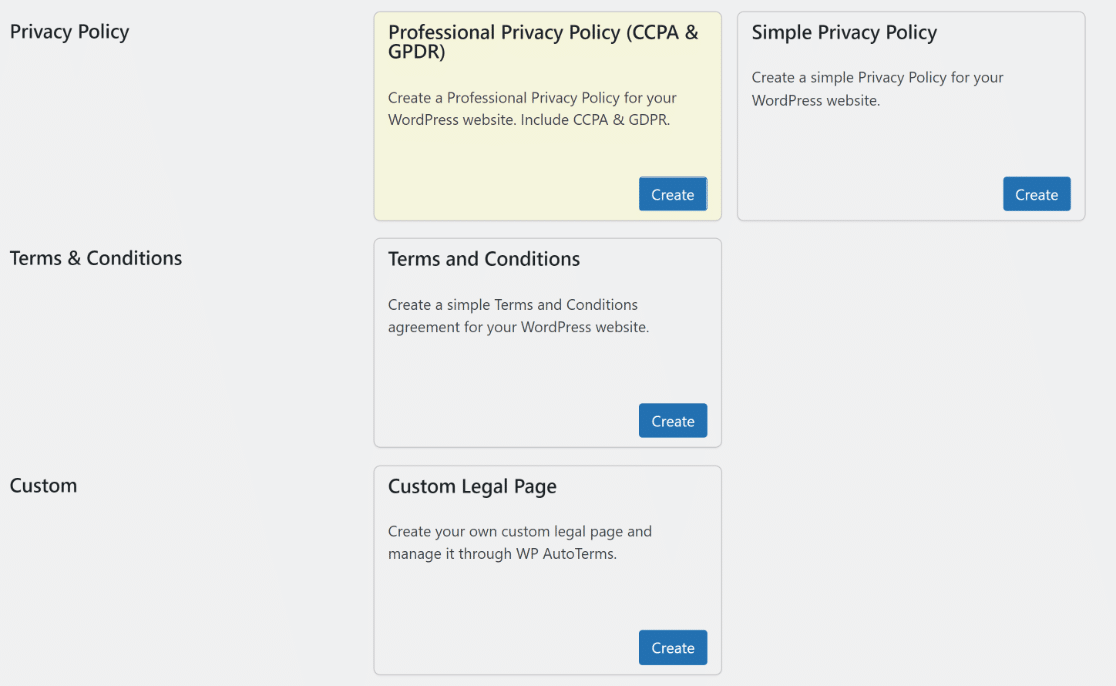 What We Liked
We liked the flexibility offered by WP AutoTerms. It provides an array of customizability options for your legal pages.
Staying abreast with law changes can be quite daunting, but WP AutoTerms takes that responsibility by offering an automatic page updates feature.
Pricing and Plans
With the free version, you can make a basic Privacy Policy. The advanced plan, for which you'll pay a one-time fee of $39, enables you to draft policies that comply with GDPR and CCPA laws.
Verdict
In our view, WP AutoTerms is a good option when it comes to GDPR compliance. It provides a user-friendly platform for creating legal pages, making GDPR compliance achievable without technical knowledge.
FAQs
There are a few common questions on GDPR that we frequently hear from our readers. Here are some of them:
Is WordPress GDPR Compliant?
Yes, WordPress versions 4.9.6 and later comply with GDPR requirements. These updated versions of WordPress have a privacy policy template, comments checkbox, and other settings to ensure compliance with the General Data Protection Regulation (GDPR).
What Happens If My WordPress Website Isn't Compliant?
If a company fails to comply with GDPR, it could face substantial fines and penalties from the European Union. Serious infringements might result in companies receiving fines up to €20 million (or 4% of their yearly global revenue, whichever is greater).
Next, Learn About More Top Plugins for WordPress
Now that you're familiar with the best GDPR plugins, it may also be a great time to dive into some other helpful tools for your website:
Facing issues with receiving WordPress emails for new orders or form submissions? You may want to check out the WP Mail SMTP plugin.
Get started today with the best WordPress SMTP plugin. If you don't have the time to fix your emails, you can get full White Glove Setup assistance as an extra purchase, and there's a 14-day money-back guarantee for all paid plans.
If this article helped you out, please follow us on Facebook and Twitter for more WordPress tips and tutorials.