Are you searching for the best affiliate marketing plugins for WordPress?
Whether you're a vendor or an affiliate partner, you need your own solution to handle different aspects of affiliate marketing without the hassle of tracking everything manually.
We've tested a bunch of plugins that can simplify affiliate marketing activities so you can focus on growing your business and making more money.
Best WordPress Affiliate Plugins
Broadly, there are two types of affiliate marketing plugins for WordPress sites.
One is designed for vendors to create and manage their own affiliate program for their online store. The other is designed for the affiliates promoting the products of a vendor.
We've included our favorite plugins for both vendors and marketers in the affiliate space.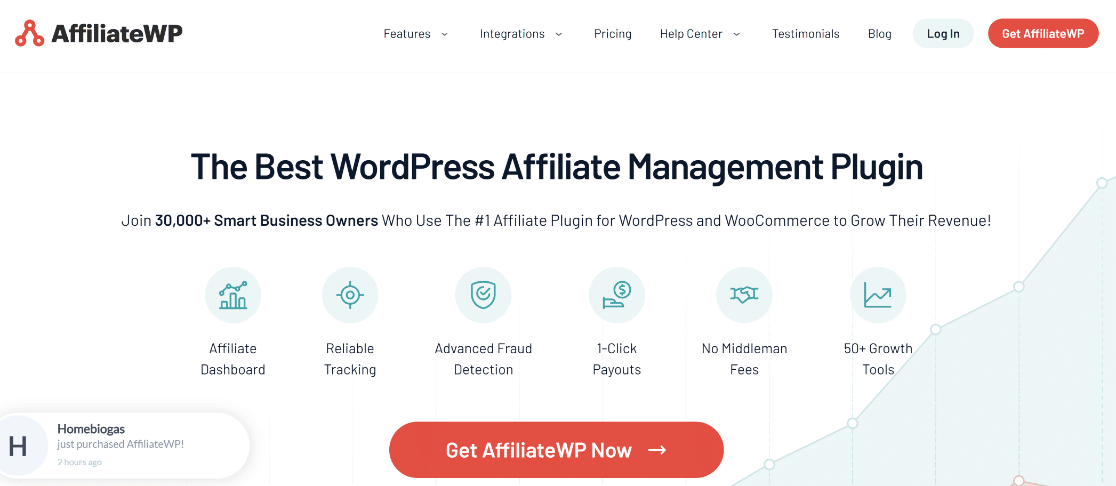 AffiliateWP is the best affiliate program plugin for WordPress. It has all the features affiliate management features you need right within your WordPress dashboard.
It's extremely easy to set up AffiliateWP on your website. We were delighted to see that it comes with a user-friendly setup wizard that enables you to get started effortlessly.
Right off the bat, you can set the referral rate or commission that you're planning to offer to your affiliates from the setup wizard.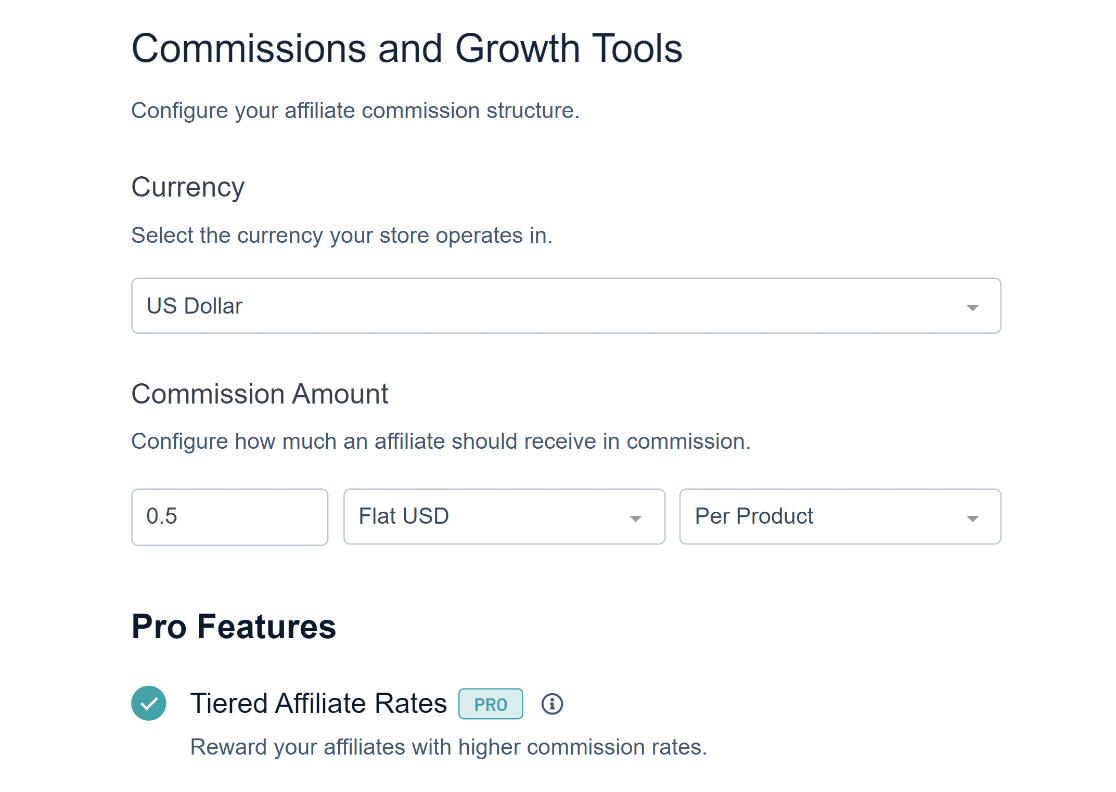 We were super impressed with the flexibility of options you get with AffiliateWP. For example, you can set the commission type which can be either a flat rate or a percentage of the order amount.
You can also offer all of your affiliates a single global rate, set different commissions for different products, and even set different commissions for different affiliates.
But our favorite feature in AffiliateWP is the Affiliate Portal that you get with the higher plans.
The Affiliate Portal can be used to onboard new affiliates into your program, who can then get a personal dashboard to view their earnings, generate referral links, and perform other tasks.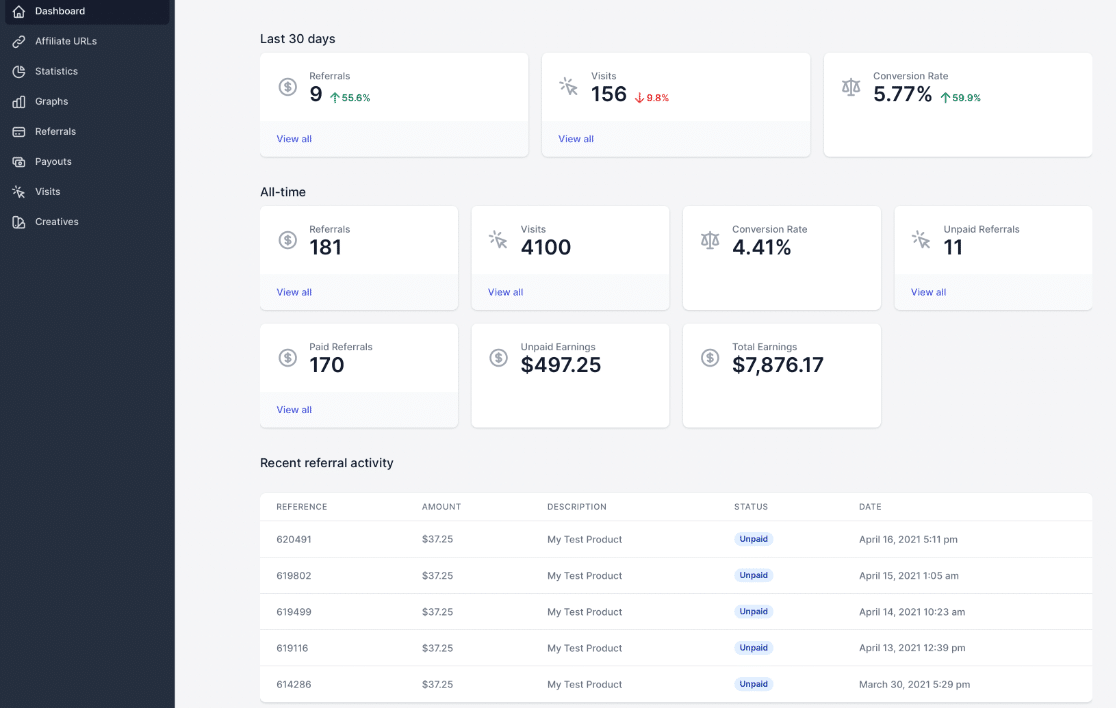 The Portal has a sleek and modern interface and is a major improvement to the more traditional Affiliate Area (which you can still use if you prefer). You can onboard unlimited affiliates for your program and make your affiliate network as extensive as you like.
AffiliateWP also integrates with PayPal and Stripe to enable quick 1-click payouts. You have the freedom to pay affiliates individually or all at once.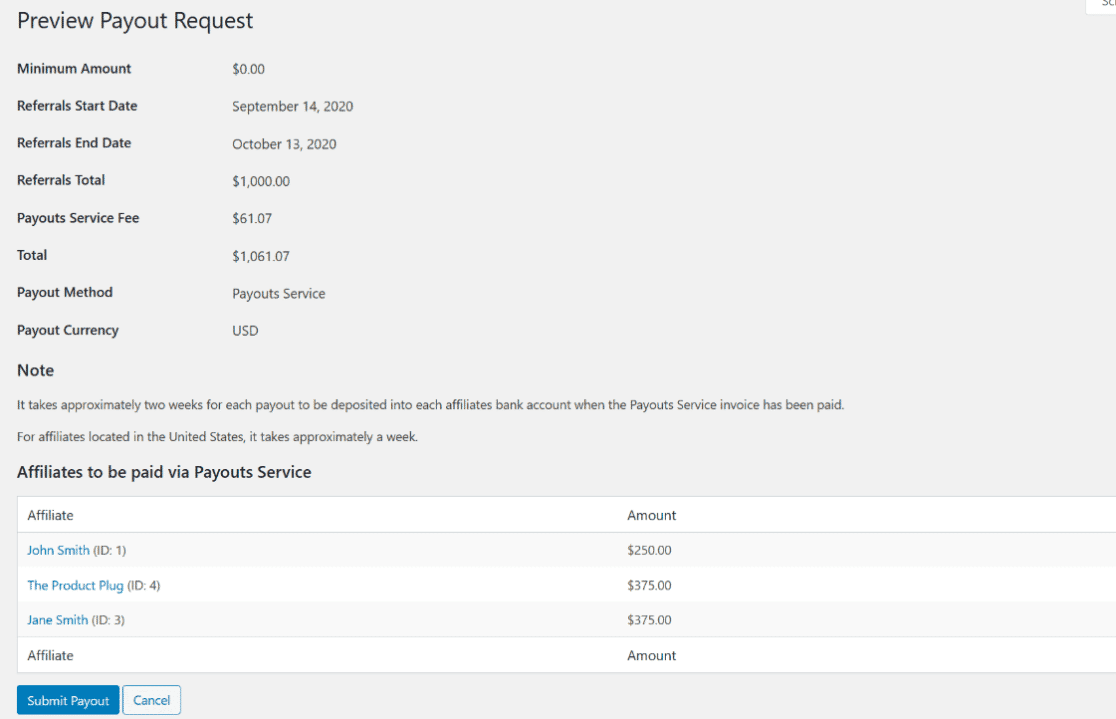 On top of that, AffiliateWP lets you create unlimited creatives like banner images and infographics to ensure your affiliate campaigns bring the best results with high clickthrough rates.
Plus, it integrates with many popular WordPress plugins to help with referral tracking. For instance, you can integrate with WooCommerce, Easy Digital Downloads, WPForms, and more.
Once integrations are enabled, AffilaiteWP will automatically track referrals for your WooCommerce products, lead forms built with WPForms, and tracking for any other integration you've set up.
Overall, AffiliateWP is one of the best affiliate plugins for WordPress.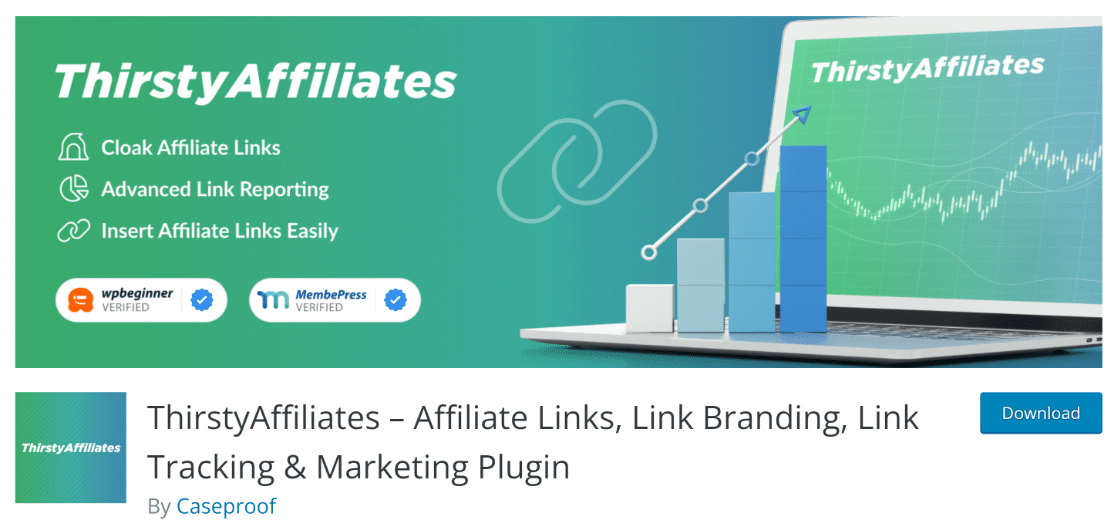 ThirstyAffiliates is the ideal tool if you're a marketer promoting another website as an affiliate.
Basically, ThirstyAffiliates cloaks your outgoing referral links by turning them into pretty links. Referral links provided by vendors are typically long and ugly, and they make for a bad user experience because of their intimidating appearance.
This makes even legitimate links appear suspicious. But with ThirstyAffiliates, you can use your own domain name and a slug of your choice to redirect visitors to an affiliate link. It's a good idea to use links that mention the product or brand it's pointing to so that your visitors know exactly what to expect when they click.
Cloaking any link with ThirstyAffiliate is really easy and works well for pro and beginners alike. You just need to enter your destination URL and a slug for your cloaked URL, and ThriveAffiliates will do the rest.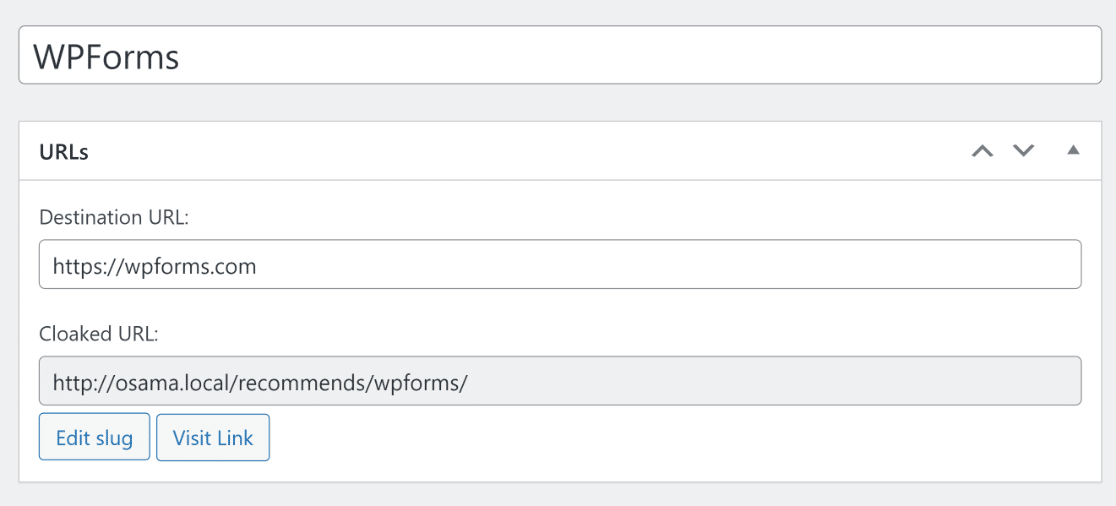 Once you've created an affiliate link, you can simply insert it into your posts with a keyword rather than copy-pasting the whole link every time.
Simply click the ThirstyAffiliate button in the toolbar in your WordPress editor and enter the keyword for your affiliate link to find the relevant link when it appears.

We like that ThirstyAffiliates enables you to change your affiliate links' prefixes and redirection types. It also has affiliate link tracking and displays how many times an affiliate link was clicked during a custom time range.
Not only that, ThristyAffiliates works brilliantly as a link automation tool. The auto-link feature places affiliate links on relevant keywords within your content so you can just set and forget your affiliate links.
Overall, ThirstyAffiliates is a must-have link cloaking tool if you're an affiliate marketer promoting products and brands for your partners.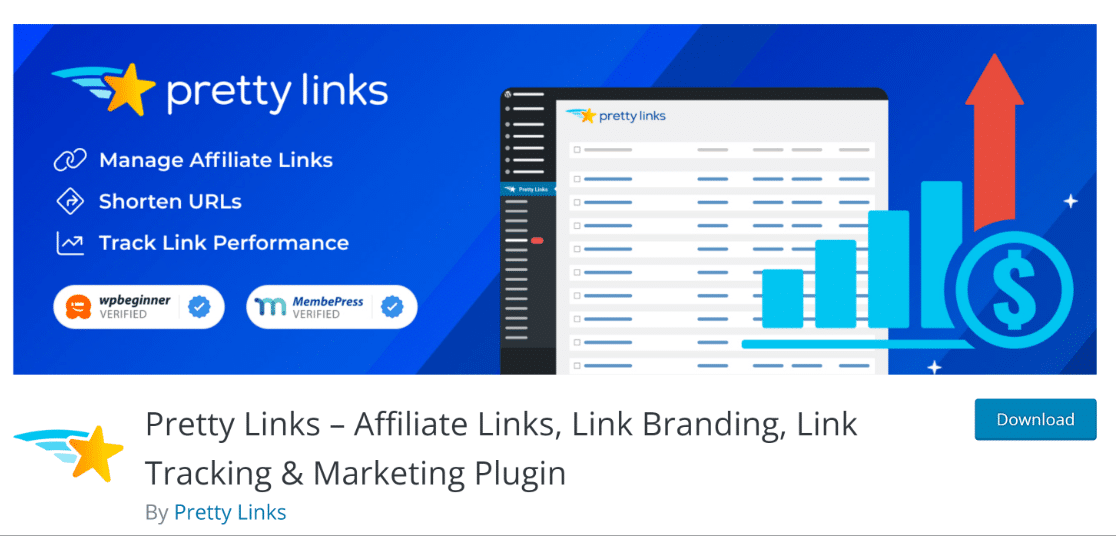 Pretty Links is an affiliate link management tool that performs many of the same functions as ThirstyAffiliates.
When testing Pretty Links, we noticed that it offers more flexibility in some areas than ThirstyAffiliates. For instance, you can change the prefix and redirection type for each link on the same screen while you're creating a new affiliate link.
ThirstyAffiliates uses global settings for link prefixes and redirection, so you can only choose one setting for all your links. This is good for ensuring consistency, but advanced users might feel hindered.
Pretty Links also lets you set link attributes during insertion. You can add no-follow and sponsored attributes and also choose if you'd like the link to open in a new tab. This makes it very convenient to change your link attributes as you go.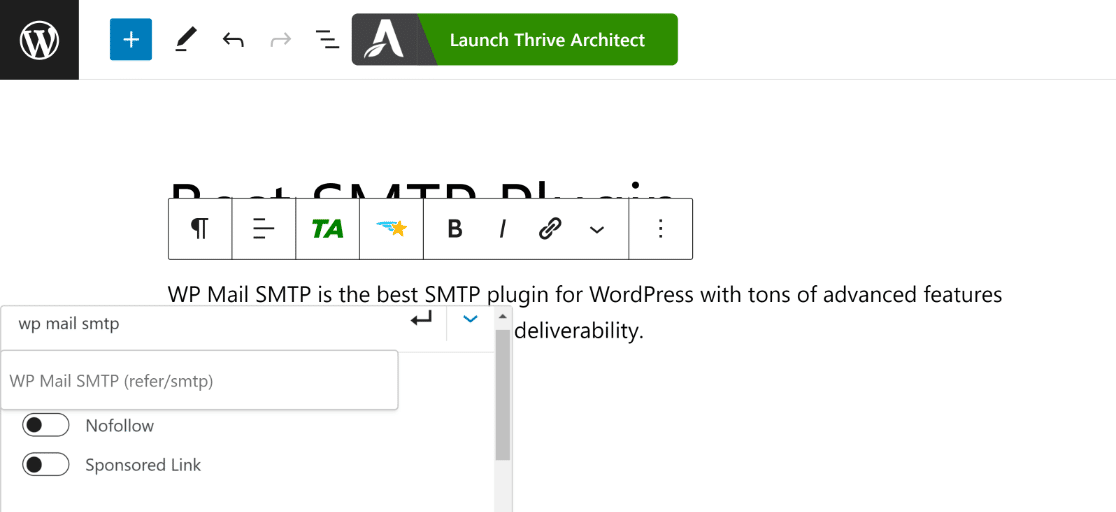 Like ThirstyAffiliates, Pretty Links gives you a button in the WordPress toolbar to enable quick insertion of your saved affiliate links.
Overall, there are only minor differences between Pretty Links and ThirstyAffiliates. It's a matter of personal opinion which plugin you like more, as they're both incredibly useful WordPress affiliate marketing plugins.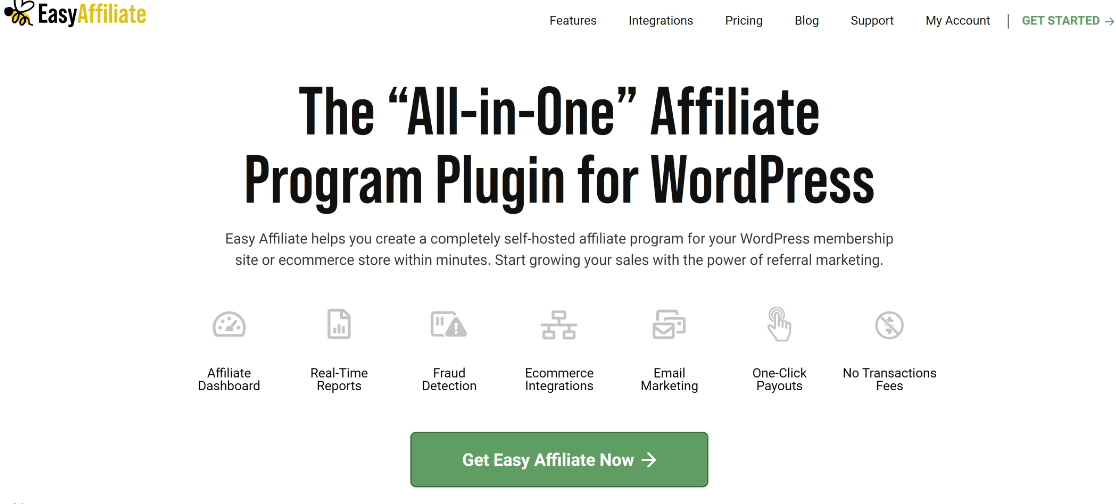 Easy Affiliate is an affiliate marketing plugin designed for vendors running an affiliate program (similar to AfilliateWP).
Easy Affiliate stands out for its neat and appealing setup wizard and user interface. It's very easy to get started and launch your affiliate marketing program with Easy Affiliate.
The setup wizards walk you through the basic steps, such as setting commission type, commission rates, integrations, and affiliate registration settings.
Easy Affiliate is on par with AffiliateWP in terms of its affiliate dashboard. It features a tidy interface that shows your affiliates a summary of their referrals and commissions. The details include data like clicks, conversions, commissions, and more.
Like AffiliateWP, Easy Affiliate allows an unlimited number of affiliates to sign up to your referral program.
While we had a fantastic experience using Easy Affiliate, we noticed a few limitations compared to the advanced marketing features offered by AffiliateWP. For instance, affiliates can't generate coupon codes or get paid based on tiers. With AffiliateWP, you get affiliate coupon code tracking as well.
Regardless, Easy Affiliate is a comprehensive affiliate marketing plugin that includes all the essential features you'll need to kick off and manage your affiliate program effectively.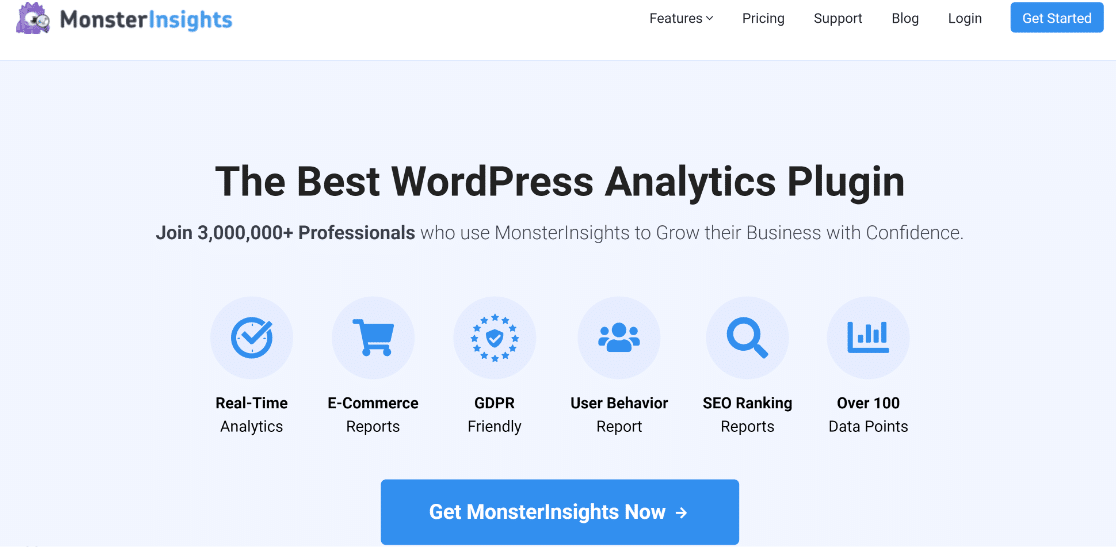 MonsterInsights is a WordPress plugin that brings Google Analytics' most useful reports to your WordPress website backend.
It's a key component of successful affiliate marketing to track your click performance regularly. MonsterInsights allows you to track your affiliate link performance from your WordPress backend so you can easily measure performance without leaving your site.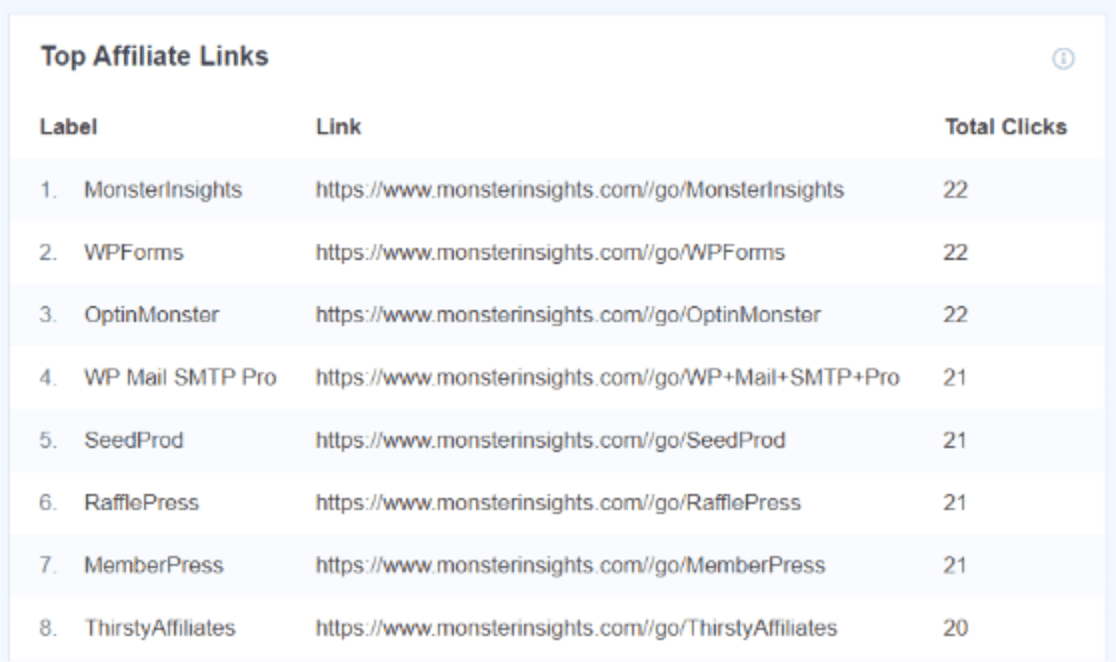 While plugins like ThriveAffiliates and Pretty Links can also track your affiliate link statistics, they can't provide other details for your overall site analytics.
On the other hand, MonsterInsights brings all of your site analytics data to one place.  It's also one of our top recommended WooCommerce plugins because of its in-depth eCommerce reporting for your business.
So if you want to see which blog posts are performing the best along with tracking affiliate link clicks, MonsterInsights is the perfect all-around solution.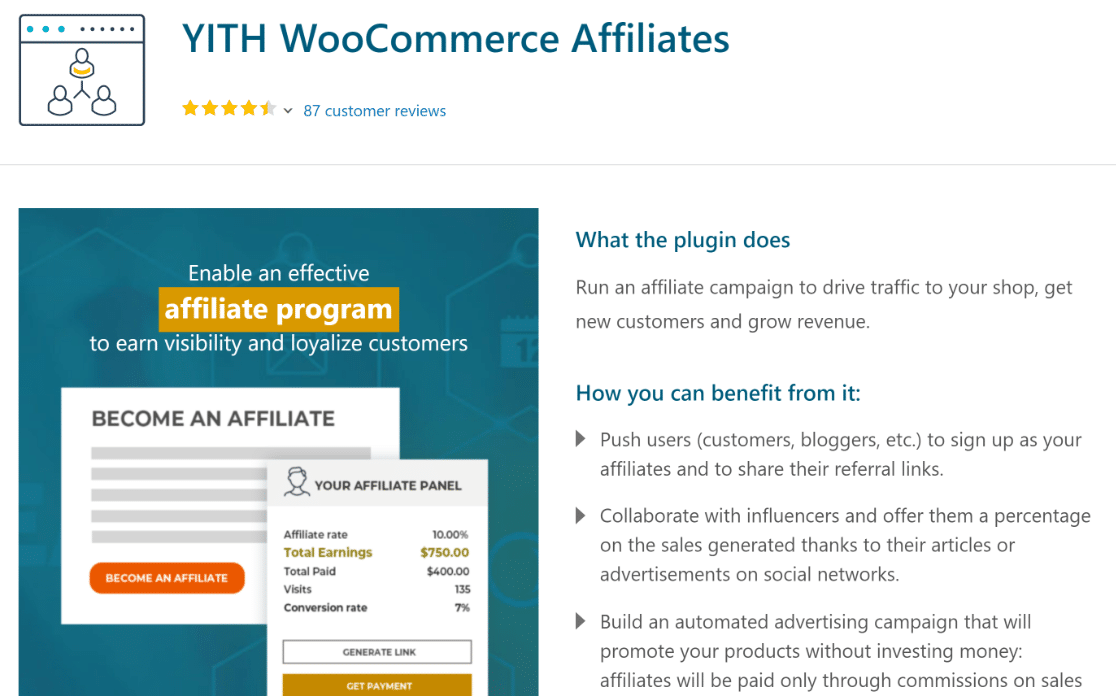 WooCommerce Affiliates by YITH is another popular plugin for WordPress designed for eCommerce stores running an affiliate program.
YITH is one of the most visually pleasing affiliate marketing plugins we've tested. Its uncluttered design makes for a fantastic user experience both for vendors running the affiliate program as well as their affiliates.
It comes with all the essential features you need to manage your affiliate program in WordPress. You can create an affiliate area to allow new affiliates to register. Each affiliate has access to the dashboard, displaying key metrics like earnings, conversion rate, visits, and more.
We like that the dashboard also summarizes the history of recent customer visits through referrals.
Affiliates also have the option to request payments for their earnings, which can be instantly approved by the vendor with a single click.
The only small drawback we found in WooCommerce Affiliates by YITH is that it falls short of a few advanced features you get in AffiliateWP like leaderboards for top affiliates and tiered commissions.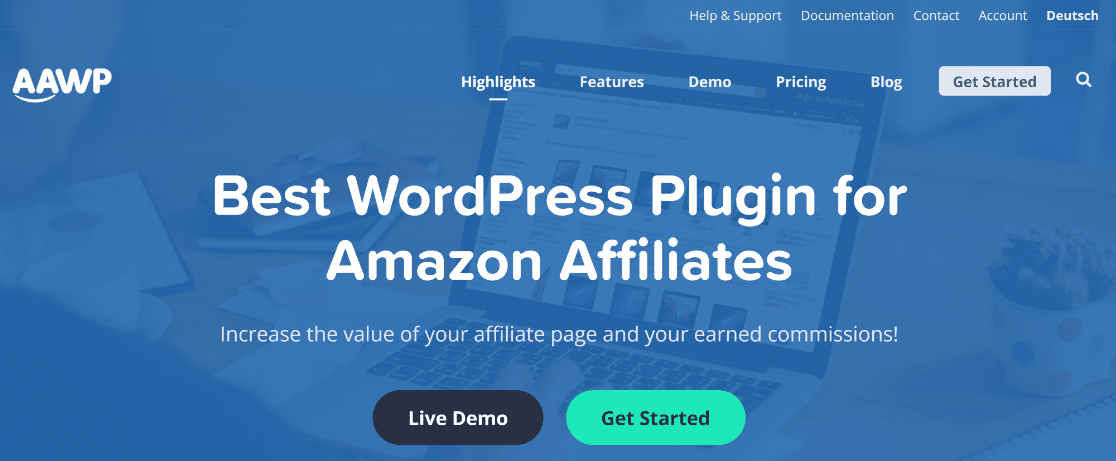 AAWP is one of the best Amazon affiliate plugin for WordPress.
This plugin integrates with Amazon's Product Advertising, which means your product information is always updated automatically via the API. That's an excellent benefit for affiliate marketers looking for an efficient way to update information about affiliate products they're promoting automatically.
AAWP gives you different ways to display Amazon products. You can use simple Amazon affiliate links, embed product boxes, and add bestseller lists.
But our favorite AAWP feature is comparison tables. In the affiliate marketing industry, comparison tables are extremely effective at converting customers and making affiliate commissions.
The plugin gives you a table builder, which takes the pain out of creating product comparison tables in WordPress.
If you're joining the Amazon Associates program, we strongly recommend using AAWP to boost conversions from referrals and make your affiliate marketing strategy a success.
Which Affiliate Marketing Plugin Should You Pick?
If you're planning to start an affiliate program on your WordPress site, you should get AffiliateWP.
We strongly recommend AffiliateWP because it's the most comprehensive affiliate management plugin on the market. You can sign up new affiliates, set commission rates and types with outstanding flexibility, and track referrals in real-time.
It also has customizable creatives, which can significantly improve your conversions through referrals. You also get tons of advanced features like affiliate coupons, leaderboards, tiered commissions, direct link tracking, 1-click payouts, and more.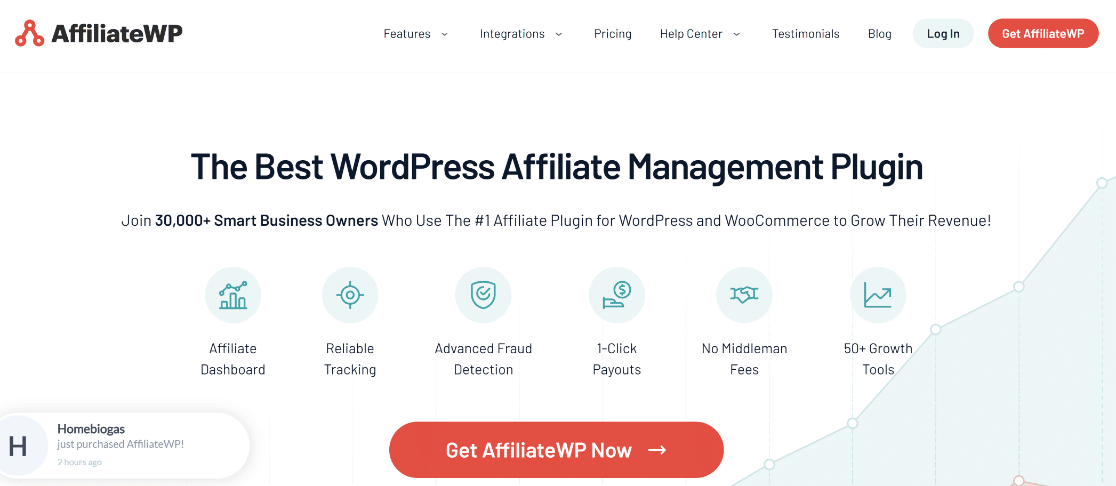 AffiliateWP offers great value for money for the massive number of features you get. But if you're looking for a more affordable alternative, you can opt for Easy Affiliate instead, which is an excellent affiliate management plugin itself.
Lastly, if you're a marketer working as an affiliate partner to a vendor, you can simplify your job using link tracking tools like ThirstyAffiliates or Pretty Links.
Both of these plugins have similar features and are widely used by affiliate marketers for cloaking direct affiliate links using your own brand name and a simpler link structure.
FAQs
When it comes to WordPress affiliate plugins, we're often asked a few common questions. So we're listing these down below.
How Do I Cloak Affiliate Links in WordPress?
You can cloak affiliate links in WordPress using plugins like ThriveAffiliates and Pretty Links. Both plugins cloak your real affiliate link by replacing it with a "pretty" link that includes your domain and a prefix to help visitors know beforehand where they'll be redirected to.
Cloaking affiliate links is a good practice because it makes your referrals trustworthy in the eyes of customers and also hides your affiliate ID from malicious bots.
How Do I Track Affiliate Sales on WordPress?
You can track affiliate sales on WordPress using AffiliateWP. For vendors, this plugin can be used to track how much money you've made through referrals. At the same time, if you're a marketer, you can track your affiliate commissions from the Affiliate Portal that your vendor should give you access to using AffiliateWP.
Next, Fuel Business Growth With Advanced Plugins
There's a lot more to building a successful business apart from affiliate marketing. If you want to surpass competitors in your industry, we strongly recommend checking out our guides focused on must-have plugins for different aspects of your business:
Ready to fix your emails? Get started today with the best WordPress SMTP plugin. If you don't have the time to fix your emails, you can get full White Glove Setup assistance as an extra purchase, and there's a 14-day money-back guarantee for all paid plans.
If this article helped you out, please follow us on Facebook and Twitter for more WordPress tips and tutorials.