Are you looking for the best WordPress email log plugins?
Email log plugins maintain a record of all outgoing emails from your WordPress site. It's always a good idea to have your emails logged for future reference in case you ever need it.
Plus, you might want to view your logs to check any attachments, see the delivery status, or simply learn what's worked for you in the past so you can do more of the same.
In this post, we'll compare the 5 best plugins that log your WordPress emails.
Best WordPress Email Log Plugins
Here's a quick comparison of the best plugins to log WordPress emails:
Let's consider each of these plugins in more detail.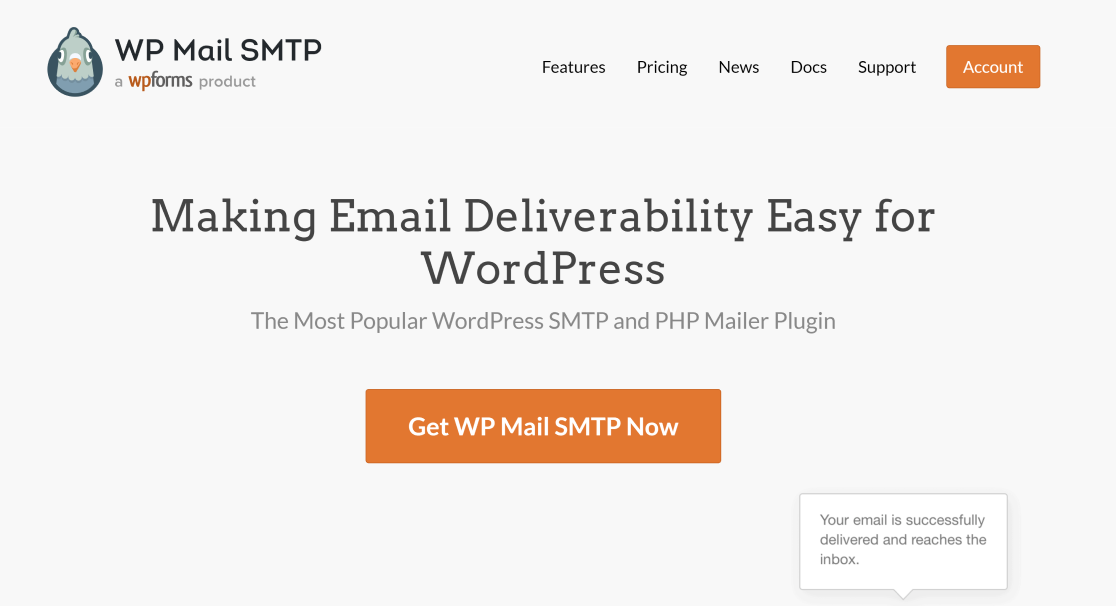 WP Mail SMTP is the best email logging and deliverability plugin for WordPress. It's the go-to solution for WordPress sites that want to add authentication to their emails and ensure they get delivered straight to the recipient's inbox rather than the spam folder.
But as a comprehensive WordPress SMTP plugin, WP Mail SMTP Pro also comes with several extra features, including detailed email logs and tracking. The Email Log screen displays the following details:
Status: Sent emails are marked with a green status symbol while failed emails are marked with a red symbol.
Subject: The subject line of the sent email
From: The email address of the sender
To: The recipient's email address
Source: The plugin that generated the email
Date Sent: The exact date and time the email was sent
Opened: Whether the email was opened by the recipient
Clicked: Whether any links within the email were clicked by the recipient.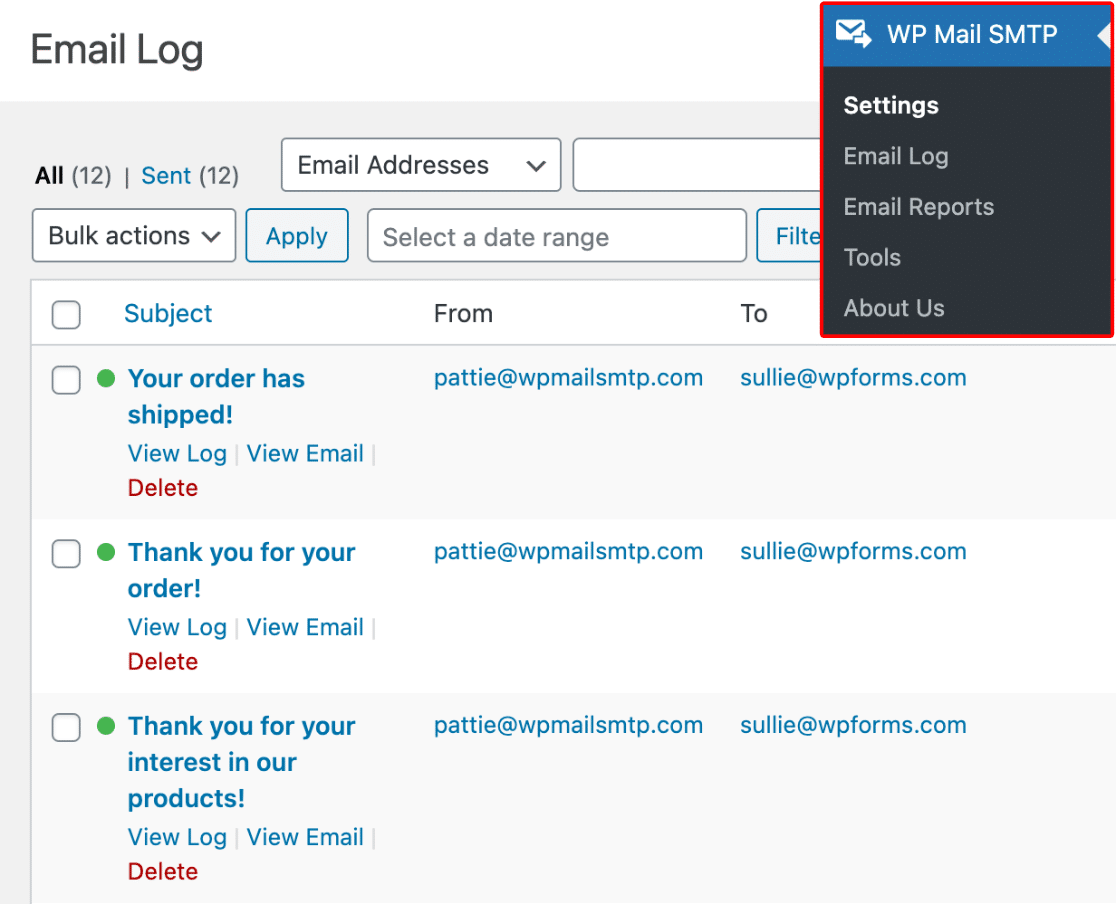 The email open and click tracking is a powerful feature because it lets you optimize your subject lines so subscribers in your email list are more likely to click them in the future.
Whether it's your transactional emails or promotional email marketing campaigns, tracking clicks and opens is an important part of every email strategy.

A really cool WP Mail SMTP feature is that you can search your entire email logs by email addresses, subjects and headers, and email content.
So if you've got lots of emails in your log, you can instantly search and find the one you're looking for by typing in any part about the email you might remember.
If that's not enough, you can even filter email addresses by date range if you're just looking for messages sent within a particular span of days.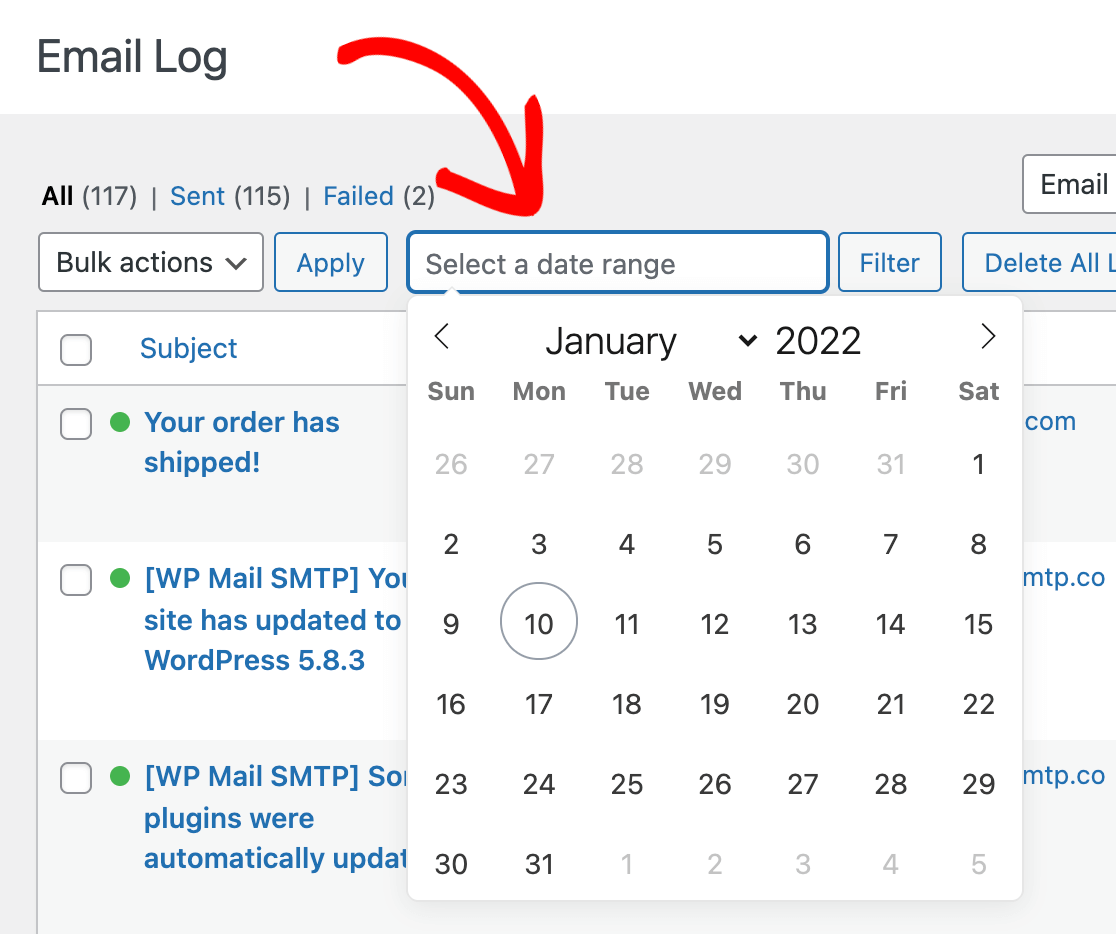 Other than a broad overview of all of your email logs, you can also see additional details of each individual email. This screen shows further details like the mailer used and the number of email attachments within the email message.
Moreover, you export the email (as .CSV, EML, or XLSX), print it, or resend it to the same email address or a different one.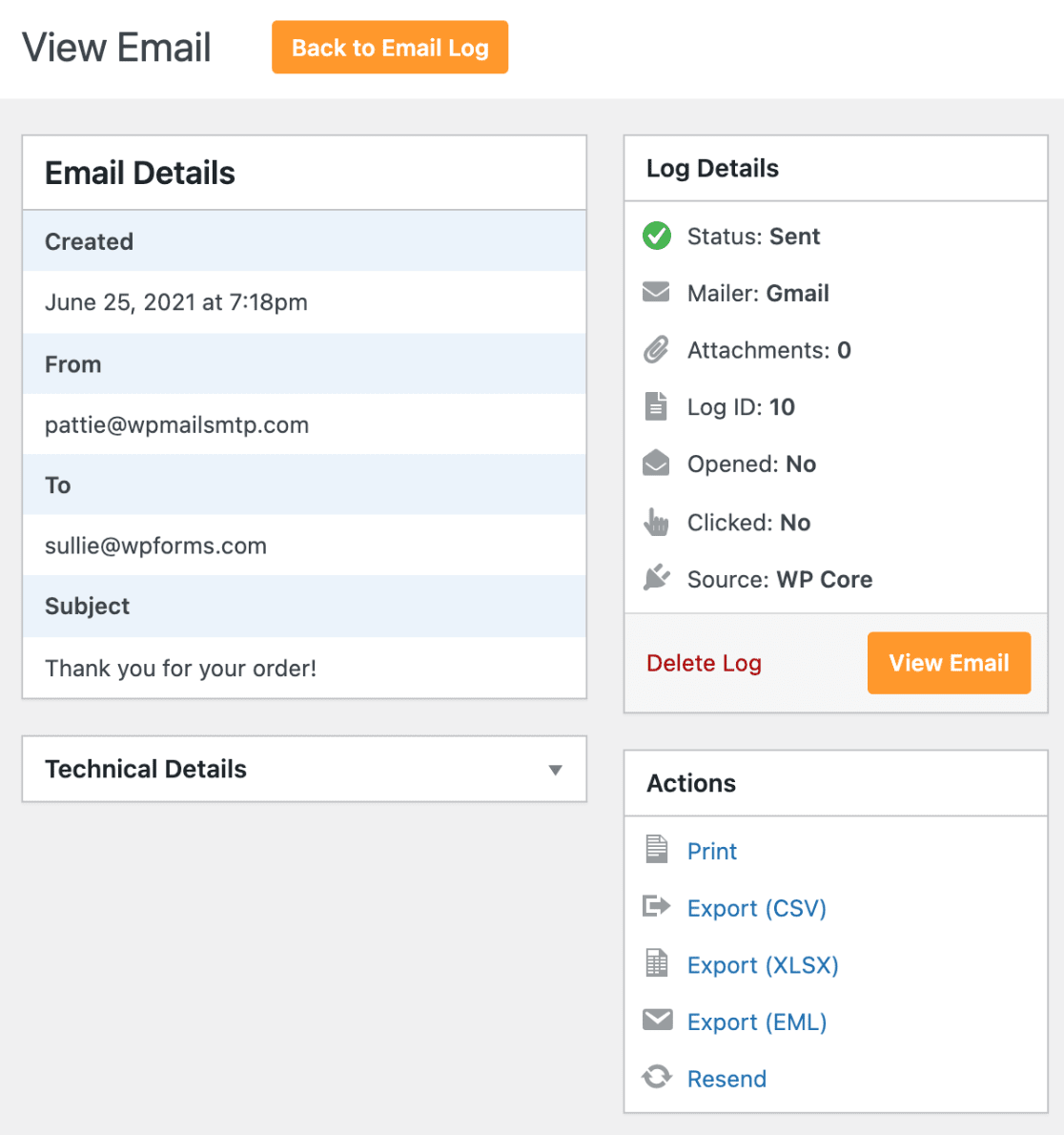 WP Mail SMTP also lets you send test emails to help you confirm if everything is working fine. This can help you diagnose the exact problem and fix WordPress email issues across your site.
To ensure the best email deliverability, WP Mail STMP integrates with popular transactional email service providers like SendLayer, Mailgun, Amazon SES, Gmail, Brevo (formerly Sendinblue), SendGrid and more.  These integrations are easily connected using an API key, ensuring beginners can easily and securely establish a connection with their WordPress websites.
However, there's always a chance of something going wrong with WordPress emails.
In that case, you need to know immediately of any sending errors as they happen on your site. This is why the premium version of WP Mail SMTP lets you set up email failure alerts.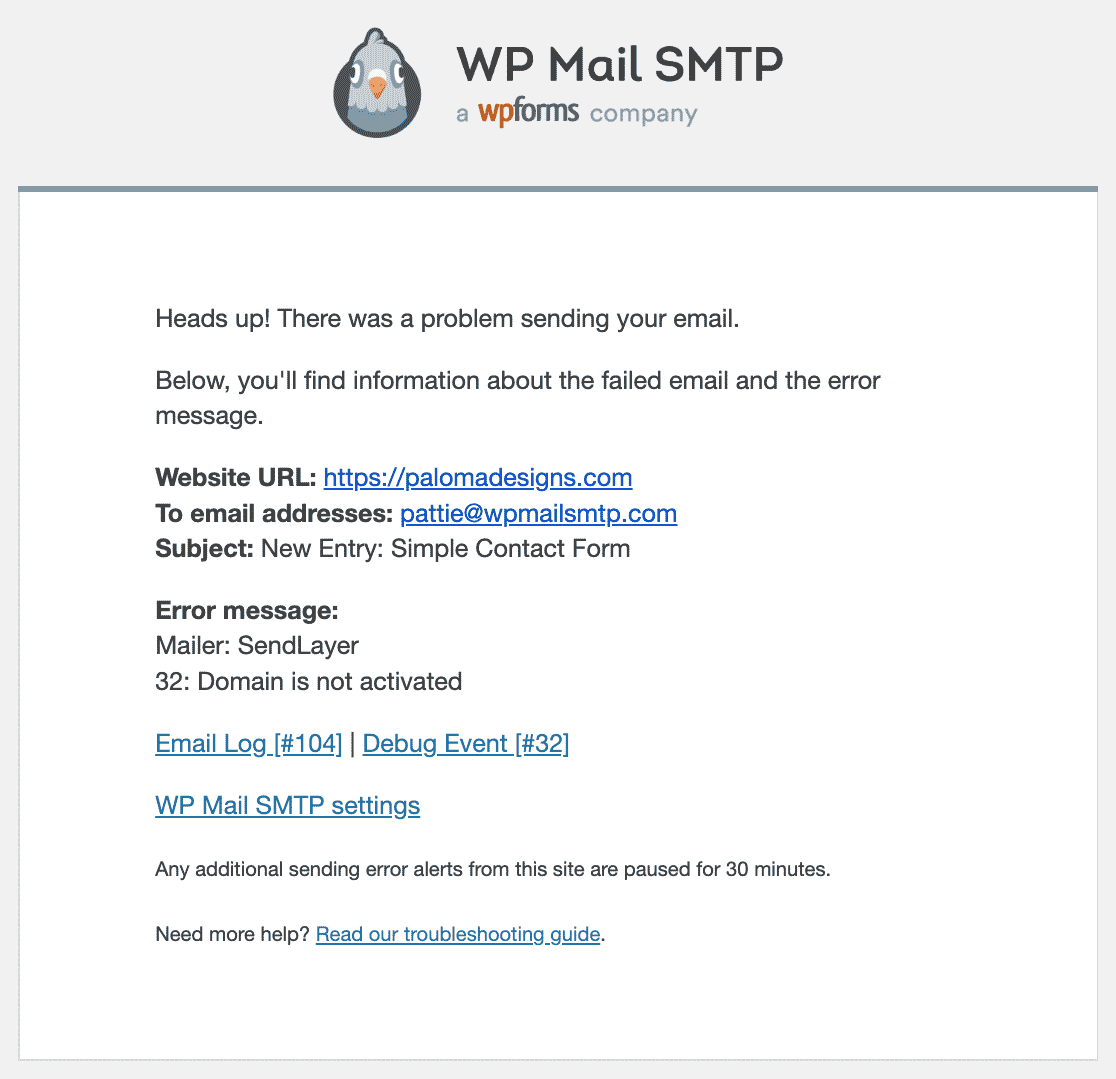 With alert automation, you can receive a notification on your preferred email address, Slack channel, or even text SMS whenever an important email like a contact form or signup form notification fails to send.
Overall, WP Mail SMTP provides super useful email log features including open and click tracking better than most WP Mail SMTP alternatives.
most comprehensive WordPress SMTP plugin that is rich in features for improving your overall email sending experience in WordPress.
Pricing: WP Mail SMTP has a free version for basic mailer integrations. The paid plans start at only $49.00, which come with a full set of features like detailed email logs and email tracking.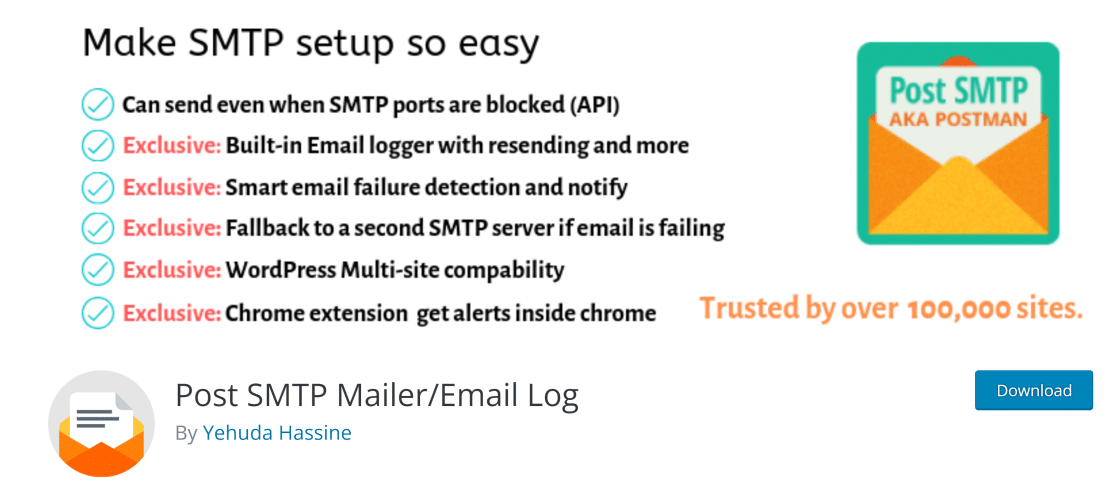 Post SMTP is another popular WordPress email log plugin. Like WP Mail SMTP, Post SMTP provides a lot more than just email logging functionality and helps you improve your overall deliverability.
Post SMTP's Email Log screen shows you details like subject, sent to, status, solution, and delivery time. If your email fails to send, Post SMTP provides tips for fixing the issue under the Solution heading, which is a nice touch.
In addition, Post SMTP lets you search for a particular email in your logs and also allows filtering by date. And you get the option to quickly resend any email if the email failed for any reason.
However, Post SMTP lacks some features that make WP Mail SMTP stand out. For instance, Post SMTP doesn't provide any email tracking data to monitor the open and click counts for sent messages.
Besides, you can't view the source of emails or the attachments within any email using Post SMTP. And though you can export your logs, the only supported file format is CSV (WP Mail SMTP supports CSV, XLSX, and EML).
So, even though Post SMTP is a good email logging tool for WordPress, it doesn't have many of the advanced features that WP Mail SMTP provides.
Pricing: POST SMTP is free.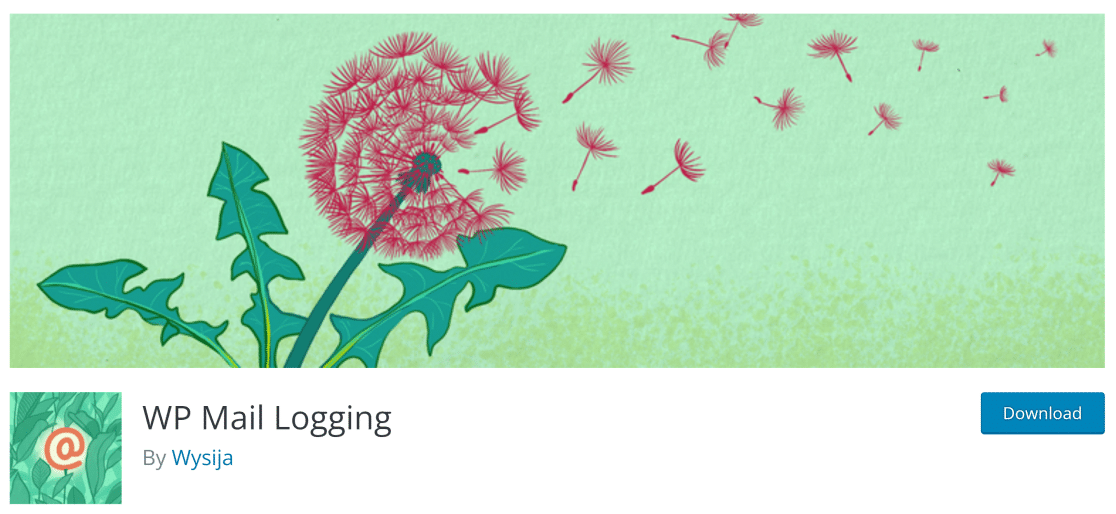 WP Mail Logging is a lightweight email log plugin for WordPress. It is easy to set up and it logs all of your outgoing WordPress emails. Unlike WP Mail SMTP, this plugin only comes with a basic email logging feature and lacks any other email-related functionality.
With WP Mail Logging, you can easily see details like time, receiver email, headers, and errors. It also shows you the attachment count within each email on your dashboard.
Unfortunately, WP Mail Logging doesn't track email opens and clicks. So if you want a deeper insight into how your customers are interacting with your emails, WP Mail Logging isn't the best option.
Another limitation with WP Mail Logging is that you can't export your email logs with it.
Despite these drawbacks, WP Mail Logging is a decent choice (but not the best) if you're looking for a basic, lightweight WordPress email log plugin.
Pricing: Free.
Email Log is a great email logging plugin for WordPress. It provides basic email logging which includes fields like sent status, the recipient address, subject, and date. It also has a useful search bar that allows you to search your email records by term or date.
Email Log lets you view the content of your emails in both raw text and HTML formats. Moreover, you can change email logs access permissions based on WordPress user roles, which is a nice feature to have.
There are several addons available for Email Log that you can purchase separately to unlock additional features. For instance, there is a Resend Email functionality available as an addon as well as Auto Delete Logs, which enables you to automatically delete logs on a set schedule.
Plus, you can export your email logs to a .CSV file using the Export Logs addon. Another useful addon is the More Fields option, using which you can view additional fields in the logs like From, CC, BCC, Reply To, and Attachment.
Sadly, there is no support for XLSX file exports. Also, Email Log doesn't provide open and click tracking, which is a major limitation. And you can't send test emails to check if messages from your site are actually reaching users' inboxes.
Overall, Email Log is a good plugin for logging emails in WordPress but it's not perfect.
Pricing: The basic Email Log plugin is free but each addon costs more than $19 per year extra.

Check & Log Email is another simple yet effective email log plugin for WordPress. It comes with a basic logger that monitors and records the sent status, recipient and sender email addresses, date, and the subject of all sent emails.
You can type in a query to search your logs by term or filter emails by date. Unlike most free email plugins, Check & Log Email provides an email testing feature so you can make sure that emails from your site are actually being received.
And you can change the test email header using your own custom values which helps in debugging email issues.
But you don't get any extra features beyond basic email logging and testing. Check & Log Email doesn't provide email resend, log export, tracking, and other functionalities.
Pricing: Check & Log Email is free of cost.
Which WordPress Email Log Plugin Is the Best?
After comparing the features of each plugin in this list, we can confidently say that WP Mail SMTP is the best plugin to log WordPress emails.
It provides the most comprehensive set of email logging features from basic to advanced and also comes with highly accurate email tracking features.
Plus, you can store and view any attachments within your emails, export your email logs to multiple file formats, and easily resend any failed emails from your logs dashboard.
While there are some decent free options, no other WordPress plugin provides the same level of email logging and tracking functionality as WP Mail SMTP. For this reason, WP Mail SMTP is a far superior choice to its competitors.
And there you have it! You're now fully aware of the best WordPress email log plugins that the market has to offer.
Best Email Error Log Plugins FAQs
Does WordPress Log Emails By Default?
No, the core WordPress installation doesn't come with email logging functionality nor do web hosts log emails by default. You will need to install a plugin in order to enable email logs on your WordPress site. WP Mail SMTP is the best WordPress email plugin to keep track of your outgoing email messages, track email opens and clicks, and maintain high deliverability by connecting with a dedicated SMTP provider.
Can I See Email Error Log in WordPress?
To view email error logs in WordPress, you'll need to install a plugin like WP Mail SMTP. The error log is a very useful feature for troubleshooting email problems, which can have various causes such as misconfigured SMTP server settings.
Why Should You Log WordPress Emails?
WordPress email logs are very useful if you want to troubleshoot email delivery problems or audit order confirmations if you're an eCommerce store.
With a complete record of your emails available within your WordPress dashboard, you stay informed of the overall status of your outgoing emails at all times.
Some WordPress email log plugins can show you details like the subject of the sent email, the recipient, and the date. More advanced plugins can even track email opens and clicks, store attachments, and let you resend failed emails.
So if you want to monitor your emails and record all outgoing email activity, you should consider using a specialized plugin for logging your WordPress emails.
Next, Control WordPress Notifications
If you're getting too many unnecessary notifications from WordPress, you can disable these with WP Mail SMTP with a single click. See our guide on how to disable WordPress email notifications to learn this tip.
You might also want to learn how to change your sender email in WordPress if you're setting up a new one or simply want to replace your current email address.
Also if you are an online store and facing email delivery problems see our guide on fixing WooCommerce email notifications.
WordPress email plugins are capable of doing a lot more than just logging your emails. Here are our some of our roundups on WordPress plugins for managing your WordPress emails better:
​​
Ready to fix your emails? Get started today with the best WordPress SMTP plugin. If you don't have the time to fix your emails, you can get full White Glove Setup assistance as an extra purchase, and there's a 14-day money-back guarantee for all paid plans.
If this article helped you out, please follow us on Facebook and Twitter for more WordPress tips and tutorials.