Are you looking for the best WordPress user tracking plugin?
Tracking user activity is an awesome way to optimize your site and deliver the best possible experience for your visitors.
In this article, we'll show you how to easily track events, user activity, and emails in WordPress.
Track Your WordPress Emails Now
Does WordPress Log User Activity?
No, WordPress doesn't track user activity unless you install a tracking plugin.
WordPress does have basic error logs, but those won't tell you much about who's logged in or what they've been doing on your site.
A user tracking plugin will give you more precise information about activity in the WordPress admin area and on the frontend.
Best Plugins to Track User Activity in WordPress
WP Mail SMTP is the best SMTP plugin for WordPress. It lets you easily fix, manage, and monitor the emails sent from your website.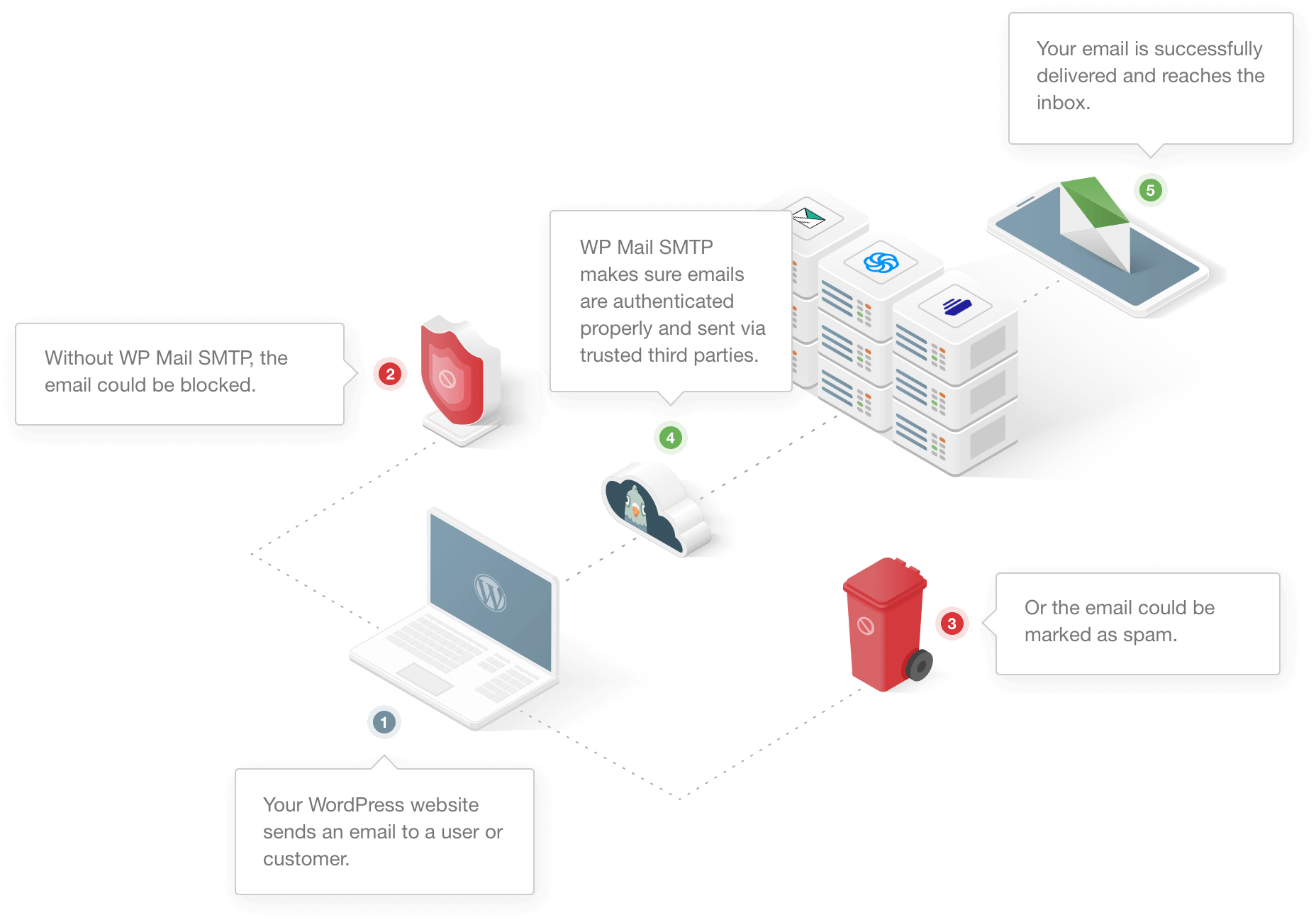 If your WordPress site isn't sending email, WP Mail SMTP will fix that for you. But in addition to that, it gives you:
Email Tracking
Email tracking makes monitoring the click-through rates and open rates for your WordPress emails simple.
It's easy to see which emails your recipients are responding to. And you can also spot the ones that might need to be optimized.

Email tracking is an awesome feature if you want to keep an eye on:
Contact form notifications
Emails from a WordPress CRM
Membership site updates
WooCommerce order emails
And more!
In the plugin's email reports page, each email is grouped by subject line along with its open rate and click-through rate.

Clicking the Graph icon at the end of the row lets you generate a graph of delivery and engagement statistics for any email sent from your site.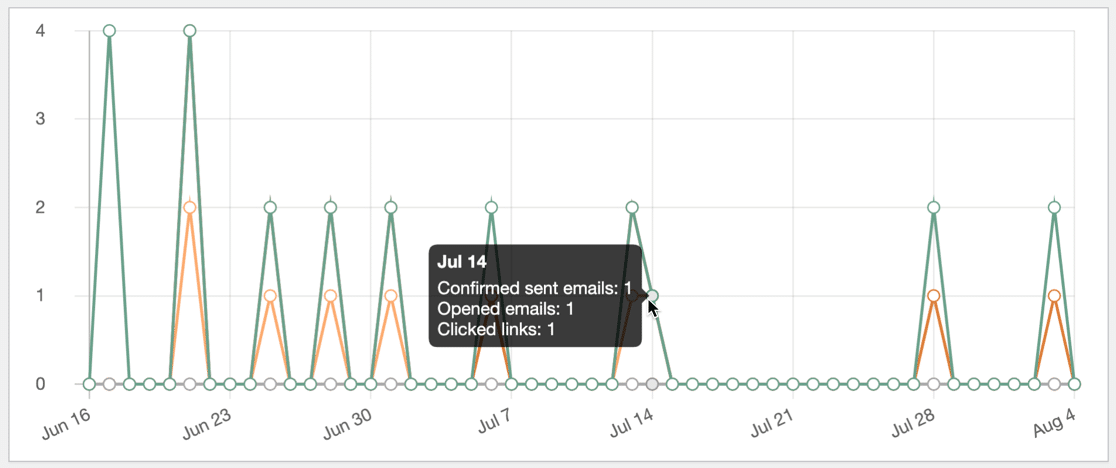 And you can also dive into your WordPress email log to check out engagement for individual emails too!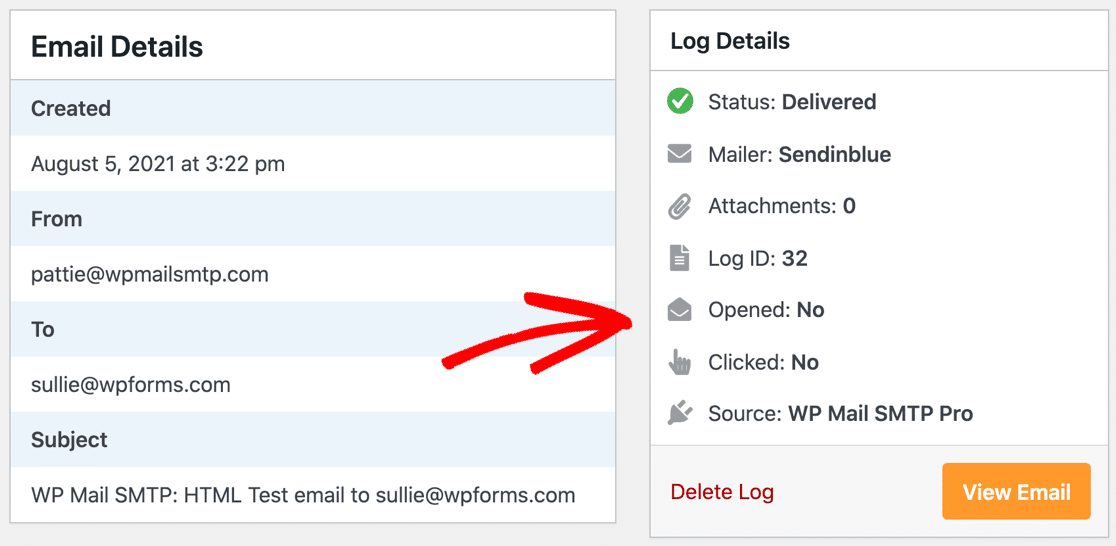 Even better, WP Mail SMTP makes it easy to track email activity without editing templates or changing the way your other plugins are configured.
Just turn on open and click tracking in the plugin Settings and you're all set:

Email Logging
If you want to track user activity, simply tracking the things that your visitors change may not be enough.
You'll also want to know what emails are being sent from your site and which plugins triggered them.
So with WP Mail SMTP, you can log:
All sent emails, including the content if you want to
The status of each email (Sent, Delivered, or Failed)
The WordPress plugin that sent the email
The delivery status
Full email headers
You can also save attachments that are sent with WordPress emails.
For more details, check out our post on how to enable your WordPress email logs.
Pricing: Email open and click tracking is available in WP Mail SMTP Pro. Pricing starts at $99/yr, but you may be able to snag a discount on the Pro version if we're running a sale: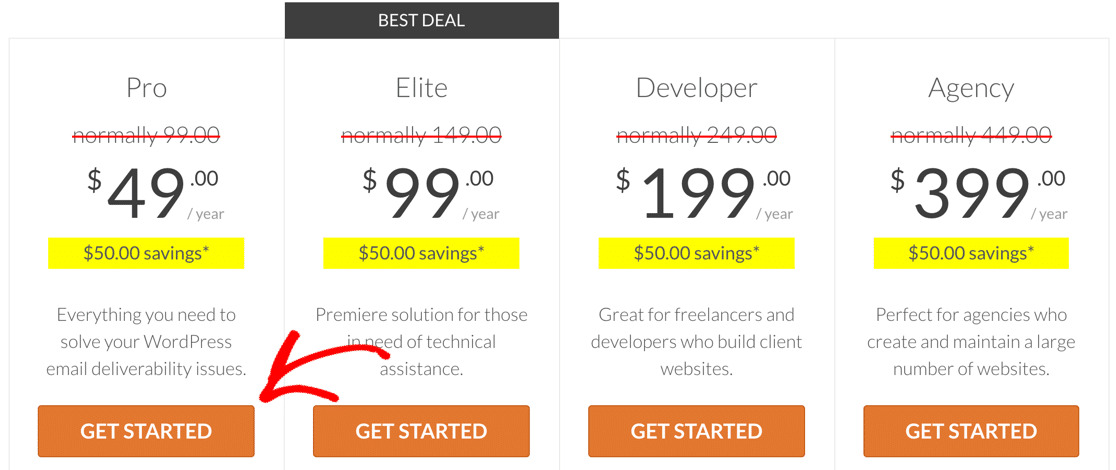 Bonus tip: If you want an expert to set up your WordPress email tracking for you, purchase the Elite license. It includes full White Glove Setup for SendLayer, SMTP.com, or Sendinblue.
WPForms is the best contact form plugin for WordPress. It has an awesome drag-and-drop form builder that you can use to make any kind of form for your website.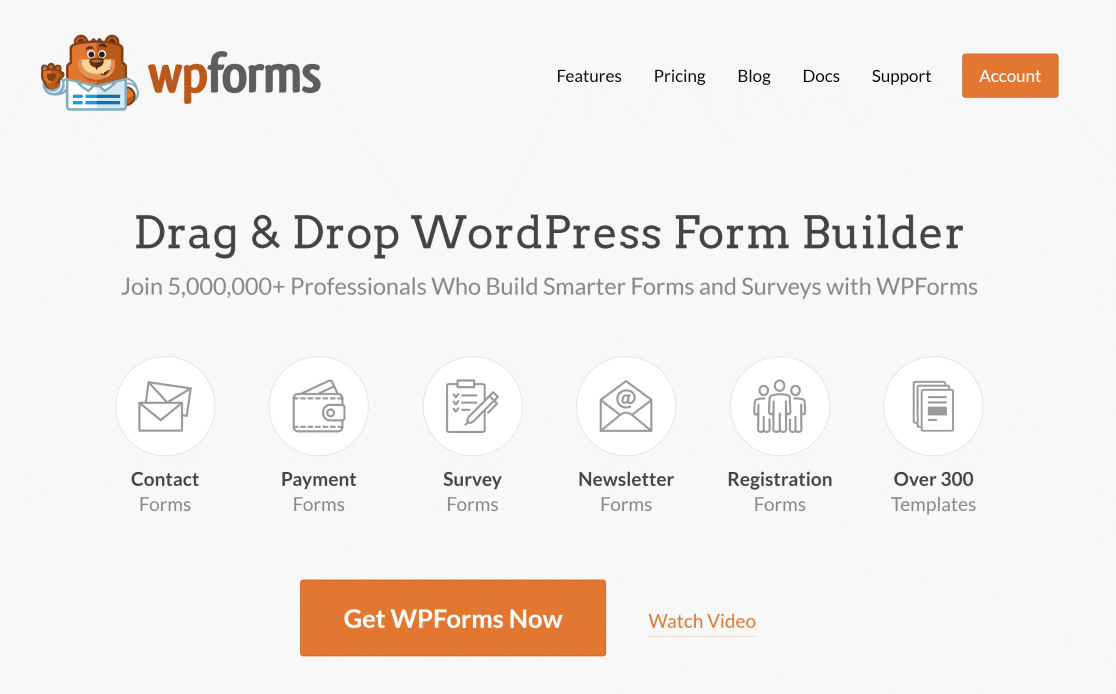 If you have multiple people building and publishing forms on your site, you can easily see all the changes they've made to your forms by opening the Revisions screen from the form builder. Just click on the icon in the bottom left corner of the builder.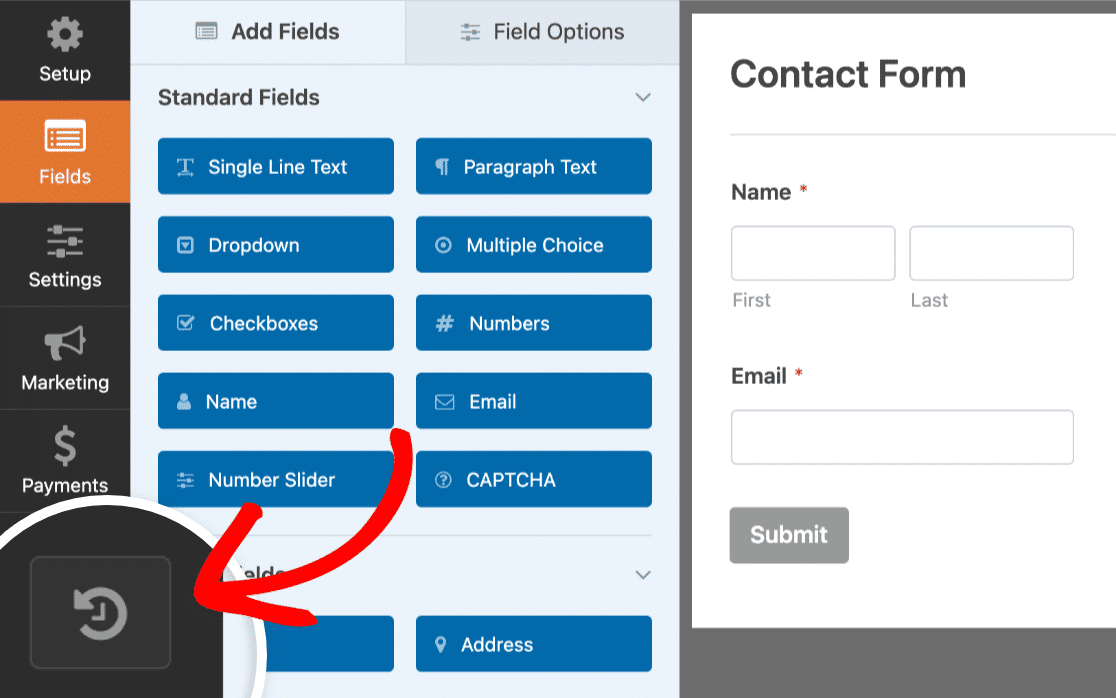 This will open the editing history for the form. You'll be able to easily restore any past version of the form that's been saved here.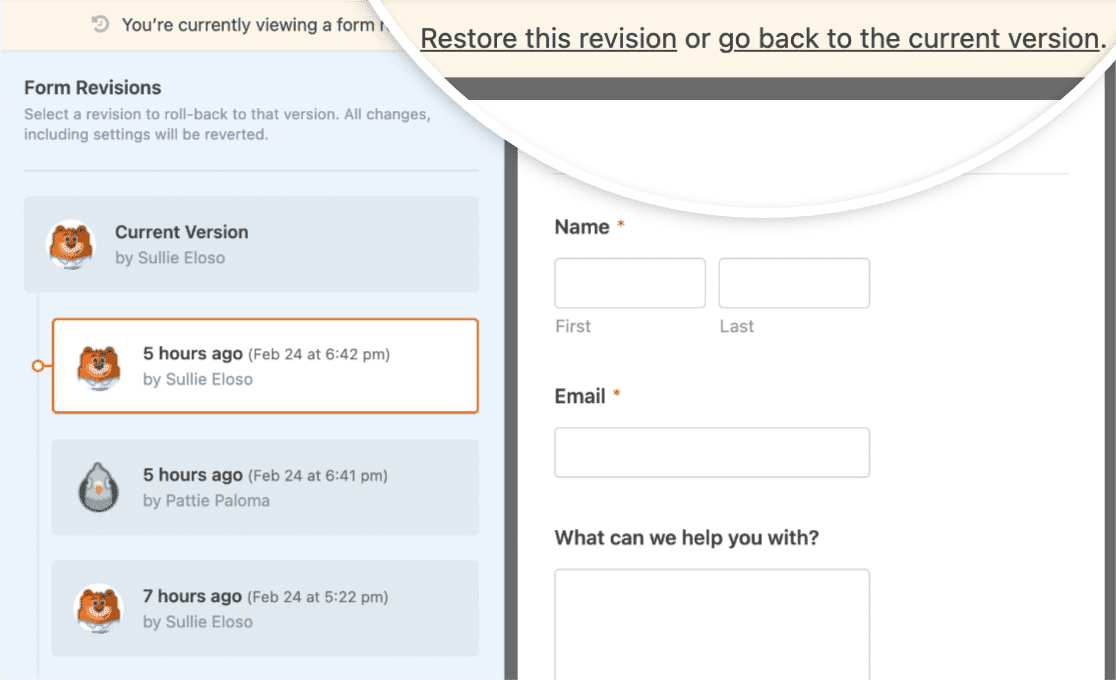 In addition to tracking user activity in your forms on the backend, the WPForms Pro includes a user tracking feature called the User Journey addon.

The WPForms User Journey addon will give you brand new insights into visitor behavior on your site. Visitor activity is tied to each form entry automatically and appears right next to the details that each visitor submits.
This makes it easy to see which pages and posts a user looked at before submitting the form.
The WPForms User Journey addon is an awesome WordPress user tracking plugin if you want to see:
Referral data for your form conversions
Site searches
Pages and posts visited
The time spent on each page
And here's the best part: user tracking requires no configuration. You don't need to edit your forms, edit code, or change things in Google Analytics.
Just activate the addon to instantly start capturing user tracking data like this: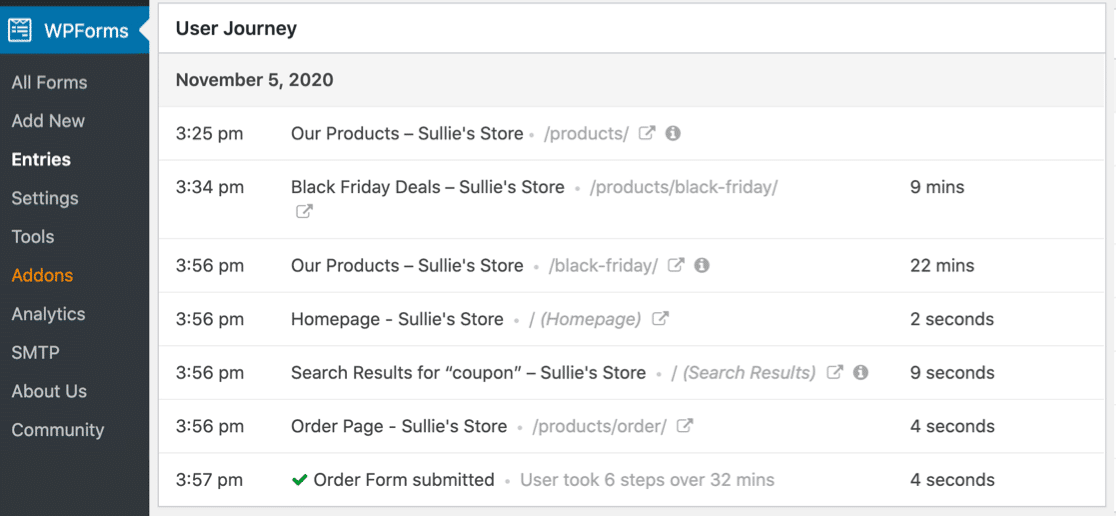 Pricing: Form Revisions are available in all versions of WPForms, including WPForms Lite (free). WPForms Pro costs $399/yr and includes the User Journey addon, conversational forms, payment integrations, file upload field, and more.
See the differences between WPForms Lite vs Pro.
MonsterInsights is the best Google Analytics plugin for WordPress. It turns Google Analytics data into reports that are easy to read and understand.
MonsterInsights is awesome because you don't need to dive into Google Analytics and try to make sense of the data on your own. And if you want to track user activity, form conversion tracking is a great place to start.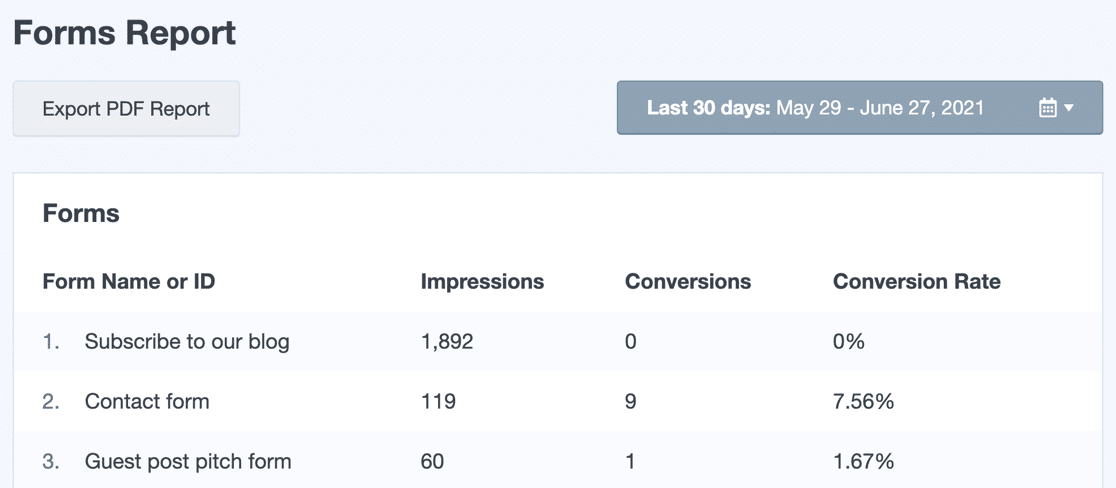 The Forms Report helps you to see how many users are visiting your forms and then filling them in. You don't have to add any custom tags or events to use this: the addon does it all for you automatically.
In addition to tracking forms, MonsterInsights is a perfect user tracking plugin for:
Logging customer activity in WooCommerce, Easy Digital Downloads, LifterLMS, and MemberPress
Seeing the times that visitors visit your site
Measuring clicks on your outbound links, affiliate links, and call-to-action buttons
Tracking file downloads on the frontend
Analyzing video watch times and other statistics from Vimeo Pro
Measuring user activity on the page, like how far people are scrolling
Although MonsterInsights is designed for frontend tracking, you can choose to separate the data from logged-in users if you want to. That means you can remove data about administrator activity, or you could compare how your logged-in and logged-out users behave.
Pricing: MonsterInsights has a free version and 3 paid licenses. The Plus plan is priced at $199/yr for 1 site. For $399/yr, the Pro version includes eCommerce tracking.
WP Activity Log is a WordPress user tracking plugin that also keeps an eye on your website security by tracking users in the backend.
It can track detailed activity for all logged-in users and display the details in real-time.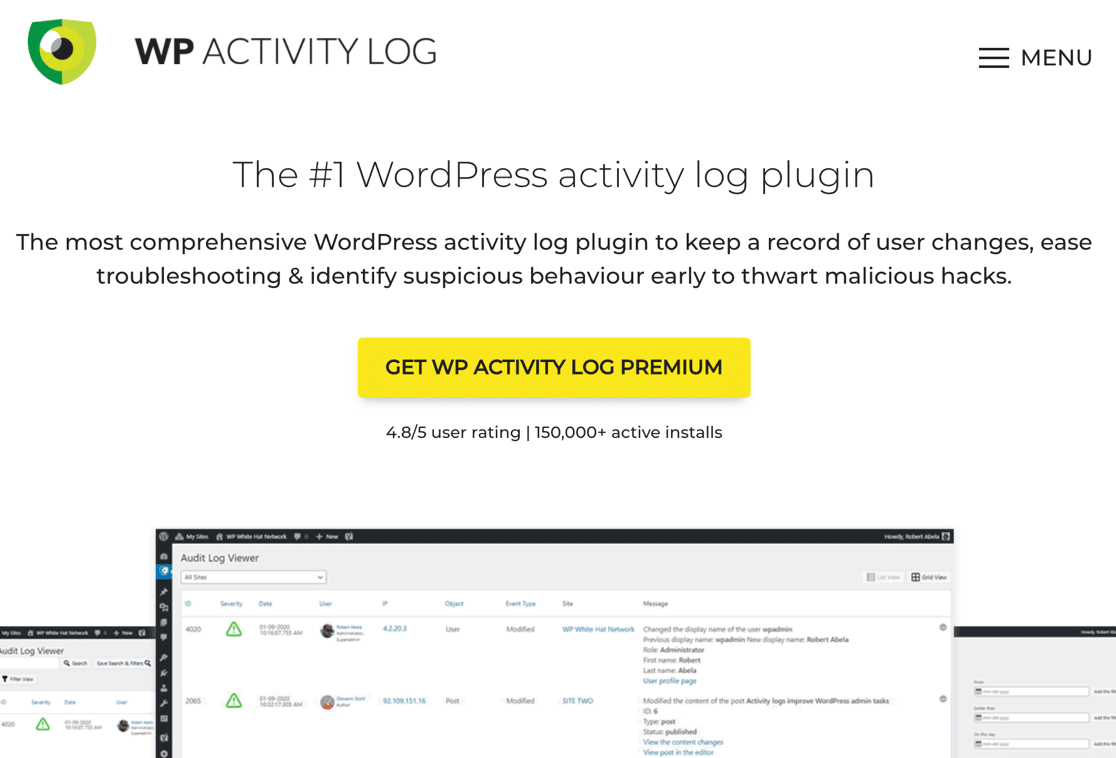 If you have a multisite installation or a WooCommerce store, WP Activity Log could be a great fit.
The Pro version also supports:
Email and SMS notifications for critical changes users make
Custom reports for each user
Email reports
Session management, including the ability to log someone out remotely
Remote archiving of activity log data
Pricing: The basic plugin is free to download. You can upgrade to a paid plan from $99/yr per site. The Starter license includes email notifications and search filters.
Stream is a free user tracking plugin for WordPress. It's a great option if you want very detailed information about what your users are doing, particularly if you use plugins like BuddyPress, Yoast, and bbPress.
You can monitor any change to WordPress and any plugin you have installed. The user activity log can be exported as a CSV or JSON file.
Like WP Activity Log, Stream shows you a real-time view that you can filter in different ways. This view that we created shows all the activity from a specific WordPress administrator: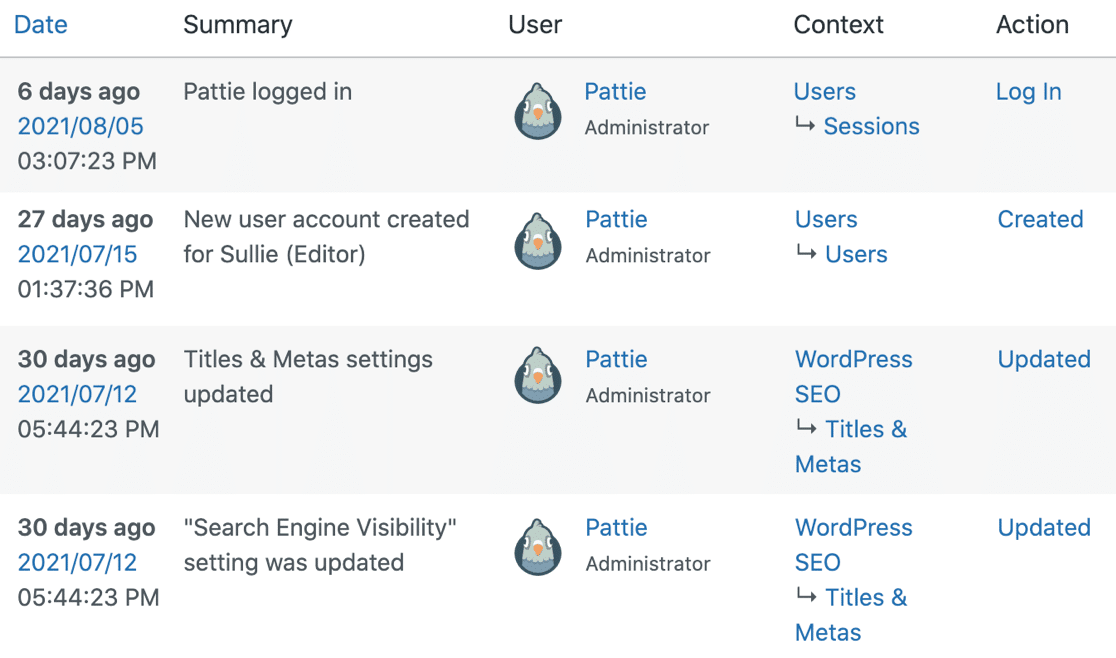 Stream also allows you to create custom email alerts for specific users on your site. Each alert can be customized in detail, right down to a change in a custom field or a permalink edit.
Stream lets you ignore events for things you don't need to be notified about. And for anything super important, it can send you alerts via Slack, IFTTT, or Papertrail.
Pricing: Stream is free.
Simple History is very similar to Stream, but it has a slightly more technical approach to user activity tracking. It automatically saves details of user logins, including failed login attempts, and displays them on the dashboard.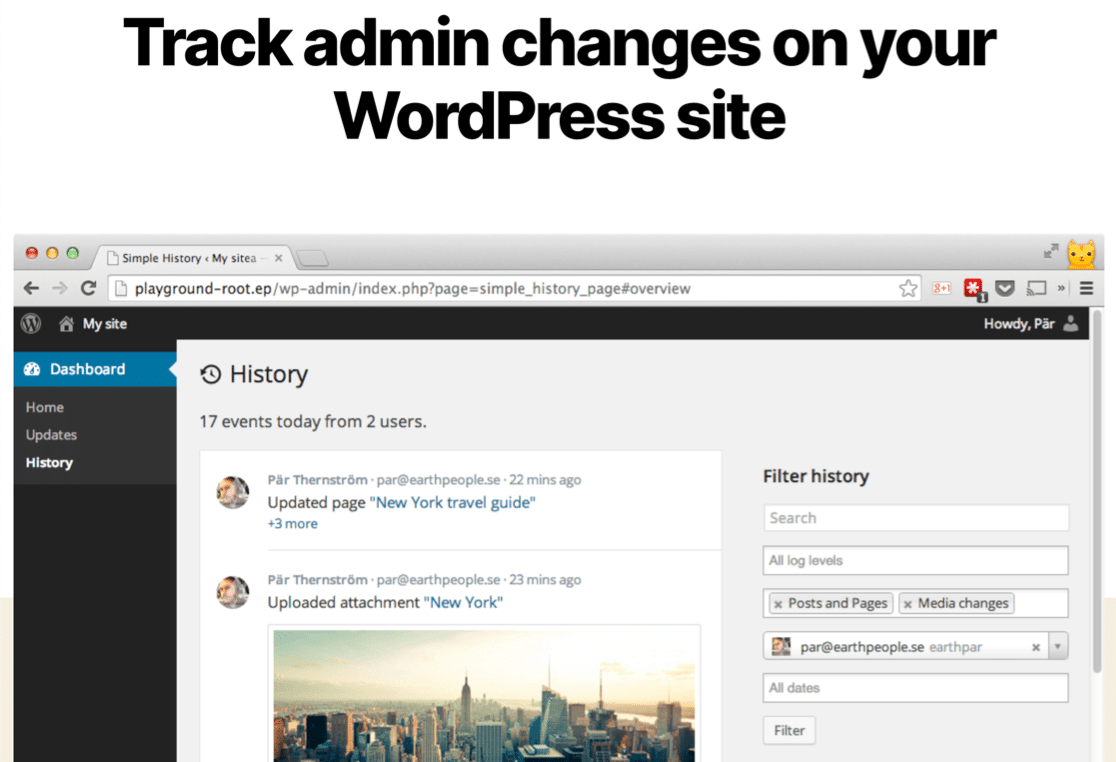 Simple History can also track activity in specific plugins. It's compatible with 9 third-party plugins right now, including Jetpack and Beaver Builder.
In addition to that, Simple History keeps track of the changes users make to:
Post and pages
Media Library attachments
Comments
Widgets
Plugins
User accounts, including updates and deletions
You can get alerts via RSS notification and add your own events via its API. It's also possible to exclude users with a filter.
One downside is that the activity log is only stored for 60 days by default.
Pricing: Simple History is free.
Aryo Activity Log tracks user activity in your WordPress admin area. It displays a timestamped log file with details of certain changes.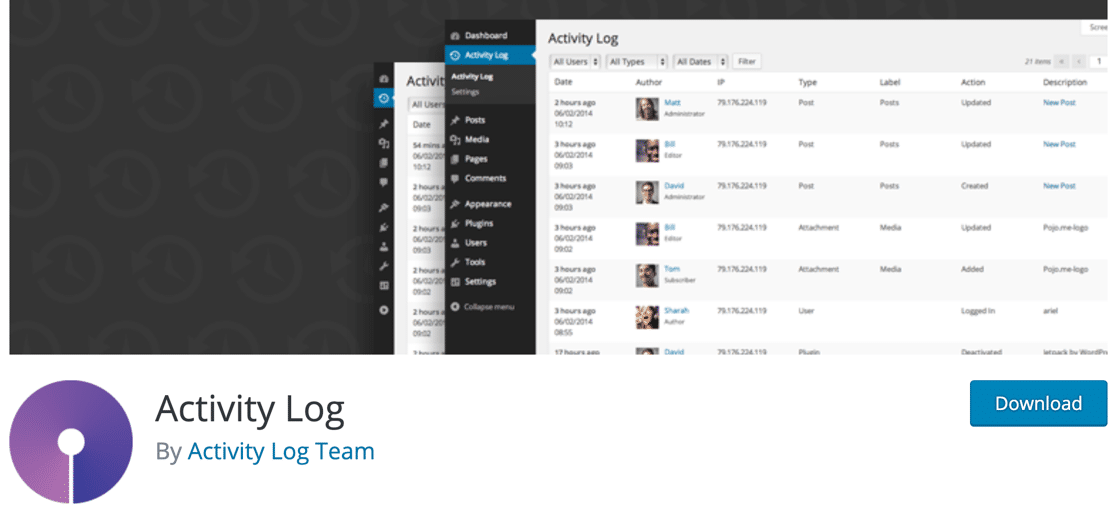 Aryo Activity Log is similar to Simple History, but it doesn't support as many plugins. However, if you just need a user tracking plugin for core activity, it may still work for you.
You can see when users:
Log in or out of WordPress, or fail to log in
Update their profile
Register a new user account
Delete a user account
You can also track bbPress users, including new topics and replies, and the plugin is compatible with WooCommerce. The main downside is the lack of email alerts, although you can export your activity log to a CSV file.
Pricing: Aryo Activity Log is free.
And that's it! Now you have a complete list of WordPress user tracking plugins so you can see exactly what users are doing and how they're interacting with your content.
Track Your WordPress Emails Now
Next, Get WordPress Security Alerts
If you're interested in tracking activity on your site, a security plugin is essential. Security plugins track more than just user activity. They also track brute force hacking attempts, file changes, and other security alerts.
Get started in your search with this list of the best security plugins for WordPress.
Ready to fix your emails? Get started today with the best WordPress SMTP plugin. WP Mail SMTP Elite includes full White Glove Setup and offers a 14-day money-back guarantee.
If this article helped you out, please follow us on Facebook and Twitter for more WordPress tips and tutorials.