Are you looking for the best WordPress security plugins to protect your website against online threats?
Security vulnerability can affect the authority of your website in the eyes of Google as well as your readers. A good plugin will help protect your WordPress website from brute force attacks, malware, and spammers.
In this post, let's look at some of the best WordPress security plugins that'll keep your site safe.
Do I Need A WordPress Security Plugin?
Yes! Security is one of the most important aspects of any online business. It doesn't matter if you are a big company or a small business website. Hackers target everyone.
On average, more than 18 million websites are infected with malware each week.
While the WordPress core software is very secure, the plugins and themes you install can leave your website open to vulnerabilities.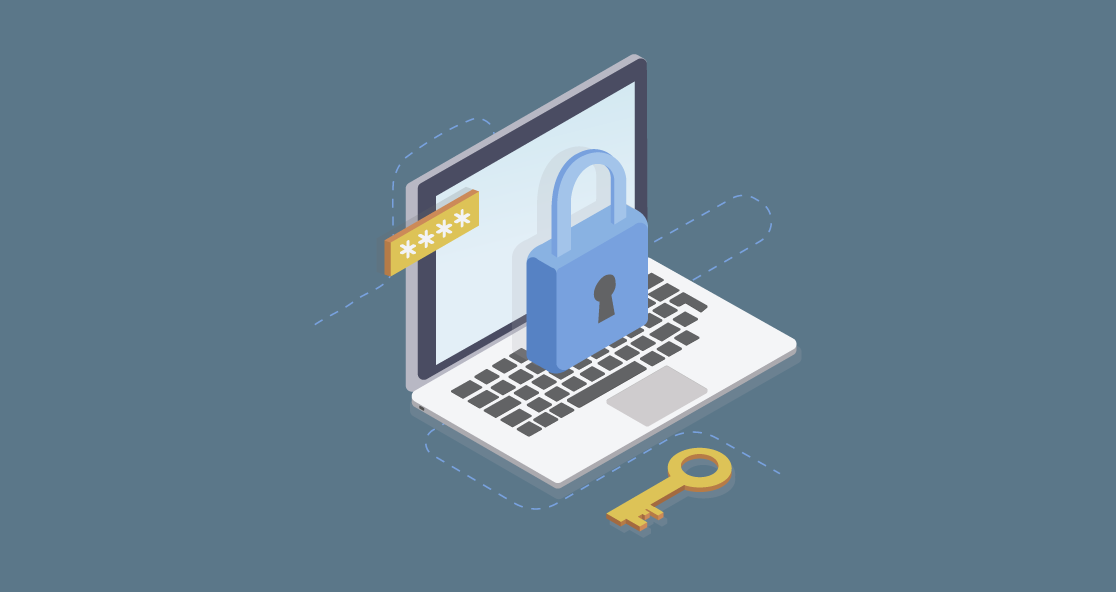 If attacks on your website are successful, they can:
Seriously hurt your business
Damage your brand reputation
Impact your search engine rankings.
A security plugin will include some or all of these features:
Protect your website against brute force attacks, which is when a hacker guesses your login details
Keep confidential website files secure
Block spam from contact form plugins
Notify you when a security threat is detected.
7 Best Security Plugins for WordPress (Free and Premium)
Click on any link to jump to a more thorough description.
1. Sucuri
Sucuri is one of the best security plugins for WordPress. It's used by big websites like WPBeginner, so that's a great indication of the kind of traffic it can handle.

Sucuri has a free plugin, but the real value is in the paid plan. The Pro version offers complete protection with features such as:
Monitoring and automatic removal of malware
DNS change detection
Web Application Firewall (WAF) to keep your website safe against DDoS attacks
Website uptime monitoring
CDN service to speed up your WordPress website
Zero-day exploit prevention
Default HTTP/2 Support for all websites
You can read this in-depth review of Sucuri and how it helped block 450,000 WordPress attacks in three months. If you aren't getting your notifications, you can also learn how to fix your Sucuri emails easily.
Average Rating: 4.3 out of 5 stars from 345 reviews.
Pricing: Free or $199/ year for the Basic plan.
2. iThemes Security
iThemes Security is a well-known WordPress security plugin developed by the folks behind BackupBuddy.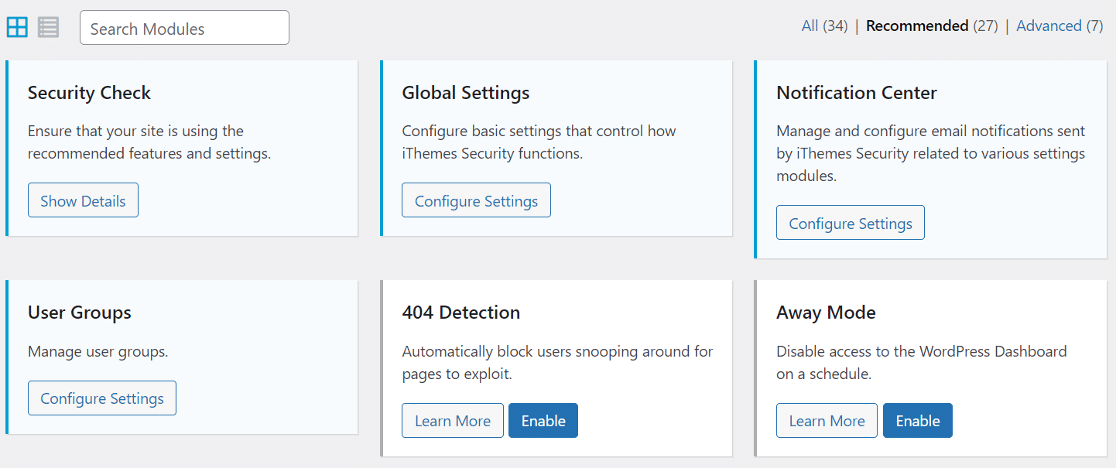 The plugin has an attractive dashboard that showcases all the available tools in the plugin. You can enable or disable the tools you want from the dashboard.
iThemes Security also gives you:
File change detection
Two-factor authentication and strong password enforcement
WordPress brute force protection
Automatic database backups
Lock out bad users
404 error detection
iThemes Security does not have a website firewall or its own malware scanner. It uses Sucuri's SiteCheck for malware scanning.
Average Rating: 4.7 out of 5 stars from 3800+ reviews.
Pricing: iTheme Security follows the freemium model and the free plugin is available on the WordPress repository. iThemes Security Pro plans start at $80/ year.
3. Wordfence
Wordfence is a powerful WordPress security plugin that comes with many useful features to keep hackers away from your website.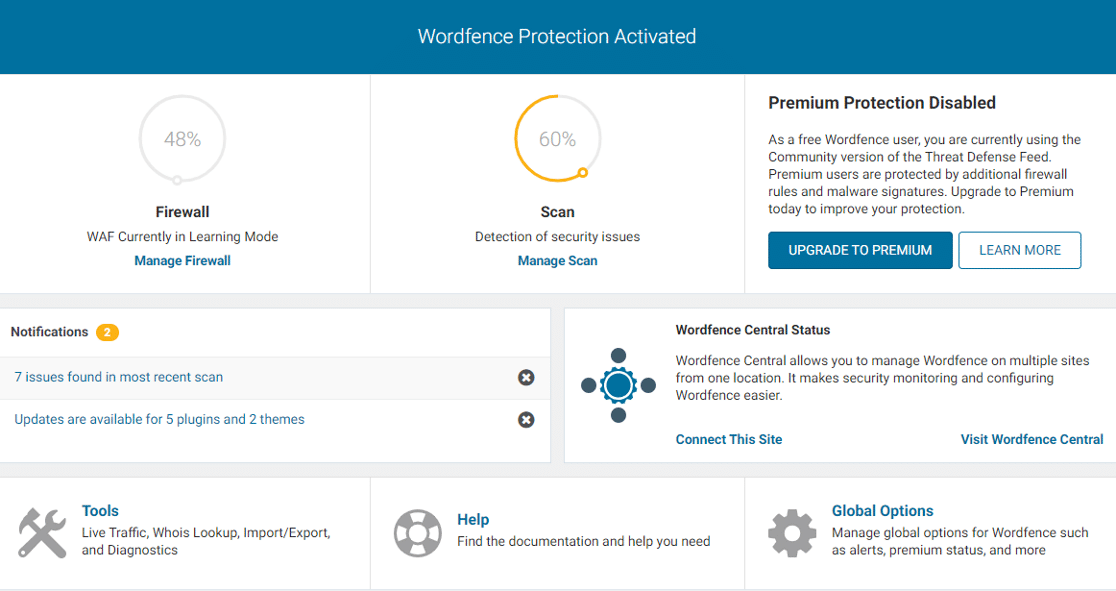 Just like iThemes Security, it follows the freemium model. On a small site, the free version offers basic protection, but you won't receive security patches as quickly as paying customers. Wordfence has an intuitive dashboard, although some other plugins are a little easier to navigate if you're a beginner.
The Pro version comes with some extra security features such as:
Realtime firewall protection
WordPress malware scanner
Brute force attack protection by limiting login attempts
Country blocking
File integrity monitoring for malicious code
Login protection with strong password enforcement and two-factor authentication.
This plugin has its own firewall that runs on your server rather than a cloud-based firewall like Sucuri. That's one important difference to consider if you're comparing them head to head.
Wordfence also has email alerts that'll instantly notify you if there's any breach attempt, and it'll also send weekly updates. If Wordfence is not sending email, you won't see important notices, so it's important to make sure your WordPress emails are working.
Average Rating: 4.7 out of 5 stars from 3600+ reviews.
Pricing: Free or $99/ year for one site.
4. Jetpack Security
Jetpack is an all-in-one plugin that's active on more than 5 million websites.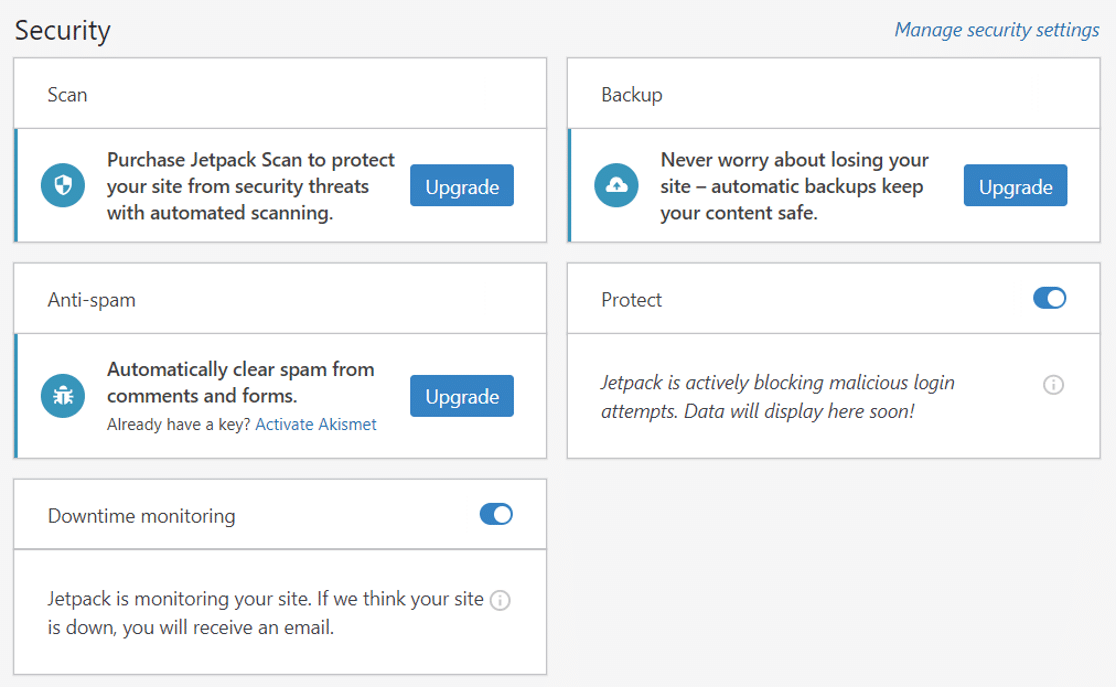 The Pro plan includes:
Real-time backup that saves every change you do on the website
One-click restore to get your site online with no downtime
Activity log
Automatic malware scanning to detect security threats in advance
Spam protection for contact forms as well as comments on your website
Brute force protection for hack attempts
Email alerts if your site goes down.
Apart from these security features, the plugin also offers a contact form, CDN service, and analytics.
Average Rating: 3.9 out of 5 stars from 500+ reviews.
Pricing: Free. The paid plan (which has most of the security features) starts at $24.95/ month.
5. WP Cerber Security
WP Cerber Security is another freemium plugin that has extensive features just like Wordfence.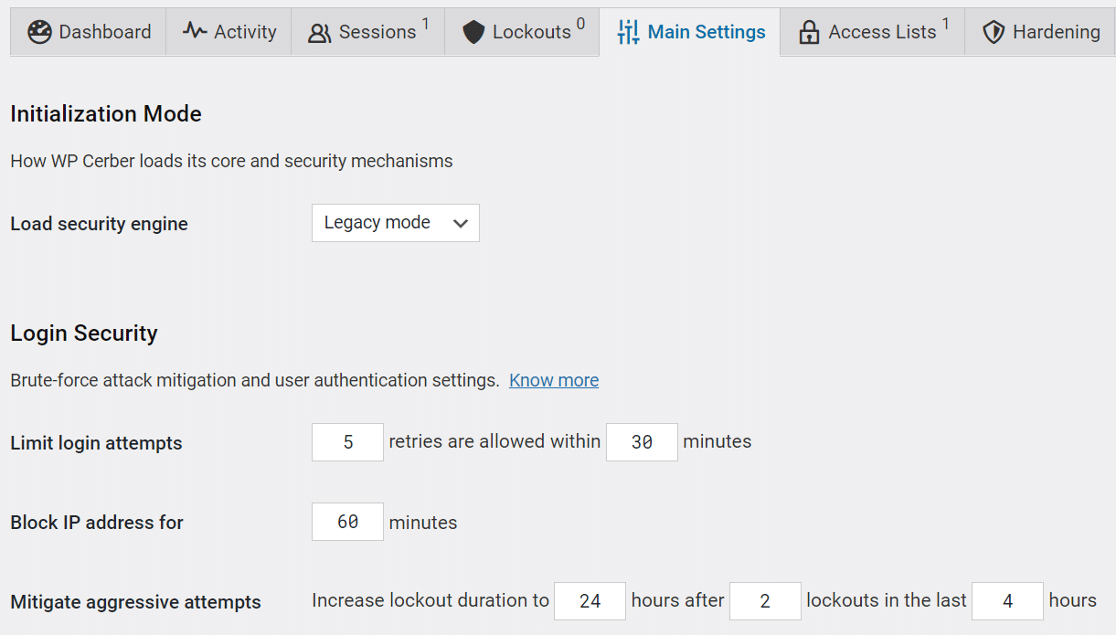 WP Cerber Security allows you to:
Stop unauthorized logins using two-factor authentication
Web Application Firewall to prevent brute force login attempts
Malware scanner
Protect forms and comments from spam
Average Rating: 4.9 out of 5 stars from 1500+ reviews.
Pricing: Free or starts at $29/ quarter.
6. WPScan
WPScan is another great WordPress security plugin that's updated frequently by dedicated WordPress security specialists.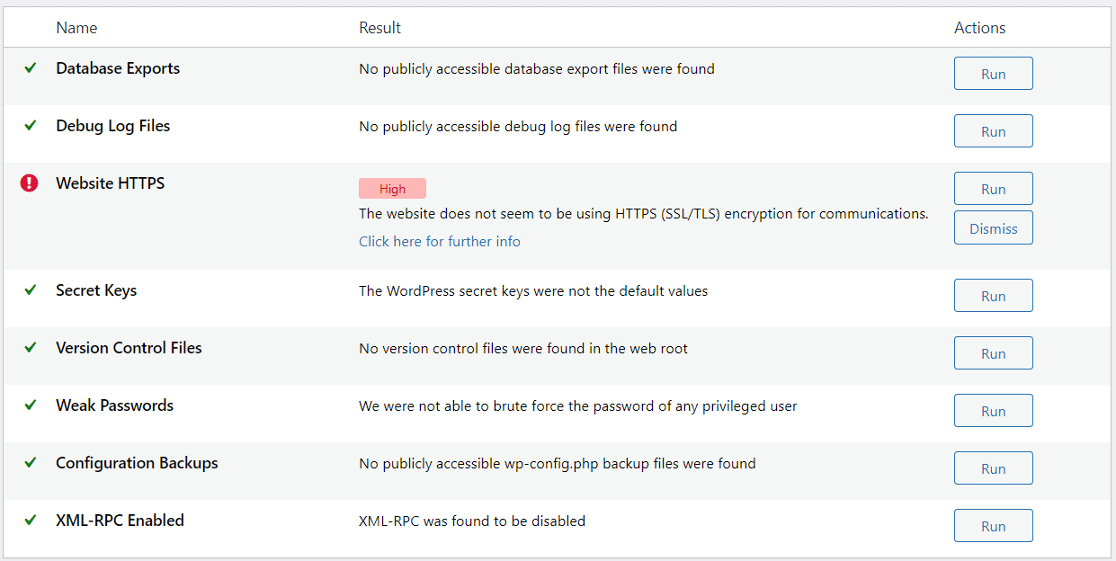 The plugin scans your website and alerts you if it finds any vulnerability in the WordPress core as well as the installed plugins or themes.
It also:
Scans for debug file logs and weak passwords
Looks for plugin and theme vulnerabilities
Checks for 22,000 known vulnerabilities
Email notification of security reports.
Average Rating: 4.1 Out of 5 stars from 20 reviews.
Pricing: The free plan is suitable for most WordPress websites. Paid plan starts at $5/month for 75 API requests.
7. BulletProof Security
BulletProof Security is another popular security plugin for WordPress. It doesn't have the most user-friendly interface, but does its work efficiently.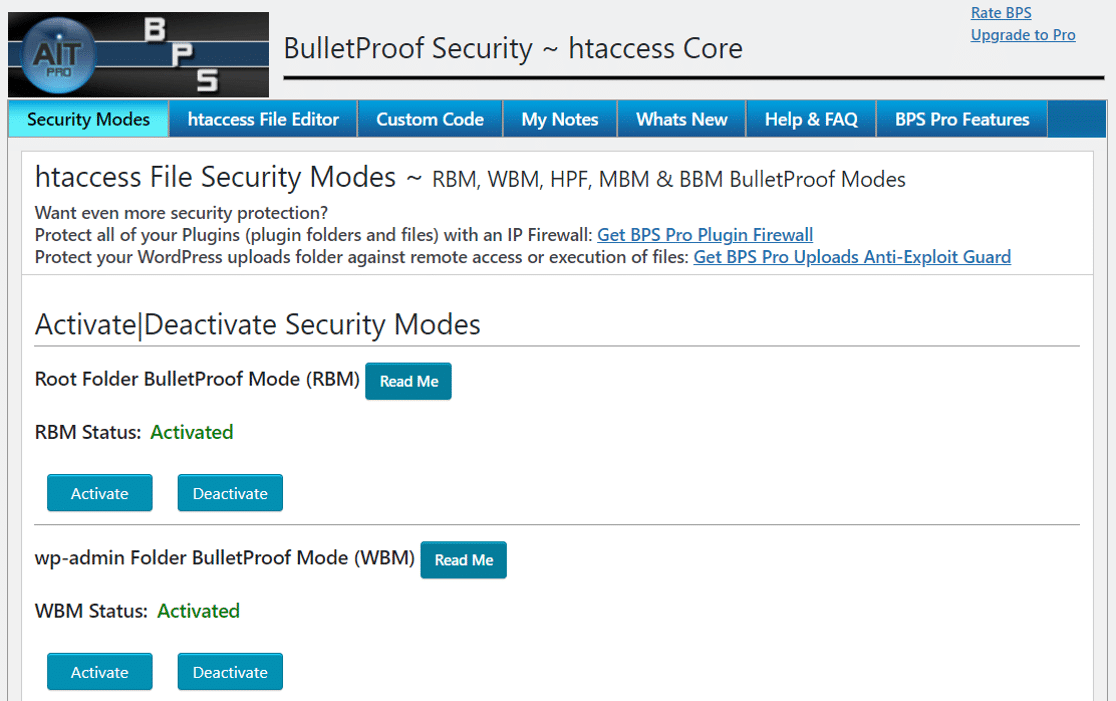 BulletProof Security comes with a number of features such as:
One-click Setup Wizard
MScan Malware Scanner
Login security and monitoring
Database backup and easy restore
Security and HTTP error logging
Email notifications
Average Rating: 4.8 Out of 5 stars from 550 reviews.
Pricing: BulletProof Security comes in a free version as well as a premium version that just costs $69 for lifetime use and unlimited install. If you don't want to spend on premium, the free version is packed with enough features for most small websites.
Which Is the Best WordPress Security Plugin?
Now that you have made it to the end, it's time to choose the best one. Our pick for the very best goes to Sucuri, the most complete tool in this list.
Sucuri comes with all the features one needs to protect their site from hackers, and its advanced Web Application Firewall is the strongest in the market.
The included free SSL certificate and global content delivery network make it a great all-in-one solution.
Next Step: Don't Miss Security Email Alerts
Almost all plugins in this list come with an email alert feature. Most also send an email security report.
Check out these guides if you're facing issues with email alerts.
Also, if you want to change your From Email settings across your whole site, don't forget to see this post on how to change WordPress email sender information.
Ready to fix your emails? Get started today with the best WordPress SMTP plugin. If you don't have the time to fix your emails, you can get full White Glove Setup assistance as an extra purchase, and there's a 14-day money-back guarantee for all paid plans.
If this article helped you out, please follow us on Facebook and Twitter for more WordPress tips and tutorials.