Do you need the best calendar plugin for your WordPress site to create, manage, and display upcoming events?
If you're a website that runs events, you need a plugin to help you manage events with minimal hassle and without writing any code.
There are many WordPress plugins that add calendar creation and management functionality to your site, but not all of these offer the same quality of features.
We tested some of the most popular calendar plugins for WordPress and compiled a list of our favorite ones.
Best WordPress Calendar Plugins
Based on the results of our testing, the following calendar plugins stood out during our review.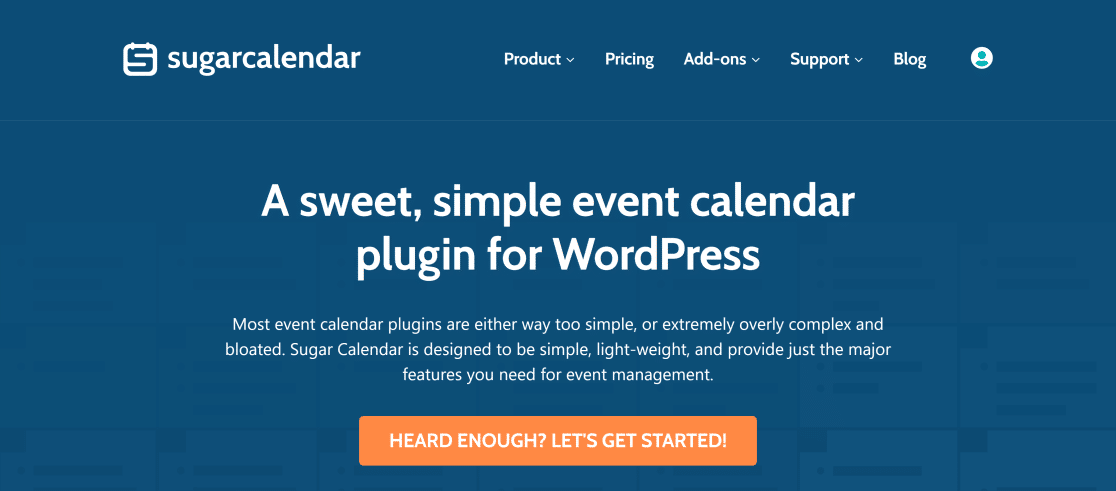 Sugar Calendar is the best calendar plugin that we've tested for WordPress. It's straightforward to use and offers only the most practical features that you'll need to create events.
The plugin gives you the freedom to configure a start date and end time for your event and add an event description. You can choose your own time zone to avoid any scheduling mistakes. If it's a paid event, you can offer ticket bookings on the same page using the Event Ticketing addon.
Sugar Calendar integrates with Stripe, so you can accept payments for event tickets. You can set the quantity of tickets you're selling and their price for each event.
When you've added your events, Sugar Calendar will display events in a calendar view that appears in your WordPress dashboard. It provides an overview of your upcoming events, plus the ability to edit any part of each event if you'd like.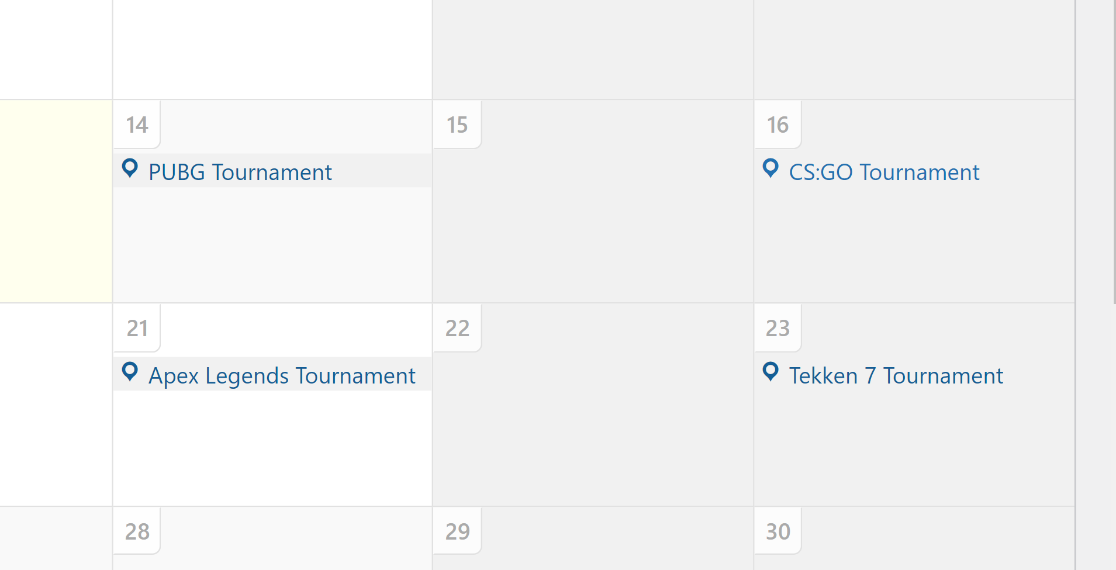 That's not all. Our favorite feature in Sugar Calendar is that it lets you add recurring events.
You can simply set the frequency for how often the event should recur and when it should stop recurring. This is fantastic if you regularly host repeat events like book clubs, open mic nights, gaming competitions, or anything else.

Apart from that, Sugar Calendar can also sync with your Google Calendar and other iCal compatible third-party calendar apps.This is another massive convenience that makes it stand out from other plugins.
Another feature we're huge fans of is the Frontend Submissions addon. With this addon, you can enable event submissions from other members of your siter. This is excellent for websites that have a tight-knit community of active participants with similar interests.
Most calendar plugins only embed with a shortcode. But we were pleased to find that Sugar Calendar gives you an events block that you can use to easily embed your calendar within a WordPress page or post without working with any kind of code.
Lastly, you can integrate Sugar Calendar with popular WordPress form builders like WPForms, Gravity Forms, Ninja Forms, and even sell event tickets with WooCommerce.
Overall, Sugar Calendar is the perfect calendar plugin for WordPress that strikes the ideal balance between user-friendliness and its range of features. You can even get a lifetime Pro version that never expries.

The Events Calendar is one of the most popular WordPress calendar plugins. It's easy to use and has tons of advanced features for simplifying your event management tasks.
You can use the Events Calendar to create any kind of event for your site. We really liked that this plugin also allows you to add detailed location information as well as organizer information for each event.
But the feature that made us fall in love with this plugin is that it integrates with Google Maps. That means you can add a map to pinpoint the exact event locations so attendees can easily locate your venue without any hassle.
Once you create an event, it automatically gets added to your calendar page. Your visitors can see the summarized details for each event on the calendar page, or visit a single event to see the full details.

Events Calendar also has a huge variety of addons to extend your event management functionality. For example, you can let community members submit events. You can go one step further and even allow members to sell tickets and split commissions with you.
These features make Events Calendar the best plugin for community-led events.
However, there are some downsides to this plugin as well. One complaint we have is that there's no backend calendar view where you can conveniently see your own events and quickly edit them. You can only see a list view of your added events from your WordPress dashboard.
In contrast, Sugar Calendar gives you a neat calendar view from the admin menu, allowing you to see all of your added events at a glance and make changes easily.
But apart from this minor drawback, Events Calendar is a fantastic calendar plugin for WordPress that we strongly recommend for community websites.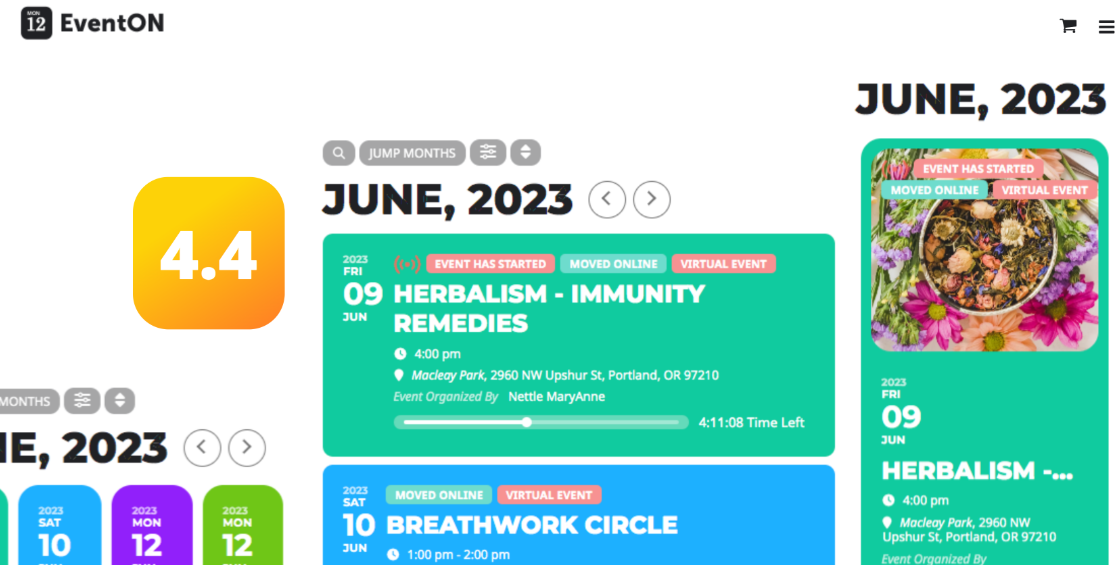 EventOn is a fantastic calendar plugin for WordPress that's known for its style customization features.
It includes all the basic feature you can expect from a top WordPress calendar plugin such as the ability to create one-day as well as multi-day events.
It creates a highly interactive and customizable calendar format that displays a card for each event added to your list.
We enjoyed using its customization features which let us change the color schemes and edit other important event details such as the date and time, description, featured image, and more.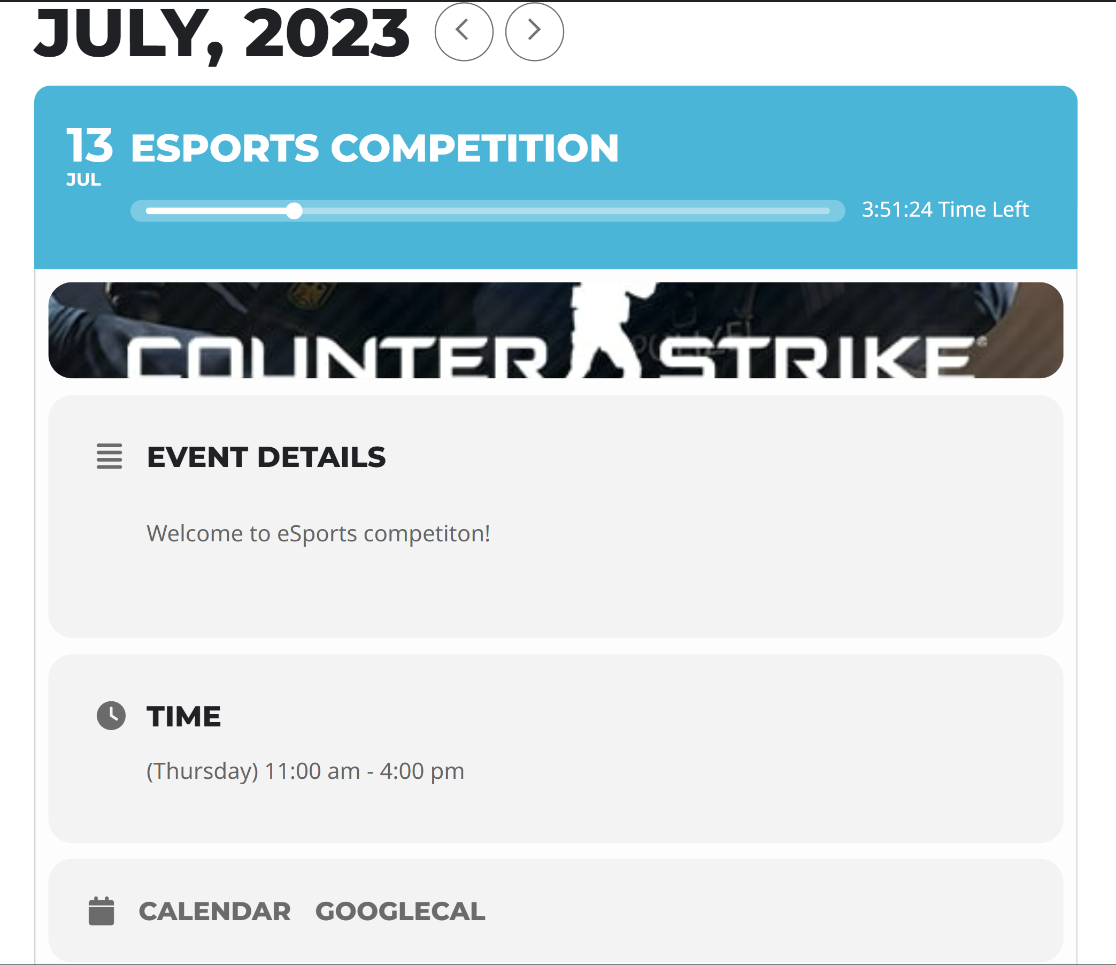 Using EventOn, you can also control how you want the event card to expand after a user clicks on it from the calendar.
For instance, you can simply set the event to expand right under its title from the calendar, open the full event page, redirect the user to an external link, or even open a popup containing event details. These settings are highly effective at boosting user experience when used smartly.
This level of customization is what made us rate EventOn so highly. And to top it off, EventsOn has some of the coolest addons you can find.
You can add a seats functionality that lets your customers interactively pick seats for an event during ticket checkout, accept time-slot based bookings for events, display a countdown timer to create excitement, and more.
If you want to add beautiful and highly interactive event cards to your WordPress site, then you can't go wrong with EventOn, especially since it offers a lot of features in the free version.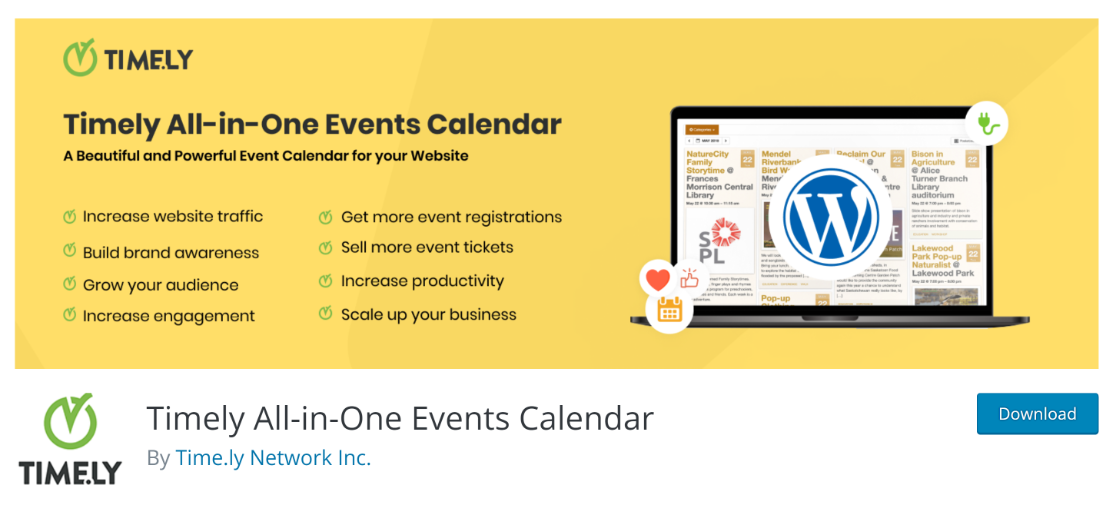 The Time.ly All in One Events Calendar plugin is another plugin that we rate very highly.
Like Sugar Calendar, this plugin is designed for ease of use and comes with an intuitive, beginner-friendly user interface.
It includes most of the basic event functions like calendar creation, adding tags to events to organize them neatly, and assigning different types of events to different categories.
One thing we particularly like about it is that it displays a live preview of your event page as you're creating it. This helps you see any changes you make in real-time, so you can design your events page faster.
You can also integrate events with Google Maps so users can see the exact location of your physical events in the details of each event listing. Similar to other top calendar plugins, All in One Events Calendar also syncs with Google Calendar.
The plugin also offers an addon for enabling ticket-selling and RSVP functionality.
The only drawback is that the calendar layouts don't look as modern and appealing as with EventOn or Sugar Calendar.

My Calendar is one of the more basic calendar plugins on our list. With this plugin, you can access all the standard calendar and event management features like creating custom events.
The plugin lets you switch between the monthly grid view and the list view for your events calendar. You can also add the calendar widget to your sidebar, posts, or pages.
You can also use different event categories to simplify your administrative workflow. And despite being a fairly stripped down plugin, we were pleased to see that it still supports both one-time events as well as recurring events.
However, My Calendar has several limitations too. For one, you can't customize your event and calendar styles without using CSS code. It also doesn't integrate with location apps like Google Maps, and there's no functionality for selling event tickets.
Nonetheless, it's still a very useful plugin for managing all kinds of events on your WordPress site.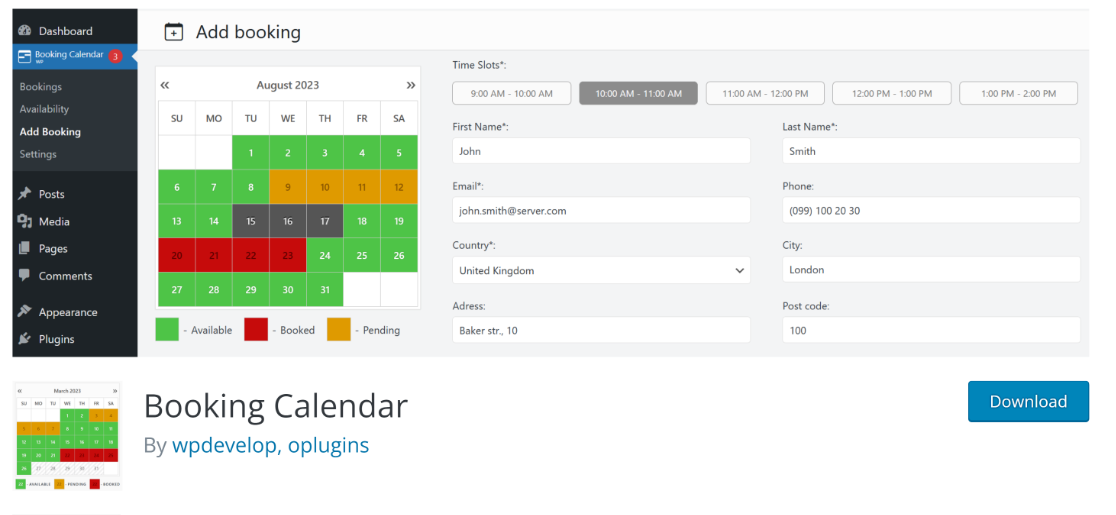 Booking Calendar allows you to add a highly configurable booking calendar to your WordPress website.
With this plugin, can set your availability in your calendar, allowing visitors to book your services or property from the color-coded calendar view. The plugin also lets you set up time-slot bookings using an intuitive time-slot picker field from your calendar.
We like that Booking Calendar also enables you to add a booking form that you can use to collect details and directly accept payments via the form.
The paid version of the plugin also supports various payment gateways including Stripe, PayPal, Authorize.net, and more.
Overall, Booking Calendar is one of the best hotel booking systems if you want to add a calender for room check-in/check-outs and securely accept online payments to confirm bookings on your site.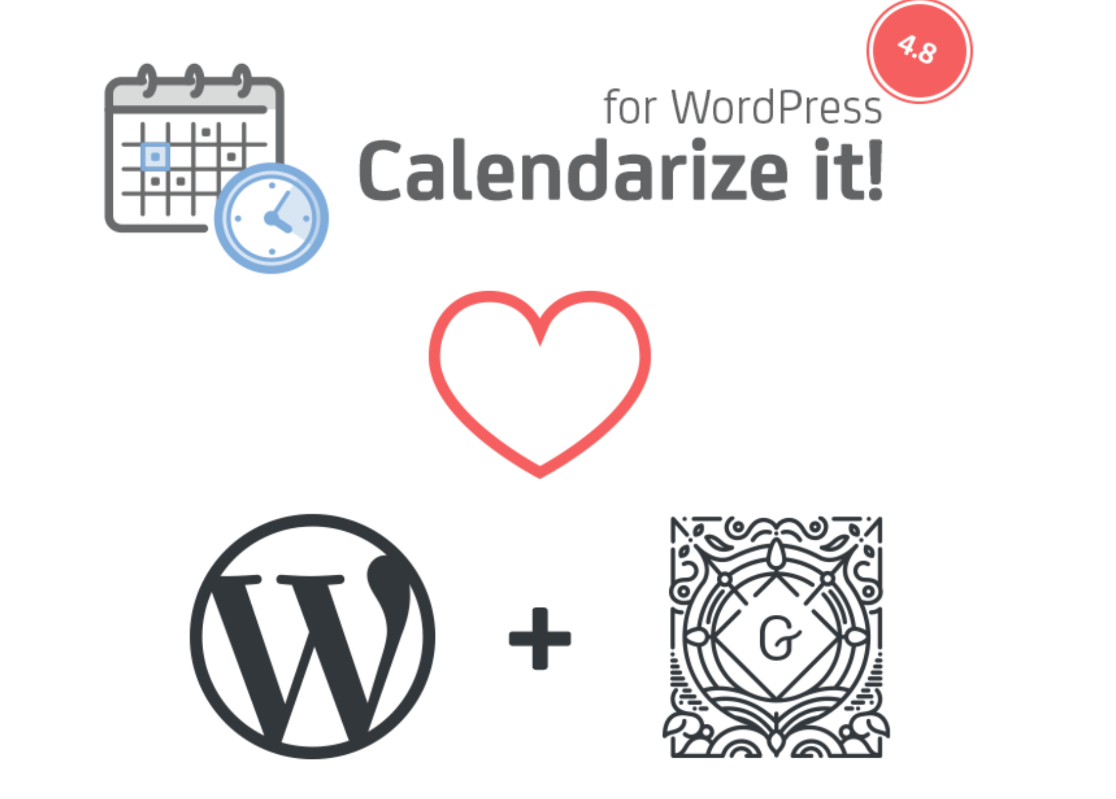 Calendarize It is another feature-packed calendar plugin with a user-friendly user interface.
It's one of the plugins that's mainly built using the main WordPress block editor. Because it uses an editor that you're familiar with, it's fairly easy to get used to this plugin and add events to your calendar in a highly visual way.
Apart from the ease of use of its main functionality, Calendarize It also includes a host of addons to give you access to more advanced features.
With these addons, you can achieve lots of valuable things like adding ratings and reviews for your events, event countdowns, selling tickets, and more.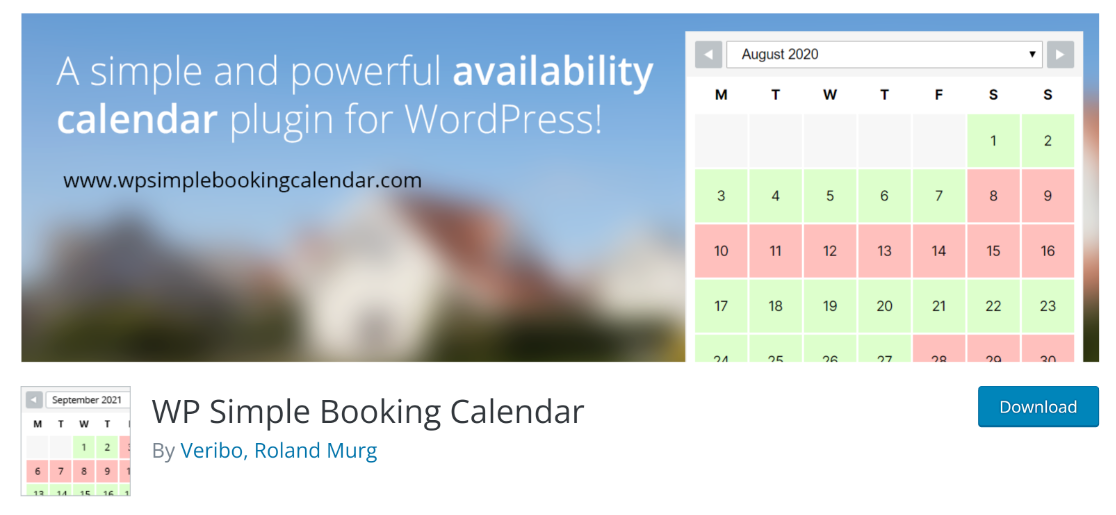 If you're looking for a simple solution for accepting bookings for your apartment, WP Simple Booking Calendar is a great choice.
With this plugin, you can create a calendar that displays the availability of your rental home. It's much more efficient if interested individuals can check your booking availability through your WordPress site rather than checking in with you via calls.
This plugin is a bit more purpose-specific than other options on our list, but it gets the job done admirably if you just want to put your holiday home up for rent.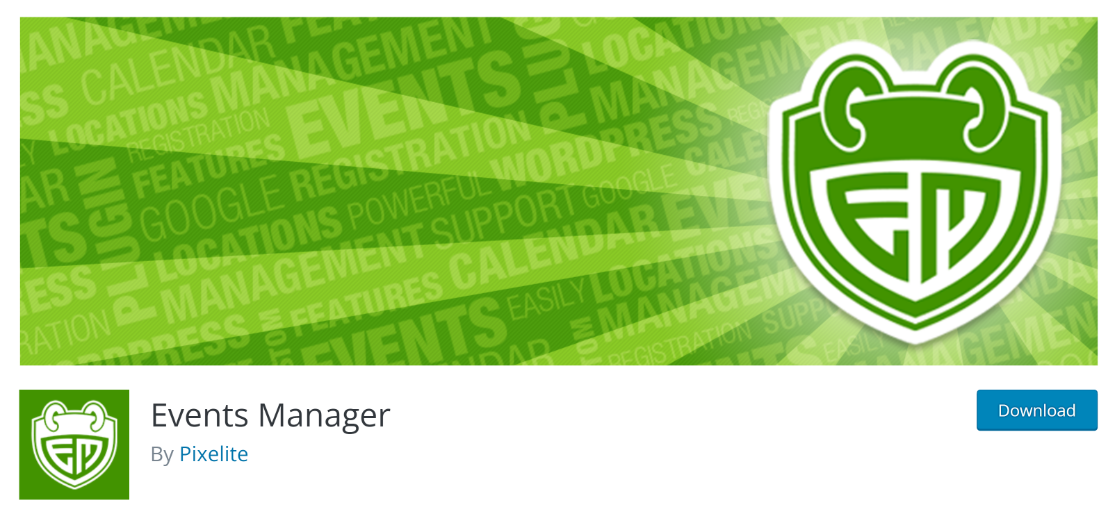 Events Manager is a powerful calendar and event registration plugin for WordPress. The plugin includes many of the calendar and booking features as most other options on this list.
That means you can create different types of events, set their start and end dates, and display a calendar on your site's frontend.
But what sets Event Manager apart is its beautiful calendar design. You can use an interactive calendar widget on your sidebar which expands to display additional information about events when a date is selected.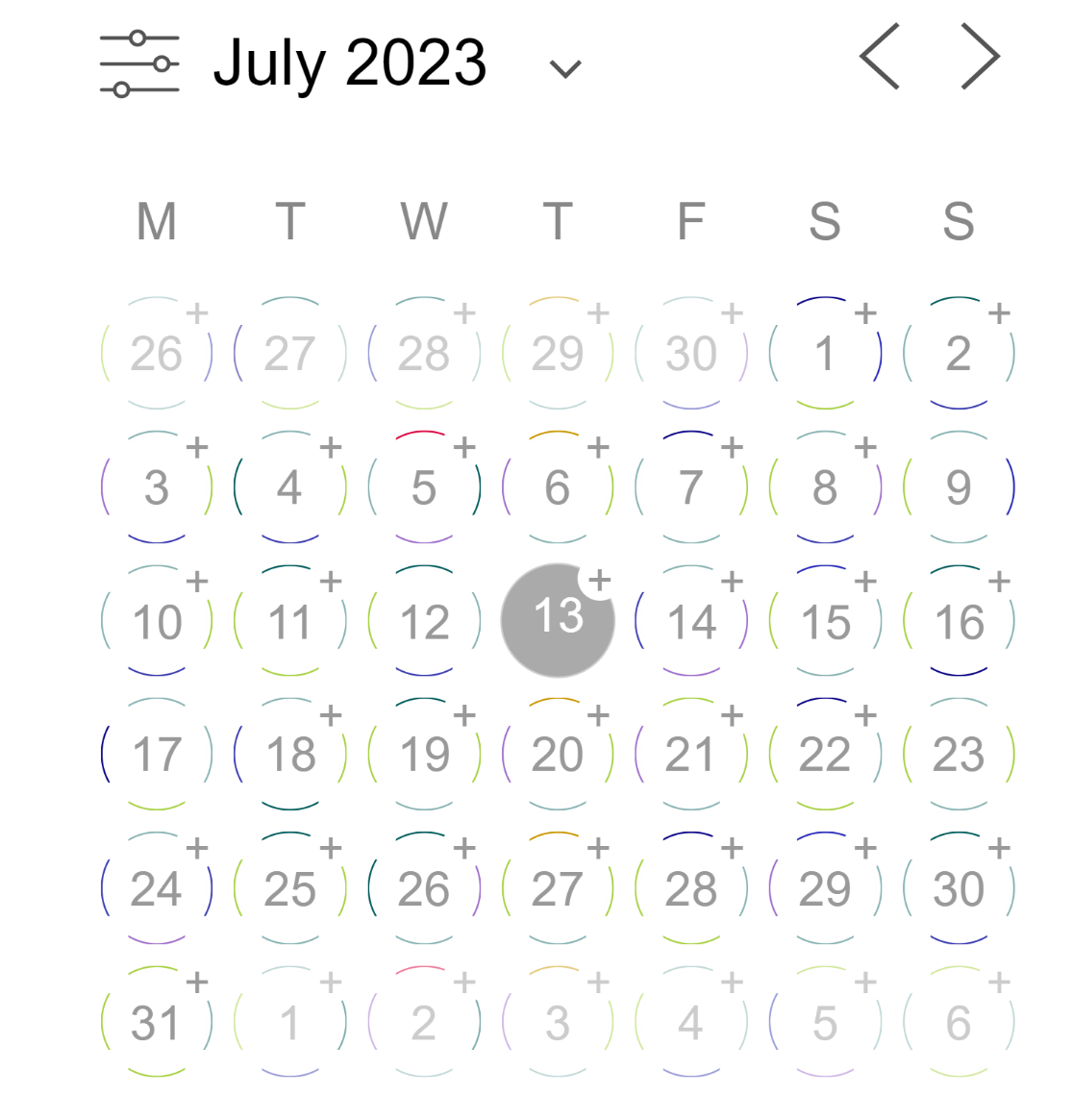 The plugin also tracks your booking statistics and displays reports right within your WordPress dashboard. It's really helpful for monitoring how well your tickets are selling and seeing a complete picture of your bookings and ticket sales.
FAQs on Best WordPress Calendar Plugins
Do you want to learn more about calendar plugins for WordPress? Here are a few commonly asked questions that may shine more light.
How Do I Create an Interactive Calendar in WordPress?
You can create an interactive calendar in WordPress easily using Sugar Calendar. This plugin lets you create multiple calendars and add them to a page or as a sidebar widget. When a user hovers over an event on your calendar, it expands to show additional info about that event, creating an interactive user experience.
Does Google Calendar Work With WordPress?
Yes, you can sync your WordPress calendar with Google Calendar using a plugin like Sugar Calendar. This is a convenient feature that automatically adds events to your Google Calendar based on the events you've created within your website calendar.
Next, Reach Full Potential of Your WordPress Site
A calendar plugin can take care of your booking and event management tasks. But there's a lot more to growing your online business than a single calendar plugin can help with.
To help you find out tools for improving your professional website, we recommend viewing some of our other roundup posts:
Ready to fix your emails? Get started today with the best WordPress SMTP plugin. If you don't have the time to fix your emails, you can get full White Glove Setup assistance as an extra purchase, and there's a 14-day money-back guarantee for all paid plans.
If this article helped you out, please follow us on Facebook and Twitter for more WordPress tips and tutorials.