Are you in the process of creating a new website and looking for the best WordPress hosting services?
The right WordPress hosting service can take your site to new heights by providing the necessary speed, security, and scalability.
In this article, we've done the research and narrowed down the very best WordPress Hosting services for you.
If you want to skip to the comparison table or thorough analysis of the top WordPress Hosting options, use our handy table of contents!
What are the WordPress Hosting Requirements?
WordPress's lightweight Content Management System (CMS) and ease of use make it compatible with many high-quality web hosting services. The simple requirements for hosting are:
PHP version 7.4 or higher
MySQL version 5.7 or higher OR MariaDB version 10.3 or higher
HTTPS support (SSL)
Because of WordPress's popularity, many of the best web hosts have made setting up a new site a breeze with various 1-click installation options. The hosting providers we highlight in this guide all offer excellent support for WordPress features.
How To Choose the Best WordPress Hosting?
Selecting the optimal WordPress hosting service for your needs involves a combination of multiple critical factors, the four most important being:
Speed — One of the most essential features to look for is a fast server response time. If you want your site to continue to impress your visitors and load quickly, you should look for a service that promises a server load speed of less than 300 milliseconds.
Uptime — Reliability in uptime is a sign of a solid hosting provider. Find a service that promises a minimum of 99% uptime. This makes sure that visitors to your site can reach it at all times, guaranteeing a consistent experience.
Customer Service — The importance of good customer care to a trouble-free hosting experience is often underestimated. If you're having trouble with WordPress, you need a hosting service with a responsive and knowledgeable support team.
Compatibility — The size and type of your business should be compatible with the hosting solution you choose. It must be able to accommodate your particular requirements and flexible enough to change as your company does.
You can save hundreds of dollars by determining your needs before investing in hosting. Having said that, here are some other critical hosting factors to consider:
The hosting service should offer features like SSL certificates for secure connections, custom domain names, and professional email addresses.
Consider also the amount of disk space and bandwidth to ensure your website can handle traffic spikes and storage needs.
Hosting services that give your WordPress website's security a high priority should be given preference.
The hosting provider should provide flexibility to upgrade your hosting plan as your business expands.
When selecting the best WordPress hosting for your website, it's also crucial to understand the different types available.
Evaluating Your WordPress Hosting Needs
You will need to be familiar with the many types of WordPress hosting plans to determine which one would best meet your requirements. The following are the top five choices for web hosting:
Shared WordPress Hosting — Shared hosting allows you to host your website with others on the same server. Many newcomers prefer it because of its low price and ease of use. Ideal for personal or small business websites and blogging.
Managed WordPress Hosting — Managed Hosting relieves you of the burden of updating, backing up, and securing your site by taking care of all those details on your behalf. It's more expensive yet less time-consuming. If you prefer a hands-off approach to site administration, this is the best option.
WordPress VPS Hosting — Hosting on a virtual private server, or VPS, is like having your private partition on a larger server. If you need more capacity than shared hosting provides but aren't quite ready for a dedicated server, VPS is a good choice!
WordPress Dedicated Hosting — Your own dedicated server means more power and space for your website. It's more expensive and calls for advanced technical knowledge, but for busy websites with high traffic; it's usually the best option.
Free WordPress Hosting — Free Hosting is an option often provided by hosting enthusiasts. However, be aware that it comes with strings attached, like forced ads on your site, and it often lacks the support and security offered by paid services.
If you are just getting started with a website, we strongly suggest that you begin with shared WordPress hosting or managed WordPress hosting.
Quick Overview: Best WordPress Hosting
Before we get started, here is a list of the best WordPress hosting providers we'll be comparing in this article:
Our Favorite WordPress Hosting Services
We know how vital WordPress hosting is for the growth of your website. So, to get a good idea of how all shortlisted WordPress hosting companies work, we created a sample WordPress site on each and installed the default WordPress theme.
We then utilized some of the top independent 3rd party tools, such as Pingdom, LoadImpact, and Bitcatcha, to test these services and evaluate the performance and reliability of each hosting company,
So, without further ado, here is a list of the best WordPress hosting reviewed based on their speed, uptime, customer service, and overall features.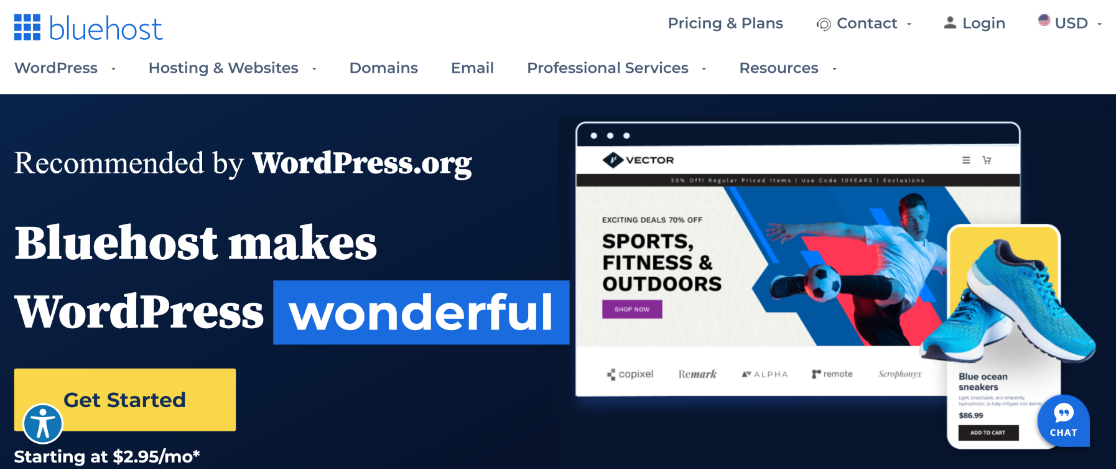 Speed: 2.50 ms
Uptime: 99.99%
Customer Support: 5/5
In WordPress hosting, Bluehost is a well-known company renowned for its unmatched affordability, dependability, and user-friendliness.
The WordPress hosting services from Bluehost provide an environment that is optimized for WordPress websites, ensuring strong speed and increased security.
Bluehost ensures a trustworthy hosting experience by maintaining a remarkable uptime record and providing lightning-fast page load speeds.
Our Experience
Bluehost passed our testing with flying colors. The WordPress installation process took only a few seconds, thanks to their one-click installation option.
Automatic updates saved us a lot of time and made sure that our website was always up-to-date with the most recent WordPress features and security patches.
Our experience with Bluehost confirmed their stellar uptime record. We had hardly any downtime, which is crucial for any website.
We also discovered that their load times were constantly fast, which ensured that users who visited our site had an excellent overall experience.
Lastly, we contacted their support team multiple times during the testing phase. Representatives were always quick to respond and really helpful.
Bluehost Performance
With a load time of less than 100 ms, our test website was 85% faster than the average site. This is a fantastic result given that our test website didn't make use of any speed optimization or caching plugins.

Following that, we utilized Bitcatcha in order to evaluate more accurate server response times from a variety of geographical regions. The Bluehost servers worked wonderfully, taking less than a second to load across various locations.

Feature Breakdown
One-Click WordPress Installation — Simplifies the setup process, making the initial configuration easier and faster to carry out.
Automatic WordPress Updates — Guarantees that your website will always include the most recent updates made by WordPress.
Robust Security Measures — Features of the highest level of security to give you complete peace of mind.
Free Domain Name — Included is a complimentary domain name registration for the initial year.
24/7 Customer Support — Around-the-clock access to knowledgeable counsel is always available.
CDN Integration — Increases the site's overall speed and performance around the globe.
Scalable — Provides a variety of pricing plans to accommodate the expansion of your website.
Money-Back Guarantee — Offers a 30-day money-back guarantee so you can try it out without any risk.
Pricing and Plans
Bluehost has several packages, depending on your need and budget. Each plan offers tremendous value for the money and is suitable for businesses of any size. The most basic plan starts at $2.95/mo, which is billed annually.
Verdict
Bluehost stands out as a top-tier WordPress hosting service due to its dependable performance, intuitive interface, and helpful support staff. It's perfect for anyone, from blog newbies to seasoned enterprises.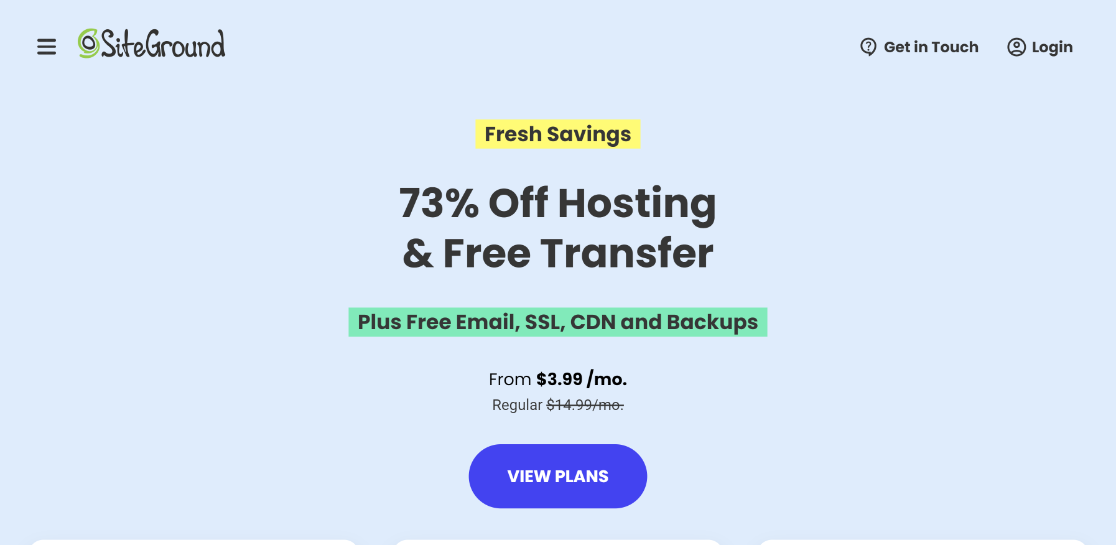 Speed: 120 ms
Uptime: 99.99%
Customer Support: 4/5
SiteGround is a well-known WordPress hosting provider with a stellar reputation for speed, reliability, and user-friendliness.
The services' dedication to offering WordPress-optimized hosting, guarantees a smooth experience for both entry-level and seasoned webmasters.
The company's hosting services include a suite of tools designed to improve your site's accessibility, performance, and safety.
Our Experience
We were impressed by how simple the installation was with SiteGround. Our WordPress site launch was a snap, thanks to their intuitive interface and extensive documentation.
Our WordPress site hosted by SiteGround performed exceptionally well in terms of speed, with web pages loading almost instantaneously.
The infrastructure that SiteGround uses has been proven to be reliable, as it has provided continuous performance even during times of high website traffic.
The support team was also quick to respond, extremely knowledgeable, and helpful if we had any questions or concerns during the process.
SiteGround Performance
As you can see up below, the loading time for our test website was less than a second (120 milliseconds), making it quicker than 95% of the websites that were evaluated.

Following that, we analyzed real-world server response times using Bitcatcha. The server at the testing website functioned admirably in the United States, and its response time was significantly less than one second in every other location.

Features Breakdown
Free WordPress Installation — The streamlined approach to installing WordPress with a single-click makes it suitable for novice users.
Managed WordPress — Will handle all of the WordPress updates for you, ensuring that your website is always running the most recent version.
SuperCacher — This internal caching technology helps your website load faster, which is great for both users and search engine optimization.
Free SSL Certificate — You won't have to worry about the safety of your website if you host it with SiteGround because they provide a free SSL certificate.
Free Daily Backups — SiteGround takes daily backups to protect your information and make it easily retrievable in the event of data loss.
24/7 Customer Support — Access prompt, reliable, and expert customer support anytime you need help.
99.99% Uptime — SiteGround guarantees a reliable hosting experience with an impressive 99.99% uptime.
Pricing and Plans
SiteGround offers three different hosting plans. The StartUp plan is great for newcomers and starts at $3.99/mo (billed annually). Meanwhile, the GrowBig and GoGeek plans are better suited to sites that require more space, bandwidth, and other resources.
Verdict
After a thorough analysis, we highly recommend SiteGround for WordPress hosting. Its combination of superior performance, ease of use, and support makes it a top pick for anyone using WordPress.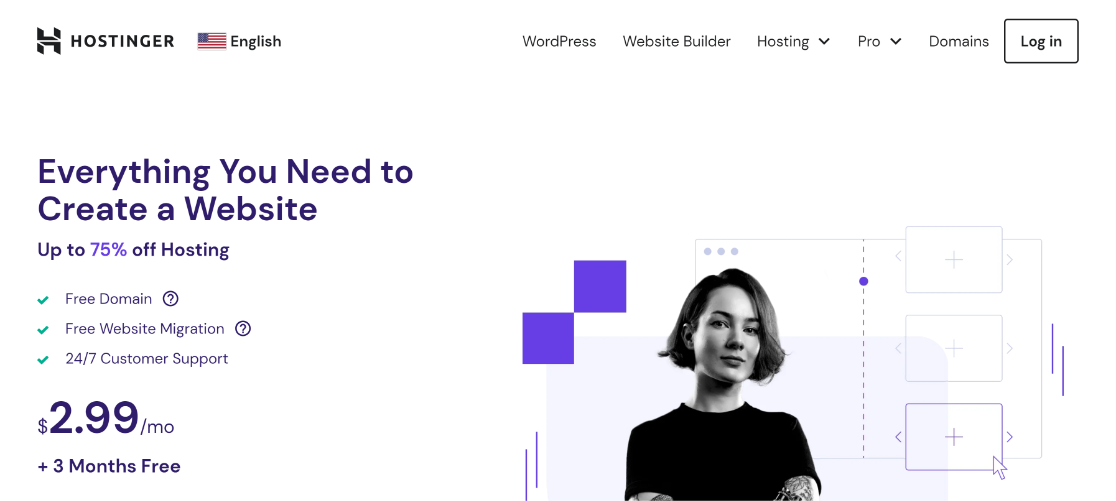 Speed: 191 ms
Uptime: 99.99%
Customer Support: 4/5
Hostinger is an internationally recognized WordPress hosting service that is famous for its low prices and high levels of performance.
It has a user interface that is simple to navigate, in addition to a multitude of features that are designed to improve your experience with WordPress.
Hosting that is both quick and stable is essential to keep your visitors interested and climb the search engine results, and you can get both from Hostinger.
Our Experience
Our first impressions of Hostinger were quite favorable. The interface was straightforward to use throughout the entire setup and day-to-day operations.
The page loads quickly, and there was very little downtime, both of which are essential features for any business website.
Hostinger's scalable plans allowed for simple modifications as need changed. It was simple to upgrade when we required extra space, bandwidth, or new functions.
Any questions or problems that we had were promptly answered and remedied by their chat service, which is available around the clock.
Hostinger Performance
With a load time of less than a second, as you can see Hostinger performed really well on this test, which shows its a great hosting service overall.

Hostinger's hosting services have a global response time of less than one second. Especially in Europe and North America, reaction times were very fast.

Features Breakdown
WordPress Optimized — Hostinger's servers are optimized for WordPress, so your site will perform smoothly.
LiteSpeed Cache — The LiteSpeed caching technology they use greatly improves the speed and performance of your website.
Free SSL Certificate — Your website's sensitive information is protected by Hostinger's complimentary SSL certificate.
Managed Updates — WordPress updates are a tedious chore, but Hostinger handles them for you.
24/7 Support — Around-the-clock customer support ensures all your queries are promptly attended to.
Daily Backups — Your data is backed up on a daily basis, which adds an additional degree of protection.
Free Domain — When you sign up for a premium or business plan on Hostinger, you get a free domain name.
Pricing and Plans
Hostinger provides three distinct WordPress hosting plans, which cater to a range of requirements, from individual bloggers to growing businesses. Their basic premium plan starts at a minimum of $2.99/mo (billed annually).
Verdict
Hostinger is a leading WordPress hosting service because of its amazing combination of low prices, high performance, and intuitive interface. It's a great option for WordPress users because its hosting plan can accommodate various requirements.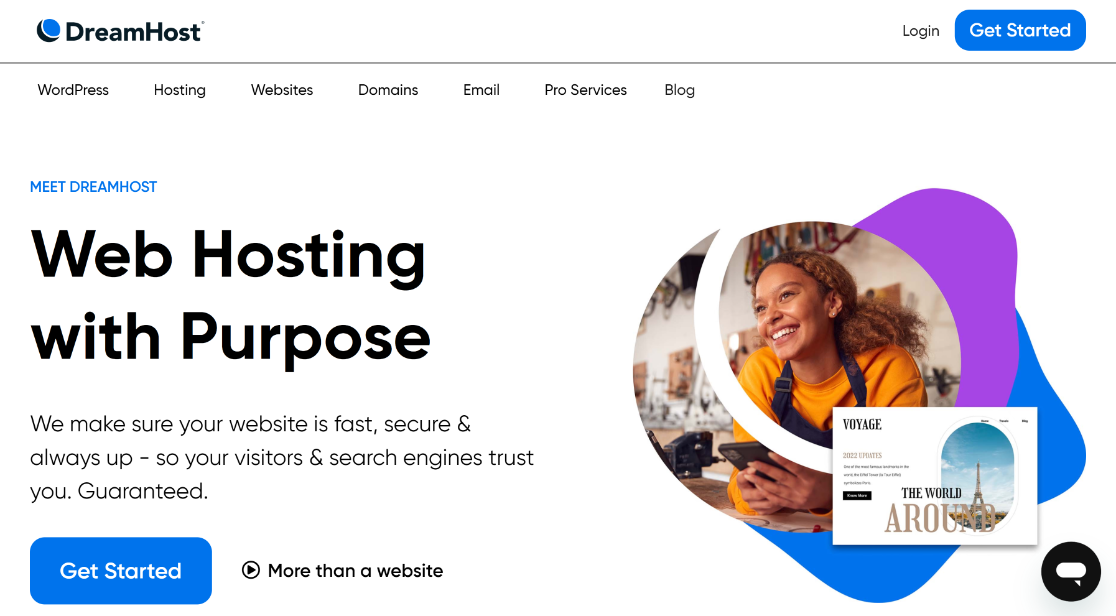 Speed: 235 ms
Uptime: 99.99%
Customer Support: 4/5
DreamHost is a go-to WordPress host because of its dedication to providing exceptional service and reliability.
The WordPress hosting offered by this provider has been fine-tuned to make both site owners' and visitors' lives easier and faster.
From its easy-to-use control panel to its robust security features, DreamHost goes above and beyond to ensure a positive user experience.
Our Experience
Thanks to DreamHost's intuitive interface and comprehensive tutorials, we had little trouble setting up WordPress on our site.
In our tests, DreamHost delivered exceptional performance. Rapid page load speeds are a credit to their solid-state storage and sophisticated caching.
Our website was accessible at all times, even during peak traffic periods, proving their uptime assurance to be accurate.
The customer service we received from DreamHost was good as well. The support team was prompt in their responses.
DreamHost Performance
The accompanying screenshot demonstrates that our test site loaded in less than a second, which is faster than 93% of all websites we evaluated.
The DreamHost server performed admirably in the United States, loading in under a second, and similarly well in other parts of the world.

Features Breakdown
One-Click WordPress Install — DreamHost makes it easy to set up WordPress with their one-click installation.
Automated Daily Backups — Daily backups of your website's data provide you peace of mind that you can easily perform recoveries.
Free SSL Certificate — Your website will be kept safe and secure thanks to DreamHost's free SSL certificate.
Advanced Caching — DreamHost ensures your site loads rapidly with their built-in caching technology, which leads to a better user experience.
24/7 Customer Support — Round-the-clock customer support ensures your queries and issues are addressed promptly.
Free Domain — The hosting packages provided by DreamHost come with a complimentary domain name.
Pricing and Plans
There are three WordPress hosting plans – Shared, DreamPress, and VPS. The Shared plan starting at $2.95/mo (billed annually), is suitable for smaller websites and blogs, while DreamPress and VPS are designed for websites with higher traffic.
Verdict
DreamHost is a great option for WordPress users since it provides top-notch performance, a wealth of features, and exceptional customer service.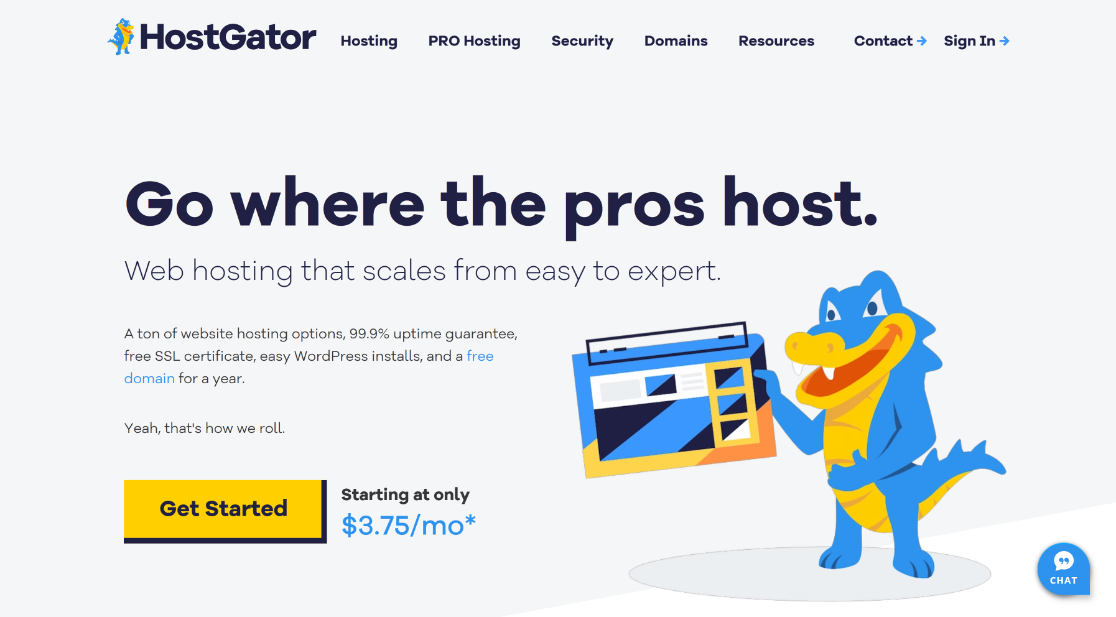 HostGator, which has been in the business of web hosting for many years, is a flexible option that can fulfill a wide range of requirements.
The goal of the hosting service is to make using WordPress a pleasurable and secure experience for both site owners and visitors.
As such, it places a high priority on ideal performance and uses smart caching to reduce the amount of time it takes for websites to load.
Our Experience
The HostGator dashboard was simple to use, and the one-click WordPress installation helped us launch our site rapidly.
Our WordPress site on HostGator ran really smoothly. Their sophisticated caching and solid infrastructure combined to ensure instant page loads and reliable service.
This performance was consistent even during times of high traffic, which is an essential quality in a dependable web host.
HostGator Performance
As you can see below, the loading time for our test website was less than a second (310 milliseconds), which shows the server load time is excellent!

Like other services in the list, the server response time of HostGator was incredibly impressive and consistently below a second across several locations!

Features Breakdown
Free Site Migration — To help customers move their sites from another host to HostGator, the company provides a free website migration service.
One-Click WordPress Installation — Installing WordPress on HostGator is a breeze, thanks to the platform's support for a single-click installation.
Free SSL Certificate — Each hosting package comes with a free SSL certificate, enhancing your site's security.
Automated Backups — Regular automated backups ensure that your data remains safe and can be restored in case of mishaps.
Advanced Caching — HostGator's advanced caching techniques ensure that your website loads quickly for a better user experience.
24/7 Customer Support — The customer support team is readily available round the clock with chat support to assist with any issues or queries.
Pricing and Plans
HostGator's WordPress hosting packages come in three tiers: Hatchling, Baby, and Business. The diverse features of the plans allow them to meet the needs of sites of all sizes. The basic plan starts at $3.75/mo (billed annually).
Verdict
HostGator offers a straightforward management interface, a fast and reliable hosting platform, and helpful support staff.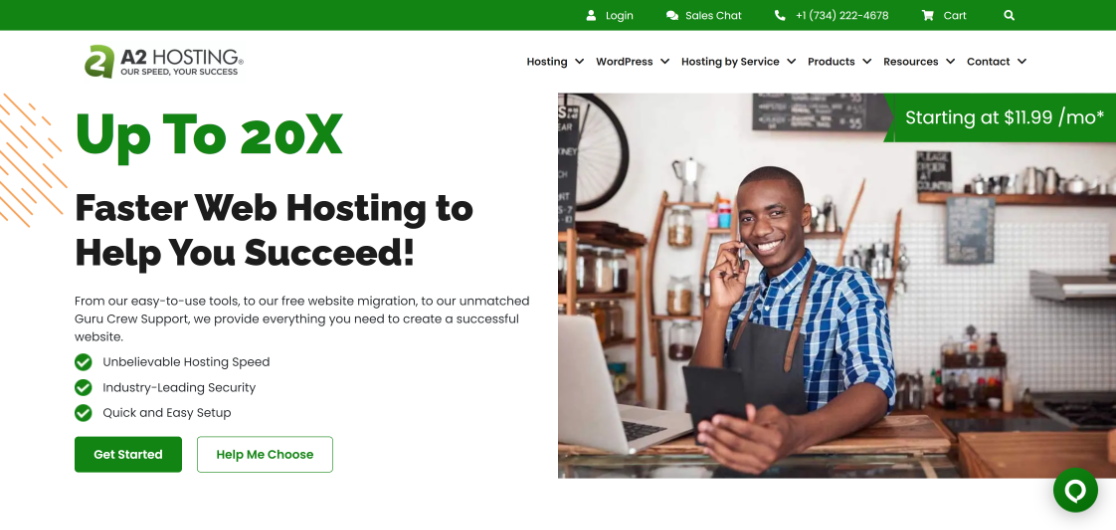 With a focus on speed and developer-friendly features, A2 Hosting has earned a reputation as a top-tier WordPress hosting service.
A2 Hosting's SwiftServer technology provides quick page loads, top-notch performance, and a superior end-user experience.
Our Experience
Thanks to WordPress's intuitive interface and one-click installation wizard, setting up our site was a breeze.
The Turbo Servers truly lived up to their name, significantly boosting our website's loading speed.
Their customer service responded quickly to our questions and offered sensible recommendations.
Features Breakdown
Turbo Servers —Websites hosted on Turbo Server data centers benefit from cutting-edge caching technology that allows for ultra-fast page loads.
Free SSL Certificate — A2 Hosting includes a free SSL certificate with their hosting plans, ensuring secure data transmission.
Developer-Friendly Features —It provides capabilities that are helpful to developers, such as SSH access, WP-CLI integration, and Git integration.
Regular Server Backups —The server that stores your data is backed up on a regular basis by A2 Hosting.
HackScan Protection —Protect your WordPress site from malicious software and other security risks with HackScan.
Pricing and Plans
Their shared hosting packages are great for low to medium-traffic websites, while their managed WordPress packages are tailored to the needs of larger, more resource-intensive businesses, starting at $11.99/mo (billed annually).
Verdict
A2 Hosting provides a stable hosting experience with their Turbo Servers, extensive security features, and responsive customer service.
FAQs
WordPress hosting is a popular topic of interest among our readers. Here are some quick answers to a few of the most commonly asked questions:
What is the best web hosting service for WordPress?
According to our analysis, the top three WordPress hosting services are Bluehost, SiteGround, and Hostinger.
Does WordPress host websites?
On its website, wordpress.com, WordPress does in fact provide both free and premium hosting options.
Can I build a WordPress site without hosting?
Creating a WordPress site is possible even without a hosting subscription. This would be done using the free hosting plan on wordpress.com.
Can I host a WordPress site on my own server?
A WordPress site can be hosted on a personal server. The site may need to be rebuilt on a new domain maintained by the host if you're transferring from another server.
How do I find out where my WordPress site is hosted?
Whois IP Search & Whois Domain Lookup can help you discover the server hosting your WordPress site. If the website hosting is up and running, you can ping the server using the nameserver provided in the details.
Do I need to have my domain and WordPress web hosting from the same provider?
No. To utilize WordPress, you can register a domain using a service like Domain.com, GoDaddy, etc., and then host your site with any of the aforementioned companies. However, it is definitely more convenient to use the same provider.
Do I need cPanel WordPress hosting?
Many WordPress hosting providers utilize cPanel, a popular web-based interface. You can get by without cPanel, but it will make setting up your server, maintaining your email accounts, and so on much simpler.
Next, Check Out These Essential WordPress Plugins
And there you have it. We hope this list was helpful in selecting a web hosting provider that meets your specific requirements. For more of our recommended WordPress plugins, see the following posts:
Looking for some help with maintaining your WordPress site? Check out our guide to WordPress maintenance services. They'll take care of everything so you can keep your focus on your business.
Are you having trouble receiving emails from WordPress notifying you of new orders or form submissions? It is recommended that you look into using the WP Mail SMTP plugin.
Ready to fix your emails? Get started today with the best WordPress SMTP plugin. If you don't have the time to fix your emails, you can get full White Glove Setup assistance as an extra purchase, and there's a 14-day money-back guarantee for all paid plans.
If this article helped you out, please follow us on Facebook and Twitter for more WordPress tips and tutorials.