Are you searching for the WordPress SEO plugin for your WordPress website?
A good Search Engine Optimization (SEO) strategy is essential to maintain good search visibility for your website and generate organic traffic.
There are many SEO plugins available on the market, but not all of them provide the same features.
In this post, we're going to discuss the top SEO plugins that can help your website rank higher on Google.
The Best WordPress SEO Plugins
When looking for an SEO plugin, you only need to have one SEO plugin on your WordPress site at a time. Having multiple SEO plugins can create conflicts and affect the functionality of these plugins.
Here are some of the best WordPress SEO plugins:
Let's begin!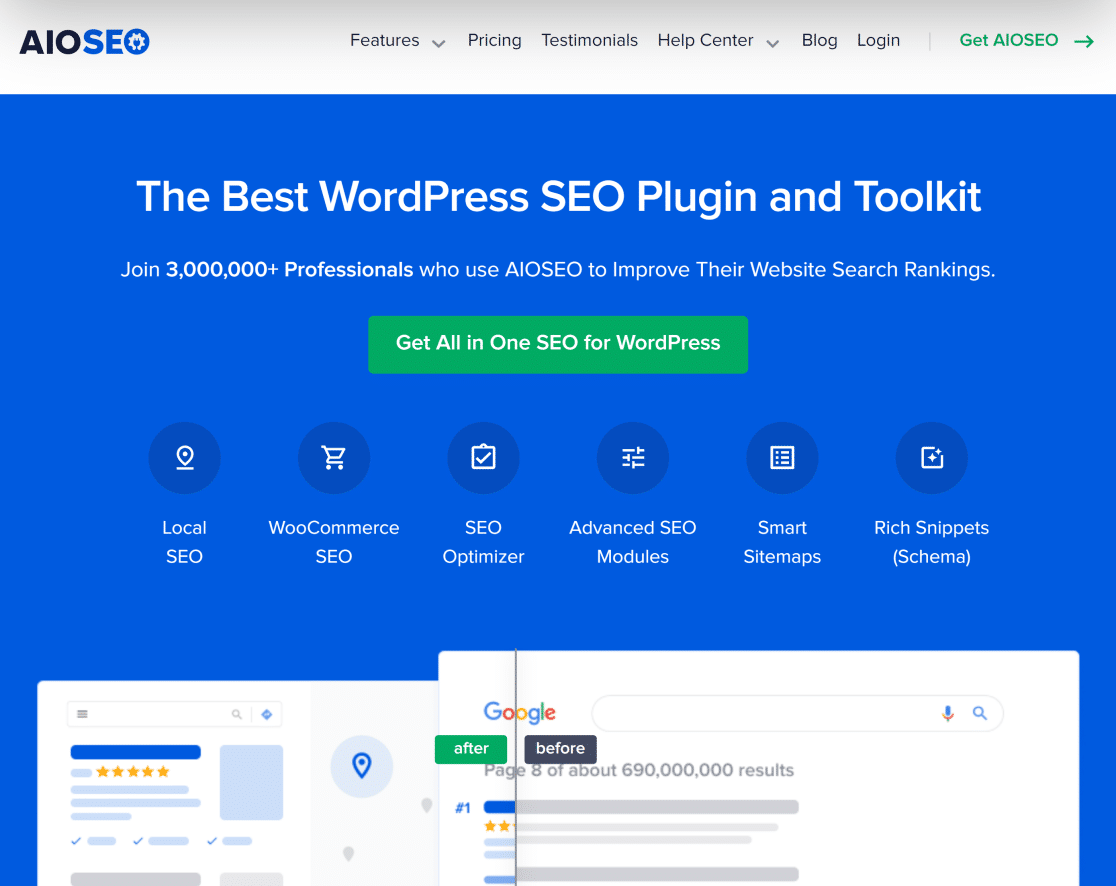 All in One SEO (AIOSEO) is the most well-rounded SEO plugin for WordPress.  It is easy to set up and has a beginner-friendly interface. You don't need any prior SEO knowledge to use AIOSEO effectively and improve your site's search presence.
AIOSEO regularly performs a site audit and generates an SEO Site Score. This shows the overall SEO status of your WordPress site and provides the results of the audit in a quick checklist.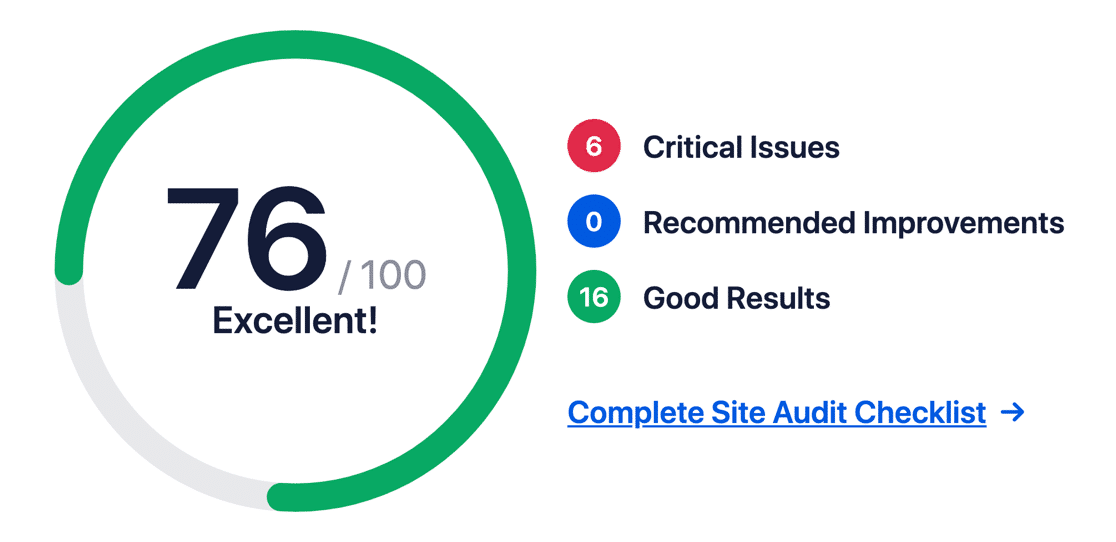 The checklist highlights the good results, critical issues, and recommended improvements. The best thing about the audit checklist is that it also provides actionable tips with quick links. These enable you to immediately fix issues and improve the SEO score of your site.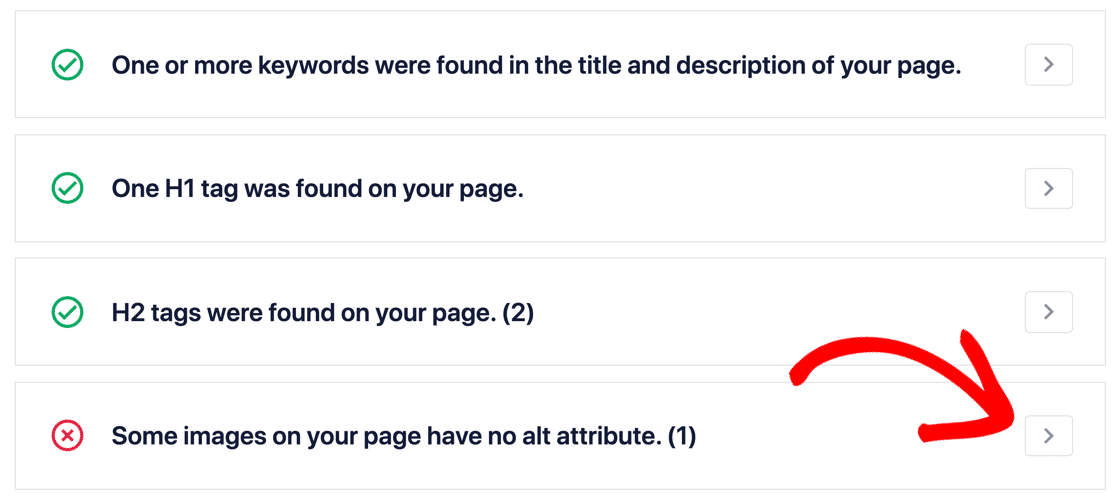 Other than the overall site SEO, AIOSEO also performs an in-depth on-page SEO analysis when editing a post with its TruSEO tool. This tool gives your page content a score out of 100 based on a variety of important factors like:
meta tags
keyphrase usage
internal and external links
content length
readability
and a lot more.
The page analysis provides easy tips for fixing any issues discovered by the AIOSEO.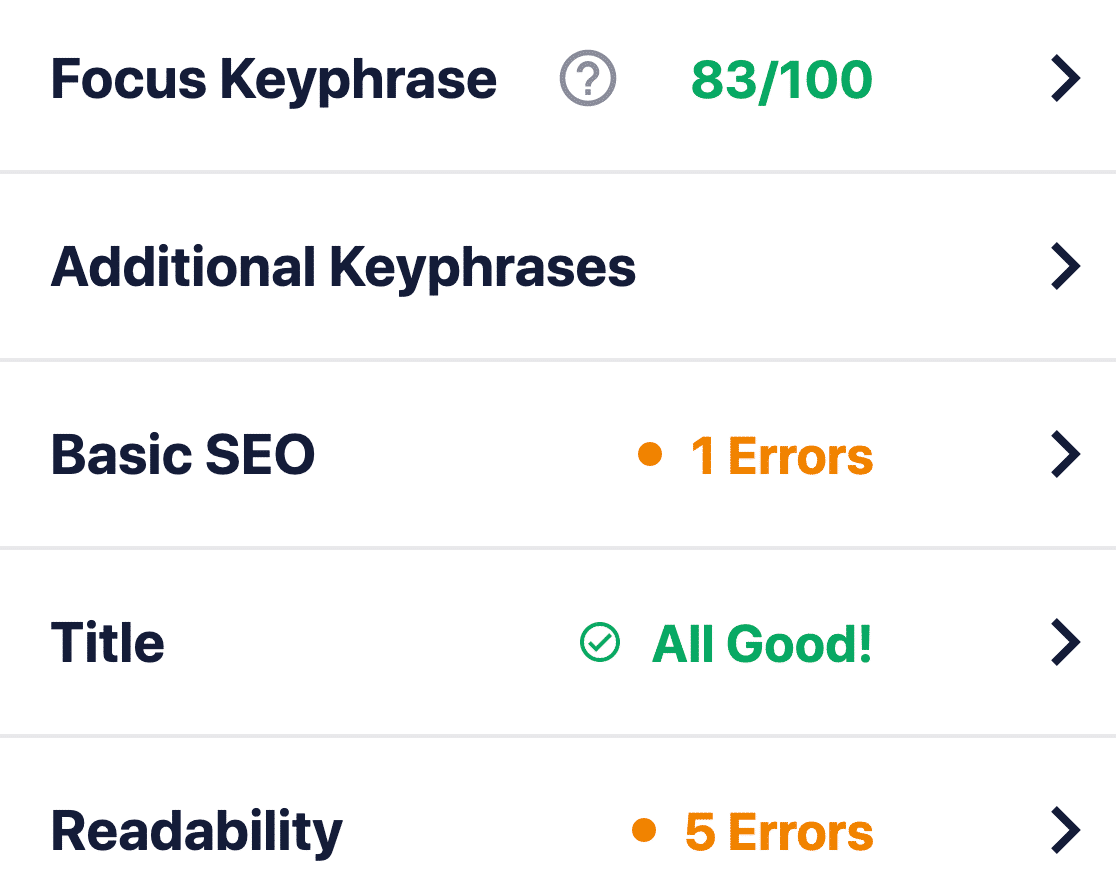 Adding meta tags is also super simple with AIOSEO. It allows you to add dynamic variables like your site title, date, and other information to your meta tags. With dynamic variables, the meta tags added in your posts automatically update when a change occurs (for example, the month or year in the title of your posts).
That's not all. AIOSEO also has tons of powerful features like:
An excellent free version that supports all the crucial SEO features
Complete support for rich snippet schema markup for a variety of content types
Generates XML sitemaps and provides various customization options
Local SEO options to optimize your appearance on Google My Business and Google Maps
Social media integration with Twitter, Facebook, and other networks to control how your content appears when shared on social media
Support for WooCommerce to enable optimization of product-related content and automatically pull data for rich snippets
… and a lot more
These features make AIOSEO the best SEO plugin for WordPress. It is suited for both small websites and beginner-level users as well as large websites and advanced SEO experts.
Pricing: AIOSEO is a freemium plugin so you get basic features for free, but advanced features require a paid subscription.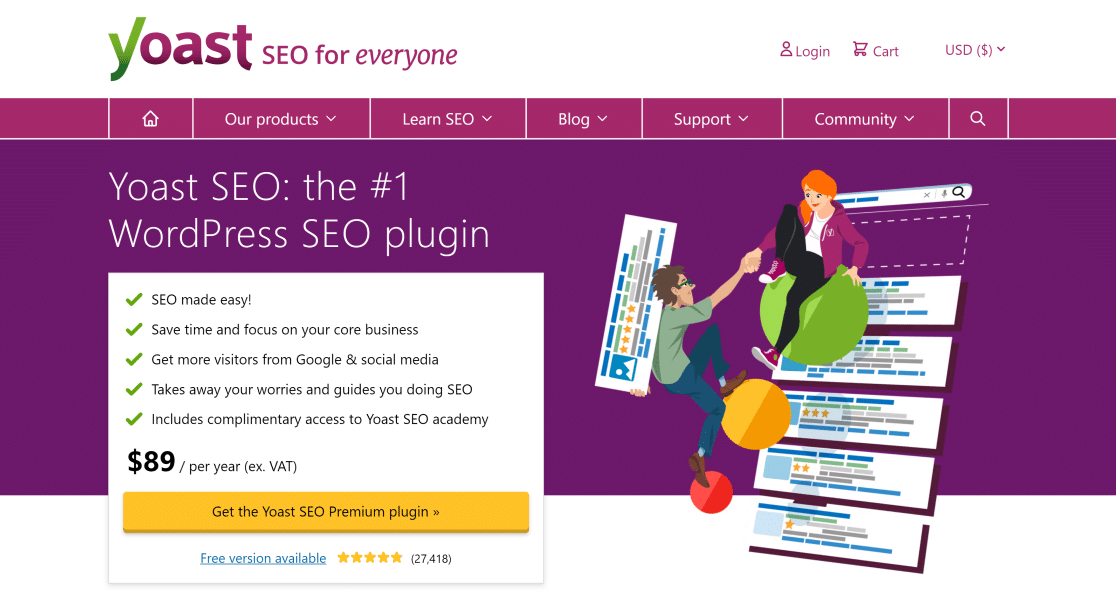 Yoast is the most popular WordPress SEO plugin. It is a full-featured plugin that comes with all the basic SEO features as well as a good number of advanced SEO tools.
Yoast runs different analyses to make sure your content is optimized well for your focus keyphrase. Yoast's on-page SEO tool performs a variety of checks including keyphrase usage and distribution, content length, internal and external links, images, title length, and more.
Plus, it also provides useful insights like which words appear most frequently in your post and the estimated reading time. The readability analysis checks sentence length, subheading distribution, transition words, and more. While the readability analysis isn't always accurate, it's still reasonably good.
Yoast SEO also comes with the following excellent features:
Internal linking suggestion tool that populates a list of relevant articles to link to from your current post
Automatically detects duplicate content on your site
Social media integrations which let you adjust post title, description, and thumbnails
Automatically generates XML sitemaps for your site
A powerful rich snippet markup tool for how-tos, FAQs, and other content types
WooCommerce integration to optimize your product pages and improve eCommerce SEO
Overall, Yoast is a powerful SEO plugin for WordPress that's easy to use and greatly supports your optimization efforts.
Pricing: Yoast is a freemium SEO plugin with free basic features, but a Premium account is required to unlock all features.
Rank Math is one of the fastest-growing WordPress SEO plugins. It combines some of the features of Yoast SEO and AIOSEO, and is very user-friendly even if you're not an SEO expert.
When you first install Rank Math, it lets you use the setup wizard to quickly configure settings for the basic SEO of your site. Like AIOSEO, Rank Math has a site-wide SEO analysis tool that audits your website using various tests. Then, it generates a score out of 100 based on how well-optimized your site is and gives easy-to-understand recommendations for improving the score.
Besides, Rank Math takes care of the basics really well. You can easily edit the meta tags and optimize your post content in terms of SEO and readability with its on-page SEO recommendations.
Rank Math comes with the following advanced features:
Image SEO lets you automate tasks like adding image attributes
Support for different types of structured data
Allows you to perform WooCommerce optimization by adding product schemas and metadata
Google Search Console integration to view important organic performance data directly from your WordPress dashboard
Rank Math is also very affordable and offers its best features (with certain limitations) for free.
Pricing: Rank Math offers most features for free, but the Premium account offers more features and greater flexibility.
The SEO Framework is a lightweight, stripped-down SEO plugin. It is primarily designed for beginner users that want to optimize their content without feeling overwhelmed with too many options.
The SEO Framework uses a visual interface to show how your content is performing and quickly points out any issues that require your attention.
Other than that, you can set meta titles and meta descriptions with its on-page SEO settings tool. This also shows you whether your meta tags are "good" depending on the number of characters used. And it also has other features like structured data, redirection, social integration, and more.
However, SEO Framework doesn't come with some advanced features like keyword tracking, 404 monitoring, and analytics. In fact, it also lacks some basic SEO features like keyphrase optimization.
So, while the SEO Framework is much more basic than other SEO plugins, it's still a good choice for small sites and novice users that prefer simplicity.
Pricing: The SEO Framework offers both free and paid plans.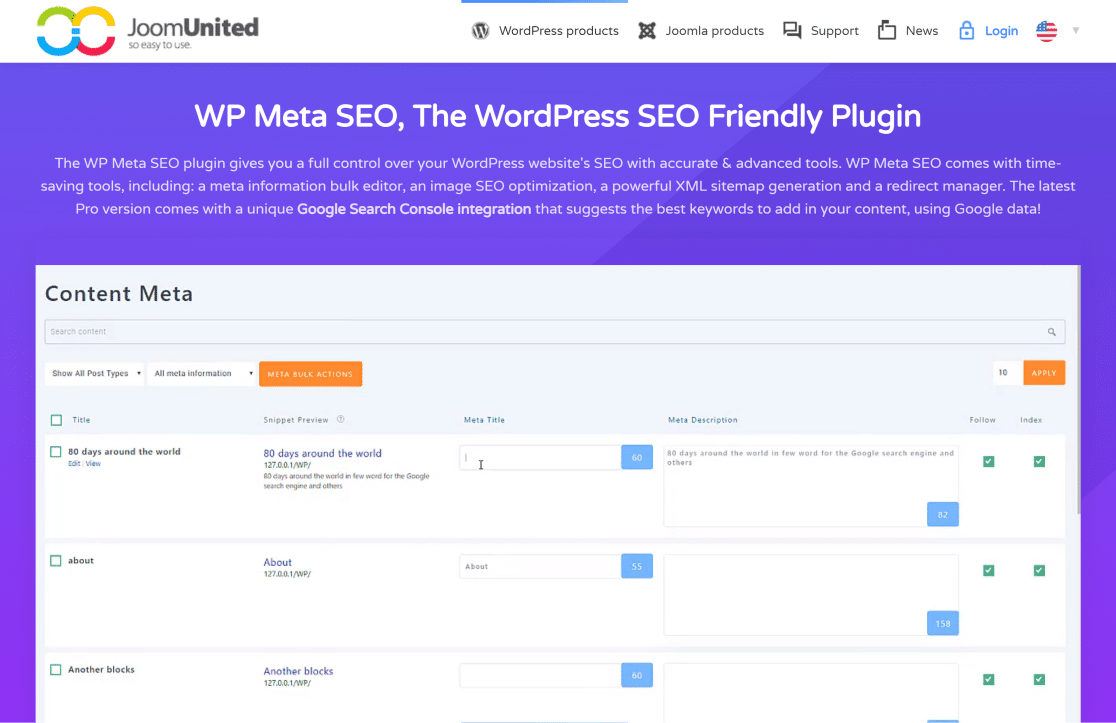 WP Meta SEO is a great plugin for large websites consisting of numerous pages. What we like the most about WP Meta SEO is that it allows you to bulk edit multiple pages at the same time.
For instance, if you want to change meta information on multiple pages, you don't need to edit each page separately. Instead, you can edit all website meta information on a single view. This helps you save a lot of time, especially if you have a large website.
WP Meta SEO also offers many of the same functionalities as others. These include XML sitemaps, redirection, Google Analytics integration, social integrations, breadcrumbs, and more.
Pricing: WP Meta SEO has a free basic plan and paid plans for advanced features.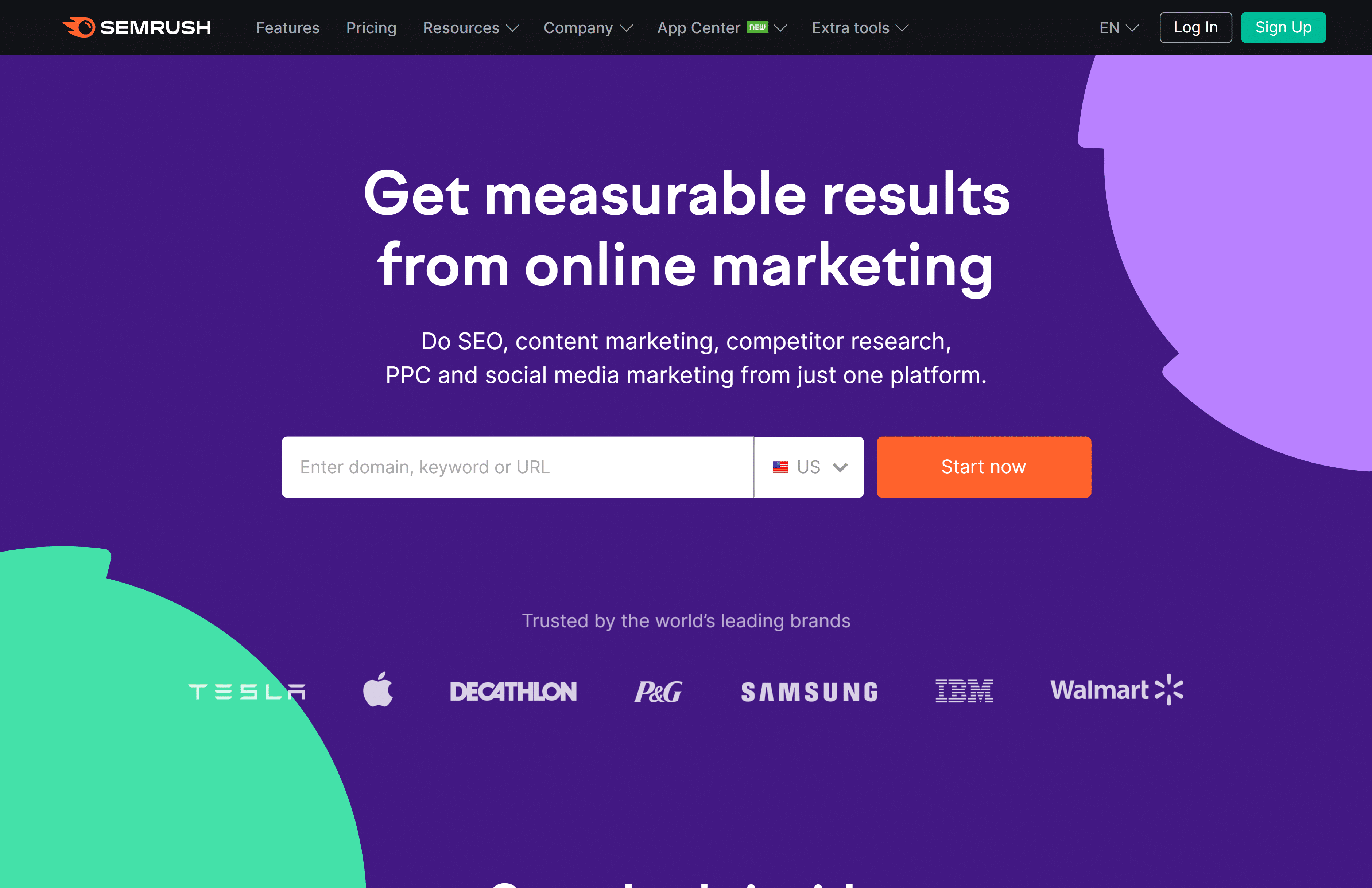 SEMRush Writing Assistant is a WordPress plugin by SEMRush, which is one of the best overall SEO tools on the market. But this plugin isn't as comprehensive as SEMRush's main SEO tool, since the Writing Assistant primarily helps optimize on-page content.
One key feature of SEMRush Writing Assistant is the overall score, which checks the general quality of your post based on different factors such as focus keywords, content length, and readability.
SEMRush Writing Assistant also checks your content for tone of voice, originality, and SEO-friendliness. In addition, it gives recommendations for optimizing your topic with your target keywords and other semantically related keywords to maximize the search presence of your content.
But bear in mind that SEMRush Writing Assistant is not a comprehensive SEO tool and lacks many features that other SEO plugins provide for WordPress.
Pricing: SEMRush Writing Assistant has a very limited free plan, so it's mainly useful if you get the paid version.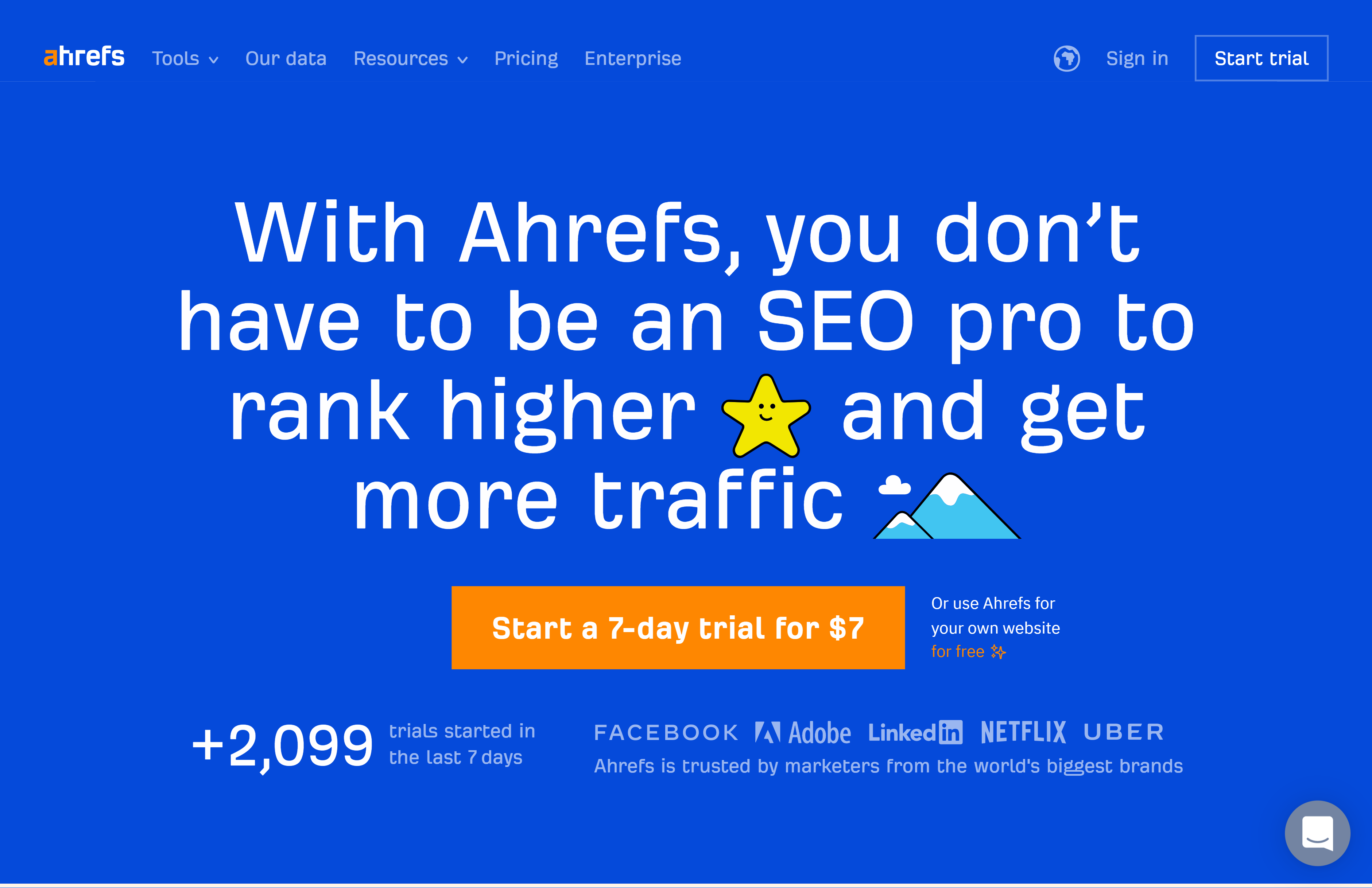 Ahrefs is an incredibly powerful SEO tool used by organic marketers worldwide. Now, there's an Ahrefs SEO plugin for WordPress which brings important SEO data right to your dashboard.
Some of the key features of the plugin include a backlink index (the largest in the world) which is updated every 30 minutes. It also connects with Google Search Console and Google Analytics data to provide real-time recommendations for keyword targeting and content optimization.
The Ahrefs SEO plugin is great for identifying backlinking opportunities across your site content. However, it's one very research and analysis-focused tool, so it lacks functionalities like sitemap generation, schema markups, WooCommerce optimization, and so on.
Pricing: Ahref's free version only supports content audit. All other features require a paid subscription.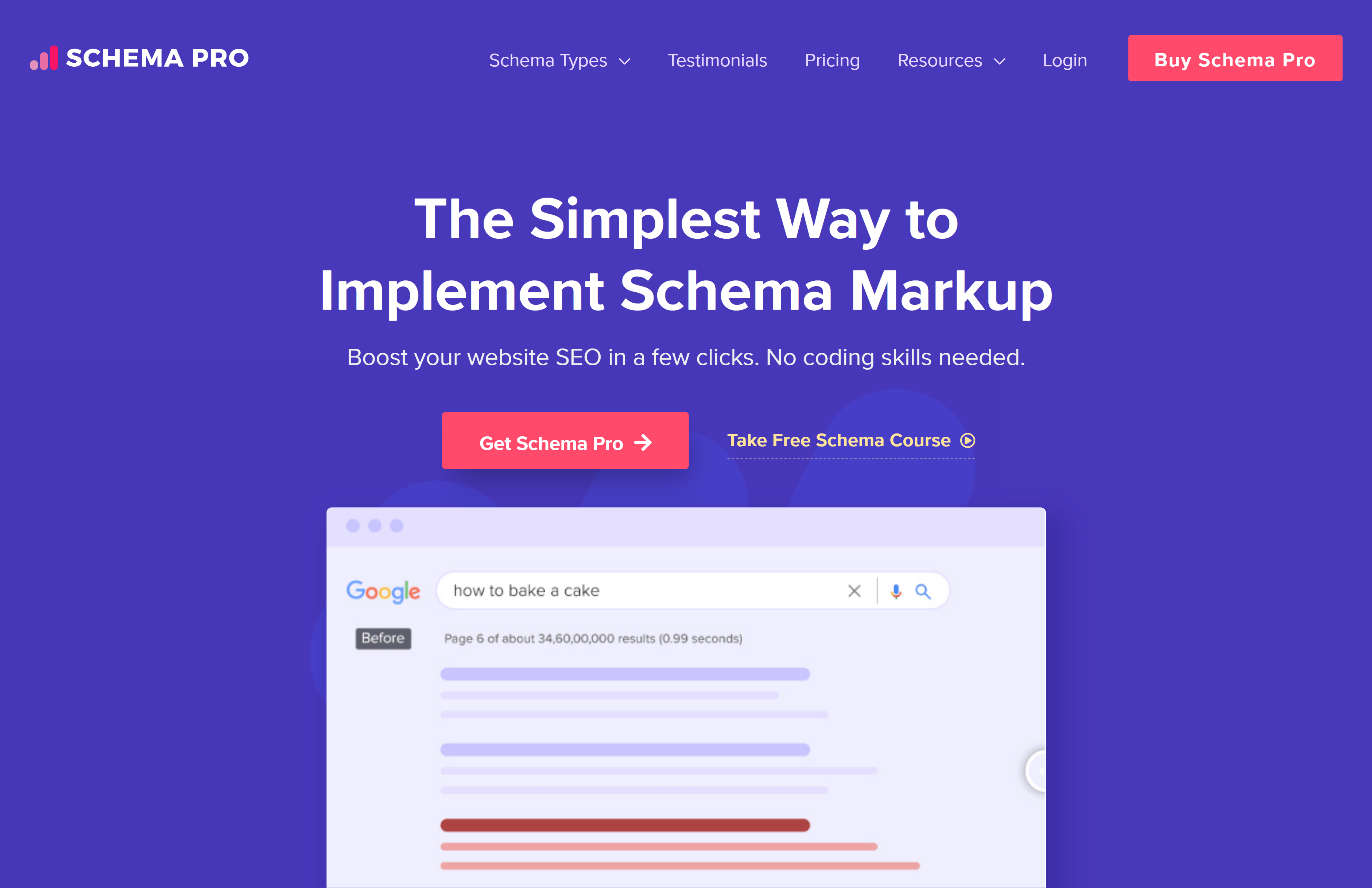 Schema Pro specializes in adding different types of structured data to your content to help you stand out on search results.
With Schema Pro, it's very easy to add rich snippets to your content by displaying ratings, prices, and other details on search results. Schema markup is a great way of attracting higher clickthrough rates and conversions.
Although the best WordPress SEO plugins like AIOSEO also include structured data functionality for your content, Schema Pro provides a lot more options for customizing your rich snippet data.
But this also means that Schema Pro is not a full-featured SEO plugin since it only focuses on providing schema markup functionality. So, you can use Schema Pro alongside another WordPress SEO plugin to fully optimize your site.
Pricing: Schema Pro is a fully paid WordPress SEO plugin.
User experience is becoming more and more important as a ranking factor for websites. W3 Total Cache (W3TC) helps improve your user experience by boosting site performance and Core Web Vitals.
W3TC uses technologies like caching, minification, and content delivery networks (CDN) to speed up your site's load times. This plugin is especially useful for websites that use a lot of visual elements like images, videos, and gifs, which are known for affecting site speed.
You can use W3TC alongside other SEO plugins for WordPress to maintain fast site speeds while managing other SEO tasks with your main SEO plugin.
Pricing: W3TC's free plan provides a complete caching solution, but the Pro version adds even more features.
Which WordPress SEO Plugin is the Best in 2021?
There are many SEO plugins for WordPress and it doesn't make sense to use multiple plugins at the same time. Not only is this more costly, but it can also affect the functionality of your WordPress site due to plugin conflicts.
So, if you had to pick just one SEO plugin, you should go for one with the widest feature-set and good ease of use.
We strongly recommend All in One SEO (AIOSEO). It is the best WordPress SEO plugin because it includes:
User-friendly setup wizard and interface
The best range of customization options when it comes to search appearance, meta tags, etc
Performs site-wide SEO audits and gives an actionable checklist of errors and recommended improvements
Supports social media and WooCommerce integration, XML sitemaps, schema markups for a variety of content types, and tons of other features
Next, Track Your Email Deliverability and Performance
Now, you have the necessary WordPress SEO plugins to improve your site's search performance. But email is another important part of every website's digital marketing strategy.
To make sure your WordPress emails are delivering correctly and see whether users are opening your emails, you can use WP Mail SMTP and enable email tracking.
Also, if you're getting too many unnecessary email notifications, you might want to learn how to disable WordPress email notifications.
​​Ready to fix your emails? Get started today with the best WordPress SMTP plugin. WP Mail SMTP Elite includes full White Glove Setup and offers a 14-day money-back guarantee.
If this article helped you out, please follow us on Facebook and Twitter for more WordPress tips and tutorials.