Are you searching for a WordPress SEO plugin and tools for your site?
Search Engine Optimization (SEO) is a highly effective digital marketing strategy that brings recurring organic traffic and sales over the long-term without paying a single penny in paid promotion.
But SEO is difficult if you're relying on manual methods. Your chances of ranking and avoiding mistakes are much higher if you use a good SEO tool.
There are many SEO plugins and tools available on the market, but not all of them provide the same quality of features.
In this post, we're going to discuss the top SEO plugins that can help your website rank higher on Google.
Best WordPress SEO Plugins
We've tested dozens of SEO tools and plugins and compiled a list of the ones that impressed us the most.
Here are our favorite WordPress SEO plugins:
Let's begin!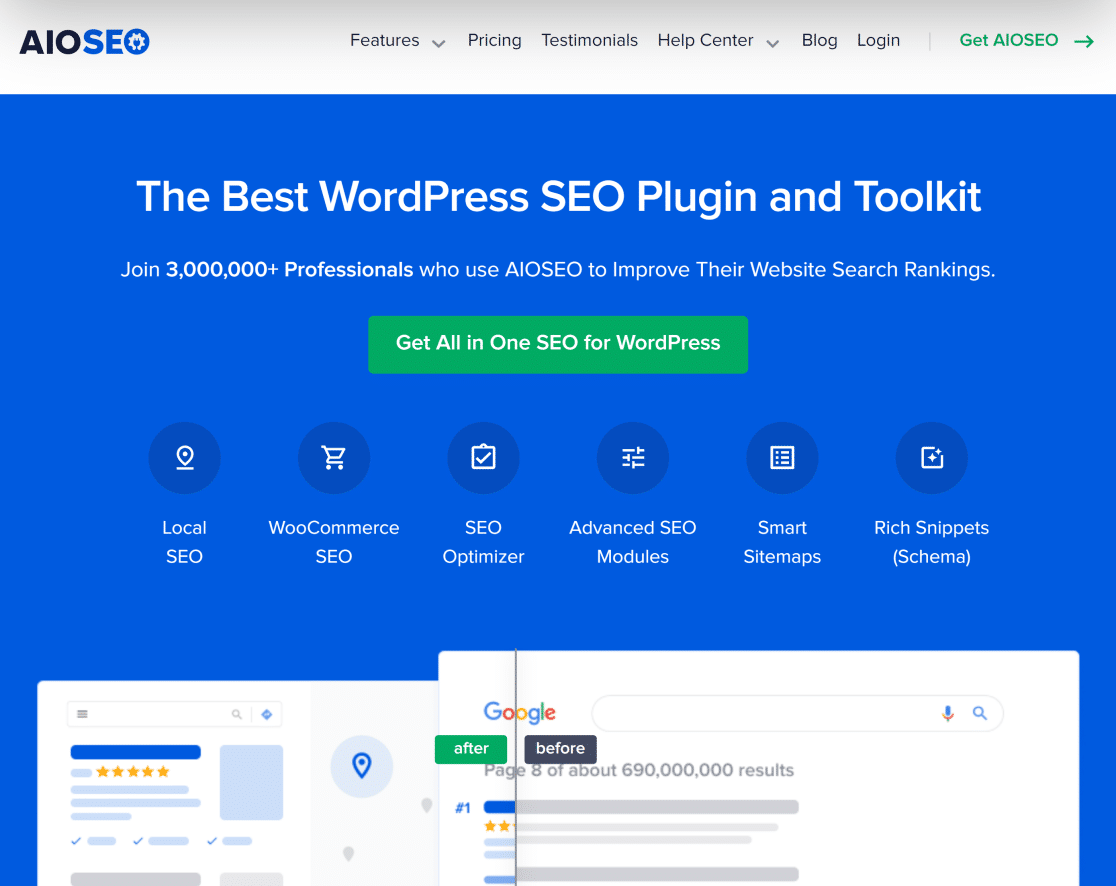 All in One SEO (AIOSEO) is the most well-rounded SEO plugin for WordPress. It is easy to set up and comes with a beginner-friendly interface. You don't need any prior SEO knowledge to use AIOSEO effectively and improve your website's SEO and search presence.
AIOSEO performs an on-page site audit and generates an SEO Site Score. We found this really helpful because it shows the overall SEO status of your WordPress site and provides the results of the audit in a quick checklist.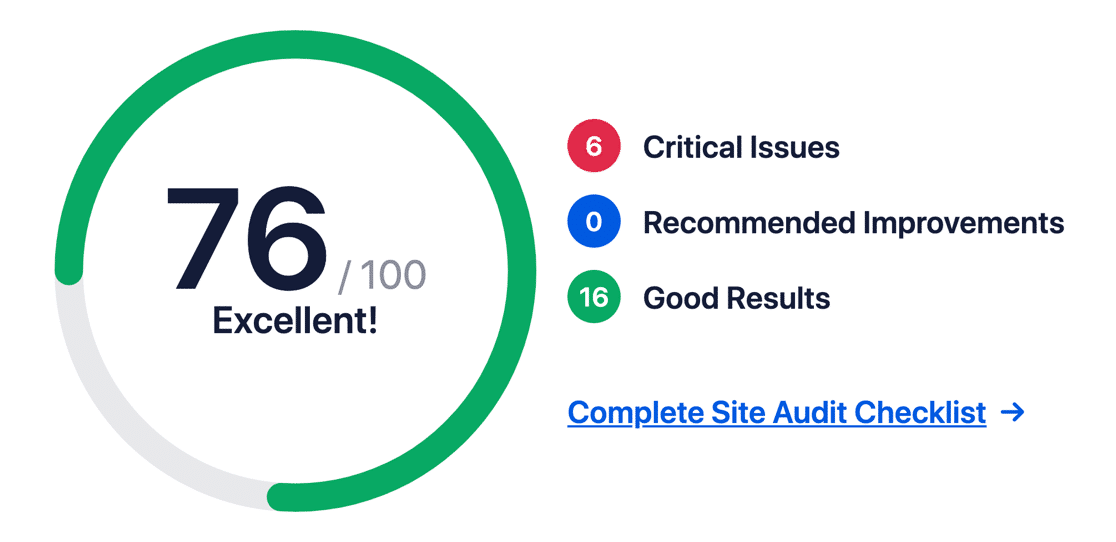 The checklist highlights the good results, critical issues, and recommended improvements. What we liked the most about the audit checklist is that it also provides actionable tips with quick links. These enable you to immediately fix issues and improve the SEO score of your site.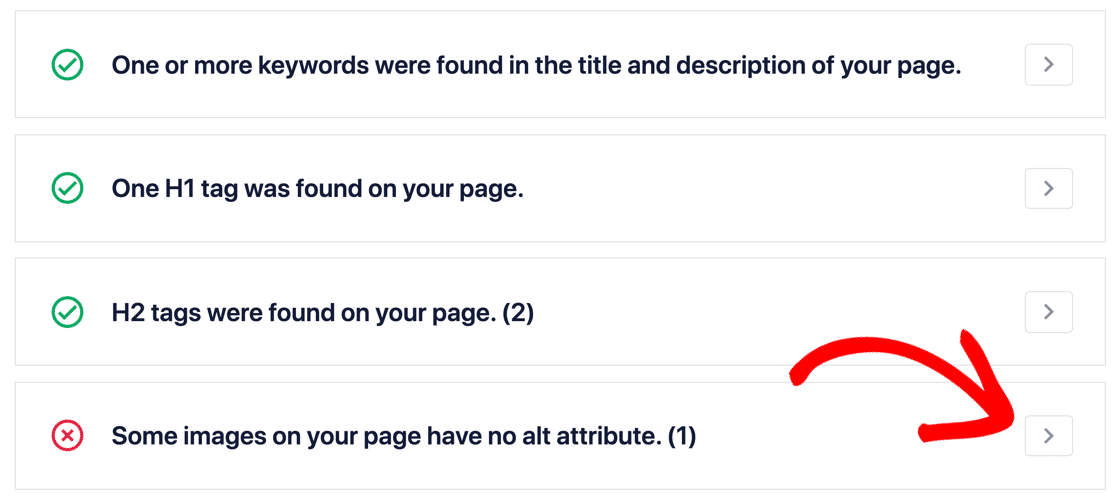 Other than the overall site SEO, AIOSEO also performs an in-depth on-page SEO analysis when editing a post with its TruSEO tool. This tool gives your page content a score out of 100 based on a variety of important factors like:
meta tags
keyphrase usage
internal and external links
content length
readability
and a lot more.
The page analysis provides easy tips for fixing any issues discovered by the AIOSEO.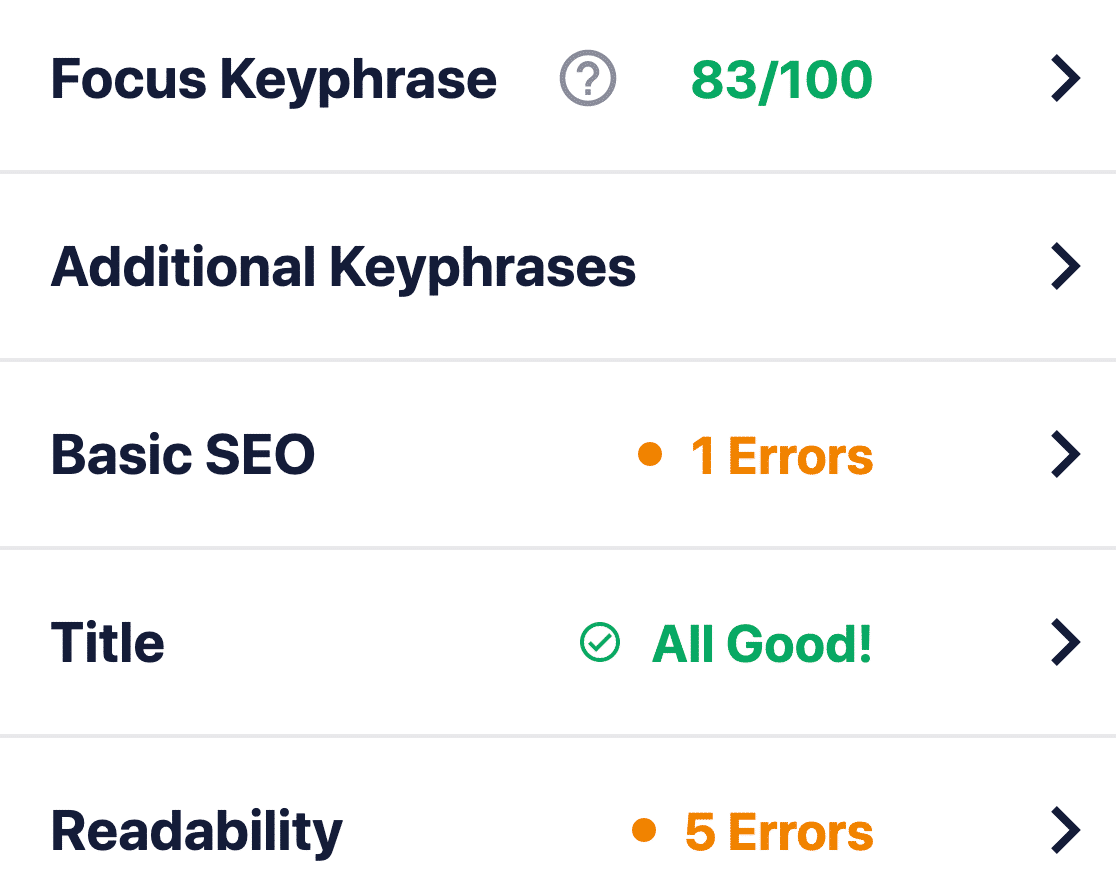 Adding meta tags is also super simple with AIOSEO. It allows you to add dynamic variables like your site title, date, and other information to your meta tags.
With dynamic variables, the meta tags added to your posts automatically update when a change occurs (for example, the month or year in the title of your posts).
That's not all. AIOSEO also has one of the best internal linking tools of all the WordPress SEO plugins we've tested.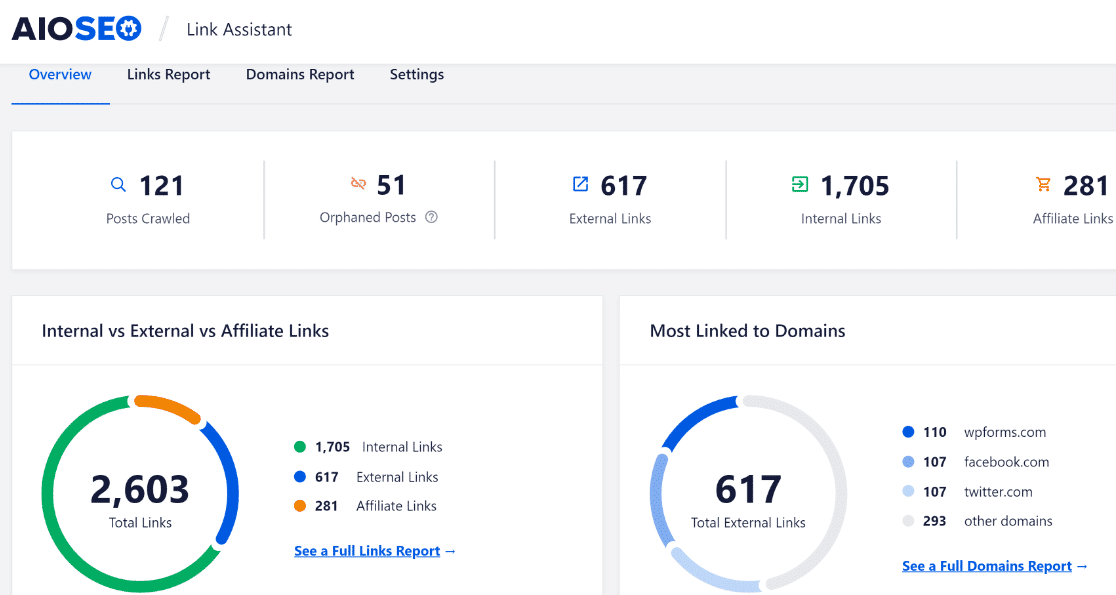 The Link Assistant gives you a complete breakdown of your internal, external, and affiliate links so you can monitor your linking strategy from your WordPress dashboard.
Last but not least, we're huge fans of AIOSEO's integrations. The ChatGPT integration allows you to generate meta titles and descriptions for your post directly in your WordPress editor.
And the Google Search Engine integration allows you to monitor your keywords, clickthrough rates, and content performance conveniently in your dashboard.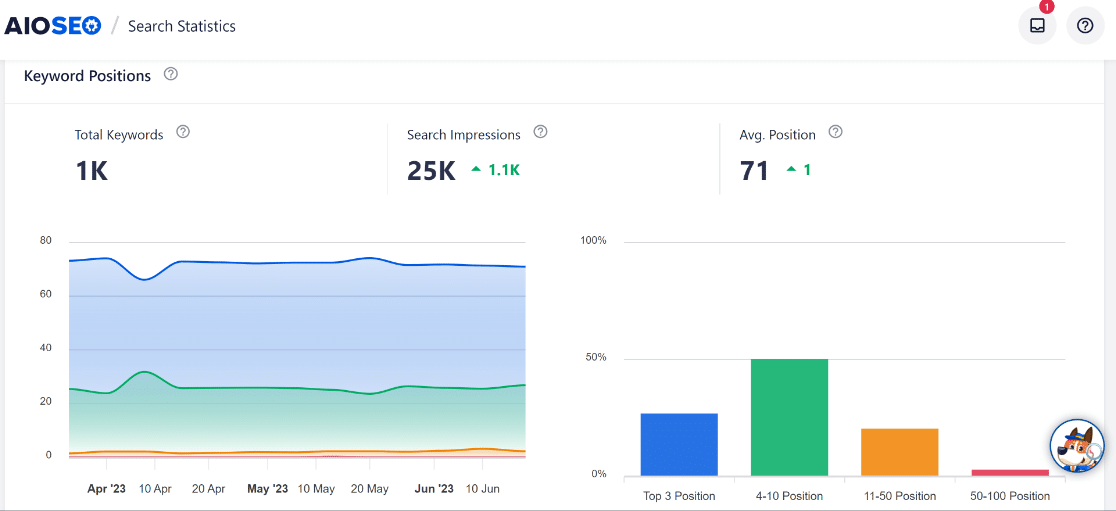 Apart from that, AIOSEO comes with tons of powerful features like:
An excellent free version that supports all the crucial SEO features
Complete support for rich snippet schema markup for a variety of content types
Generates XML sitemaps and provides various customization options
Local SEO options to optimize your appearance on Google My Business and Google Maps
Social media integration with Twitter, Facebook, and other networks to control how your content appears when shared on social media
Support for WooCommerce to enable optimization of product-related content and automatically pull data for rich snippets
… and a lot more
These features make AIOSEO the best SEO plugin for WordPress. It is suited for both small websites and beginner-level users, as well as large websites and advanced SEO experts.
Pricing: AIOSEO is a freemium plugin, so you get basic features for free, but advanced features require a paid subscription starting from $49.60.
Rank Math is one of the fastest-growing WordPress SEO plugins. It combines some of the features of Yoast SEO and AIOSEO, and is very user-friendly even if you're not an SEO expert.
When you first install Rank Math, it lets you use the setup wizard to quickly configure settings for the basic SEO of your site.
Like AIOSEO, Rank Math has a site-wide SEO analysis tool that audits your website using various tests. Then, it generates a score out of 100 based on how well-optimized your site is and gives easy-to-understand recommendations for improving the score.

For on-page content analysis, Rank Math gives you the Content AI tool. This generates suggestions tailored for your focus keywords and gives you an estimate for the word, heading, link, and media count you should be aiming for in order to increase your chances of ranking high.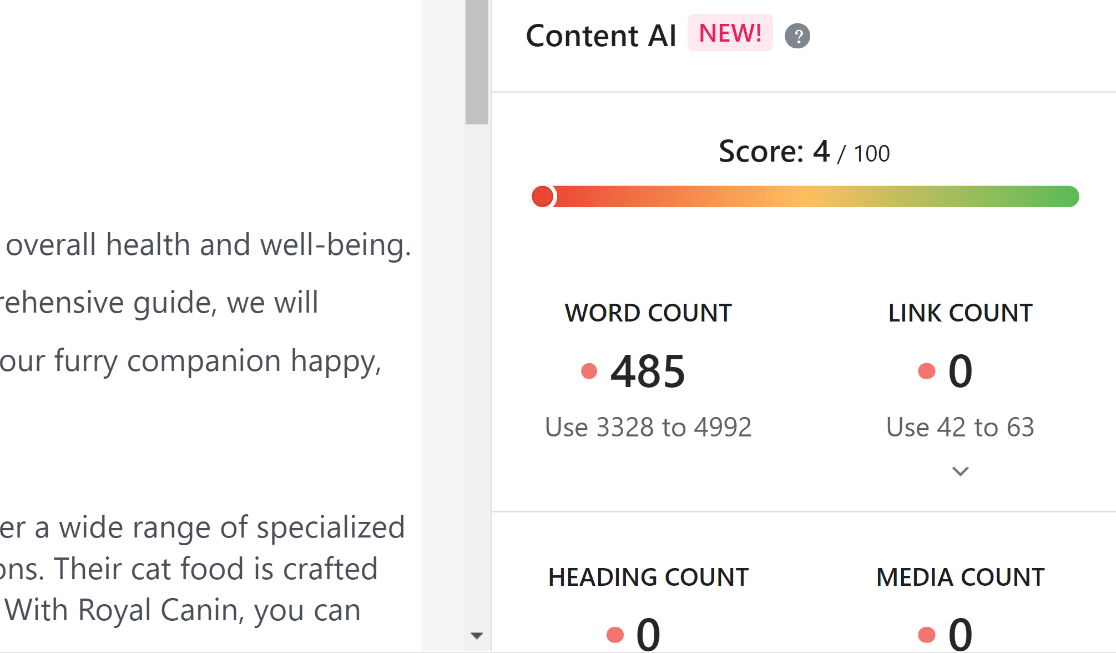 The tool also suggests terms that you should insert in your content to improve your keyword coverage and comprehensiveness of your articles.
We enjoyed using the Content AI feature – it's very effective for writing SEO-friendly content that meets the search intent for your target keyword.
You can also track your keyword rankings from your WordPress dashboard using Rank Math's Rank Tracker tool.
There's hardly any feature you can imagine that isn't already offered by Rank Math. But when compared with AIOSEO, Rank Math has a few limitations.
For one, it doesn't integrate with ChatGPT, so you can't have AI-generated titles and meta descriptions like in AIOSEO.
Secondly, the internal linking tool helps you count your internal links, but it doesn't give you a detailed report with visual charts like AIOSEO to assist your internal link generation processes.
Apart from that, Rank Math comes with the following advanced features:
Image SEO lets you automate tasks like adding image attributes
Support for different types of structured data
Allows you to perform WooCommerce optimization by adding product schemas and metadata
Google Search Console integration to view important organic performance data directly from your WordPress dashboard
Rank Math is also very affordable and offers its best features (with certain limitations) for free.
Pricing: Rank Math offers most features for free, but the Premium account offers more features and greater flexibility.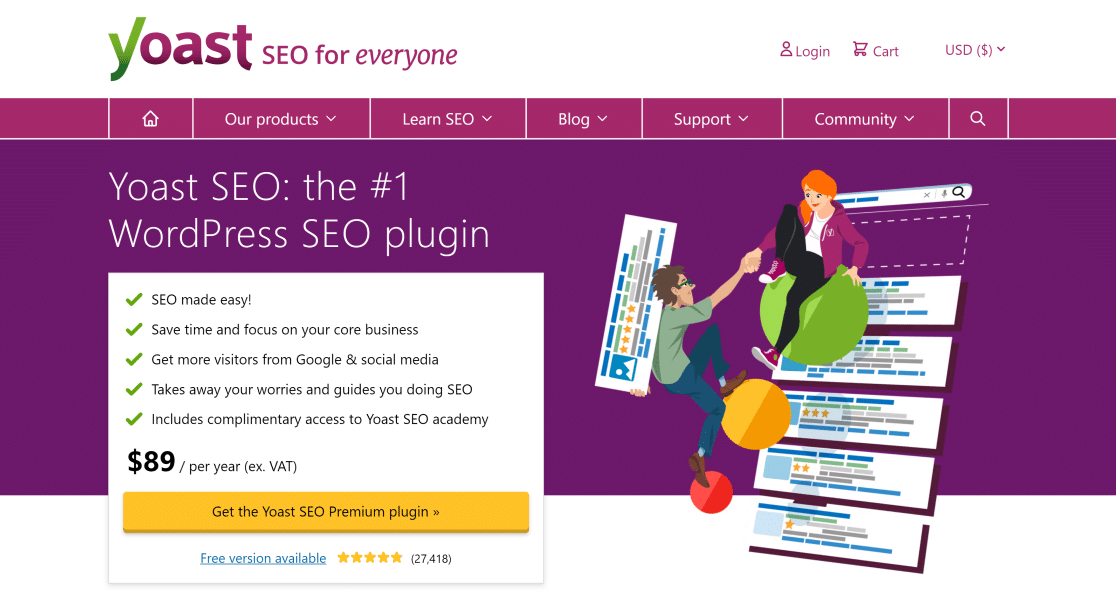 Yoast is the most popular WordPress SEO plugin. It is a full-featured plugin that comes with all the basic SEO features as well as a good number of advanced SEO tools.
The Yoast SEO plugin runs different analyses to make sure your content is optimized well for your focus keyphrase.
Yoast's on-page SEO tool performs a variety of checks, including keyphrase usage and distribution, content length, internal and external links, images, title length, and more.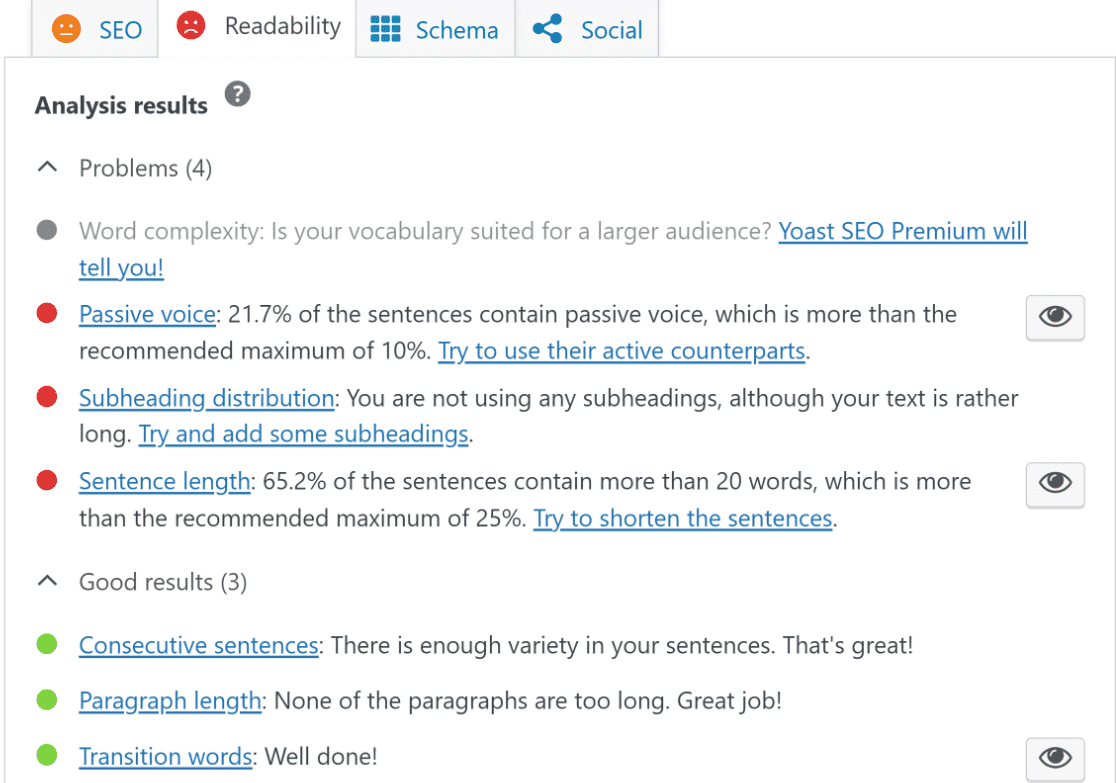 Plus, we like that it also provides useful insights like which words appear most frequently in your post and the estimated reading time.
The readability analysis checks sentence length, subheading distribution, transition words, and more. While the readability analysis isn't always accurate, it's still reasonably good.
While we love Yoast SEO for its ease of use and on-page analysis assistance, it lacks some of the more advanced features available in AIOSEO. For instance, it doesn't integrate with ChatGPT to generate titles and meta descriptions of your posts.
Yoast SEO brings keyword tracking to your WordPress dashboard with its Wincher integration, but it's not as powerful as the tracking you get with AIOSEO's Search Console integration.
For these reasons, we rate Yoast slightly below AIOSEO and Rank Math.
Yoast SEO also comes with the following excellent features:
Internal linking suggestion tool that populates a list of relevant articles to link to from your current post
Automatically detects duplicate content on your site
Social media integrations that let you adjust post title, description, and thumbnails
Automatically generates XML sitemaps for your site
A powerful rich snippet markup tool for how-tos, FAQs, and other content types
WooCommerce integration to optimize your product pages and improve eCommerce SEO
Overall, Yoast is a powerful SEO plugin for WordPress that's easy to use and greatly supports your optimization efforts.
Pricing: Yoast is a freemium SEO plugin with free basic features, but a Premium account is required to unlock all features.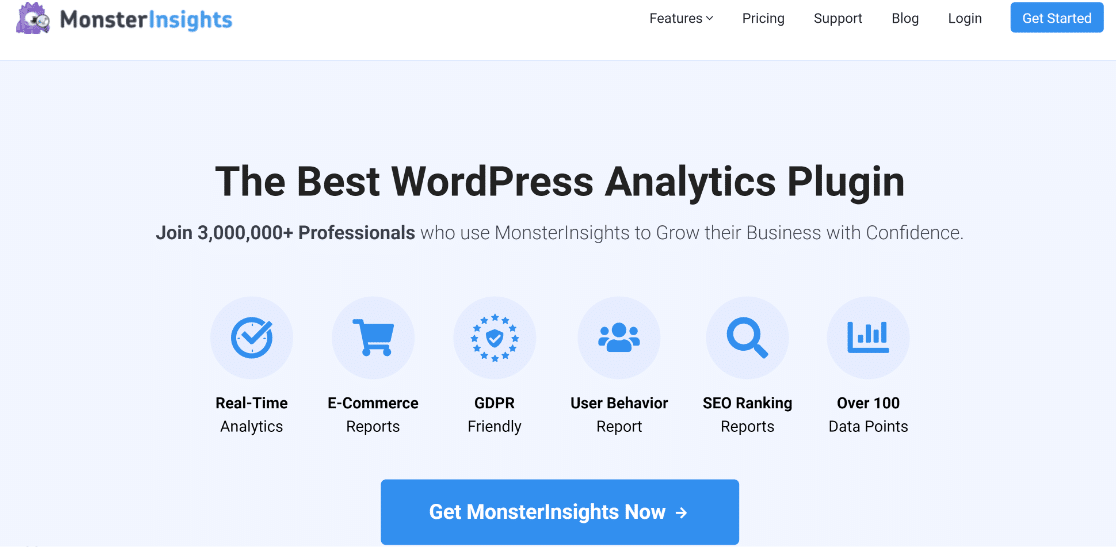 Whether you're a small business or a big eCommerce store, SEO demands continuous monitoring in order to make informed decisions about your SEO strategy.
MonsterInsights is the ideal plugin for tracking traffic and overall site metrics of your WordPress site.
Essentially, MonsterInsights integrates with Google Analytics and brings only the most useful data from Analytics to your WordPress dashboard.
For instance, it reports your pageviews, sessions, bounce rate, and your top performing posts. You can also see your revenue and conversion data as well as audience insights.
We love this plugin so much and rely on it so heavily that we almost never have to leave our website and log into Google Analytics to monitor our campaigns and site metrics. MonsterInsights is tremendously more user-friendly.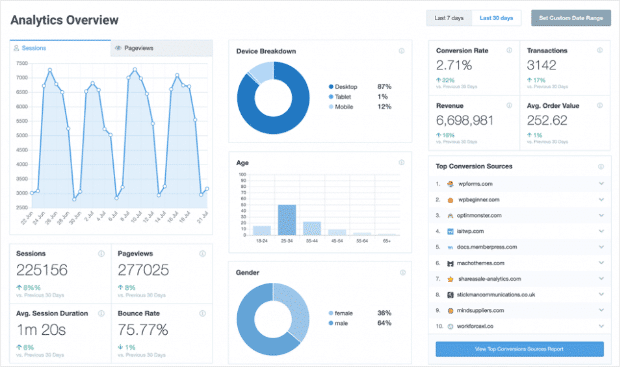 We're also happy users of MonsterInsights's Site Notes feature. With this, we're able to add an annotation directly from our WordPress dashboard when we make a major update to certain articles.
This way, we can record any changes in traffic and SEO performance caused by our edits.
Put simply, MonsterInsights is the plugin that gives you visibility into your SEO strategy, helping you record how your posts and pages respond to your optimization changes.
For this reason, we strongly recommend MonsterInsights as a must-have tool if you're serious about your WordPress SEO.
Pricing: MonsterInsights pricing plans start at $99.50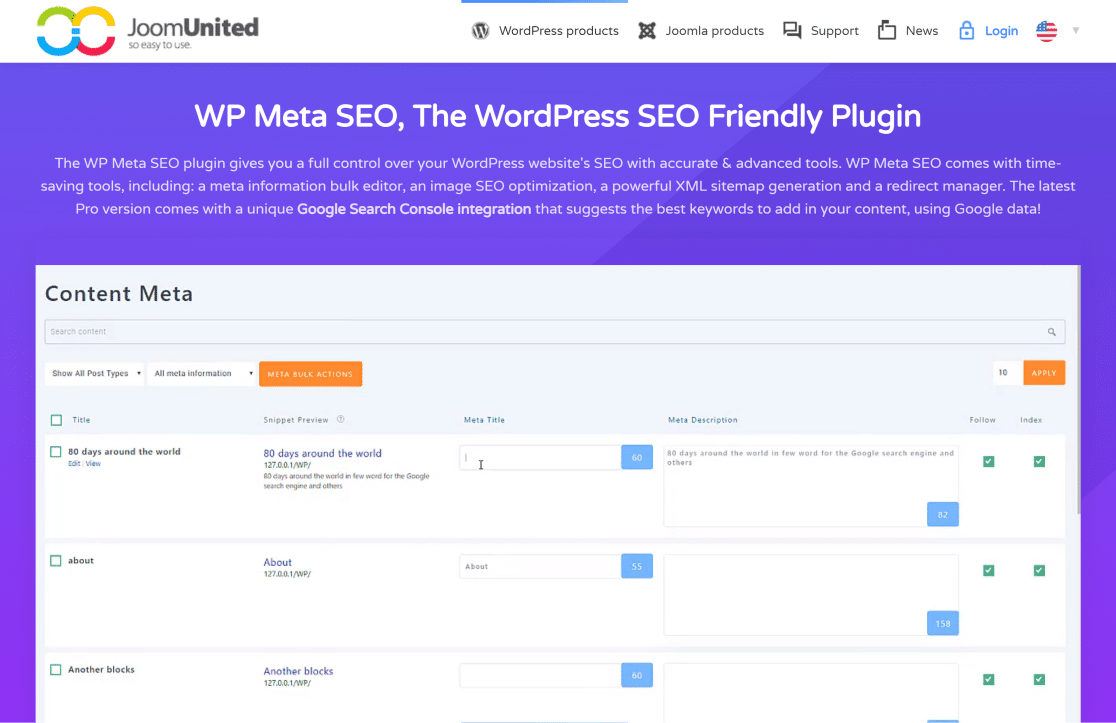 WP Meta SEO is a super handy WordPress SEO plugin that speeds up repetitive tasks considerably. What we like the most about WP Meta SEO is that it allows you to bulk edit the metadata of multiple posts in a user-friendly interface.
While plugins like AIOSEO also allow you to bulk edit your post metas from the Post Overview screen, WP Meta SEO makes this process much smoother.
You get a dedicated screen with a list of all of your published posts. You can work through each post's title and meta description on the same screen without having to click open your editor in order to make the edits.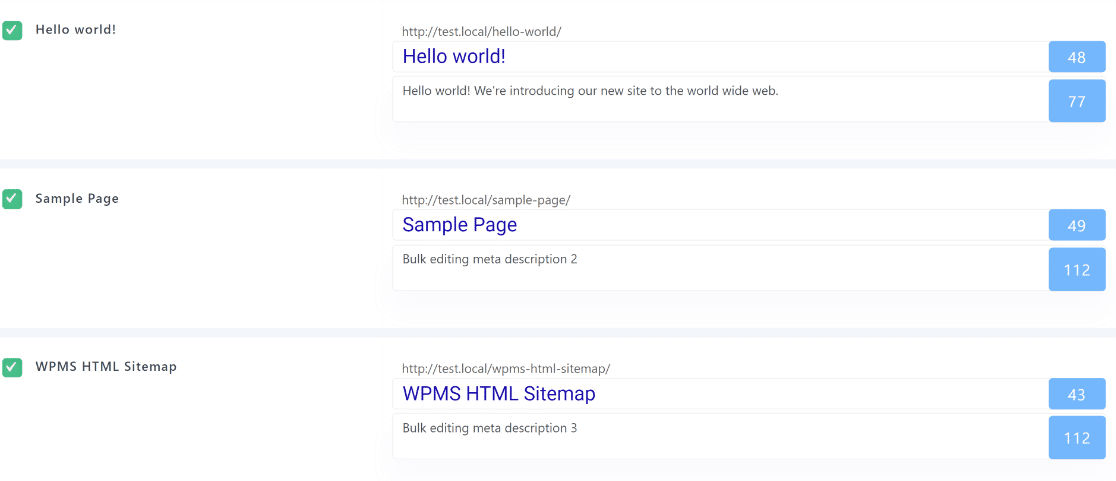 It's really helpful to see the character counts for the title and meta description, so you can create perfectly optimized metas and remove any guesswork.
But WP Meta SEO impressed us even more with its bulk image editing tool. By default, adding title and alt text to your images in WordPress is very frustrating when you're dealing with lots of images.
With WP Meta SEO, you can enter important image information like file name, alt text, title, caption, and description for multiple images in bulk. The image editor screen is perfectly designed to let you edit information for each image quickly.
It's a powerful tool for saving time and boosting your productivity, especially if you're a blog writer.

WP Meta SEO also has several of the same SEO functionalities as other plugins. These include XML sitemaps, redirection, Google Analytics integration, social integrations, breadcrumbs, and more.
While WP Meta SEO specializes in bulk image and metadata editing features, we found it lacking in terms of more advanced SEO features.
When compared to the likes of AIOSEO and Rank Math, WP Meta SEO is noticeably missing some important features like internal linking reports, schema generation, and AI integrations.
Pricing: WP Meta SEO has a free basic plan and paid plans for advanced features.
The SEO Framework is a lightweight, stripped-down SEO plugin. It is primarily designed for beginner users that want to optimize their content without feeling overwhelmed with too many options.
The main feature that caught our eye is the visual guidelines informing you about the key SEO elements of each post.
These color-coded guidelines give you information about your post title, meta description, indexing status, any redirections that may have been set up, and whether links in your post are followed.

It's helpful to have this information available at a glance for each post, allowing you to sort out any SEO issues for a specific post immediately.
Other than that, you can set meta titles and meta descriptions with its on-page SEO settings tool.
This also shows you whether your meta tags are "good" depending on the number of characters used. And it also has other features like structured data, a redirect manager, social integration, and more.
However, SEO Framework doesn't come with some advanced features like keyword tracking, 404 monitoring, and analytics. In fact, we were surprised to see that it also lacks some basic SEO features like on-page keyphrase optimization.
So, while the SEO Framework is much more basic than other SEO plugins, it's still a good choice for small sites and novice users that prefer simplicity.
Pricing: The SEO Framework offers both free and paid plans.
User experience is becoming more and more important as a ranking factor for websites. W3 Total Cache (W3TC) helps improve your user experience by boosting site performance and Core Web Vitals.
W3TC uses technologies like caching, minification, and content delivery networks (CDN) to speed up your site's load times.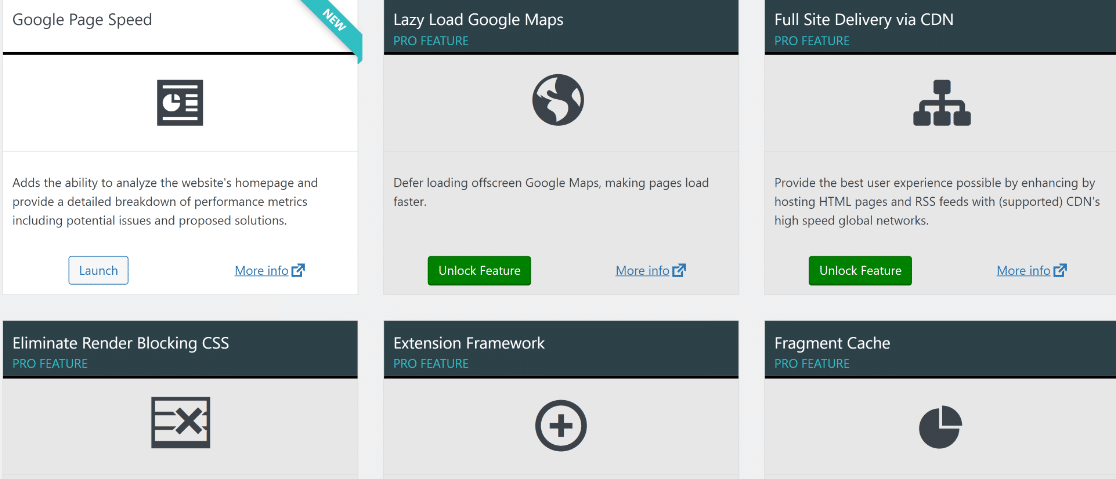 This plugin is especially useful for websites that use a lot of visual elements like images, videos, and gifs, which are known for affecting site speed.
You can use W3TC alongside other SEO plugins for WordPress to maintain fast site speeds while managing other SEO tasks with your main SEO plugin.
Pricing: W3TC's free plan provides a complete caching solution, but the Pro version adds even more features.
Bonus SEO Tools for WordPress
The SEO plugins we recommended above are highly effective for on-page optimization. But if you need a comprehensive solution with features for technical and off-page SEO, you'll need to look beyond WordPress plugins and into SaaS tools for SEO.
Of course, you can still use these tools for your WordPress SEO. They're just not accessible directly from your WordPress dashboard as plugins.
Here are some of your favorite SEO tools apart from the plugins we highlighted above.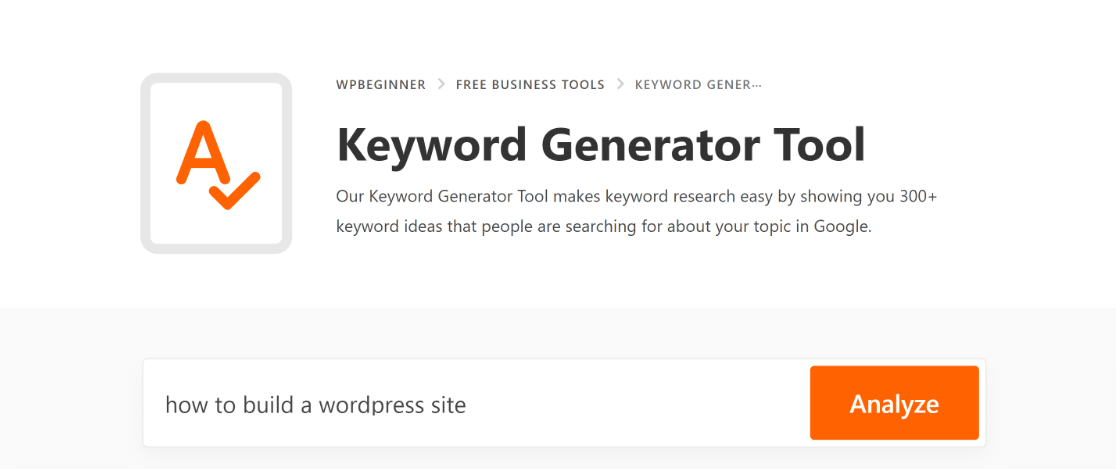 WPBeginner offers a free keyword generator that shows you tons of related searches for the keyword you want to analyze.
This tool is very similar to the popular search insights tool Anwer the Public, but we like it better because it's completely free and gives you unlimited searches.
The WPB Keyword Generator lists related searches for your seed keyword by alphabet, prepositions, and questions.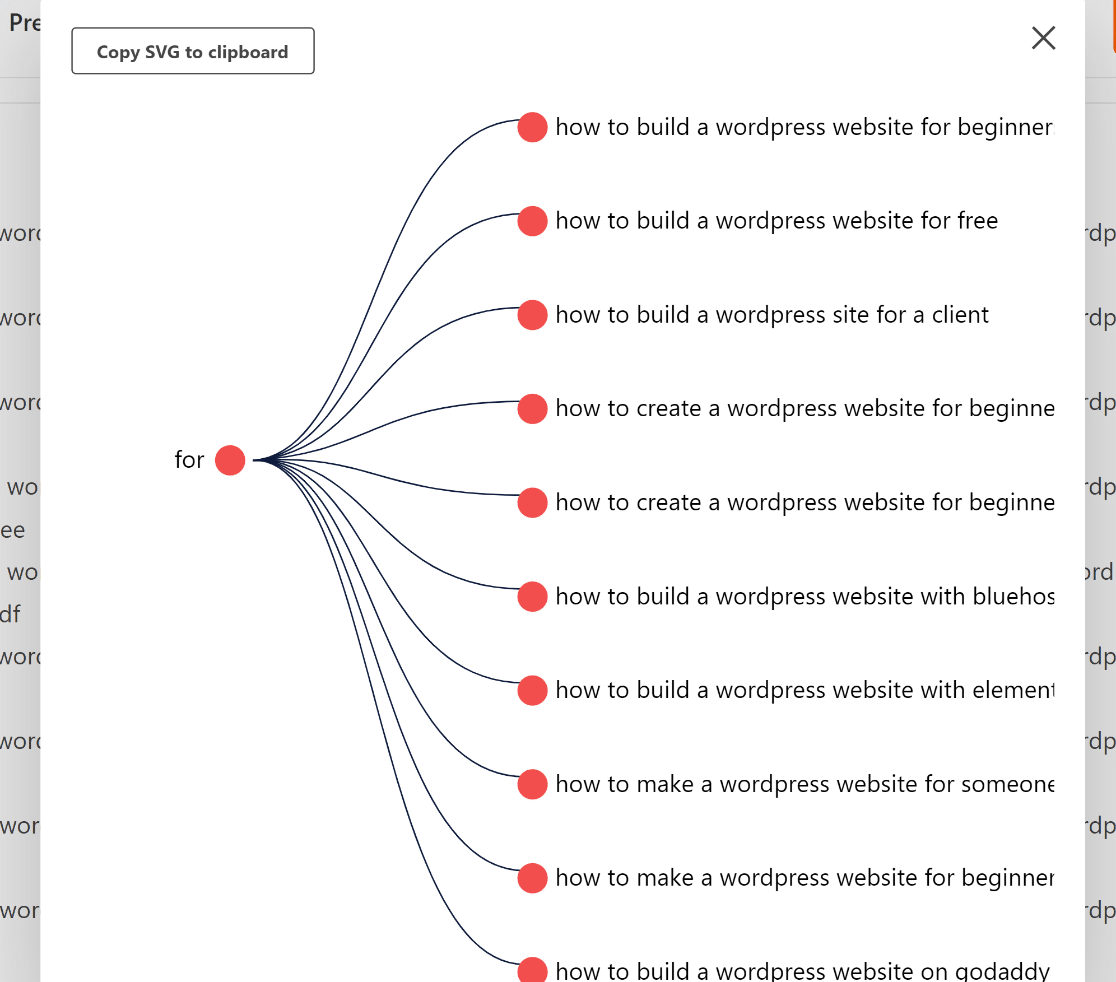 You can use these keyword suggestions to build a content cluster of related but distinct topics, improve the comprehensiveness of a single post by including more subtopics, and optimize content for featured snippets and People Also Ask by discovering relevant long-tail keyword questions.
Unlike other tools that only display keywords with a sizeable volume, this free Keyword Generator identifies much more niche searches to give you an idea of what your audience is actually searching for.
We've been using this tool for keyword research of our blog posts, and it's helped us dramatically in terms of identifying new keyword opportunities.
Pricing: The Keyword Generator Tool is completely free.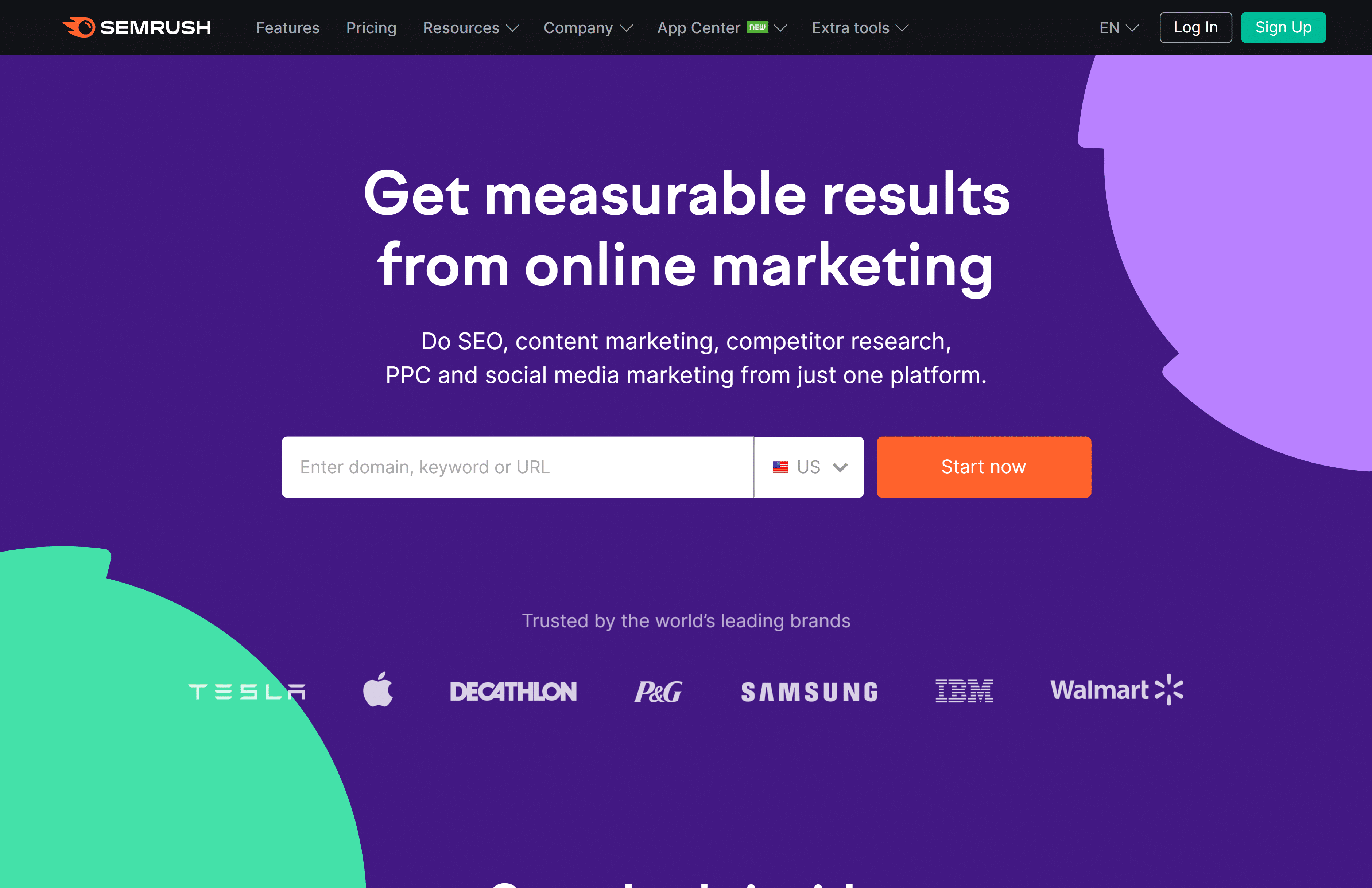 SEMRush is among the most popular SEO tools on the market. It's incredibly versatile and comes with a keyword research tool, backlink analysis, technical SEO audits, and even a writing assistant for on-page optimization.
For conventional keyword research, SEMRush is the best tool for the job. It displays the volume, keyword difficulty, and other important metrics for each keyword to help you zone in on the most suitable keyword to target for your content.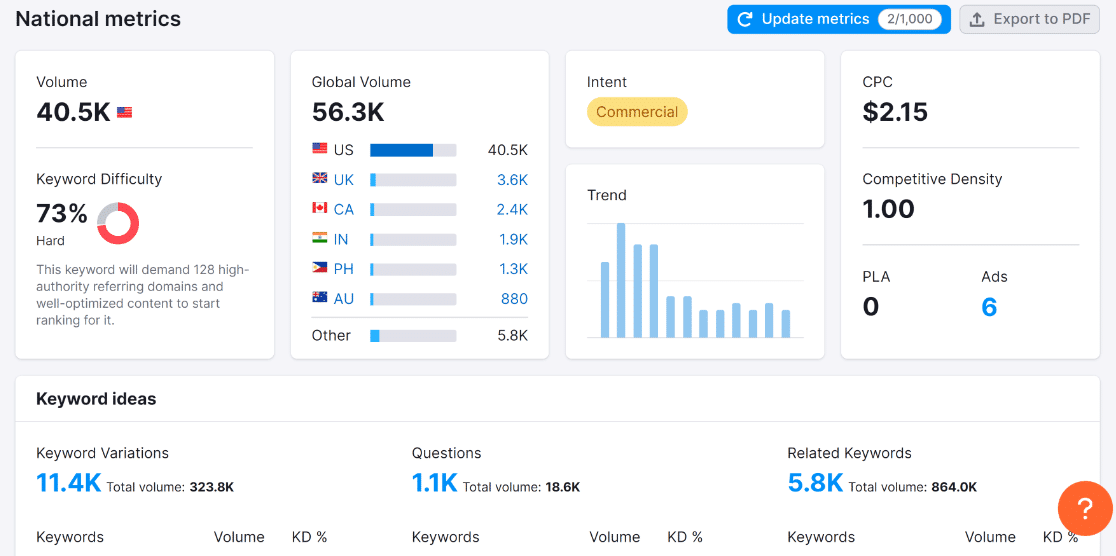 Apart from that, SEMRush includes powerful features for assisting you in competitor research. You can analyze any competing domain to analyze their backlinks, traffic, and top keywords.
Once you know what's working for your competitors, you can simply replicate their strategies to enjoy even greater SEO success.
In addition, SEMRush comes with a Writing assistant that offers recommendations for optimizing your topic with the correct search terms necessary for earning a high rank.
Overall, SEMRush is one of the best SEO tools that you can use for your WordPress (or even non-WordPress) site.
Pricing: SEMRush has a very limited free plan, so it's mainly useful if you get the paid version.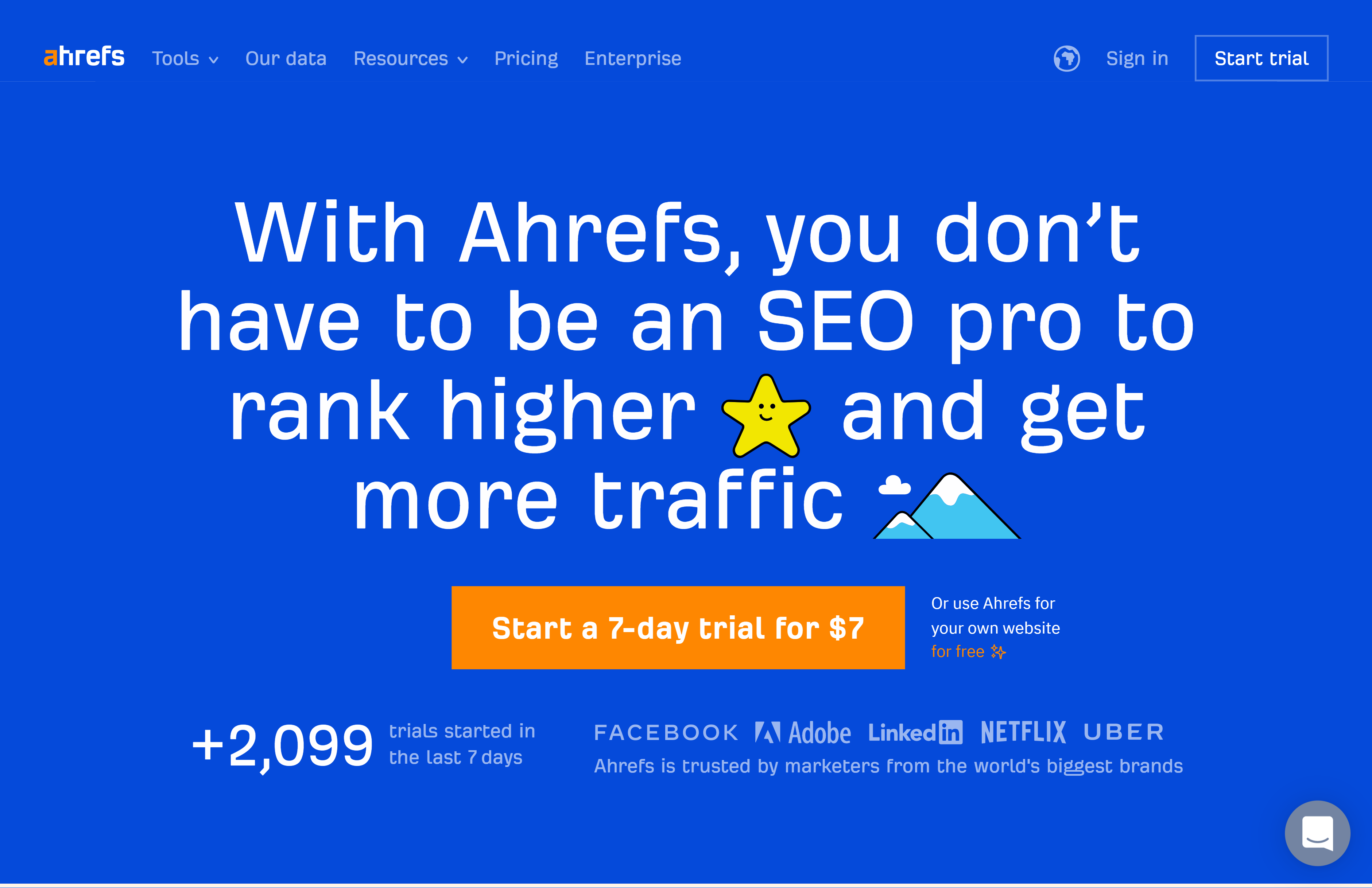 Ahrefs is an incredibly powerful SEO tool used by organic marketers worldwide. It includes many of the same features as SEMRush – you can perform keyword research, competitor analysis, backlink research, and more.
For us, Ahrefs particularly stands out for its refined and uncluttered user interface. Whether you're using it for keyword analysis or competitor research, it's always easy with Ahrefs to find the ideas you need for your SEO strategy.
We also appreciate that Ahrefs gives you tons of filters to help you refine your search to highly specific criteria when looking for backlink opportunities and keyword suggestions.
With features like this, you can easily discover high-quality domains for backlinks to build your domain authority and identify keyword variations to write perfectly optimized articles.
Pricing: Ahref's free version only supports content audit. All other features require a paid subscription.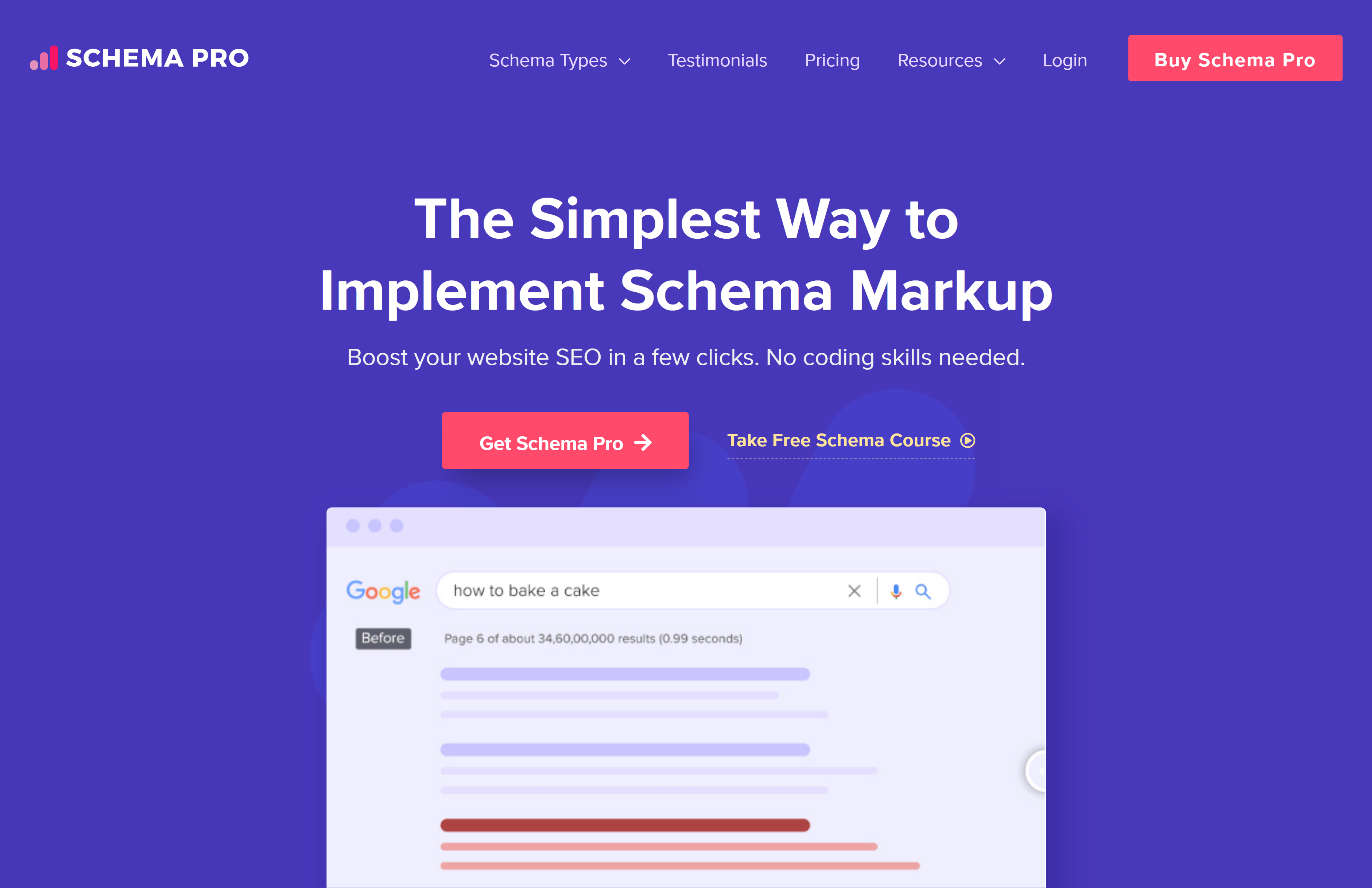 Schema Pro specializes in adding different types of structured data to your content to help you stand out on search engine results.
With Schema Pro, it's very easy to add rich snippets to your content by displaying ratings, prices, and other details on SERPs (search engine result pages). Schema markup is a great way of attracting higher clickthrough rates and conversions.
Although the best WordPress SEO plugins like AIOSEO also include structured data functionality for your content, Schema Pro provides a lot more options for customizing your rich snippet data.
But this also means that Schema Pro is not a full-featured SEO plugin since it only focuses on providing schema markup functionality. So, you can use Schema Pro alongside another WordPress SEO plugin to fully optimize your site.
Pricing: Schema Pro is a fully paid WordPress SEO plugin.
Which WordPress SEO Plugin Should You Use?
We strongly recommend All in One SEO as the best WordPress SEO plugin you can use for your site.
This plugin comes with all the essential features as well as tons of advanced ones. You can do on-page optimization, generate different schema types, monitor your SEO rankings, get title suggestions from ChatGPT, see detailed internal linking reports, and more, all within the comfort of your WordPress dashboard.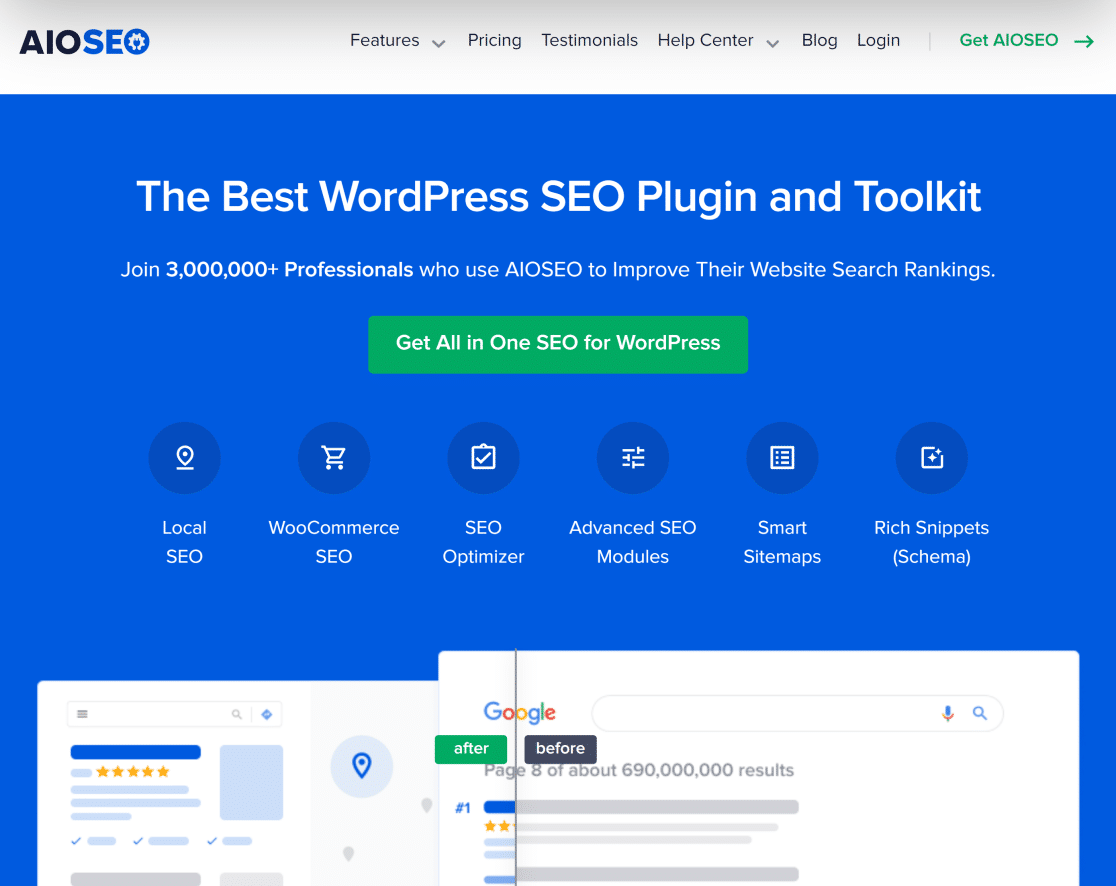 There are also several other super useful plugins like MonsterInsights for tracking your website metrics and traffic, which is essential for SEO success.
You can also get help from keyword research tools like WPBeginner's free Keyword Generator if you're looking for keyword ideas.
Apart from that, Rank Math and Yoast SEO are decent alternatives to AIOSEO. They bring you many of the same features but lack in a few more advanced areas like ChatGPT integration and comprehensive internal link reporting.
FAQs
Still got more questions about SEO tools and plugins for WordPress? Here are a few common questions other readers like you have asked us before:
Does Google Rank WordPress Sites Higher?
No, Google doesn't give preference to one Content Management System over another. However, WordPress has the best SEO plugins which means WordPress website owners enjoy better ease of doing SEO compared to less flexible platforms. Nonetheless, it's perfectly possible to grab high SEO rankings no matter what platform you're using for your site.
What Is the Most Popular Google Analytics Plugins in WordPress?
MonsterInsights is the most popular Google Analytics plugin in WordPress. It simplifies analytics to a point that even a beginner can understand important data related to your site statistics. If you find using Google Analytics inconvenient and difficult, MonsterInsights can bring you all the important analytics to your site without overwhelming you.
Next, Take Your Business to the Next Level
Now, you have the necessary WordPress SEO plugins to improve your site's search performance. But successful websites focus on multiple avenues of growth rather than relying on a single strategy like SEO.
Here are some of our other roundups that you can read to discover the best plugins for taking your website to the next level:
Apart from that, email is another important part of every website's digital marketing strategy.
To make sure your WordPress emails are delivering correctly and see whether users are opening your emails, you can use WP Mail SMTP and enable email tracking.
Also, if you're getting too many unnecessary email notifications, you might want to learn how to disable WordPress email notifications.
​
Ready to fix your emails? Get started today with the best WordPress SMTP plugin. If you don't have the time to fix your emails, you can get full White Glove Setup assistance as an extra purchase, and there's a 14-day money-back guarantee for all paid plans.
If this article helped you out, please follow us on Facebook and Twitter for more WordPress tips and tutorials.