Are you looking for survey plugins for your WordPress website?
The best WordPress survey plugins make it easy to run polls and questionnaires on your website to gather user opinions and feedback.
In this roundup of survey plugins for WordPress, we take a look at some of the best available options. These plugins offer a simple way to ask users questions and automatically collect the data in a user-friendly format.
Can I Create a Survey in WordPress?
You can create a survey in WordPress using a custom form builder or survey plugin. These tools allow you to design your own survey with the questions you want to ask and space for respondents to write or select their answers.
When the user submits the survey form, the data is saved to your WordPress database or sent to an email address. The best WordPress survey plugins will also create reports of your survey results, showing the data in graphs and charts.
Best Survey Plugins for WordPress
1. WPForms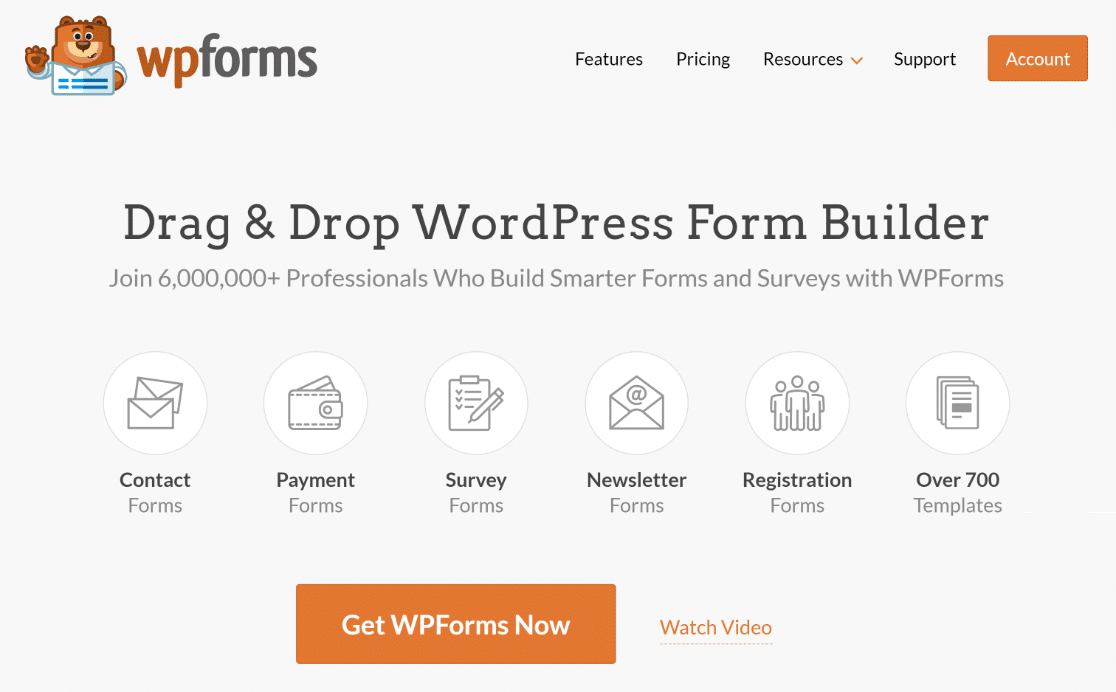 Using the WPForms plugin is the easiest way to create a survey form in WordPress. With the drag-and-drop form builder, you can quickly create a survey with multiple question types and answer fields, including text fields, radio buttons, check boxes, dropdown selections, ratings, and more.
WPForms also comes with a powerful Surveys and Polls addon that extends the functionality of the plugin with Likeart scale and Net Promotor Score fields, interactive reports, real-time poll results, and other useful features.
It's a breeze to build long surveys with multiple pages, conditional logic, and a Conversational Forms mode that boosts conversion rate. Plus, the plugin comes with 1000 templates, including dozens of survey and poll form templates.
Our Experience
One of the biggest benefits that WPForms offers is just how quick and easy it is to get a form built and published on your site. Using the pre-built survey form templates, we were able to get a fully-functioning survey up and running in just a few minutes.
We really liked the visual reports, which can be changed into different types of charts (bar chart, pie chart, line graph, etc.) at the click of a button. It's also possible to export either the entire report or the results of individual survey questions as JPG or PDF, which is handy for sharing the results with others.
The conditional logic feature is also powerful and makes building more complex forms easy. For example, you can use it to display a form field asking for feedback only if a customer gives a rating below a certain number.
We also liked the instant poll results feature, which shows the poll results in a visual format as soon as a user submits a form. This is a really easy way to boost user engagement on your site and get answers to quick questions without running a whole survey.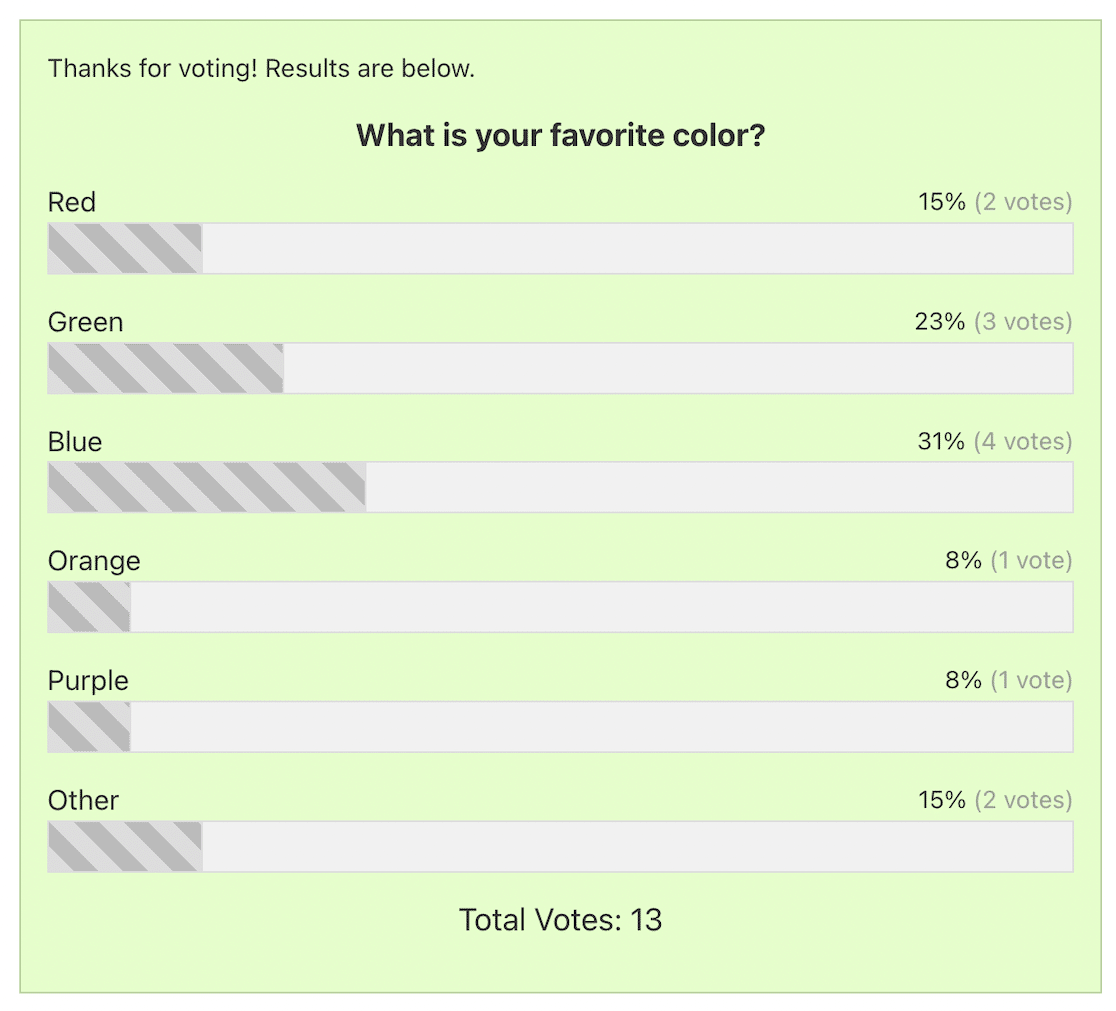 Overall, WPForms offers the ideal balance between ease of use and powerful features. It's also a fantastic multi-use plugin, as you can use it to create any kind of form, such as contact forms or order forms.
Our Favorite Features
Conversational Forms: This feature allows you to ask one question at a time to reduce the overwhelm of long surveys and make them seem easier to complete.
Reporting: Enable survey reports for any of your existing forms
Templates: 1000 editable form templates, including survey and poll templates.
Save and Resume: Allow users to come back and finish filling out the survey later.
Confirmations: Automatically email users with a thank you message and optional survey or poll results.
Spam Protection: Built-in spam protection prevents misuse of your surveys.
Multi-page Surveys: Spread long surveys over multiple pages.
Google Sheets Integration: Send survey results directly to Google Sheets.
Conditional Logic: Show or hide form fields depending on the user's previous answers.
Pricing
WPForms Pro starts at $199.50/year.
2. UserFeedback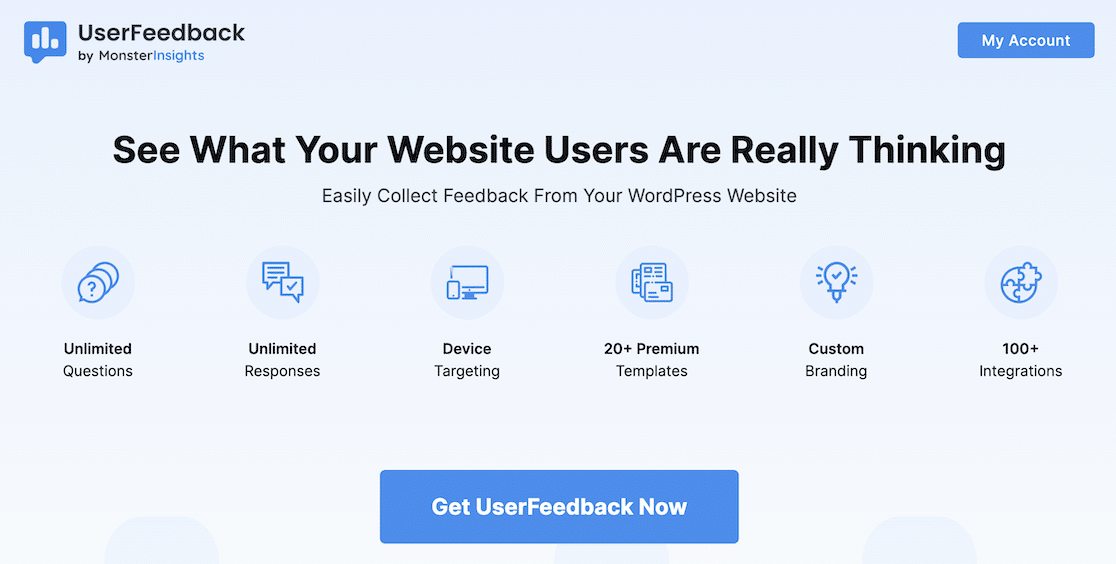 UserFeedback is a specialist feedback collection plugin from the team at MonsterInsights. Designed to give you additional insights alongside your web analytics, it makes it simple for you to ask users questions on any page of your site.
You can ask unlimited questions with the plugin, but the resulting survey isn't structured like standard customer satisfaction surveys. Instead, users will see a popup window in the corner of their screen and will be prompted to answer one question at a time until the survey is complete.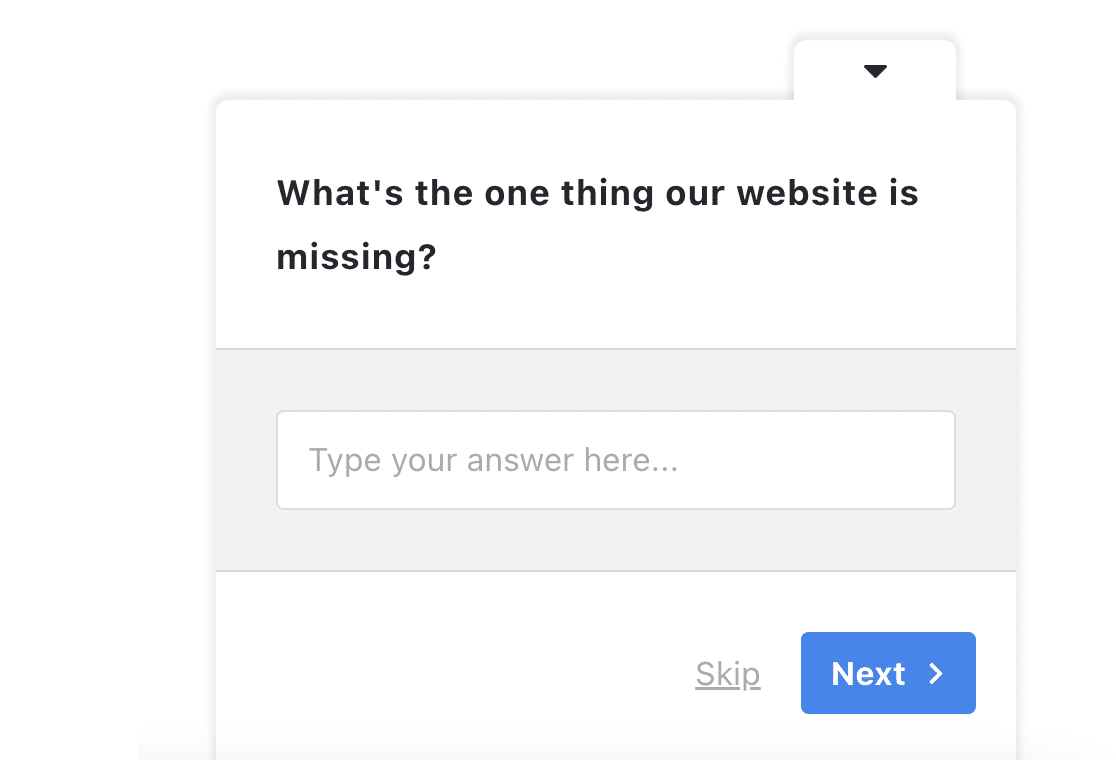 This approach to the user experience can help to increase engagement as the survey is on multiple pages instead of just one.
Our Experience
We found UserFeedback very simple to use and quick to get a user survey active and running. The survey builder allows you to add questions in various formats (checkboxes, radio buttons, email capture fields, text fields, rating, and Net Promoter score) and add as many answers for multiple-choice questions as you wish.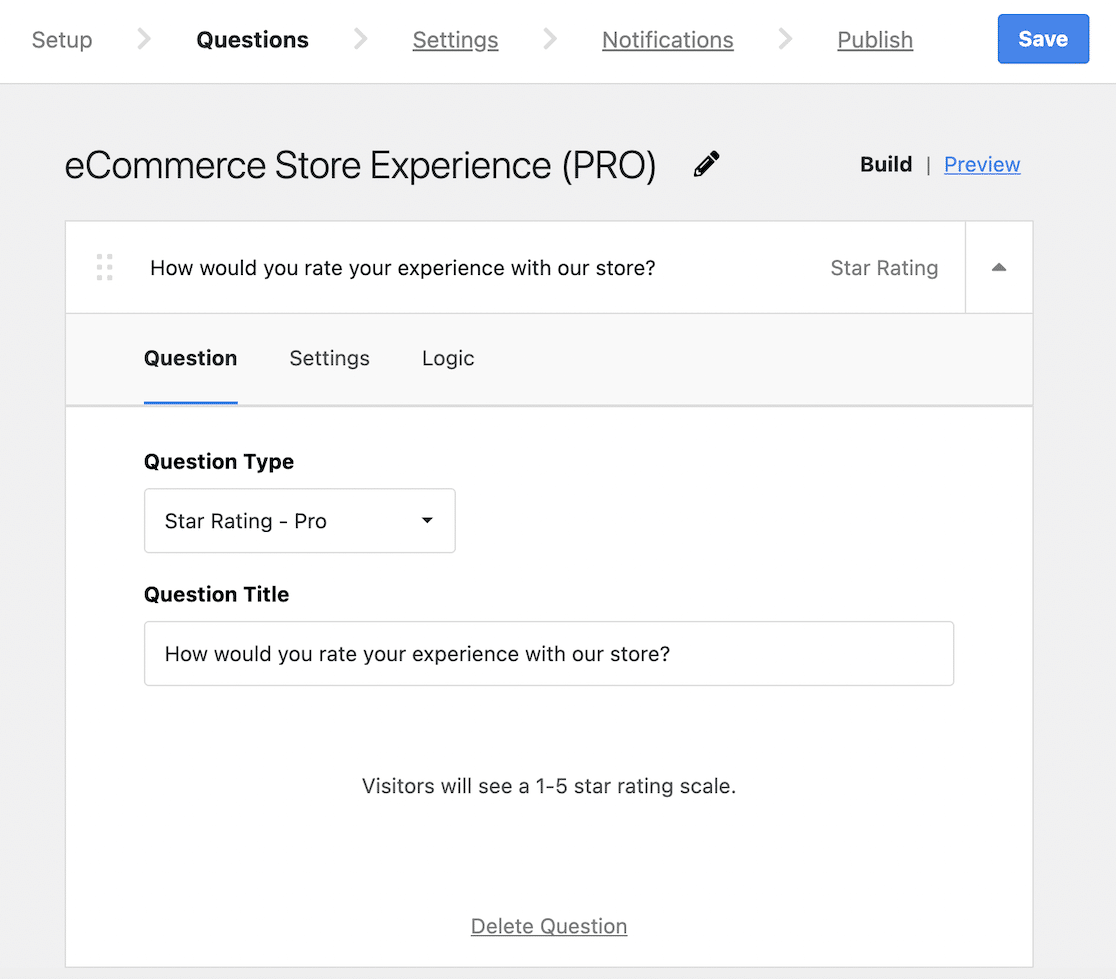 You can preview the survey as you're building, and the Branding addon allows you to change the colors of the widget to match your site.
We were also impressed with the general survey settings and Targeting addon, which allow you to choose when the survey will appear, for how long it will appear, and on which pages of your site it will appear.
The format of the surveys this plugin creates might not be suitable for everyone. But they're ideal for the job it's intended for—collecting user feedback.
Our Favorite Features
Templates: Build surveys quickly with the help of over 20 templates.
Randomize Answers: The order of answers on checkboxes and radio button fields are randomized with each survey load to eliminate bias.
Conditional Logic: Skip questions based on answers to previous questions
Targeting: Show the survey only on specific pages or to users on certain devices.
Survey Behavior: Choose when the survey appears (after a set time or on scrolling or abandonment), how long it appears for, and the date it will run until.
Customization: Change the survey widget colors to match your branding.
Pricing
UserFeedback Pro starts at $99.50/year.
3. RafflePress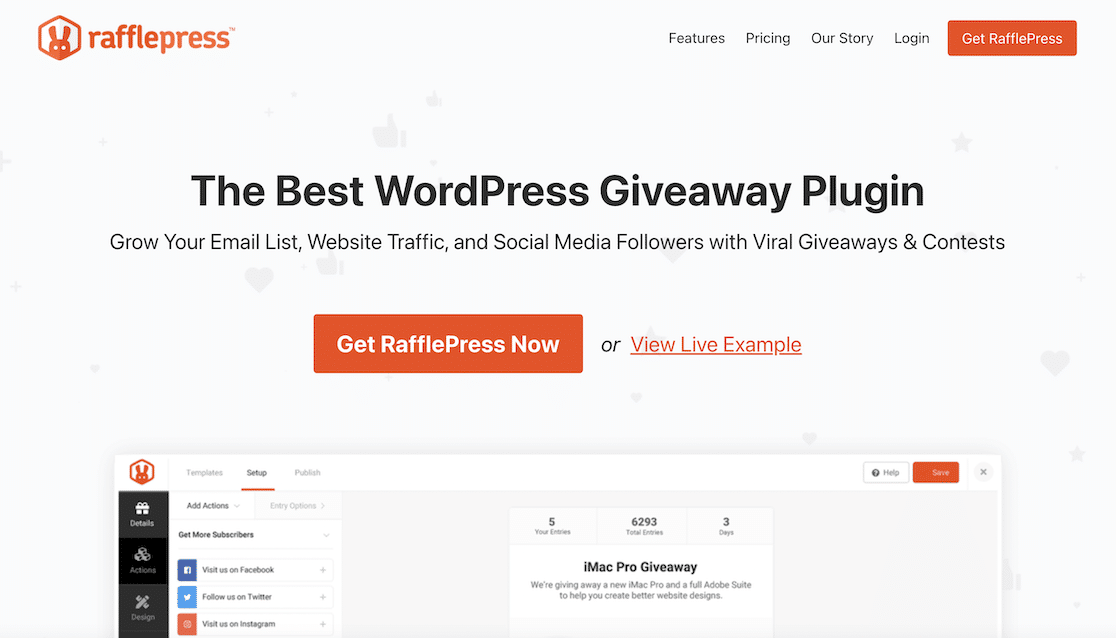 RafflePress is well known for being the best giveaway and contest plugin for WordPress, but you may not know that it also includes a Polls and Surveys feature.
Combining your surveys and polls with the incentive of a giveaway or prize is a fantastic way to maximize user engagement. If your response rate for previous surveys has been disappointing, it's worth giving RafflePress a try. With this plugin, you can get valuable user insights and boost your traffic and social media followers at the same time.
Our Experience
We found that RafflePress's drag-and-drop builder made it easy to create our first survey. The templates are a handy time-saving feature to get started, and the interface is intuitive.
To add a survey or poll, you just need to add an "action" to your giveaway. These are essentially tasks users can perform, which give them entries for the giveaway.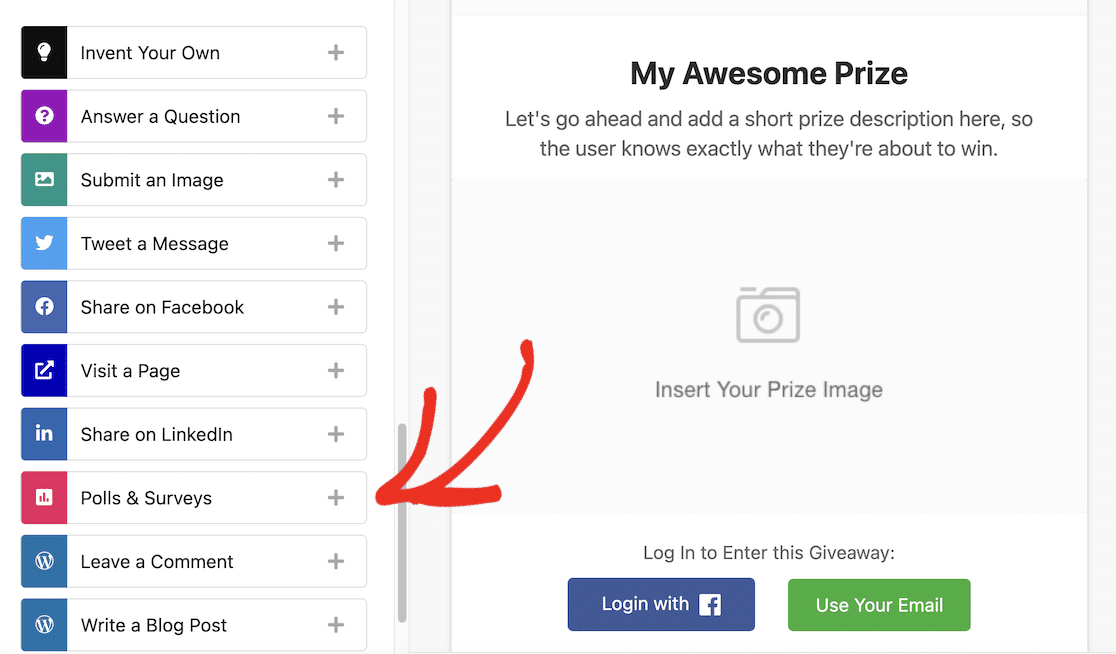 We found the format of the survey better for conducting quick polls or asking a single question, as it's a little time-consuming both for the form creator and the end user to go through multiple questions. There's also no option to fill out a survey anonymously, as users must log in to be eligible for the giveaway.
Question types are also limited to multiple-choice radio buttons or checkbox fields, although you can add an "Answer a Question" free text field as a different action.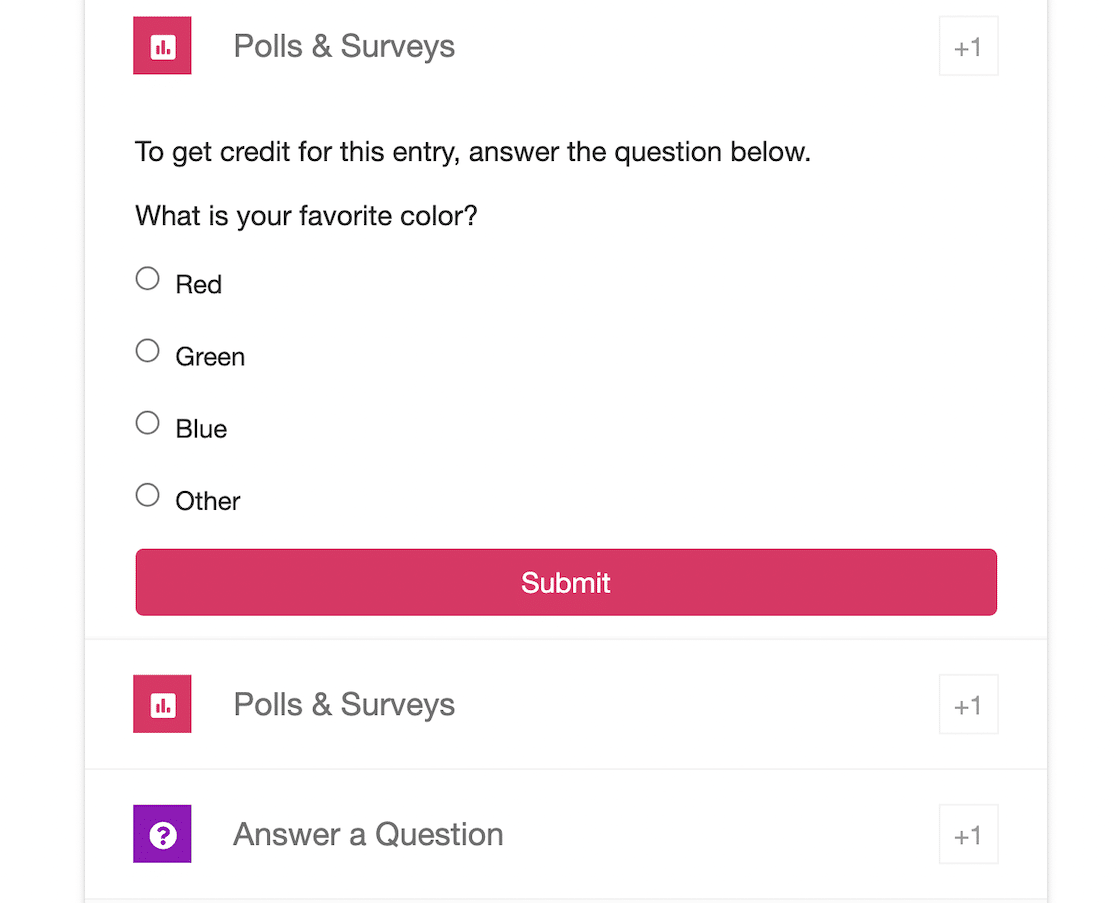 If you don't want to run a contest or giveaway, this isn't the survey plugin for you. But you may want to consider offering a small prize or bonus to encourage more users to fill in the survey.
Our Favorite Features
Incentivize Users: The possibility of winning a prize for filling out your survey can increase the number of responses.
Pre-made Templates: Comes with various templates for different types of giveaways
Social Media Integration: Grow your following on Facebook, Instagram, YouTube, and other social platforms
Start and End Time: Run your survey automatically to a set schedule.
Multiple Embed Options: Embed your survey as a WordPress block, shortcode, or on its own landing page.
Social Logins: Users can log in with social accounts as well as using their email.
Customizable Design: Easily change the layout, colors, and images of the survey to match your branding.
Visual Reports: Poll and survey results can be viewed as pie charts in the WordPress admin dashboard.
Pricing
RafflePress Pro starts at $79.60/year.
4. Thrive Quiz Builder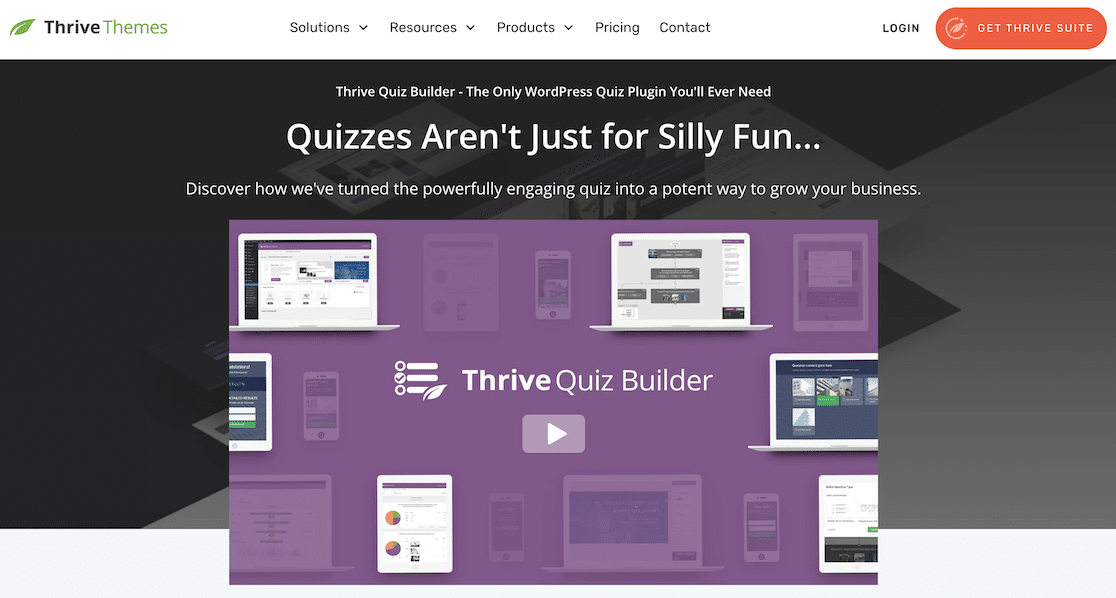 Thrive Suite comes with a whole suite of useful plugins, including the comprehensive Thrive Quiz Builder.
Thrive offers four quiz templates designed for specific goals. The Customer Insights template is ideal for building interactive surveys and includes pre-built splash and results pages.
This is more of an advanced plugin designed for building viral quizzes. Features like the visual branching logic builder may seem like overkill if you just need a simple survey.
But if your goal is to use surveys to find out more about your audience to create better content, products, or services, this is the perfect tool to help you out.
Our Experience
We found the plugin simple yet powerful to use. The step-by-step setup wizard also comes with a full video tutorial that walked us through the process of building a survey from start to finish.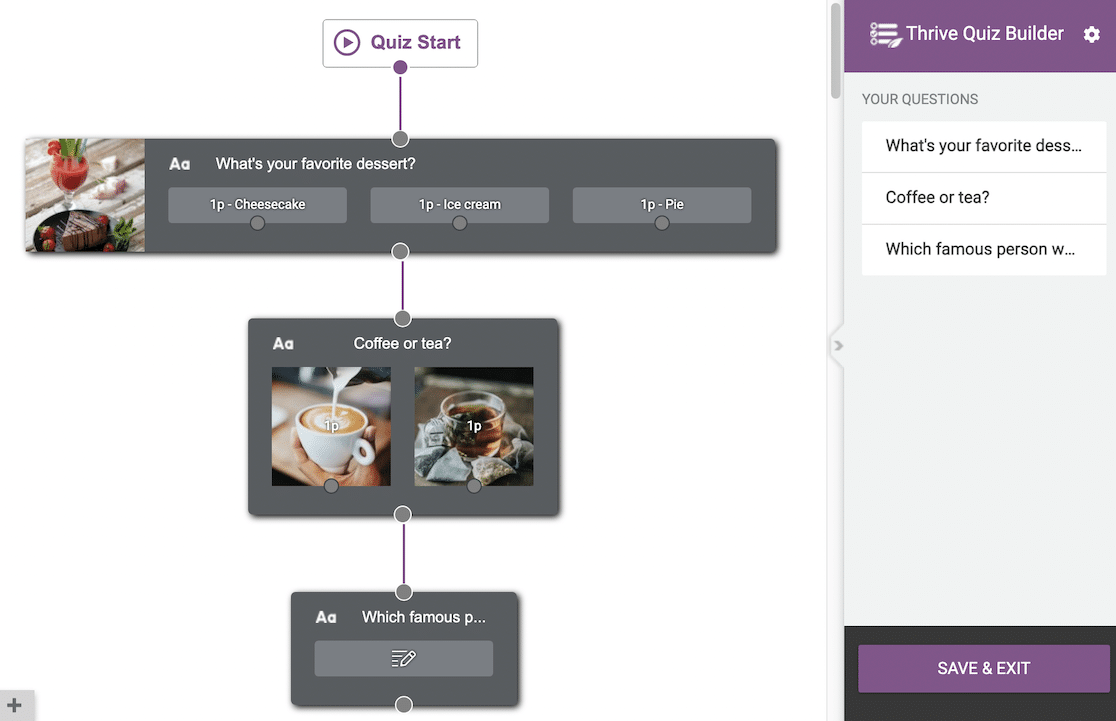 Thrive Quiz Builder creates the most beautiful surveys of any of the plugins we tried. As well as simply changing the colors and CSS to match your branding or WordPress themes, there are multiple professionally-designed styles to choose from and nice extras such as button hover effects and background images.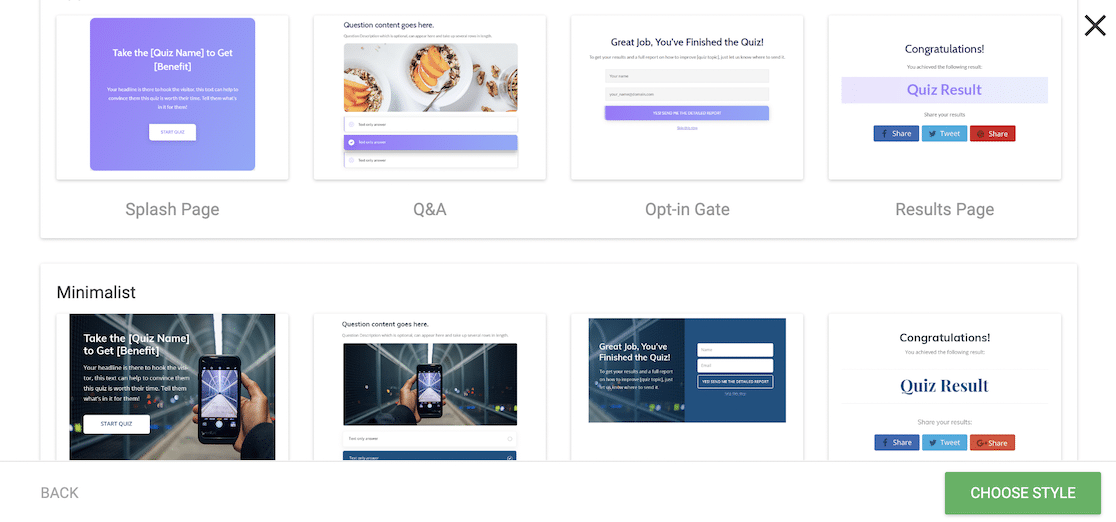 Overall, we were pretty impressed with this plugin. It creates professional-looking surveys with useful tools for increasing engagement and measuring results.
However, it lacks the variety of question and answer formats offered by WPForms and some of the other plugins we looked at. The workflow is also a bit more complicated for setting up basic surveys.
Our Favorite Features
Audience Segmentation: Automatically segment your users and mailing list depending on their answers in the survey.
A/B Testing: Test different parts of your survey to optimize your conversion rate.
Dynamic Content: Show users different results pages, depending on their answers.
Advanced Analytics: See the results of your survey over time, including conversion goals and where users are dropping out.
Logic and Quiz Flow: Build complex survey forms with multiple paths in the drag-and-drop visual editor.
Editable Splash and Results Pages: Design attractive entry and exit pages to increase engagement.
Export Form Data: Export responses as CSV or other formats.
Pricing
Thrive Quiz Builder is available as part of the Thrive Suite for $299/year or as a standalone plugin for $99/year.
5. Formidable Forms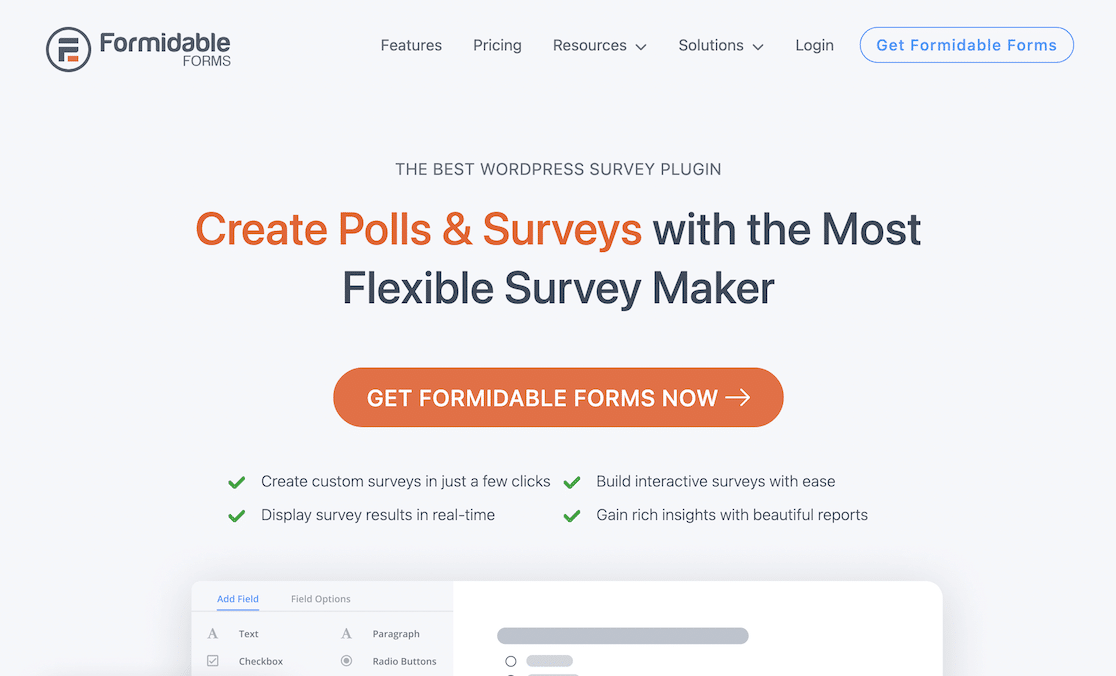 Formidable Forms is an advanced form builder for WordPress with a feature-rich surveys and polls add-on to collect user feedback.
The free version of the plugin comes with basic form fields such as text fields, checkboxes, and radio buttons. Upgrading to one of the paid plans adds premium survey fields such as star ratings, a range slider, Likert scale, NPS field, and button options with icons.
As well as a user-friendly drag-and-drop survey builder, attractive customizable reports, and everything else you'd expect from a survey plugin, Formidable Forms offers some more advanced features for power users, such as survey piping and smart conditional logic.
Our Experience
We found Formidable Forms intuitive and easy to use, with a simple drag-and-drop visual survey builder and survey settings, visual style, individual entries, and reports accessible from a single dashboard.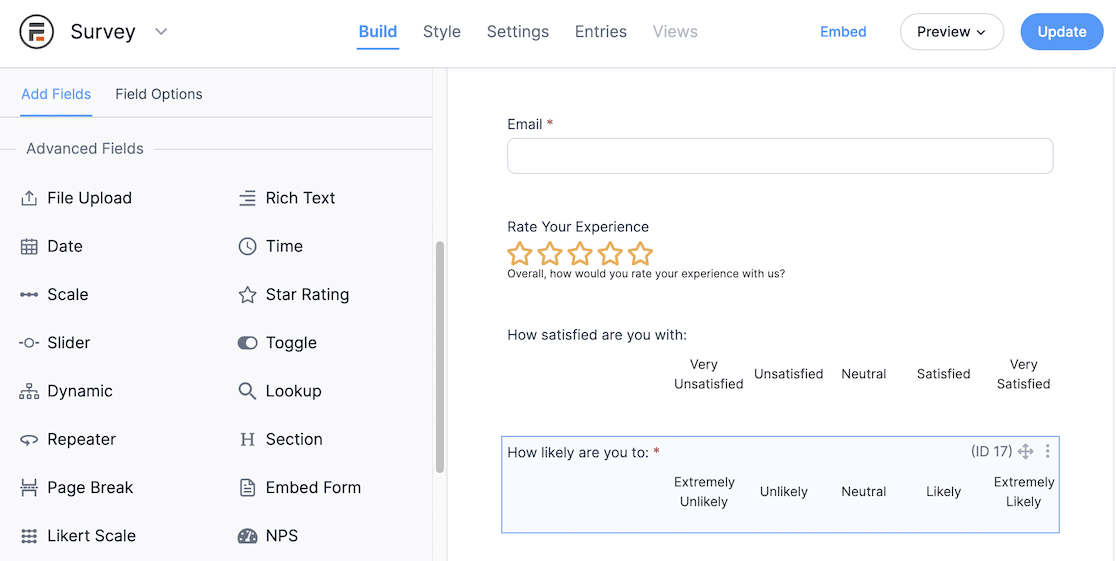 While the reports are clear and easy to use, we found that there were no simple customization options for survey reports in the standard view.
To create custom reports with different types of graphs and charts, we needed to create a new WordPress page and use shortcodes to display the data in different formats.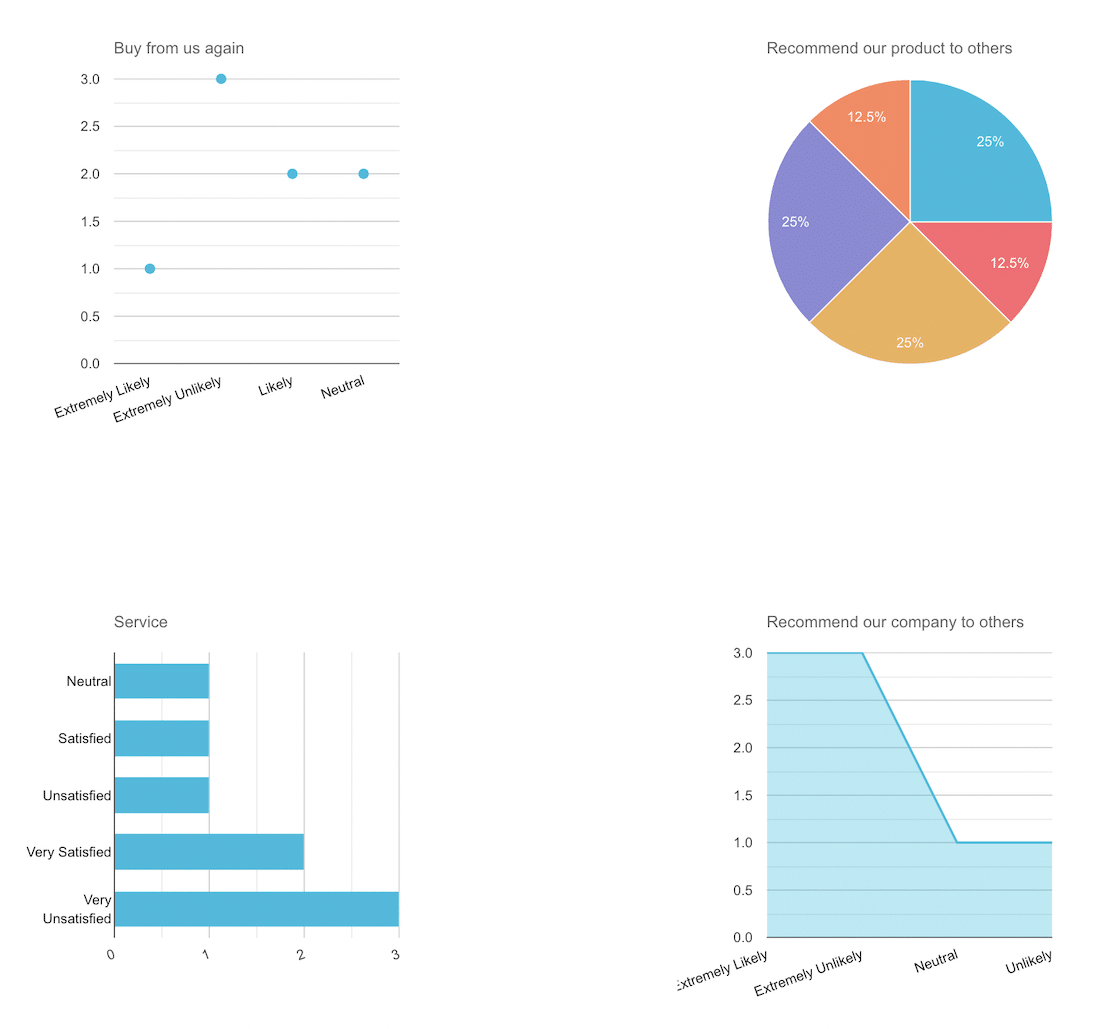 We found this process quite time-consuming, and it does make Formidable Forms less accessible for non-technical users. But if you're an advanced user, you're sure to have some fun creating real-time updating reports for the front-end of your site with this feature.
Our Favorite Features
Templates: Get started quickly with dozens of pre-built survey templates.
Survey Piping: Personalize surveys with input the user entered earlier.
Conditional Logic: Show or hide survey form fields based on previous answers.
Progress Bars: Show progress on multi-page forms to increase the completion rate.
Review Survey Responses: Allow users to review their answers before survey submission.
Live Reports: Publish live survey results on your site in multiple formats, including bar charts, pie charts, geo heat-maps, and scatter graphs.
Schedule Surveys: Automatically open and close surveys on a pre-defined schedule.
Pricing
Pro Formidable Forms plans start from $99.50/year.
Bonus: Quiz and Survey Master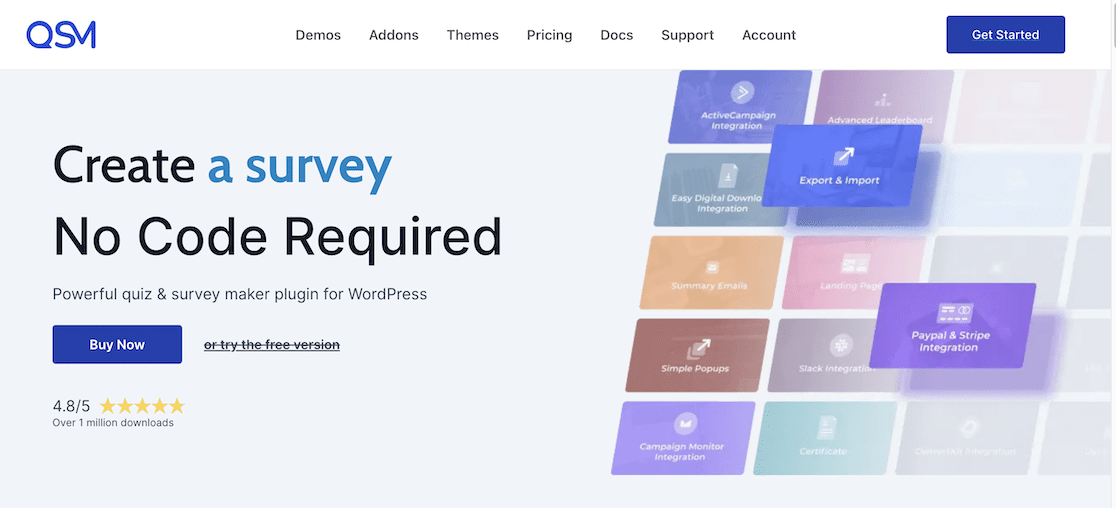 The premium version of the popular Quiz and Survey Master plugin is a bit on the pricey side compared to the other survey tools on our list, but if you run a lot of quizzes or surveys, you might want to check it out.
The team behind the plugin has obviously put a lot of work into making it look good, and it comes with all the features you'd expect from a premium plugin, including advanced question types, conditional logic, custom reports, and integrations with third-party services for your CRM like Google Sheets, Google Analytics, MailChimp and Zapier.
Pricing
The Pro Quiz and Survey Master premium plans cost $199/year.
Which Is the Best WordPress Survey Plugin?
If you're looking for the best all-rounder survey form plugin, WPForms offers an excellent balance between power and flexibility and an easy-to-use platform. As it's a general WordPress form plugin, you can also use it to build all sorts of forms and surveys.
One of the other plugins on this list may be a better fit if you're looking for a specific feature, such as a pop-up poll on every page or a viral-style quiz builder. As most of these plugins come with a free version, we encourage you to try a couple to see which meets your needs best.
If you want to email the users who complete your surveys with notifications to thank them for your input or send them the results, you want to ensure they receive your message. As the most popular SMTP plugin, WP Mail SMTP will make sure your WordPress email notifications reach their intended recipient.
FAQs
Unsure about how to get started creating a survey? Here are some of the most commonly asked questions we get about building surveys in WordPress and on other platforms:
Can You Embed SurveyMonkey in WordPress?
You can embed a SurveyMonkey survey by copying the HTML code snippet and pasting it into your WordPress page or post. However, you'll need to go to SurveyMonkey to see the results and reports.
If you're looking for an easier way to run a survey on your WordPress site, consider using a survey plugin. Plugins like WPForms with the Surveys and Polls addon make it easy to build a survey and collect the results right on your WordPress dashboard.
Which Platform Allows You to Create Online Surveys?
There are several free survey platforms, including Google Forms, SurveyMonkey, Opinion Stage, Crowdsignal and Typeform. But many of these survey makers put limits on free surveys, and you'll need to upgrade to a paid account to remove the limitations. You can also run an online survey on your WordPress site with a free plugin.
Is Google Surveys Free?
Yes, Google Forms is free for creating surveys and other types of forms for conducting research and collecting user responses.
How Do I Create a Customer Feedback Survey in WordPress?
You can create a customer feedback survey in WordPress by using a form survey plugin such as WPForms, UserFeedback, or one of the other survey plugins on this list. These plugins come with survey templates and a simple interface to help you build an online survey and see the results as a visual report.
Next, Learn How to Stop Contact Form Spam in WordPress
Whenever you publish a public form like a survey or contact form on your site, it's inevitable that you'll get some spam submissions. Luckily, plenty of tools are available to help you combat the spammers. Check out our tutorial on how to stop contact form spam in WordPress for several methods of spam protection.
If you're looking for the best WordPress plugins for your site, make sure to check out our other plugin roundups. From SEO and social media to form builders and file uploading, we've hunted down the best plugins for every need.
Ready to fix your emails? Get started today with the best WordPress SMTP plugin. If you don't have the time to fix your emails, you can get full White Glove Setup assistance as an extra purchase, and there's a 14-day money-back guarantee for all paid plans.
If this article helped you out, please follow us on Facebook and Twitter for more WordPress tips and tutorials.