Are you looking for the best free form builder plugins for WordPress?
Form builders allow you to easily create contact forms for your site. And contact forms are highly effective for collecting leads and growing your audience.
For this article, we've put together a list of the best free WordPress form builders that you can use to increase your subscriber count and learn more about your visitors.
Best Free Form Builders for WordPress
The best free form builders for WordPress are:
Remember that you only need one contact form plugin for your site.
Let's dive into the list and see what each contact form plugin has to offer.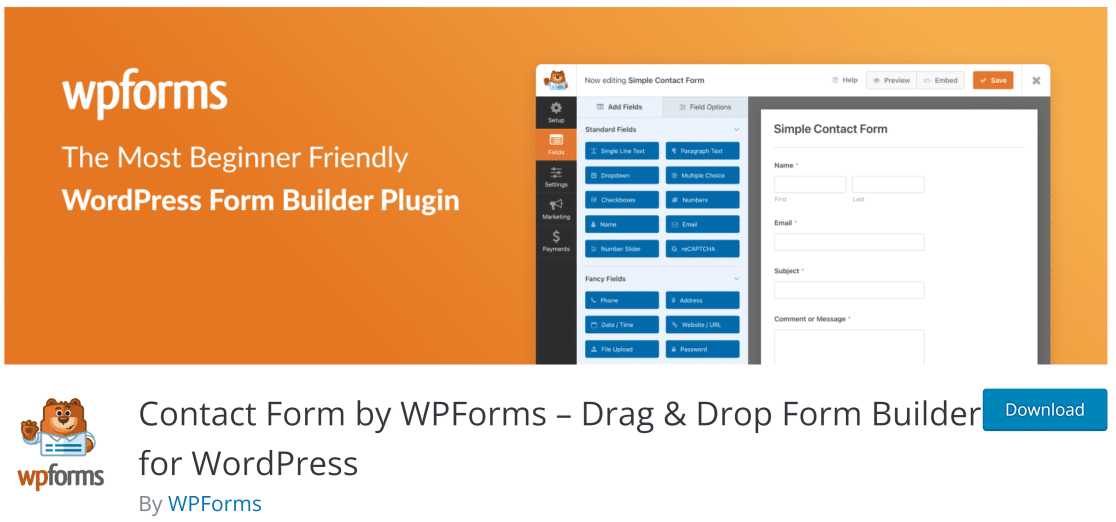 WPForms Lite is the best online form builder plugin you can have for WordPress. It's the most user-friendly online form builder out there, thanks to its code-free form builder interface.
WPForms Lite uses the same intuitive visual form builder that you get in the Pro version. This drag-and-drop builder makes it incredibly easy to create your form and see a live preview during form creation.
Many free plugins impose restrictions on the number of forms you can create, but not WPForms. WPForms Lite (free version) lets you create unlimited forms and accept unlimited entries from your respondents.
You even get features like no-code form styling options for free. These let you customize the form design using the WordPress block editor streamline the user experience with visually striking forms. Most other plugins either don't support form styling without CSS or only offer it in their paid versions.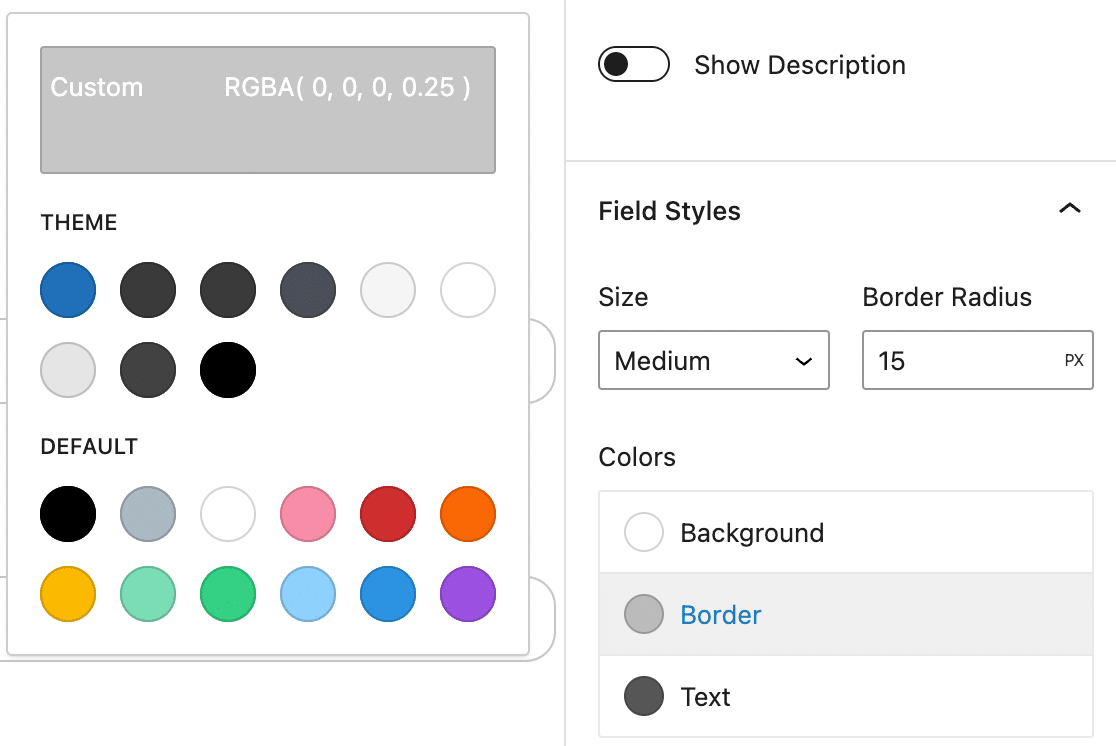 On top of that, WPForms Lite also integrates with Stripe. If you want to collect payments for your nonprofit or sell products, you can absolutely rely on Stripe.
Remember that Stripe charges a fixed 3% plus other Stripe fees per transaction. But you can remove the 3% extra charge when you upgrade to WPForms Pro.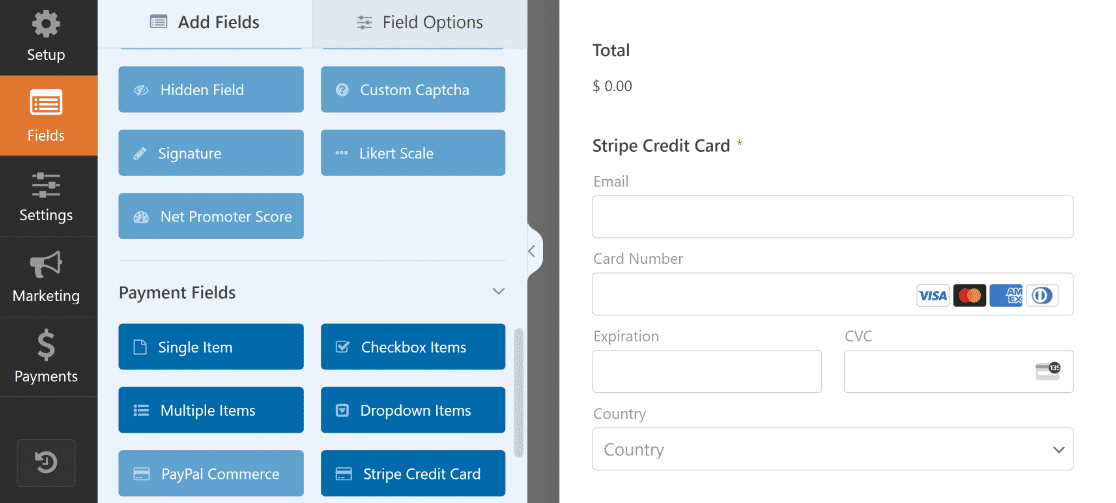 In addition, it has all the crucial form fields that you'll need to build complete forms. You can include fields like:
Name
Email
Text
Number
Dropdown
Multiple choice
Checkboxes
GDPR agreement
Captcha
… and more.
And these are available for free!
The free version is highly effective at combating spam. It comes with Google reCAPTCHA, hCaptcha, Akismet, and Cloudflare Turnstile anti-spam integration.
Once you upgrade to Pro, you can access tons of extra features and even use WPForms as a file upload plugin for your site and enable users to send attachments as they fill out forms. It's also an excellent Typeform alternative thanks to its ability to create Conversational Forms.
Beyond that, WPForms Pro also features registration forms and survey forms. You can use these to replace the standard WordPress login and registration with your custom forms or collect data with customer feedback forms.
Some of our favorite Pro features include:
Features:
Comes with 1,200+ pre-built form templates for all types of forms.
Simplify workflows by integrating with Constant Contact for free, or you can upgrade to the Pro version to integrate with CRMs and marketing apps like HubSpot, Drip, and more.
Create calculation forms to easily create calculators using custom calculator such as EMI calculator, mortgage calculator, or a price calculator.
Form notifications can be configured via email and even Slack
Send form data to Google Sheets with a native integration
Multi-step lead forms for boosting lead generation and conversion rates
Coupons for enabling flat-rate or percentage discounts
Addons available to extend the functionality if you're in need of a survey plugin or access PayPal, Square, and Authorize.net payment integrations.
Pricing: WPForms has both free and paid versions. The Pro plan starts at $199.50/year.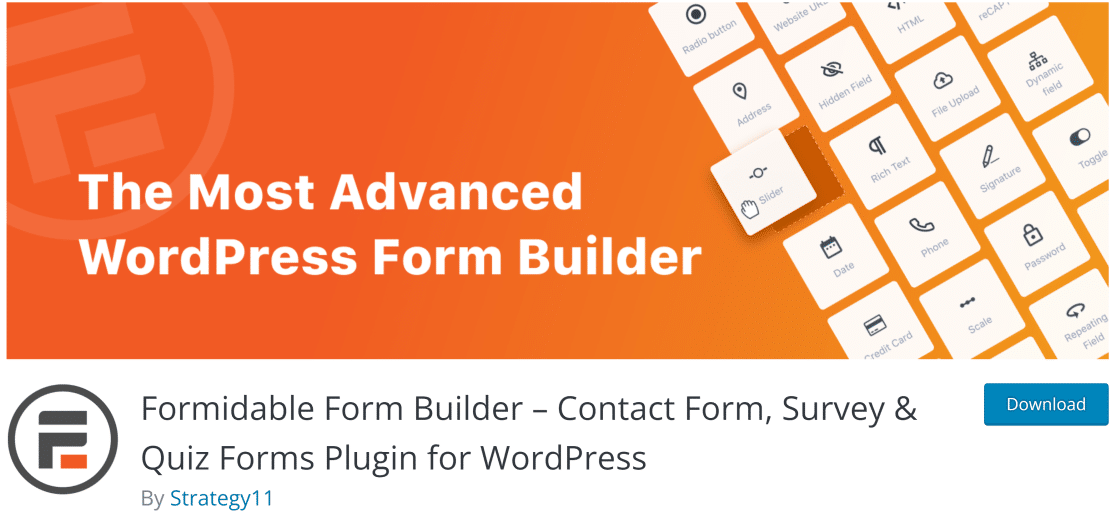 Formidable Forms is another powerful form builder for WordPress. While WPForms provides greater simplicity and user-friendliness, Formidable Forms is geared towards more advanced users.
The plugin offers an impressive range of free features compared to most other form builders. You get a visual form styler that lets you edit your form elements without any CSS. It also lets you change your form layout by arranging your fields into multiple columns.
Much like WPForms, Formidable Forms has a drag-and-drop form builder that lets you create a new form from scratch or use a pre-made template. In our opinion, Formidable Forms offers one of the best form-building processes with its streamlined interface.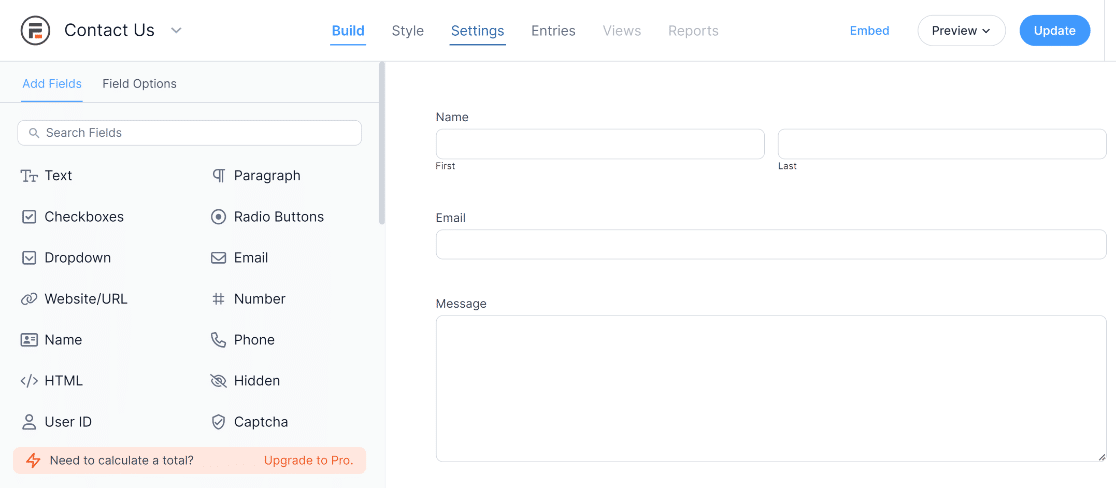 However, Formidable Forms doesn't offer any email marketing, CRM, or payment gateway integrations in the free version. For that, you'll need to upgrade your license to Pro.
The paid version of Formidable Forms includes lots of advanced features. It also gives you calculation capabilities for WordPress forms. So if you want to create a budget calculator form, Formidable Forms is a good choice.
We're also huge fans of its AI capabilities that allow you to send prompts to ChatGPT and display its responses in the same form. This is a great way to build useful automation for your site – you can use this feature to even create a chatbot.
However, Formidable Forms is not as beginner-friendly as WPForms. Also, since Formidable Forms uses strong anti-spam solutions like Akismet, you might experience problems with your notification emails. If so, check out our guide on Formidable Forms email not sending.
Features:
Lets you create complex forms without affecting your site speed
Has lots of templates that help with creating advanced forms
Mobile-friendly forms work perfectly across all devices
Conditional logic allows you to show or hide specific fields based on user response
Great customization features to change visual styles and layout designs.
Pricing: Formidable Forms is a freemium plugin that can be upgraded for more features (like calculation fields) at $79/year.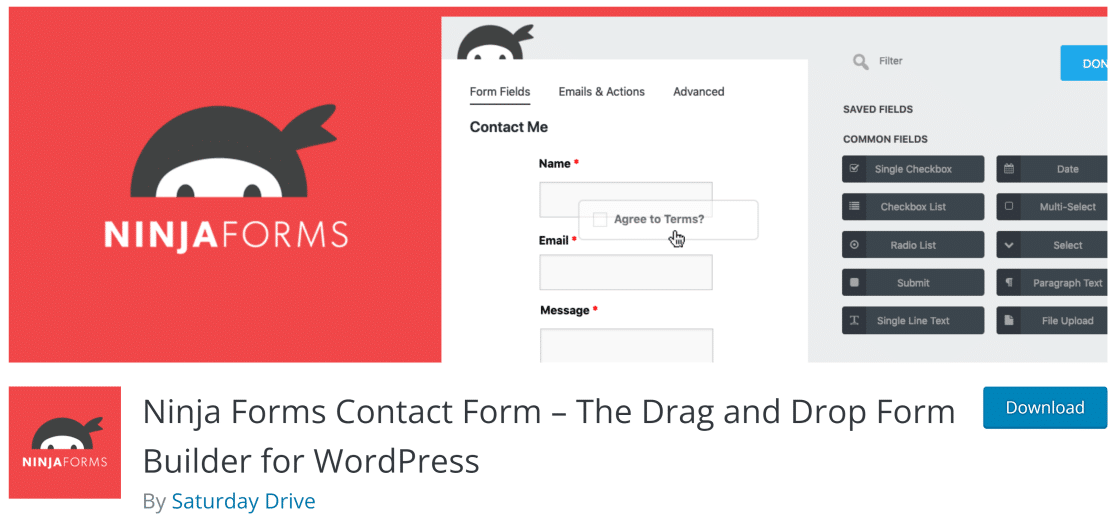 Ninja Forms is a popular WordPress contact form builder. It's very flexible, giving non-technical users an easy builder solution to make a form, while also providing advanced developer options for more technical users.
Ninja Forms' free version has all the essential features for creating basic contact forms of various types. From signup forms to donation forms, Ninja Forms boasts a decent variety of templates (though considerably smaller than WPForms).
One drawback of Ninja Forms is that it doesn't have an embed option to freely place your contact form on any part of your WordPress site. Also, if you run into problems receiving emails from Ninja Forms, you can read our tutorial on Ninja Forms emails not sending.
But other than that, it's a very good option for new as well as established websites.
Features:
Very beginner-friendly drag-and-drop builder interface
Supports file uploads and attachment options on forms
Dozens of premium addons to unlock more form features like user analytics and conditional logic.
Alternatives: Gravity Forms is a good alternative to Ninja Forms, but it doesn't have a free version.
Pricing: Free plugin with the option buy addons separately or a bundle subscription starting at $99/year.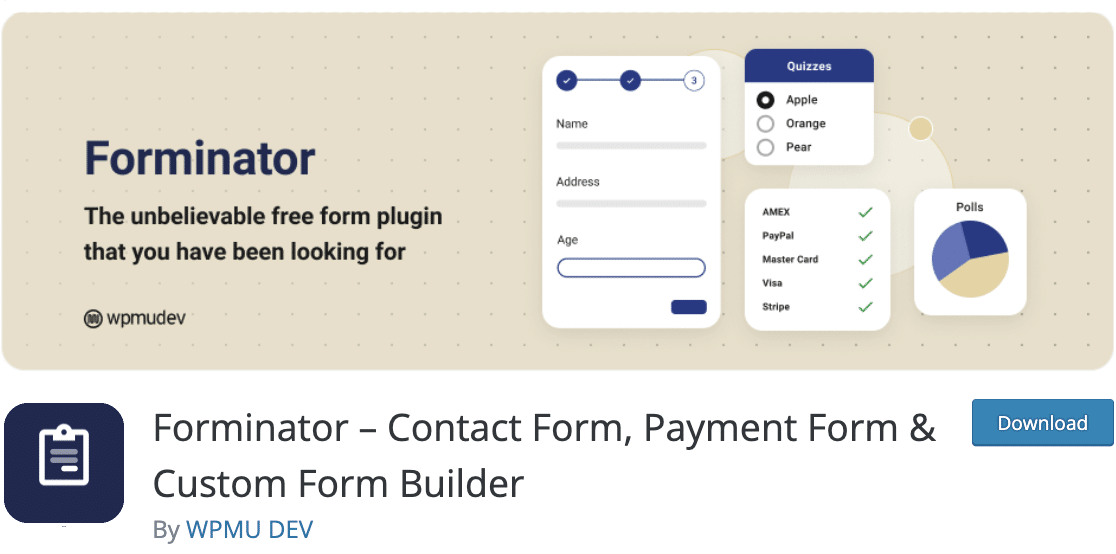 The Forminator form builder plugin lets you make your own forms, polls, and quizzes. It includes all the basic fields you need to make a variety of forms for your WordPress site.
We really enjoyed being able to build polls and quizzes without upgrading to the Pro license. We were also pleased to see that Forminator lets you add conditional logic in your forms for free. Most free form builders only include these features in the paid plans.
However, Forminator form builder is a little trickier to use than WPForms or Formidable Forms. It's not as visual, so you don't get a live preview right next to the form builder interface. This makes it hard to foresee what your form will look like when it's finished and embedded on your website.
The embedding options are also less intuitive than what you get with WPForms. You can't directly create a new page and have your form automatically embedded – the process needs to be performed manually with shortcodes.
Overall, Forminator is a fantastic online from builder for small businesses looking for a free solution. But if you're looking for the most beginner-friendly solution, then WPForms would be a better fit.
If you find yourself having problems receiving Forminator notification emails, make sure to see our guide on Forminator not sending emails.
Features:
Free payment and marketing integrations
Advanced styling and custom CSS options
Automatic email notifications when users submit your forms
E-signatures (premium version only).
Pricing: The Frominator plugin is free. Paid plans start at $60/year.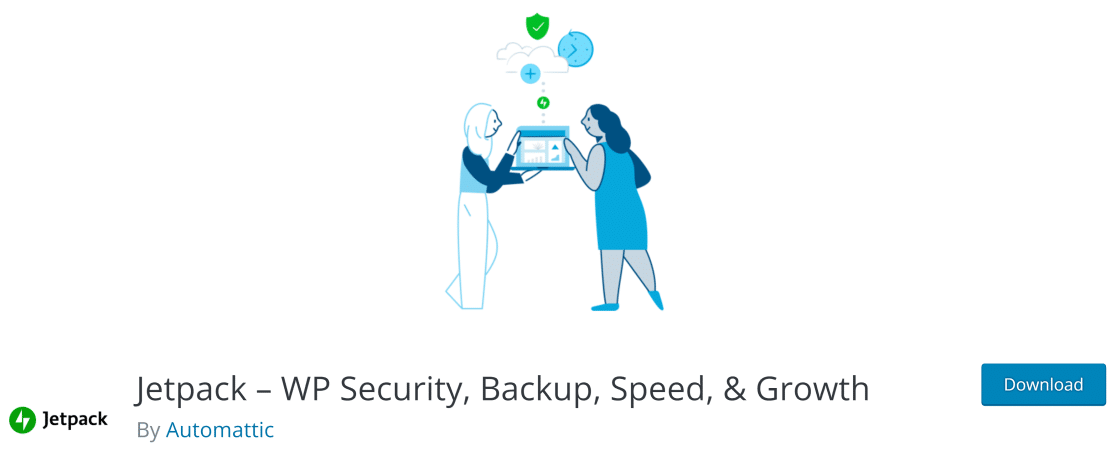 Jetpack is a plugin that includes various features for WordPress sites including security, performance, design, and growth tools.
It has a decent free form builder that allows you to create your form right from the post editing screen on your WordPress site. However, it's severely limited in terms of design and customization options. It lets you add custom fields, but there's only a small number of supported field types.
So, you can only build very basic and plain-looking forms with Jetpack. Moreover, it uses Akismet for spam filtering, which often leads to Jetpack contact forms not sending emails.
Features:
Basic contact form builder
Other features for WordPress sites like speed and security optimization.
Pricing: Jetpack is completely free.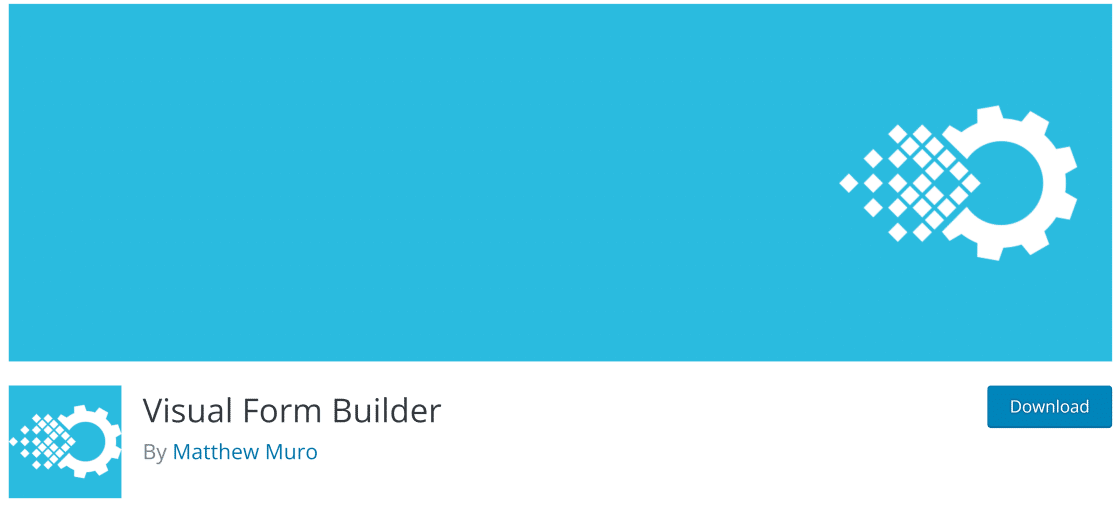 Visual Form Builder is a very simple form builder for WordPress. Though it doesn't have the same customization power and ease of use as WPForms, it's still a decent free option for WordPress sites.
Visual Form Builder lacks templates, but it has all the important fields for you to easily include in your forms. It also lets you use your own CSS code if you want.
However, Visual Form Builder isn't the most user-friendly form plugin and it has a very plain-looking builder interface. Also, users often encounter email sending errors with Visual Form Builder. If you're facing these issues, please see our post on Visual Form Builder emails not sending.
Features:
Drag-and-drop field reordering
Stores form entries in your WordPress database
Form submission email notifications
Anti-spam protection.
Pricing: Free + paid plans start at $29 (one-time fee).
Contact Form 7 is one of the earliest contact form builders developed for WordPress. As such, it has a very outdated interface which isn't ideal for non-technical users.
Although you can create fairly advanced forms with Contact Form 7, it's much more challenging to do so with this plugin. Since it lacks a drag-and-drop builder, it can be very time-consuming to customize your fields and build the perfect form for your goals.
Nonetheless, it has the advantage of being completely free, and if you prefer doing a little bit of HTML coding yourself, Contact Form 7 isn't a bad choice at all.
Features:
Basic contact form builder
Integrations with reCAPTCHA, Akismet, Constant Contact, Brevo (formerly Sendinblue), and Stripe.
Pricing: Free.

Jotform is one of the most popular online form builders. It's different from other form builders on this list in that it's a SaaS tool that needs to be accessed from the website rather than a plugin that works within your WordPress environment.
Nonetheless, you can still easily embed forms built with Jotform in your WordPress site with shortcodes. There's a huge variety of form templates you can use, and the level of customization you get is outstanding.
Unfortunately, Jotform's free plan is very limited. It only lets you build 5 forms and accept 100 total submissions per month. So you can't really use the free version of Jotform for large-scale data collection. And the paid plans are significantly pricier than other form builders on this list.
It's for this reason that Jotform didn't make it into our main list, despite having very powerful Pro features.
Alternatives: Google Forms and Microsoft Forms are decent alternatives with limited features, but they don't impose restrictions on submissions.
Pricing: Paid plans start at $34/month.
Which Free Contact Form Builder for WordPress Is the Best?
After analyzing all the different options on this list, we can safely say that WPForms Lite is the best free WordPress contact form builder.
WPForms Lite is the only form builder solution that provides the perfect balance between usability and functionality. It lets you create unlimited forms which can be readily embedded anywhere on your site and the easy customization features allow you to design your forms just the way you like them.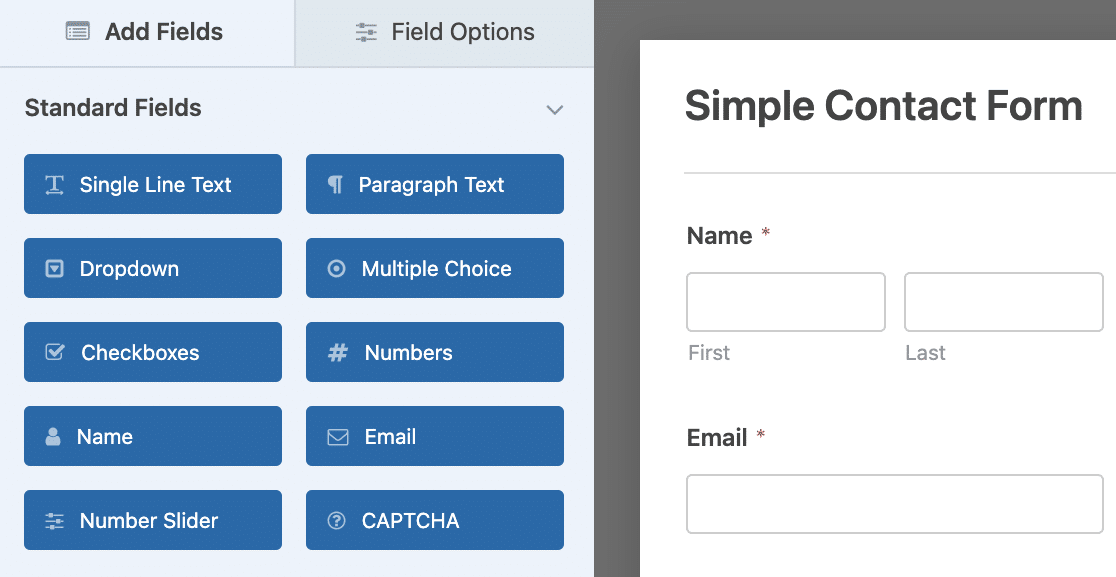 Plus, if you upgrade to the Pro version, you can create HubSpot lead capture forms, Stripe payment forms, and more with WPForms addons.
If you're looking for a more advanced solution that lets you build complex forms, then Formidable Forms is another great option. It gives you the ability to create calculator forms and customize form HTML, but requires more technical know-how than WPForms.
Now you know which free WordPress contact form builders can be the most effective in helping you grow your site's subscriber list! And if you're looking for even more user-friendly tools and plugins to elevate your site, take a look at our article covering the best no-code tools for your WordPress website.
FAQs on Best Form Builder for WordPress
Got more questions about free WordPress form builders? We've answered some of the common questions asked by other readers like you:
Is There a Free Form Builder?
Yes, there are several free form builders available on the market. WPForms has a generous free plan that gives you dozens of free templates, no-code form style customizations, the ability to create payment forms, and a lot more without requiring you to upgrade to a premium plan.
Is WPForms Lite Free Forever?
Yes, WPForms Lite is free forever. The plugin is actively maintained and updated by our team and we continue to release new updates and feature enhancements to make the free version more and more valuable for our customers.
How Do I Secure My Forms?
The best way to secure your forms is to use anti-spam protection like hCaptcha, reCAPTCHA, and Akismet. WPForms gives you tons of spam blocking and other options like email verification to prevent spambots and fake entries on your forms.
Next, Improve Your WordPress SEO
Want to rank high on Google for your main keywords? We suggest reading our guide on the best WordPress SEO plugins that can improve your rankings and generate higher traffic.
If you have email issues on your WooCommerce store, see our troubleshooting guide for WooCommerce email notifications.
Ready to fix your emails? Get started today with the best WordPress SMTP plugin. WP Mail SMTP Elite includes full White Glove Setup and offers a 14-day money-back guarantee.
If this article helped you out, please follow us on Facebook and Twitter for more WordPress tips and tutorials.