Are you looking for the best free form builder plugins for WordPress?
Form builders allow you to easily create contact forms for your site. And contact forms are highly effective for collecting leads and growing your audience.
For this article, we've put together a list of the best free WordPress form builders that you can use to increase your subscribers and learn more about your visitors.
What Is the Best Free Form Builder for WordPress?
The best free form builders for WordPress are:
Remember that you only need one contact form plugin for your site.
Best Free WordPress Form Builders
Let's dive into the list and see what each contact form plugin has to offer.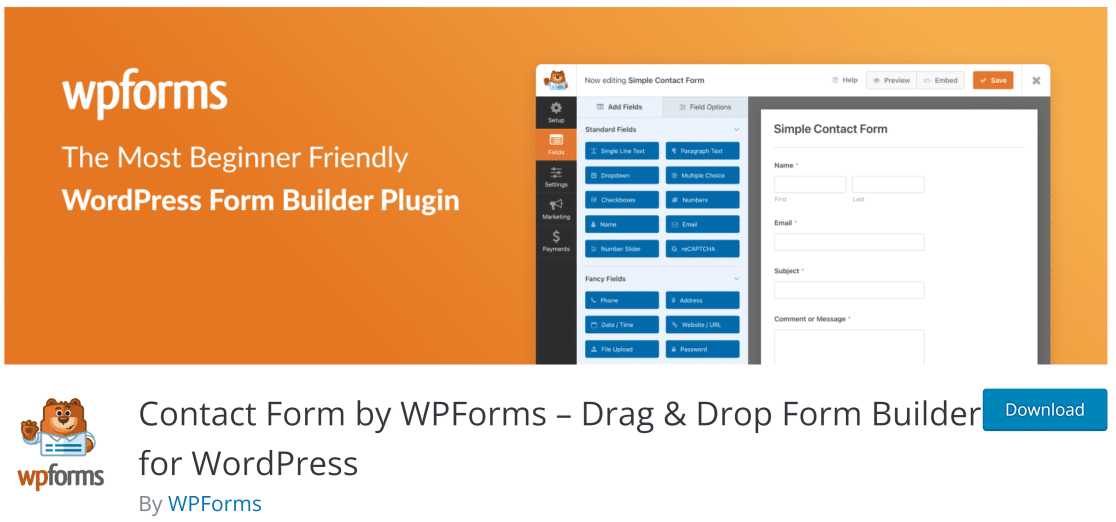 WPForms is the best free contact form plugin you can have for WordPress. It's the most user-friendly form builder out there and requires zero coding skills to create beautiful forms.
Although the true power of WPForms unlocks when you get the Pro plan, the free version still offers all the essential features to make the perfect forms for your site.
For example, WPForms Lite (free version) lets you create unlimited forms and store unlimited entries from your users. Many free plugins impose restrictions on the number of forms you can create, but not WPForms.
In addition, it has all the crucial form fields that you'll need to build complete forms. You can include fields like:
Text
Number
Dropdown
Multiple choice
Checkbox
GDPR agreement
Captcha
… and more.
And these are available for free!
What's more, WPForms uses the same visual form builder that you get in the Pro version. This drag and drop builder makes it incredibly easy to create your form and see a live preview during the entire process.
Features:
User-friendly interface with drag and drog form builder
Comes with 300+ pre-built form templates for all kinds of events and campaigns
Great customization features let you change styles, font, fields, and more
Supports hCaptcha to filter spam submissions
Has tons of addons to extend functionality when you upgrade your license to Pro
All forms created with WPForms are mobile-responsive and look great on all devices
Conditional logic lets you display form fields based on a user's response.
Pricing: WPForms has both free and paid versions. The pro plan starts at $79/year.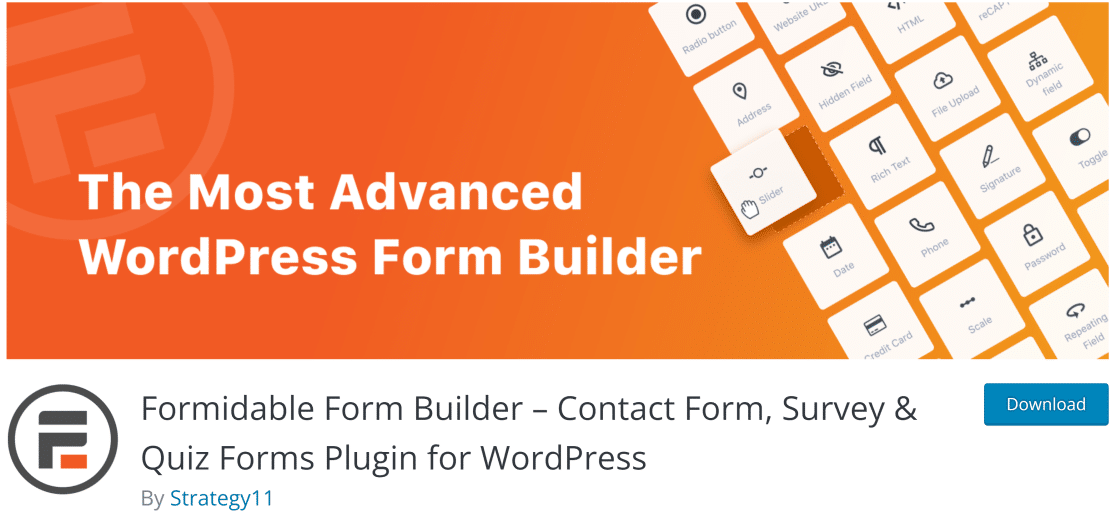 Formidable Forms is another excellent form builder for WordPress. Unlike WPForms which provides greater simplicity and user-friendliness, Formidable Forms is geared towards advanced users.
For instance, Formidable Forms has calculation capabilities for WordPress forms (but this is a premium-only feature). So if you want to create a budget calculator form, Formidable Forms is the good choice for that.
Much like WPForms, Formidable Forms has a drag and drop builder that lets you create a new form from scratch or use a pre-made template.
However, Formidable Forms is not as beginner-friendly as WPForms, though you should still be able to learn it fairly quickly with use. Also, since Formidable Forms uses strong anti-spam solutions like Akismet, you might experience problems with your notification emails. If so, check out our guide on Formidable Forms email not sending.
Features:
Lets you create complex forms without affecting your site speed
Has lots of templates that help with creating advanced forms
Mobile-friendly forms work perfectly across all devices
Conditional logic allows you to show or hide specific fields based on user response
Great customization features to change visual styles and layout designs
Pricing: Formidable Forms is a freemium plugin that can be upgraded for more features (like calculation fields) at $79/year.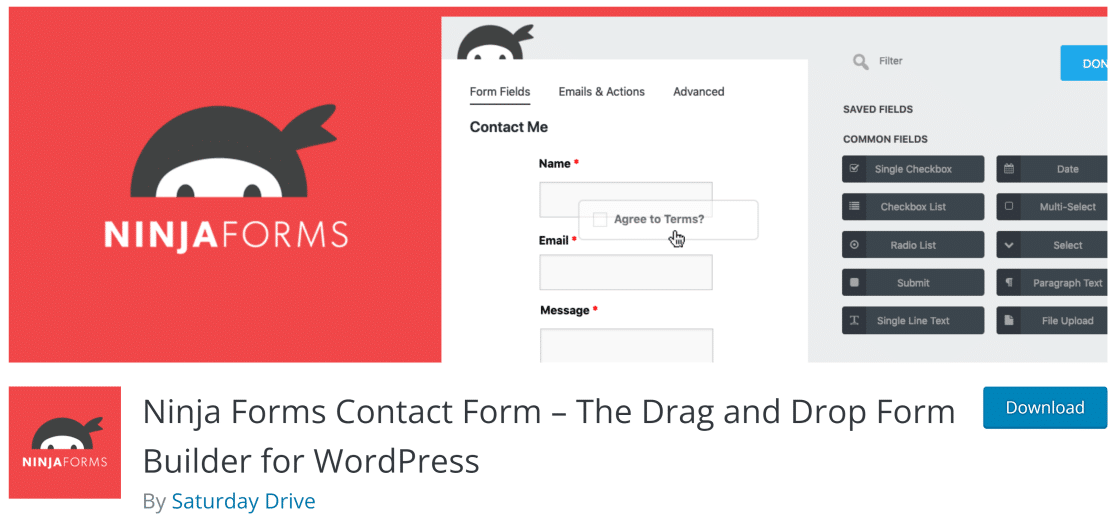 Ninja Forms is a popular WordPress contact form builder. It's very flexible, giving non-technical users an easy builder solution to make a form, while also providing advanced developer options for more technical users.
Ninja Forms' free version has all the essential features for creating basic contact forms of various types. From signup forms to donation forms, Ninja Forms boasts a decent variety of templates (though considerably smaller than WPForms).
One drawback of Ninja Forms is that it doesn't have an embed option to freely place your contact form on any part of your WordPress site. Also, if you run into problems receiving emails from Ninja Forms, you can read our tutorial on Ninja Forms emails not sending.
But other than that, it is a very good option for new as well as established websites.
Features:
Very beginner-friendly drag and drop builder interface
Supports file uploads and attachment options on forms
Dozens of premium addons to unlock more form features like user analytics and conditional logic
Pricing: Free plugin with the option buy addons separately or a bundle subscription starting at $99/year.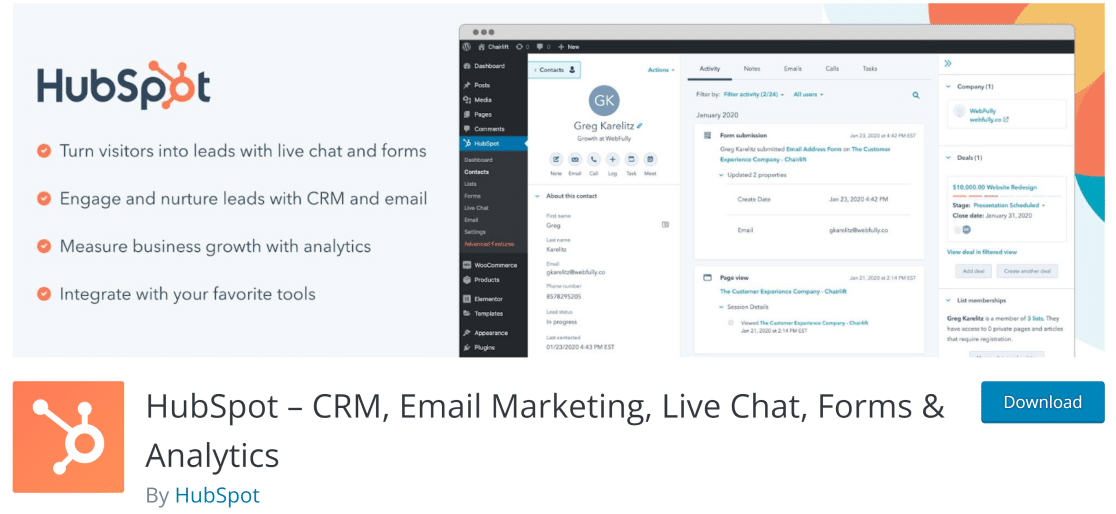 HubSpot for WordPress is a plugin that offers multiple marketing tools including email marketing and contact forms. The basic version is completely free of cost, which makes it a great choice for users just starting out.
If you're already a HubSpot CRM user, then you can easily integrate your contact forms with other HubSpot tools in a single dashboard. This streamlines your contact form data as all your forms are automatically synced with other HubSpot CRM tools for easy management.
However, HubSpot for WordPress lacks the outstanding user-friendliness, customization flexibility, and template library that WPForms has.
Pricing: The basic HubSpot for WordPress plan is free. Paid plans start at $45/month.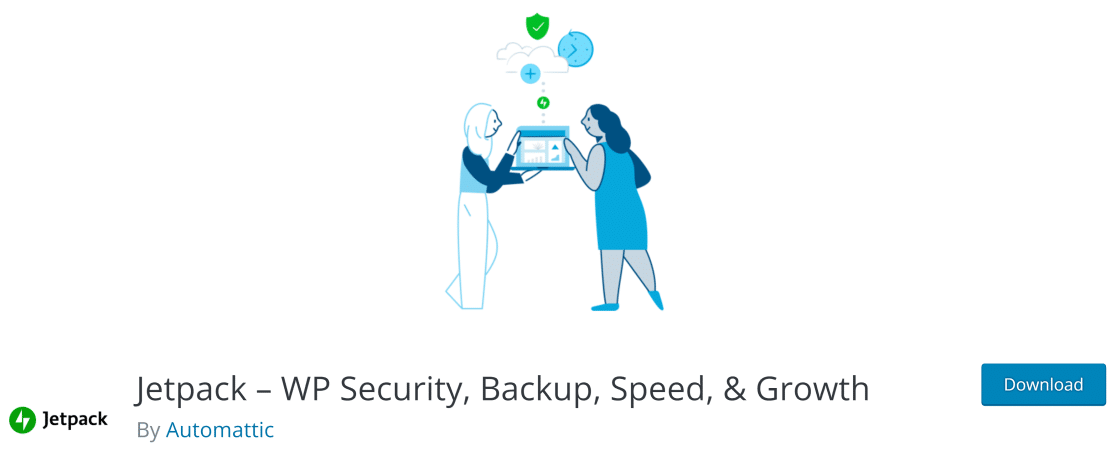 Jetpack is a plugin that includes various features for WordPress sites including security, performance, design, and growth tools.
It has a decent free form builder that allows you to create your form right from the post editing screen in your WordPress. However, it is severely limited in terms of design and customization options. It lets you add custom fields, but there's only a small number of supported field types.
So, you can only build very basic and plain-looking forms with Jetpack. Moreover, it uses Akismet for spam filtering, which often leads to Jetpack contact forms not sending emails.
Pricing: Jetpack is completely free.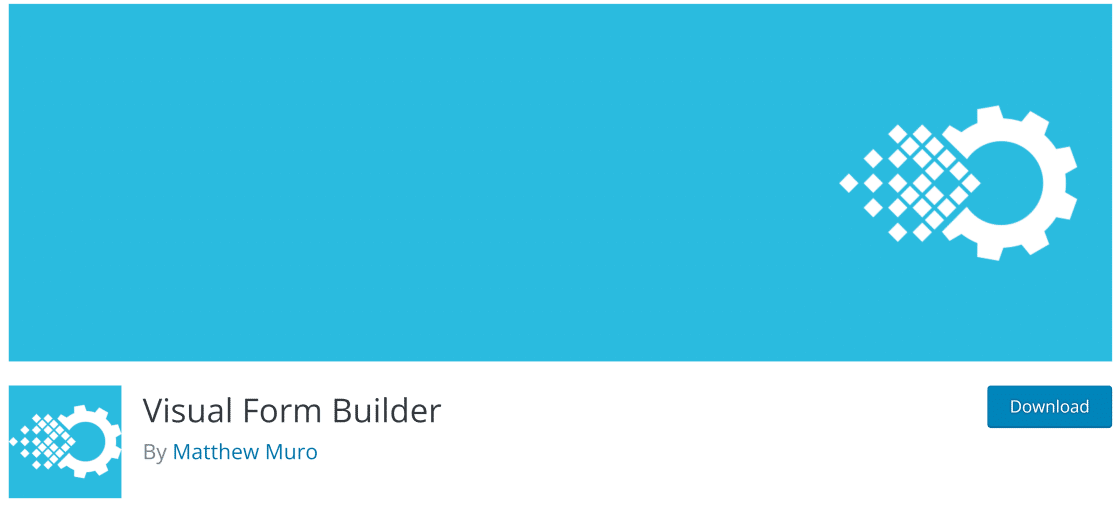 Visual Form Builder is a very simple form builder for WordPress. Though it doesn't have the same customization power and ease of use as WPForms, it's still a decent free option for WordPress sites.
Visual Form Builder lacks templates, but it has all the important fields that you can easily include in your forms. It also lets you use your own CSS code if you want.
However, Visual Form Builder isn't the most user-friendly form plugin and it has a very plain-looking builder interface. Also, users often encounter email sending errors with Visual Form Builder. If you're facing these issues, please see our post on Visual Form Builder emails not sending.
Pricing: Free + paid plans start at $29 (one-time fee).
Contact Form 7 is one of the earliest contact form builders developed for WordPress. And as such, it has a very outdated interface which isn't ideal for non-technical users.
Although you can create fairly advanced forms with Contact Form 7, it's much more challenging to do so with this plugin. Since it lacks a drag and drop builder, it can be very time-consuming to customize your fields and build the perfect form for your goals.
Nonetheless, it has the advantage of being completely free and if you prefer doing a little bit of HTML coding yourself, Contact Form 7 isn't a bad choice at all.
Pricing: Free.
Which Free Contact Form Builder for WordPress Is the Best?
After analyzing all the different options on this list, we can safely say that WPForms Lite is the best free WordPress contact form builder.
WPForms Lite is the only form builder solution that provides the perfect balance between usability and functionality.
It lets you create unlimited forms which can be readily embedded anywhere on your site and the easy customization features allow you to design your forms just the way you like them.
If you're looking for a more advanced solution that can let you build complex forms, then Formidable Forms is another great option. It gives you the ability to create calculator forms and customize form HTML, but requires more technical know-how than WPForms.
And that's all we have for you today! You now know which free WordPress contact form builders can be the most effective in helping you grow your site's subscribers.
Next, Improve Your WordPress SEO
Want to rank high on Google for your main keywords? We suggest reading our guide on the best WordPress SEO plugins that can improve your rankings and generate higher traffic.
​​Ready to fix your emails? Get started today with the best WordPress SMTP plugin. WP Mail SMTP Elite includes full White Glove Setup and offers a 14-day money-back guarantee.
If this article helped you out, please follow us on Facebook and Twitter for more WordPress tips and tutorials.