Are you looking for a no-code form builder?
No-code builders are popular because they let you easily add forms to your website without any coding knowledge or experience.
There's no shortage of options available to you, either. In this post, we'll take a look at 9 of the best no-code form builders you can use.
How Do You Create a Drag-and-Drop Form?
To create a drag-and-drop online form, you need a drag-and-drop form builder. These builders are generally WYSIWYG and let you drop the elements you want into place where you want them.
Low-code and no-code form builders are generally what you'll want to use if you're looking to easily create drag-and-drop forms without any coding skills.
Best No-Code Form Builders
We tested 9 no-code form builders for this article. Some are WordPress plugins and others are web-based applications. Read on to find out which is right for you.
1. WPForms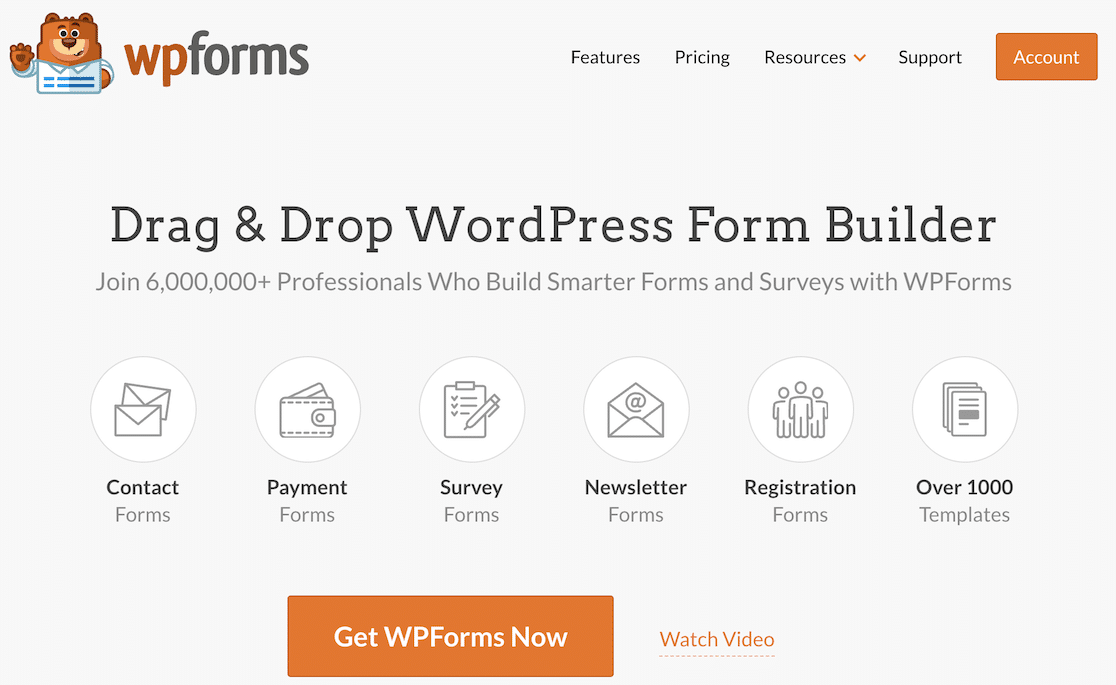 WPForms is one of the top WordPress plugins, and for good reason. It's user-friendly and beginner-friendly. Even if it's your first day using WordPress, you'll find WPForms to be intuitive and easy to learn.
Choose one of hundreds of templates to use as-is or customize it to make it your own. You can also build your form completely from scratch as you drag and drop elements into place.
WPForms also makes surveys and polls a breeze, even offering advanced reporting features with charts and graphs you can use for reports and presentations.
It's also our favorite file upload plugin because it lets you build forms that can accept file uploads as they're submitted by your visitors.
If you're looking for ways to incorporate WPForms to automate your workflow and connect your forms to the other tools you use, there are dozens of addons and integrations, with even more available through Zapier and Uncanny Automator.
Other Features
Collect online payments and registrations easily with payment gates like PayPal, Stripe, Square, and Authorize.net
Protect your forms with hCaptcha, Google reCAPTCHA, Cloudflare Turnstile, Custom Captcha, and Akismet
Create multipage forms, lead forms, conversational forms, and more
Use easy form styling options to create modern, elegant forms
Price
WPForms offers a free version. Paid plans begin at $49.60 USD per year.
2. Formidable Forms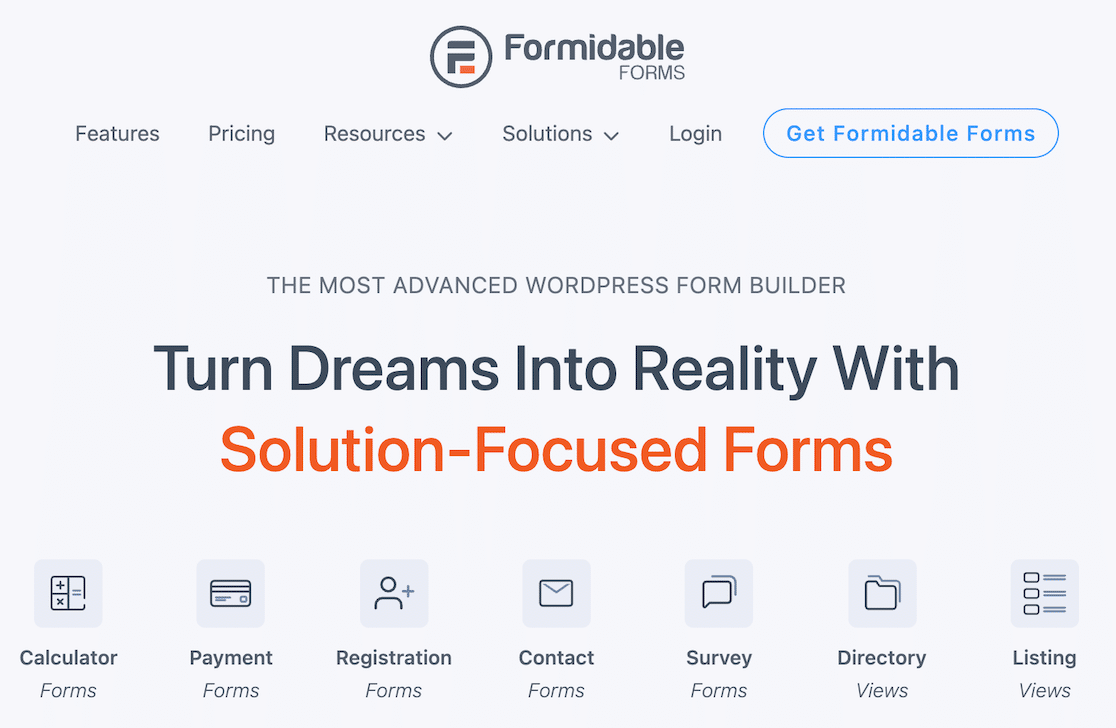 Formidable Forms is another WordPress form builder plugin. It's an easy-to-use drag-and-drop builder that lets you create any form you need. From contact forms to polls and surveys and price calculator forms to quizzes, it's a versatile platform.
If you like to dive into form data and data collection, you'll like the options here. Formidable Forms allows you to create charts, graphs, reports, PDFs, CSVs, directories, and more from your form data.
We also found that Formidable Forms has a solid offering of addons, API integrations, and 3rd-party integrations that help you improve functionality.
Other Features
Great for landing pages and conversational forms
Responsive form design
Powerful entry management
60+ addons and integrations, with thousands more available through Uncanny Automator and Zapier
175+ templates
Google reCAPTCHA, hCaptcha, Akismet, and the blocklist
Payment gateways include Stripe, Paypal, and Authorize.net
Price
There is a free version of Formidable Forms. Paid licenses begin at $39.50 USD per year.
3. Ninja Forms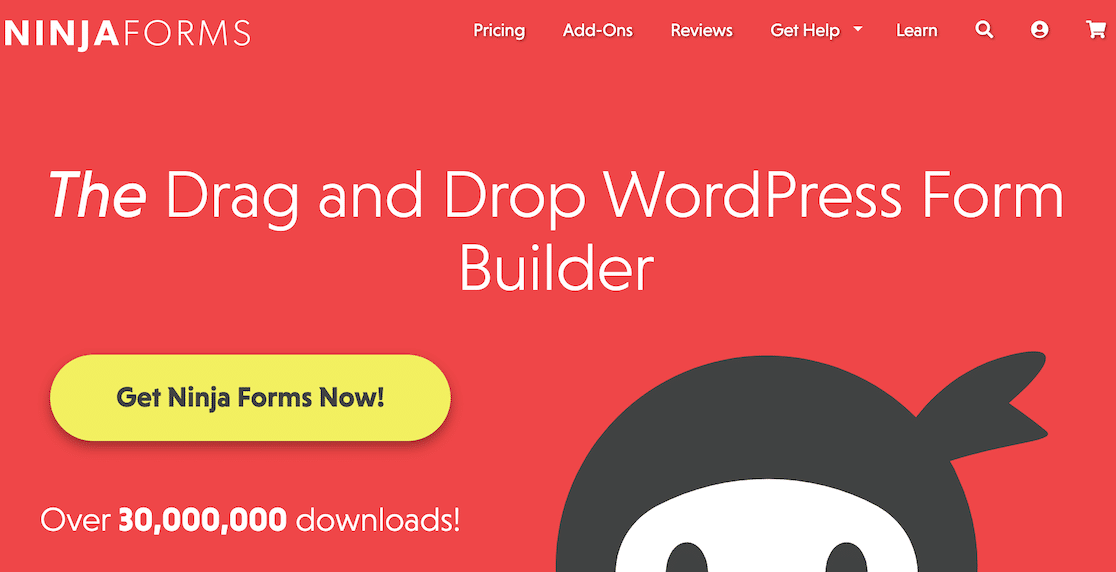 Another WordPress plugin, Ninja Forms is a drag-and-drop builder that simplifies form creation.
One of the features we liked most about Ninja Forms is their a la carte addon options. You don't need to upgrade and get features you don't want or need just to access the one you do. Instead, they allow you to purchase addons individually, as well.
However, we found that it's worth investigating the cost based on how many addons you want. For example, purchasing one addon for the free plan will cost as much as a basic license, which includes 4 of the most popular addons.
Other Features
Payment gateways include PayPal Express, Stripe, Authorize.net, and Elavon
Protect forms with Akismet and Google reCAPTCHA
Unlimited forms and form submissions
45 addons
Shareable public form links
Integrates with commonly-used email services and CRMs, as well as other tools to enhance functionality
Price
Ninja Forms offers a limited free version. Pro versions start at $49 USD per year.
4. Gravity Forms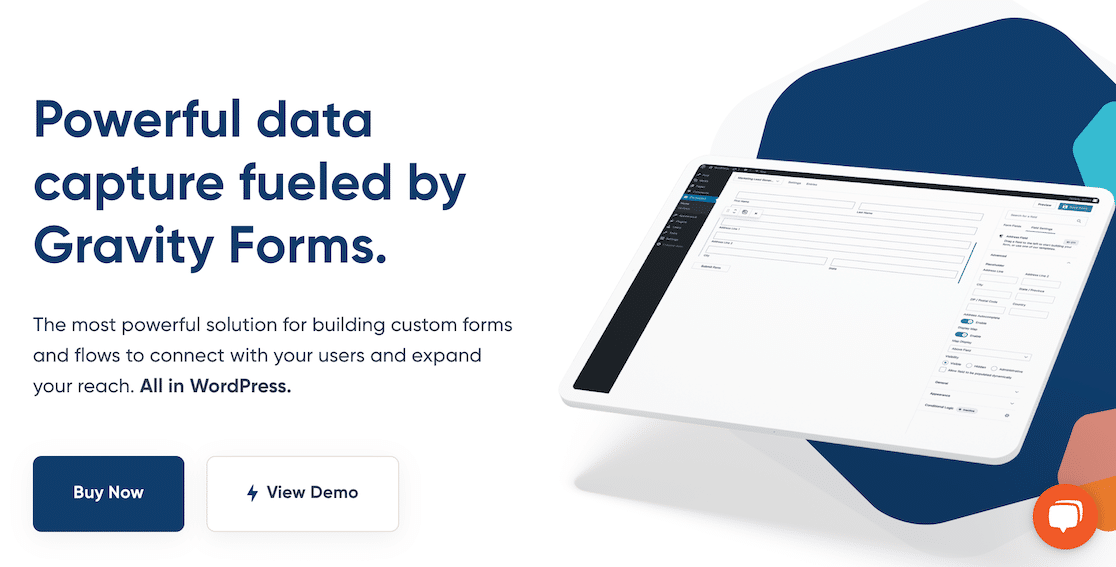 Gravity Forms is a WordPress plugin that lets you easily create web forms, polls, surveys, and quizzes. We found that it manages to be both beginner- and developer-friendly, so it's a great platform to use no matter where you are in your form-building journey.
We like Gravity Forms' unique approach to addons. There are 3 addon categories: official, certified, and community. The addons in these categories either integrate with popular tools or otherwise increase functionality in some way.
All told, 115 official and certified addons are available, with hundreds more available within the community.
Other Features
10+ templates
Conditional logic
Payment gateways include PayPal, Square, Stripe, 2 Checkout, Authorize.net, and Mollie
Anti-spam protection includes Honeypot and reCAPTCHA
Custom CSS form styling
Rest API and webhooks to create custom integrations and workflows
eCommerce management
Price
There is no free version, but they offer a free demo. Paid licenses start at $59 USD per year.
5. Forminator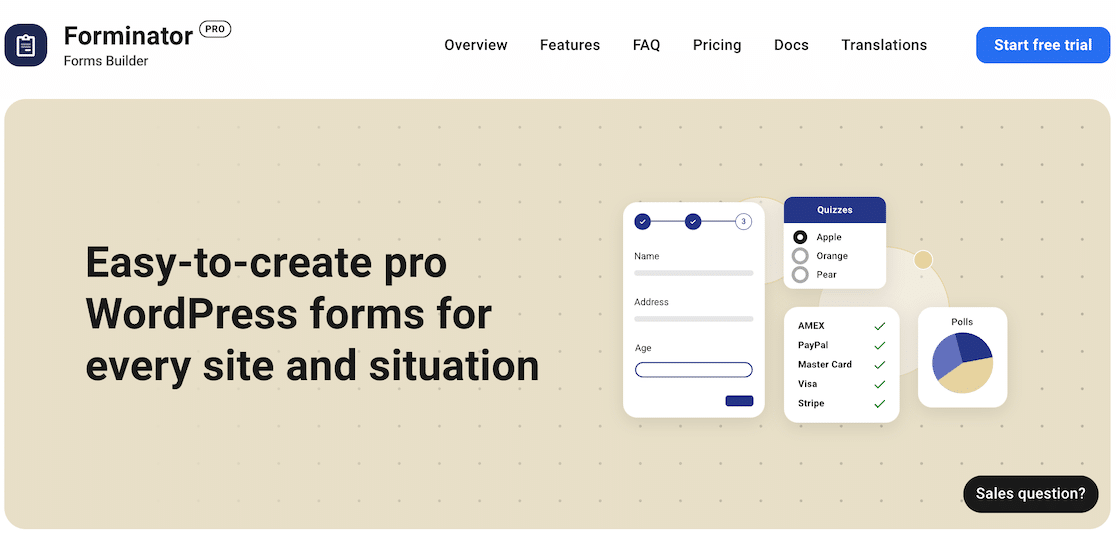 Forminator is another WordPress plugin that lets you drag and drop elements into place to create forms, surveys, polls, and quizzes.
We found Forminator to be a bit more limited compared to other platforms on this list. This isn't necessarily a bad thing, however. On the contrary, that makes it easier for beginners to get the hang of things without getting overwhelmed with options and features.
When you use Forminator Pro, you also get access to a whole hub of apps by the same developer, which can add a lot of functionality for a great price.
Other Features
1000+ 3rd-party integrations, including popular email services, CRMs, and more
Use the developer API and hooks and filters to customize your own integrations and sell or give them away
Control form privacy
Anti-spam protection includes reCAPTCHA and hCaptcha
Payment gateways include Stripe and PayPal
Price
There is a free version, plus a free trial of Forminator Pro available. Paid licenses start at $7.50 USD per month.
6. Jotform

Jotform is a web-based drag-and-drop form builder with tons of features to help you create exactly the form you want. And if you'd rather not start from scratch, choose from more than 10,000 form templates to customize.
One of the things we really liked about Jotform was that you can access all of the features for free, just on a limited basis. This allows you to try everything before committing to a paid plan.
Other Features
Anti-spam protection includes hCaptcha, reCAPTCHA, and JotCAPTCHA
30+ payment gateways, including PayPal, Stripe, Square, Authorize.net, Apple Pay, Google Pay, Mollie, 2Checkout, and more
150+ integration options
Price
There is a limited free version. Pro version pricing begins at $34 USD per month.
7. Zoho Forms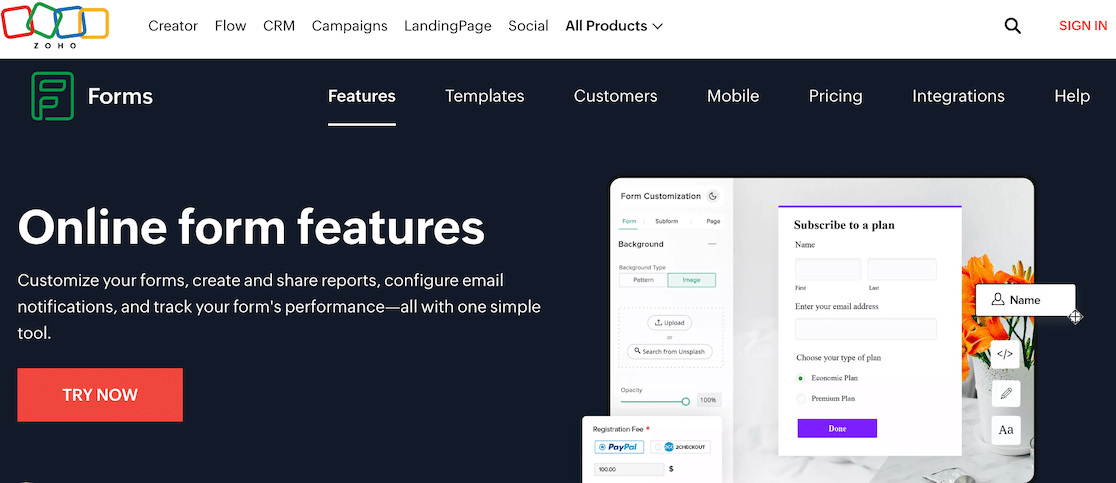 Zoho Forms is another web-based online form builder that lets you create single- and multi-page forms. We found it's especially good if you use Zoho CRM, Zoho Marketing, or any of the other Zoho suite of apps, as it integrates with more than 10 of them.
Other Features
Public link with link shortener
Access through QR code, iFrame embed, or lightbox popup
Integrates with GSuite, Salesforce, Microsoft Teams, and more
Track with Google Adwords, UTM tracking, Google Analytics, and Facebook Pixel
Field and SSL encryption
45+ templates
Payment gateways include Stripe, PayPal, 2Checkout, Authorize.net, and more
Anti-spam protection includes Google reCAPTCHA
Pricing
There is a limited free version to try it out. Paid plans begin at $10 USD per month.
8. Typeform

Typeform is a web-based form builder specializing in conversational forms. It lets you easily create visually appealing forms that match your aesthetic.
We loved the built-in accessibility checker. It lets you know if any problematic colors or fonts are included on your form and reminds you to add alt text to your images. It's a helpful feature, as many people might not even consider form accessibility.
A major drawback to using Typeform is that there is currently no anti-spam protection, leaving you vulnerable to form spam.
Other Features
6 available form page layouts
Limited styling options
Ability to change fonts
600+ templates
Stripe payment gateway
Price
There is a free version. Paid plans begin at $25 USD per month.
9. Paperform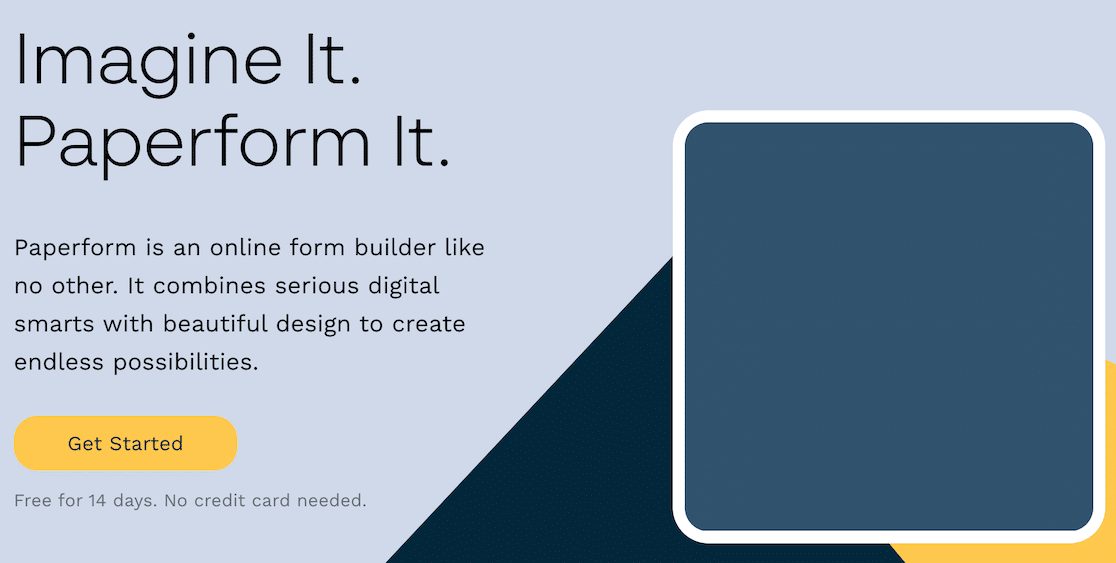 Paperform is another platform focusing on visual aesthetics. It lets you add images, GIFs, and videos to forms.
The ability to add so much imagery is great. We found that sometimes it made the forms look too busy, though. Our best advice is to use images sparingly.
Note that there is a WordPress plugin, but it hasn't been updated in 2+ years. We recommend using the web-based builder.
Other Features
Google Analytics and Facebook Pixel support
Subscription capability
Payment gateways include Stripe, Google Pay, Braintree Payments, PayPal, and Square
Google reCAPTCHA
2000+ integrations possible
650+ templates
Price
There is no free version, but a free trial doesn't require a credit card. Paid plans start at $20 USD per month.
Side-by-Side Summary
Rather see things at a glance? Here's a quick summary of key points from each review in this post.
Starting
Price
# of
Templates
Payment
Gateways
Anti-Spam
Protection
WPForms
$49.60/yr
600+
PayPal
Stripe
Square
Authorize.net
hCaptcha
reCAPTCHA
Turnstile
Akismet
Custom Captcha
Formidable
Forms
$39.50/yr
175+
PayPal
Stripe
Authorize.net
reCAPTCHA
hCaptcha
Akismet
Blocklist
Ninja
Forms
$49/yr
5+
PayPal
Stripe
Authorize.net
Elavon
reCAPTCHA
Akismet
Gravity
Forms
$59/yr
10+
PayPal
Stripe
Square
Authorize.net
2Checkout
Mollie
reCAPTCHA
Honeypot
Forminator
$7.50/mo
5+
PayPal
Stripe
reCAPTCHA
hCaptcha
Jotform
$34/mo
10,000+
30+
Including:
PayPal
Stripe
Square
Authorize.net
Google Pay
Apple Pay
reCAPTCHA
hCaptcha
JotCAPTCHA
Zoho
Forms
$10/mo
45+
PayPal
Stripe
Authorize.net
+ more
reCAPTCHA
Typeform
$25/mo
600+
Stripe
None
Paperform
$20
650+
PayPal
Stripe
Google Pay
Braintree
reCAPTCHA
And if you're looking for even more information about no-code plugins to incorporate with your site, be sure to check out our full roundup of the best no-code tools for WordPress.
Next, Track Your WordPress Emails
Wondering how you can track open and click rates on the emails you send through your WordPress site? Check out these 4 email-tracking plugins to learn more about tracking your WordPress emails.
And if you want to email authors to let them know their blog posts have been published on your site, check out this guide on how to email authors when a WordPress post is published.
If you liked this post, check out our post on the best WordPress social media plugins to boost your social engagement.
Looking for a content locking solution for hiding some or all of your content before users complete pre-set actions? Check out these best content locker plugins.
Ready to fix your emails? Get started today with the best WordPress SMTP plugin. If you don't have the time to fix your emails, you can get full White Glove Setup assistance as an extra purchase, and there's a 14-day money-back guarantee for all paid plans.
If this article helped you out, please follow us on Facebook and Twitter for more WordPress tips and tutorials.