Are you looking for the best WordPress file upload plugin?
There are numerous reasons for accepting file uploads on your site. Maybe you're letting users upload images or submit bios. Perhaps you're accepting documentation, job applications, or testimonials. Whatever the reason, you want something reliable that will meet your needs.
In this post, we'll look at 7 of the best file upload plugins for WordPress.
Best WordPress File Upload Plugins: Overview
In a hurry? Check out this quick overview of the plugins we cover in this post.
| Plugin | Paid Version Required To Use? | Starting Price |
| --- | --- | --- |
| WPForms | ✅ | $49.50 |
| Formidable Forms | ✅ | $39.50 |
| File Upload Types by WPForms | ❌ | Free |
| WP User Frontend | ❌ | $49 |
| WordPress File Upload | ❌ | $20 |
| Ajax Multi Upload for WordPress | ✅ | $14 |
| File Manager | ❌ | $25 |
Read on or use the table of content to jump ahead and learn more about each of these plugins.
What Is the Easiest Way To Accept Files?
Installing a form plugin with a file uploader field on your WordPress site is the easiest way to let users submit files to you. Not only do they make file management easier, but they also eliminate the need for back-and-forth through email.
Best File Upload Plugins for WordPress
If you're ready to choose a plugin and accept user-submitted files, here are some of our favorites.
1. WPForms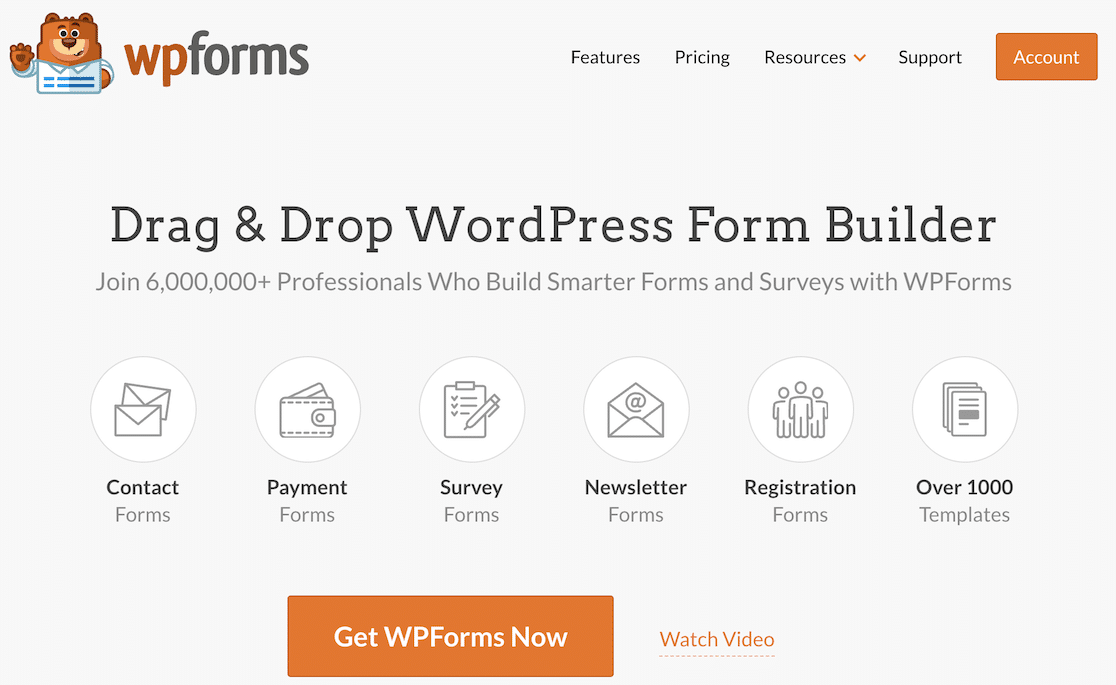 WPForms is a powerful, user-friendly form builder that allows you to add a file upload to your WordPress website. Plus, it's all drag-and-drop, so you don't need any coding knowledge.
Among the many form fields available to WPForms users, the file upload field can stand alone or be part of a more comprehensive form. It also allows you to determine how many files a user can upload, the max file size, and file formats.
There are two options when it comes to the way your file uploader looks. The modern uploader lets users drag and drop their files to upload. This is the default selection in WPForms.

You can also select the classic mode from the advanced form field settings. This gives you a simple file upload button.

And if you want to manage those file submissions in WordPress? You can. All the files you receive can be stored in your WordPress Media Library and accessed from your WordPress dashboard.
File upload forms are really useful for customer support teams because they allow your users to attach screenshots to help you understand their problem better.
Plus, you get a ready-made file upload form template to make your job even easier. Just select the template, and you're good to go!
Price
You'll need a paid license to access the file upload form field in WPForms. Prices begin at $39.60 per year.
2. Formidable Forms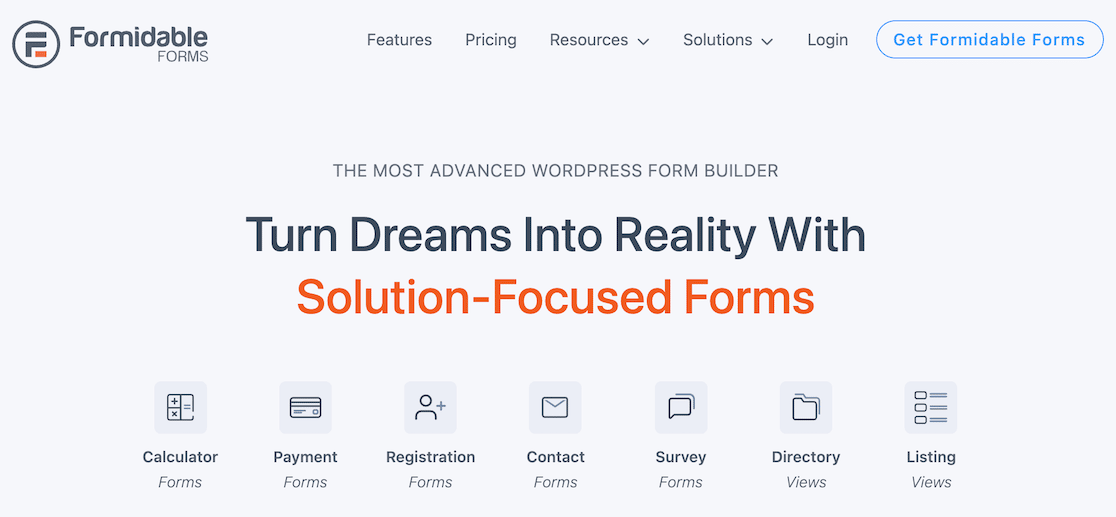 Like WPForms, Formidable Forms is a drag-and-drop form builder with an option for file uploads.
We liked that it's user-friendly and easy to set up. Plus, there are many ways you can use it, making it good for beginners and advanced users alike. You can use it to collect images from event attendees or set up an entire job application with a file upload for a resume, cover letter, or reference.
All files uploaded to Formidable Forms are stored in the WordPress Media Library, so they're always easy to access and manage.
Pricing
All paid licenses have access to file uploads. Pricing begins at $39.50 per year.
3. File Upload Types by WPForms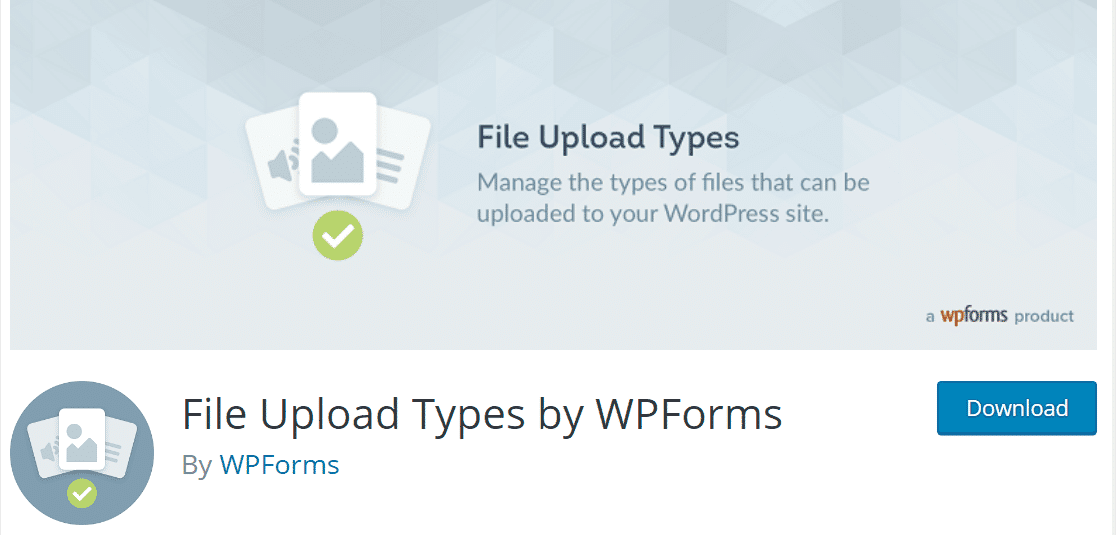 Your WordPress Media Library only accepts certain file types. So, what happens if you need to accept a different, unsupported file? Enter File Upload Types by WPForms.
It's frustrating when your site doesn't support the file extensions you need. With this plugin, you can add support for any file type with any extension or MIME type.
After you install the plugin, you can accept types of files that WordPress does not natively support, including, but not limited to:
.zip
.XML
.svg
.csv
.cad
… and more
We found that this plugin works really well as a standalone, but it's a great addition to WPForms, as well.
Pricing
File Types by WPForms is free to download and use.
4. WP User Frontend

One of the most popular ways of using a file uploader is to accept user-generated content for your blog or website. If that's your goal, check out WP User Frontend.
If you're accepting guest posts or other user-generated content, WP User Frontend allows users to manage their profile and submissions from the frontend instead of requiring access to the backend admin panel. That's a helpful feature for security reasons, plus it makes for a good user experience. Admins can manage users in both places.
There are lots of options available to help you manage content. We found that the drag-and-drop interface is easy to set up and get started, but there are lots of additional features for fine-tuning and customization, which more advanced users will love.
Pricing
There is a free version with plenty of features to get you started. For more functionality, paid licenses start at $49 per year.
5. WordPress File Upload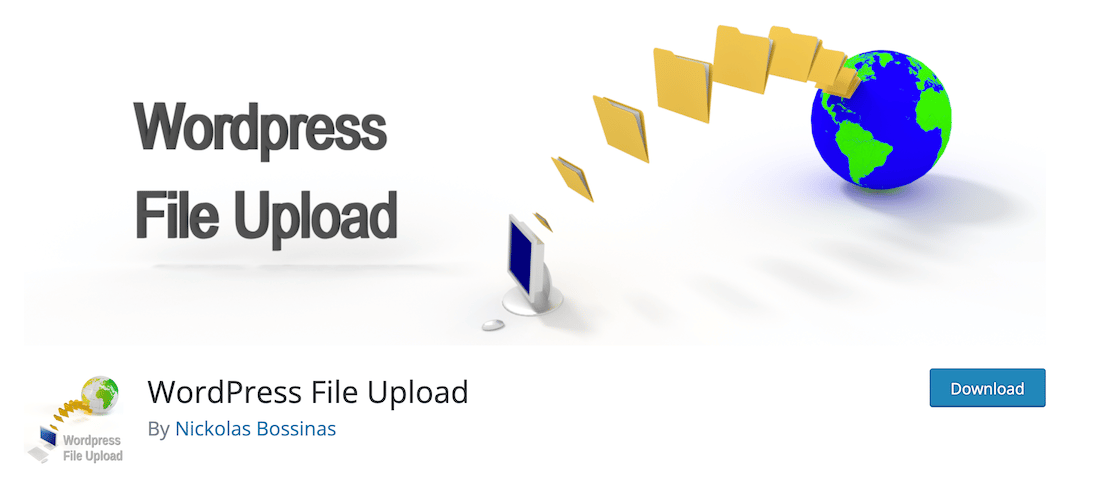 WordPress File Upload is a very no-frills option for file uploaders. You can embed it on any page, post, widget, or sidebar using shortcodes, which are easy enough to manage.
And it's also possible to use it as a simple contact form, with or without the file upload feature.
We found this a great plugin if you have a limited number of file submissions. If you have a more robust or sophisticated project requiring more advanced features, go with something like WPForms or Formidable Forms.
WordPress File Upload will certainly do the trick if you need something straightforward.
Price
There is a free version of WordPress File Upload available. You can also get the premium version for around $20.
6. Ajax Multi Upload for WordPress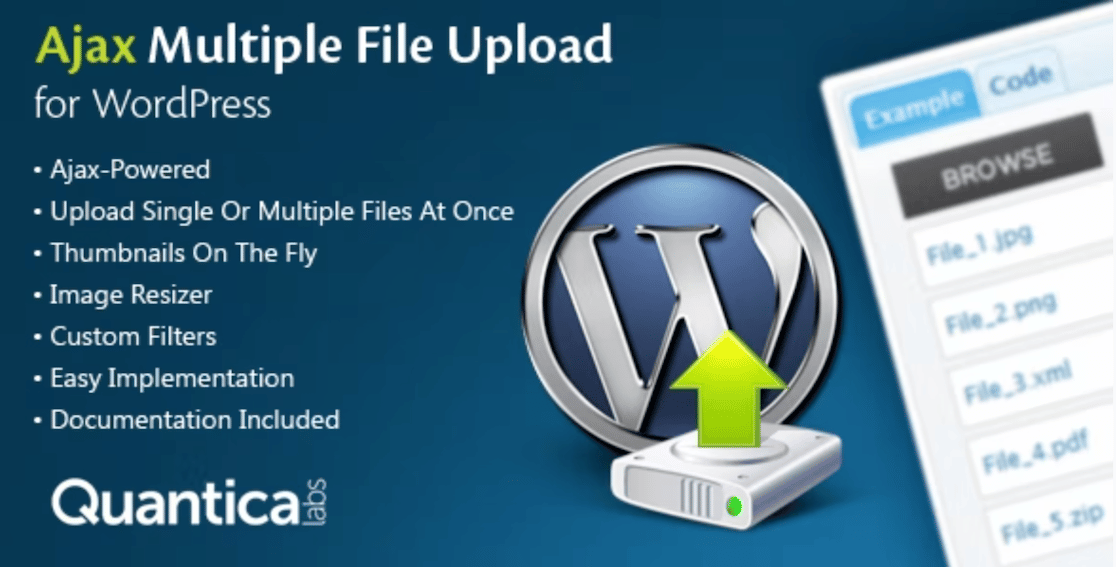 Ajax forms will update without the need to refresh the page, which is helpful when uploading files. It's what makes Ajax Multi Upload for WordPress such a good tool for file uploads, as well.
Like others on this list, this plugin gives you greater control over file uploads and management, including the ability to upload directly to your Media Library or set custom parameters for the number of uploads, file sizes, and so on.
There are some neat features like image editing and upload statistics that make this plugin worth a look.
It's a good product, but we found it a bit challenging. It wasn't quite as simple to use as something like WPForms, so there is a learning curve involved.
Pricing
Ajax Multi Upload for WordPress is available for $14.
7. File Manager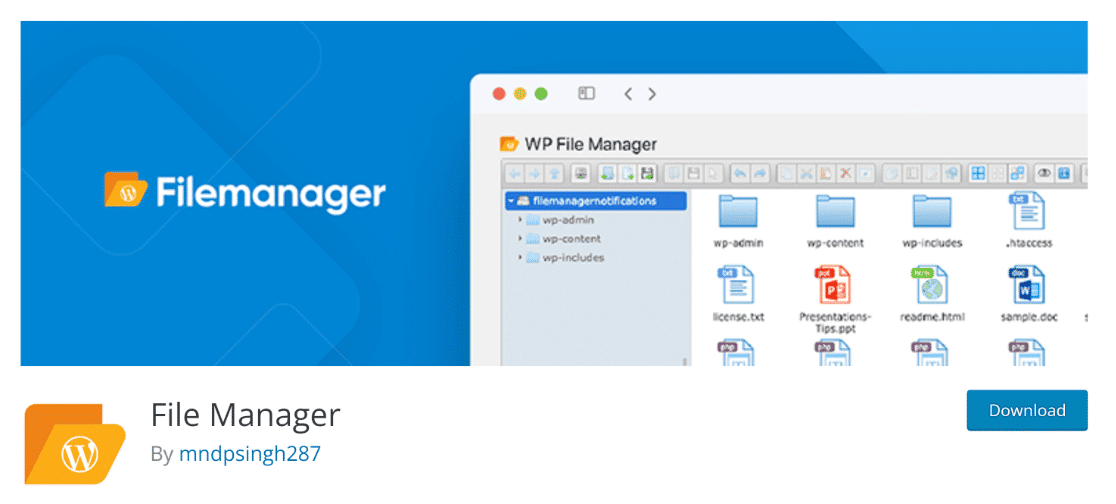 If you're looking for a backend file uploader to take the place of your FTP or Cpanel, File Manager is a good tool to check out.
This plugin is geared toward site admins. It allows you to manage all your site files from the backend of WordPress instead of moving file locations with your FTP.
It has a long list of functions that go well beyond file uploads, but know that it is a more technical plugin than others on this list. If you only need a frontend uploader to accept file uploads, you would do better using WPForms, Formidable Forms, or one of the other frontend uploaders on this list.
If you're looking for backend file management, though, we found that this is a fantastic plugin that helps you keep everything in order, all in one place.
Pricing
You can access a lot of the best features in the free plugin. To really level up your experience with File Manager, upgrade to the Pro version for $25.
FAQs
Can You Upload a PDF to WordPress?
Yes, you can upload a PDF to WordPress. As an admin, you can directly add a PDF file to your WordPress site from the Media menu, just like you upload images. And if you or other visitors of your site want to add a PDF from the frontend, you can use a file upload plugin like WPForms. This plugin lets you build a form that can be used by users to submit PDF files and upload them on your site.
Is 50 MB Maximum Upload File Size in WordPress?
No, the maximum upload file limit in WordPress is set by your hosting provider. Usually, it's set to somewhere 2 MB to 150 MB. However, you can increase or decrease the maximum file limit by contacting your hosting provider and requesting a change.
Next, Learn How To Protect Your Site From Spam
Any way you slice it, spam is no good. If you know it's time to protect your site, check out our post on some of the best anti-spam plugins for WordPress.
We can also give you some tips on filtering contact form spam with Akismet.
If you'd like to learn about other useful plugins for WordPress, here are a few roundup posts you may find helpful:
Ready to fix your emails? Get started today with the best WordPress SMTP plugin. If you don't have the time to fix your emails, you can get full White Glove Setup assistance as an extra purchase, and there's a 14-day money-back guarantee for all paid plans.
If this article helped you out, please follow us on Facebook and Twitter for more WordPress tips and tutorials.