Are you looking for no-code tools to use on your WordPress website? Then we've got you covered! In this article, we're exploring the best no-code tools and plugins for you to choose from.
But first, you might be wondering what a no-code tool is. By that we mean tools, plugins, and platforms that will help you build your website without the need for coding. A no-code plugin might utilize intuitive tools like drag-and-drop builders, for example, that eliminate the need for traditional developers.
With no-code tools, you can take control of the creation and maintenance of your WordPress website without ever writing a single line of code.
How Do I Use No-Code Tools?
Using no-code tools to build and enhance your website can be a great way to quickly create and manage web content without requiring advanced programming skills. You simply need to select your tools or platforms, customize your content and tool settings, and start publishing on your site.
Which, you might be thinking, is easier said than done. While no-code tools can simplify the process of building or maintaining a website, there may still be a bit of a learning curve, especially if you're new to web design concepts. Luckily, most tools and platforms–like those on our list here–offer documentation, tutorials, and community support to help you along the way.
Elevate Your WordPress Emails Now
10 Best No-Code Tools For Your WordPress Website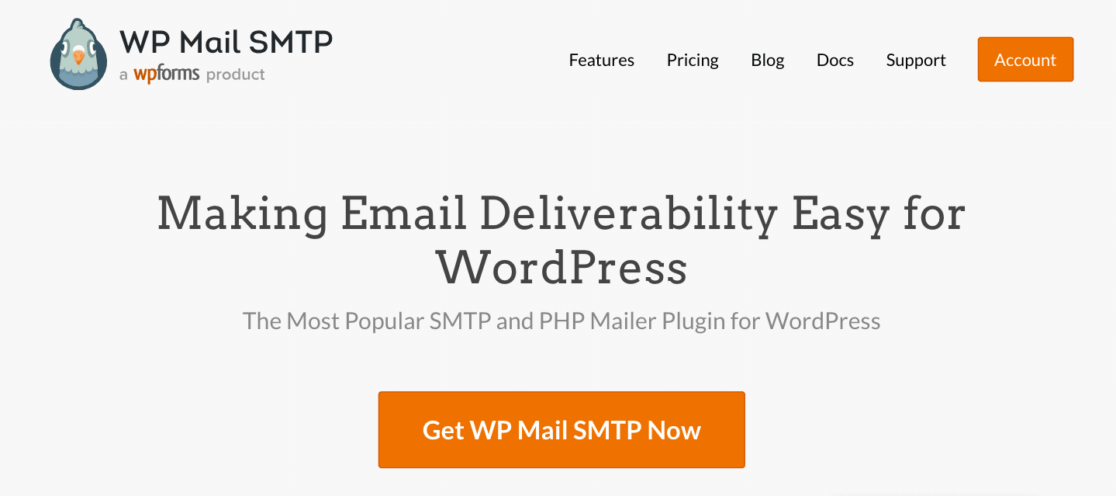 WP Mail SMTP is an excellent no-code tool for your WordPress website and the first entry on our list of plugins. WP Mail SMTP resolves email delivery challenges by reconfiguring your email settings, ensuring reliable and efficient communication.
But, you don't need the technical knowledge to set it all up.
Its user-friendly interface and automated setup streamline the process, preventing important emails from being marked as spam, and enhancing overall email deliverability.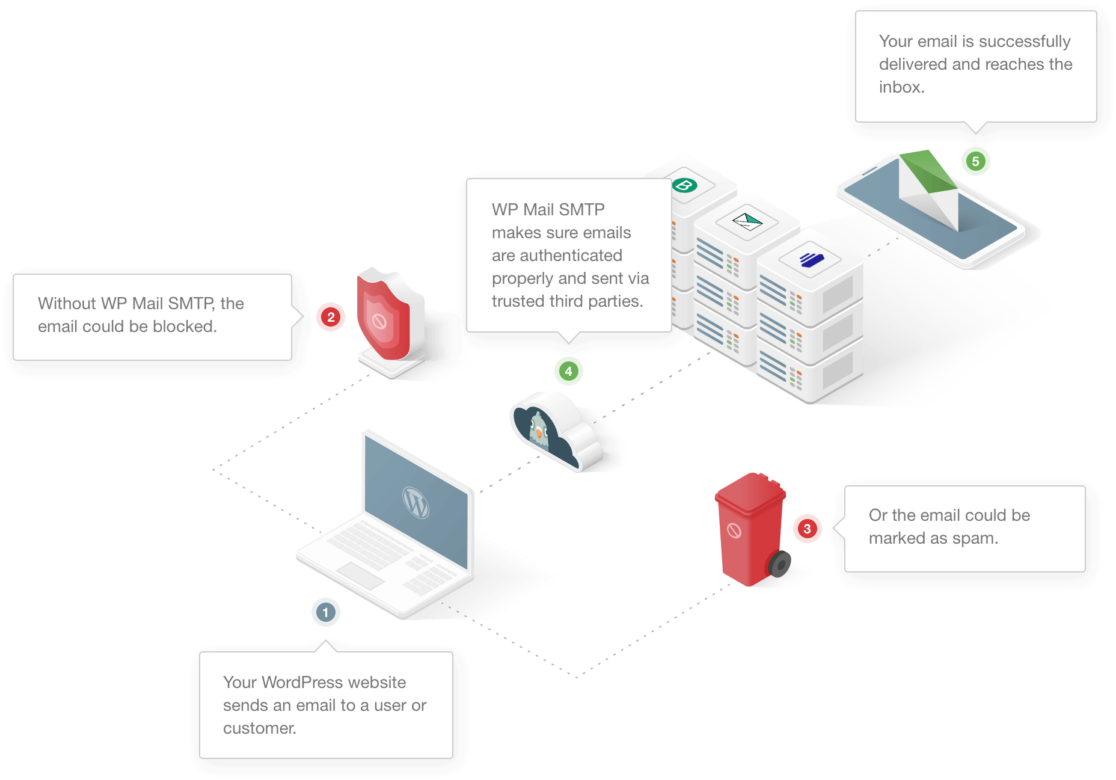 Not only does this plugin configure SMTP settings to improve email deliverability, but it also allows you to send test emails to ensure proper functionality, log email delivery errors for troubleshooting, and resolve common email issues that arise with WordPress websites.
Overall, WP Mail SMTP significantly improves your site's communication reliability and user engagement by simplifying email authentication and troubleshooting.
Features:
White Glove Setup: Professional installation and configuration by experts
Email logs and reports that store information about every email sent from your site
Open and click-through rates tracking for WordPress emails
Backup connections with a secondary email provider for failover
Smart email routing using conditional logic to direct emails through different providers
Immediate notifications for failed email deliveries
Weekly email summaries with deliverability updates
Notification management that you control
Price: Paid plans start at $49 per year.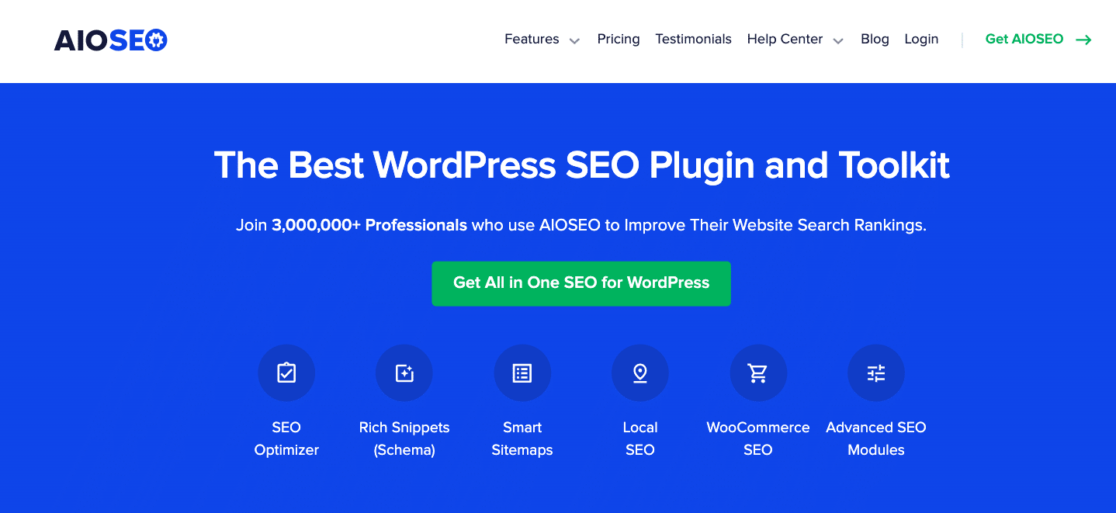 All in One SEO is a valuable tool for your WordPress website as it optimizes your site's search engine visibility without the need for coding skills.
Its suite of features simplifies on-page SEO tasks, including creating meta tags, XML sitemaps, and schema markup, enhancing your site's chances of ranking higher in search results.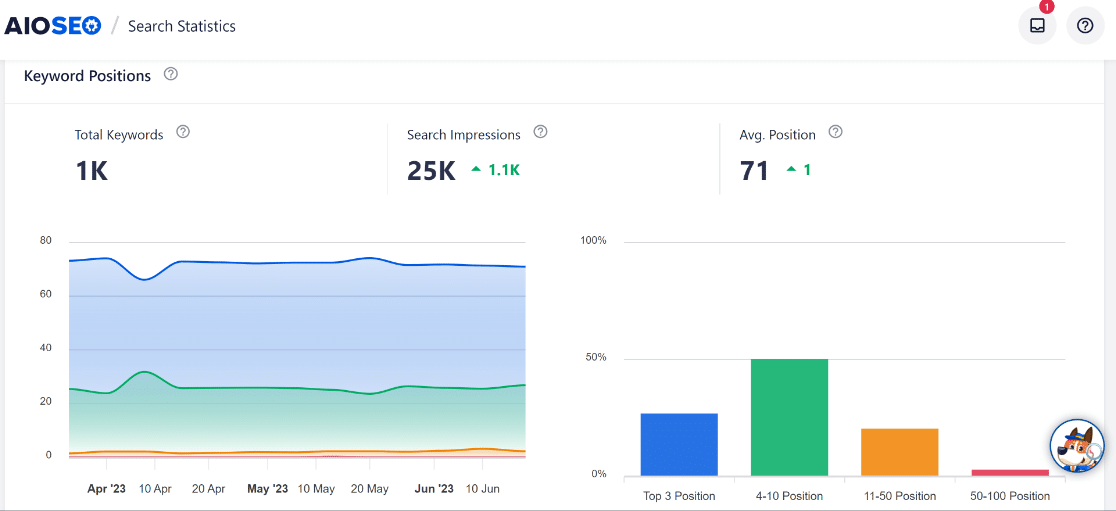 With its comprehensive features and easy setup, All in One SEO empowers you to improve your site's search performance and drive organic traffic without the complexities of coding.
Features:
On-page optimization of SEO elements like title tags, meta descriptions, keywords, etc.
Schema markup to enhance click-through rates with rich snippets
Local SEO tools for improving local SEO and enhancing Google Maps ranking
Social media integration with Facebook, Twitter, and other social platforms
WooCommerce support for products and categories
Tailored tools to boost website search rankings
Price: Paid plans start at $49.60 per year.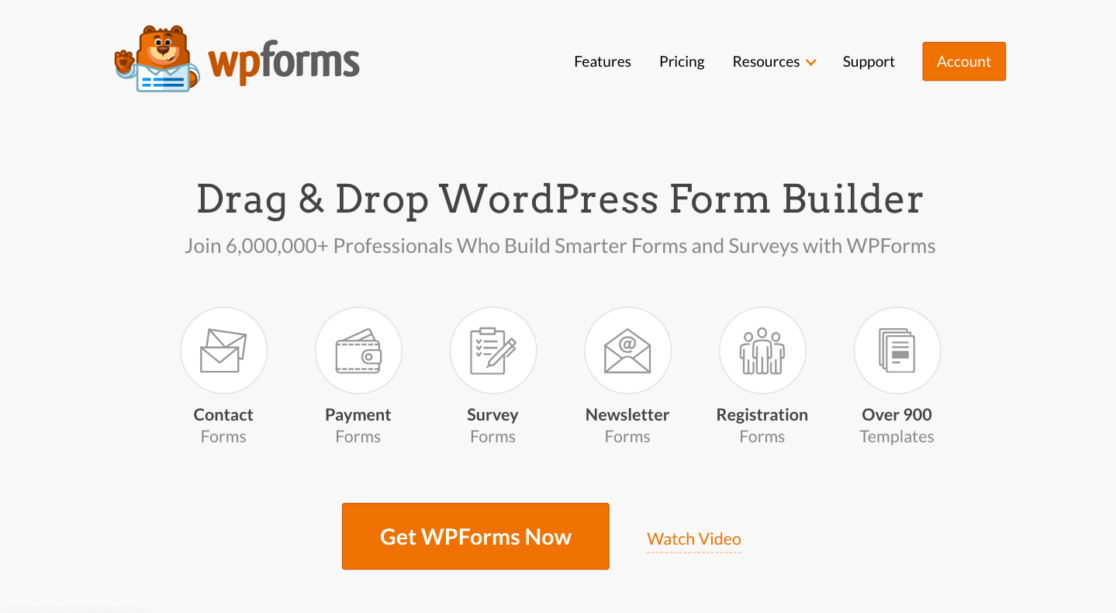 The WPForms plugin enables easy creation of customizable and user-friendly forms for WordPress, facilitating contact forms, surveys, payment forms, and more.
And, this plugin is an excellent no-code tool for your WordPress website thanks to its intuitive drag-and-drop interface, enabling the effortless creation of complex forms without the need for a single line of code.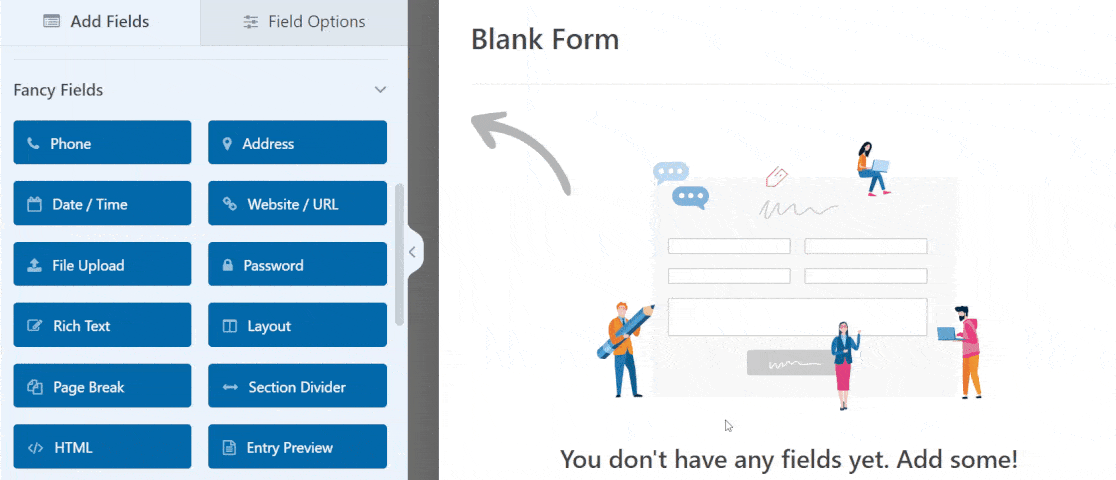 Plus, the extensive template library and integration capabilities dramatically enhance user engagement and data collection.
Additionally, the plugin's analytics provide valuable insights without requiring technical expertise, which will improve your site's functionality and user experience.
Features:
Drag-and-drop builder to easily create forms without the need for coding
900+ pre-built form templates to save time
Responsive design to work seamlessly on mobile, tablets, and desktop
Conditional logic to create dynamic forms based on user inputs
Instant notifications to prompt response to leads
Entry management made easy with a centralized view of leads
Payment and integration addons available for use on forms
Tools for surveys, signatures, CRM integration, and more
Price: Paid licenses start at $49.50 per year.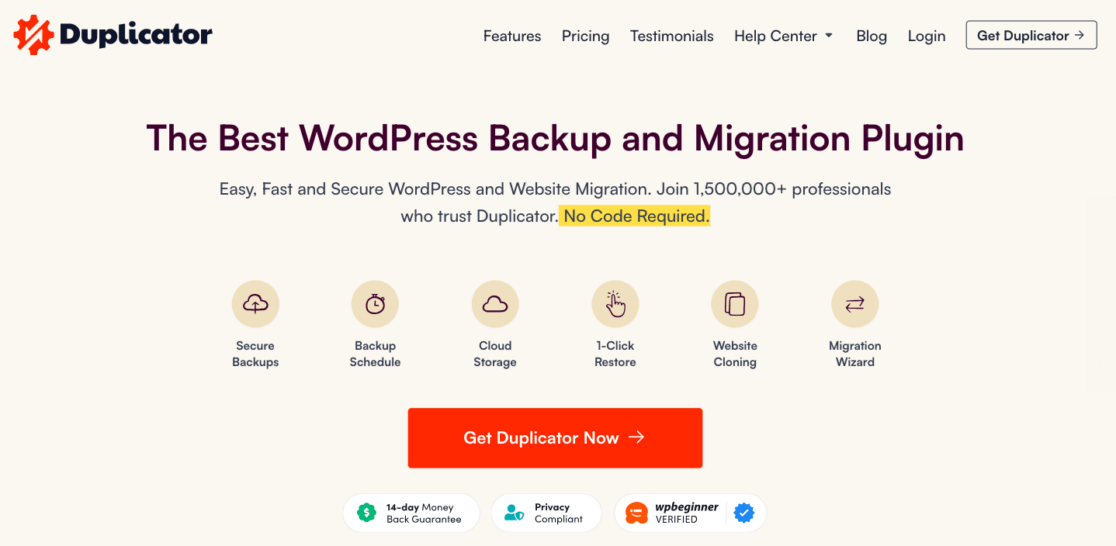 We're covering various no-code tools for building and promoting your site, but what about backing it up and keeping it secure? It's easy to do with Duplicator.
The Duplicator plugin serves as a valuable no-code tool for your WordPress website by enabling effortless website migration, duplication, and backup processes without requiring coding expertise.
The intuitive features and step-by-step wizard simplify the entire process, making it especially easy to move your site if you need to. But we like it for WordPress maintenance and just keeping your site secure if nothing else!
With Duplicator, you can ensure data security, streamline development, and enhance website management, all without delving into complex coding tasks.
Features:
Automatic backup scheduling selected at regular intervals
Selective filters to choose files or database-only backups
Cloud storage with backup to Dropbox, FTP, Google Drive, OneDrive, Amazon S3, or S3 compatible services
Migration wizards for easy moving of data
Multisite support to backup single WordPress sites, entire multisite networks, or even sub-sites within a multisite
Encryption with AES-256 encryption to protect and secure archive files
Price: Paid plans start at $49.50 per year.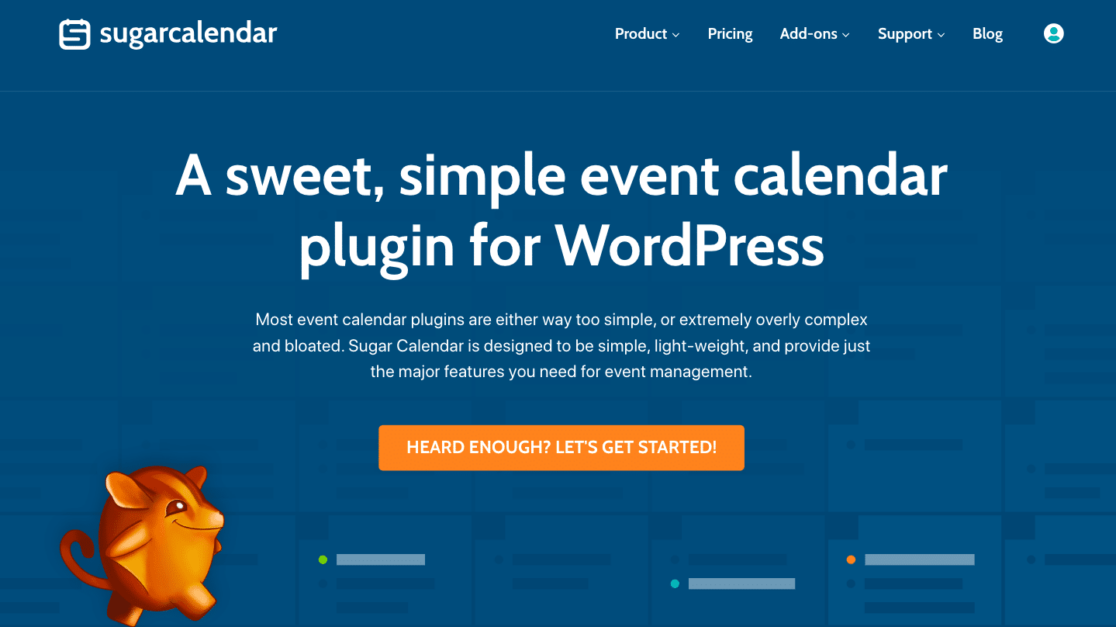 The Sugar Calendar plugin is an organizational tool that offers seamless event management and scheduling capabilities for WordPress websites, allowing users to create, manage, and display events with customizable options.
And, Sugar Calendar proves to be a beneficial tool for non-programmers, thanks to its ability to integrate a robust event management system without the need for coding skills. With this plugin, you can easily create, manage, and display events, enhancing user engagement and site functionality.
Sugar Calendar streamlines event organization, scheduling, and display, making it a valuable addition for effectively managing events on your website.
Features:
User-friendly interface for easy user management
Various calendar views including monthly, weekly, and daily calendars, or calendars as standard posts lists
Custom date formatting that translates for global audiences
Custom time zones for certain events
Repeating event capabilities with daily, weekly, monthly, or yearly options
Easy integration with form builders and external applications
Price: Paid licenses start at $49 per year.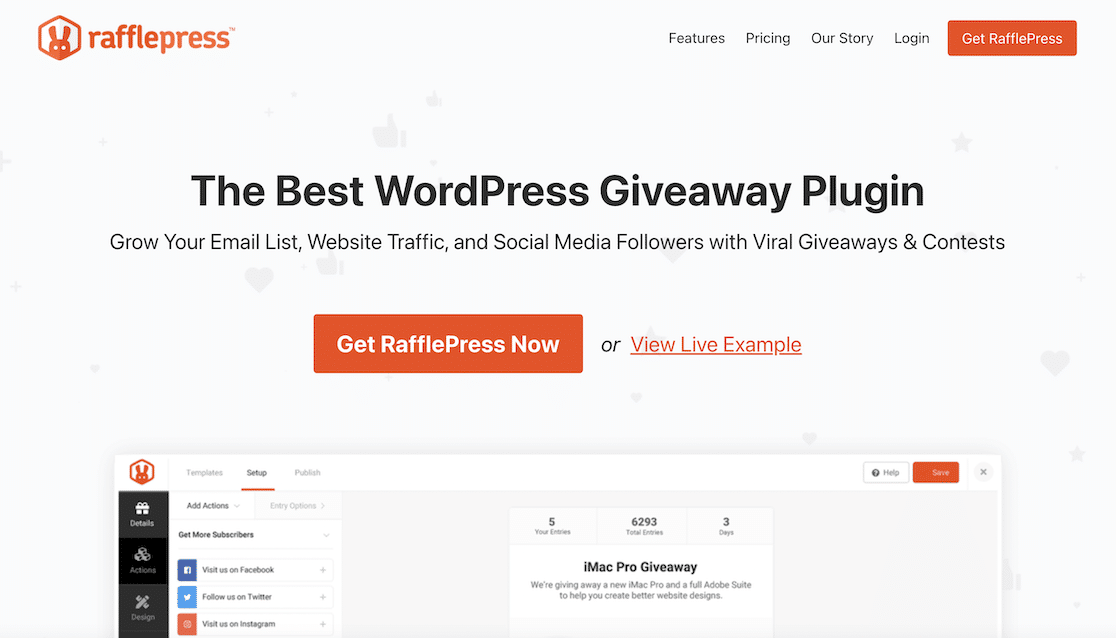 Do you want to grow your following by hosting a giveaway on your site? RafflePress can make it happen without any need for programming!
RafflePress stands out as an excellent no-code tool for your WordPress website by simplifying the creation of engaging giveaways and contests, which boosts your user interaction and conversions.
We're suckers for a good drag-and-drop builder, and the one from RafflePress enables effortless customization, fostering brand engagement and lead generation.
With RafflePress, you can enhance your site's interactivity, promote social sharing, and grow your audience through captivating contests, all while bypassing the complexities of coding.
Features:
Drag-and-drop builder to easily create giveaway campaigns
Viral giveaways created from pre-built templates
Responsive design and mobile optimization
Social media and CRM integrations to grow your following through various platforms
Optimized landing pages to allow giveaways wherever you want
Tracking and retargeting to help you achieve conversion goals
Various entry actions to grow subscribers, social engagement, and traffic
Price: Paid licenses start at $39.50 per year.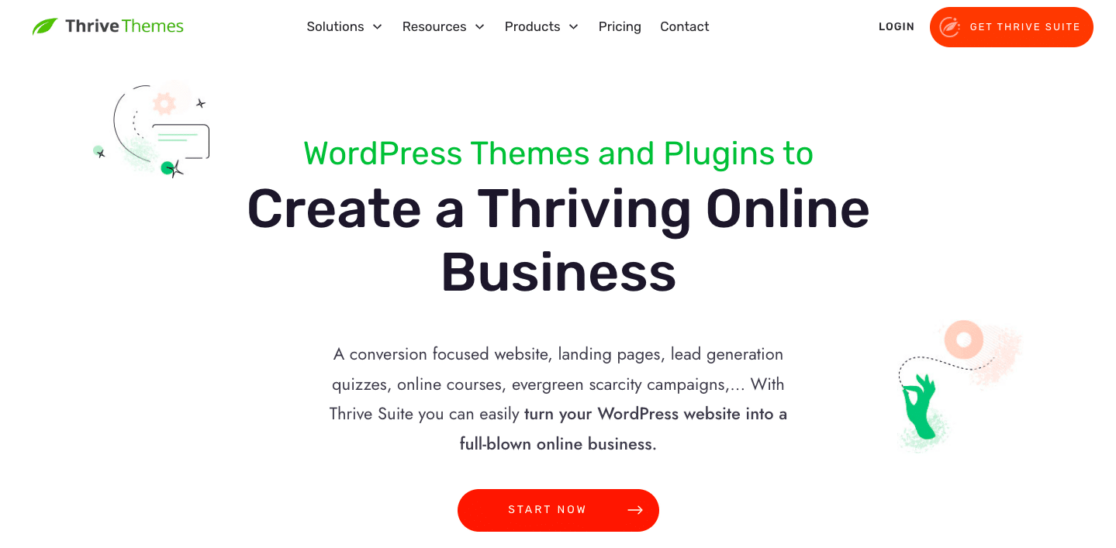 Thrive Themes makes it on our list of no-code tools as one of the best options for building a completely branded and functional website. This plugin offers a suite of conversion-focused tools for WordPress, including customizable themes, landing pages, and marketing-focused features.
We love Thrive Themes for its drag-and-drop builder and pre-designed templates, which streamline page creation and optimization, ensuring a user-friendly experience for your site visitors and effective call-to-action implementation for you.
By using Thrive Themes to build your site, you're elevating your site's aesthetics, functionality, and conversion potential, without ever needing any code to do so!
Features:
Conversion-focused website tools to build pages, campaigns, and more
Landing page templates for various funnels, from lead generation to sales
Email list building thanks to a library of 400+ opt-in forms
Quizzes & online courses created and sold straight from your site
Smart integrations connect your site with various apps, plugins, and services
Educational support always available
Price: The paid plan comes in at $299 per year.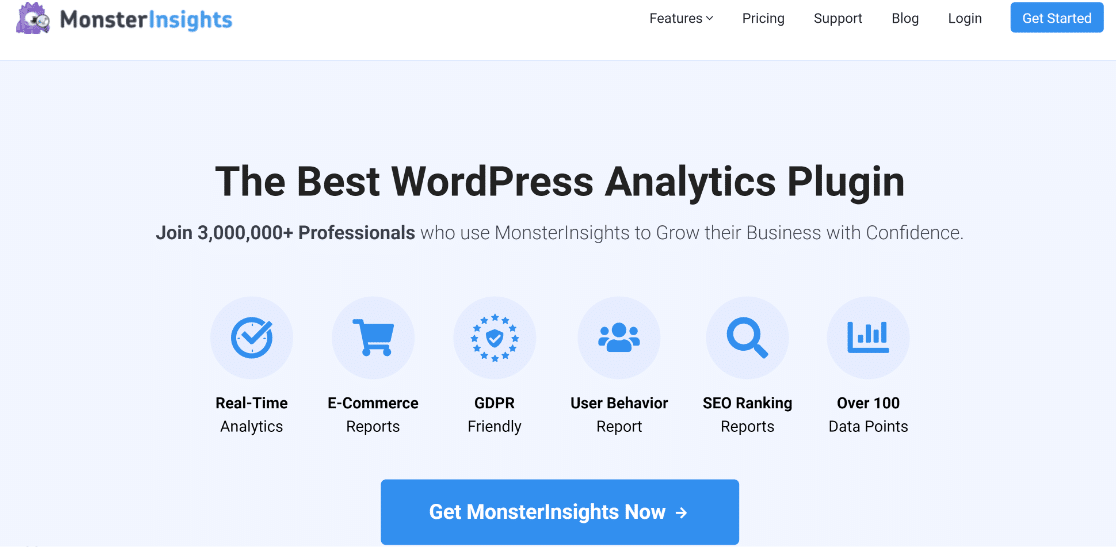 When it comes to user-friendly analytics, MonsterInsights is the way to go.
The MonsterInsights plugin enables easy integration of Google Analytics with your WordPress websites, providing you with in-depth tracking and insightful data about your site's performance and user behavior.
Plus, the internal dashboard offered for users is incredibly easy to navigate, and it simplifies the process of tracking key metrics for you.
With Monster Insights, no coding is needed to optimize your site's content, enhance user engagement, and refine your digital strategy.
Features:
Google Analytics tracking is easily set up with just a few clicks
Custom reports cover various aspects of your website
Integrations are available with popular plugins and services, including WooCommerce, WPForms, SEO tools, and more
Insights offered to help you optimize your website's performance and understand your audience better
Price: Paid plans start at $99.50 per year.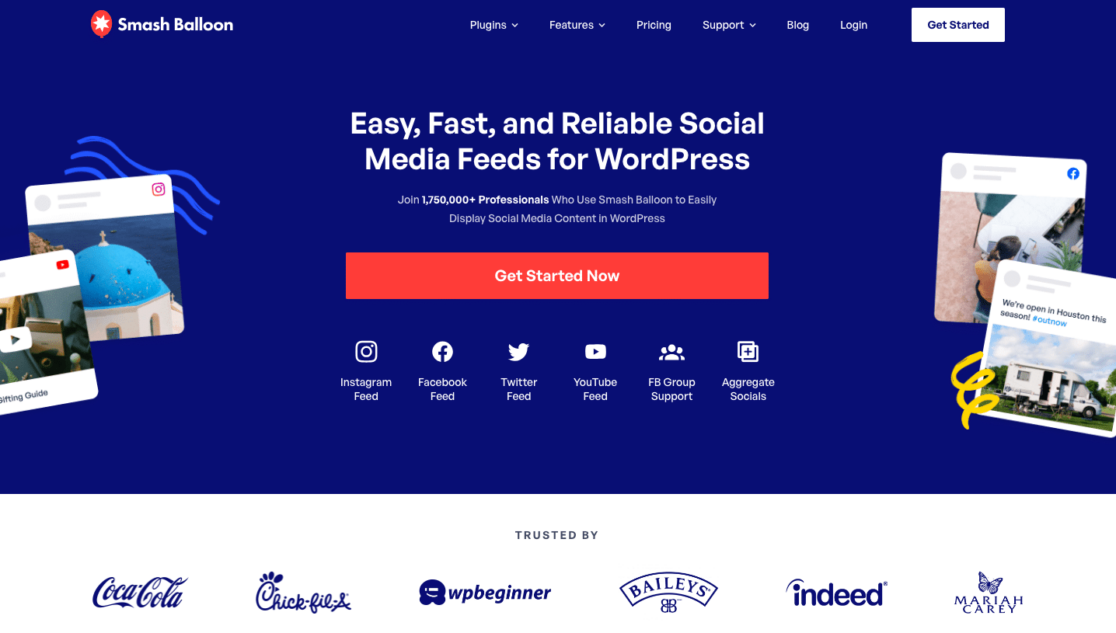 The Smash Balloon plugin is another great no-code tool to grab, as it allows seamless integration of social media feeds from platforms like Facebook, Instagram, Twitter, and YouTube, into WordPress.
SmashBalloon offers a whole suite of plugins to choose from, with each version designed to work with the social media platform of your choice. And, with each plugin, the user-friendly interface and customization options enable you to showcase engaging content, fostering audience engagement and interaction.
By leveraging the Smash Balloon plugin, you can effortlessly enhance your site's social presence and showcase real-time updates, all while avoiding the complexities of coding.
Features:
Feed creation wizard for a simple and efficient setup process
Feed customizer comes with pre-built options for easy customization
Display feeds in a GDPR-compliant manner, including 1-click GDPR settings
Responsive and mobile-optimized, adapting to various screen sizes and devices
Multiple feeds can be created with no limitations
Feeds are translatable to support different languages
Built-in sharing options are available for users to share social media content
Price: Paid plans start at $49.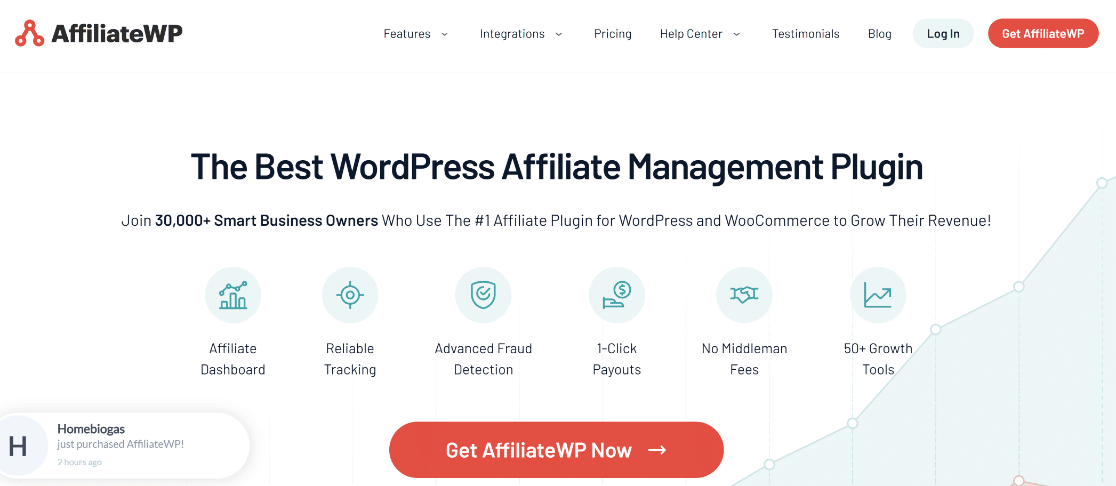 If you want to earn money through your site with the use of an affiliate program, then you need the AffiliateWP plugin.
This no-code tool allows WordPress site owners to easily manage and track affiliate marketing programs, as well as offer commission tracking, referral link generation, and detailed reporting through the plugin.
Its intuitive interface and automation capabilities simplify the process of recruiting, tracking, and managing affiliates, which can enhance your revenue potential and brand reach.
With AffiliateWP, you can effortlessly establish and optimize an affiliate program, expanding your online presence and sales, all without the need for programming or coding.
Features:
Affiliate registration with options for manual or automatic approval
Seamless integrations with popular eCommerce plugins
Highly customizable to suit your business needs and you retain ownership of your data
Advanced affiliate tracking of referral links, coupon codes, custom landing pages, cross-domain promotions, and more
Detailed affiliate reports to analyze affiliate performance.
1-click payout easily pays affiliates directly to bank accounts or debit cards with Stripe or PayPal
Flexible commission structures, including one-time, recurring, tiered, lifetime, and personalized commissions
Generate referral links, banners, coupons, custom landing pages, QR codes, and more.
Smart fraud detection prevents affiliate fraud
Price: Paid plans start at $149.50 per year.
Elevate Your WordPress Emails Now
FAQs on No-Code Tools for WordPress
Useful tools and plugins are a popular topic that our readers are often interested in. Here are some of the most common questions we are asked about no-code tools for WordPress:
How can no-code tools help in improving the website speed and performance on my WordPress site?
No-code tools can significantly enhance website speed and performance on your WordPress site by simplifying the process of implementing performance-boosting techniques.
These tools often offer features such as image optimization, lazy loading, caching, and minification of CSS and JavaScript files without requiring coding skills.
How can no-code tools be used to optimize content for featured snippets and rich search results on my WordPress site?
No-code tools can aid in optimizing content for featured snippets and rich search results on your WordPress site by offering structured data markup options and content formatting suggestions.
Tools like these will usually provide user-friendly interfaces to mark up data and structure content effectively, increasing the chances of Google recognizing and displaying the content as a featured snippet or rich result in search engine results pages.
How do no-code tools enable seamless integration of social media sharing and engagement features on my WordPress website?
No-code tools facilitate seamless integration of social media sharing and engagement features on your WordPress website by offering easy-to-use plugins or widgets that allow you to add social sharing buttons, follow buttons, and social media feeds without any coding skills.
These tools typically offer customizable options for design and placement, enabling you to enhance your social media presence and encourage user interaction.
Next, Grow Your Audience With Additional No-Code Tools
For even more guidance on tools for your website that don't require any coding, explore these other plugin roundups:
Ready to fix your emails? Get started today with the best WordPress SMTP plugin. If you don't have the time to fix your emails, you can get full White Glove Setup assistance as an extra purchase, and there's a 14-day money-back guarantee for all paid plans.
If this article helped you out, please follow us on Facebook and Twitter for more WordPress tips and tutorials.