Are you looking for a reCAPTCHA alternative to prevent WordPress form spam?
Google's reCAPTCHA is pretty effective at blocking contact form spam, but it's not perfect.
The good thing is that reCAPTCHA isn't the only spam prevention tool. There are some fantastic alternatives out there.
In this post, we'll introduce you to some of the best reCAPTCHA alternatives that you can fully trust to stop contact form spam on your site.
Why You Should Consider a reCAPTCHA Alternative
Google's reCAPTCHA is the most widely used spam prevention tool. However, there are a couple of issues with reCAPTCHA.
Privacy concerns: reCAPTCHA uses tracking cookies to analyze your behavior to distinguish between real human users and spambots. This allows Google to collect user information for advertisement purposes, which is not ideal for privacy-focused users.
Bad user experience: The image challenges in reCAPTCHA can be frustrating and difficult to solve, getting in the way of a good user experience.
Negative conversion rate and SEO impact: reCAPTCHA can bring down your site speed, which can really harm your SEO. The extra delays it causes can also negatively impact your conversion rates.
Thankfully, there are several excellent alternatives to reCAPTCHA that don't suffer from these issues.
Best WordPress reCAPTCHA Alternatives
There are several reCAPTCHA alternatives that provide a number of great features.
Let's take a closer look at why these options are so good.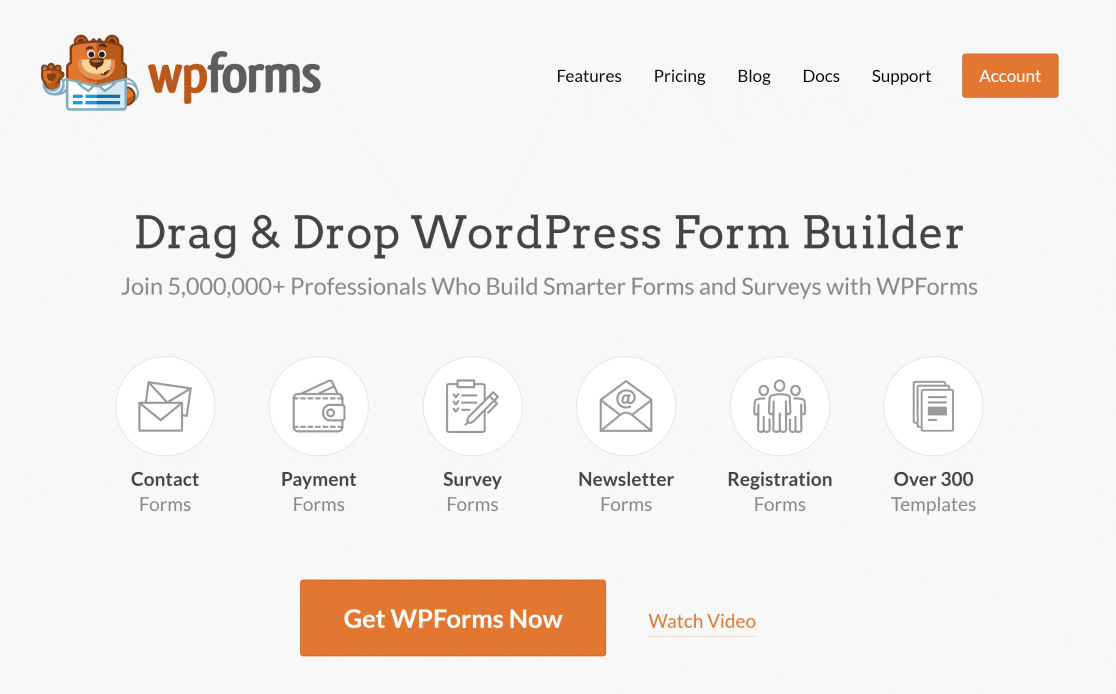 WPForms makes spam prevention outstandingly easy with its form tokens technique. The token is basically a value unique to each user session and it is completely invisible to both humans and bots.
When a real person submits a form, this token is automatically added to the submission.
However, bots lack the ability to insert the correct token with their form submission, allowing WPForms to instantly block spam entries.
This is a huge improvement over conventional reCAPTCHA.Because WPForms tokens are invisible and work in the background, they allow users to submit forms without any annoying interruptions.
Since this spam filtering method is so fast and lightweight, it doesn't slow down your site at all. Meaning, you're able to maintain high site speeds and improve conversion rates, which in turn is great for your SEO!

Plus, WPForms tokens protect your privacy because these tokens expire immediately after a user submits an entry. This method is completely GDPR compliant.
And the best thing is that form tokens are enabled by default in all versions of WPForms.
In contrast, adding third-party spam prevention services to your forms can be time-consuming the first time.
Overall, WPForms tokens eliminate all of the issues with reCAPTCHA and provide a simple yet effective spam blocking system that promises a smooth customer experience.
You can learn more about WPForms' top features in our detailed WPforms review.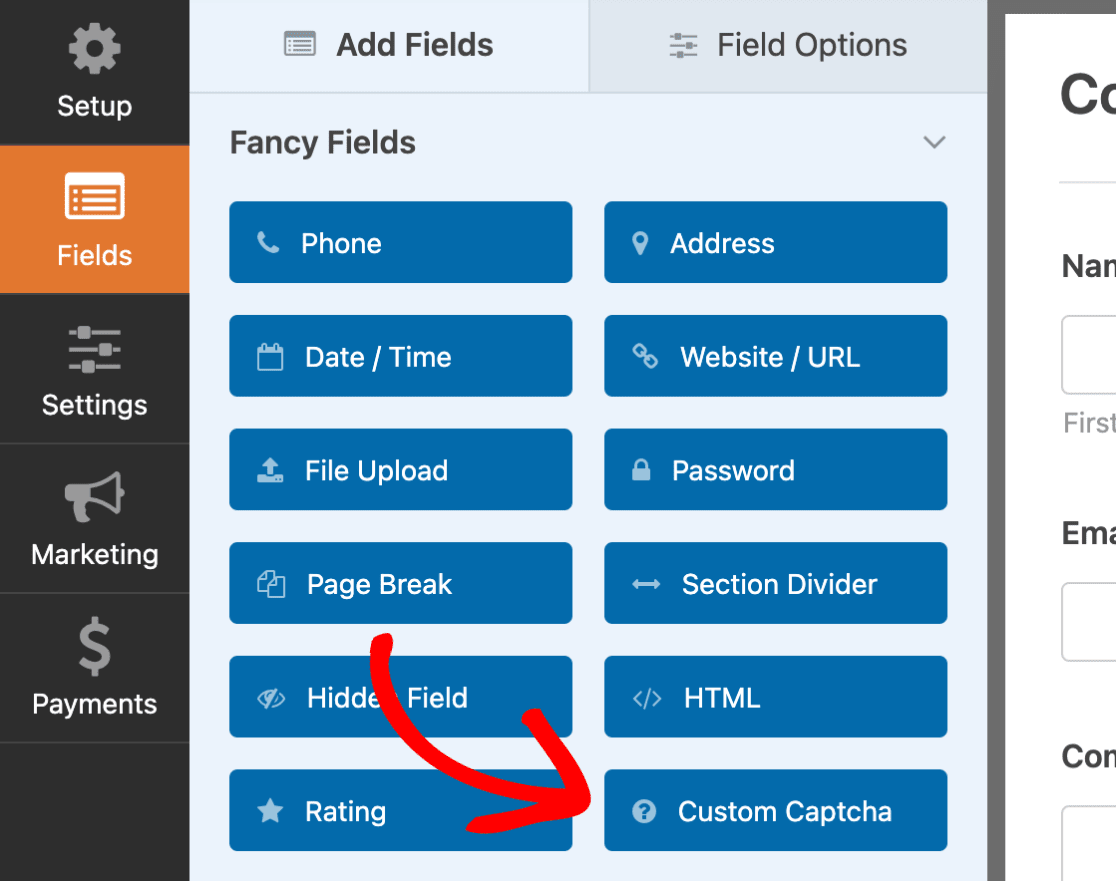 Another super convenient and powerful spam filtering tool included in WPForms Pro is the custom captcha.
With WPForms' Custom Captcha addon, you can create a sweet and short math quiz or other random question.
Even the easiest of random questions are almost impossible to answer correctly for bots. But your human users will have no trouble instantly answering these correctly to pass through the spam filter.
For instance, you can create a simple math sum that any person can solve. Thankfully, most spambots aren't advanced enough yet to understand custom captcha questions and input the correct answer.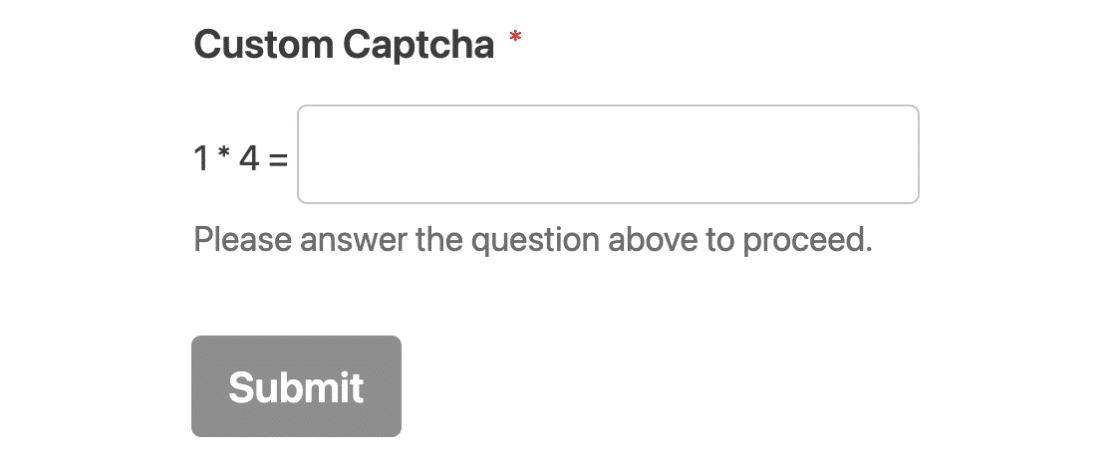 The benefit of custom captcha is that you don't have to rely on any tool other than the human brain for it to work perfectly.
This means that you can maintain the user experience smooth and free from frustrating interruptions of the standard reCAPTCHA challenges.
Also, custom captcha is privacy-friendly and GDPR compliant because it doesn't use any tool or script capable of storing your data. And you get all these benefits while effectively preventing unwanted spam submissions!
To use the custom captcha, see this WPForms guide on how to use Custom Captcha addon.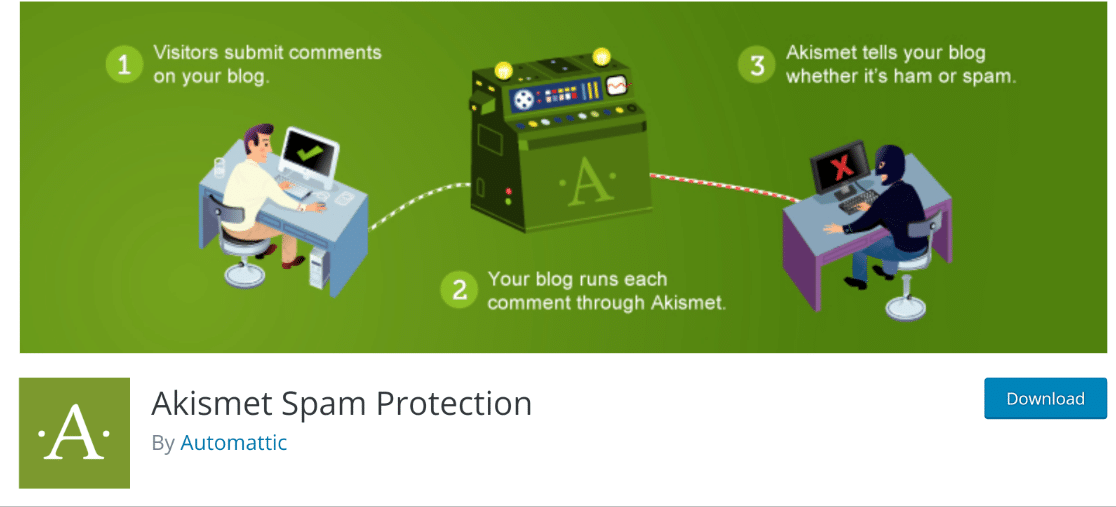 Akismet is one of the most popular spam filtering plugins for WordPress. Apart from offering comment spam protection in WordPress, it also integrates with popular form plugins to block spam entries.
Akismet integrates seamlessly with WPForms. Enabling Akismet on forms created with WPForms requires no extra configuration. You can simply press a toggle button in WPForms settings to enjoy Akismet's powerful spam protection for your WordPress forms.
To detect spam, Akismet checks each comment and form entry submitted on your site against a huge database spam messages. If it's a hit, Akismet blocks that submission.
Although Akismet is super easy to use and doesn't spoil the user experience by adding challenges to solve, it can sometimes mark legitimate comments as spam. But this isn't a common occurrence.
Overall, Akismet is a highly reliable alternative to reCAPTCHA that saves your users the annoyance of having to perform image recognition tasks to submit a form or a comment.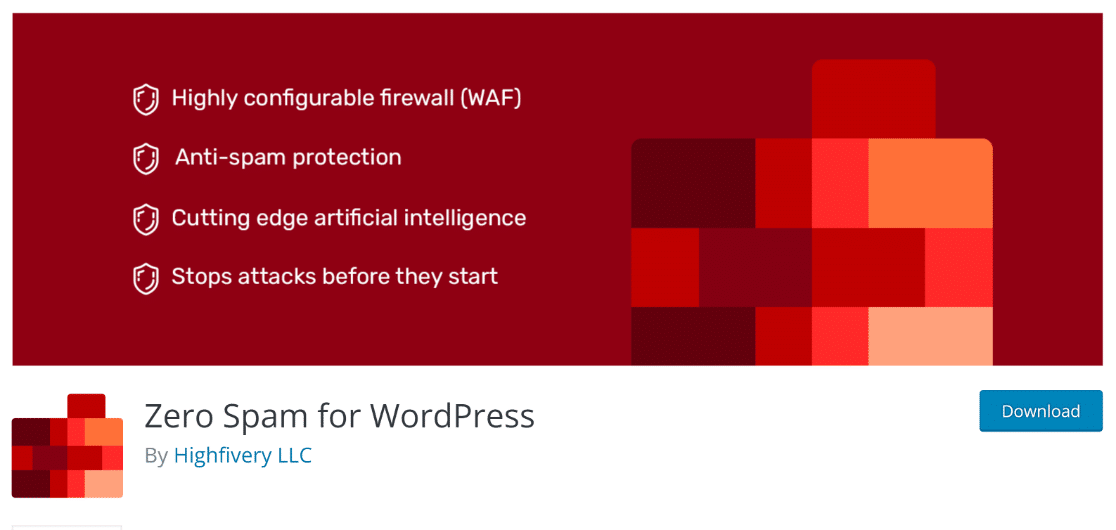 Zero Spam for WordPress is a free plugin that uses AI to detect signs of spammy behavior and block unwanted form submissions.
To prevent spam, Zero Spam makes use of multiple spam detection techniques, including a technique very similar to WPForms' tokens.
The plugin also comes with a firewall that blocks that prevents known spambots from accessing your WordPress site.
The best thing about Zero Spam is that it works silently in the background. There are no challenges to solve for the user, allowing for a completely interruption-free user experience.
Zero Spam integrates with many popular WordPress plugins including WPForms. And less technical users would be happy to know that it's incredibly easy to set up.
Zero Spam will get right to work blocking spam from your WordPress forms as soon as you activate it on your site. These features make Zero Spam a fantastic reCAPTCHA alternative.

CleanTalk is a powerful WordPress plugin that provides all-around spam protection for your WordPress site.
This plugin is really useful because it integrates easily with popular WordPresss plugins like Elementor, WooCommerce, and WPForms. You can count on CleanTalk to not only prevent constant form spam but also comment spam on WordPress.
CleanTalk is a huge improvement over reCAPTCHA because it doesn't require any complicated image-based challenges to detect spammy activity. Instead, it uses a two-step process to stop spam.
In the first step, CleanTalk uses its firewall to detect spambots that are already known by their IP address or behavior patterns.
In the second step, CleanTalk analyzes the action parameters of the user at the time of comment or form submission. If a bot manages to pass through the first step, then it'll certainly be caught in the next layer of protection.
Because there's no captcha, CleanTalk guarantees a distraction-free user experience for your site visitors. So if ensuring a perfect user experience and GDPR compliance is important to you, CleanTalk is a superb reCAPTCHA alternative.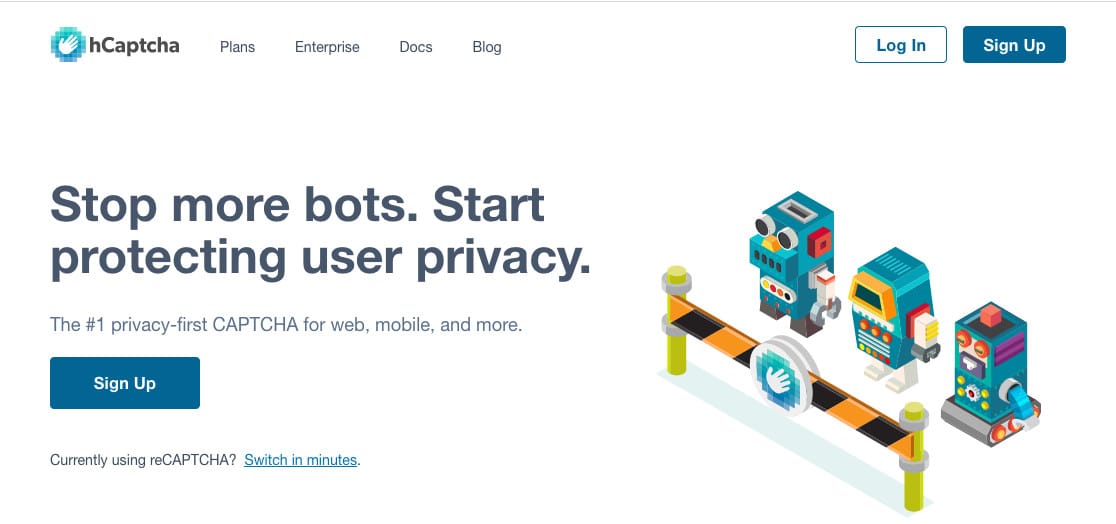 hCaptcha is very similar to reCAPTCHA, with the important distinction that it's far more privacy-friendly and follows GDPR principles extremely well.
In terms of effectiveness, hCaptcha ranks very high because it is able to stop even some rare kinds of spambots that are good at avoiding detection.
Moreover, the fact that it enhances your users' privacy by refusing to collect their personal information makes it a better choice than reCAPTCHA.
However, hCaptcha does use image labeling challenges (much like standard reCAPTCHA), which don't really help the user experience. So that's one drawback with hCaptcha.
To get started with hCaptcha, check out our guide to adding CAPTCHA to WordPress forms using hCaptcha.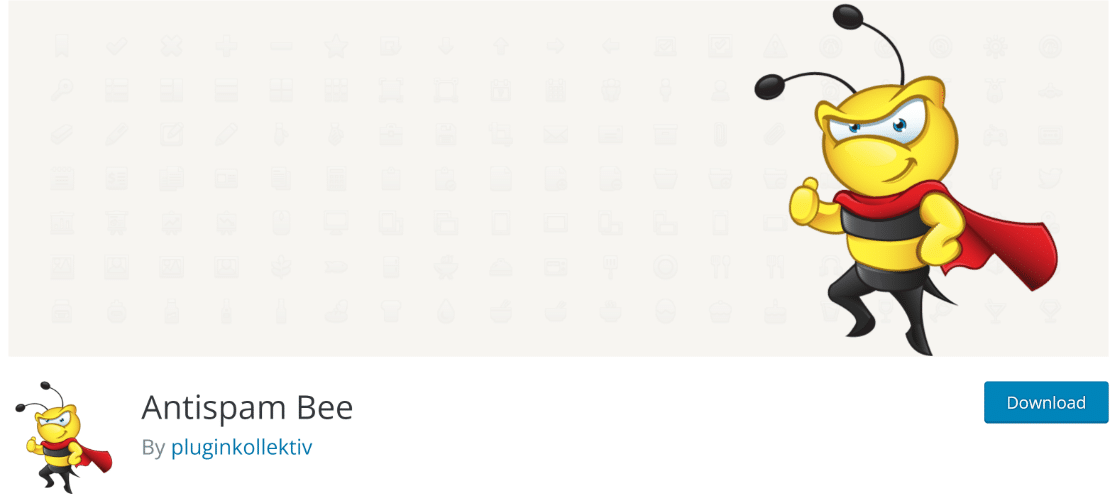 Antispam Bee is user-friendly, great for user privacy, and an effective WordPress spam comment blocker. Sadly, it doesn't integrate with any WordPress form plugin.
The major benefit of Antispam Bee is that it's another one of those plugins that don't need difficult puzzles to catch spam. The plugin uses its own algorithms to detect signs of spam and prevent bots and automated scripts from leaving spam comments on your site.
Another useful feature is that it keeps a count of spam activity and displays these statistics on your WordPress dashboard.
While these features make it a great reCAPTCHA alternative for comment spam, it's not the right choice if you also want to block contact form spam.
Which reCAPTCHA Alternative Is the Best?
WPForms provides the two best alternatives to reCAPTCHA – form tokens and custom captcha.
When you have these methods of spam blocking in place, your users will thank you for letting them submit entries without having to solve frustrating challenges. Meanwhile, these methods will work effectively to eliminate contact form spam from your site.
But WPForms only protects you from contact form spam. In order to stop other forms of spam, we recommend adding CleanTalk or Zero Spam for WordPress to your site as well.
These will provide you an extra layer of security from spam activities that may target other areas of your site such as the comments section.
And there you have it! You now know about the best reCAPTCHA alternatives on the market that can wipe out WordPress spam.
Next, Add Multiple Notifications to Your Contact Forms
Did you know that you can add multiple email addresses in your form and set up different notifications for each using WPForms? You can also send emails to WordPress users without writing any code. You might also want to check out our guide on the best WordPress SMTP plugins.
And are you getting an error message when you try to upload some media files types in WordPress? Here's how to add new file types to WordPress.
​​Ready to fix your emails? Get started today with the best WordPress SMTP plugin. WP Mail SMTP Elite includes full White Glove Setup and offers a 14-day money-back guarantee.
If this article helped you out, please follow us on Facebook and Twitter for more WordPress tips and tutorials.