Interested to know that when it comes to Fluent SMTP vs WP Mail SMTP, which plugin is the superior choice for your WordPress website?
While FluentSMTP and WP Mail SMTP are both great plugins, learning about their subtle differences can be the key to optimizing your email deliverability.
This comparison dives deep into both SMTP plugins, offering insights you won't find elsewhere and guiding you to make an informed decision.
Fluent SMTP vs WP Mail SMTP: A Detailed Comparison
Use the table of contents below to easily navigate the comparison of two of the industry's most notable SMTP plugins.
1. Overview of FluentSMTP and WP Mail SMTP
To help you decide which plugin is right for you, we've included a brief summary of each one, detailing its key features and limitations.
FluentSMTP
FluentSMTP has gained traction for its streamlined approach to sending emails, despite being a free plugin. Its direct integration with multiple sending services ensures emails land smoothly in recipients' inboxes.
The intuitive dashboard simplifies the configuration process, enabling even novices to grasp the essentials swiftly. Additionally, its focus on performance ensures websites remain swift while managing email traffic.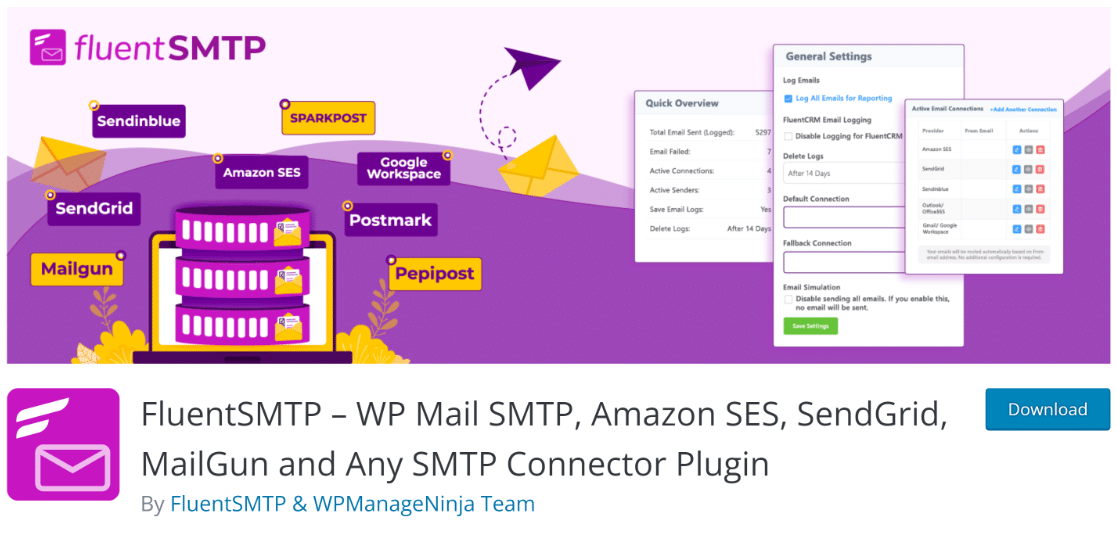 WP Mail SMTP Lite
WP Mail SMTP Lite offers more than just basic email deliverability. Its seamless integration with popular email services not only ensures reliability but also amplifies its adaptability to diverse user requirements.
The Lite version, being free, gifts users with a taste of WP Mail SMTP's prowess without a dent in their pockets. Furthermore, its expansive features make it an attractive choice compared to other paid and free competitors.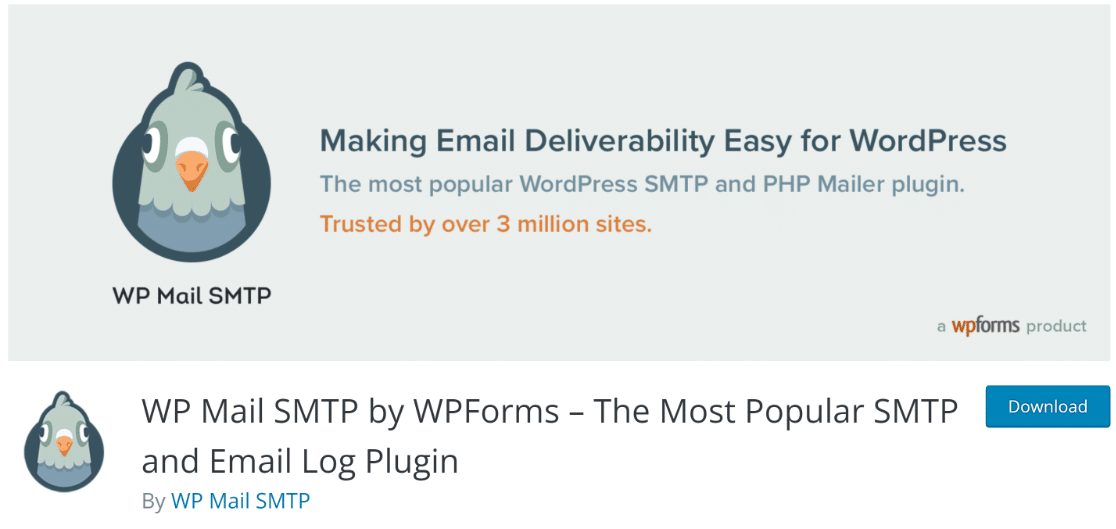 WP Mail SMTP Pro
Compared to the Lite version, WP Mail SMTP Pro unlocks an array of advanced functionalities. From email logging features to elite integrations, it stands a class apart in the email plugin marketplace.
Its dedicated support and consistent updates reflect the commitment to enhancing the user experience. For businesses and serious professionals, the Pro version stands as a testament to what premium email deliverability should look like.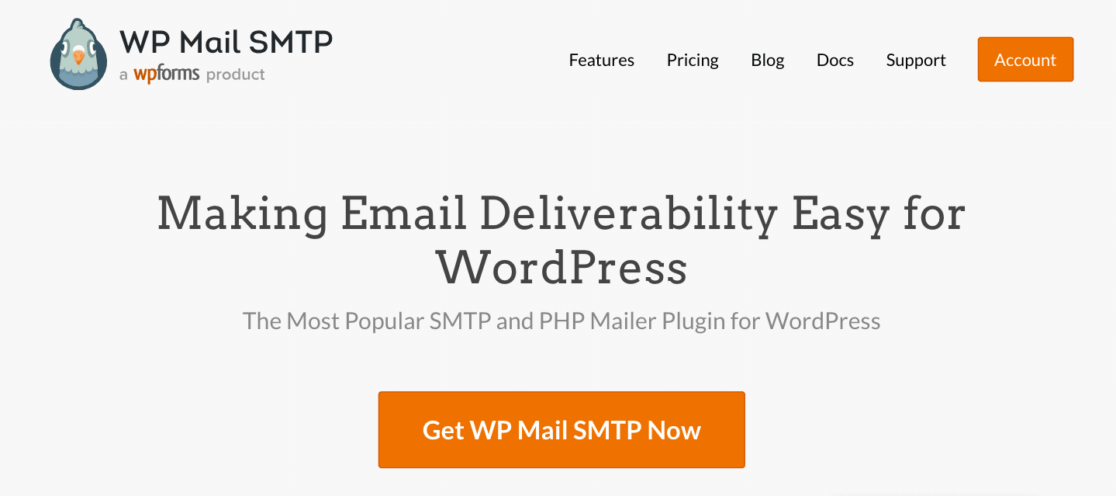 2. Installation and Setup Process
Both Fluent SMTP and WP Mail SMTP prioritize user-friendliness, making their installation straightforward.
FluentSMTP
Fluent SMTP ensures a hassle-free installation experience for users, which is why most WordPress users prefer it.
After a quick download from the WordPress repository, the setup guide intuitively walks users through the configuration process.
The detailed documentation aids in streamlining this process further, ensuring that users face minimal roadblocks.

WP Mail SMTP (Lite & Pro)
WP Mail SMTP Lite boasts an unmatched ease of installation, mainly credited to its user-centric Setup Wizard.
As users install the plugin, they're introduced to a step-by-step guide, eliminating any guesswork from the equation.
Even those hesitant about the nitty-gritty of SMTP configurations find this intuitive wizard a piece of cake to follow.
Beyond the strengths of the Lite version, WP Mail SMTP Pro introduces the concept of White Glove Assistance for its premium users at an additional cost.
This service is not just about ease of setup but rather about offering tailored, expert guidance throughout the process.
Especially for users wary of diving deep into SMTP server configurations on WordPress, this professional assistance becomes a pivotal difference, providing both peace of mind and technical surety.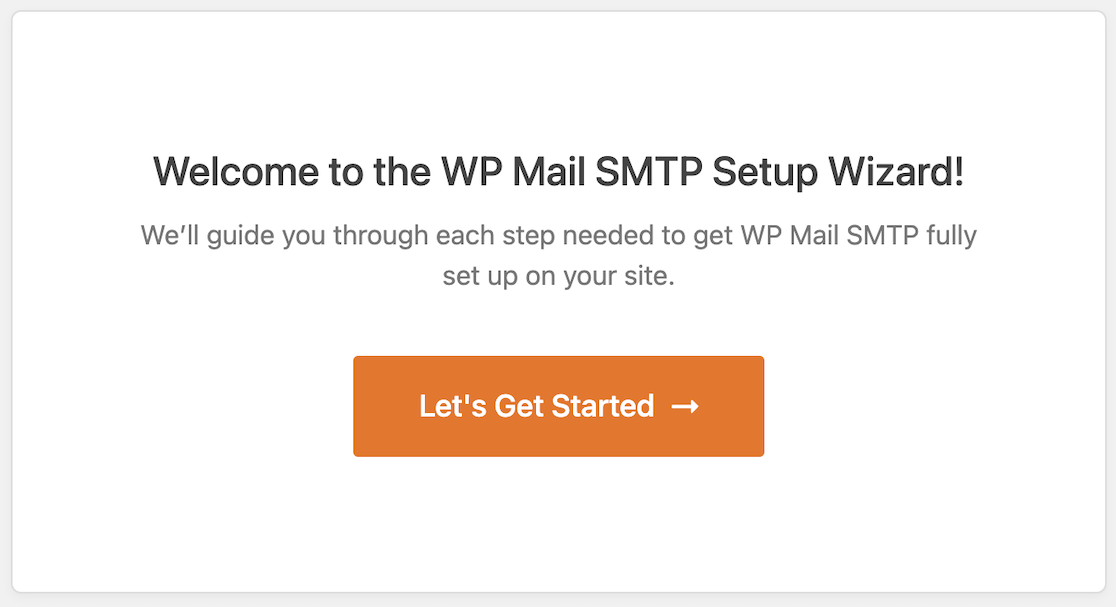 3. User Experience and Interface
Both FluentSMTP and WP Mail SMTP have placed user experience at the forefront of their development.
FluentSMTP
FluentSMTP steps up with a clean and easy-to-understand interface. Everything is laid out, ensuring that users, even those new to SMTP, won't feel overwhelmed.
The interface makes it simple for users to locate the needed options and make any adjustments, albeit some things may feel cluttered.
The design of FluentSMTP ensures it doesn't feel outdated or clunky. Overall, it offers a balanced user experience, which many appreciate.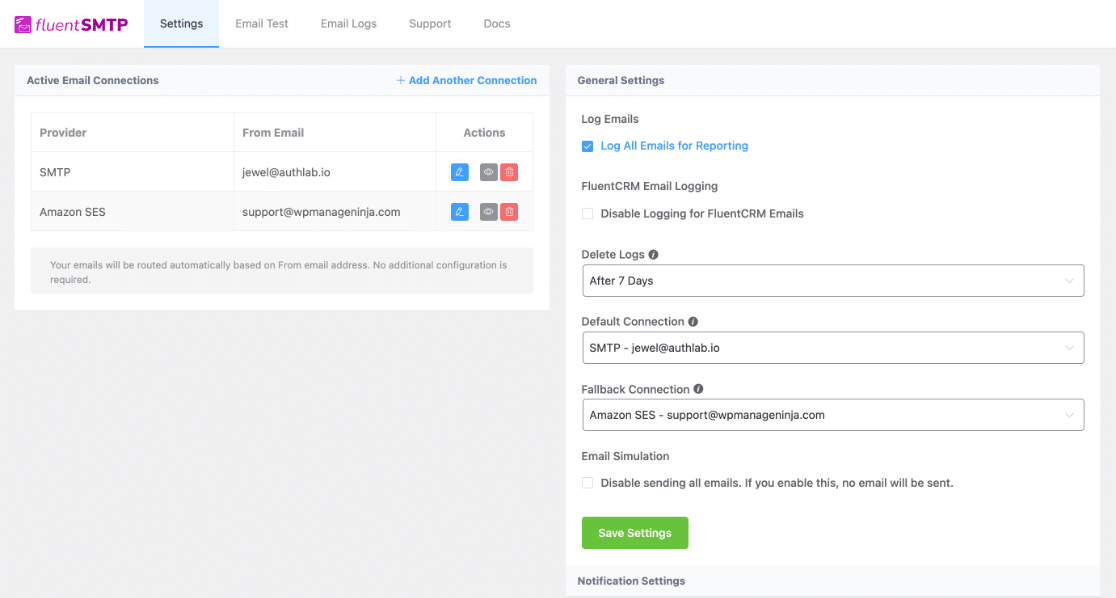 WP Mail SMTP Lite
WP Mail SMTP Lite shines with its primary focus on user-centric design. As users navigate, they'll notice that each section has been crafted for simplicity.
Icons and labels guide the way, ensuring you always know where to click next, which means less time figuring things out and more time sending emails confidently.
It is remarkable how much attention has been paid to the user experience, considering that this version is free.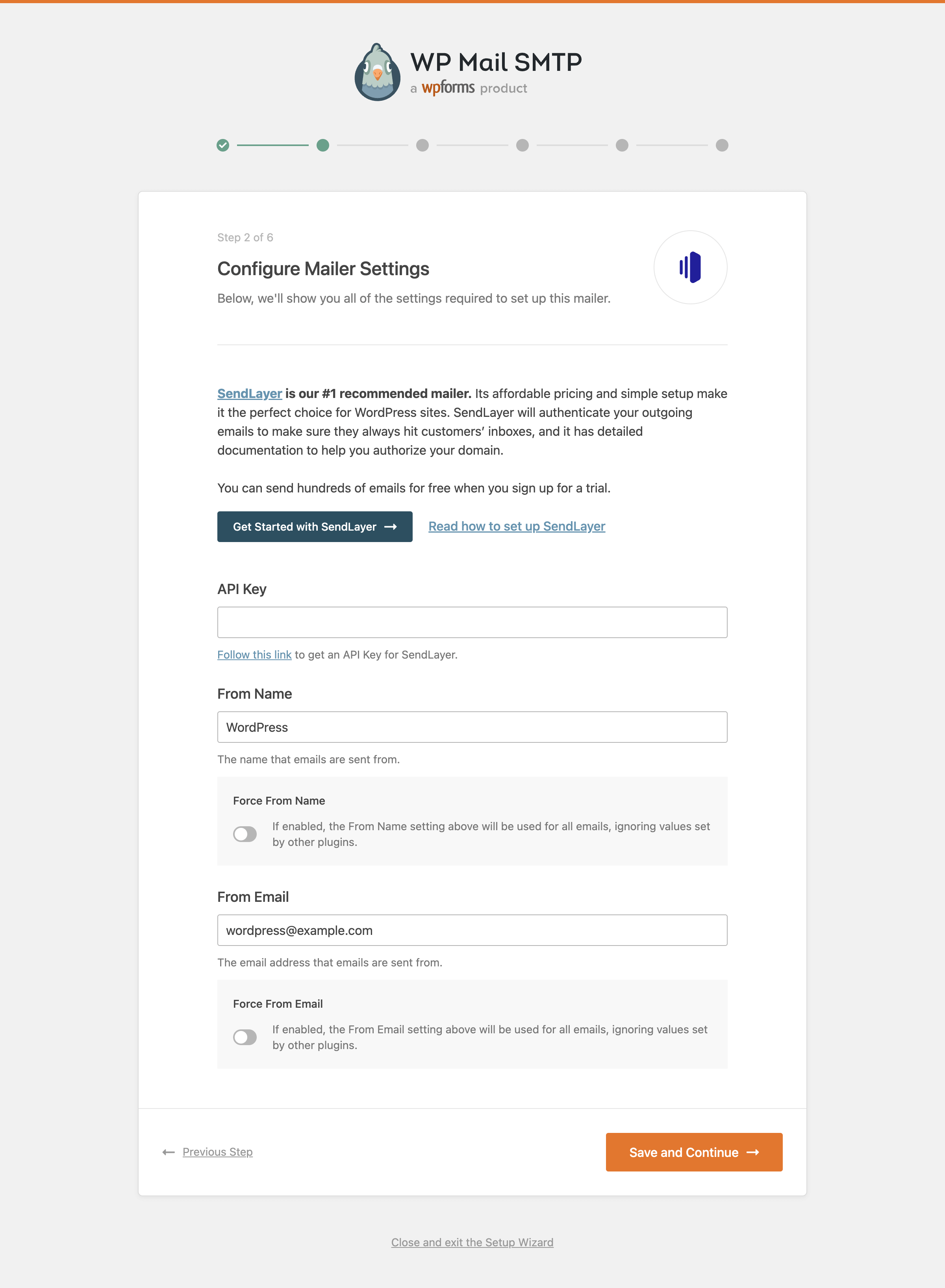 WP Mail SMTP Pro
The Pro version of WP Mail SMTP elevates user experience to a whole new level. While it retains the simplicity of the Lite version, it adds layers of additional features, all while ensuring the interface doesn't get cluttered.
Menus and settings are well-categorized, so even with the added functionalities, users don't feel lost. The integration of tutorials and tooltips means even the advanced features are easily understood.
It is quite evident that WP Mail SMTP Pro was created to cater to users with varying degrees of technical expertise since it combines complex features with the maximum level of accessibility.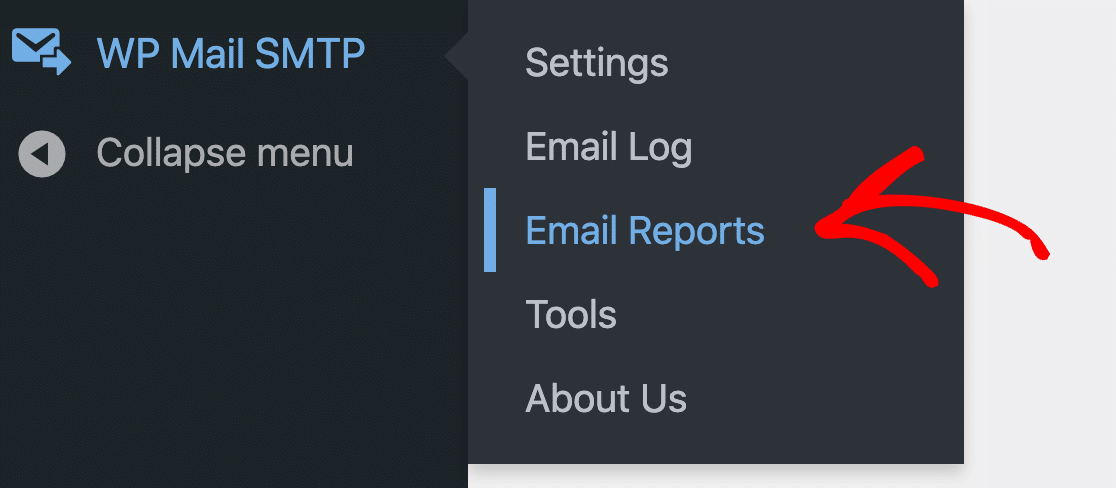 4. Features and Functionality
The true essence of any email plugin lies in its features and functionality. Both FluentSMTP and WP Mail SMTP have garnered attention in this realm, but let's go into the specifics to determine where each stands.
FluentSMTP
FluentSMTP has made its mark by optimizing email deliverability for WordPress users. Its ability to integrate directly with popular sending services means your emails have a higher chance of landing in the desired inbox.
Furthermore, FluentSMTP's dashboard is a treasure for users. It's not only simple to navigate but also provides a plethora of insights at a glance. This ensures users remain in control, tweaking settings as required for optimal results.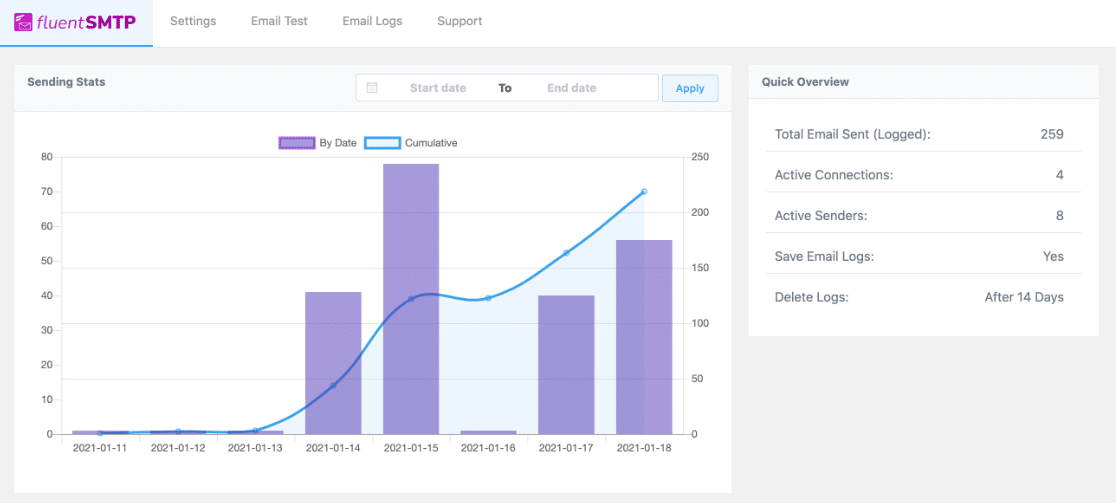 On the security front, FluentSMTP holds its ground, offering protection against spam and ensuring your website's credibility isn't compromised. Moreover, its seamless queuing system ensures that bulk emails don't overwhelm your server.
However, while FluentSMTP has made notable strides, certain advanced functionalities found in competitors might be missing. For users in search of these niche features, WP Mail SMTP is the best option available.
WP Mail SMTP Lite
WP Mail SMTP Lite is more than just a basic email solution for WordPress. Its integration with renowned email services amplifies reliability. Additionally, the plugin's focus on reducing WordPress website conflicts is a testament to its refined architecture.
The Lite version also stands out for its attention to user experience. Its Setup Wizard, for instance, simplifies the configuration process immensely, ensuring users of all skill levels can make the most of their email setups.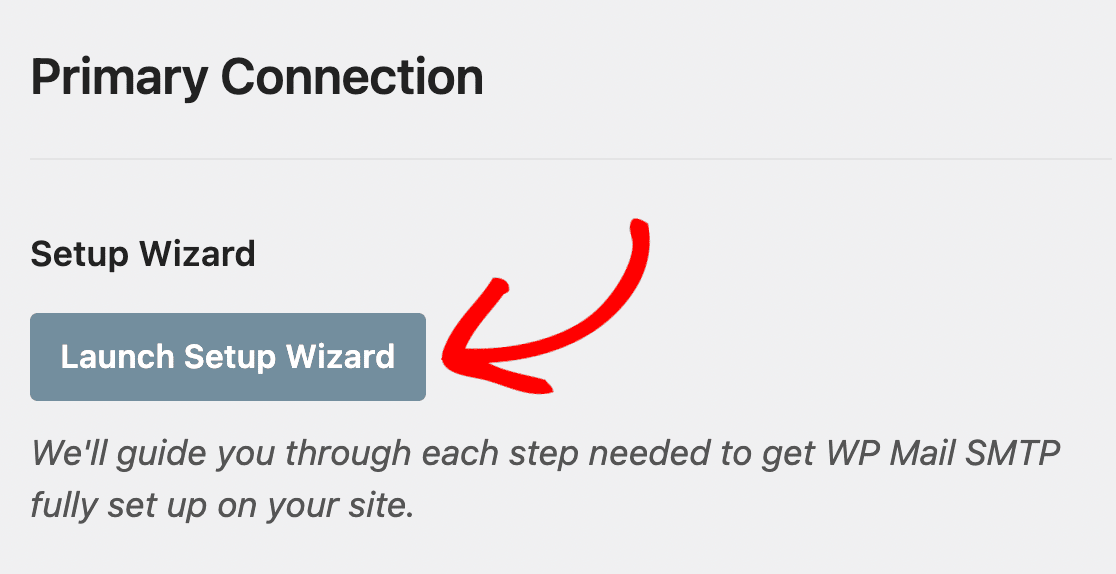 Furthermore, WP Mail SMTP Lite's emphasis on security ensures that your email communications remain uncompromised. From protective measures against spoofing to meticulous email routing, the Lite version is perfect for advanced emailing needs.
The plugin's logging feature is also commendable. Users can keep a keen eye on email activities and troubleshooting issues before they escalate. This foresight ensures smooth sailing in the realm of email communications.
WP Mail SMTP Pro
WP Mail SMTP Pro is the embodiment of advanced email features. Starting with Email Reports, it offers users a comprehensive look at their email statistics, allowing for informed decisions based on data-driven insights.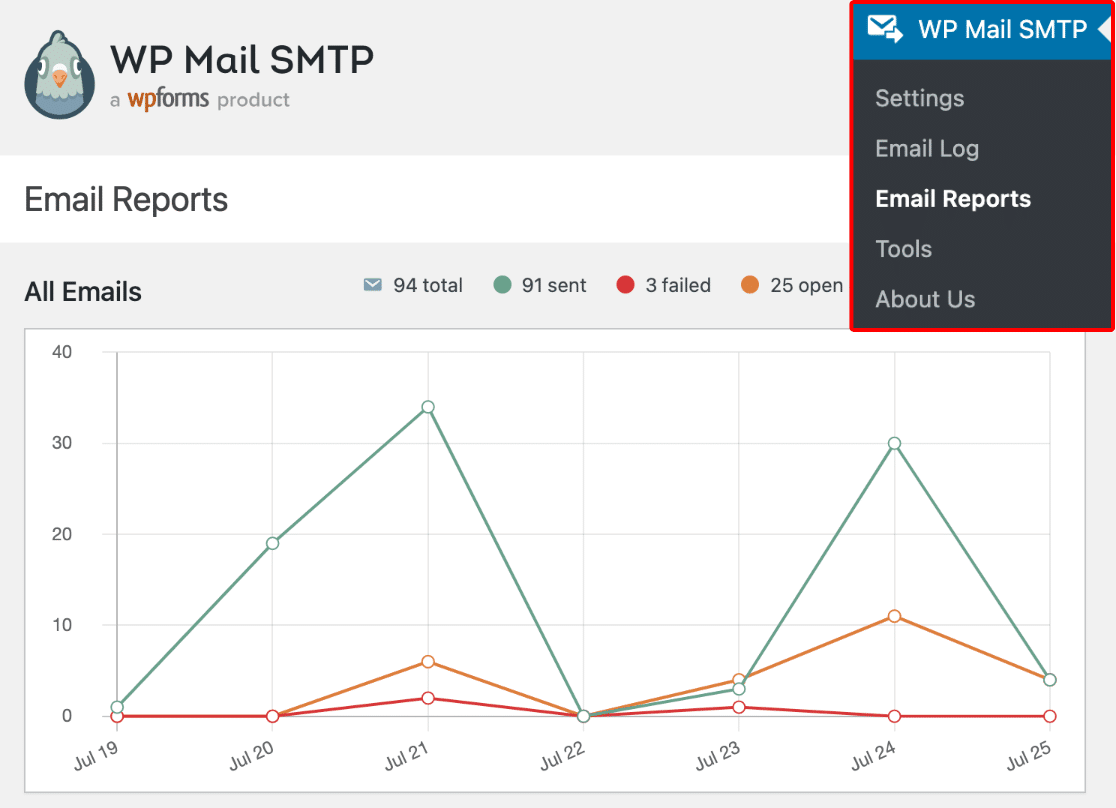 The Email Logging feature ensures that every sent email is tracked meticulously. Whether it's monitoring delivery status or diagnosing issues, this feature is indispensable. Moreover, with Open and Click Tracking, users can go deeper into email interactions, gauging the effectiveness of their communications.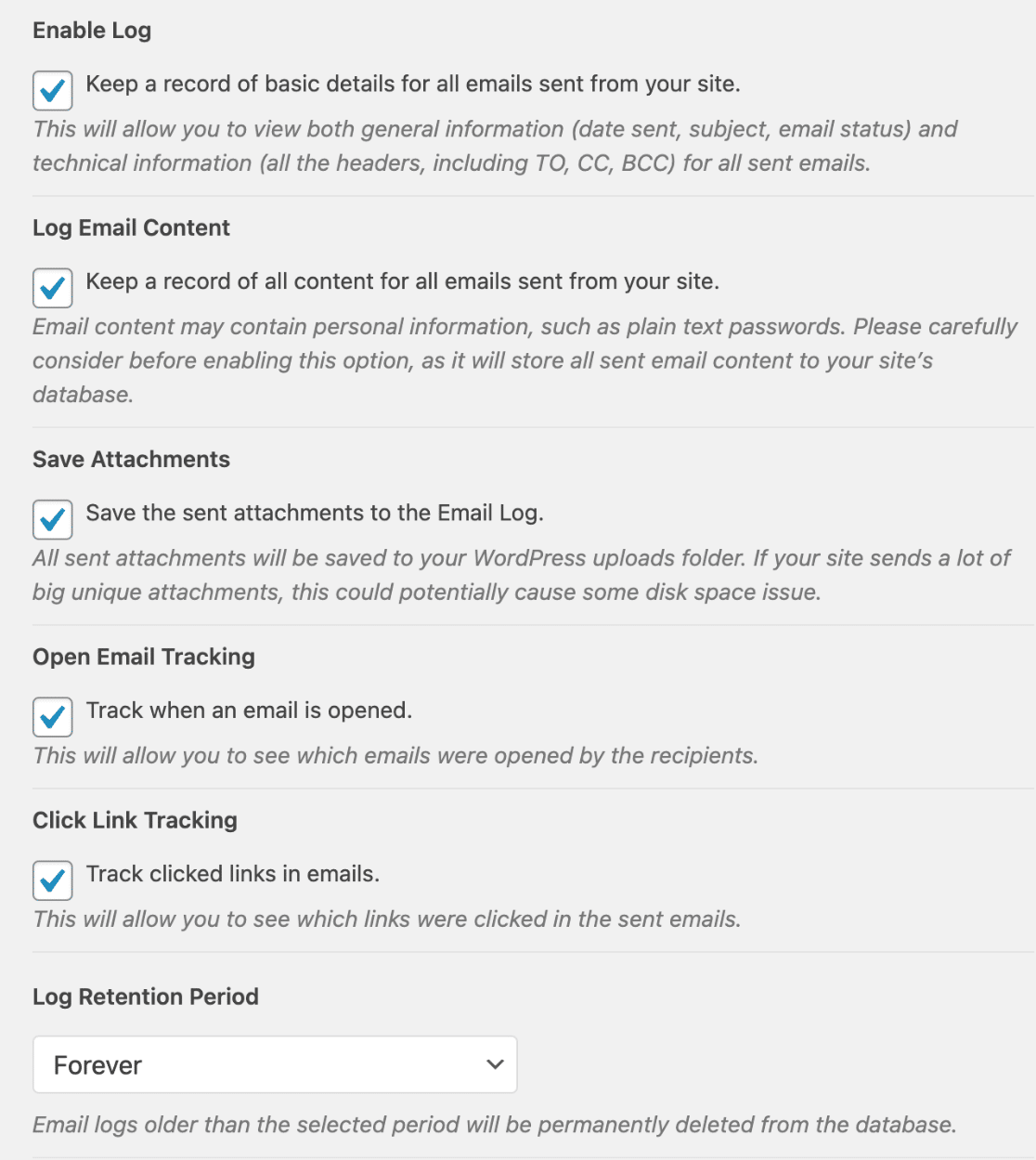 Email Failure Alerts add another layer of assurance. Instead of being in the dark about undelivered emails, users get timely notifications, enabling prompt corrective actions. This proactive approach significantly reduces email downtime.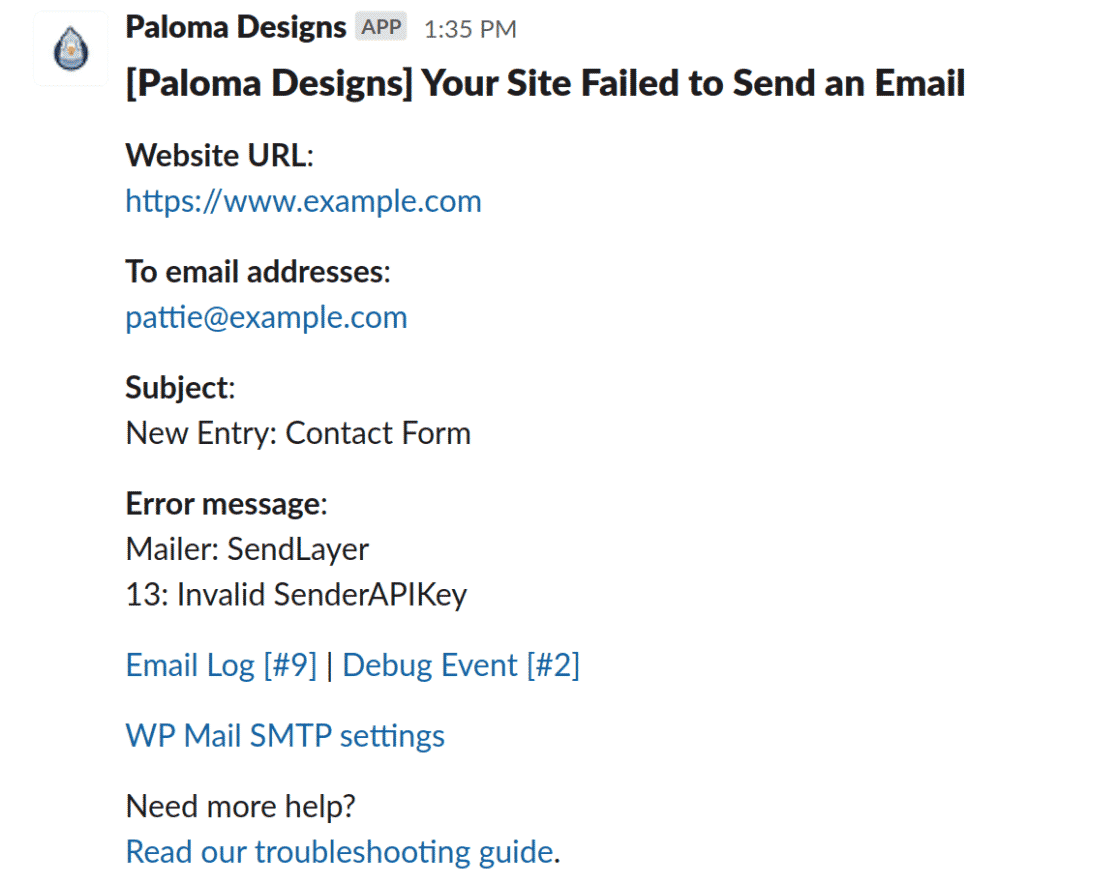 Backup Connections and Smart Routing are true game-changers. While the former ensures your emails have a secondary path to rely on if the primary one fails, the latter offers advanced routing options based on specific conditions. This advanced control over email delivery is unmatched, making WP Mail SMTP Pro a leader.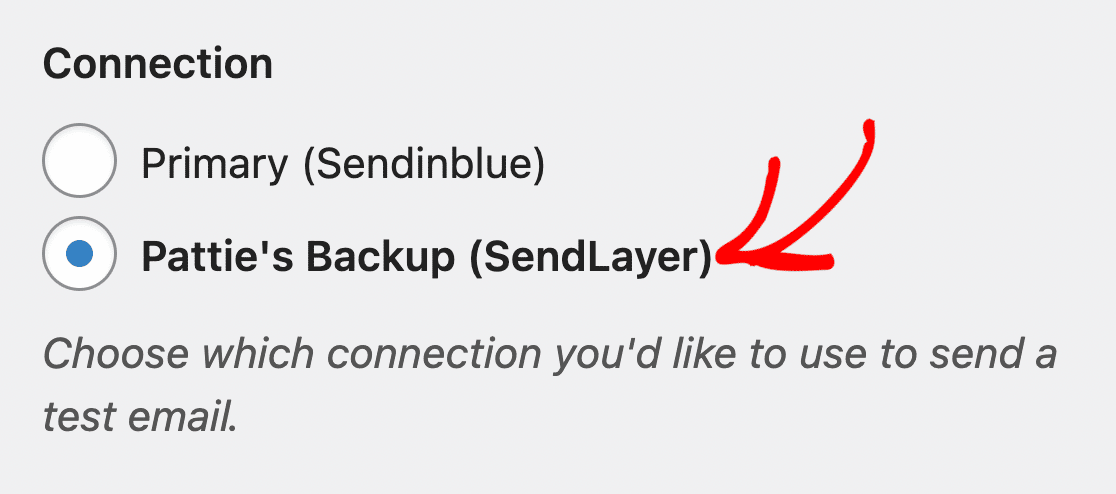 5. SMTP Mailer Integrations
Integrations form the backbone of an SMTP plugin's efficiency. By seamlessly connecting with an array of mailer services, they determine the breadth and quality of the plugin's service.
FluentSMTP
FluentSMTP, aiming for an inclusive approach, offers a decent spectrum of SMTP mailer integrations. With support for popular services like Mailgun, SendGrid, and Amazon SES, it provides a foundational range for its users.
The plugin's focus on reliability ensures these integrations work without hitches, enhancing the emailing experience. Nevertheless, the extent of its integrations still pales against some competitors, notably WP Mail SMTP.
WP Mail SMTP (Lite & Pro)
While WP Mail SMTP Lite accommodates numerous popular mailers, such as SendLayer, SMTP.com, Brevo (formerly Sendinblue), Google Workspace/Gmail, Mailgun, Postmark, SendGrid, SparkPost, and Other SMTP, it's WP Mail SMTP Pro that elevates the mailing experience by introducing even more specialized mailers, such as:
Amazon SES: Among WP Mail SMTP Pro's options, Amazon SES stands out for its dependability and dynamic scalability. It is specifically made to let developers and marketers send bulk, transactional, or marketing emails with ease.
Microsoft 365 / Outlook.com: The incorporation of Microsoft 365 / Outlook.com mailer guarantees smooth email authentication for enterprises in light of the expanding digital workspace. It combines the functionality of WP Mail SMTP Pro with the strength of Outlook's interface.
Zoho Mail: Businesses' mailing requirements grow as they do. With its superior mail management functionality and professional looks, Zoho Mail has become a popular option for customers of WP Mail SMTP Pro.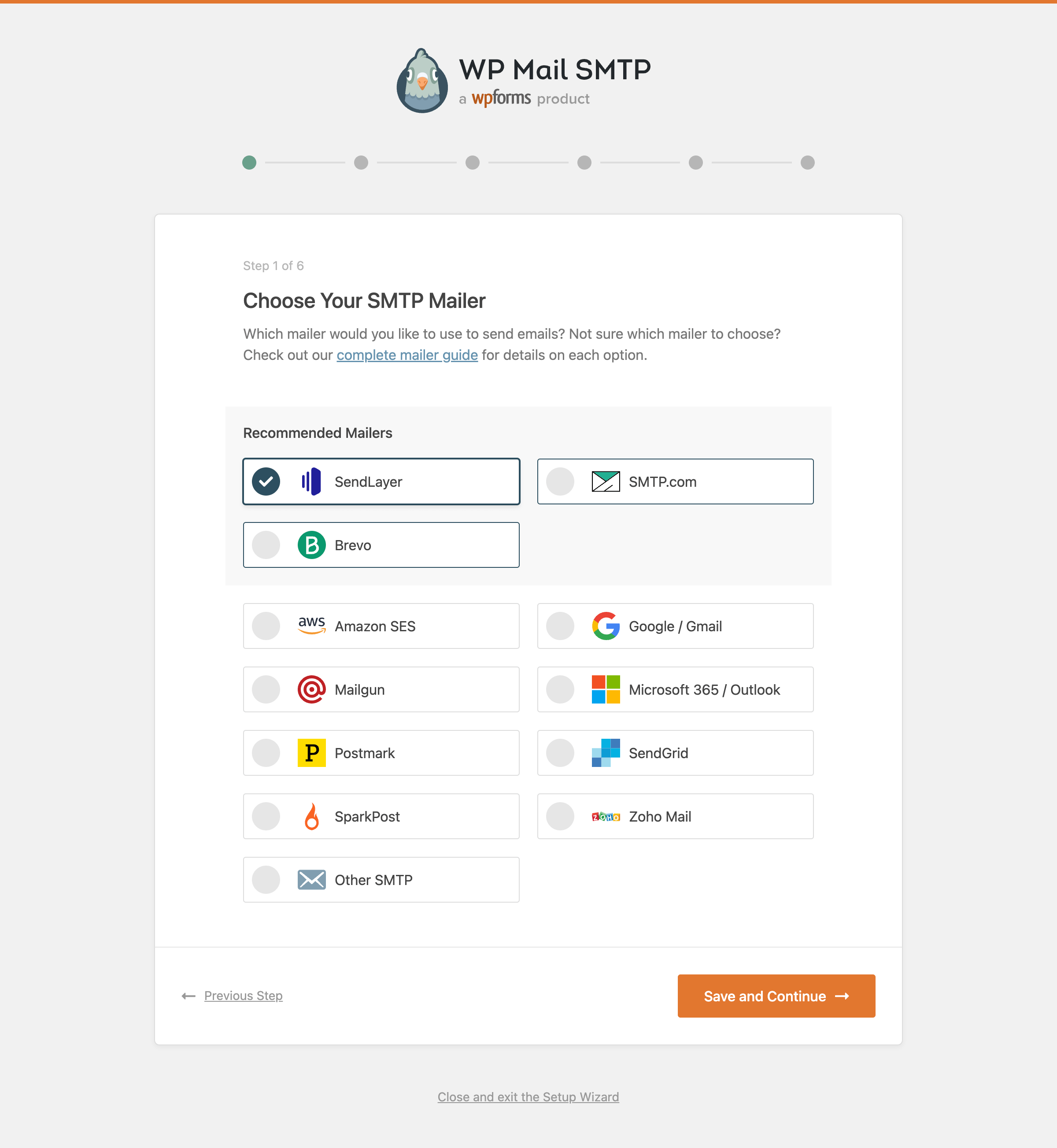 For those weighing the value of Pro against its cost, a simple peek into its vast array of mailer options provides a clear answer.
6. Customer Support and Documentation
The true value of a plugin often shines through in moments of trouble, specifically when users need guidance or face issues. Here's how FluentSMTP and WP Mail SMTP weigh in these crucial aspects.
FluentSMTP
FluentSMTP strives to make its user experience as smooth as possible. They have curated a reasonably detailed knowledge base, which assists users in navigating the most common challenges.
The community forum on the WordPress repository offers a platform for users to share concerns and solutions. Their team, though responsive, sometimes might not be as swift as larger, more established competitors.
While FluentSMTP offers commendable support for a free plugin, there remains room for enhancement in terms of depth and immediacy.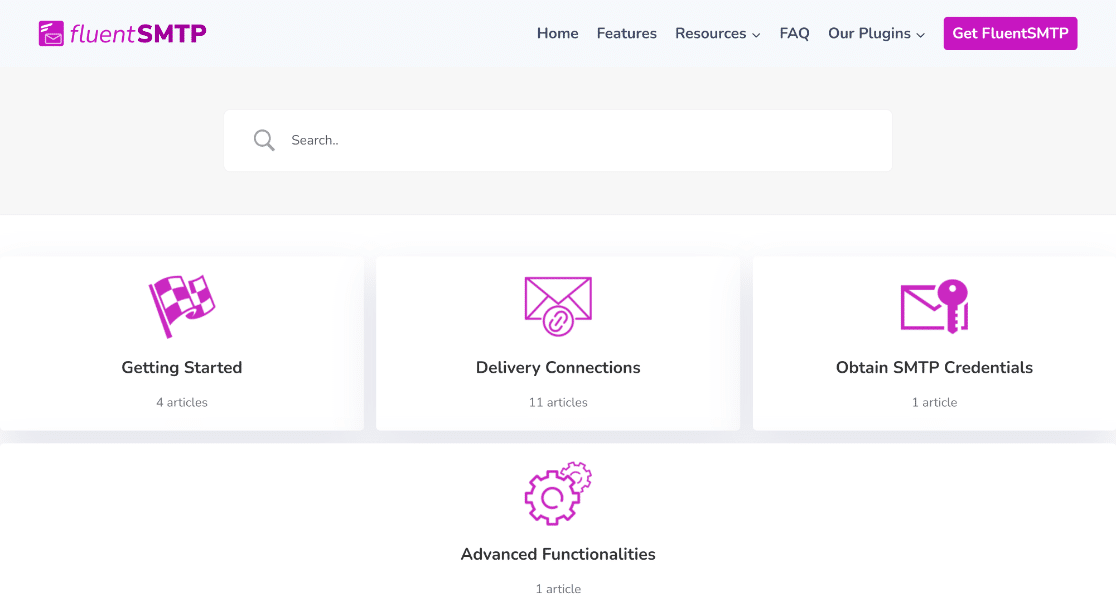 WP Mail SMTP (Lite & Pro)
WP Mail SMTP, both in its Lite and Pro versions, sets a high bar in customer service and documentation. Their extensive documentation library, structured with clarity, empowers users to troubleshoot issues or optimize the plugin's usage.
Furthermore, the dedicated support forum facilitates prompt interactions, ensuring that users aren't left stranded for long. The Pro version amplifies this experience further, offering premium support with a quicker turnaround and deeper expertise.
Their commitment to user satisfaction remains unwavering, with continuous updates to documentation and a support team that genuinely cares, making WP Mail SMTP a beacon in customer-centricity.
| | WP Mail SMTP Lite | WP Mail SMTP Pro |
| --- | --- | --- |
| WordPress.org support | ✓ | |
| Ticket support | | ✓ |
| Typical response time | 1-3 business days | ~1 business day |
As a Lite customer, you will always receive support for the WP Mail SMTP Lite plugin via the WordPress.org forum. However, if you upgrade to Pro, you can get help even faster by opening a support ticket right from your WP Mail SMTP account.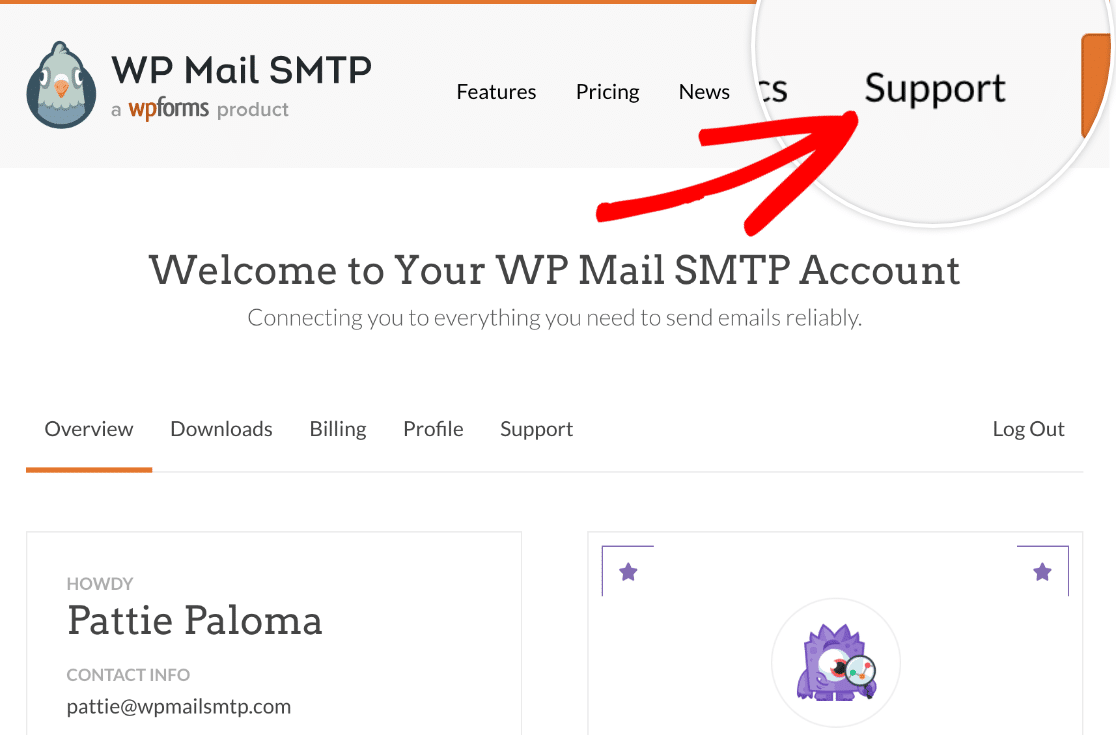 7. Community and Real User Reviews
In the WordPress ecosystem, community feedback and genuine user reviews are a trustworthy compass for gauging a plugin's authenticity and effectiveness. Here's how FluentSMTP and WP Mail SMTP compare in these crucial aspects.
FluentSMTP
FluentSMTP, being a newer entrant in the SMTP plugin arena, has undoubtedly made its mark. With over 100,000+ active installs, it's evident that a segment of users appreciates its offerings.
The 4.8-star rating from 169 reviewers vouches for its quality, with users often praising its user-centric approach and robustness. As the plugin evolves, this community might expand, and reviews may further diversify.
However, the breadth of its community, at present, doesn't quite match some of its long-standing competitors, like WP Mail SMTP.
WP Mail SMTP (Lite & Pro)
WP Mail SMTP's stellar reputation is reflected in its numbers. With a whopping 3+ million active installations, it's not just popular but widely trusted.
Its 4.8-star rating is not just from a handful but from an impressive tally of over 4,000+ users, attesting to its consistency in delivering quality.
User testimonials on the WordPress.org plugin repository frequently highlight its ease of use, extensive integrations, and unparalleled support.
Such massive endorsement and trust from the WordPress community set WP Mail SMTP apart, stamping its authority as a preferred SMTP solution for many.
Final Verdict: FluentSMTP vs. WP Mail SMTP
Choosing the ideal SMTP plugin is vital to ensuring efficient email delivery for WordPress websites. FluentSMTP and WP Mail SMTP have both made their own ways and found their own places in the market. But some differences need to be made clear so that you can make an informed choice.
Firstly, while WP Mail SMTP Lite might be seen as a limited version, it's essential to understand its intent: to provide a quality, free SMTP solution. FluentSMTP certainly has commendable features, such as using multiple SMTP servers. However, it's not merely about being a free plugin but refining its available features.
WP Mail SMTP Lite, with its dedication to growth and adapting to user needs, showcases a development trajectory that's hard to match by FluentSMTP. The value proposition it offers is beyond features; it's about reliability, consistent updates, a professional support team, and, most importantly, a community of satisfied users.
And, when you pay for WP Mail SMTP, you're not just purchasing a plugin; you're investing in a solution that evolves with your needs, backed by a team whose priority is your satisfaction. Therefore, WP Mail SMTP still remains the top choice for those seeking the very best for their WordPress email solutions.
More Questions about FluentSMTP vs WP Mail SMTP
Here are some common questions and their answers regarding FluentSMTP and WP Mail SMTP.
What is the difference between WP Mail SMTP and SMTP Pro?
WP Mail SMTP is completely free and includes everything you need to send emails from WordPress confidently! The Pro version comes packed with even more enhanced features like email logging, reporting, and better integrations, ensuring a more seamless and efficient email experience.
What is the easiest SMTP server for WordPress?
The ease of setting up an SMTP server for WordPress largely depends on the user's technical knowledge and the specific needs of their website. However, with its intuitive setup and broad compatibility, WP Mail SMTP is often recommended for users who want a straightforward solution without compromising on functionality.
Is Fluent SMTP free?
Yes, Fluent SMTP has a free version available. It offers email routing and integrates with various SMTP services. While it's a solid option, some users might find the additional features and support offered by premium options like WP Mail SMTP to be worth the investment.
Is WP SMTP necessary?
While WordPress can send emails out of the box, there can be deliverability issues. Using an SMTP plugin like WP Mail SMTP helps ensure emails reach their intended recipients by improving deliverability. So, while it's not strictly "necessary", it's highly recommended for websites that rely on email communications.
Next, Read Our Detailed WPForms Review
Want a form builder that can help you make contact forms, payment forms, shopping forms, and more? One that works perfectly with WP Mail SMTP? Well, WPForms is the right choice for you! For more information, read our full review of WPForms.
Ready to fix your emails? Get started today with the best WordPress SMTP plugin. If you don't have the time to fix your emails, you can get full White Glove Setup assistance as an extra purchase, and there's a 14-day money-back guarantee for all paid plans.
If this article helped you out, please follow us on Facebook and Twitter for more WordPress tips and tutorials.