Do you want to read a full WPForms review to decide if this is the right form builder for you?
WPForms is one of the most popular WordPress form builder plugins. Over the years, it's had plenty of updates and feature additions, making it an extremely powerful tool.
In this WPForms review, we'll do a deep dive and evaluate the pros and cons of its main features and how they compare to those offered by top competitors.
What Is WPForms Lite?
WPForms Lite is the free version of WPForms. WPForms Lite includes many features right out of the box, which are usually only included in the paid versions of other form plugins.
For instance, WPForms Lite includes the following free features:
Unlimited forms and submissions
Email notifications for form entries
Spam prevention
Form management tools
Constant Contact integration
And more…
WPForms Lite has a near-perfect 4.9/5.0 star rating on WP.org, which indicates that the majority of users find this tool incredibly useful for their business needs.

Although WPForms Lite is an excellent form builder if you're just getting started, you might want to get more value out of your forms as your business grows.
This is where WPForms comes in, with all of its super cool extra features.
Let's now take a look at these features so we can make a fair judgement if a paid WPForms subscription is worth it.
WPForms Review – Is It the Best Form Builder for WordPress?
Let's jump right in and consider the main pros and cons of WPForms.
Ease of Use
WPForms is arguably the most user-friendly form builder plugin on the market. As a no-code form builder, it has a visual interface taking up your whole monitor screen. This allows you to work without distractions and access all the form-building tools you need from the same window.
The form builder is divided into two sections: a left-hand pane where all your fields, options, and settings menus are located and a live preview of your form on the right.
To add a new field to your form or rearrange existing fields, you just need to drag and drop them into place.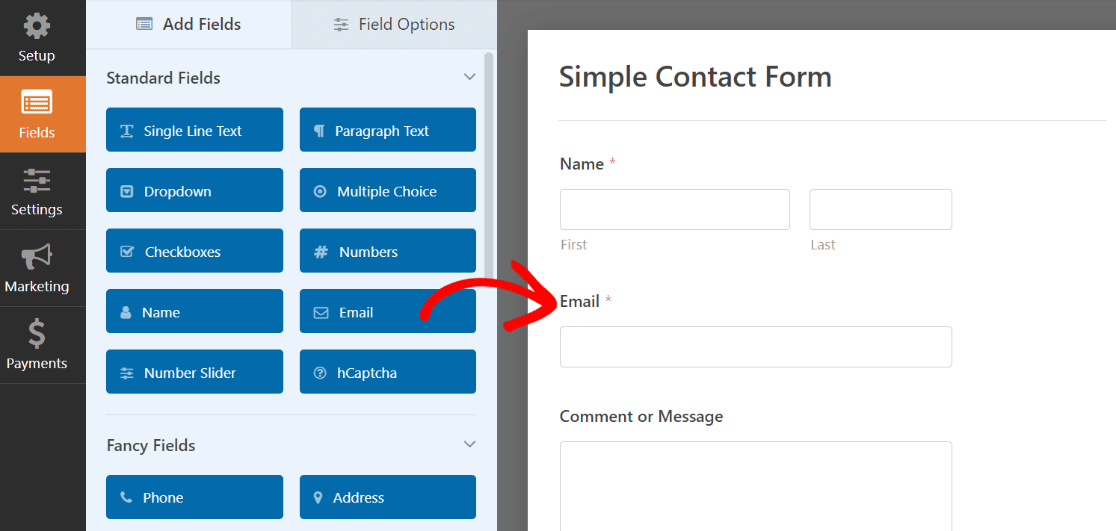 When creating or editing any form, you can select any one of the 1,200+ ready-made form templates to make your job even faster. All templates are 100% customizable, so you can change things until the form looks just the way you want it.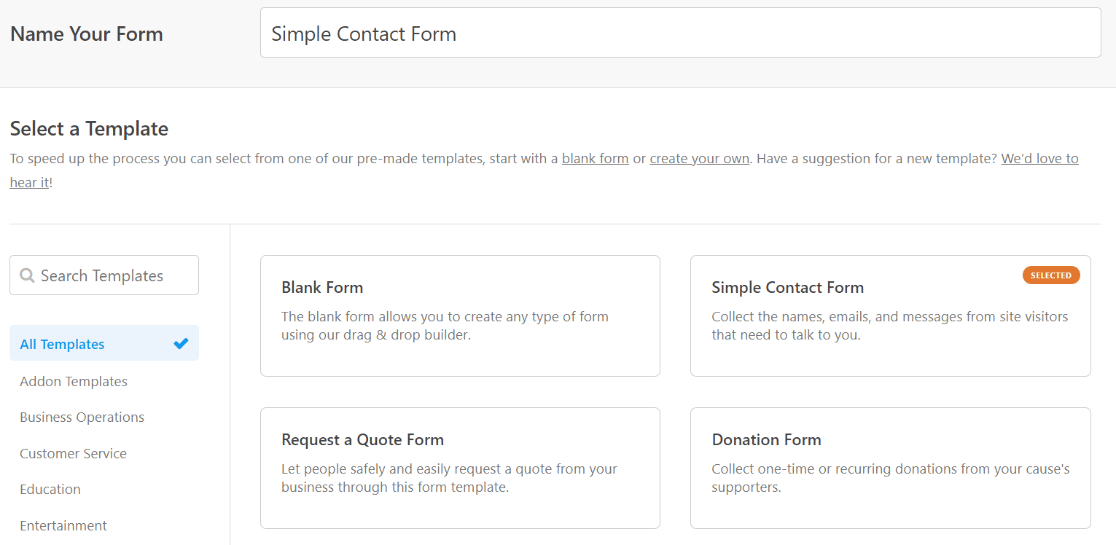 WPForms also stands out for its super easy form embed tool, which automatically adds a form to an existing page or creates a new page for you with your form inside it.
And if you prefer, you can also embed forms using shortcodes or using the blocker editor if you're on the WordPress Gutenberg editor.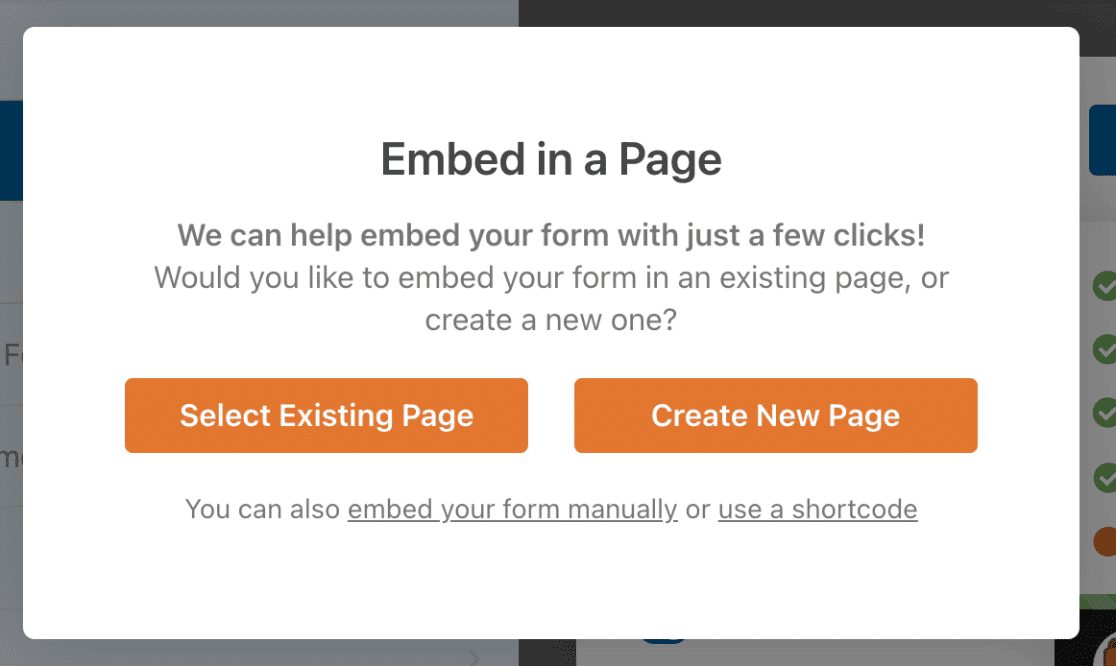 Most form builders only support embedding with shortcodes and blocks. This is one of the many reasons that WPForms stands out for its superior ease of use.
Features
WPForms Pro is a feature-rich form plugin that provides a huge degree of flexibility to users. In this section, we'll review the main features that WPForms is widely known for.
Payment Fields
WPForms allows you to make full-fledged payment forms without the need to add a shopping cart or other eCommerce functions to your site.
This makes WPForms a great option for small businesses and bloggers that want a simple solution to adding payment forms.
WPForms offers native integrations with popular payment gateways including PayPal, Authorize.net, Stripe, and Square.
You just need to integrate WPForms with your payment service (which is quick and straightforward) and then use the payment fields associated with a service in your form.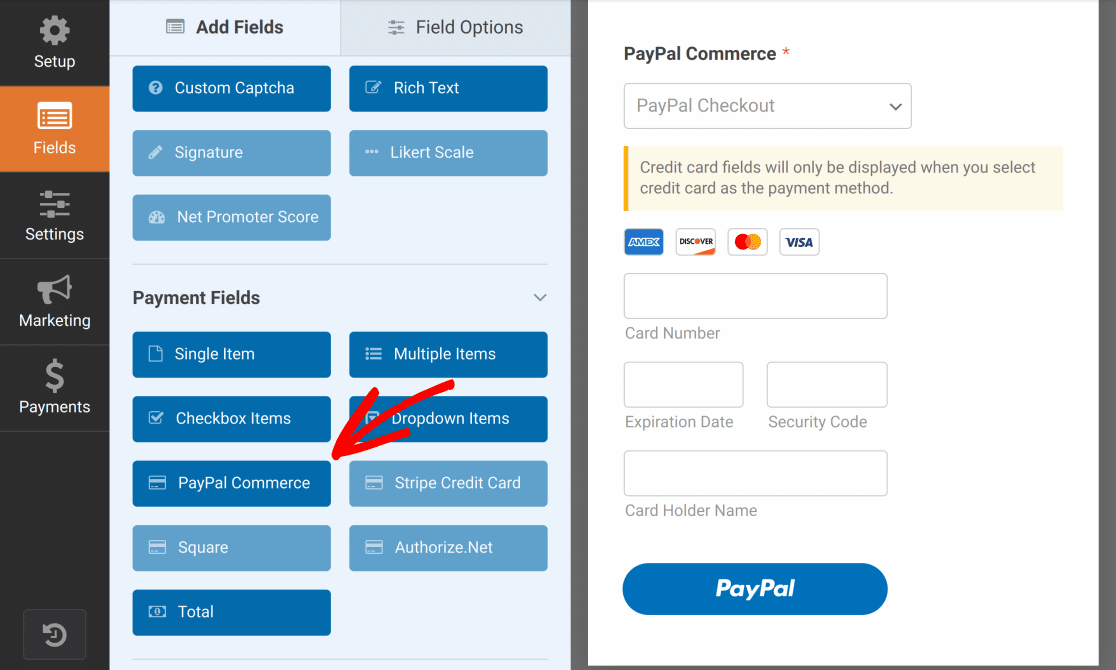 WPForms is equipped to handle all types of payment processing needs you may have. Whether you want to add a payment method for purchase order forms, sell digital goods, or take donations for your nonprofit, WPForms covers all possible scenarios single-handedly.
You can even give your customers the option to choose between one-time payments or recurring payments.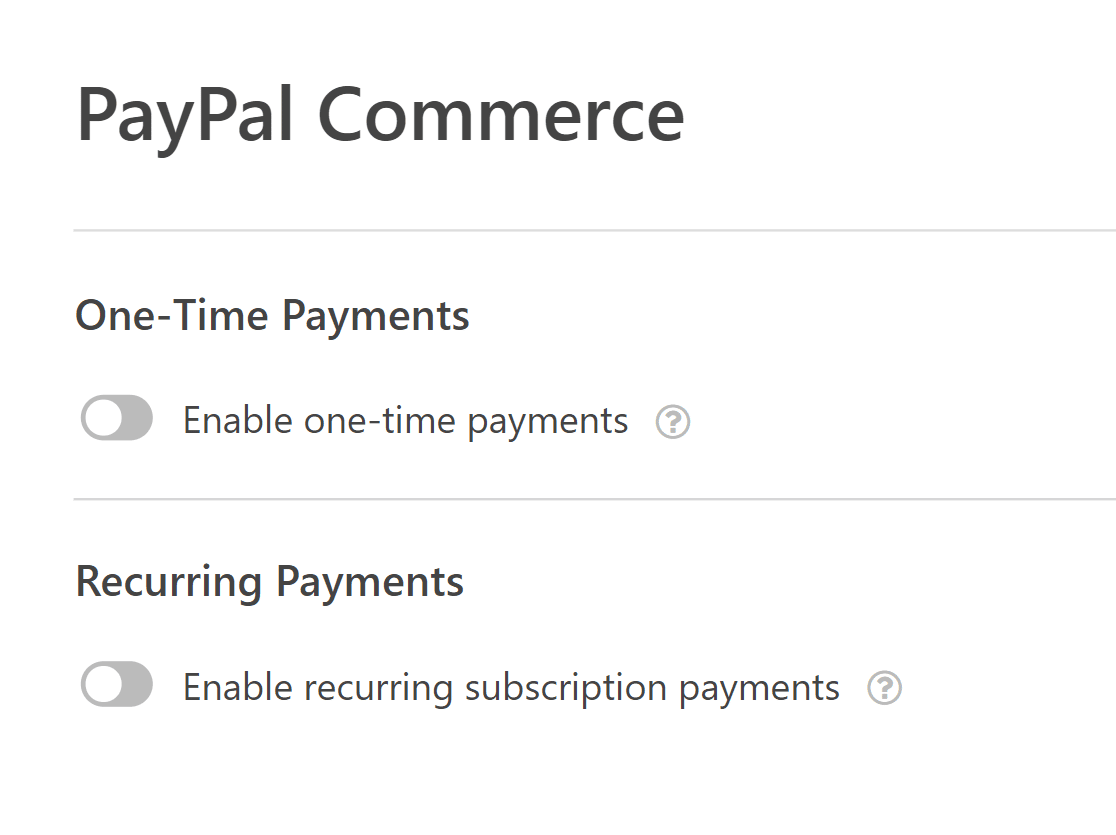 Overall, WPForms has extremely flexible payment capabilities, perfect for businesses of all types and sizes.
Entry Management
The paid versions of WPForms store all form entries right within your WordPress dashboard. You can access the complete details of all entries and even search for specific details within an entry.
In combination with email notifications for each new submission, the on-site entry management is great for making your workflow easier and more streamlined.
You can see a broad overview of the entries you've collected for any form.

And if you want to see further details for any specific entry, you just have to press View. From there, you can also perform actions like printing an entry, exporting form entries as an excel sheet, or resending notifications to a specific user.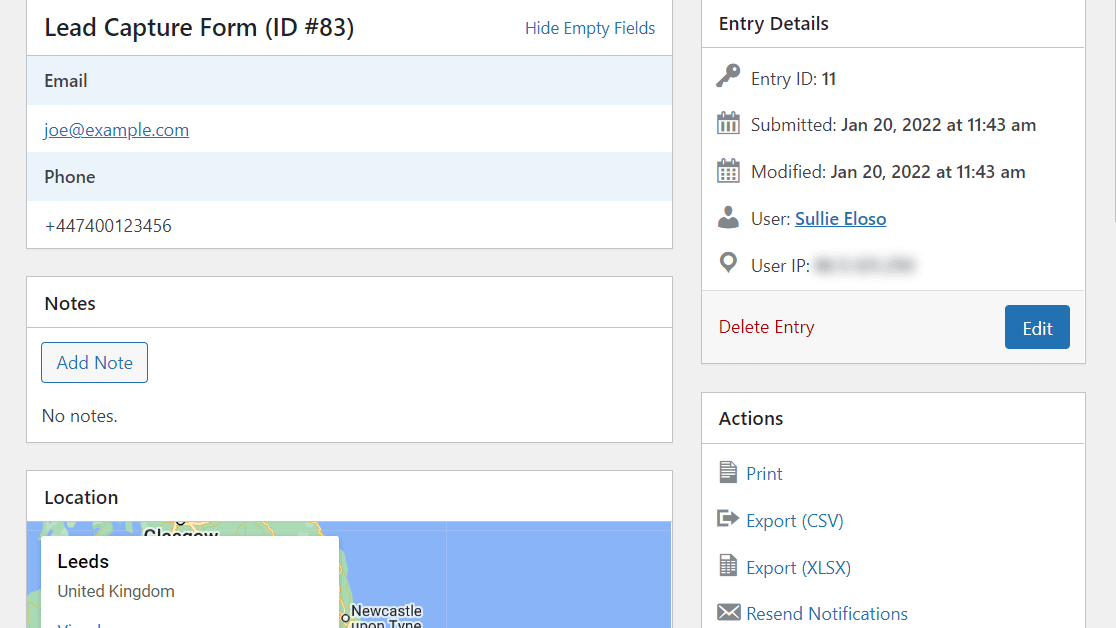 One of the best features of WPForms is that it can generate survey reports with easy-to-understand charts and graphs right within your WordPress dashboard. For this, you'll need the Surveys and Polls addon, which lets you run surveys, allow users to vote in polls,  and collect responses for deep analysis later.
All the data you need is right there on your WordPress site when you use WPForms to collect information.
Conversational Forms
Another really impressive feature is WPForms' Conversational Forms. Apart from the standard classical layout, WPForms also offers conversational forms also known as one-question-at-a-time forms.
This form layout has a sleek and modern appearance, and it increases submission rates and user engagement by displaying questions one at a time. That means users can comfortably fill out your forms without any distractions.
There was a time when Typeform was the only notable form builder that offered conversational forms. But considering that WPForms supports both classic and conversational form layouts and costs significantly less than Typeform, we strongly recommend it as the best Typeform alternative.
Form Revisions
When creating your form, there's always a chance that you might press the wrong button or unintentionally remove the fields you need.
But rather than forcing users to build a form from scratch again, WPForms is one of the rare plugins that comes with a built-in revisions feature. As you make changes to your forms, WPForms will keep a record of your edits.
You can easily restore a previous revision of your form if anything goes wrong with the current version.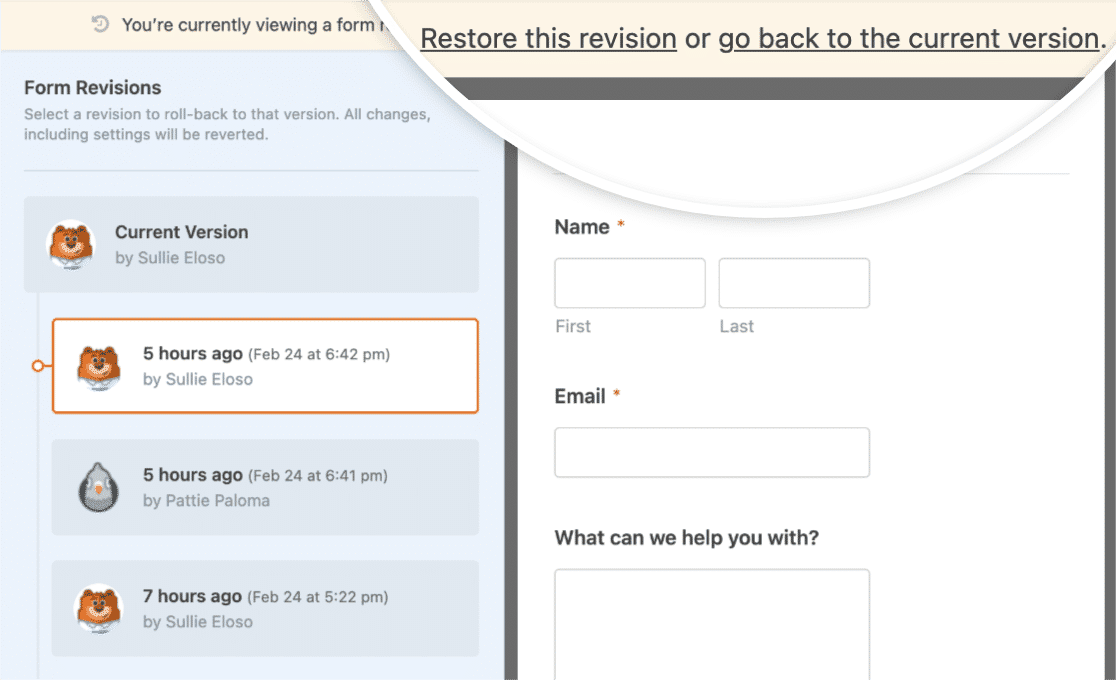 Form revisions offers a valuable safeguard to help prevent accidents and errors when editing a form.
Form Abandonment
Abandonment is a major issue that every website faces when it comes to online forms. The problem is more pronounced for longer forms that are more time-consuming for users to field.
WPForms has a unique solution to this. In the event that a user leaves your form before pressing submit, you can still capture a partial entry. The Form Abandonment addon works remarkably well and accurately saves partial entries from abandoned forms. This way, you can still generate leads even if visitors quit midway.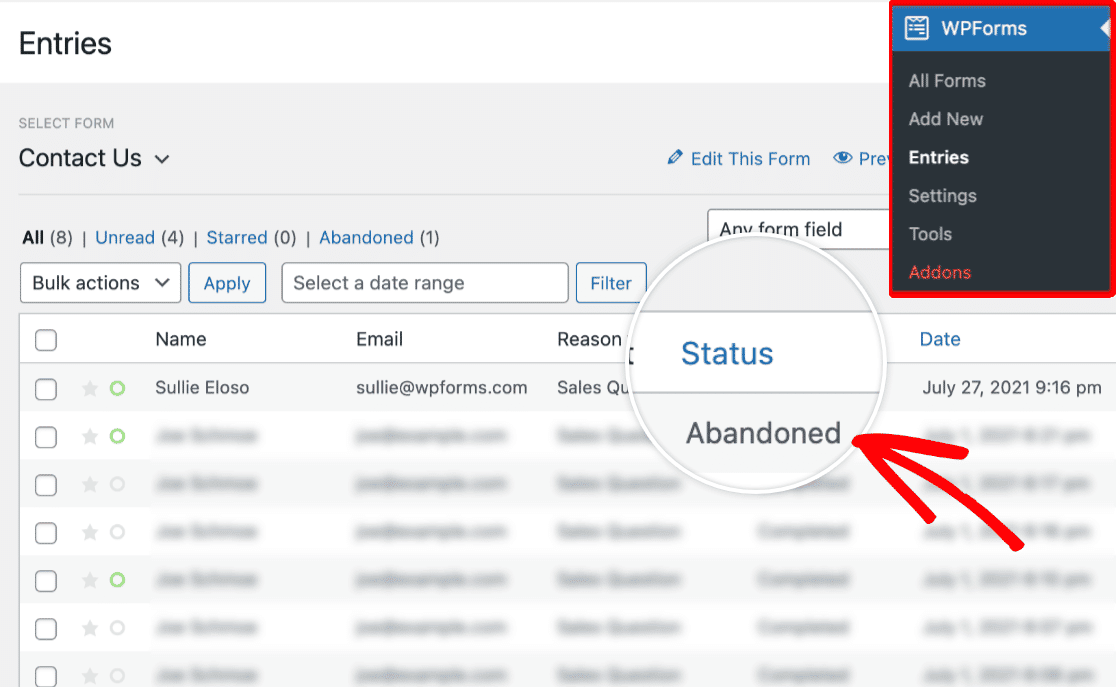 But that's not the only feature WPForms has for reducing form abandonment.
You can also use the Save and Resume addon which gives visitors the option to save their partially filled entry and return to continue filling later.
Combined with the capability to create multi-page forms with WPForms, you can use all these different tools and techniques to effectively boost conversions.
Anti-spam
Contact form is a huge problem that almost every website has to deal with. WPForms counters form spam in several different ways.
By default, it includes anti-spam tokens that work intelligently behind the scenes to determine if the user filling a form is a bot or a real person. This is an unobtrusive yet powerful spam filtering method that offers the best user experience.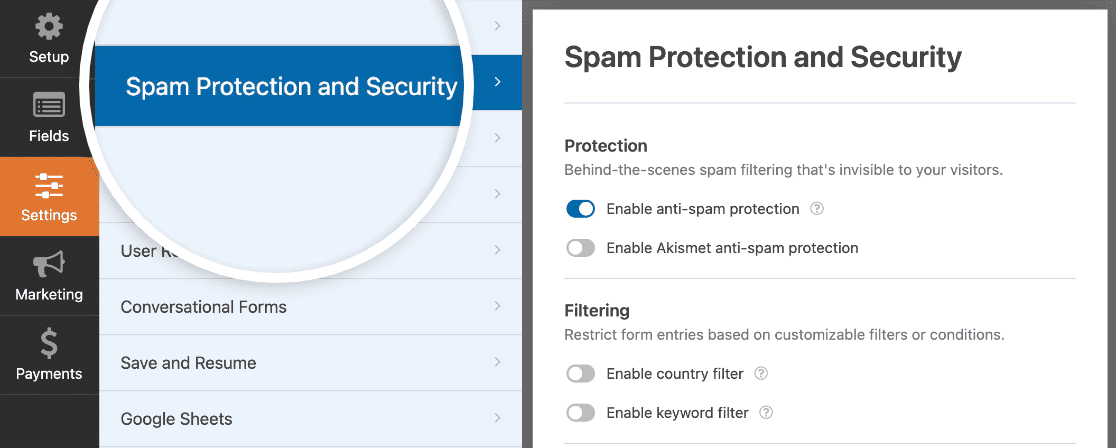 If that doesn't work for you, then you can use Akismet to prevent form spam. Akismet is the most popular spam filtering plugin for WordPress.
If Akismet is already active on your site, you don't need to do any further configuration to enable it on your forms. You can just press a button to add Akismet spam protection to any individual form on your site.
WPForms also supports hCaptcha and reCAPTCHA (both v2 and v3). Adding captcha to your forms is easy and effectively blocks most kinds of form spam. The drawback is that these aren't too user-friendly because they require people to solve image puzzles.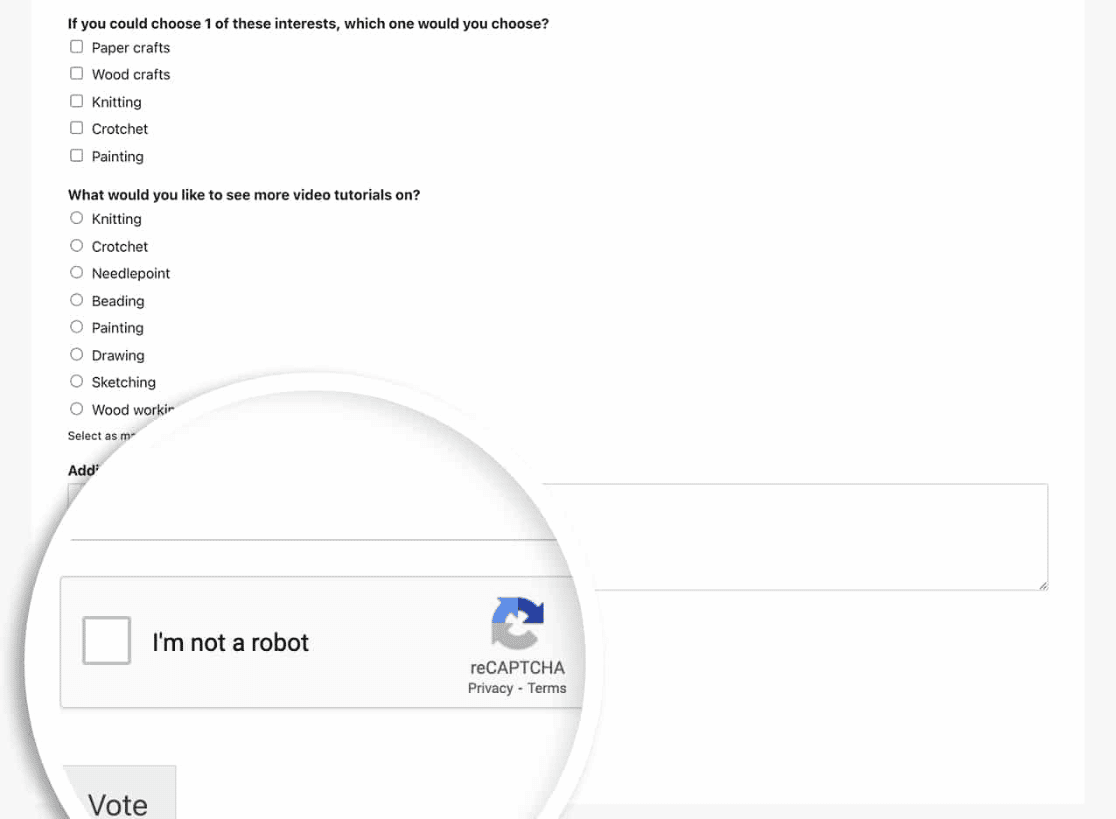 The good thing is that you can use puzzle-free captcha services like Cloudflare Turnstile with WPForms to create a better user experience.
Finally, WPForms also has a Custom Captcha addon, which lets you create custom questions like math sums that are easy for people to answer but not for bots.
Overall, WPForms clearly takes spam very seriously and has a wide range of tools at its disposal to combat it.
User Journey Tracking
Do you know how people are actually finding your forms? Normally, people may end on your forms after visiting several other pages on your site.
Knowing the journey of each user before they discover your forms can be really useful. It may reveal opportunities for placing your forms on more prominent areas of your site so that you can convert even more leads.
WPForms' User Journey addon displays the path your visitors take before submitting a form.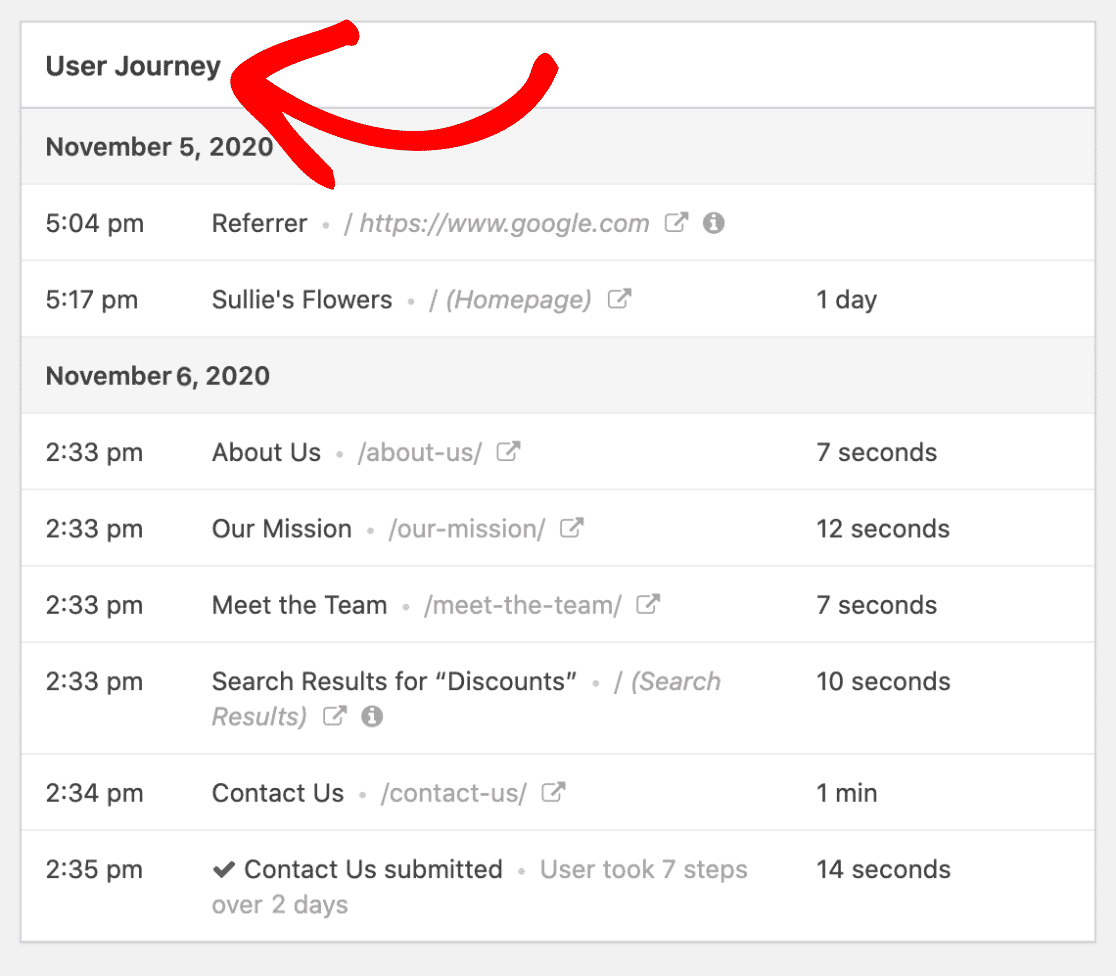 For marketers who like making data-driven decisions, the User Journey addon can be a gamechanger.
Form Lock
Often, you may have some forms that you wouldn't want to be accessible only by certain users. These could be registered members of your site, people over a certain age limit, or users with a verified email address.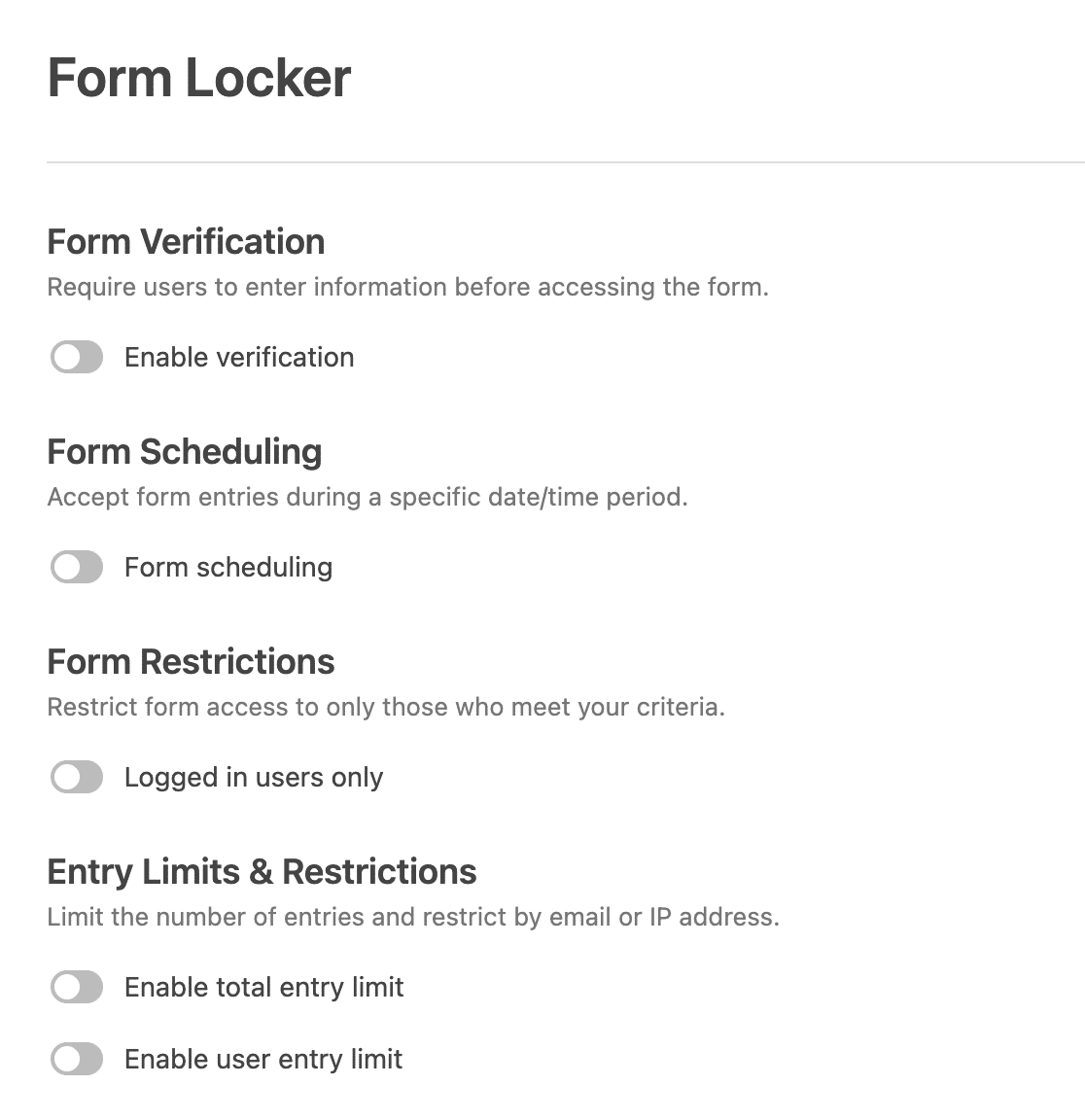 No matter the case, WPForms is equipped with form access features so you can control what kind of audience your form should be accessible to. You just need the Form Locker addon to add different kinds of restrictions to your forms as needed.
Extra Features and Addons
Apart from the features we've mentioned above, WPForms includes a wide range of extras and addons. Some of the most popular ones include:
User registration forms: Create custom registration, login, and password reset forms in WordPress.
Conditional logic: Show or hide specific fields based on responses to previous questions in a form.
Surveys and polls: Run surveys with Likert scale, Net Promoter Score, and other commonly used response measurement fields for accurate answers and see results in color-coded graphs. This makes WPForms one of the best survey plugins around.
Post submissions: Accept post submissions from the frontend without requiring a user to sign up to your site first. A great feature if you want to accept guest posts.
File uploads: Allow visitors to upload images and files in dozens of formats to your forms.
Electronic signatures: Capture signatures electronically from users with the touchpad or mouse.
Form pages: Create landing pages fully focused on your form for higher engagement and fewer distractions.
Save and Resume: Enable users to save a partial entry and return to it later to resume filling out your form.
Automation: WPForms integrates natively with popular marketing platforms and CRMs and also expands the range of automation capabilities to Slack and other apps via Uncanny Automator.
Plus, there are many more useful features, as you can in this WPForms' features page.
WPForms Support
One of the reasons why WPForms enjoys such high user ratings is the quality of customer support it offers. The WPForms website contains an extensive database of documentation with guides and tutorials explaining the use of all of its various features.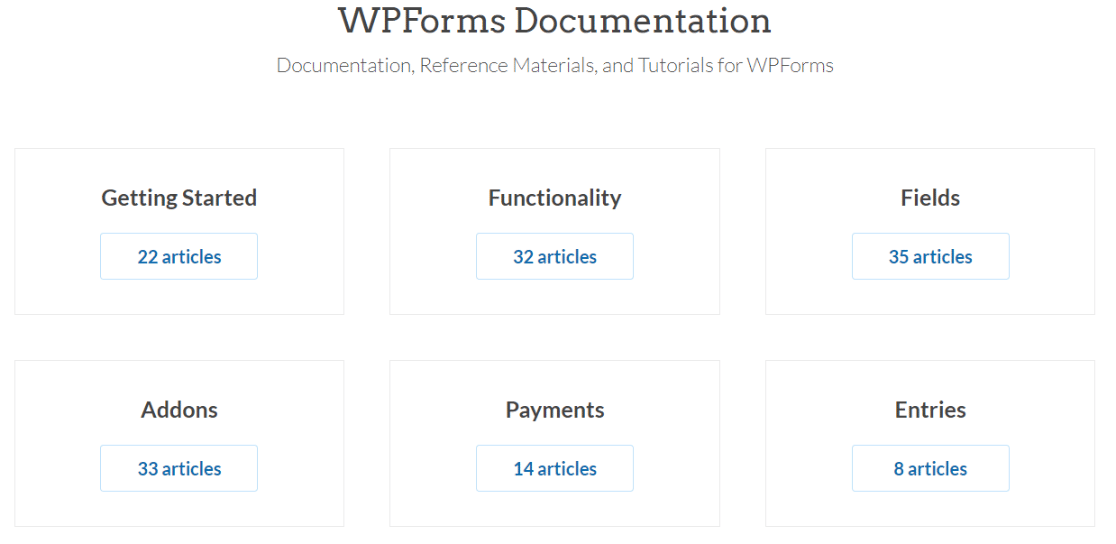 And if these guides don't answer your question, you can directly contact the support staff. Usually, you'll get a response in less than 24 hours. The support team is extremely helpful, and they stay in contact with you until your questions have been answered satisfactorily and any complaints have been resolved.

WPForms also has a very active Facebook group with about 17k members. It's a great place to ask questions about the plugin. There's always someone from the WPForms team around to answer your questions and discuss any issues you may be having.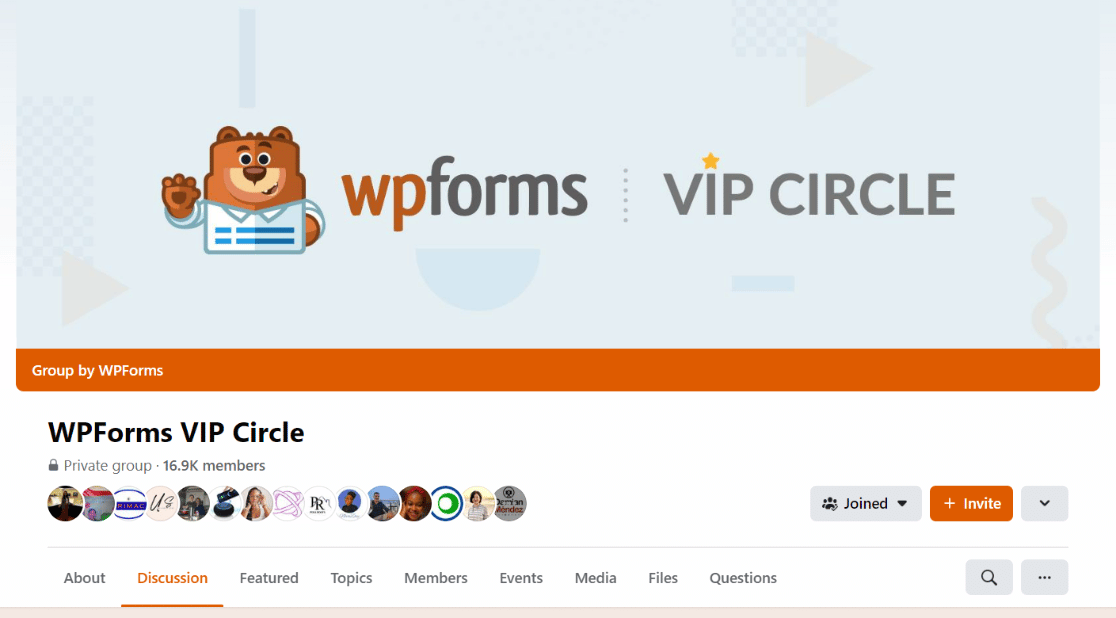 For paid users, WPForms priority support with response times as fast as 1 hour.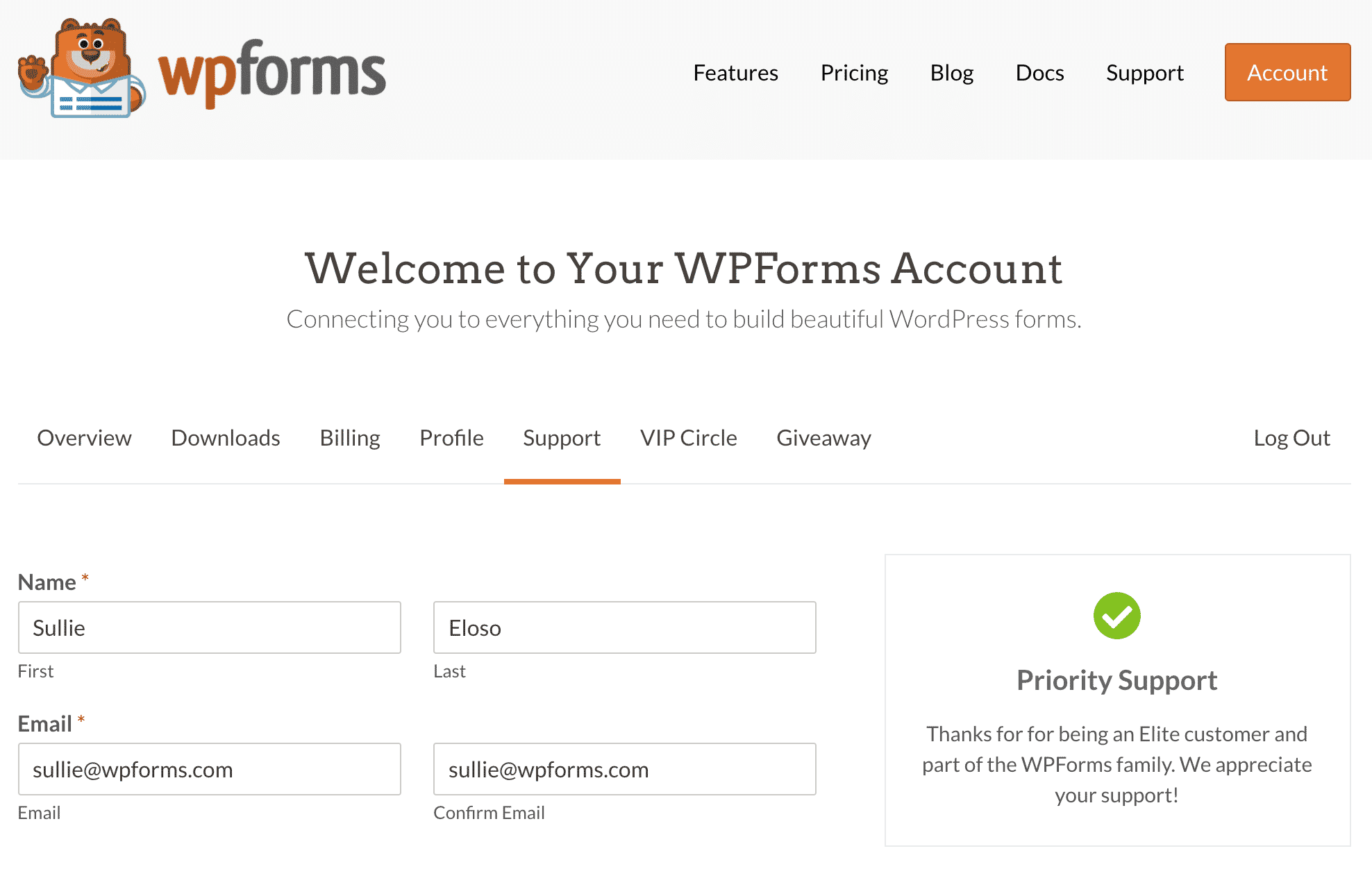 The variety of support options means there's always help available whenever you need it.
WPForms Pricing
WPForms is competitively priced in the WordPress space. It offers 4 different plans suited for all kinds of businesses:
All WPForms plans come with a 14-day money-back guarantee, so you can try it out without any risks.
WPForms Review

– Does It Offer a Good Value for Money?
There's no doubt that WPForms is a full-featured yet beginner-friendly plugin. It's competitively priced and offers excellent value for small businesses as well as established enterprises.
The main interface is designed for simplicity and focus. The whole process of creating and configuring forms requires the fewest clicks possible. And you have a live preview of your form on your screen at all times so you can observe any changes instantly as you make them.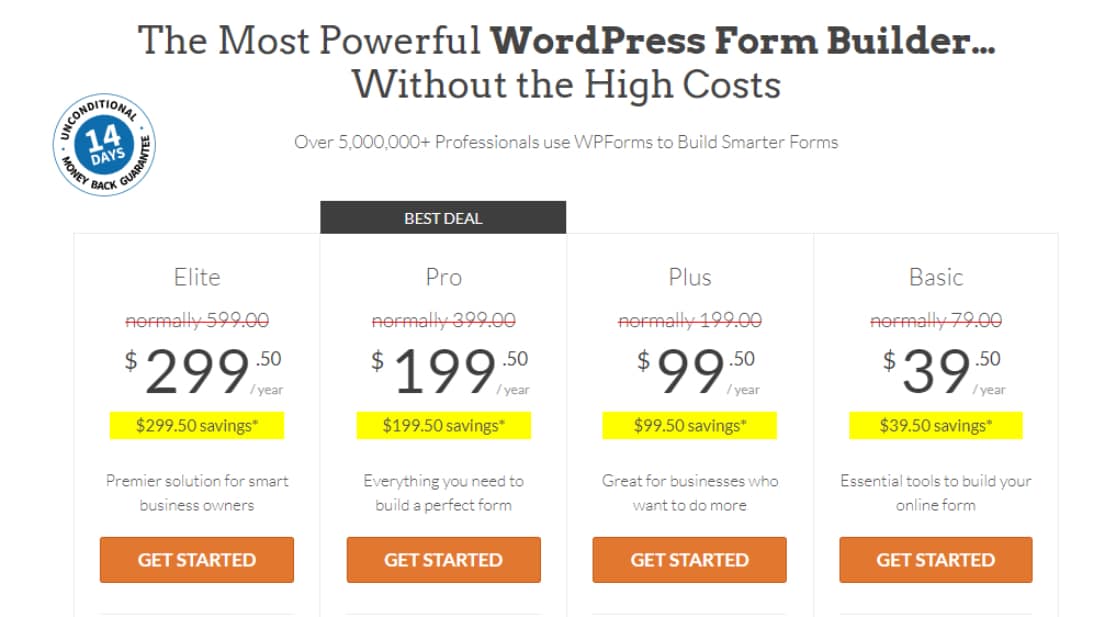 The features native to WPForms work as intended without any annoying bugs or glitches. Plus, the huge amount of these features allows you to create any form for any occasion and business purpose effortlessly.
Even the free version of WPForms includes many features that are only available as premium addons in competitor brands. For instance, form locator, form tags, and form revisions are rarely offered as free features, but WPForms comes with these features ready right out of the box.
For these reasons, we think WPForms offers the best value for money if you're looking for a powerful form builder for your WordPress site.
And that's all we have for you today. We hope this WPForms review surfaced all the important things to know about this plugin so you can make a more informed decision.
Next, Explore Stripe Payment Plugins
If you're selling products on your site, you probably need a reliable payment solution. Stripe is one of the most popular payment gateways that can be easily integrated with WordPress. Check out our guide on top Stripe plugins to see our recommendations.
Also, if you use MailerLite to run your marketing campaigns, you might want to see this list of the best MailerLite integrations for WordPress.
If you're having problems receiving email notifications from WPForms, make sure your site is configured to use SMTP for emails. WP Mail SMTP can help with that.
Ready to fix your emails? Get started today with the best WordPress SMTP plugin. If you don't have the time to fix your emails, you can get full White Glove Setup assistance as an extra purchase, and there's a 14-day money-back guarantee for all paid plans.
If this article helped you out, please follow us on Facebook and Twitter for more WordPress tips and tutorials.