Are you looking for the best MailerLite Integrations for WordPress?
MailerLite is one of the top email marketing services on the market. Along with its powerful email automation tools, it also offers nice email templates, signup forms, and many more useful features.
While MailerLite isn't a dedicated WordPress tool, it integrates very nicely with some of the leading WordPress plugins such as WPForms.
If you're wondering what the best MailerLite plugins for WordPress are, read on for the answer!
How Do I Connect MailerLite With WordPress?
There are two ways to connect MailerLite with WordPress.
Method 1: Use MailerLite's WordPress Plugin
MailerLite has a WordPress plugin that connects your site with your MailerLite account. To get started, you'll need to install the MailerLite plugin on your WordPress site and connect it with your MailerLite account using an API token.
Method 2: Use a Custom WordPress MailerLite Integration
Some WordPress plugins offer custom integrations with MailerLite. This is a better way to connect MailerLite with WordPress because you can take advantage of the plugin's unique features as well as those of MailerLite.
Effective email marketing campaigns require a way to collect leads or an email list, and a way to send emails effectively.
MailerLite is one of the better tools out there for covering the second part, which is sending emails to your list.
But while MailerLite does offer some forms and pop-ups that can help in collecting leads, there are a few plugins that do this better for WordPress websites.
We'll cover these in more detail in the next section.
The Best MailerLite Integrations for WordPress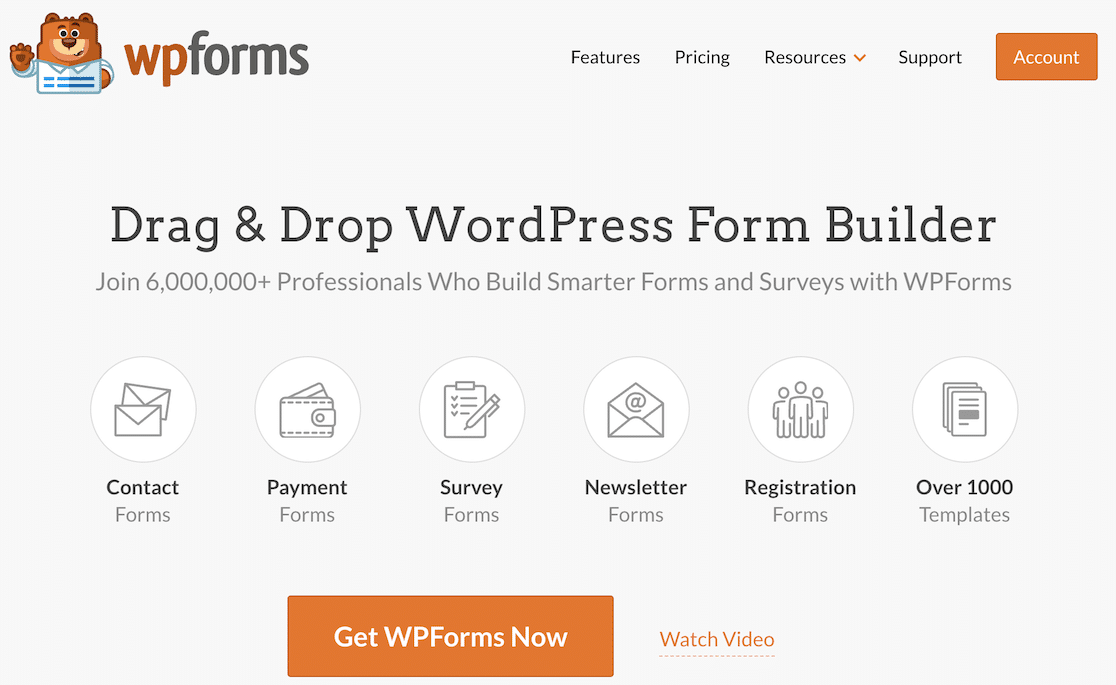 WPForms is the leading WordPress form plugin, and it offers users tons of useful form-building features. One of these is seamless integration with MailerLite, through its MailerLite addon.
For email marketing, you can use WPForms' lead capture form template and advanced form building features to collect email addresses in WordPress. You can then use MailerLite to segment these leads and automate your email marketing.
With lots of WordPress MailerLite plugins, you'll have to manually copy out your email list from WordPress into MailerLite, but with the WPForms MailerLite Addon, this process is seamless.
To connect WPForms with MailerLite, the first step is adding a MailerLite API key to the WPForms settings on your WordPress website.

Once this is done, you'll be able to set your forms up so that people who fill them get automatically added to your email lists in MailerLite.
This is really easy to do, and the entire process from adding a MailerLite key to configuring your forms takes just a few minutes with WPForms.
The MailerLite integration also allows you to map your WPForms form fields to MailerLite form fields so that lead collection and transfer are truly seamless.
And that's not all. You can also use advanced WPForms features such as conditional logic, to determine which leads to add to certain lists in MailerLite.
To get started, check out our guide on creating a MailerLite form in WordPress.
WPForms Conversion Optimization Features:
1,200+ form templates

Powerful drag-and-drop form builder
Easy in-dashboard form entry management
Conversational forms
Conditional logic
WPForms Pricing:
WPForms' MailerLite integration is available on WPForms Plus plans and above, starting at $99.50 annually.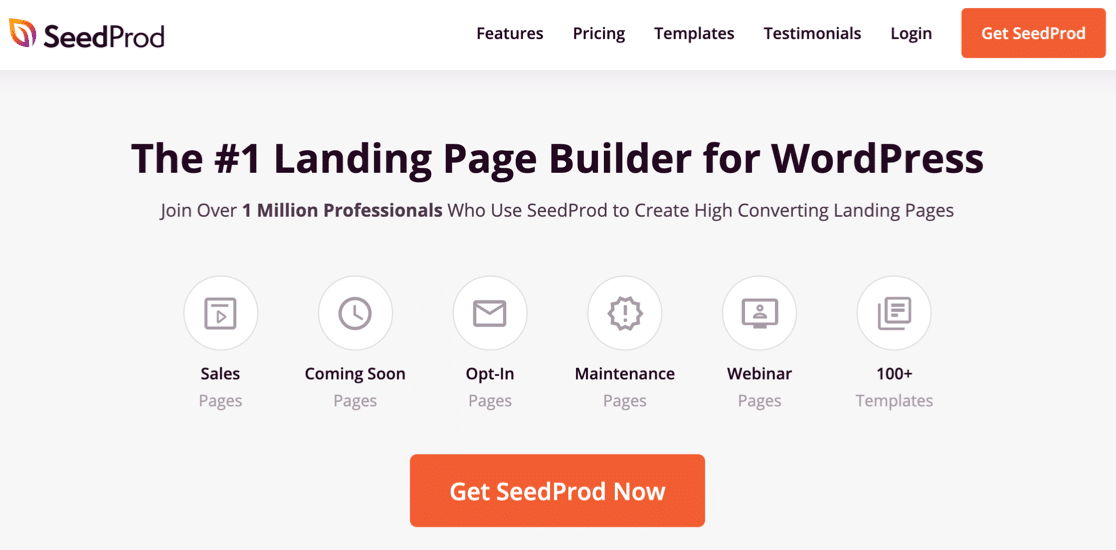 SeedProd is a landing page builder for WordPress that offers intuitive ways to build beautiful webpages and landing pages quickly.
So what does this have to do with MailerLite and email marketing? Here's the thing: While building a new website or landing page, or even while your website is in WordPress maintenance mode, you might want a way to let your website visitors sign up for updates or join your mailing list.
SeedProd offers a native MailerLite integration that allows users who sign up in this way to be added directly to MailerLite mailing lists.
SeedProd Conversion Optimization Features:
Easy opt-in options
Beautiful landing pages
Powerful drag-and-drop page builder
SeedProd Pricing:
SeedProd pricing starts at $39.50 annually.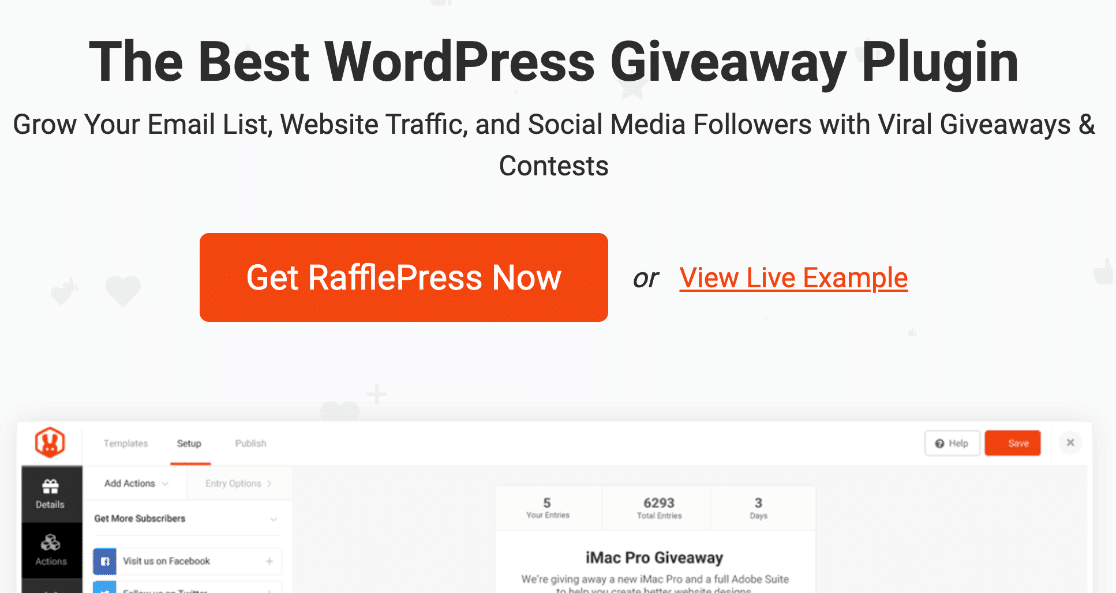 If you're looking for a MailerLite plugin for creating giveaways and contests that help you grow your mailing list, RafflePress is the one.
Contests and giveaways are great ways to attract some attention and then get people to give up their email addresses. Once you've built up an email list in this way, you'll want to build on this with an effective email marketing campaign.
You can connect RafflePress and MailerLite using RafflePress's MailerLite integration so that once users sign up and submit entries for contests or giveaways, you can have them automatically signed up to your MailerLite mailing list.
RafflePress Conversion Optimization Features:
1-Click entry
Viral sharing
Social media integration
Beautiful templates
Drag and drop interface
RafflePress Pricing:
RafflePress pricing starts at $39.50 annually.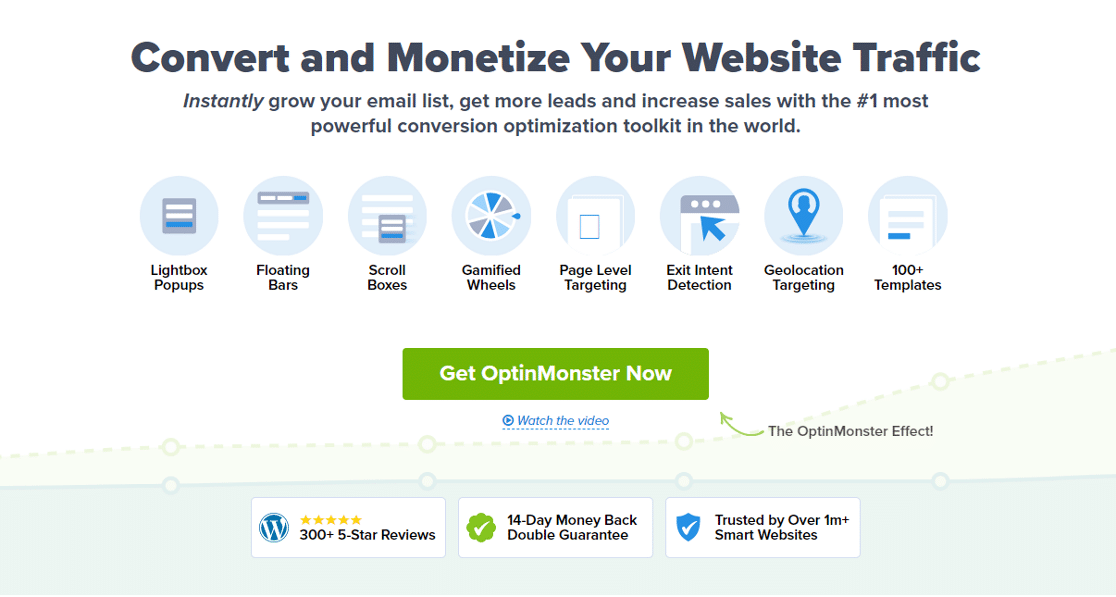 OptinMonster is the leading WordPress plugin for creating effective optin forms. As we've shown, forms are a great way to collect leads on your website, but if you would like to add a few more creative ways of doing this, try OptinMonster.
The plugin allows you to create and use appealing popups to capture emails and signups for your email campaigns, using prebuilt templates or its drag-and-drop form builder.
OptinMonster is great for applying effective lead capture techniques such as user intent marketing, onsite targeting, content upgrades, and so on.
Whichever way you choose to use it, the great thing is that your leads can be automatically added to your MailerLite mailing lists by activating OptinMonster's inbuilt MailerLite integration.
OptionMonster Conversion Optimization Features:
97+ Beautifully designed templates
Powerful drag-and-drop form builder
Exit intent marketing
Onsite retargeting
Page level targeting
Advanced traffic redirection
OptinMonster Pricing:
OptinMonster starts at $9 per month when billed annually.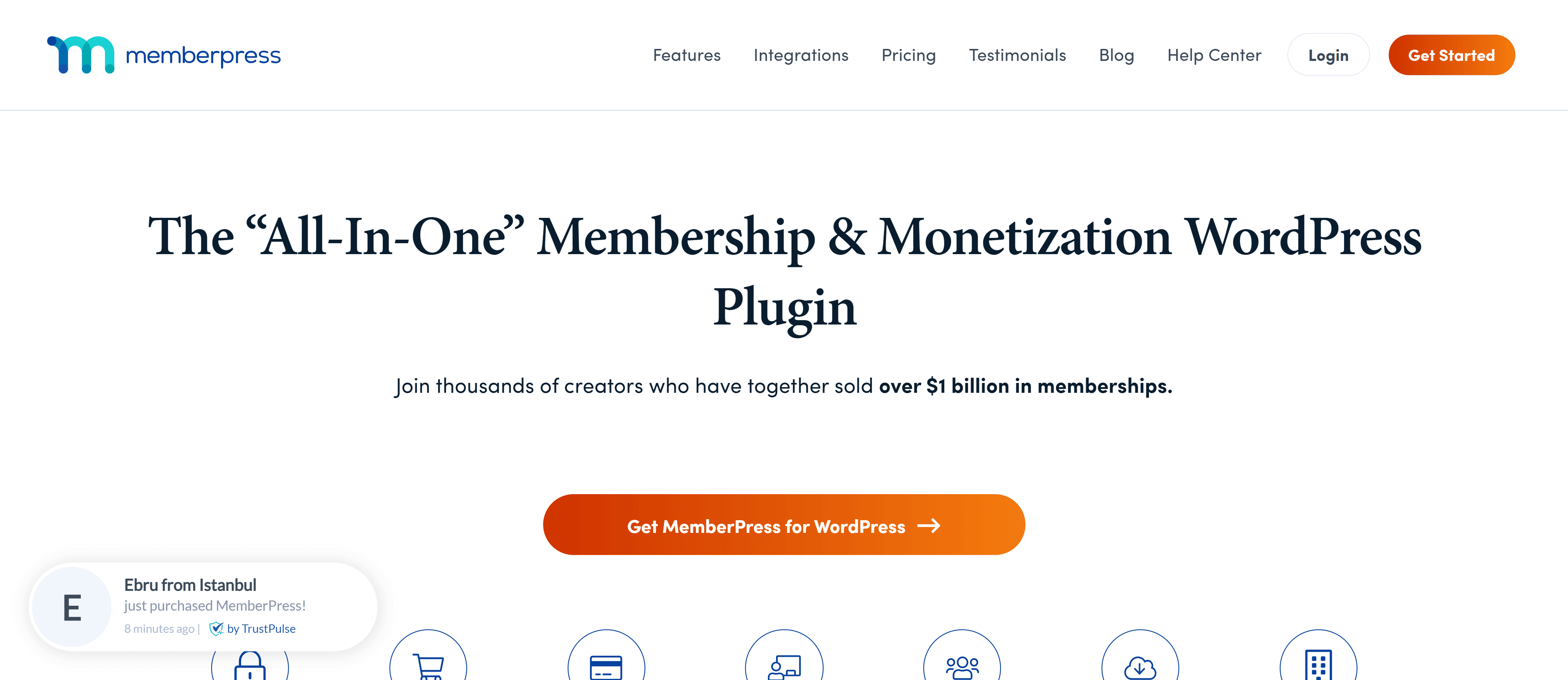 MemberPress is the leading WordPress plugin for creating membership sites. Whether you're building an online course website or just building some other type of online community, email marketing will be an effective way to collect leads and grow your website.
You can use MemberPress with MailerLite to increase your new subscribers, or just to implement some form of drip marketing to your current members. For example, users who finish a course can be sent emails with offers for further courses, books, mentorship, and so on.
MemberPress is a little different from the other plugins on this list as it doesn't offer direct integration with MailerLite. Instead, you'll have to use a third-party plugin like WP Fusion or Zapier to make the integration.
MemberPress Conversion Optimization Features:
Coupons
Drip campaigns
Paywalls
MemberPress Pricing:
MemberPress pricing starts at $15 per month.
Which of These MailerLite Integrations is The Best?
Which MailerLite integrations is the best? That depends on the specific lead conversion problem you're trying to solve. Each of the plugins we've covered is better used in certain cases than in others.
If you must get only one plugin from this list, though, we'd recommend WPForms. That's because WPForms' signup forms, along with a service like MailerLite, are a powerful combination for email marketing.
And in some cases, you can bypass solutions like MailerLite entirely. For example, all you may be looking to do is send mass emails to users of your website. If you'd like to try this, this guide to sending emails to all registered users in WordPress is a great place to start.
Next, Change the WordPress Notification Email Address
Receiving your WordPress notifications to your main email address might not be a great idea.
This is because WordPress tends to send out a lot of notifications. To prevent this, you can use a dedicated email address for WordPress notifications. Here's how to change the WordPress notification Email Address.
Ready to fix your emails? Get started today with the best WordPress SMTP plugin. WP Mail SMTP Elite includes full White Glove Setup and offers a 14-day money-back guarantee.
If this article helped you out, please follow us on Facebook and Twitter for more WordPress tips and tutorials.