Are you searching for the best web analytics tools to dig deeper into the performance of your website and make more informed decisions?
Selecting the best web analytics tool helps grow your website by providing vital information on traffic, user activity, and overall performance.
In this article, we've done the research and narrowed down the very best website analytics tools for you.
If you want to skip to the comparison table or our thorough analysis of the best web analytics tools, use the handy table of contents below!
What Are Web Analytics Tools?
Web analytics tools are software applications that help in the analyzing, tracking, and reporting of visitors to your website. They provide detailed insights into various aspects, such as popular content, user behavior, traffic sources, conversion rates, etc.
This, in turn, helps you gain a better understanding of your audience, their needs, their pain points, and their interests. As a result of this data, you can boost customer satisfaction and, consequently, the success of your business.
Quick Overview: Best Web Analytics Tools
Before we get started, here is a list of the best website analytics tools we'll be comparing in this article:
9 Best Web Analytics Tools to Use in 2023
When selecting the best web analytics tools, what works best for you will depend on your specific needs. However, certain tools can be considered popular choices for many website owners. We've provided a detailed overview of them below:
Google Analytics is the powerhouse of web analytics tools. It's an advanced system built to provide you with a complete understanding of your website's performance.
With Google Analytics, you can follow your users' actions from when they access your site from search engines and other channels to the point of conversion or exit.
It stands out from the crowd because of its capacity to integrate with other Google products like AdWords, Tag Manager, and Data Studio.
This compatibility broadens the analytic scope available to you, giving you the ability to build a strategy that is more data-driven and refined.
Our Experience
The tool provided us with insightful information about our target market that we would not have been able to obtain in any other way.
The ability to get real-time updates for traffic and user activity dashboard generated by GA4 really helped us get an idea on the user activity over time.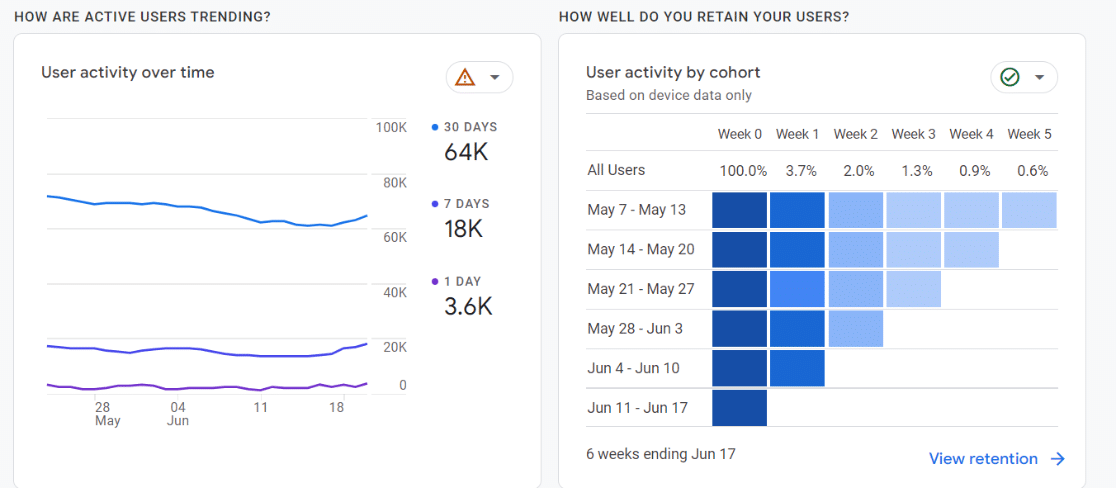 We loved that we could monitor avg time on the page, bounce rate, scroll percentages, and other metrics related to content performance.
Google Analytics also notified us if there was a sudden increase or decrease in the traffic volume, which enabled us to react rapidly to any changes.
To keep an eye on the KPIs that mattered the most to us, we could create custom reports and dashboards, which is quite impressive, to say the least.
Feature Breakdown
Robust Data Collection: Collects data from various sources, providing a comprehensive view of website performance.
Real-Time Reporting: Monitor website activity as it happens for immediate insights.
User Behavior Analysis: Understand how users interact with your website, from their visiting pages to their actions.
Integration: Works seamlessly with other Google products for a more comprehensive data analysis experience.
Customization: Create custom reports and dashboards to monitor the metrics that matter to you.
Audience Demographics: Learn more about your audience, including their interests, location, and more for proper segmentation.
Conversion Tracking: Monitor how often interactions lead to conversions.
E-commerce Tracking: Track transactions and understand shopping behaviors.
Pricing and Plans
Being the leading choice in web analytics tools worldwide, Google Analytics is completely free and only requires you to add the GA4 code to the header of your website to start recording data immediately.
Verdict
Google Analytics is a trustworthy and essential tool for any enterprise intent on understanding their online presence. The tool's comprehensive and real-time insights are priceless.
Matomo, previously known as Piwik, is a widely recognized web analytics tool that excels in offering comprehensive insights while preserving user privacy.
It provides you the control to store data on your own servers, making it a great choice for businesses operating under strict data protection laws.
Matomo is also known for its strong commitment to accessibility. Regardless of the level of expertise, users can easily navigate through the platform.
Our Experience
Our encounter with Matomo was genuinely remarkable. It offered an extensive range of information not apparent in alternative tools.
We were able to receive immediate insights into user behavior and overall website performance through a detailed dashboard.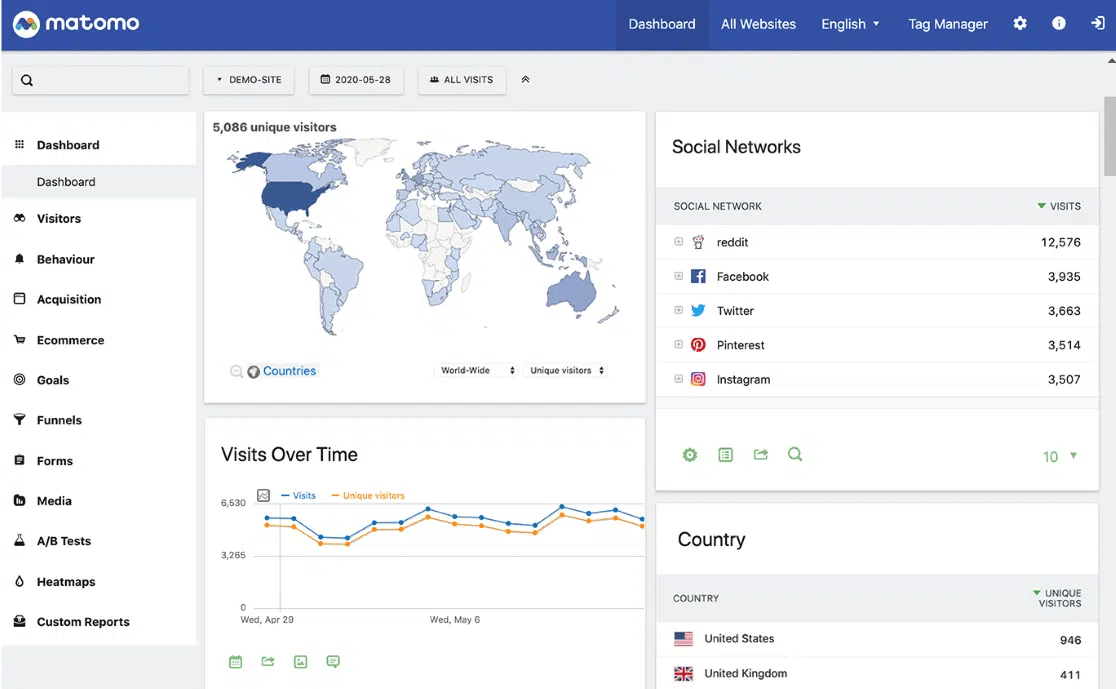 The privacy compliance features of Matomo were particularly praiseworthy. We could retain possession of our data, ensuring full authority over it.
The open-source nature of Matomo also enabled us to customize the tool to align perfectly with our specific analytics requirements.
Feature Breakdown
Goal Tracking: Sets specific objectives and monitors progress towards achieving them.
Geolocation: Helps in understanding the geographical distribution of website visitors.
Conversion Optimization: Enables detailed tracking of conversions to understand user behavior better.
Real-Time Data: Provides immediate insights into user behavior and website performance.
User-Friendly Interface: Easy navigation and operation, regardless of expertise level.
Versatile Integration: Seamless compatibility with multiple platforms.
Privacy Compliance: Keeps user data secure by allowing storage on own servers.
Open-Source: Allows for high customization to align with specific analytical needs.
Pricing and Plans
Matomo offers a free self-hosted version and for businesses seeking more advanced features and support, premium cloud-hosted plans are available at varied pricing levels, starting at $9.00/month.
Verdict
Matomo is a robust web analytics tool that provides extensive data insights while prioritizing user privacy. It stands out from the competition because of its adaptability to various analytics requirements.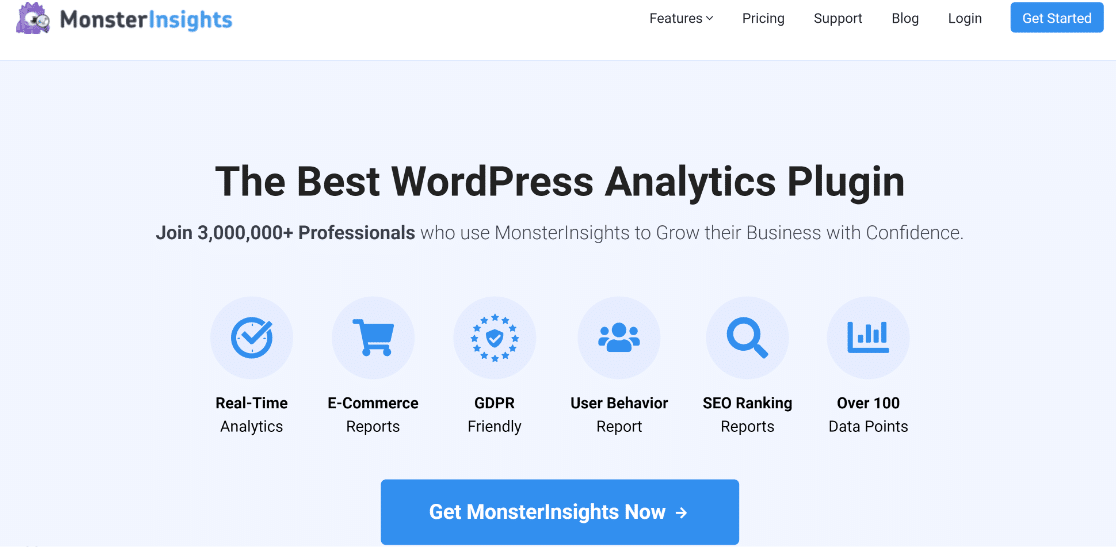 MonsterInsights is an effective and intuitive tool that has distinguished itself in web analytics, particularly for WordPress users.
As the best Google Analytics plugin for WordPress, it simplifies the complexity of website analytics, making data easily understandable for users.
Its all-encompassing reporting dashboards offer a crucial understanding of the performance of your website and areas that can be enhanced.
Our Experience
The ability to easily set up and view Google Analytics from our WordPress dashboard saved us time and provided a seamless user experience.
With real-time stats at our fingertips, we knew how well our website was doing. This instant feedback enabled us to react quickly to changes in traffic.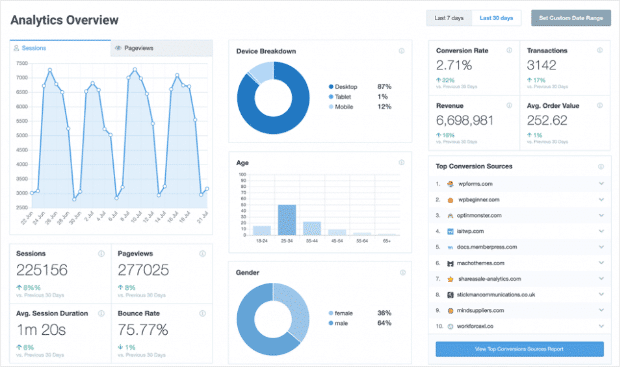 Furthermore, with e-commerce tracking, we could accurately monitor our online store's performance, including transactions, revenue, and most popular products.
The best part of all: we could even see which posts were performing among users, thanks to their popular post tracking feature.
Feature Breakdown
Search Terms Tracking: Gain insights into what users search for on your site.
Popular Posts Tracking: Identify which posts are most popular with your users.
Dashboard Reports: Get detailed reports right from your WordPress dashboard.
Real-time Stats: Stay updated on your website's performance with real-time statistics.
E-commerce Tracking: Keep track of your online store's transactions and revenue.
User Interaction Tracking: Understand how users interact with your content.
Referral Tracking: Discover how users find your site through referral tracking.
Simple Setup: No code is required for setting up Google Analytics on your WordPress.
Pricing and Plans
MonsterInsights has a free version with simple tracking tools that are great for people just starting out. If you want to use more advanced tools to look at how well your website is performing, there are plans starting at $99.50/year.
Verdict
MonsterInsights is an amazing tool for anyone who owns a WordPress site. It's easy to set up and offers comprehensive reporting and detailed insights, so it's an excellent choice for anyone who wants to understand and improve their online presence.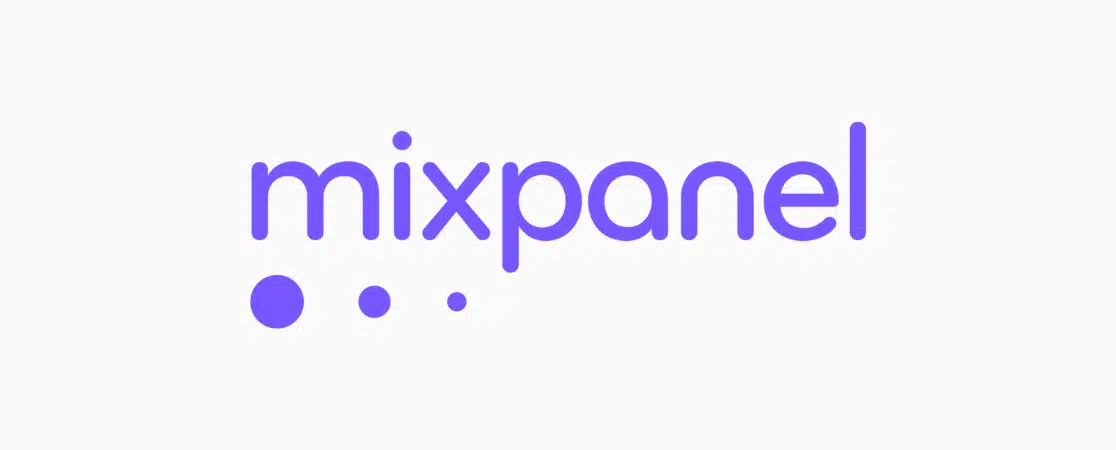 Mixpanel is a web analytics tool renowned for its user-centric approach, offering deep insights into user interaction and website traffic.
Whether it's identifying user behavior patterns, tracking events, or understanding user retention, Mixpanel provides a good perspective on your user engagement.
Offering strong A/B testing capabilities, Mixpanel also allows you to compare different strategies and measure their impact on website performance.
Our Experience
We were able to gain a new perspective on the performance of our website thanks to the tool's emphasis on action over pageviews.
You can also simply examine conversion rates and construct funnels with only a few clicks, which helps you gain detailed insight into the sales funnel.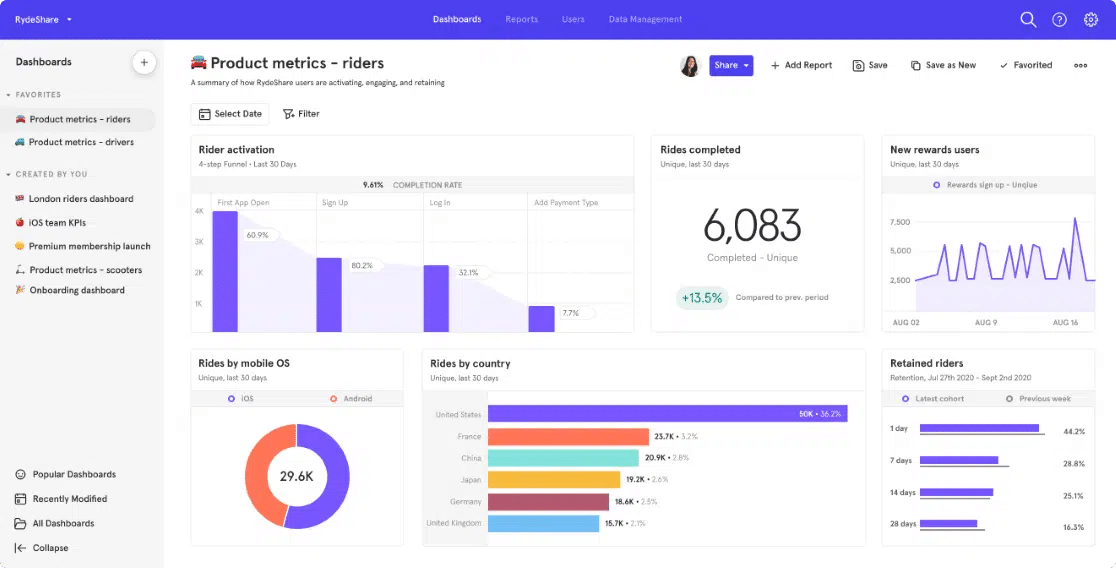 Mixpanel also tracks the journey of our users to understand their interactions and behaviors, helping us adjust our strategy accordingly.
We also liked that Mixpanel could be customized to fit our needs. The tool lets us make customized reports that focus on data that are most important to us.
Feature Breakdown
User Behavior Tracking: Keep track of what your users do, not just where they go.
Event Tracking: Monitor essential things on your site to see how people interact.
User Retention Analysis: Find out why people visit your site repeatedly.
A/B Testing: Figure out how different parts of your site affect each other.
Predictive Analysis: Predict trends and change your plans to fit them.
Customizable Dashboards: Look at the information that is most important to you.
Real-Time Data: Use up-to-date knowledge to make choices quickly and effectively.
Integrations: It works well with other tools to improve your ability to analyze data.
Pricing and Plans
Mixpanel has a limited free version for companies and small businesses. Paid plans are available for those who need more tools and more data. The starting price is $20/month and goes all the way up to $833/month.
Verdict
Mixpanel takes a unique method to web data that is focused on the user. It can do things like give detailed user data and make A/B testing easy, making it a complete tool for businesses that want to improve their online presence.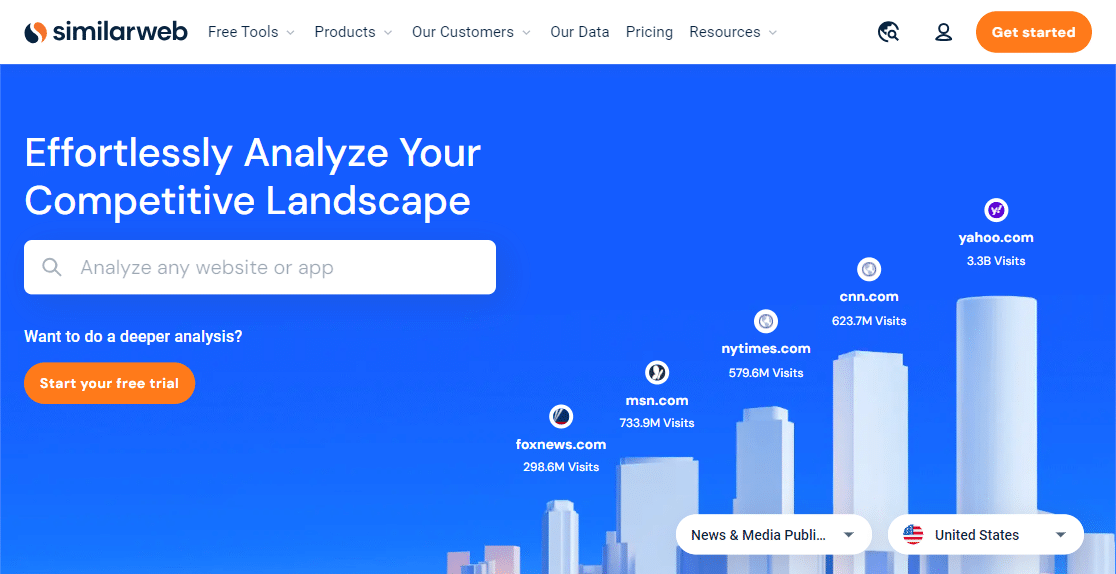 SimilarWeb is an all-in-one tool that gives businesses a complete picture of their online presence through detailed analytics and reports.
It lets you not only track how well your own site is doing but also compare it to other sites in the same business for a more thorough analysis.
The tool covers all the essential aspects, including organic and paid search, referrals, social media engagement, and display advertising.
Our Experience
SimilarWeb provided insights that allowed us to refine our marketing strategies, improve user engagement, and ultimately drive business growth.
The platform also provides you a birds eye look into the success of numerous web channels, which is tremendously beneficial for identifying future development areas.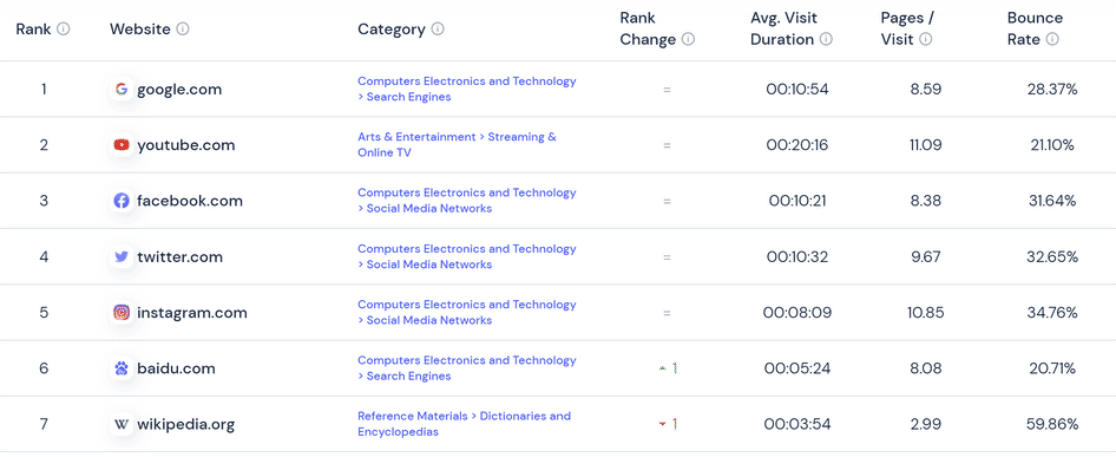 It allowed us to compare our performance against competitors in our industry, providing a new dimension of insight that we found incredibly valuable.
The personalized reports let us focus on the factors that were most important to us, which helped us make better decisions and be more productive overall.
Feature Breakdown
Organic and Paid Search Data: Get insights into your search performance and identify optimization opportunities.
In-depth Analytics: SimilarWeb offers extensive insights into your site's performance and user engagement.
Customized Reports: Generate reports focusing on the metrics most relevant to your business.
Benchmarking Capabilities: Compare your site's performance against competitors to identify areas of improvement.
Intuitive Interface: The user-friendly interface makes it easy to navigate and understand the data.
Market Intelligence: Understand industry trends and stay ahead of the game.
Pricing and Plans
SimilarWeb does not offer a free plan to users, but they offer many pricing tiers for varied business needs. If you want to leverage the above features, plans start at $125 per user/month (billed annually).
Verdict
SimilarWeb is a strong and reliable tool that businesses of all kinds can use to learn more about their digital record. Its detailed data and benchmarking features give businesses essential insights they can use to improve their digital performance.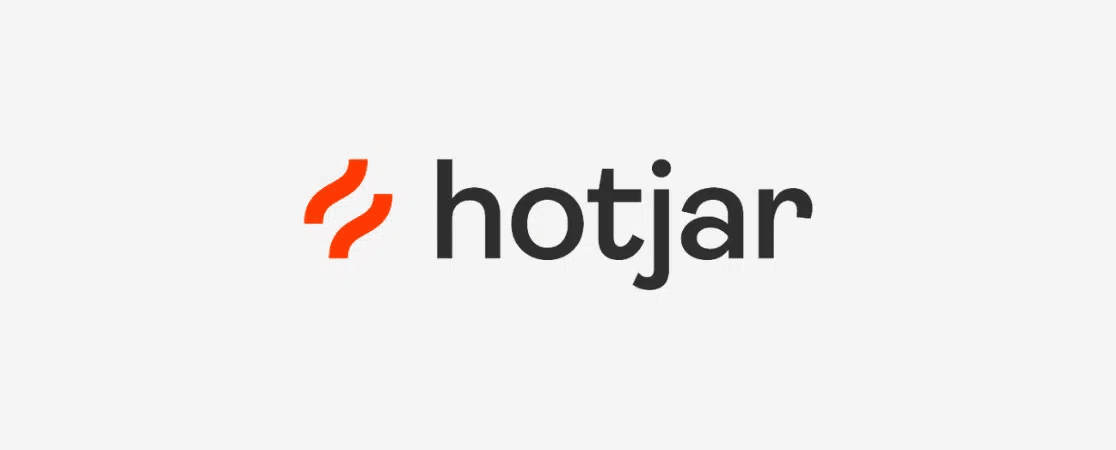 Hotjar is a revolutionary analytics tool that moves beyond standard analytical metrics, offering an in-depth understanding of user behavior on your website.
It doesn't merely present a statistical representation of data but rather reveals the real user experience by visually interpreting your user's journey.
The tool essentially functions as a bridge between traditional web analytics and direct user feedback to improve overall website performance.
Our Experience
The platform offers a suite of analysis and feedback tools to deliver a comprehensive understanding of how users interact with your site.
There is a detailed dashboard available for tracking total sessions, avg. session duration, bounce rate, and lots of other metrics instantly.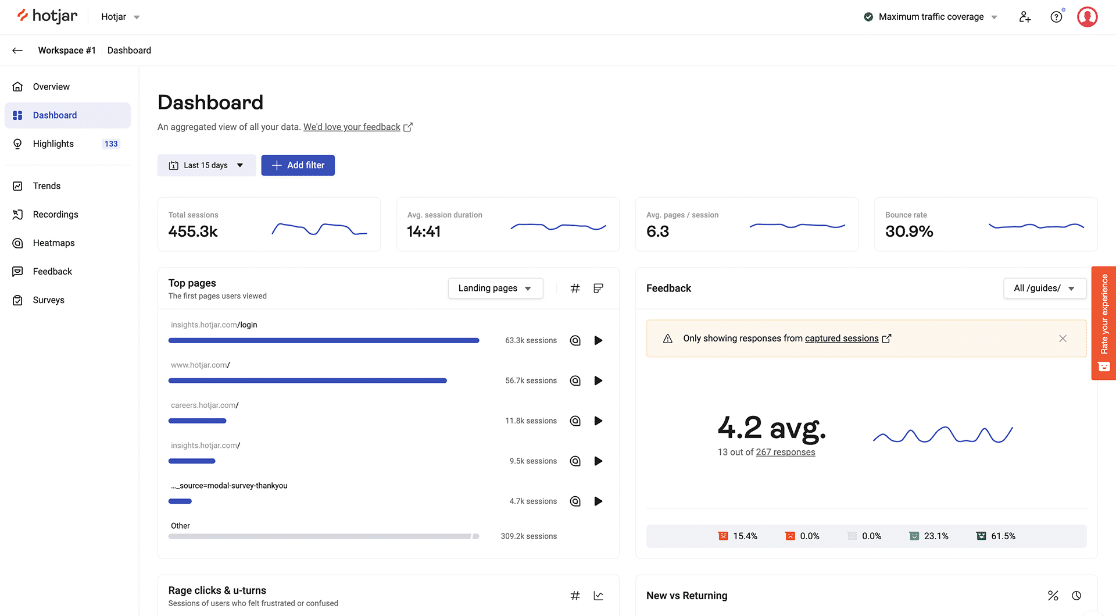 Its features range from heatmaps that display areas of your website getting the most attention to session recordings that capture real user behavior.
Hotjar also provides conversion funnels to identify pages causing users to leave and form analysis to improve overall form performance.
Feature Breakdown
Heatmaps: Understand where users click, move, and scroll, revealing the areas of your site that capture the most user attention.
Session Recordings: Capture real user behavior on your site to get an authentic understanding of user experience.
Conversion Funnels: Identify the landing pages causing user drop-offs, enabling you to optimize for improved user retention.
Form Analysis: Improve form performance by understanding which fields take too long to fill, which are left blank, and why your visitors abandon your form and page.
Feedback Polls: Get direct insights from your users to understand what they think about your site.
Surveys: Collect more in-depth user feedback to understand what they need, want, and expect.
Pricing and Plans
Hotjar offers a basic free version ideal for individuals and small businesses. For more extensive use and advanced features, they provide several premium plans to cater to businesses of various sizes, starting at $32/month (billed annually).
Verdict
Hotjar blends traditional analytics with direct user feedback, creating an in-depth understanding of user behavior that is vital for optimizing user experience. No matter the size of your business, Hotjar proves to be an invaluable asset.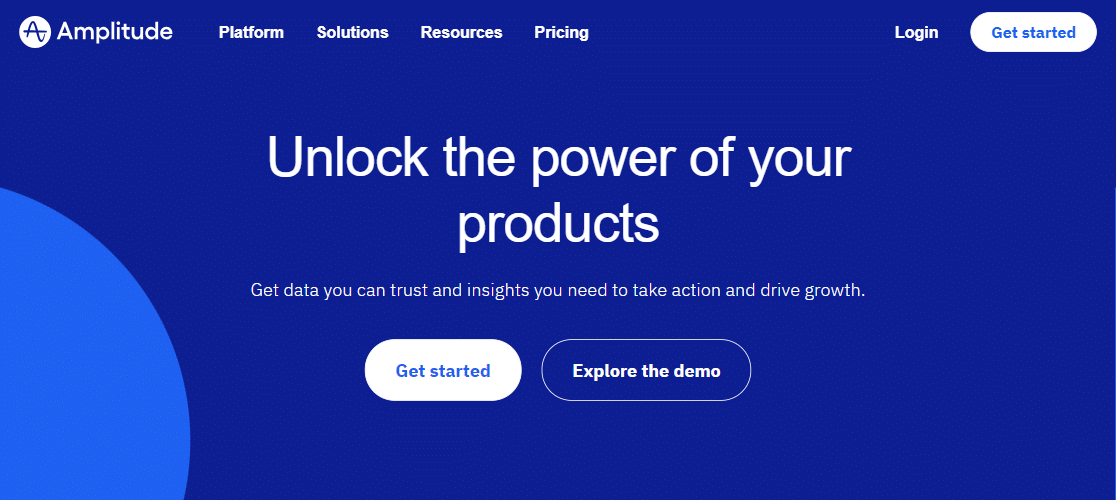 Amplitude is a powerful web analytics tool that puts data at the forefront, empowering users to get deep insights into their web presence.
With robust features like tracking user pathways, providing funnel insights, and monitoring retention rates, Amplitude ensures that user experience is measurable, traceable, and improvable.
Our Experience
The tool digs deep into user behavior to discover meaningful insights that drive our content and marketing strategies, leading to better engagement.
This included a comrephensive analytics dashboard for purchases users made through our website, giving us a detailed look into our sales funnel.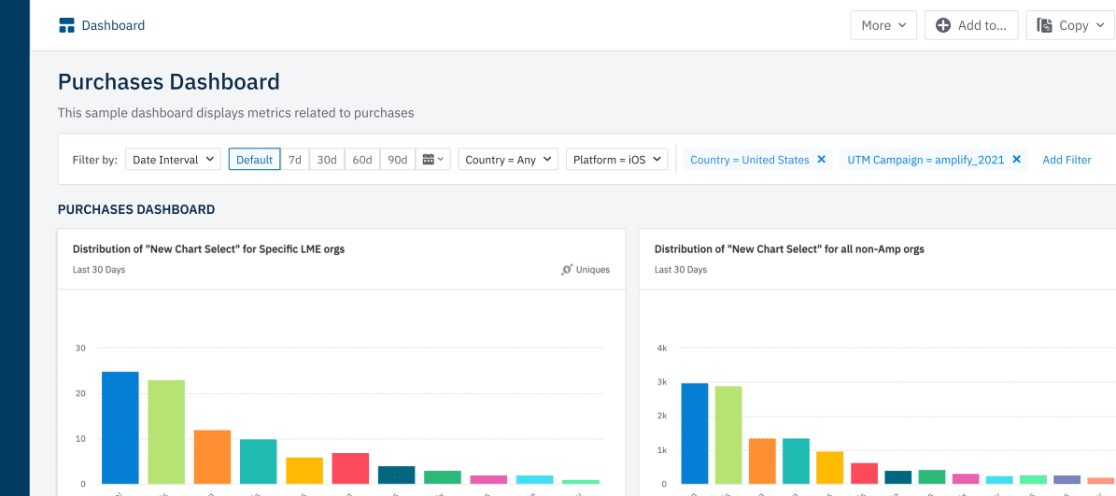 One aspect we particularly appreciated was the real-time nature of the data, which offered a clear view of our website's performance.
The personalized reports helped us focus on the factors that were most important to us, which helped us make better decisions and be more productive overall.
Feature Breakdown
Predictive analysis: Amplitude uses data science models to figure out how customers will act in the future.
Pathway Tracking: It shows how a person moves through your site from when they arrive until they convert or exit.
Funnel Insights: This helps you understand how a person moves through a series of events and find possible drop-off points.
Retention Monitoring: The tool lets you see how many people come back, which shows how loyal your users are.
Instant Insights: This gives you real-time information, so you can see how your website is doing immediately.
Deep Data Analysis: Amplitude's strength is its deep dive into data, which gives you a clear picture of how people use your website.
Pricing and Plans
Amplitude provides a free but limited version for startups or small businesses. Paid plans provide more extensive capabilities for larger firms or those wanting sophisticated features but are priced on a quote-only basis.
Verdict
Amplitude has the ability to drastically improve your digital performance, regardless of the size of your organization. Its depth, flexibility, and collaborative capabilities make it an excellent choice for optimizing website performance.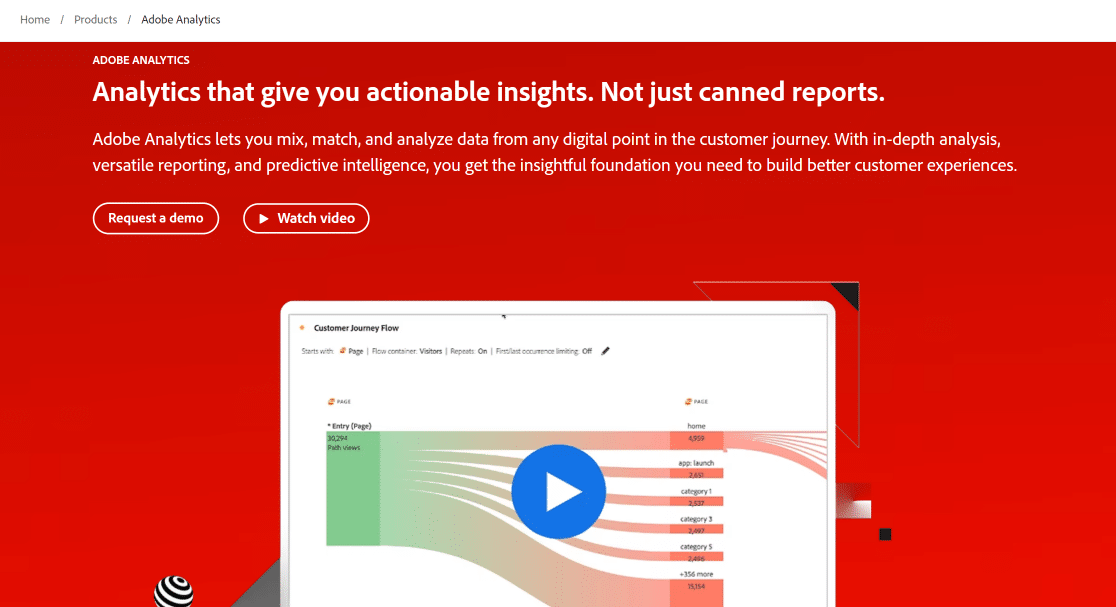 Adobe Analytics is an advanced web analytics tool that provides deep insights into user behavior and the customer journey.
It is specifically designed to cater to businesses that require a more nuanced comprehension of their web data.
Its capabilities range from tracking mobile app behavior, audio, video, and social media engagement to exploring customer journey analytics.
Our Experience
The tool's integration with other Adobe products, including Adobe Experience Manager and Adobe Target, gives it quite a competitive edge.
It provides an in-depth understanding of how users interact with your website, offering precise metrics and segmented data, even a detailed ads dashboard.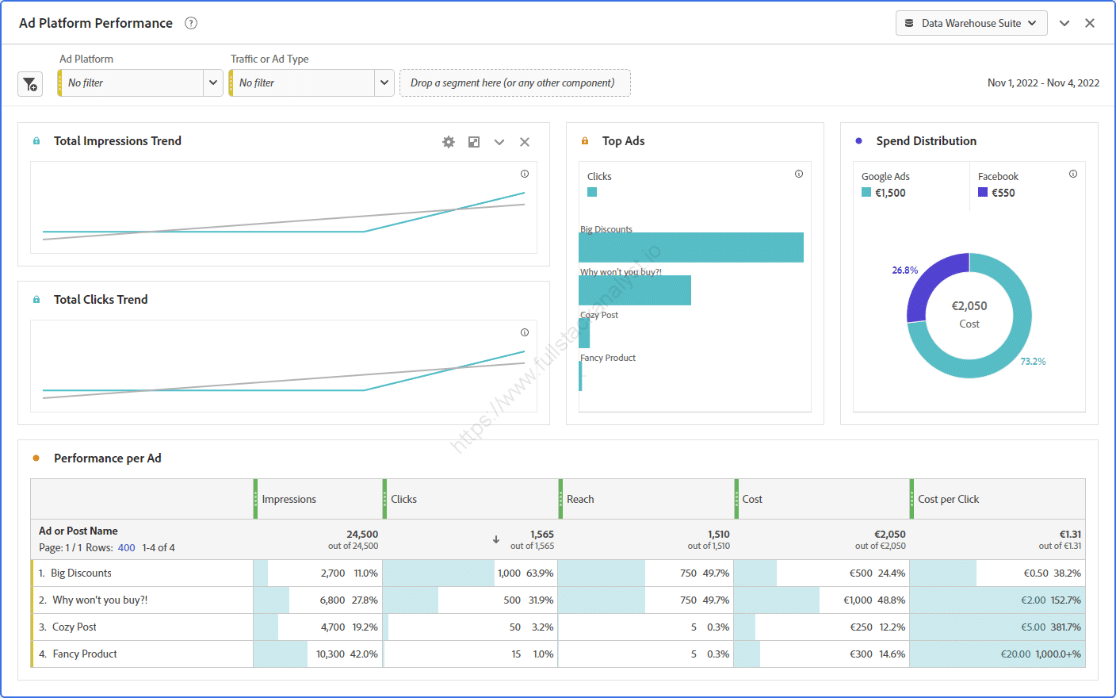 Also, the customer journey analytics feature is incredibly useful, allowing you to visualize and understand the entire customer journey.
The tool proved indispensable in aligning our strategy with audience preferences and improving user engagement.
Feature Breakdown
Conversion Analysis: Track and understand how interactions lead to conversions and identify improvement areas.
Predictive Analytics: Use machine learning and AI to predict future trends based on existing data.
Audience Analysis: Gain deep insights into audience behavior, preferences, and engagement.
Cross-Channel Tracking: This feature enables user behavior tracking across multiple platforms, including mobile apps and social media.
Customer Journey Analytics: Understand the customer journey, including interactions across all touchpoints.
Real-time Reporting: It provides real-time reporting and data analysis, allowing businesses to respond quickly to changes in user behavior.
Integration: Seamless integration with other Adobe products for a more comprehensive analytics approach.
Pricing and Plans
Adobe Analytics comes as a part of the Adobe Experience Cloud, and its pricing is quote-based, dependent on the specific needs of the business. It's suited for both medium-sized businesses and large enterprises.
Verdict
Adobe Analytics is a powerful web analytics tool that provides deep, actionable insights. Its capabilities extend beyond generic analytics, making it a perfect choice for businesses that require a deeper understanding of their web data.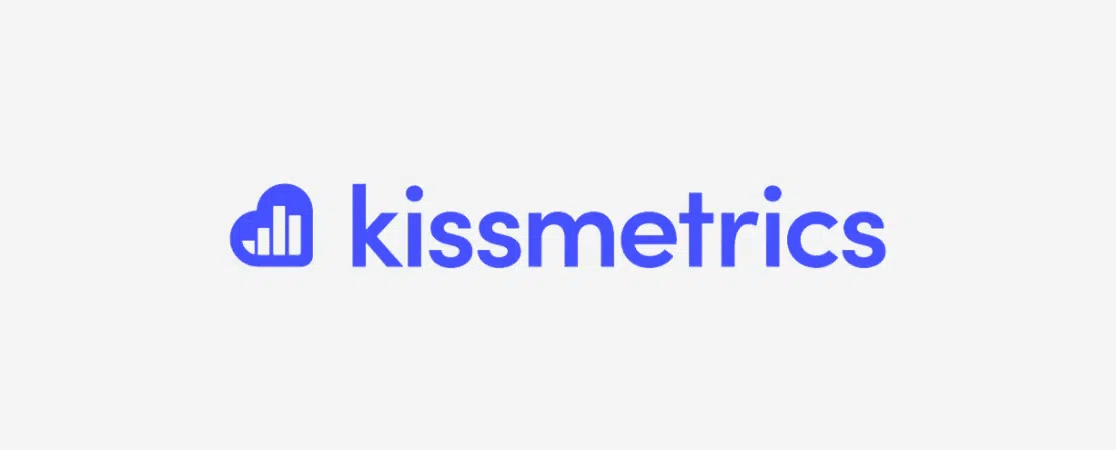 KissMetrics stands out as an advanced analytics tool specifically tailored for marketers who crave more in-depth data on their customer's behavior.
It narrows your analysis to micro-level data, revealing the user's actions that lead to conversions and uncovering potential bottlenecks in your conversion funnel.
Our Experience
KissMetrics shifts the spotlight from general website traffic metrics to individual user interaction, painting a detailed picture of every customer's journey.
It also offers a dashboard where you can view purchases and revenue by channel and a breakdown of users that visited your site, added to cart, and made purcahses.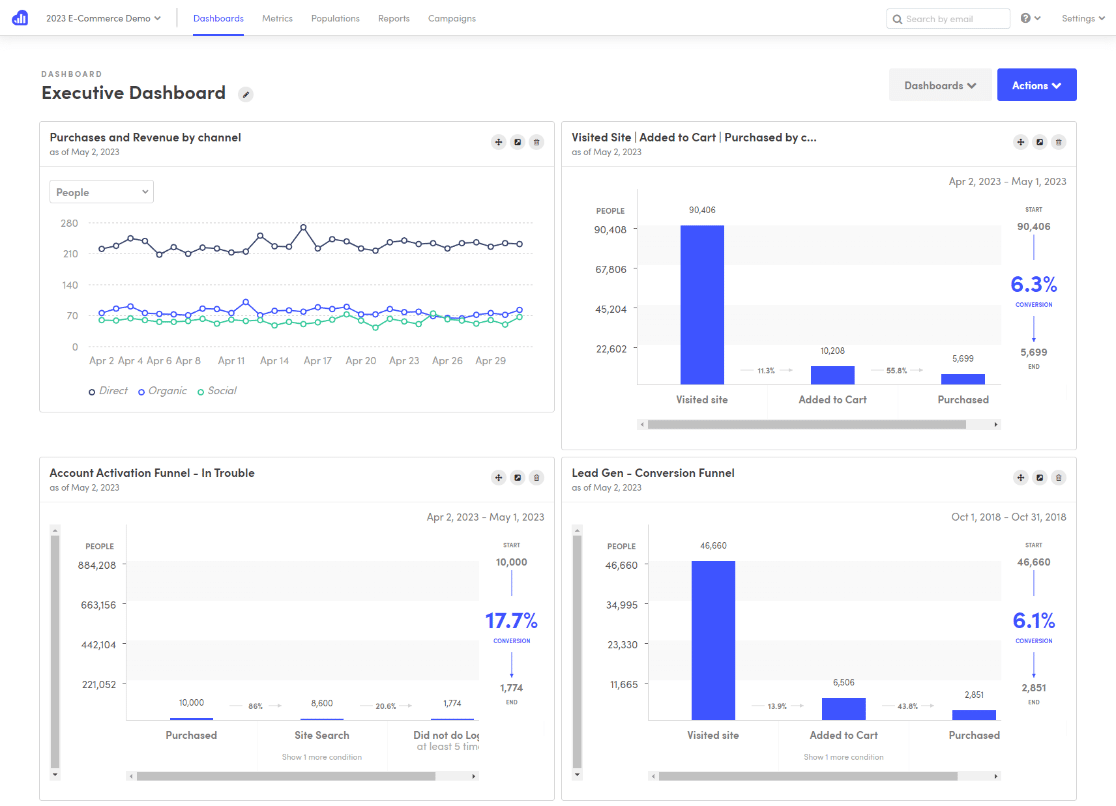 Unlike traditional tools primarily focusing on page views and clicks, it meticulously tracks visitors across multiple devices, creating a unified customer profile.
The platform also impresses with its robust reporting features, which include cohort analysis, funnel reports, and A/B testing.
Feature Breakdown
Personalization: Use detailed insights to create personalized, data-driven marketing campaigns.
Robust Reporting: Features like cohort analysis, funnel reports, and A/B testing provide a wealth of data for marketers.
Micro-Level Data: Uncover user actions that lead to conversions and potential bottlenecks in your conversion funnel.
Multi-Device User Tracking: The tool tracks visitors across multiple devices, providing a unified customer profile.
Customer-Centric Analytics: KissMetrics focuses on individual customer behaviors, enabling businesses to understand their audience at a granular level.
Pricing and Plans
KissMetrics offers a 30-day free trial for businesses to experience its robust features. For long-term usage, they provide multiple pricing plans based on the size and needs of the business, starting at $199/month.
Verdict
KissMetrics helps to understand customer behaviors on a granular level. Its wealth of features, focusing on individual interactions and multi-device tracking, is invaluable for creating targeted, successful marketing campaigns.
FAQs about Best Web Analytics Tools
Web analytics is a popular topic of interest among our readers. Here are some quick answers to a few of the most commonly asked questions:
What is the most popular web analytics tool?
The most popular web analytics tool is Google Analytics, as it's incredibly easy to setup, has a steep learning, and most importantly is completely free.  Since it also integrate swith other Google products like AdWords, Tag Manager, and Data Studio, it is the preferred choice for many looking to evaluate audience engagement and website activity.
Is there a better tool than Google Analytics?
There are many alternatives to Google Analytics that may serve different purposes better. For instance, if you're looking for a privacy-friendly alternative, Matomo (formerly Piwik) is a great option. Similarly, if you need to access Google Analytics data within WordPress, there is no better plugin than MonsterInsights.
Which web analytics tool is best for small business?
Google Analytics is likely the best free option for small businesses starting out. It provides a wide range of insights with no cost. Other small business options to consider are MonsterInsights for its simplicity and ease of use, or Hotjar for understanding visitor behavior through heatmaps and recordings.
Can web analytics tools help improve my website conversion rates?
Yes, web analytics tools are essential for understanding visitor behavior and optimizing your website to convert more visitors into customers. Features like heatmaps, user recordings, funnel visualization, and A/B testing can help improve conversion rates.
Next, Checkout these Best Plugins for WordPress Guides
And there you have it. We hope this list helped you select the best web analytics tool that meets your specific requirements. For more of our recommended WordPress plugins, see the following posts:
Are you having trouble receiving emails from WordPress notifying you of new orders or form submissions? It is recommended that you look into using the WP Mail SMTP plugin.
Ready to fix your emails? Get started today with the best WordPress SMTP plugin. If you don't have the time to fix your emails, you can get full White Glove Setup assistance as an extra purchase, and there's a 14-day money-back guarantee for all paid plans.
If this article helped you out, please follow us on Facebook and Twitter for more WordPress tips and tutorials.