Are you looking for the best WordPress email subscription plugin to skyrocket your website's user engagement and conversion?
With the right email subscription plugin, you can unlock endless opportunities—from increasing your subscribers to automating marketing campaigns.
This can be quite useful in convincing site visitors to sign up for email alerts about product enhancements, special offers, and new blog posts.
In this article, we'll investigate, test, and compile a list of the best email subscription plugins you can easily use with WordPress.
Why Do You Need a WordPress Email Subscription Plugin?
Email subscription plugins are indispensable for any WordPress site when exploring the best ways to expand your online footprint.
Direct Line of Communication: Unlike social media platforms, where your message can easily get lost in a sea of content, email allows for a much more personal and direct communication channel with your audience.
Increase Customer Retention: Studies have shown that retaining existing customers can be far more cost-effective than acquiring new ones. An email subscription list lets you send targeted messages to encourage repeat business.
Better Traffic Management: We all love a spike in website traffic, but what's the use if it doesn't convert? Email subscription plugins help you convert your traffic into a loyal audience by capturing emails through pop-ups, sidebars, forms, etc.
Metrics and Performance Analysis: Email subscription plugins usually come integrated with analytics tools. This lets you keep tabs on important metrics like open rates, click-through rates, and conversion rates.
Automation and Scalability: Whether sending welcome emails, monthly newsletters, or personalized offers, you can automate a large chunk of your marketing endeavors with the right email subscription plugin.
Remember, the right email subscription plugin can do wonders for your marketing strategy and overall business goals. This guide offers in-depth reviews and insights to help you make the most informed choice.
Quick Overview: Best WordPress Email Subscription Plugins
Before we get started, here is a list of the best WordPress email subscription tools we'll be comparing in this article:
| Plugin | WordPress.org Rating | Active Installs | Price |
| --- | --- | --- | --- |
| WPForms | 4.9 out of 5 stars | 6+ million | $49.50/year |
| OptinMonster | 4.4 out of 5 stars | 1+ million | $108/year |
| ThriveLeads | Not applicable | Not applicable | $79/year |
| RafflePress | 3.9 out of 5 stars | 20,000+ | $39.50/year |
| MC4WP | 4.8 out of 5 stars | 2+ million | $9.99/month |
| MailPoet | 4.5 out of 5 stars | 600,000+ | $10/month |
| MailerLite | 3.2 out of 5 stars | 70,000+ | $108/year |
| Brevo | 4.3 out of 5 stars | 100,000+ | $25/month |
The Best WordPress Email Subscription Plugins
What works best for you when selecting a WordPress email subscription plugin will depend on your specific needs and preferences.
Some plugins, on the other hand, are popular options for many website owners. We've provided a comprehensive review of them below: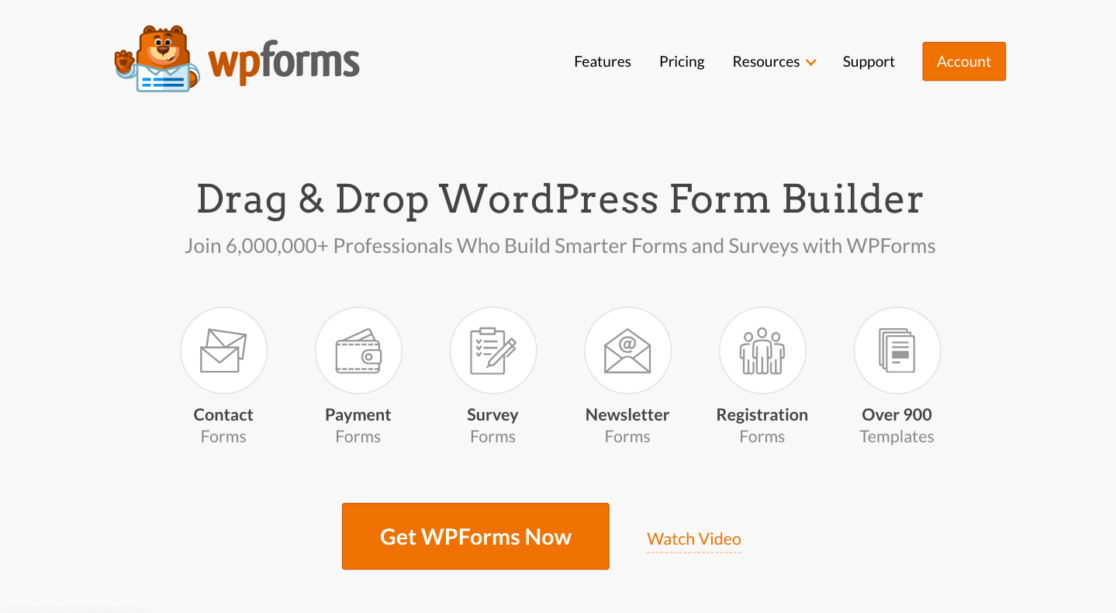 WPForms is the best form builder plugin for WordPress that allows you to create newsletter and email subscription forms without any coding skills.
Renowned for its customization options and user-friendly interface, the plugin integrates with popular email marketing services like Mailchimp and AWeber.
WPForms also has a huge pre-built template library with over 1,200 form templates, many of which can be used to create different types of email subscription forms.
For instance, you can utilize the newsletter signup form template if you don't want to create your subscription form from scratch.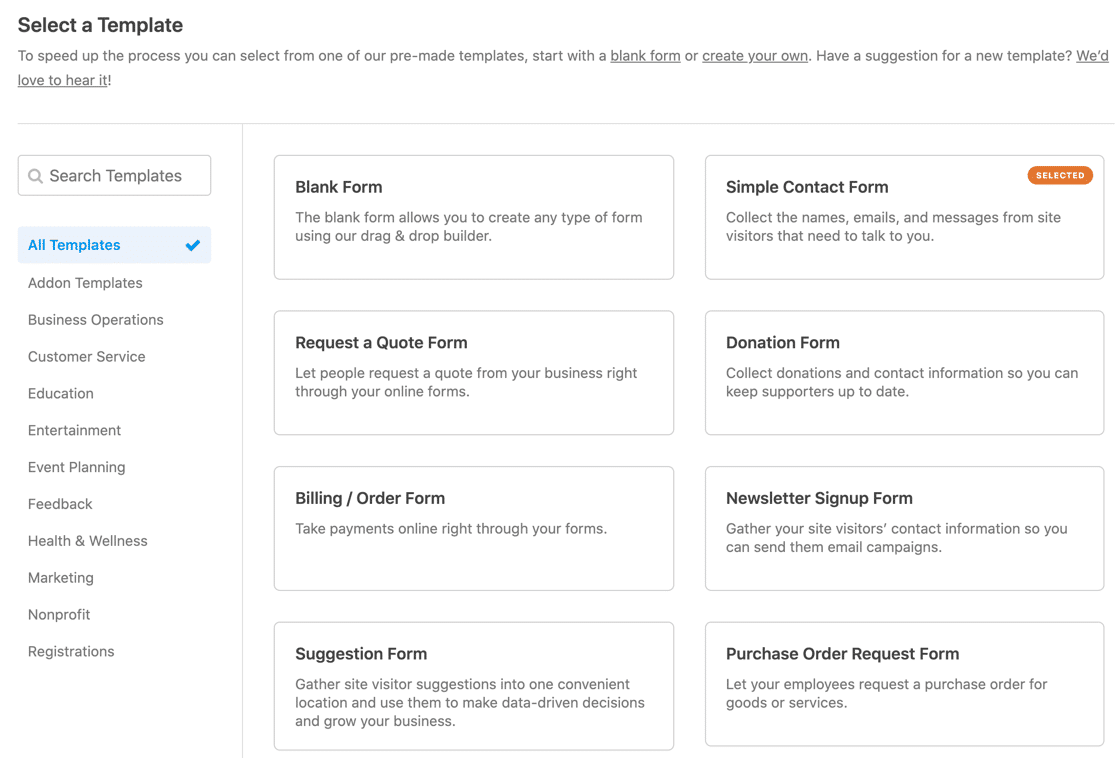 Our Experience
The drag-and-drop builder makes it simple to customize email subscription forms. You can add, remove, delete, or change form fields with just a single click.
We also love how seamlessly the plugin integrates with numerous email services like Constant Contact, Mailchimp, AWeber, HubSpot, and more.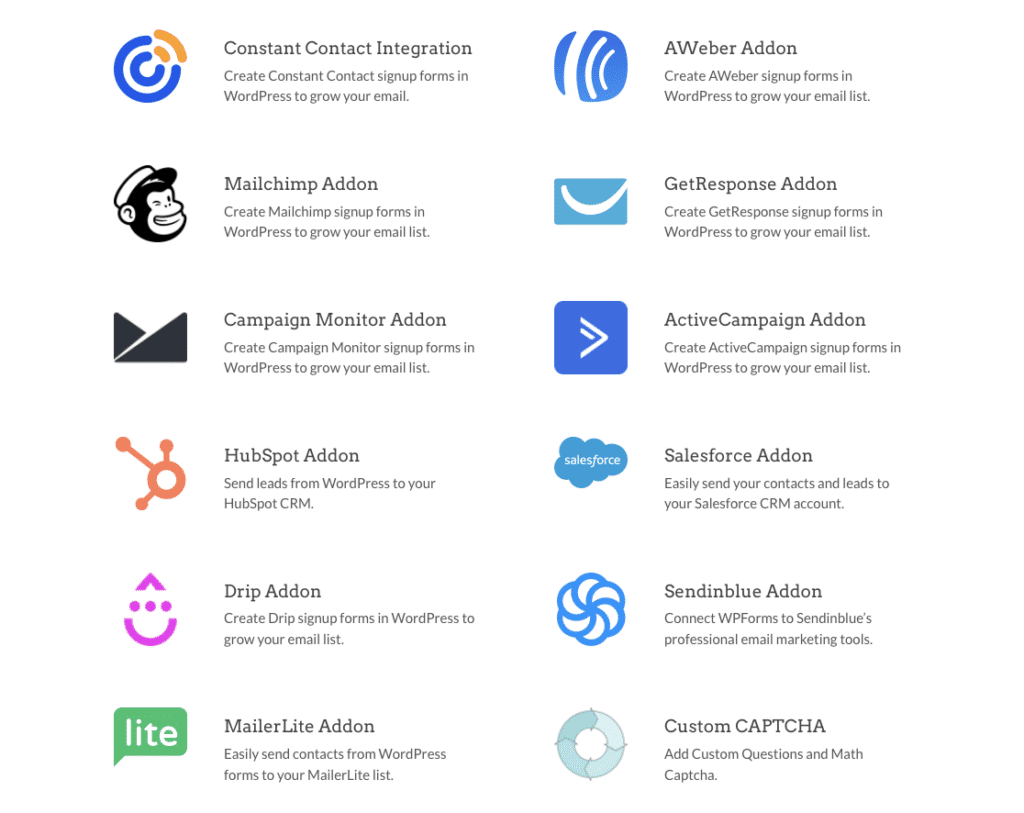 Once your form is set up and connected to your email provider, you can allow your visitors to join a specific group or segment.
The email marketing integrations WPForms provides are also loaded with plenty of features that can improve your workflow. For instance, you can:
Put the user's information into your database as a new contact.
Get someone off of your mailing list by unsubscribing them.
Archive a previous contact from your mailing list.
And remove them forever from your email list.
We also love how you can display your forms in different locations and even add your subscription form as a sidebar widget to your website.
In addition, you can also monitor the source of your website's leads by viewing a comprehensive summary of all form submissions.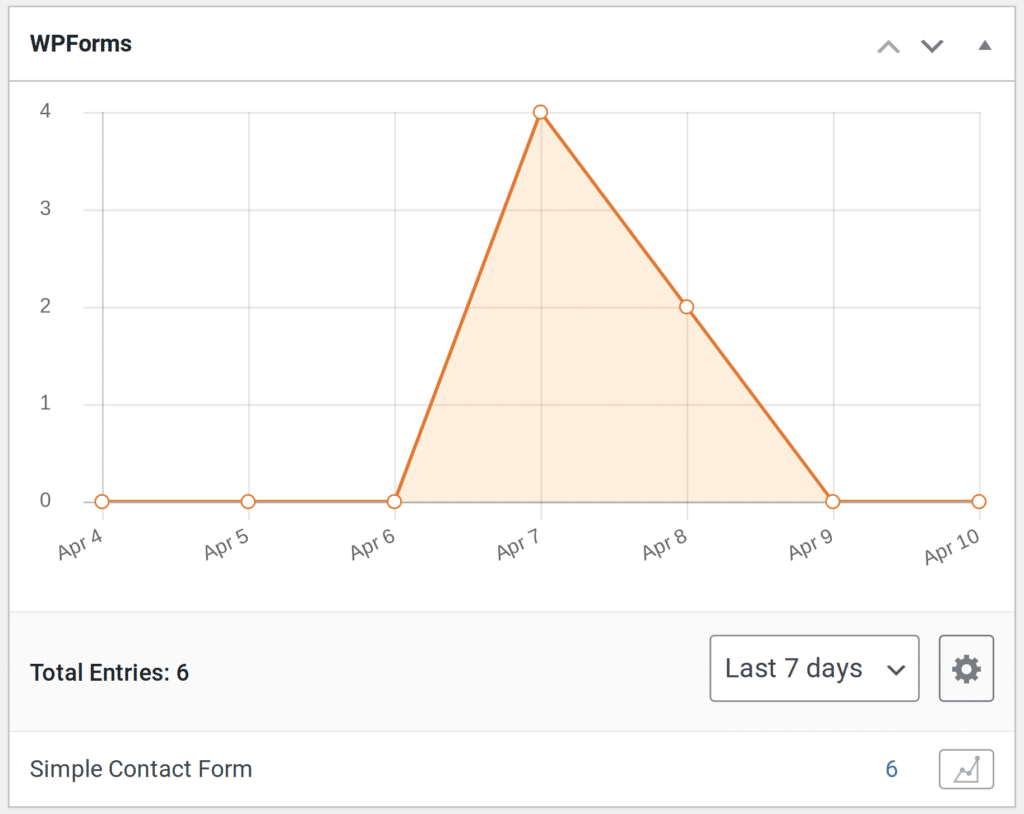 Therefore, with WPForms, you can rest assured that your email marketing initiatives are always directed toward the right audience.
The plugin met and exceeded all our expectations for an email subscription form plugin that can cater to all your email subscription needs.
Feature Breakdown
Drag-and-Drop Form Builder: Allows for quick and easy form creation to collect email addresses and expand your newsletter subscribers list.
Email Marketing Integration: Seamless integration with popular services like Mailchimp, MailerLite, MailPoet, and more.
Smart Conditional Logic: This enables you to customize your email subscription forms based on user behavior.
Supports Double Opt-In Forms: Creating multi-step and opt-in newsletter forms is a breeze with WPForms.
Payment Integrations: The form builder allows you to add payment options to your forms like PayPal, Square, Authorize.net, and Stripe.
Spam Protection: Helps filter out spam submissions through reCaptcha, hCaptcha, Cloudflare Turnstile, and custom Captcha.
Pricing and Plans
There are both free and paid versions of WPForms. Integration with Constant Contact is available in the free plan. For more advanced features and email marketing integrations, upgrade to WPForms PRO. The pricing starts at $49.50/year.
Verdict
After thorough testing and evaluation, it's clear that WPForms is an exceptional plugin for email subscription forms on WordPress.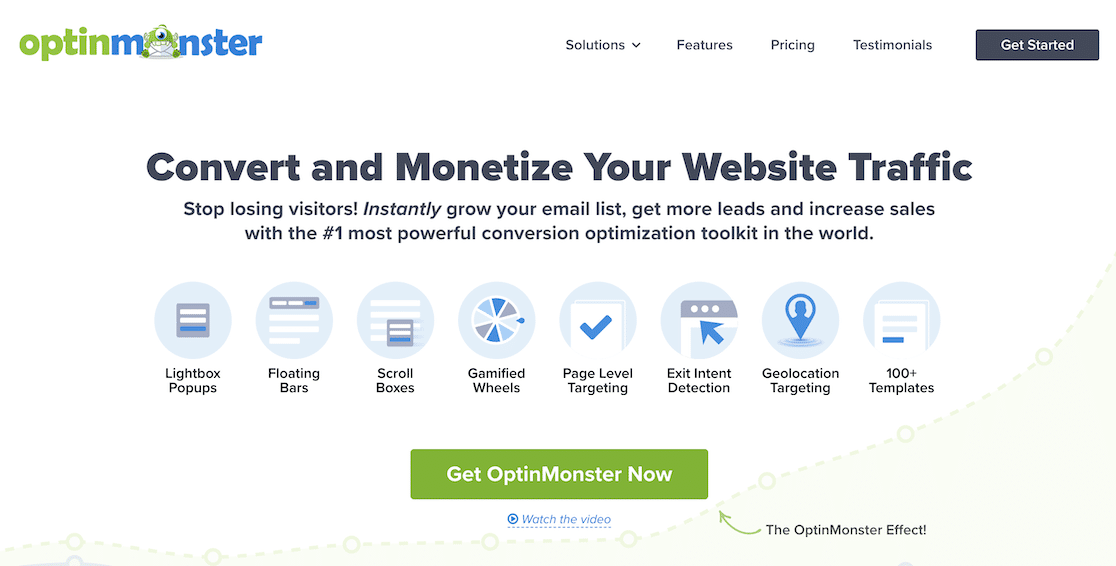 OptinMonster is one of the best email subscription plugins with a multifaceted approach to lead generation, backed by high-caliber popups and opt-in forms.
The plugin is a dream come true for those aiming to amass email subscribers and boost engagement by displaying exciting marketing opt-ins and popups.
Geo-targeting capabilities also allow you to serve custom content based on your visitors' physical location, which can greatly help with your lead generation.
Our Experience
What we love about OptinMonster is its drag-and-drop builder that empowers even non-tech-savvy users to design captivating campaigns.
If designing isn't your thing, the plugin has you covered with over 100 pre-designed email signup templates that set you off on the right foot.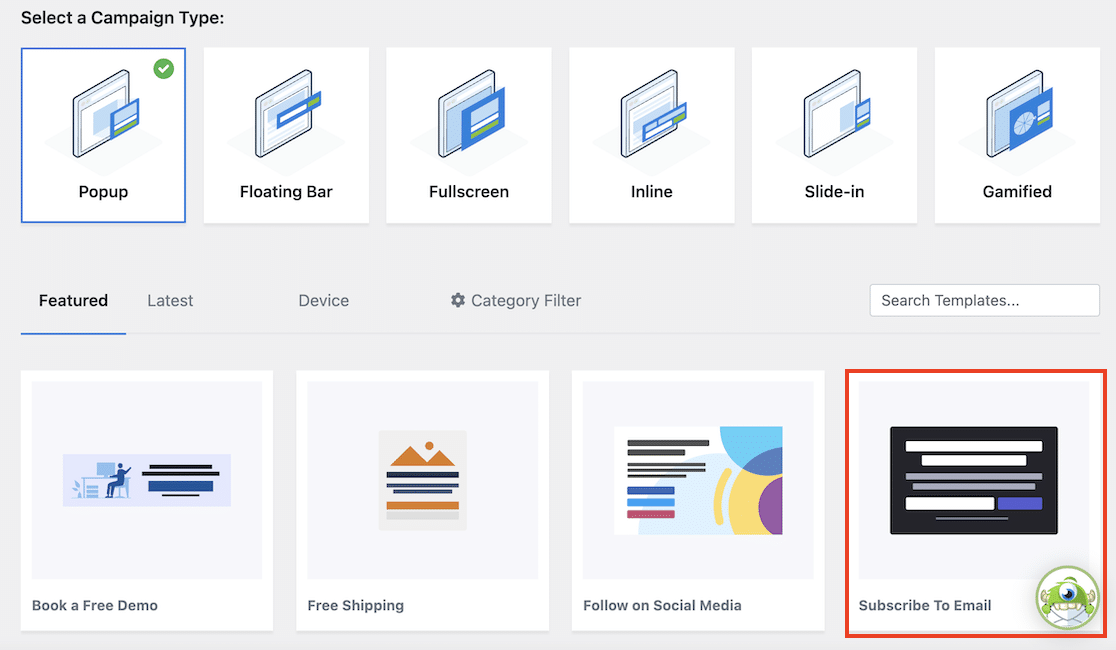 The OptinMonster plugin also allows you to create interactive popups, email forms, floating bars, and notification bars that encourage visitors to take action.
Exit-intent popups are another hallmark, letting you salvage potentially lost conversions by displaying targeted messages just as a visitor is about to leave your site.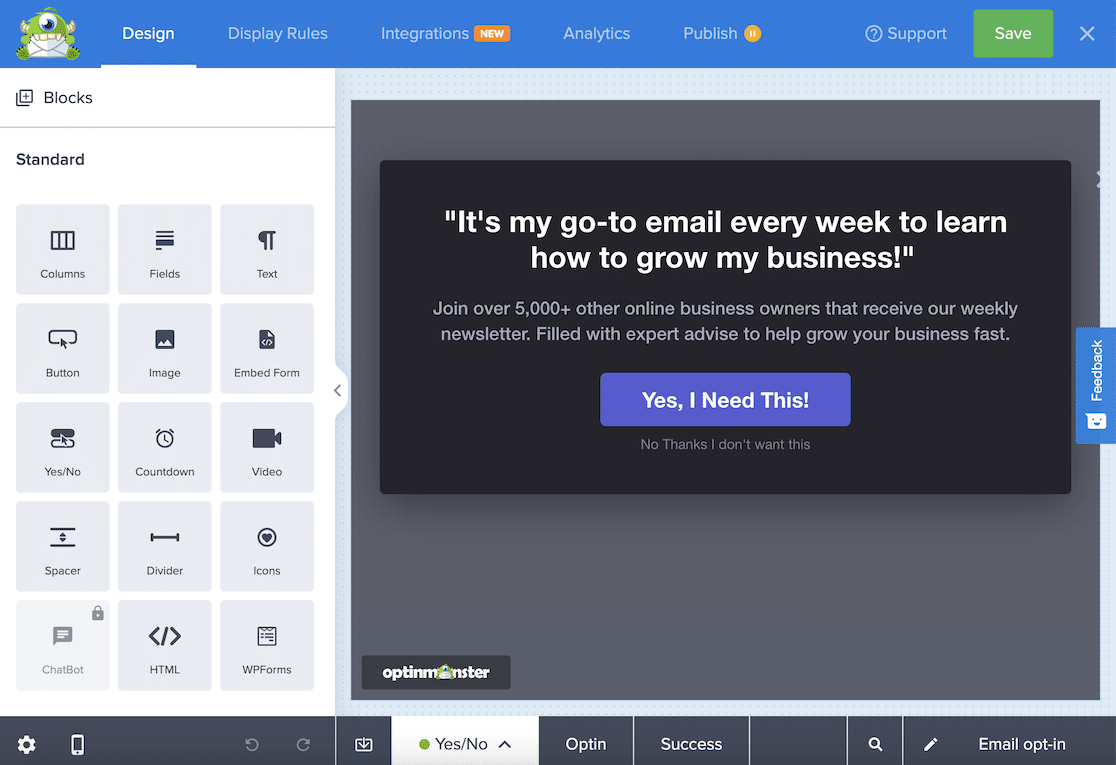 You can also embed a WPForms email registration form in an OptinMonster popup to use these two email subscription plugins together.
Couple that with advanced targeting rules, and you have an instrument fine-tuned to deliver the right campaigns to the right audience.
Feature Breakdown
Drag-and-Drop Builder: An easy-to-use design tool for crafting bespoke campaigns.
A/B Testing: Allows for optimization based on real-time results.
Pre-Designed Templates: 100+ templates for quick campaign deployment.
Dynamic Animation and Sound: A feature that enhances visual appeal.
Geo-Targeting: Enables location-based campaign customization.
Exit-Intent Popups: Captures leads at the crucial moment they decide to leave.
Advanced Targeting Rules: Ensures your campaigns reach the most relevant audience.
CRM and Email Marketing Integration: Seamless integration with popular platforms like Mailchimp, Brevo, and AWeber.
Pricing and Plans
OptinMonster offers a range of pricing options. Their Basic Plan starts at $9/month. This includes all the necessary email marketing integrations, exit intent, basic opt-in triggers, A/B testing, advanced targeting rules, and more!
Verdict
From its user-friendly interface to its advanced targeting options, OptinMonster is an email subscription plugin offering a holistic lead generation approach.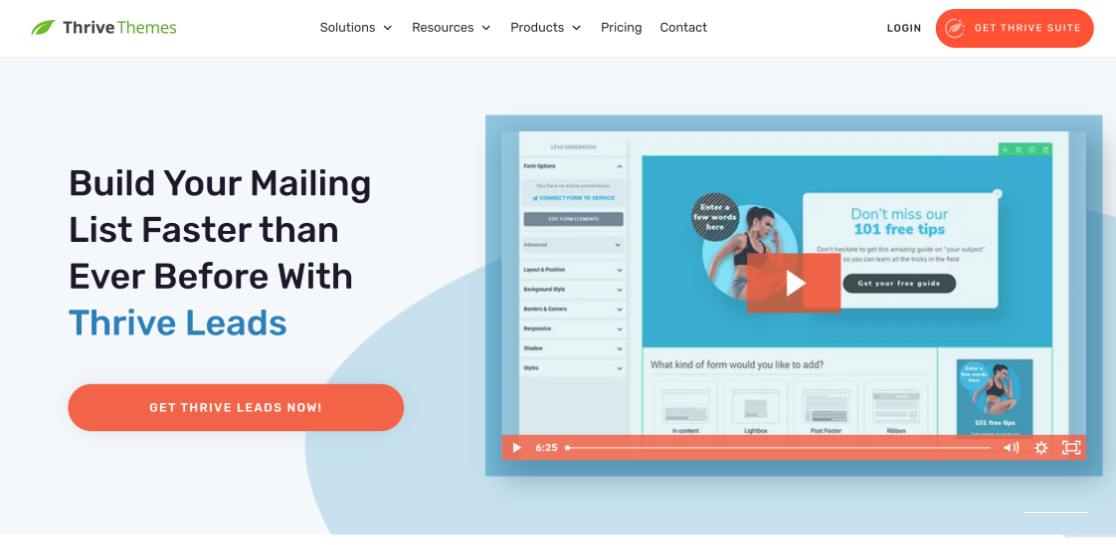 ThriveLeads is one of the best email list-building plugins offering an all-in-one solution to amplify conversion rates.
Its intuitive drag-and-drop builder and vast array of templates allow users to create aesthetically pleasing and effective opt-in forms.
The plugin also strongly focuses on conversion optimization, leveraging advanced targeting techniques to serve relevant forms to different audience segments.
Our Experience
It supports A/B testing right out of the box and integrates seamlessly with popular email marketing platforms such as ActiveCampaign, AWeber, etc.
The plugin also offers a variety of form-trigger settings. Options include exit intent, scrolling behavior, and page load triggers.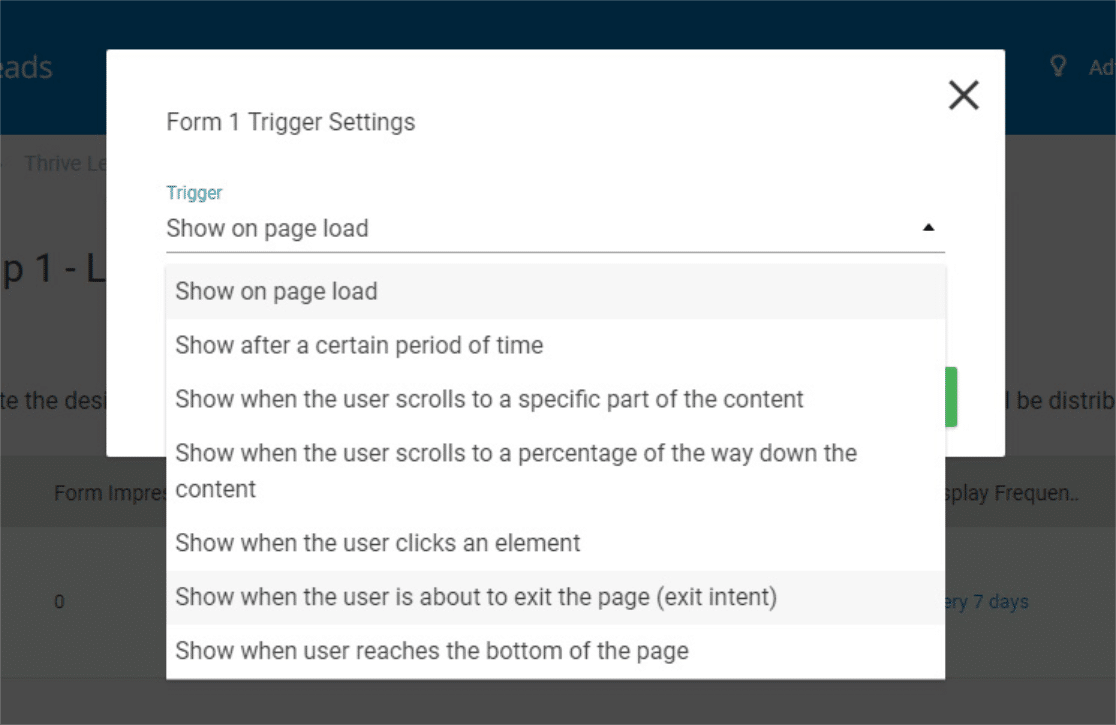 It also features a sophisticated targeting system. This system displays opt-ins based on various factors, such as the specific category or page the visitor is on.
This allowed us to segment our audience and serve them tailored forms, increasing our conversion rates substantially within a week.
Feature Breakdown
Advanced Targeting: Enables audience segmentation based on several parameters like location, content, and behavior.
Multi-Step Forms: Increase conversions by easily breaking down the sign-up process into multiple steps.
Lead Generation Elements: Includes widgets like quizzes, countdown timers, and exit-intent triggers.
Drag-and-Drop Builder: Simplifies the design process, making it accessible for all users.
A/B Testing: Inbuilt feature for optimizing form performance by testing out different variations.
SmartLinks: Show different content to existing subscribers, enhancing user experience.
Reporting Dashboard: Comprehensive analytics to evaluate your strategies and analyze results.
Pricing and Plans
The Thrive Suite bundle with all Thrive plugins, including Thrive Leads, costs around $299/year, which is reasonable considering you gain functionalities of over nine plugins through a single subscription.
Verdict
If you need a reliable solution for increasing your email subscribers on your WordPress site with advanced functionalities, you should use Thrive Leads.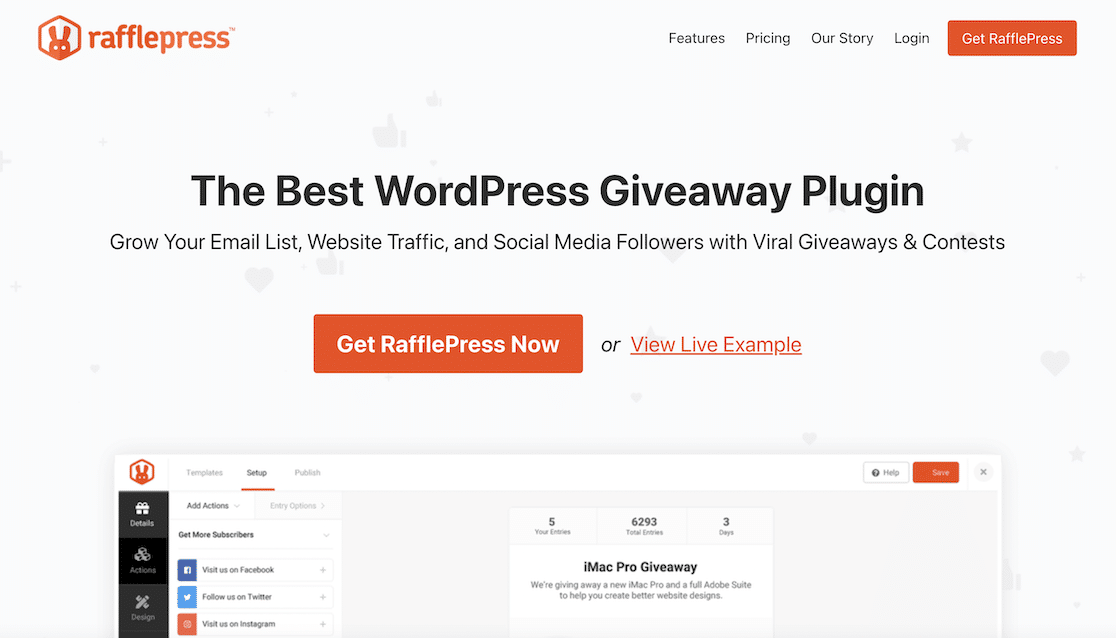 RafflePress is the best giveaway plugin for WordPress that integrates gamified features like giveaways, contest entries, and more to build your email list.
The plugin even gives you options to direct traffic to your social media channels by enabling actions like following you on Twitter, Facebook, and more.
Not to mention, it even integrates seamlessly with a variety of email marketing services to boost your efforts and increase your newsletter subscribers.
Our Experience
The intuitive drag-and-drop builder of RafflePress simplifies the setup process, allowing even novices to craft engaging forms, giveaways, contests, and more.
We were also blown away by its amazing capabilities, which included viral sharing, referral monitoring, and integration with Mailchimp and Constant Contact.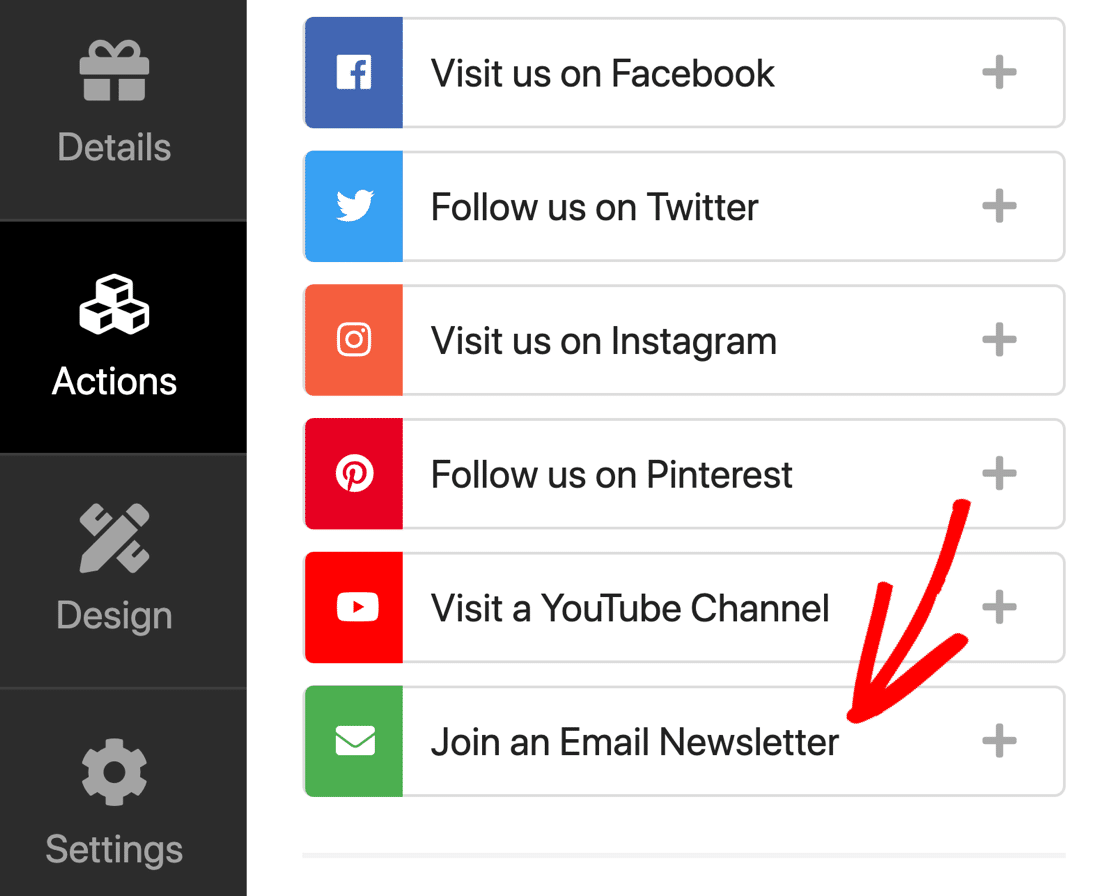 Throughout our use, we noticed an uptick in engagement rates, a testament to RafflePress's practical design and usability.
We also loved the fact that there were a ton of pre-designed giveaway templates available that we could customize to our own needs.
Feature Breakdown
Email Marketing Integrations: Seamlessly connects with popular email marketing services.
Social Media Integrations: Boost your online presence by linking your giveaways with popular social platforms.
Performance Tracking: Get insights on your giveaways' performance with detailed analytics.
Viral Giveaway Templates: Ready-to-use templates designed to maximize subscriber growth.
Refer-a-Friend Feature: Leverage word-of-mouth marketing by rewarding subscribers for referrals.
Fraud Protection: Utilizes advanced technology to detect and prevent fraudulent sign-ups.
Drag-and-Drop Builder: Simplifies the form creation process, no coding required.
Responsive Design: Ensures forms and giveaways look great on all device sizes.
Pricing and Plans
RafflePress offers a range of pricing tiers tailored to fit various needs, from individual bloggers to large-scale businesses. The basic plan starts at $31.60/year for use on a single site with all the fantastic features you'll require to boost your followers!
Verdict
For anyone looking to blend the powers of email subscriptions with the allure of giveaways, RafflePress emerges as a clear winner.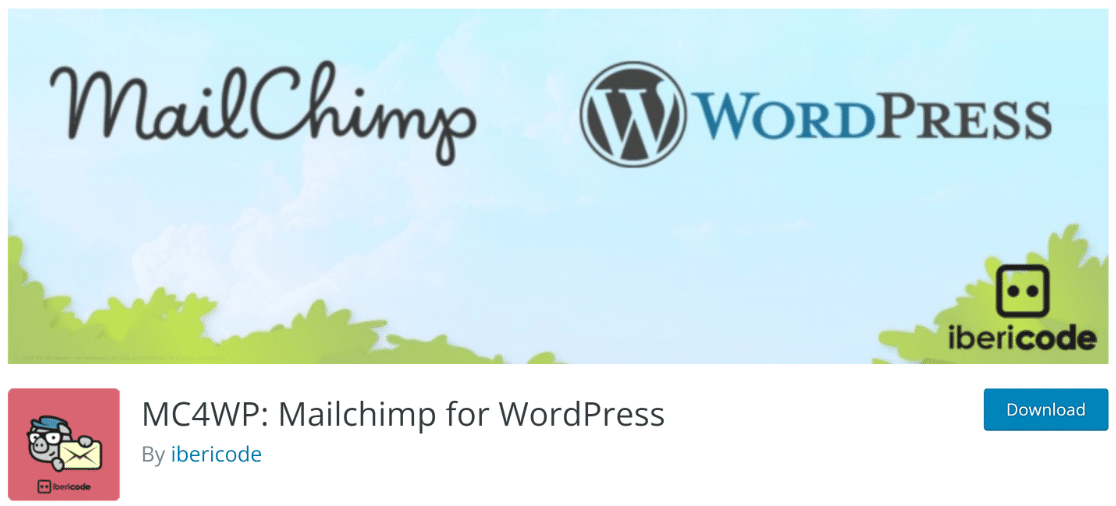 Abbreviated as MC4WP, the Mailchimp for WordPress plugin offers a power integration between Mailchimp and your WordPress website.
Its dedicated functionalities for connecting Mailchimp to your WordPress site make it a remarkable plugin for growing your email lists.
You can use it to create targeted content forms, interactive forms, and even enjoy eCommerce integrations for maximizing conversions.
Our Experience
The Mailchimp for WordPress plugin helps provide a dynamic experience to visitors, encouraging them to become loyal followers of your brand.
With more than 250 built-in integrations, an email editor, and a form editor tool, you can boost your email subscription efforts within no time!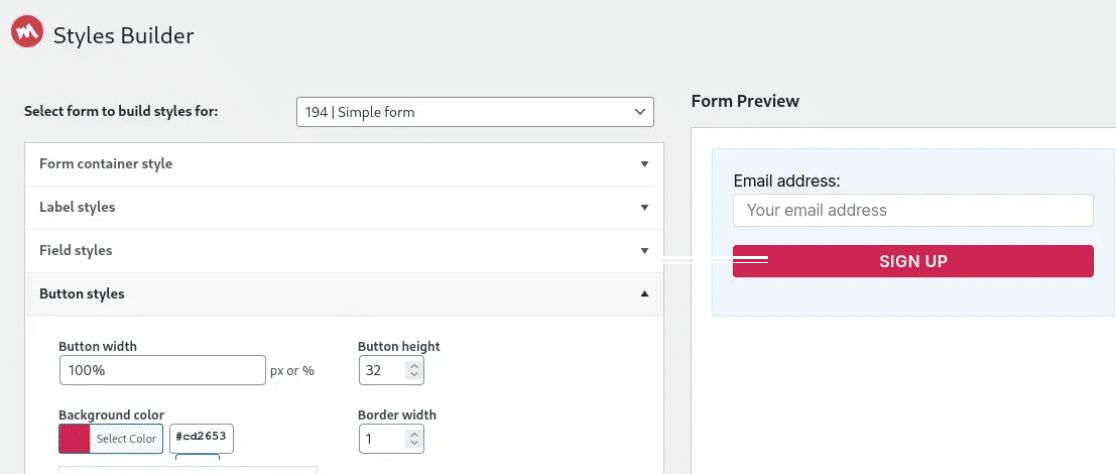 It doesn't only help with gathering emails but also offers in-depth analytics and reporting features to gauge the performance of your marketing efforts.
Through the dashboard of the Mailchimp for WordPress plugin, you can access analytics and campaign management tools to monitor the audience's engagement levels.
Feature Breakdown
Optimized for Performance: Ensures minimal load times, maintaining your website's speed even with its functionalities running.
Robust Analytics: Detailed tracking of metrics like open rates, click-throughs, and more, providing actionable insights.
Dynamic Content: Allows interactive elements like polls and quizzes to be embedded, increasing user engagement.
Seamless Integration: Easily connects your WordPress site with your Mailchimp account, ensuring data flow without hiccups.
Developer-friendly: Offers filters, actions, and ample documentation for those who wish to customize further.
Mobile-Optimized: Forms and campaigns display effectively on mobile devices, catering to a large segment of internet users.
Pricing and Plans
The MailChimp for WordPress plugin is free to use for 2,000 contacts and 10,000 emails per month. For more advanced features and unlimited contacts and emails, you will need to subscribe to a premium plan, which starts at $9.99/month.
Verdict
Any WordPress site owner serious about expanding their email subscriber base will find the Mailchimp for WordPress to be incredibly useful!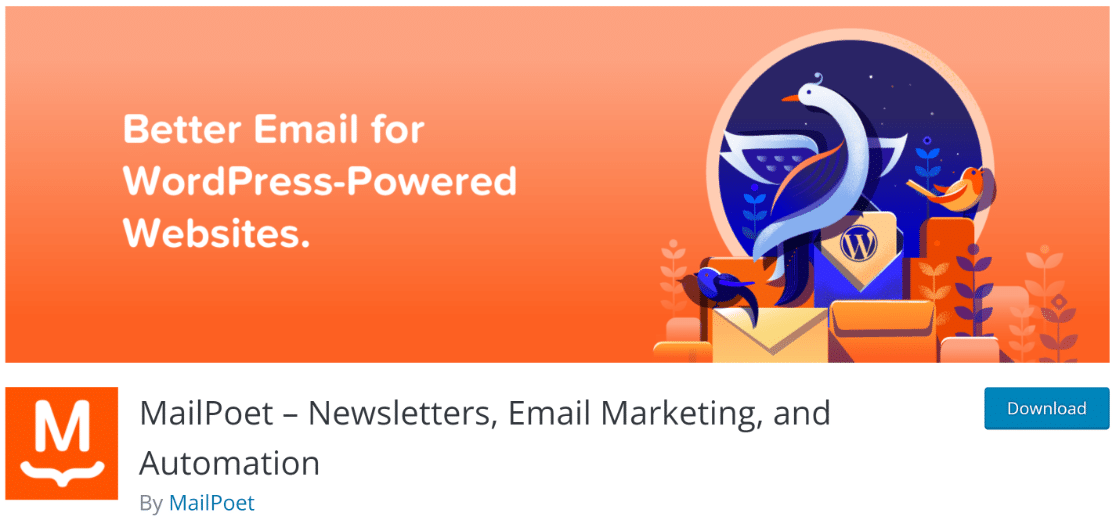 MailPoet is a plugin for WordPress that makes it easy to subscribe to emails and is known for its user-friendly design.
It makes email marketing easier, especially for people already familiar with the WordPress environment.
Users can get a head start on crafting engaging newsletters with the plugin's selection of pre-designed templates.
Our Experience
The plugin and its powerful segmentation tools enable targeted email campaigns, enhancing open rates and engagement.
We also love that you have numerous email templates that can be designed and customized to suit your website's requirements.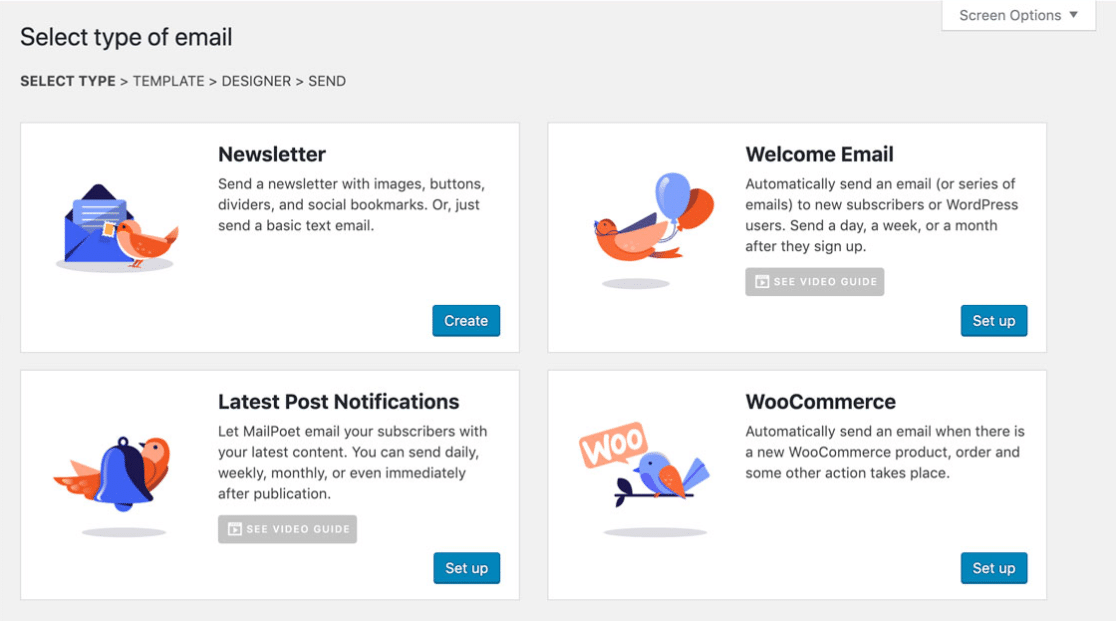 One standout feature is its native integration with WooCommerce, enabling eCommerce sites to send personalized emails based on user behavior.
Additionally, the plugin boasts robust analytics capabilities, providing users with insights into their campaign's performance.
Feature Breakdown
Native WordPress Integration: Directly operates from the WordPress dashboard, providing a seamless user experience.
Pre-Designed Templates: Offers a range of customizable templates suitable for various types of emails.
Powerful Segmentation: Allows targeting based on subscriber data and behavior, leading to more relevant campaigns.
WooCommerce Sync: Enables eCommerce specific emails like purchase confirmations and product recommendations.
Automated Emails: Effortlessly set up welcome sequences, post notifications, and other triggered emails.
Pricing and Plans
The free version, suitable for those just starting, supports up to 1,000 subscribers and provides access to most essential features. Meanwhile, paid plans start at $10/month with greater sending limits and advanced features.
Verdict
If you're looking for a free solution to growing your email subscribers list, then there is no better option in the marketplace than MailPoet.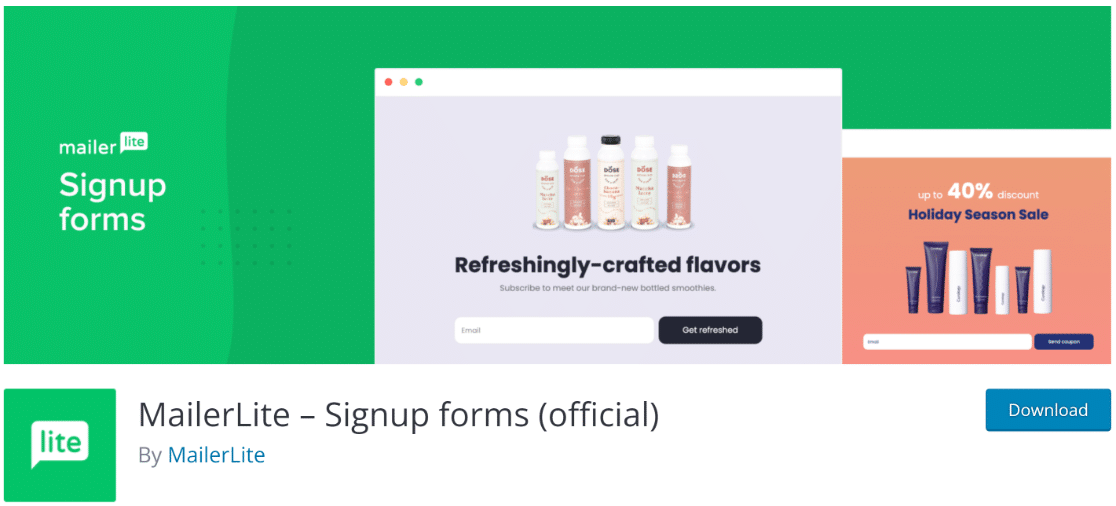 In today's crowded email marketing arena, MailerLite stands out thanks to its simplicity and efficiency in creating newsletter campaigns.
Built for both novice and seasoned digital marketers, it integrates seamlessly with WordPress, ensuring effortless email subscription management.
Our Experience
MailerLite's modern interface is known for its user-friendliness, making email campaign creation a breeze even for those new to the realm.
You can also easily embed a form into a page or post through the default WordPress block editor, which is quite a useful feature.
Diving into its suite of tools, MailerLite offers a drag-and-drop editor that lets users craft visually striking emails without coding knowledge.
The plugin also provides an array of growth-oriented tools like landing pages, pop-ups, and surveys to grow your subscriber list in no time.
Feature Breakdown
Subscriber Segmentation: Target specific user groups for increased engagement.
Landing Pages & Pop-Ups: Capture more subscribers and promote offers.
Automation Tools: Set up triggered responses based on user actions.
Advanced Analytics: Gain insights into campaign performance.
Surveys: Engage users and gather invaluable feedback.
Drag-and-Drop Editor: Simplify email design without coding.
Intuitive UI: Efficiently navigate through the platform, enhancing productivity.
Pricing and Plans
MailerLite operates on a freemium model. The free plan supports up to 1,000 subscribers and 12,000 monthly emails. Meanwhile, their premium plans for more advanced features and limits start at $9.00/month (billed yearly).
Verdict
For bloggers and startups alike, MailerLite is an indispensable email marketing tool. It comes with many email marketing and automation tools to help you grow your business.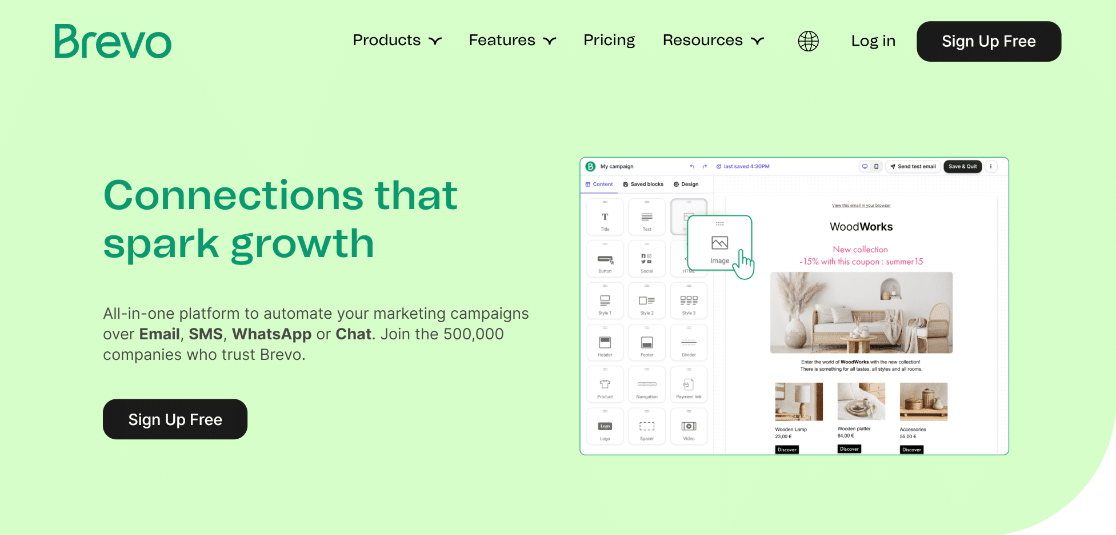 For businesses seeking to nurture leads, scale customer engagement, or streamline their email marketing endeavors, Brevo is an excellent choice.
Its integration with WordPress is smooth, allowing website owners to harness its features directly from the dashboard.
The platform promises deliverability rates that many competitors struggle to match, and is ranked top among the best SMTP email providers.
Our Experience
Setting up automated workflows for different audience segments was a breeze, and the results were immediate.
The feedback and insights from these campaigns gave us a detailed understanding of our audience's preferences and behaviors.
In addition to email marketing, you can use Brevo to send emails directly from your website to customers and subscribers.
Feature Breakdown
Transactional Emails: Send transactional messages, including order confirmations and password resets.
Advanced Automation: Set up automated workflows that respond to user behavior and preferences.
Real-time Analytics: Gain insights into campaign performance with detailed metrics and reports.
Tailored Campaigns: Craft personalized email campaigns for specific audience segments.
High Deliverability: Ensures emails make it to the inbox and not the spam folder.
List Management: Segment and manage your subscribers with ease.
Pricing and Plans
For up to 300 emails daily, you can utilize Brevo's 100% free service. If you want more, their premium plans start at $25/month. This will get you 40,000 emails each month and no daily sending caps.
Verdict
While no platform can be termed the ultimate solution, Brevo comes remarkably close to all your email marketing and deliverability efforts.
Questions Related to WordPress Email Subscription Plugins
Email subscription plugins are a popular topic of interest among our readers. Here are some quick answers to a few commonly asked questions about them:
What is the best free WordPress email subscription plugin?
WPForms is an excellent free option to create beautiful opt-in forms for email subscriptions. It has appealing templates and integrates with email services to collect subscriber data.
What is the best WordPress plugin for email newsletters?
ThriveLeads is a great choice for email newsletters. It lets you create attractive opt-in forms and popups to capture subscriber emails. It also integrates with top email marketing platforms.
Which WordPress plugin is best for collecting emails?
OptinMonster is ideal for collecting emails from visitors. It offers a variety of email opt-in forms like floating bars, slide-ins, and more to convert visitors into subscribers.
What is the best WordPress plugin for email marketing?
RafflePress is a handy plugin for email marketing campaigns. It allows you to create contests, quizzes, and surveys to capture leads. You can then export the leads to an email service.
Next, Check Out These Essential WordPress Plugins
And there you have it. We hope this list helped you select a WordPress email subscription plugin that meets your requirements. For more of our recommended plugins for WordPress, check out the following guides:
Are you having trouble receiving emails from WordPress notifying you of new orders or form submissions? It is recommended that you look into using the WP Mail SMTP plugin.
To make sure that subscribers with Gmail addresses receive your emails, you must also set up email authentication. Gmail, Yahoo, and other popular mail providers are now blocking unauthorized email, so it's critical to check this before you start sending messages out to your list.
WP Mail SMTP displays your email authentication status on the dashboard, so you'll know immediately if there are any issues.
Ready to fix your emails? Get started today with the best WordPress SMTP plugin. If you don't have the time to fix your emails, you can get full White Glove Setup assistance as an extra purchase, and there's a 14-day money-back guarantee for all paid plans.
If this article helped you out, please follow us on Facebook and Twitter for more WordPress tips and tutorials.