Want to know the differences between WP Mail SMTP Lite vs Pro? Looking for advice on picking the right plan?
Since WP Mail SMTP is one of the most trusted SMTP plugins for WordPress, selecting a version that complements your business needs is crucial.
In this post, we'll compare WP Mail SMTP Lite and WP Mail SMTP Pro, so you know exactly what you get when you upgrade.
What Both WP Mail SMTP Lite and Pro Users Can Expect
Whether you're a WP Mail SMTP Lite or Pro user, both versions streamline the email-sending process on your WordPress site effortlessly.
Customers of all license levels can use WP Mail SMTP to send emails from their site via an email service instead of sending them from their web host.
This seamless integration is what has skyrocketed WP Mail SMTP to its revered status in the WordPress community with over 3+ million active installations.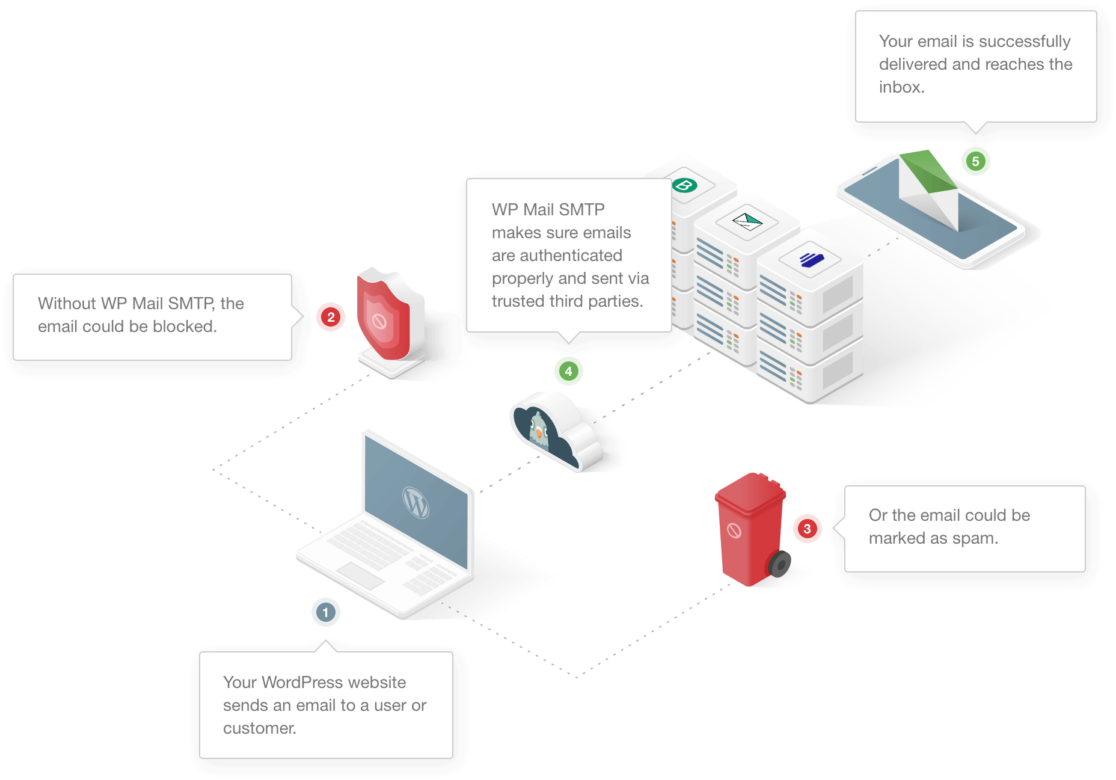 Benefits of Moving Away from Hosting Server Emails with WP Mail SMTP
To ensure emails from your WordPress site don't land in the spam folder, WP Mail SMTP Lite and Pro versions offer several advantages:
So, regardless of your version, rest easy knowing your emails are in capable hands. The Pro version, however, does add some extra useful features on top.
WP Mail SMTP Lite vs Pro: Is It Worth the Upgrade?
When using WP Mail SMTP Pro, it quickly becomes clear that the plugin has many outstanding email delivery capabilities. Here are some of our favorite features.
Email Logs, Reports, and Tracking
If you're searching for an SMTP plugin, you're likely interested in something that provides access to logs, reports, and tracking. Let's see what WP Mail SMTP has to offer in these categories.
Email Reports
To improve your email deliverability management, WP Mail SMTP Pro offers an Email Reports feature to track your emails' performance.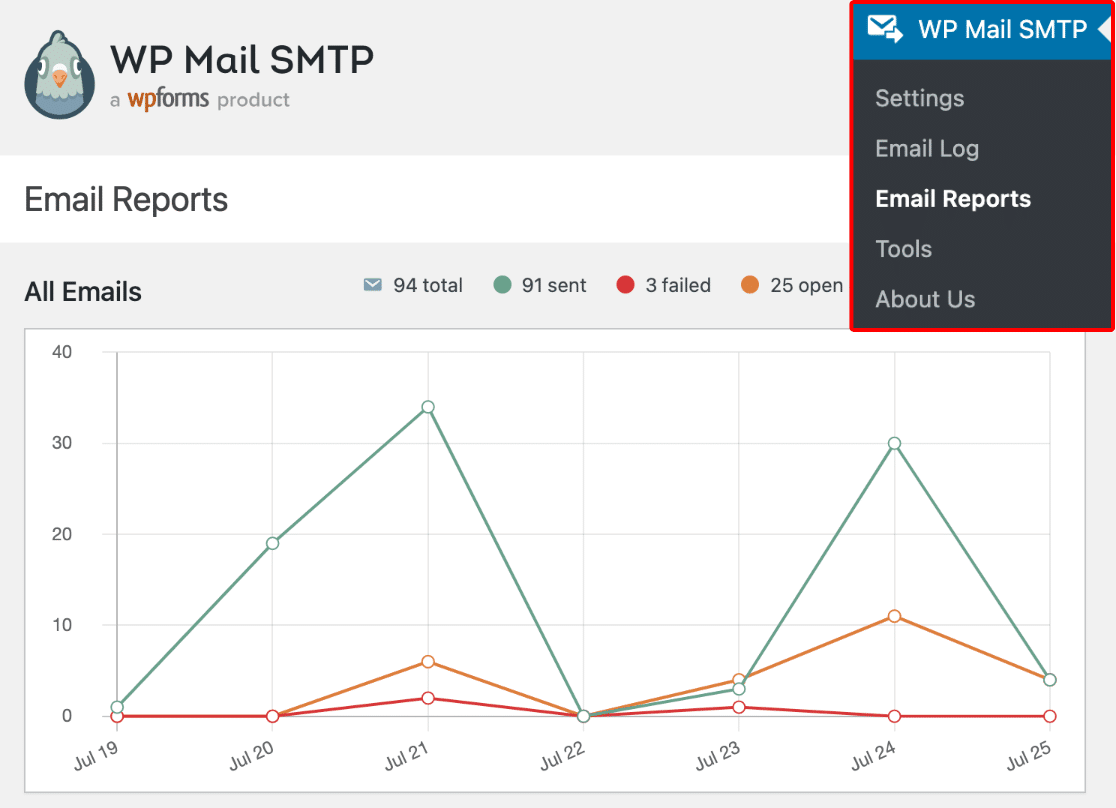 The visual aid in the form of an intuitive graph provides an at-a-glance perspective on email deliverability from your WordPress site.
You will also discover, directly below the graph, a table that presents the stats for each email sent from your website.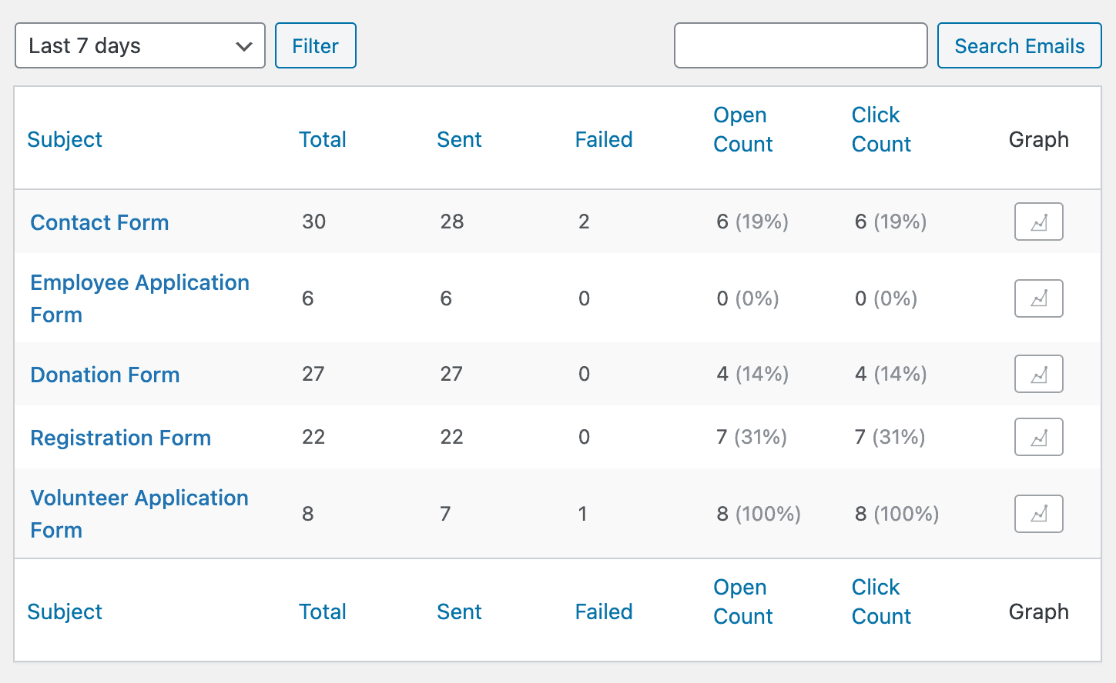 The following information may be found in the data that is displayed in both the graph and the table:
Total: This is the total number of emails sent from your site, both those that were delivered and those that were not.
Sent: The total number of emails that were sent from your site successfully.
Failed: The total number of emails that were not sent successfully.
Open Count: This shows how many emails were opened by the recipients.
Click Count: This reflects how many links in the email were clicked by the recipients.
One of the best parts about this Email Reporting feature is that it even allows you to view graphs for a single email subject instead of an overview of all emails.
If that isn't enough, you can also filter your emails by date or search for a specific email by typing in the email's subject in the search bar.
WP Mail SMTP Pro also gives an option to receive Weekly Email Summaries, which are sent directly to your WordPress site's admin email.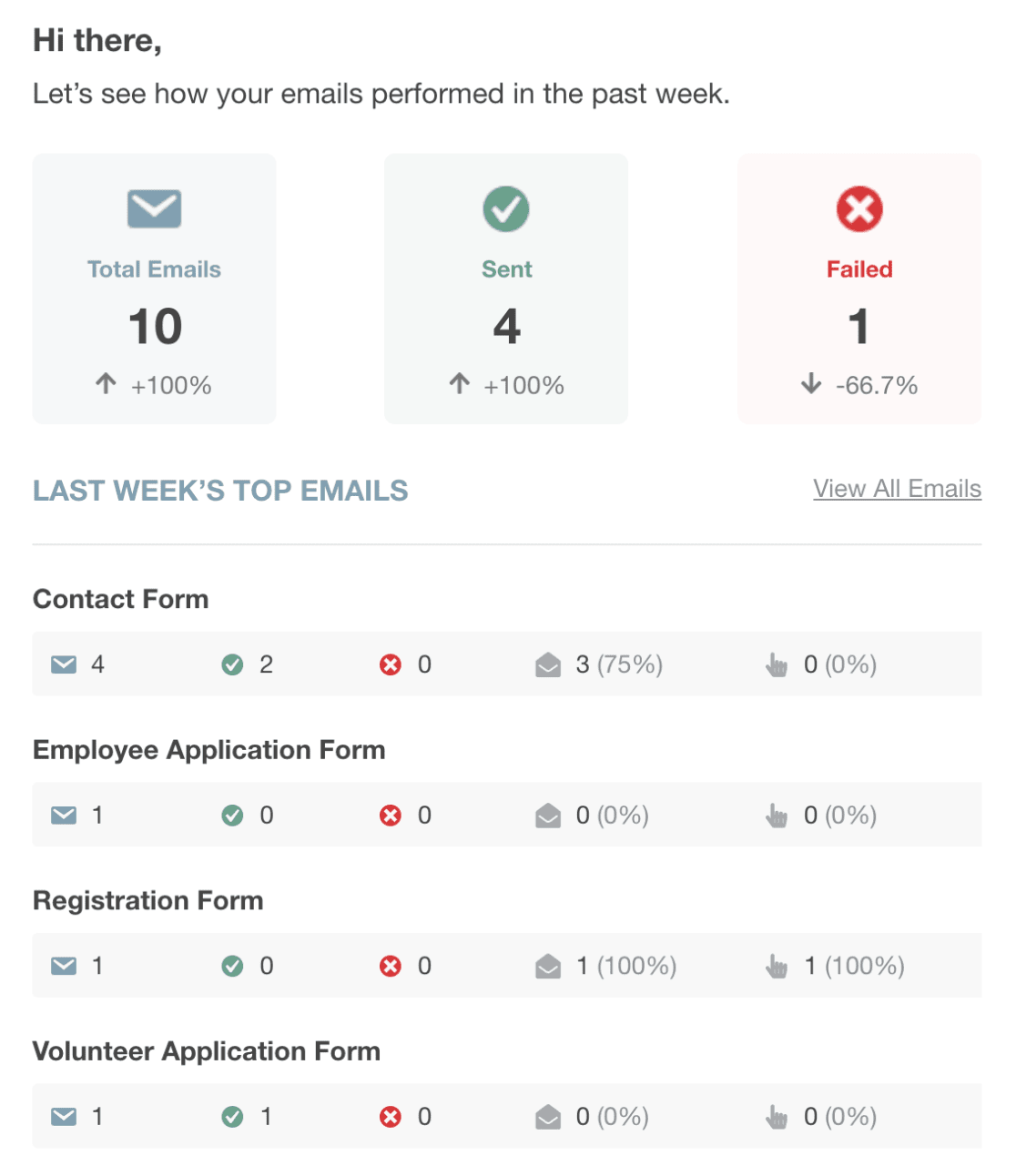 Email Logging
WP Mail SMTP Pro offers one of the most comprehensive solutions for email logging to maintain a meticulous record of every correspondence.
Upon activating email logging with WP Mail SMTP Pro, every email your site sends is recorded, providing a wealth of details:
Email Status: Quickly ascertain if your email was delivered, awaiting confirmation, sent, or unfortunately not sent at all.
Detailed Metadata: It meticulously logs the date, time, subject line, recipient details, including CC and BCC, and the source of the email – whether it's from the WordPress core, a plugin, or a theme.
Technical Specs: From the mailer used to MIME and content types, it's all cataloged for future reference.
Not only does WP Mail SMTP capture the email's metadata, but if you opt for it, the very content of the email as well.
This is helpful, especially if you need to resend failed emails but remember that the email contents are stored as plain text in your site's database (so it's not encrypted).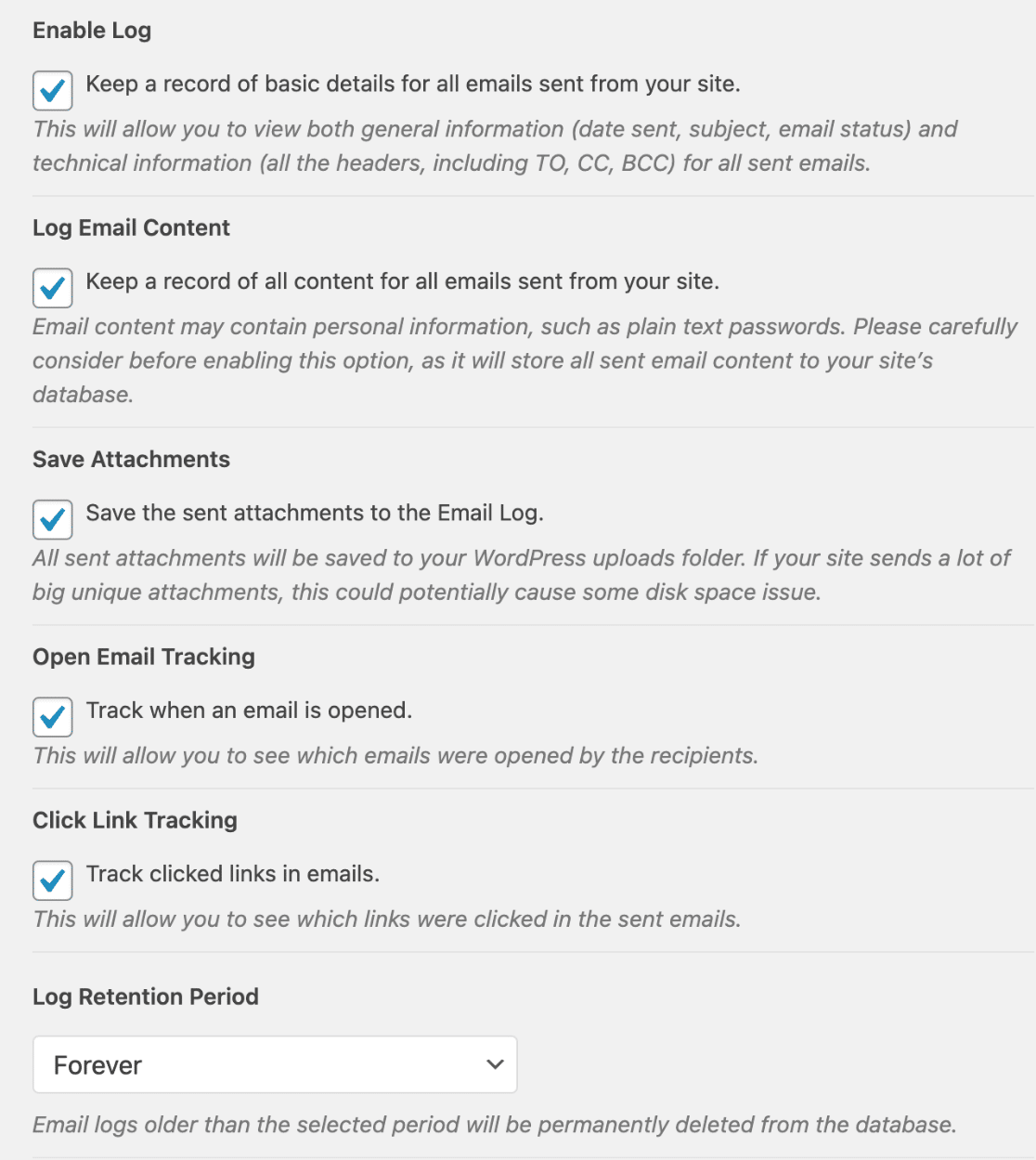 The capacity to save email attachments is yet another outstanding feature included in the WP Mail SMTP Pro version.
All attachments go to the WordPress Uploads folder, so you never have to search your inboxes or websites to find that important file.
The number of stored attachments is listed under Attachments in the Log Details section of a specific email log.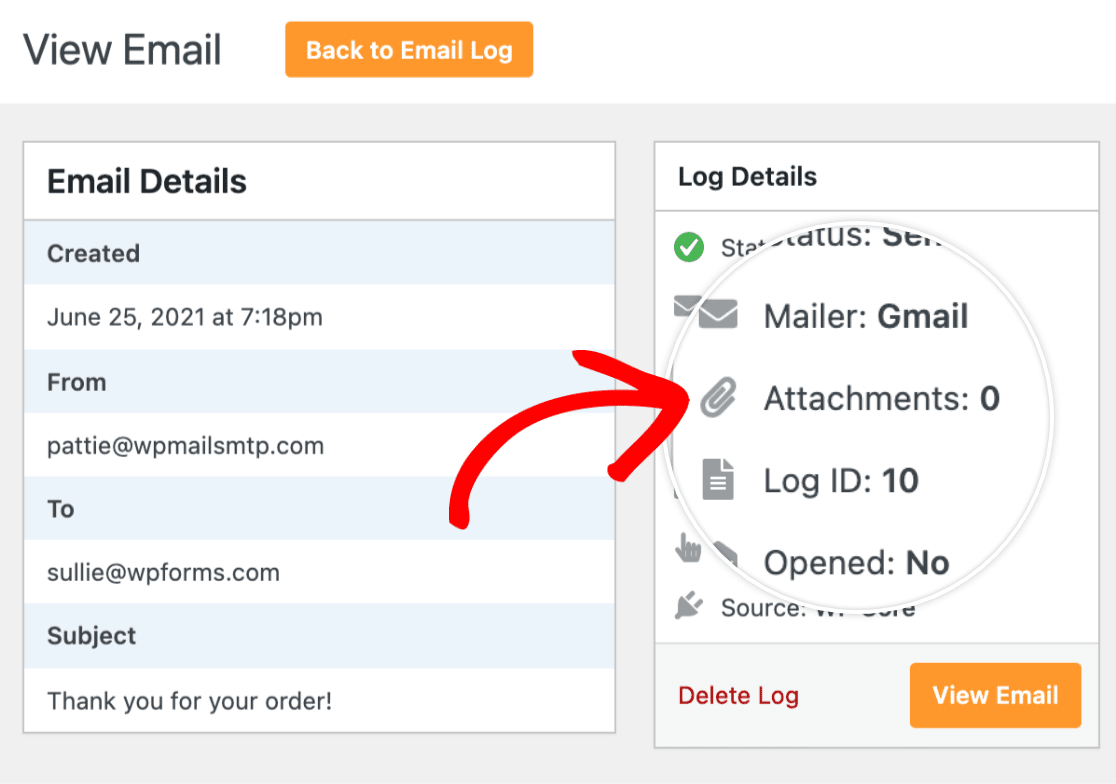 Email Open & Click Tracking
Have you ever questioned whether or not the recipient of your email actually opened and read it after it was sent to them?
WP Mail SMTP Pro's Open Email Tracking feature allows you to determine whether recipients have opened your emails.
The Click Link Tracking also sheds light on the recipient's participation by revealing if any of the email's links were clicked.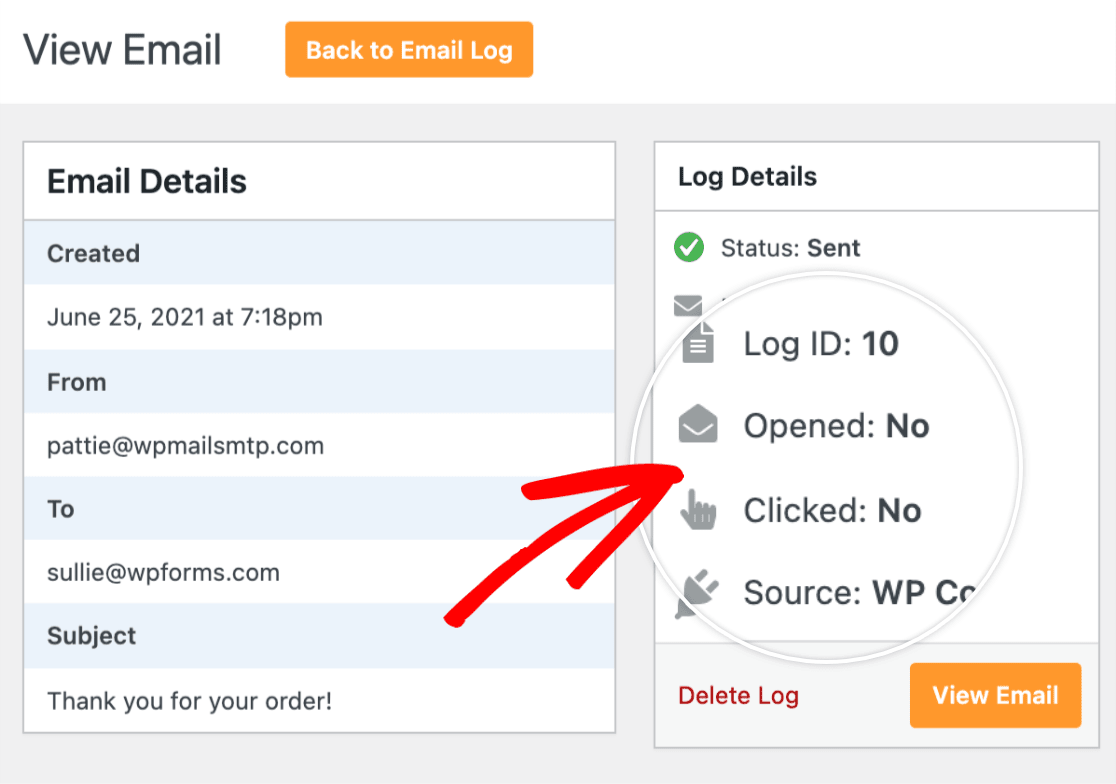 Failure Alerts, Backup Connections, and Smart Routing
Information on the performance of your emails is vital, but so is knowledge on how to test email problems on your website. After all, website difficulties may result in lost emails and revenue. Let's have a look at what WP Mail SMTP has to offer.
Email Failure Alerts
Even if your site encounters issues with email sending, WP Mail SMTP Pro guarantees to deliver email failure alerts.
These alerts can reach up to three designated email addresses using a secure API connection. What's more impressive? The alert system is designed to avoid flooding.
If multiple failures occur in 30 minutes, only the first triggers an alert. One can utilize the Email Logging feature to gain a complete view of all failed emails.

Meanwhile, WP Mail SMTP Pro also offers seamless integration for teams relying on Slack for communication to receive alerts.
By creating a dedicated Slack app and adding its webhook URL to your site, you can ensure your team gets immediate notifications about email failures.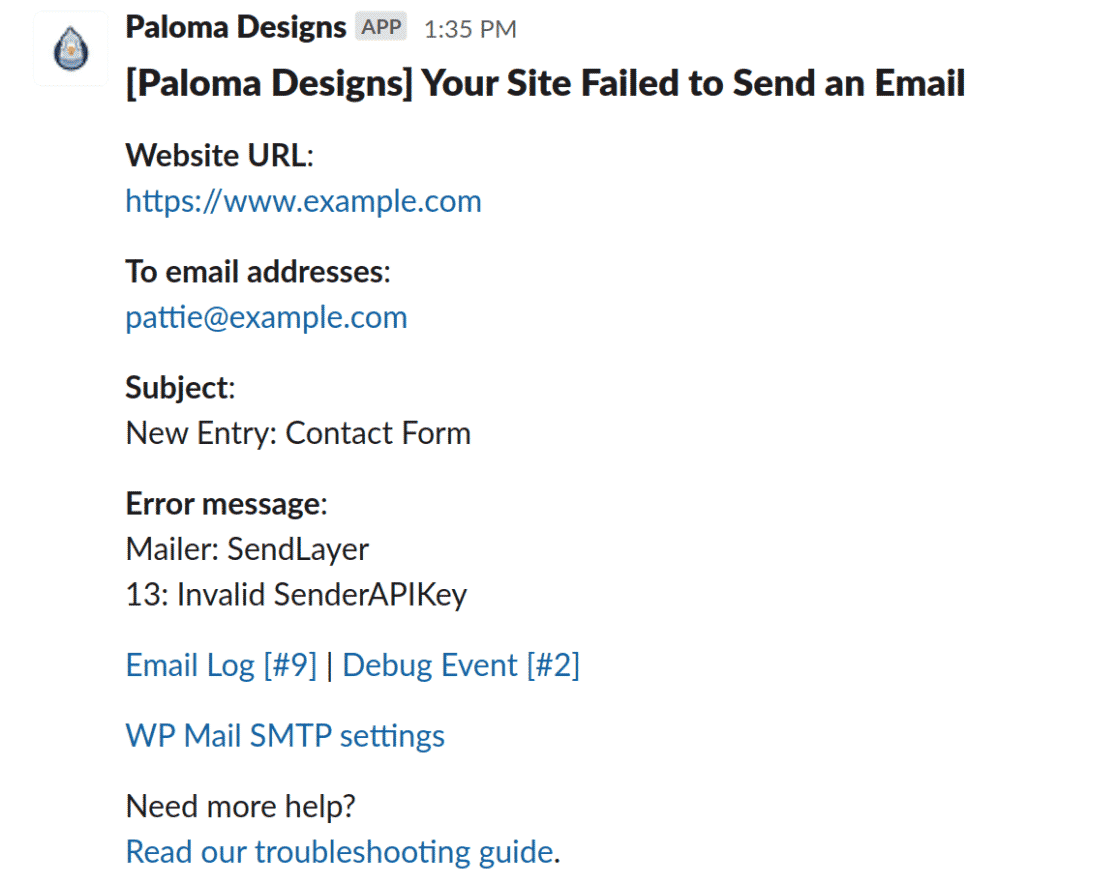 When email or Slack isn't the preferred medium, WP Mail SMTP extends its prowess to SMS notifications to your smartphone.
Email failure or form submission notifications can be sent directly to mobile devices through seamless integration with Twilio, ensuring immediate attention.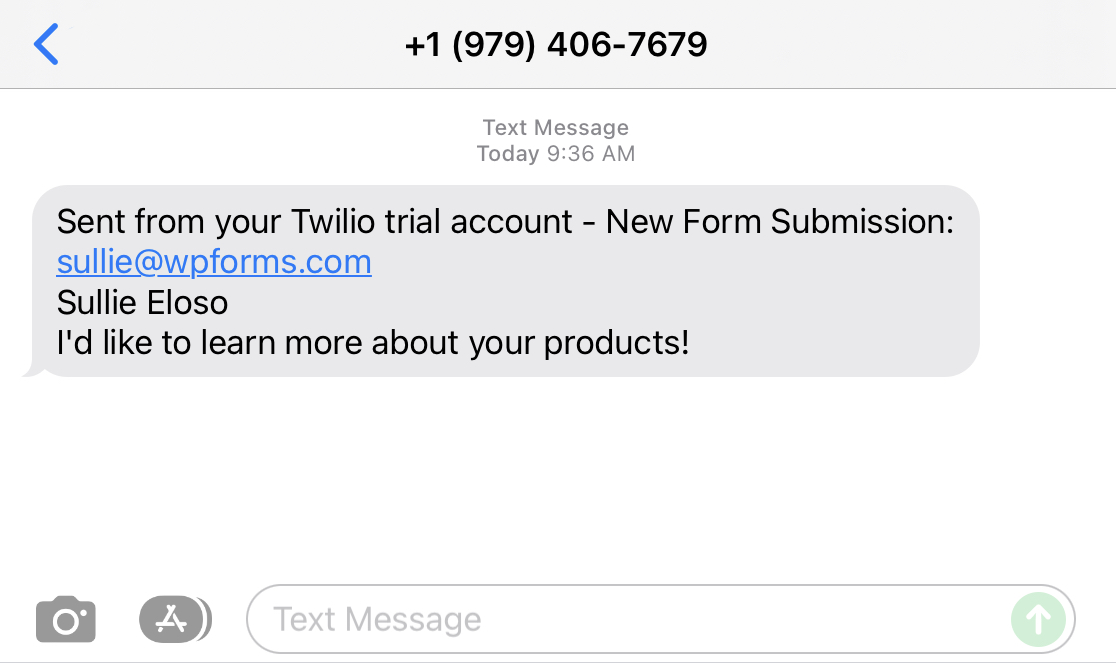 Backup Connections
Another great feature offered by WP Mail SMTP Pro is the ability to set up a backup connection in case your primary connection fails to deliver an email.
Once you've added an extra connection, it's just a matter of heading to the SMTP settings and choosing your backup from the list.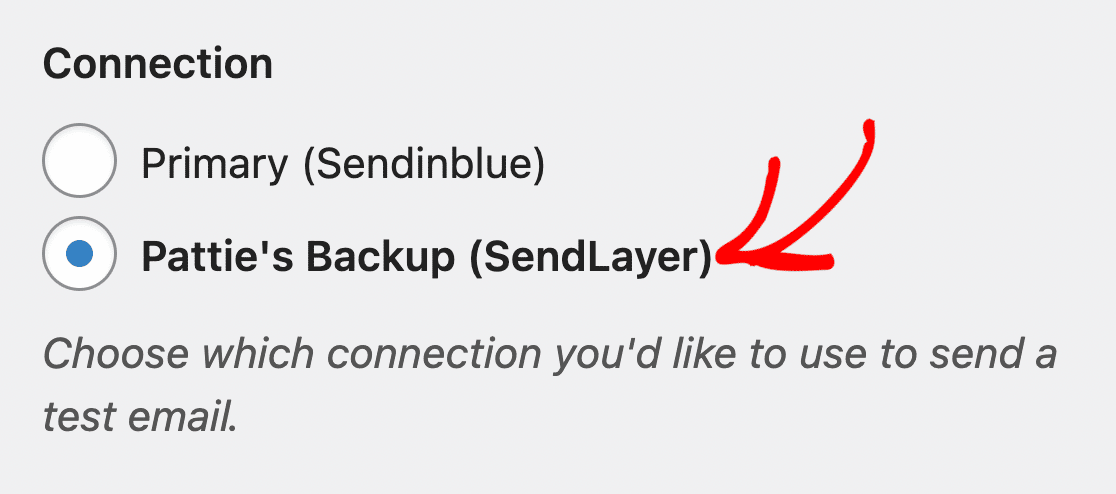 Smart Routing
In addition to setting up a Backup Connection, WP Mail SMTP Pro also offers Smart Routing capabilities to send emails using different connections.

This feature gives you the ability to configure the mailer connection to use based on the conditions you set. Here's a glimpse into the mechanics:
Connection Choice: At the outset, users can select the desired connection that activates upon meeting the set conditions;
Condition Customization: Whether you're basing it on the email's subject, its content, sender, recipient, or even specific header values, the choice is expansive.
Comparison Operators: Once a condition type is picked, you can define the comparison operator. Whether the subject "contains" a specific term or "starts with" a certain phrase, the customization is in-depth.
Value Definition: This is where you input the specific text or keyword that activates the Smart Routing.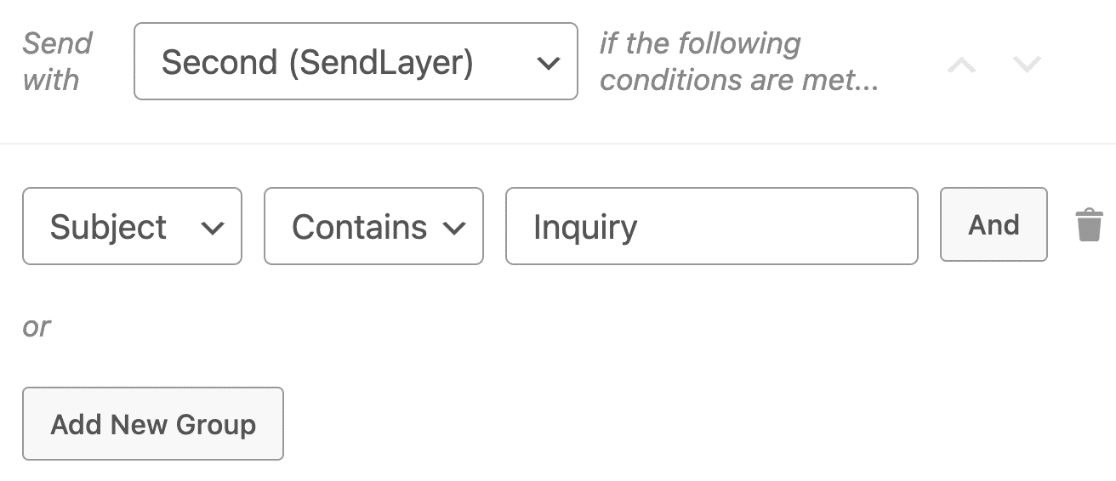 Using 'AND' or 'OR' rules, users can also integrate multiple conditions, enhancing the flexibility and granularity of email routing.
For instance, an 'AND' rule means all listed conditions must be met, whereas an 'OR' rule will activate if any of the given conditions are satisfied.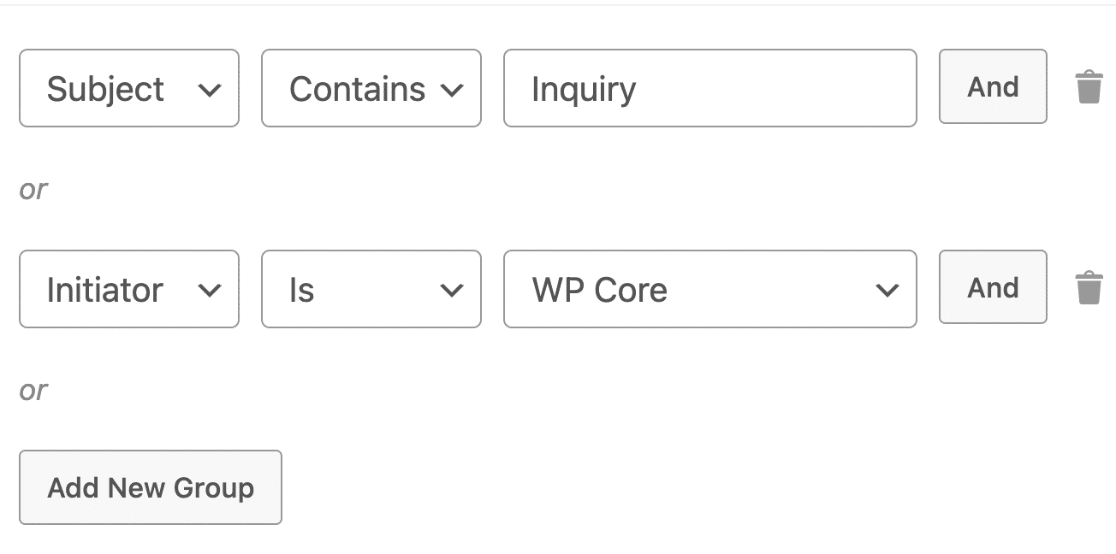 Additional SMTP Mailer Integrations
While WP Mail SMTP Lite accommodates numerous popular mailers, such as SendLayer, SMTP.com, Brevo (formerly Sendinblue), Google Workspace/Gmail, Mailgun, Postmark, SendGrid, SparkPost, and Other SMTP, it's WP Mail SMTP Pro that elevates the mailing experience by introducing even more specialized mailers, such as:
Amazon SES: Recognized for its dynamic scalability and reliability, Amazon SES stands tall among WP Mail SMTP Pro's offerings. It's specially designed to assist marketers and developers in sending transactional emails, marketing emails, or mass emails effortlessly.
Microsoft 365 / Outlook.com: With the digital workspace evolving, the inclusion of Microsoft 365 / Outlook.com mailer ensures seamless email authentication for businesses. It integrates the power of Outlook's interface with WP Mail SMTP Pro's functionalities.
Zoho Mail: As businesses scale, so do their mailing needs. Zoho Mail combines professional aesthetics with top-tier mail management features, becoming a prominent choice for WP Mail SMTP Pro users.
For those weighing the value of Pro against its cost, a simple peek into its vast array of mailer options provides a clear answer.
White Glove Setup
You can purchase White Glove Setup as an additional service with any of our WP Mail SMTP licenses and have our customer support team set up WP Mail SMTP for you.
Support in WP Mail SMTP Lite vs Pro
Another area where the Lite and Pro versions differ may be seen most clearly in the support department.
| | WP Mail SMTP Lite | WP Mail SMTP Pro |
| --- | --- | --- |
| WordPress.org support | ✓ | |
| Ticket support | | ✓ |
| Typical response time | 1-3 business days | ~1 business day |
As a Lite customer, you will always receive support for the WP Mail SMTP Lite plugin via the WordPress.org forum.
However, if you upgrade to Pro, you can get help even faster by opening a support ticket right from your WP Mail SMTP account.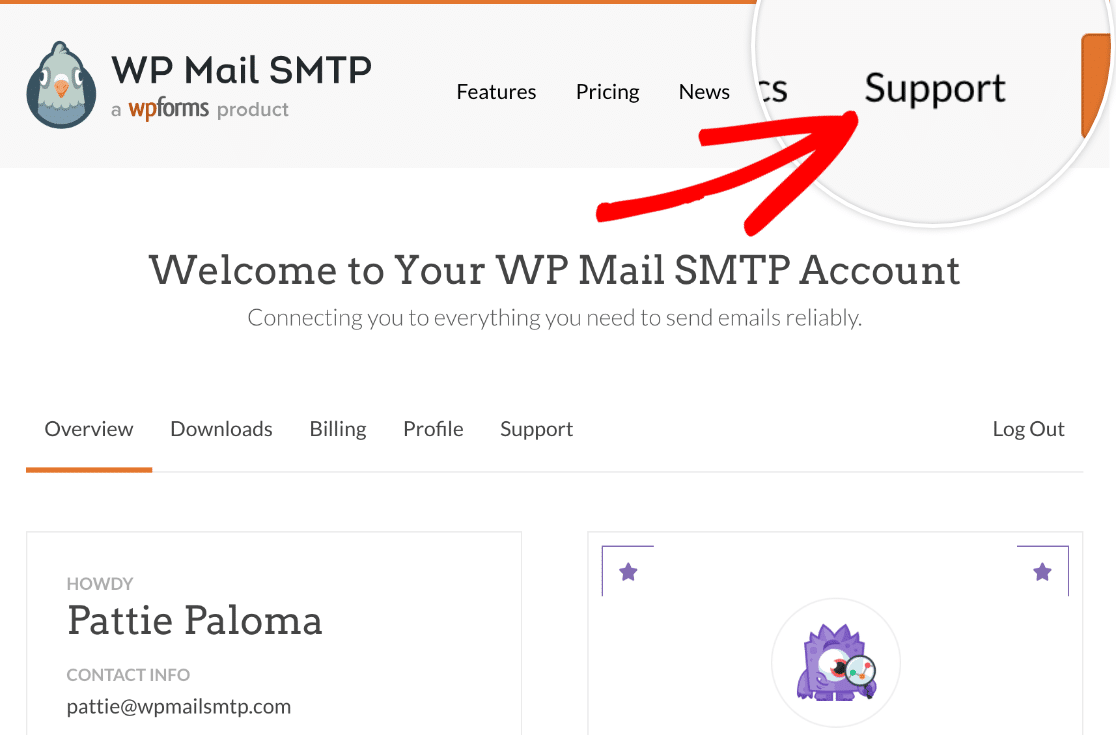 How Much Does WP Mail SMTP Pro Cost?
Let's take a closer look at the pricing tiers and assess whether WP Mail SMTP Pro is worth your while. You basically have four pricing plans:
Pro: Offers a ton of great features and excellent value for those starting out, priced at an affordable rate of $49.00/year.
Business: With additional support for 3 sites and all Pro features, the Plus plan is a step up at a price of $99.00/year.
Developer: Includes all features from the lower-tier plans, plus powerful extras like use on 20+ sites and Priority support at $199.00/year.
Agency: Ideal for businesses running websites in the 100s and need dedicated support. It costs around $399.00/year.
Our Verdict – Why Pro Wins Hands Down
Knowing everything there is to know about WP Mail SMTP Lite and Wp Mail SMTP Pro, you can see that upgrading to WP Mail SMTP Pro is well worth it, especially considering how affordable it is.
Its flexibility to integrate additional mailers and advanced features, like detailed email reports, open and click tracking, and timely email failure alerts, provides intricate details into every email's journey.
In addition, WP Mail SMTP offers a 100% no-risk 14-day money-back guarantee. If it's not a good choice for your website, you can return it for any reason—or for no reason at all! Our support staff is available to answer any billing or technical questions you may have.

Are you ready to upgrade? Purchase WP Mail SMTP now! In a matter of minutes, you'll gain access to nearly every advanced feature, integration,  and capabilities discussed in this review.
More Questions about WP Mail SMTP Lite vs Pro
Here are some common questions and their answers regarding the two versions of the WP Mail SMTP plugin.
What is the difference between WP mail SMTP and SMTP Pro?
WP Mail SMTP is completely free and includes everything you need to send emails from WordPress confidently! The Pro version comes packed with even more enhanced features like email logging, reporting, and better integrations, ensuring a more seamless and efficient email experience.
What is the best SMTP service for WordPress?
While various SMTP services are available for WordPress, WP Mail SMTP is considered the best, regardless of whether you're using the Pro or Free version. Its seamless integration, advanced features, and high deliverability make it a top recommendation for WordPress users.
How do I upgrade my WP mail SMTP to pro?
To upgrade to WP Mail SMTP Pro, visit the official WP Mail SMTP website. Navigate to the pricing page, select your preferred Pro plan, and follow the instructions. Upgrading ensures you access to advanced features that amplify your WordPress email functionality.
Can I use Gmail SMTP with WordPress?
Absolutely! You can use Gmail's SMTP with WordPress. WP Mail SMTP makes integration straightforward, ensuring your WordPress website can send emails using Gmail's servers efficiently.
How many types of SMTP are there?
SMTP, which stands for Simple Mail Transfer Protocol, is a singular protocol for sending emails. However, its implementations might vary, leading to various SMTP services. WP Mail SMTP supports multiple email providers, ensuring flexibility in choice.
Do I need SMTP server to send email WordPress?
By default, WordPress uses the PHP Mail function to send emails. However, utilizing an SMTP server, especially through tools like WP Mail SMTP,  enhances email deliverability, ensuring your emails don't end up in the spam folder.
FluentSMTP vs WP Mail SMTP: which is the best SMTP plugin?
When it comes to comparing FluentSMTP and WP Mail SMTP, it is clear that both plugins are great options. However, WP Mail SMTP still remains the top choice for those seeking the very best for their WordPress email solutions.
Next, Check Out Our In-Depth WPForms Review
Looking for a form builder plugin to create contact forms, payments forms, order forms, and more? One that seamlessly integrates with WP Mail SMTP? Well, look no further than WPForms! Check out our detailed WPForms review for more information.
Ready to fix your emails? Get started today with the best WordPress SMTP plugin. If you don't have the time to fix your emails, you can get full White Glove Setup assistance as an extra purchase, and there's a 14-day money-back guarantee for all paid plans.
If this article helped you out, please follow us on Facebook and Twitter for more WordPress tips and tutorials.