Do you need to resend the WordPress activation email to new users?
WordPress sends a new user activation email to every new user, but they can sometimes get lost. If you need to resend activation emails to your users, we're here to help. In this tutorial, we'll walk you through each quick and easy step.
Let's get started.
What is the WordPress New User Registration Email?
The new user registration email contains information to help WordPress users set passwords and activate their user accounts. It's not a long email, but it's an important one.
Unfortunately, if that new user account activation email doesn't make it to the user, they can't activate their account, so it's important that you know how to resend it.
How To Resend New User Email in WordPress
Note: If you're using BuddyPress, there's an extra step you need to take to resend the activation email. For more about that, read how to resend the BuddyPress activation email.
Ready to jump right in?
1. Install the WP Mail SMTP Plugin
To start, we're going to install the WP Mail SMTP, which is a plugin available for wordpress.org sites.
First, you'll need to create a WP Mail SMTP account and log in. Once you're there, switch to the Downloads tab. You can download the latest plugin file by clicking the orange button.
After downloading the plugin's .zip file, log in to your website's WordPress dashboard.
To install the plugin, go to the plugins page and upload the zip file. If you need some help with this step, check out this guide to installing WordPress plugins.

Once installed, be sure to Activate the plugin. As soon as you do that, the Setup Wizard will start in your browser.
If you ever want to return to the Setup Wizard, you can also find it in the WP Mail SMTP settings, as well. From the left sidebar navigation in your WordPress dashboard, click on WP Mail SMTP » Settings. You will see the Launch Setup Wizard button near the top of the page.

Now let's walk through the Setup Wizard steps.
2. Connect Your Website to an Email Service
The first thing you'll do in the Setup Wizard is connect your website to an email service. This will send your messages, including user activation emails and admin email change confirmations, through a professional email service provider.
Click the Let's Get Started button in the wizard to begin.

On the next screen, you'll select your mailer. As you can see in the screenshot below, various free and premium mailer options are available to stop new user activation emails from going to the recipient's spam folder.
Select your mailer. If you already have an account, you'll be able to connect using your existing credentials. If not, you'll be able to create one with your chosen mailer.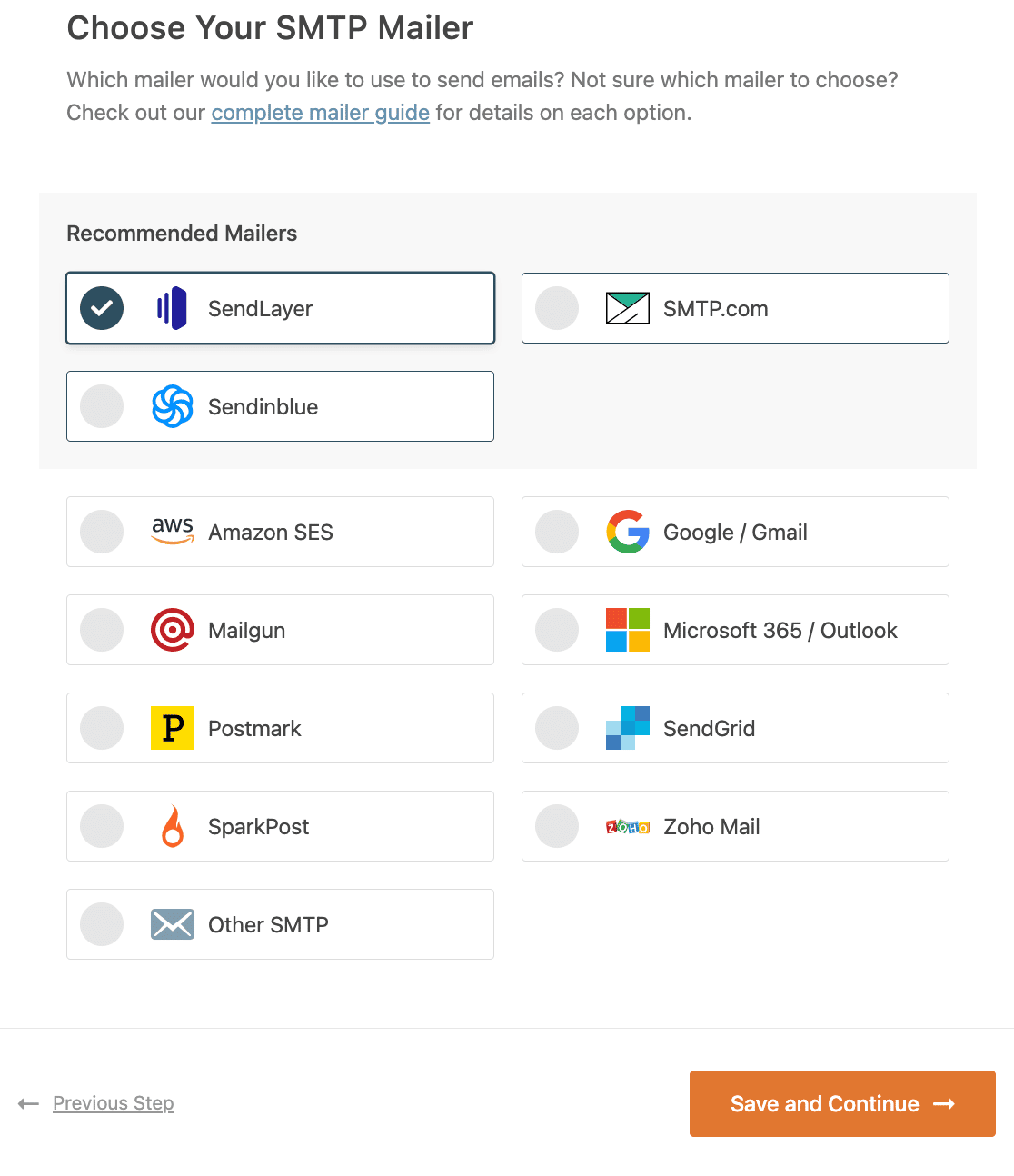 If you have an eCommerce website, we recommend choosing a mailer that supports transactional emails. This is the best option for any site sending a large number of emails, like:
Multisite networks
WooCommerce stores
For extra guidance, we have documentation for each of the available mailers. These guides will walk you through creating your account and connecting to WordPress. Access the documentation by clicking the link in the table below. We recommend opening the guide in another tab or window.
Once you've set everything up, switch back to this guide to follow the next step in the wizard.
3. Enable Email Logging
Now we'll enable email logging in WP Mail SMTP. Improved Email Deliverability and Email Error Tracking options are enabled by default.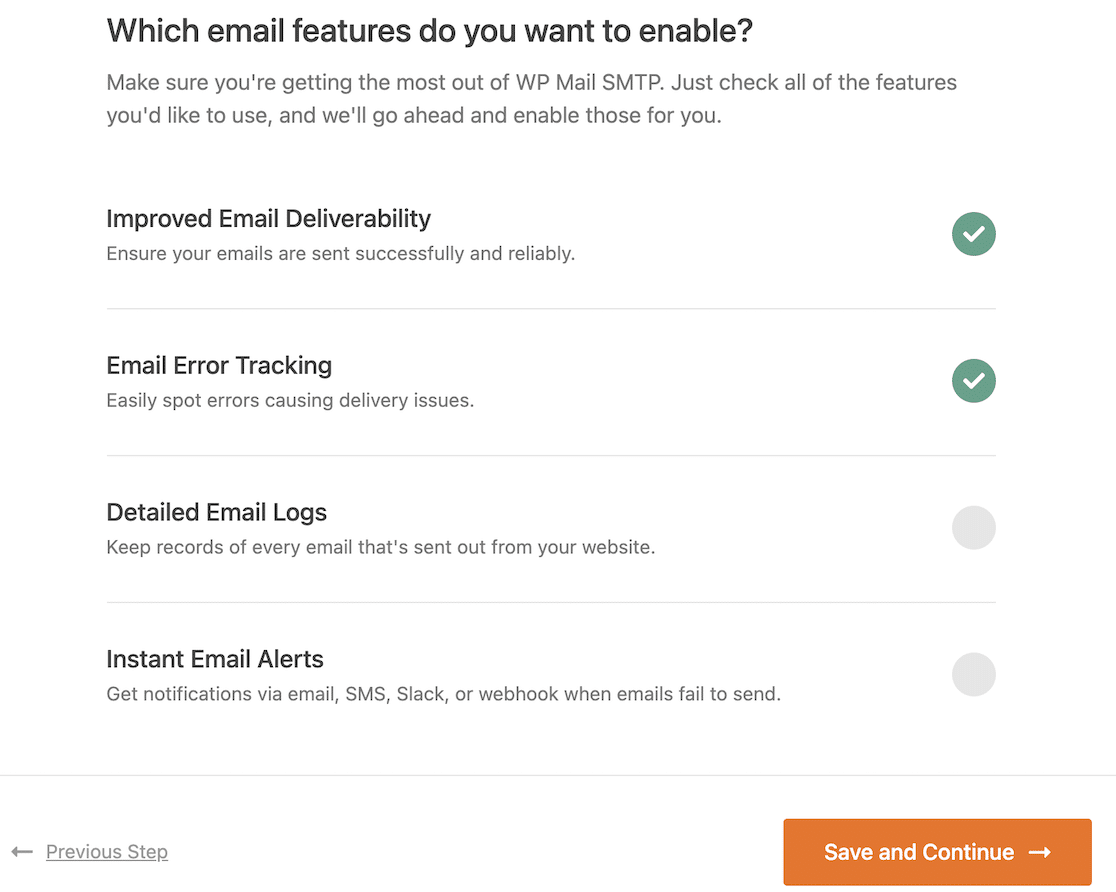 Click the option to enable Detailed Email Logs, as well. Note that when you do, you'll get options for Complete Email Reports and Weekly Email Summary.
You can also enable Instant Email Alerts, which will send you notifications right away if an email from your WordPress site fails to send so that you fix it.
4. Log the Email Content
Next, we're going to configure the email logs. This is an important step because it will allow us to resend the user activation email from WordPress.
To complete this step, you must have selected Detailed Email Logs in the previous step.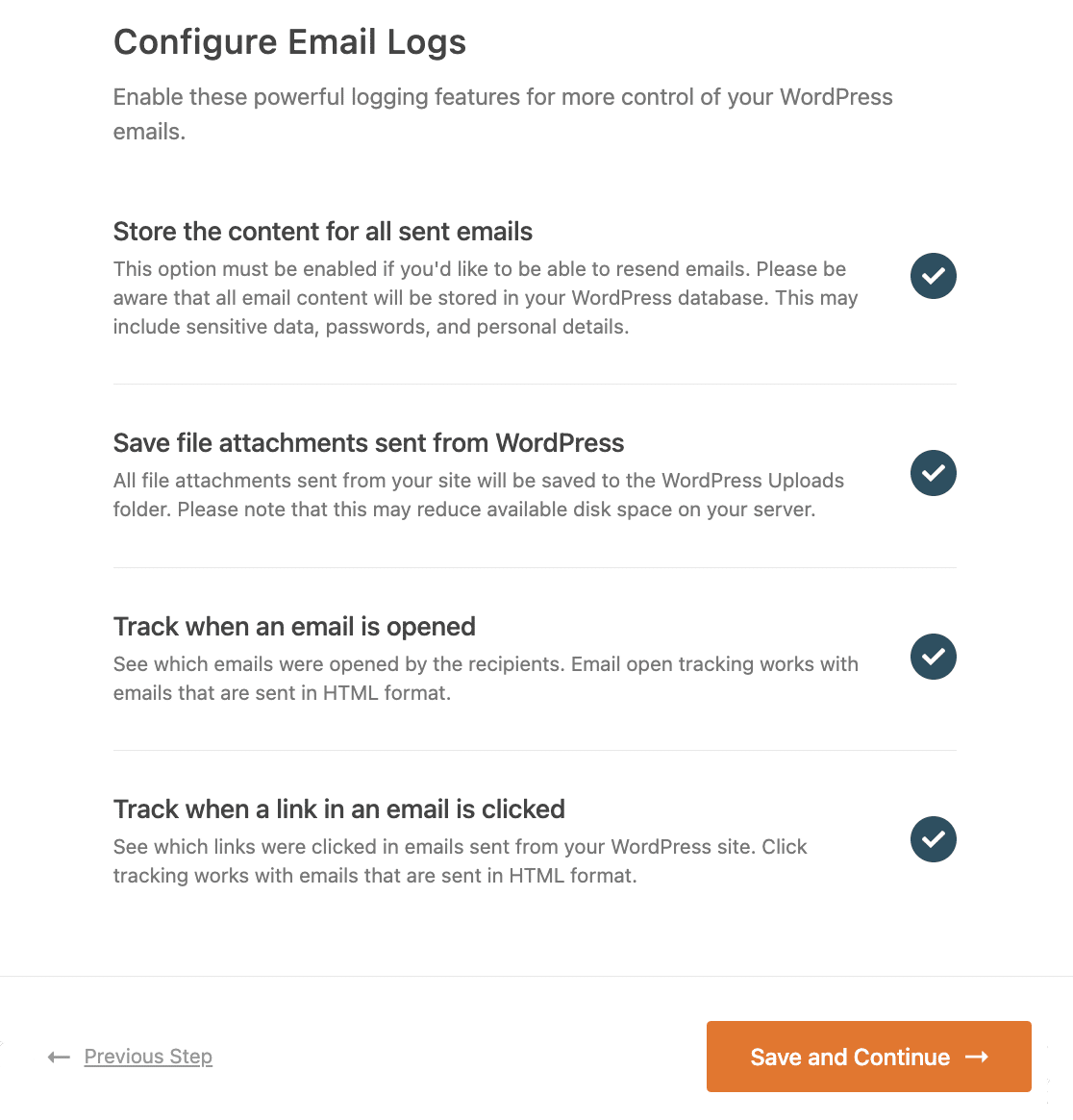 The options here include:
Store the content for all sent emails. This lets you save the content of your WordPress emails in your site's database.
Save file attachments sent from WordPress. When this setting is enabled, email attachments from your WordPress site will be saved in your site's Uploads folder.
Track when an email is opened. Use this feature to see if recipients open your WordPress emails.
Track when a link in an email is clicked. Enable this option to see when recipients click on the links in your emails.
You must enable the Store the content for all sent emails option if you want to be able to resend WordPress emails.
After configuring your email logs, WP Mail SMTP will check your mailer configuration.
Copy the license key from the WP Mail SMTP account and paste it into the box to enable the Pro feature and future automatic updates.

Now that we've properly configured the plugin, we can resend the new user activation email. This may also be a good time to learn how to save contact form emails in the WordPress database.
5. Resend New User Email in WordPress
To start, access your WordPress dashboard and navigate to WP Mail SMTP » Email Log.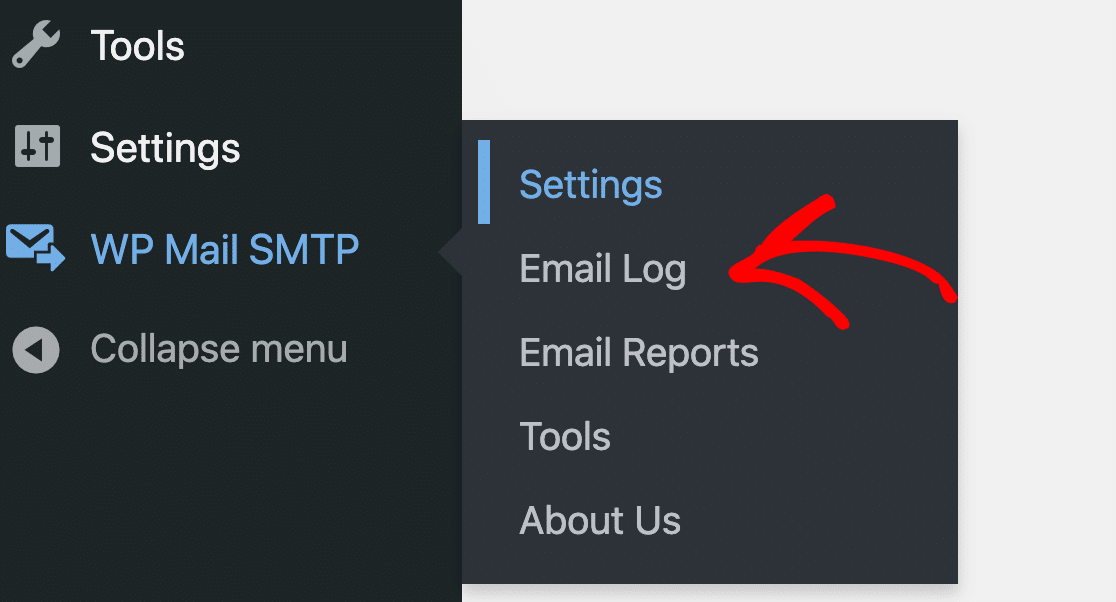 Here, you'll see all emails that your website sent after turning on email logging.
To resend any email, click on View Log to open it.

On the log page, you'll find the Resend button under the Actions tab in the lower right side.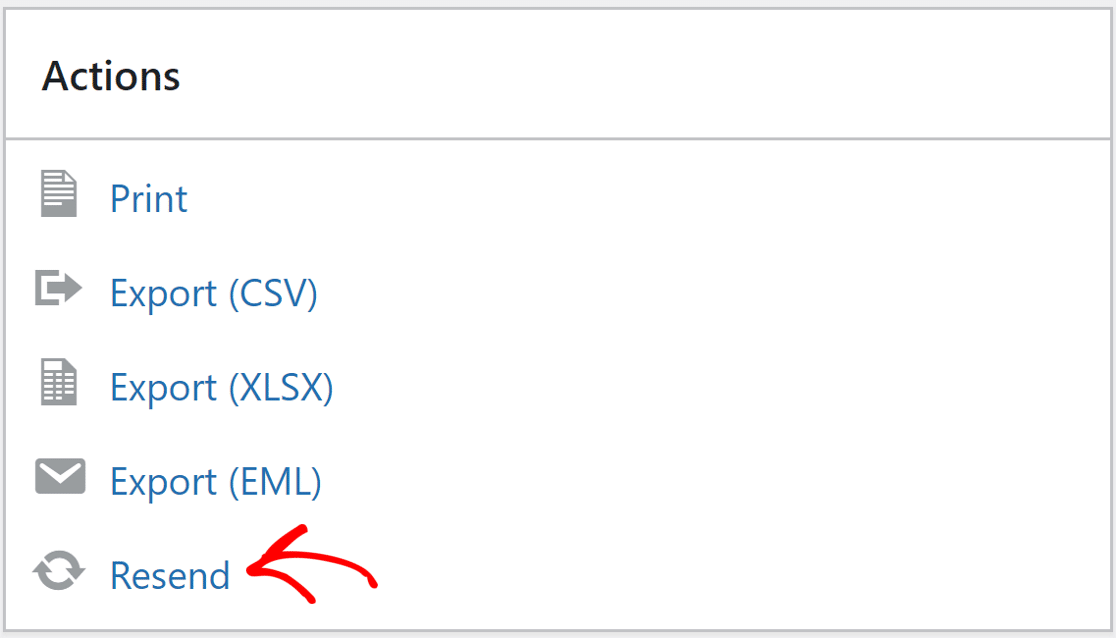 Click on Resend, and a popup will appear. The email field will have the user's email address prefilled.
If your user is having difficulty receiving emails, you can edit this address or add a second email address separated by a comma.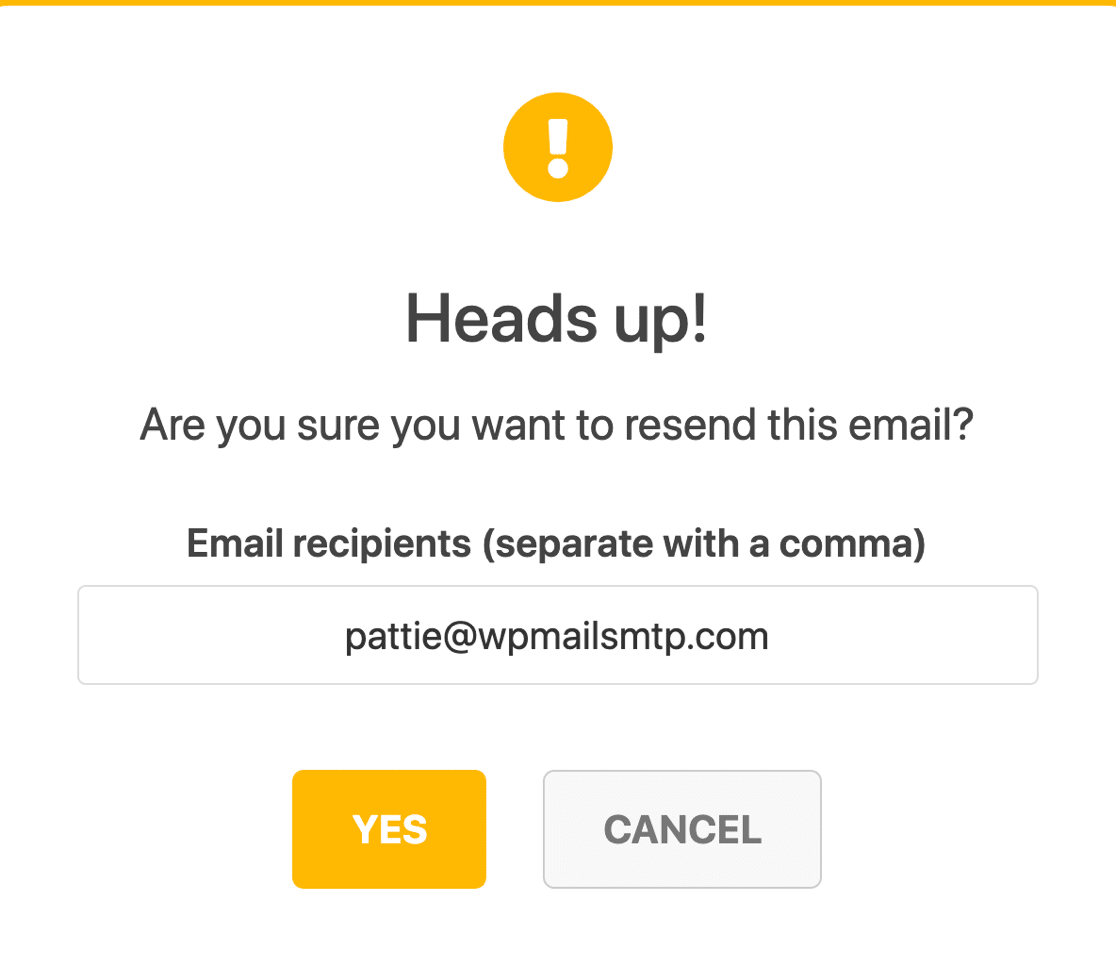 Click on the YES button. WP Mail SMTP will resend the WordPress new user verification email using the email provider we set up so they can click the activation link.
If you have a bunch of failed emails, WP Mail SMTP makes it easy to resend those in bulk from the email log screen. This is a great way to retry sending emails that failed due to an SMTP error.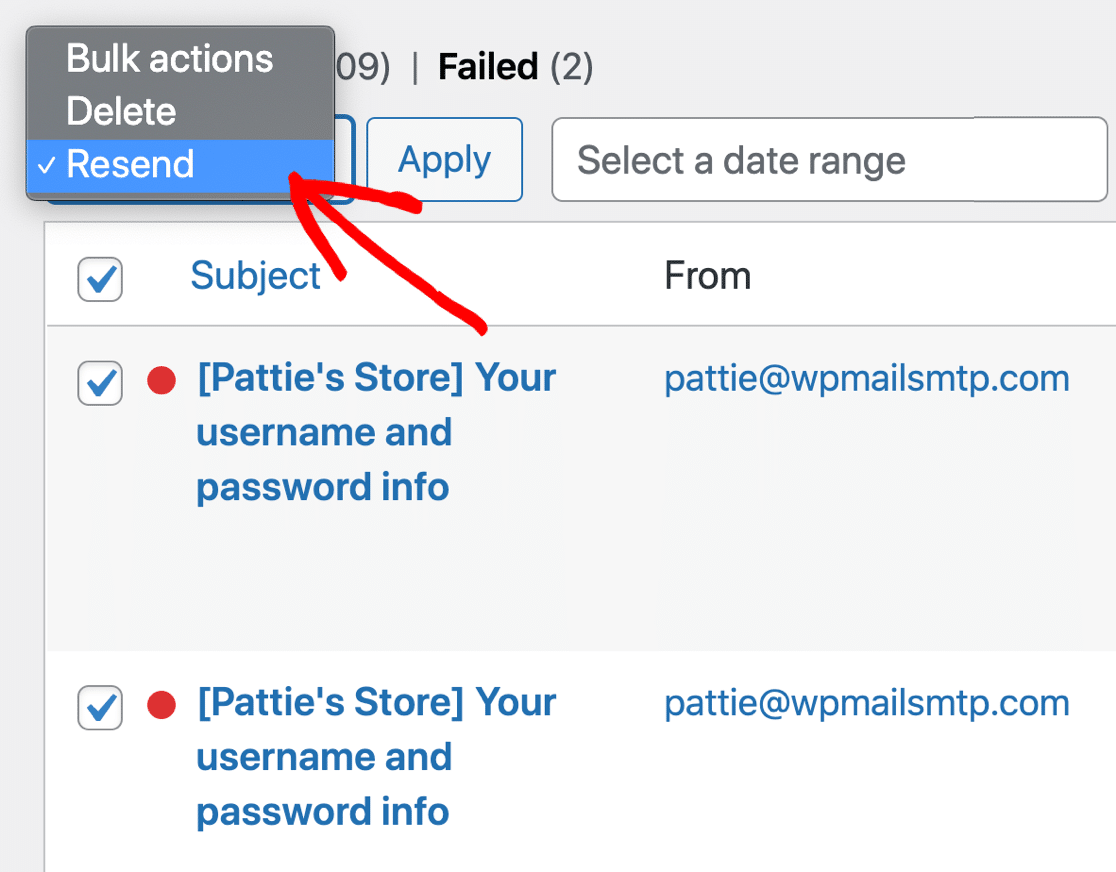 Finally, let's look at how you can monitor your WordPress emails moving forward.
6. Monitor Your WordPress Emails
Now that you have WP Mail SMTP Pro, you've unlocked full email reporting and tracking for WordPress. This will help you to keep an eye on your activation emails.
You can also see which emails are getting the most opens and clicks.
To see statistics about email deliverability and open rates, check out your Email Reports. You'll find these under the WP Mail SMTP » Email Reports menu.
Your email report can be filtered to show the status and other statistics for any emails sent from your site.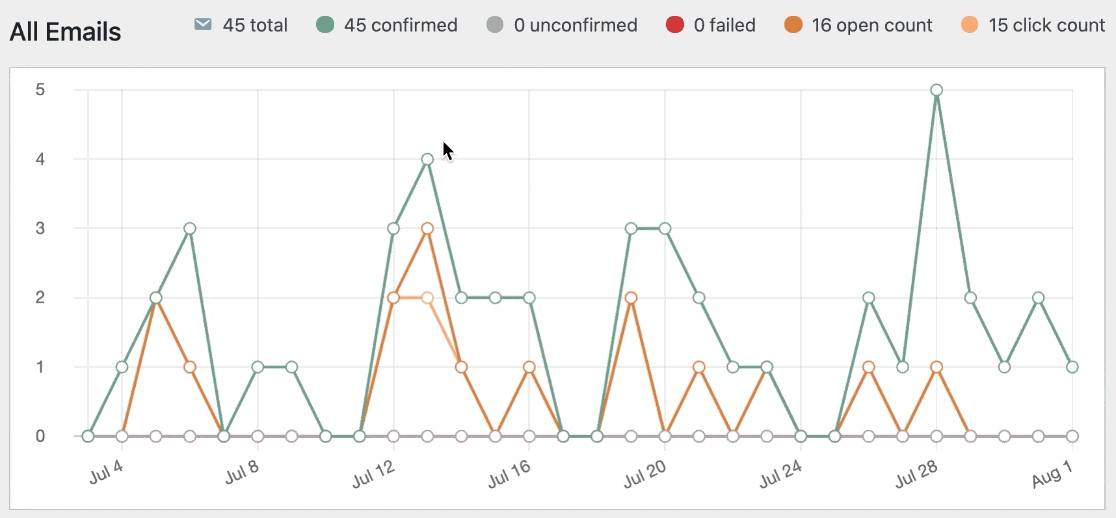 Underneath the email report, you'll also see open rates and click-through rates for your emails. This makes WP Mail SMTP a valuable user-tracking plugin to help you measure email engagement.

Finally, you might not want to log into WordPress every day to check that your user activation emails are sending, so we have a solution for that too.
Every Monday, WP Mail SMTP will send you a Weekly Email Summary. This lets you monitor your email deliverability without logging into WordPress.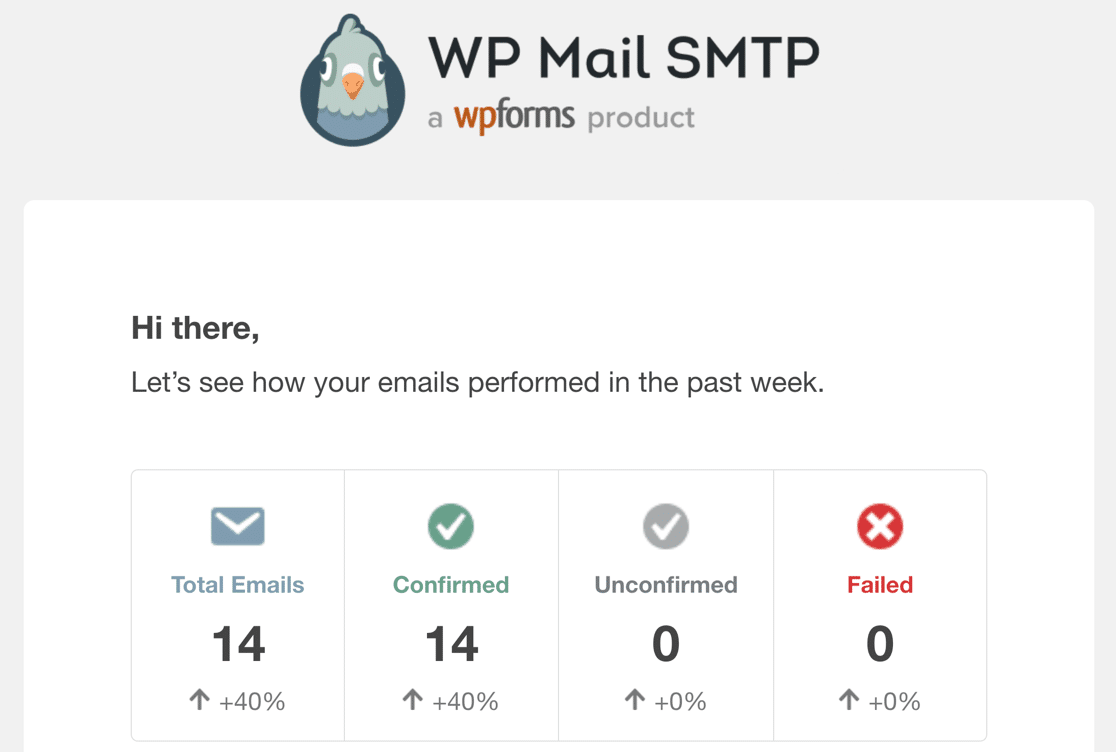 And that's it! Now you can resend new user activation emails in WordPress using WP Mail SMTP.
Next, Check Your SPF Records
Email servers often use SPF, DKIM, and DMARC records to authenticate emails. When you send a test email from WP Mail SMTP, it'll automatically check your DNS settings and alert you if it detects any problem.
SPF records are simple TXT records that validate all outgoing emails to prevent domain spoofing. If you need to have more than 1 SPF record, check out this guide to merge multiple SPF records into one rule.
Ready to fix your emails? Get started today with the best WordPress SMTP plugin. If you don't have the time to fix your emails, you can get full White Glove Setup assistance as an extra purchase, and there's a 14-day money-back guarantee for all paid plans.
If this article helped you out, please follow us on Facebook and Twitter for more WordPress tips and tutorials.