Are you looking for the best eCommerce plugins to use on your WordPress website?
These plugins streamline the process of setting up and managing an online store, saving you time and effort in development. They come with pre-built features for product listings, secure payment processing, inventory management, and more, reducing the need for extensive coding or technical expertise.
But which ones do you need on your site? Keep reading to find out. In this article, we're exploring the best eCommerce Plugins that you should get for your WordPress website.
Is WordPress Good for eCommerce?
WordPress is great for eCommerce! WordPress offers robust SEO capabilities, helping eCommerce sites rank higher in search engine results, which drives more organic traffic.
Its flexibility allows for the creation of visually appealing and responsive online stores that cater to diverse customer preferences and devices. Plus, WordPress's large user community ensures ongoing support, updates, and access to a wealth of resources.
Overall, WordPress is a very reliable choice for eCommerce ventures.
9 Best eCommerce Plugins for WordPress
These are the plugins, platforms, and tools, that we think you should consider utilizing on your WordPress website.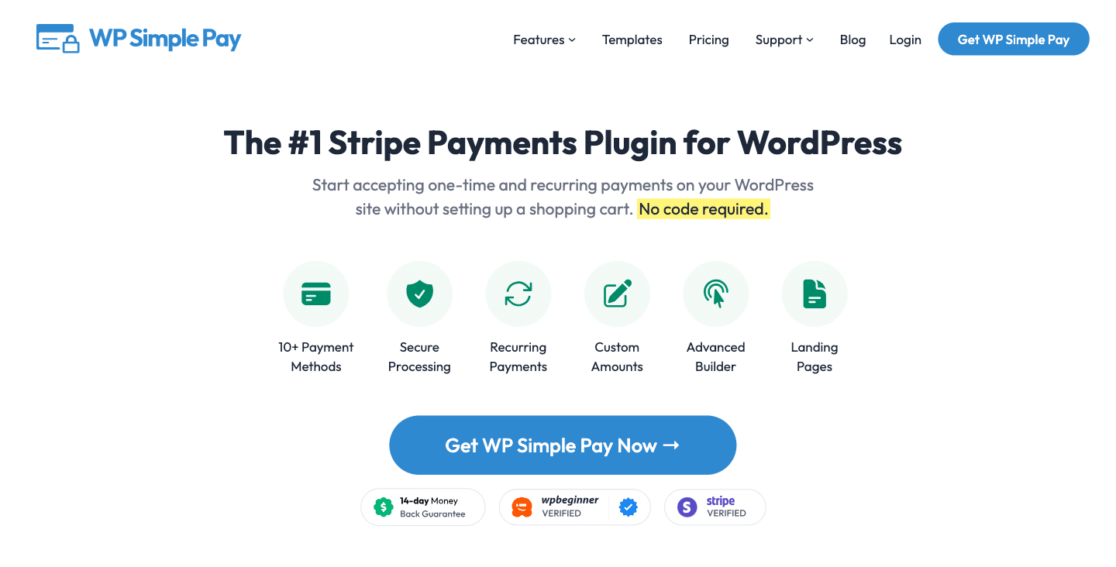 WP Simple Pay is a powerful WordPress Stripe payment form plugin that offers secure payment processing across multiple payment methods. By employing this plugin on your website, you can seamlessly link your Stripe account with your WordPress platform and initiate payment acceptance within minutes.
Then, you can easily manage your payments and subscriptions within the WP Simple Pay dashboard.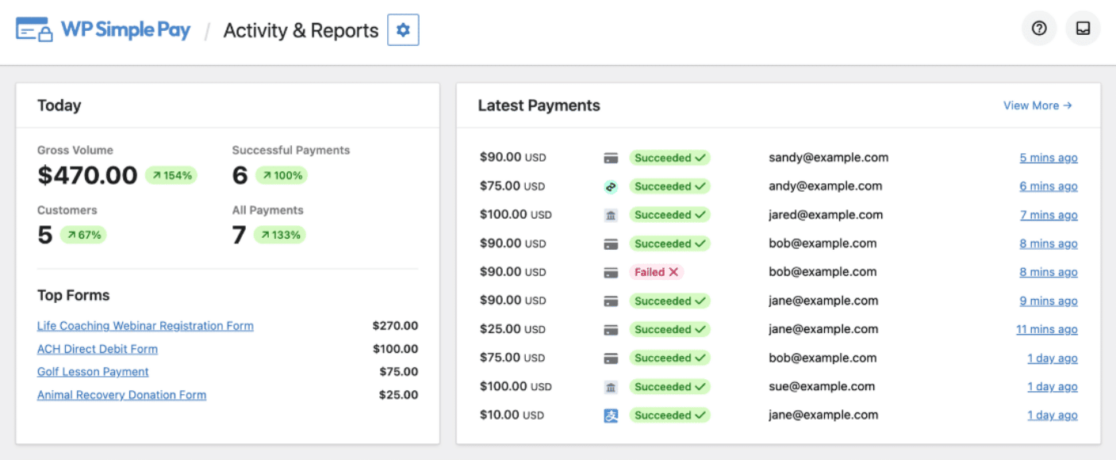 We were pleased to find that WP Simple Pay facilitates payment acceptance without the need for intricate store configurations. In fact, the process of incorporating credit card payments into your eCommerce setup is as straightforward as crafting a payment form that establishes a connection with Stripe or PayPal.
So, if you're looking to enable multiple payment options on your eCommerce platform without the need for coding expertise, we recommend WP Simple Pay.
Features We Love:
Secure Payments with Stripe's PCI-compliant servers for payment processing and storage, ensuring security.
10+ Payment Methods including Credit/Debit Cards, US Bank accounts, SEPA Direct Debit, Afterpay, Klarna, and more.
Drag-and-drop form builder to create payment forms without coding.
Pre-made form templates to save time in form creation.
Automatically calculate taxes based on customer location or add fixed tax rates to payments.
Price: Paid licenses start at $49.50 per year.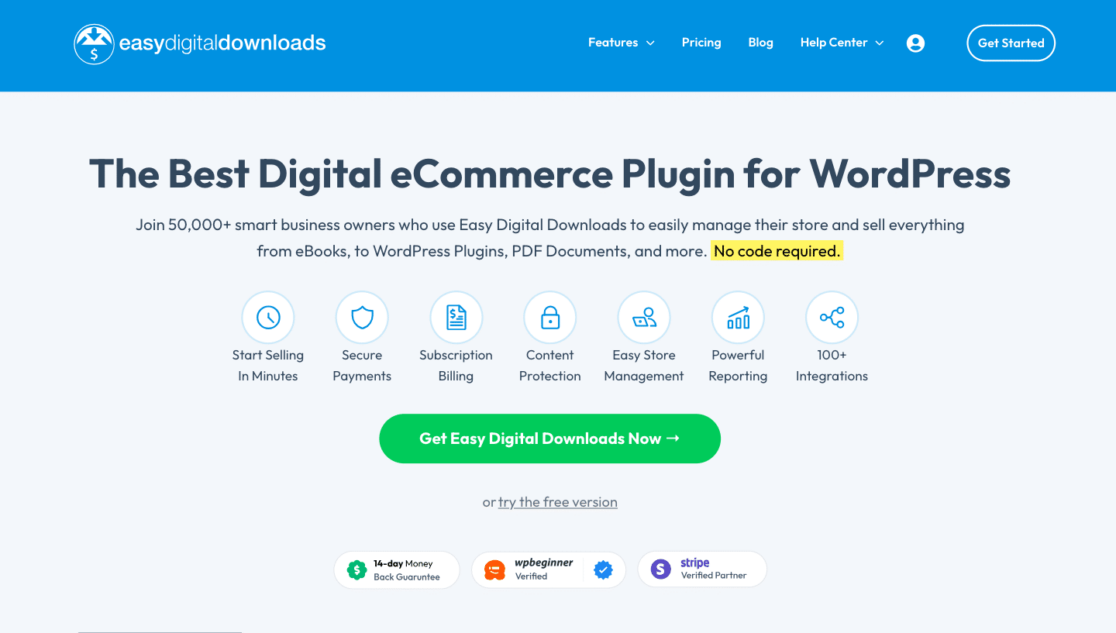 Easy Digital Downloads stands out to us as one of the simplest yet most potent WordPress plugins tailored for eCommerce stores that specialize in digital merchandise.
We found its lightweight design to be remarkable, ensuring our website's performance remained brisk and unaffected. And tailored explicitly for digital product offerings, EDD eliminates any confusion by omitting options related to physical merchandise.
Additionally, EDD delivers in-depth data reporting, encompassing download and sales statistics, facilitating a comprehensive assessment of your online store's performance.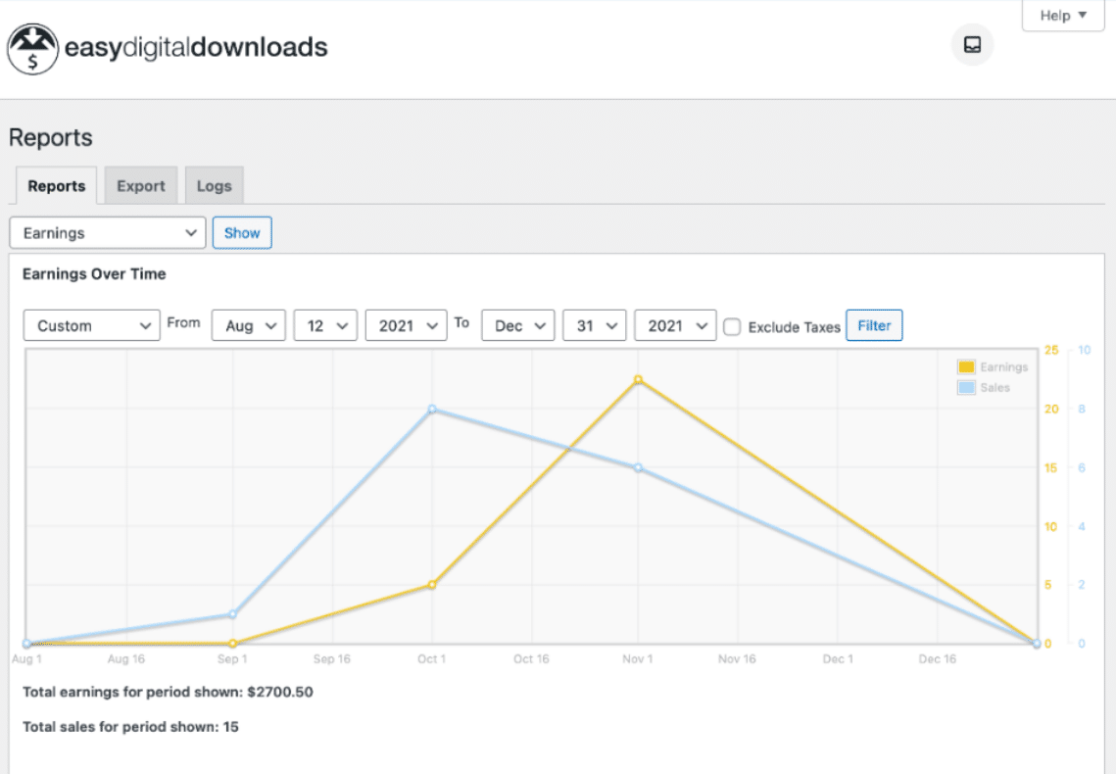 If you're interested in accessing features designed for digital products, we suggest trying out Easy Digital Downloads.
Features We Love:
Intelligently designed interface for easy functionality.
Shopping cart and refund handling offered to customers.
Various payment gateways, including Stripe and PayPal for free.
Detailed reporting including payment history tracking and file download logs.
Order and customer management, including customer account pages.
Price: While a free version of the plugin is offered, upgraded licenses start at $99.50 per year.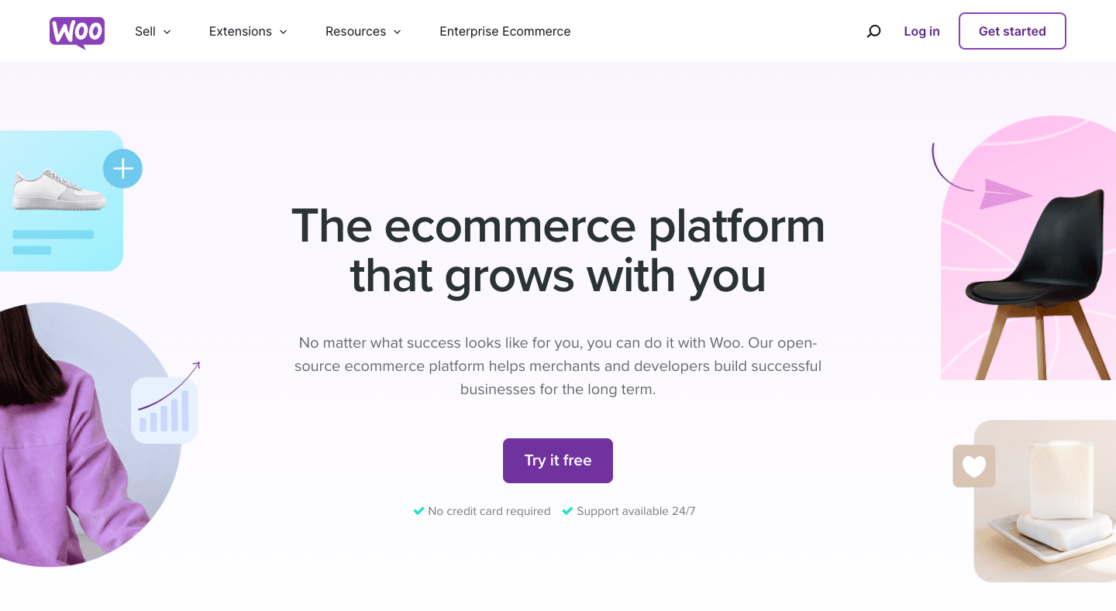 We consider WooCommerce a premier eCommerce plugin for WordPress, as it boasts a wide array of impressive features that promote the growth of your online store.
This versatile plugin enables you to effortlessly sell both physical and digital products, ensuring a seamless and satisfying experience for your customers. We also appreciate the vast selection of extensions and themes available, empowering you to customize your store precisely to your preferences.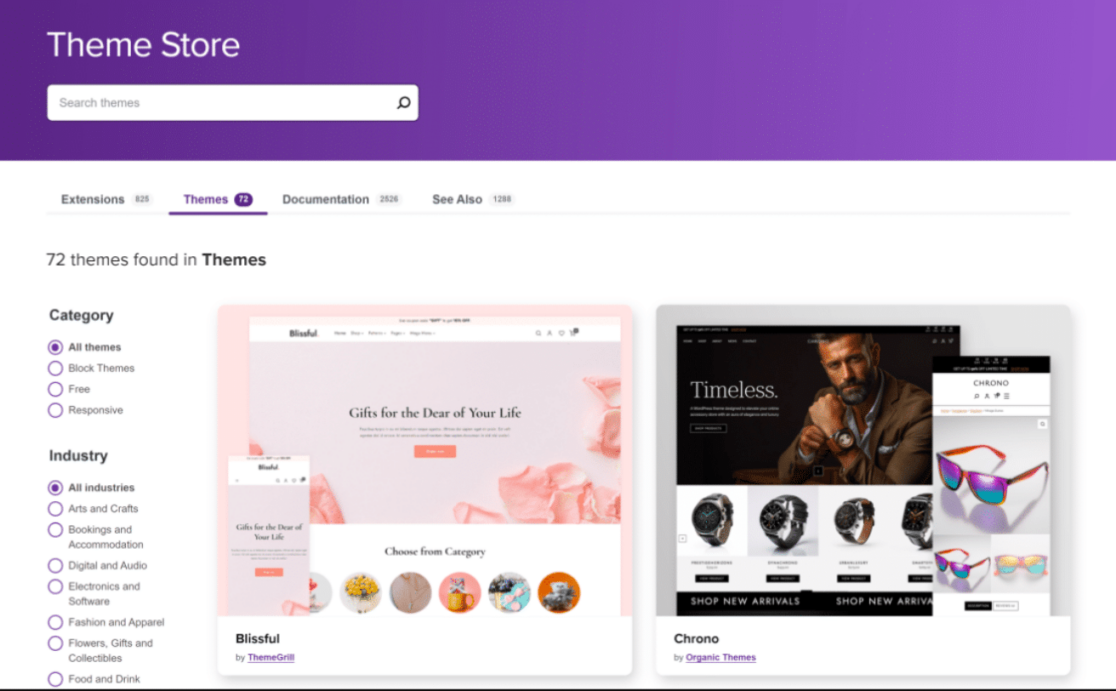 We found that WooCommerce offers an extensive range of additional capabilities, including the creation of discount codes, efficient inventory management, and the setup of payment gateways—an invaluable asset!
To grow your eCommerce reach and strengthen your online presence, try incorporating WooCommerce on your site.
Features We Love:
Supports various payment methods, including major credit cards, bank transfers, checks, and cash on delivery, with 140 region-specific gateways available.
Provides a familiar dashboard for managing orders, automated tax calculations, live shipping rates, and a mobile app for iOS and Android.
Multilingual content and multiple currency support, with 24 language translations available.
Marketing options include Google Shopping, Facebook promotion, and Mailchimp emails, with Google Analytics for tracking.
WooCommerce is affordable and scalable, with no additional transaction fees beyond payment service providers.
Price: Free options are available, along with an entire slew of premium plans and extensions.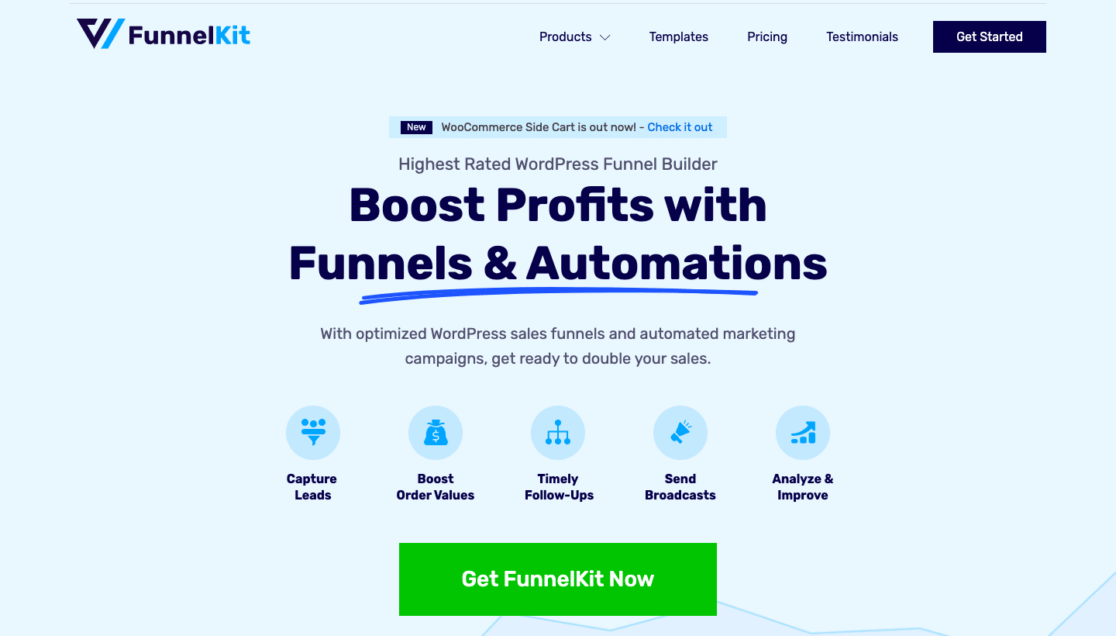 FunnelKit is an eCommerce plugin designed to simplify the creation of visually captivating and efficient sales funnels right on your website.
With this eCommerce tool, you can effortlessly craft email sign-up forms, landing pages, and sales pages equipped with frictionless checkout options, and much more. We find that the plugin's user-friendly and intuitive page builder streamlines the process of creating and editing sales pages, saving substantial time and effort.
In our opinion, FunnelKit is a must-have tool for any WordPress-based eCommerce site, offering an all-inclusive solution for building effective sales funnels.
Features We Love:
Library of beautifully designed opt-in and landing page templates that integrate with popular page builders like Elementor, Divi, Oxygen, Gutenberg, and more.
Frictionless checkout pages with single or multi-step optimized designs, and Shopify-style and 2-step order forms.
Dynamic order bumps based on cart items, total, and 17+ rules.
One-click upsells to increase profits without additional traffic or ad spending.
In-depth analytics to track funnel performance in real time.
Price: Paid plans start at $99.50 per year.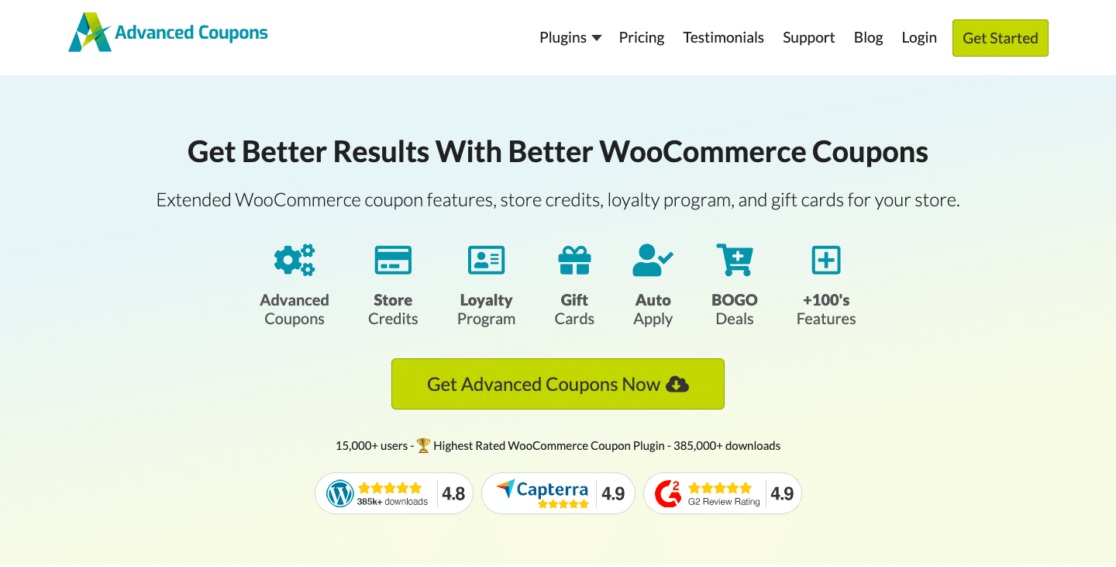 Advanced Coupons is a game-changer for larger online stores frequently offering new sales and discounts. It simplifies the process of adding coupon codes to your order forms without the need for a separate eCommerce plugin.
We appreciate the seamless integration of Advanced Coupons with WooCommerce, which makes setting up BOGO (Buy One, Get One) coupons incredibly straightforward.
For comprehensive coupon features encompassing gift cards, store credits, and loyalty programs, Advanced Coupons comes highly recommended.
Features We Love:
Cart conditions extend coupon usage by adding rules that customers must satisfy before applying the coupon.
Smart applying tools enables customers to apply coupons using URLs, offers one-click notifications, and supports auto-applied coupons.
Introduces new coupon types, including BOGO (Buy One, Get One) style deals to boost sales and customer engagement.
Automatic addition of products to the cart when specific coupons are applied.
Enables coupon restrictions based on user roles, shipping zones, methods, and payment gateways.
Price: While there is a free version of the plugin available, premium licenses start at $59.50 per year.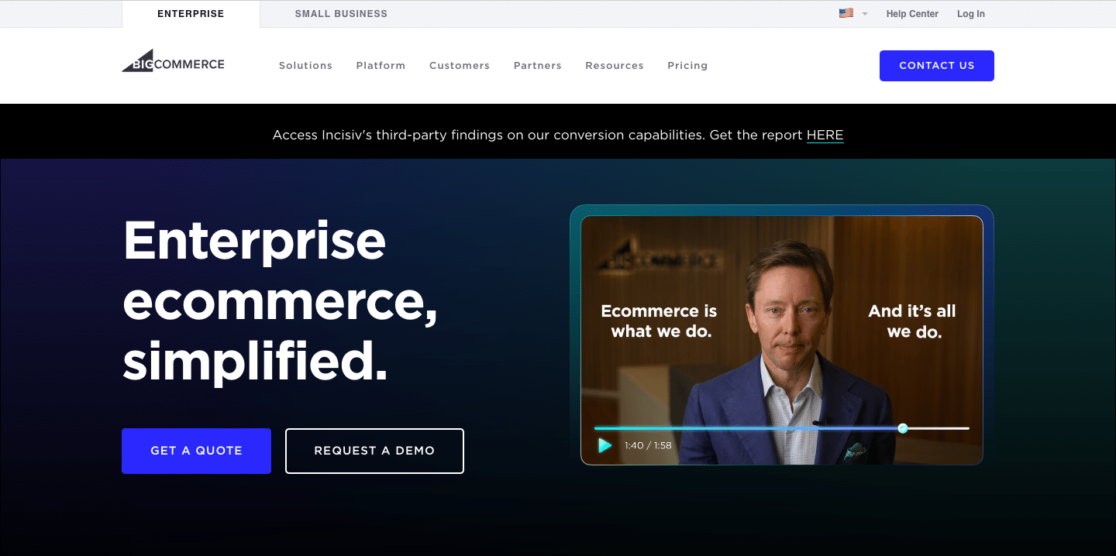 BigCommerce, although a fully hosted eCommerce platform, seamlessly integrates with WordPress through its plugin, and it stands out for its rich array of valuable features tailored for eCommerce stores.
You'll find an intuitive page builder equipped with a visual editor, allowing for effortless drag-and-drop placement of critical sections within your store. And, with support for over 65 payment gateways, there's no need for buyers to fret over lesser-known payment options.
Overall, our strong recommendation for BigCommerce is rooted in its efficiency and dependability as an eCommerce solution, underpinned by its user-friendliness, advanced capabilities, and exceptional support.
Features We Love:
Page builder visual editor for easy site page creation with drag-and-drop functionality.
Site speed with fast-loading pages powered by Google Cloud Platform and supported by Cloudflare.
Integration with top marketplaces such as eBay, Amazon, and Google Shopping.
B2B features like customer groups, price lists, bulk pricing, and more.
Multi-currency support and multi-language options available.
Price: Paid plans start at $29 per year.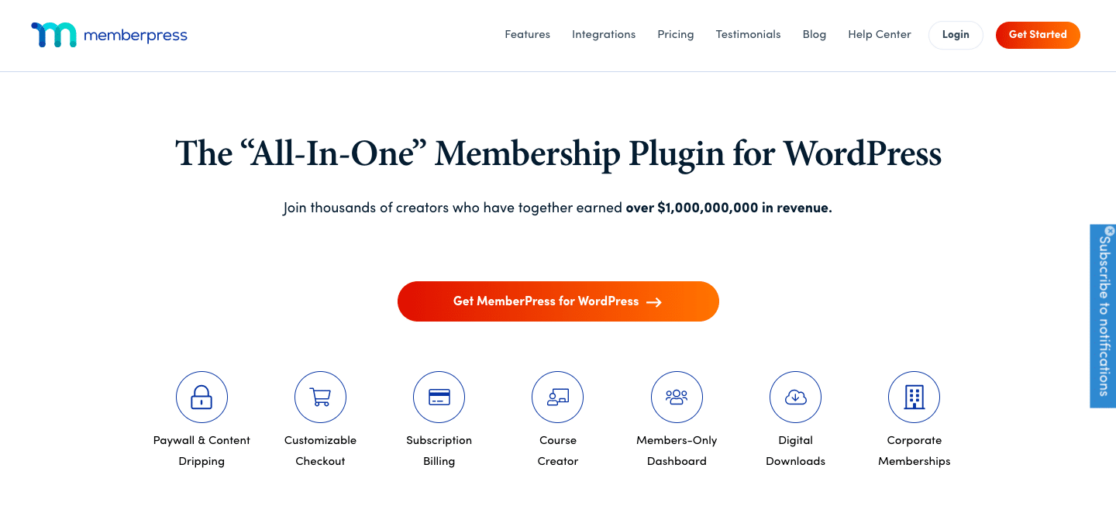 MemberPress is a standout plugin for eCommerce sites specializing in digital subscriptions. It simplifies the selling process for WordPress websites offering products like courses, exclusive content, and membership plans.
We were impressed by the plugin's built-in course builder, facilitating the creation and sale of courses, making it a complete online learning platform within the plugin. We also appreciated the content restriction controls and paywall functionality, ensuring that exclusive content is accessible only to paying members.
With its feature-rich offerings, user-friendly setup, and excellent value, MemberPress comes as a highly recommended choice for your eCommerce website.
Features We Love:
Fine-grained control over content access based on memberships and digital products purchased.
User-friendly interface for building courses without the need for separate downloads.
Accepts various payment methods, including Apple Pay, Google Wallet, credit cards, international currencies, direct debit, and Cash App.
Create password-protected community forums within WordPress using plugins like bbPress and others.
Implement various monetization strategies within WordPress.
Price: Basic plans start at $179.50 per year.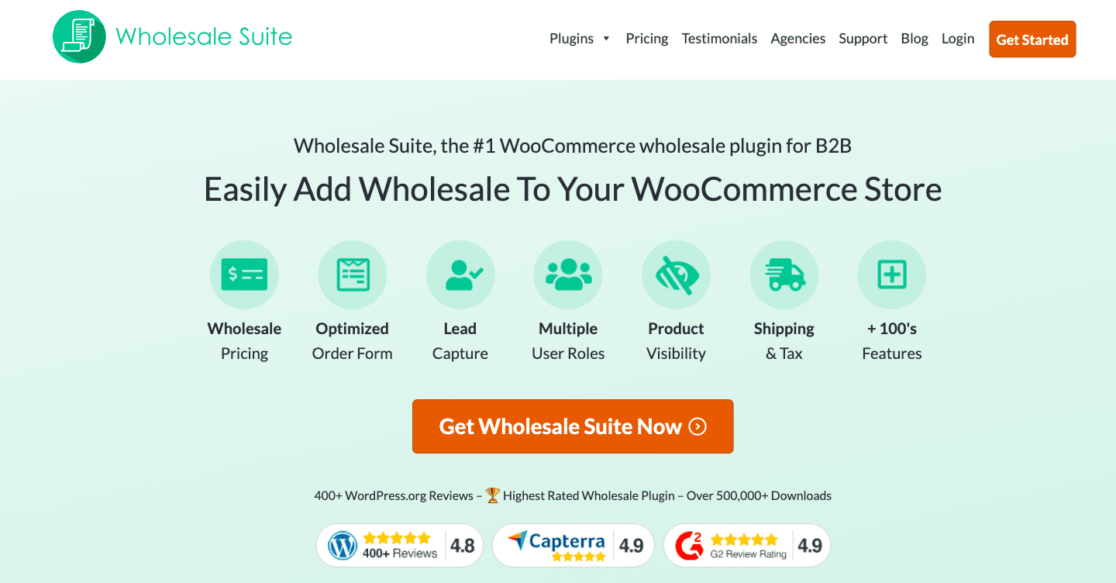 Wholesale Suite comprises three plugins that seamlessly integrate with WooCommerce, offering features tailored for selling products to both individual consumers and businesses that intend to resell to end users.
Whether it's configuring separate pricing for wholesale and retail customers or establishing wholesale customer accounts for easy access to bulk purchase discounts, everything is straightforward and user-friendly.
So, if you're seeking a comprehensive suite of plugins to enhance the wholesale experience for your online store, Wholesale Suite is an invaluable resource.
Features We Love:
Ability to create custom wholesale user roles.
Can set various pricing and discount rules.
You control product visibility.
Manage minimum order requirements.
Integrate with shipping and payment methods.
Price: A free version of the plugin is available, while upgraded licenses start at $148.50 per year.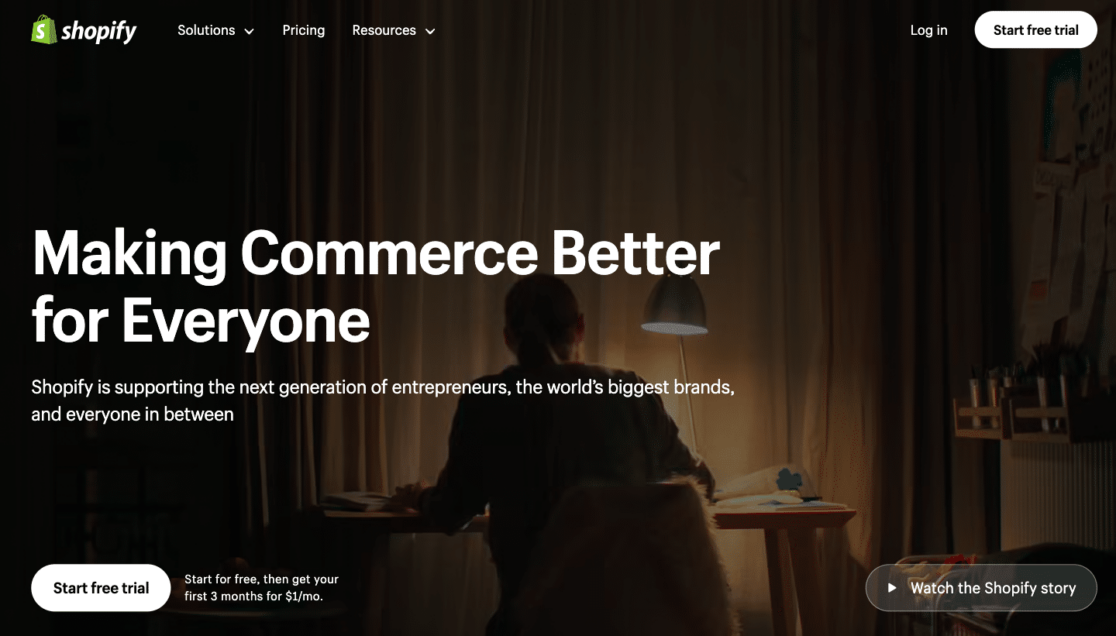 The last tool on our list, Shopify is a comprehensive eCommerce platform that enables businesses to create and manage online stores, offering a wide range of features and tools to streamline the selling process.
Shopify is a top eCommerce tool for your website because it seamlessly integrates with WordPress, allowing you to harness the strengths of both platforms. It offers a user-friendly interface, making it easy to set up and manage your online store, even if you lack technical expertise.
Additionally, Shopify provides a robust selection of features and customizable themes, empowering you to create a professional and highly functional eCommerce site efficiently.
Features We Love:
Online store editor with themes to customize your store.
Own your site domain through provided domains & hosting.
Sell wholesale & direct, sell your products online or in person, and sell across multiple channels.
Social media integrations available.
Track sales, orders and analytics to measure your performance.
Price: Shopify's most popular plan (which is also its lowest priced) comes in at $39 per month.
FAQs About eCommerce Plugins for WordPress
We're often asked about eCommerce plugins from our readers. Here are a few of our most commonly addressed questions:
What is an eCommerce plugin, and why do I need one for WordPress?
An eCommerce plugin is a software extension that adds online store functionality to a WordPress website. These plugins enable you to create and manage products, process payments, handle inventory, and facilitate the sale of goods or services directly through your WordPress site.
You need plugins like this to easily transform your regular website into a fully functional online store, providing a seamless shopping experience for your customers without needing extensive web development expertise.
Are there any security concerns when using eCommerce plugins, and how can I protect my online store?
Unfortunately, yes, there are security concerns when using eCommerce plugins for WordPress, as online stores are prime targets for hackers.
Secure your WordPress eCommerce store by consistently updating core software, plugins, and themes while using strong, unique passwords and enabling SSL encryption. Employ reputable plugins, perform regular backups, and stay informed about security best practices to protect your online business and customer data effectively.
What are some key differences between self-hosted eCommerce solutions like WooCommerce and hosted platforms like Shopify?
WooCommerce and Shopify differ in several key ways. WooCommerce offers greater control and customization but requires self-hosting and has potential additional costs. Shopify is more user-friendly, handling hosting and maintenance, but customization options may be limited.
WooCommerce can scale for businesses of all sizes and has a wide range of plugins, while Shopify optimizes scaling but emphasizes simplicity. The choice between them depends on your specific needs, budget, and plugin expertise.
Next, Check Out These Additional eCommerce Tools
If you're interested in even more guidance on how to elevate your eCommerce WordPress site, take a look at these additional roundups.
Ready to fix your emails? Get started today with the best WordPress SMTP plugin. If you don't have the time to fix your emails, you can get full White Glove Setup assistance as an extra purchase, and there's a 14-day money-back guarantee for all paid plans.
If this article helped you out, please follow us on Facebook and Twitter for more WordPress tips and tutorials.