Are you looking for an easy way to print WooCommerce order emails?
Printing orders can be helpful when picking and packing, or if your customer asks for a receipt.
In this article, we'll show you 3 easy ways to print order emails and invoices so you can speed up fulfillment and admin.
Fix Your WooCommerce Emails Now
Can You Print Orders From WooCommerce?
Yes, you can print orders by printing a copy of the email, a packing slip, or an invoice. In order to print the emails, you'll want to install WP Mail SMTP so you can log each email that's sent out.
Printing orders can help when packing up orders if you don't have a computer in your warehouse. It's also helpful to print orders or invoices for accounting, or if you want to send the customer a hard copy.
How To Print WooCommerce Order Emails
1. Manage WooCommerce Order Emails
When a customer places an order on your website, WooCommerce will automatically send them an order email. You can save a copy of each order email and print it out later.
(If your WooCommerce emails aren't being delivered, learn how to fix WooCommerce not sending emails before continuing with this guide.)
WooCommerce emails are set up in the WooCommerce » Settings menu. Click the Email tab to see all the emails that are set up on your site.

You can click Manage to take a look at the email template that's used for the New order notification.

WooCommerce lets you edit the basic details in the template here. If you want more control over the layout and colors, you can use a WooCommerce email customizer plugin for more features.
Now let's look at ways to log your order emails. We'll use the WP Mail SMTP plugin for this.
WP Mail SMTP will log all of your sent emails. let you print them out in different ways, and even test WooCommerce emails for deliverability.
2. Set Up WP Mail SMTP
We're going to use a plugin to log your WooCommerce order emails so you can print them out. You'll need the Pro version to turn on email logging for WooCommerce.
First, you'll want to install WP Mail SMTP. Go to your WP Mail SMTP account and switch to the Downloads tab to grab the latest version of the plugin file.
Upload the plugin in the WordPress dashboard and Activate it.

When the Setup Wizard opens, choose an email provider to handle your WooCommerce emails.
We recommend that you choose a transactional email provider here. Transactional email providers have the capacity to send WooCommerce emails instantly, which is what your customers will expect.
If you're not sure what to pick, we recommend SendLayer, Brevo (formerly Sendinblue), or SMTP.com.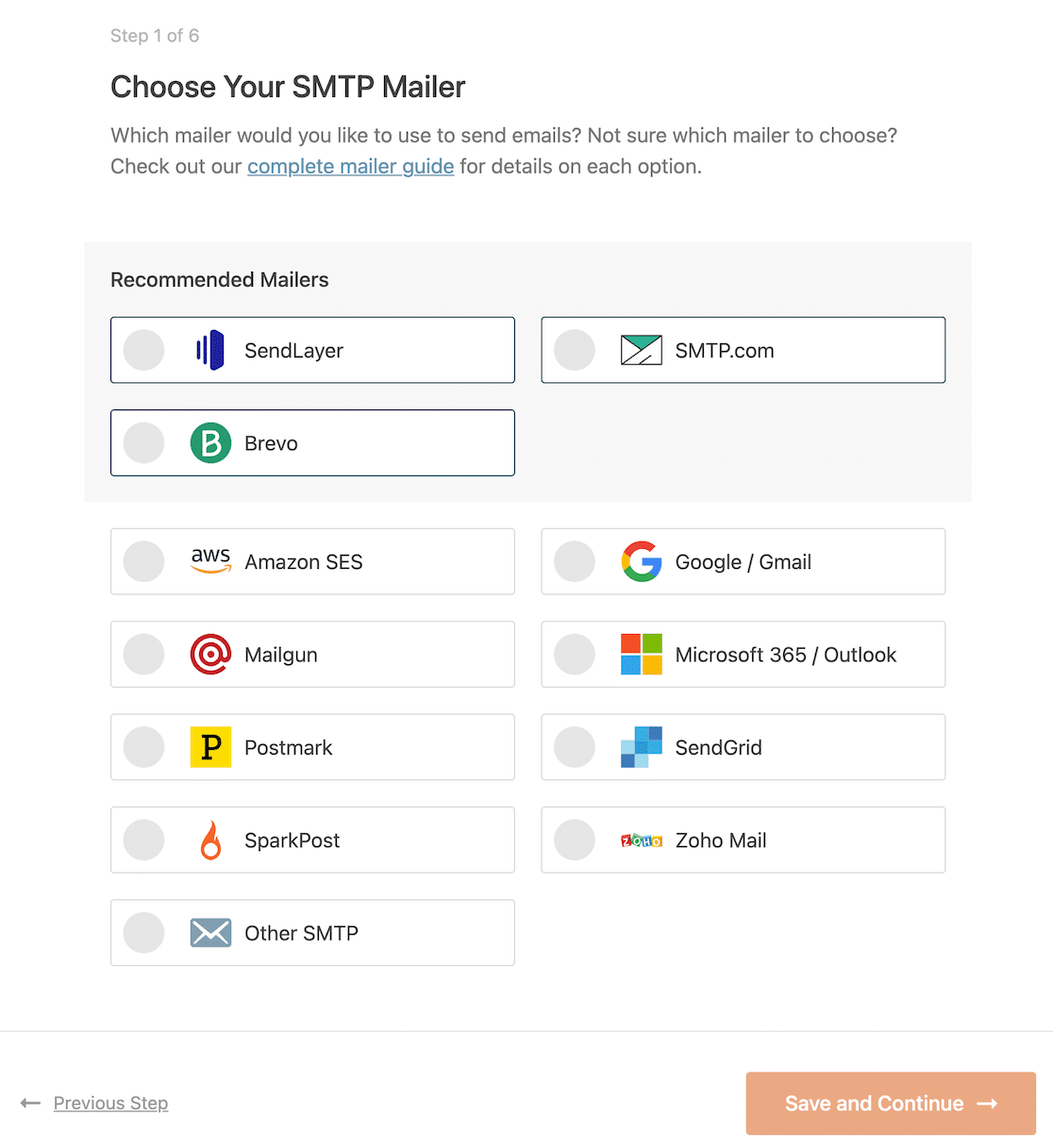 Next, you'll want to set up the email provider and complete the connection to your WooCommerce site. We've got complete documentation for every email provider to make this easy.
Click the link below to jump to the right page:
When you're done connecting your eCommerce store to the mailer, continue to the next step of the Setup Wizard to enable your email logs.
Need a hand?
Our Elite license includes White Glove Setup for SendLayer, SMTP.com, or Brevo.
3. Enable WooCommerce Email Logging
After you finish setting up your mailer, the WP Mail SMTP Setup Wizard will ask if you want to enable any other features.
Instant Email Alerts are useful if you want to be able to quickly fix any problems with your WordPress emails. You'll receive an alert if an email fails to send so you can investigate the issue right away.
But to print WooCommerce Emails, you need to turn on the Detailed Email Logs feature. This will automatically enable Complete Email Reports. If you want to receive an overview of your recent logs, turn on the Weekly Email Summary, too.
Click Save and Continue.
Now you'll have the option to configure some email log settings. The options here include:
Store the content for all sent emails. This stores the content of your WordPress emails in your site's database. Make sure to turn this option on to print your WooCommerce emails.
Save file attachments sent from WordPress. Turning on this feature saves your email attachments (such as invoices) in your site's Uploads folder. If you want to be able to print attachments, make sure to enable this option.
Track when an email is opened. This feature lets you see when customers open your WooCommerce emails.
Track when a link in an email is clicked. Using this feature, you can see when customers click on the links in your emails, which is great for tracking engagement.
Then complete the Setup Wizard.
If you ever need to change these settings, go to WP Mail SMTP » Settings » Email Log. You can find more details in our complete guide to email logging.
Want to set up multiple mailers? You can do so in the Additional Connections settings, then select a Backup Connection and configure Smart Routing.
At this point, you'll want to wait for a few order emails to be generated so that you can try printing them out. If you don't want to wait, you can go to WP Mail SMTP » Tools » Email Test to send a basic test email, then continue with the tutorial below.
4. Print Your WooCommerce Order Emails Individually
Great! Now you're logging all of your WooCommerce order emails, let's go ahead and try printing one out.
You can print directly to your printer or save a copy of the email as a PDF file.
Let's open up WP Mail SMTP » Email Log and take a look.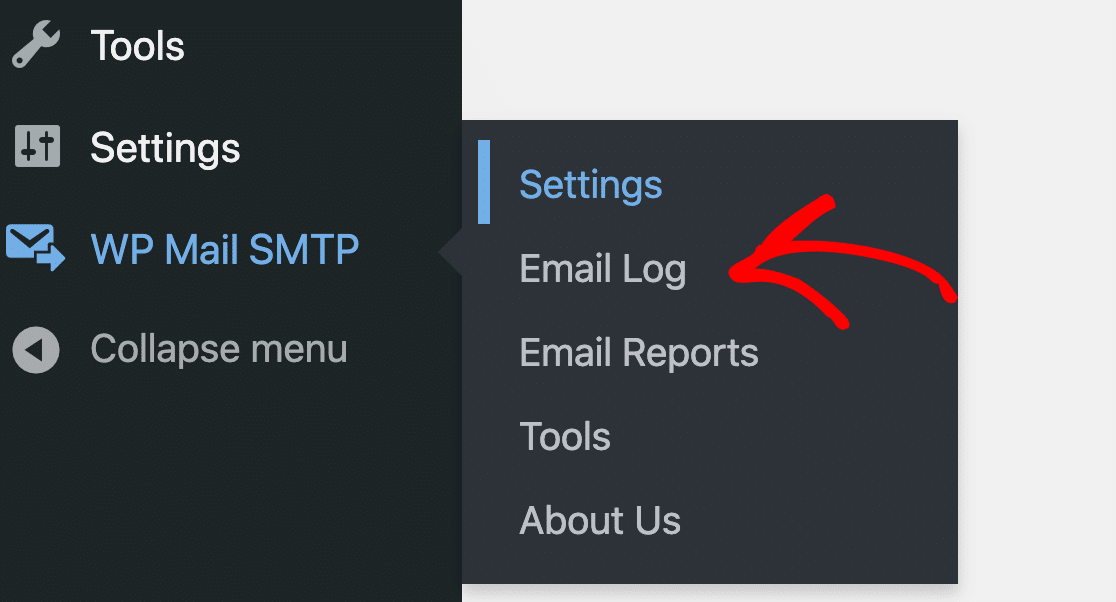 These 2 emails were generated when the customer placed an order. This line shows:
Email subject line
From and To address
Source, which is the name of the plugin that generated the email
Open and click tracking details

To print the first email, move your mouse over the subject line and click View Log.

At the bottom right of the email log page, click the Print button.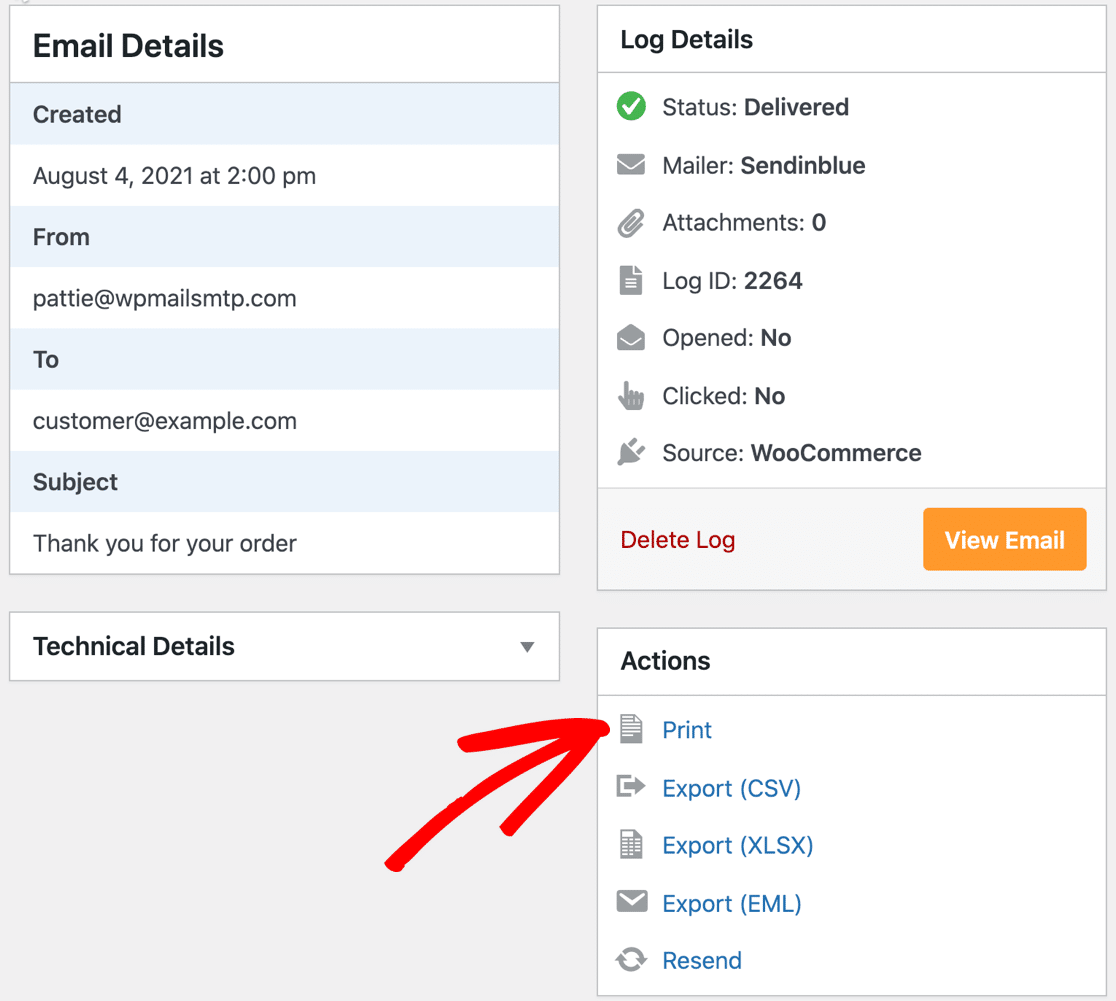 On the print preview, click Compact View for a more compressed layout.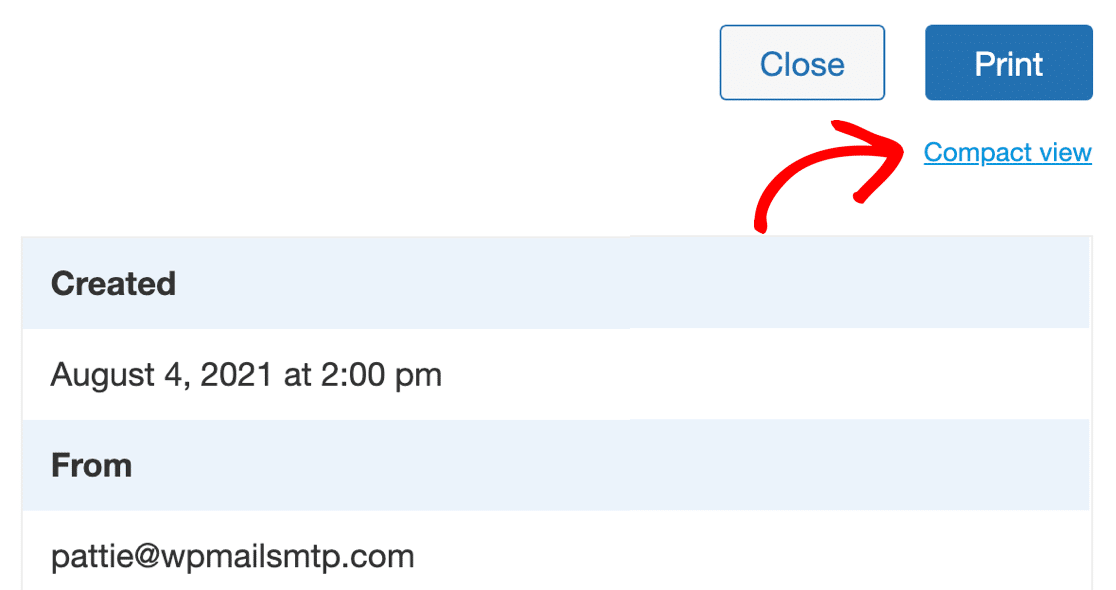 Finally, click the blue Print button to print the full email, or save the email as a PDF.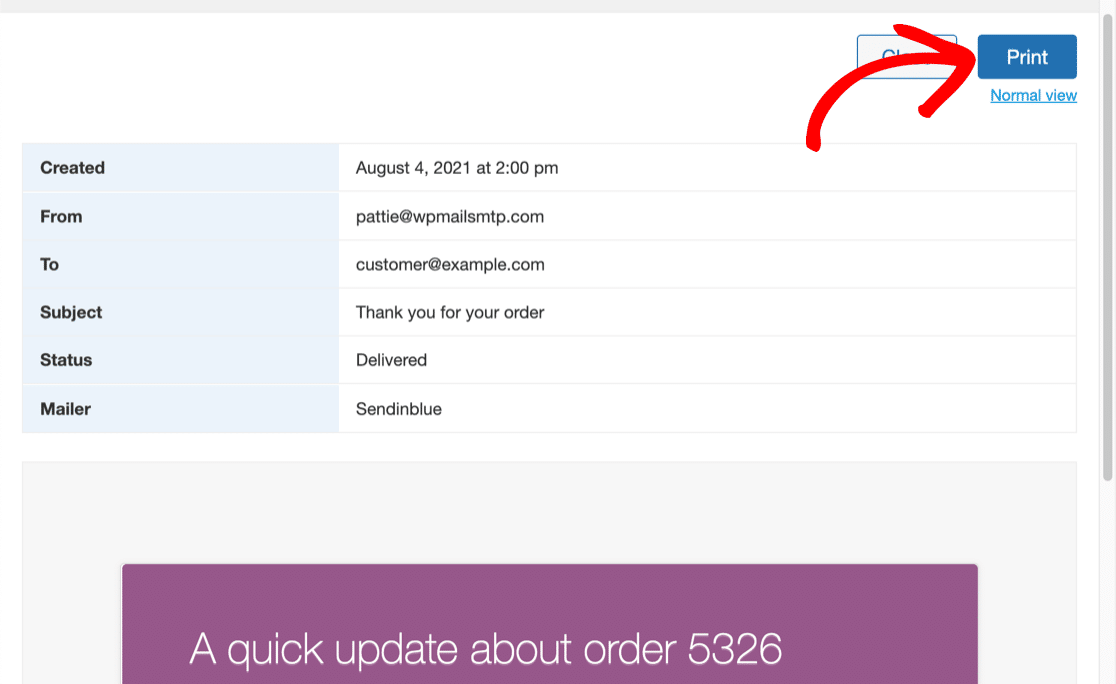 If you have many order emails to print, this process will take too long. Let's look at a way to print order emails in bulk.
5. Print Multiple WooCommerce Order Emails
Do you want to print several order emails at the same time?
If you're quickly packing orders, the easiest way to do this is by generating an export file containing all of the emails in EML format. You can open each one and print it locally, which is a little quicker.
Before you start, you'll want to turn on WooCommerce email logging with WP Mail SMTP.
When you have a few orders to print out, head to WP Mail SMTP » Tools to begin the export.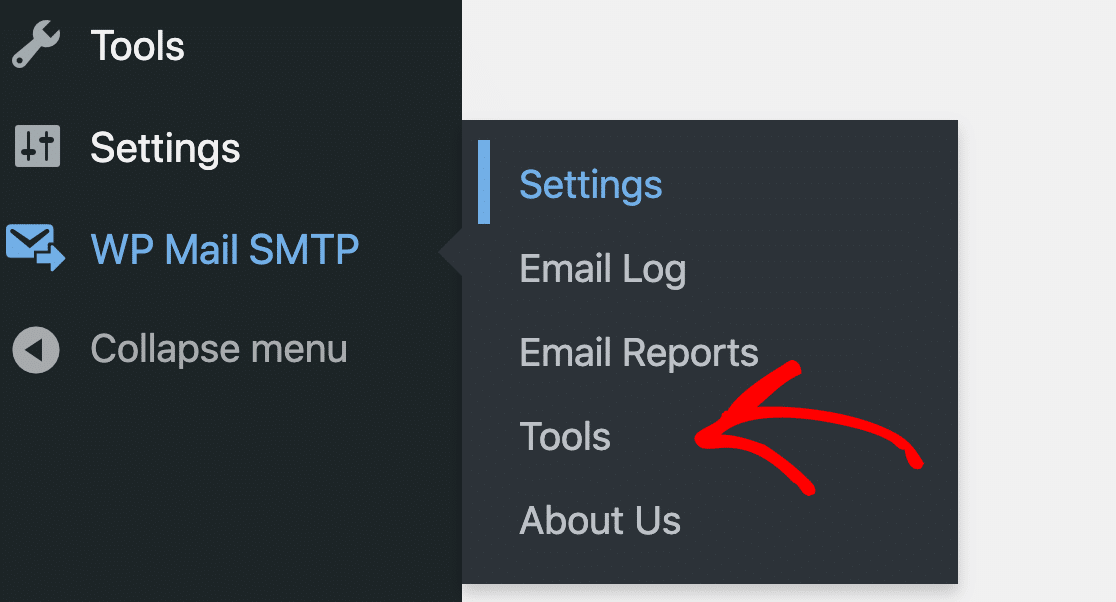 And now click the Export tab at the top.

To print WooCommerce order emails in bulk, you'll want to select EML format.

We recommend that you use the filters to narrow down your export. For example, you can filter by date and subject line so that you only download the emails you want to print.
This is optional, but it can save a lot of time generating the export file.
When you've set the filters, click Download Export File.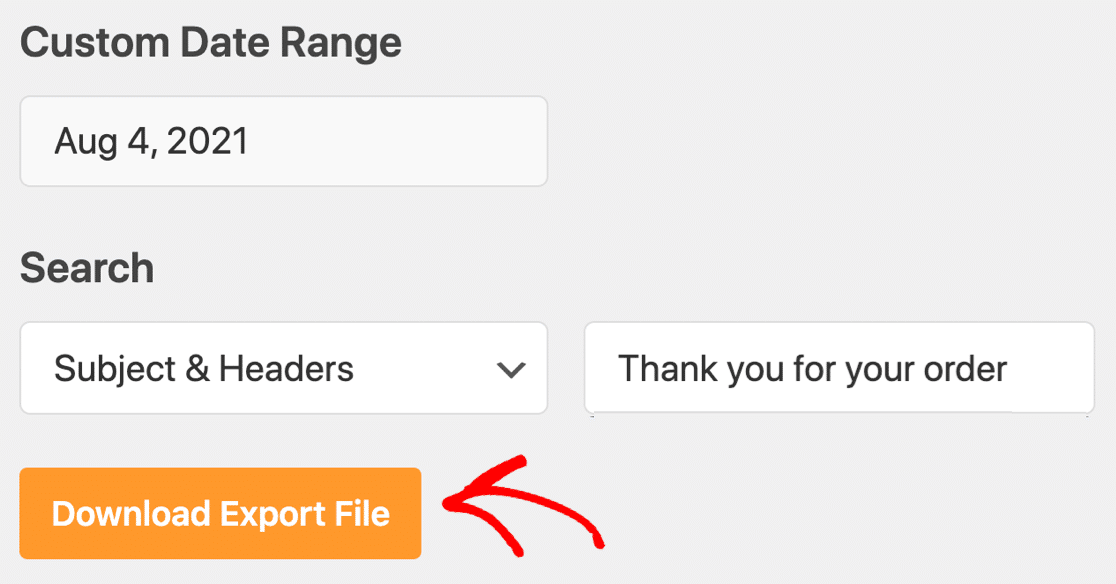 Open up the ZIP file and double-click any EML file to open the email in your email application.

You can open each email and print out the ones you need to keep.
Next, let's take a look at some WooCommerce plugins that'll help you to print invoices and packing lists.
6. Print WooCommerce Invoices and Packing Slips
If you want to print WooCommerce invoices, or you want to generate packing slips from orders, you can use the WooCommerce PDF Invoices and Packing Slips plugin.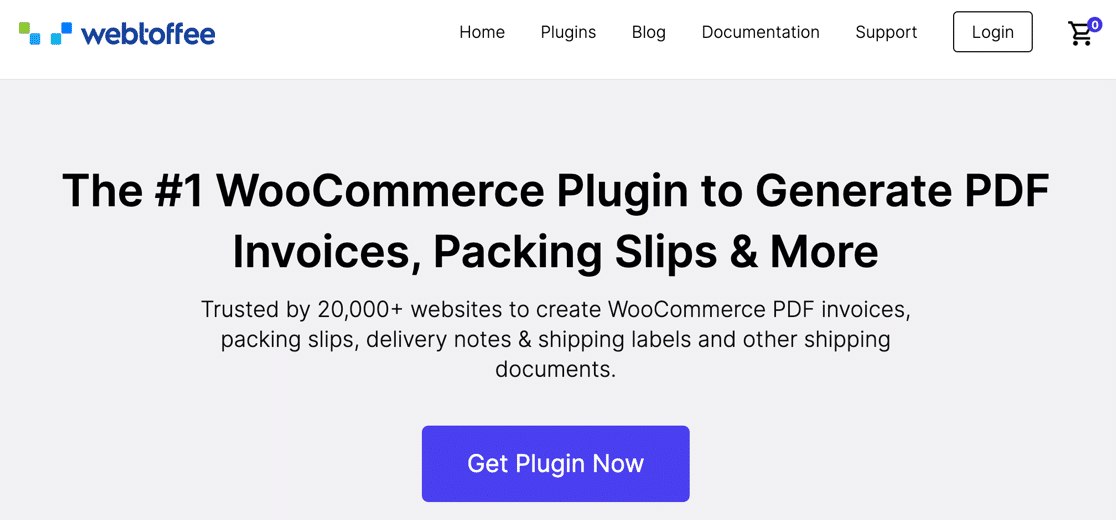 The free version of the plugin lets you create:
WooCommerce PDF invoices (individually, or in bulk using the Bulk Actions dropdown in WooCommerce)
Packing lists
Delivery notes
Shipping and dispatch labels
When you activate the plugin, you'll see these options under Print Actions when you view a WooCommerce order.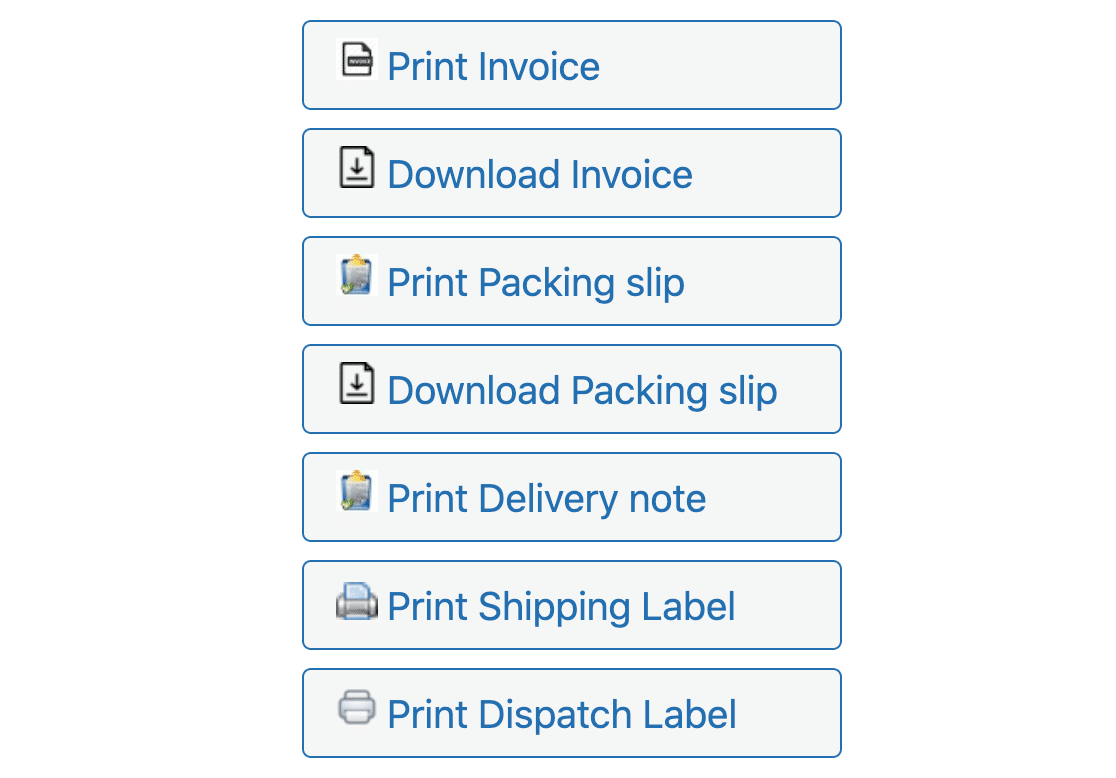 If you want more features, the Pro version adds a ton of features, plus extra templates for:
Address labels
Proforma invoices
Credit notes
And more.
You can include the invoice or the packing list with the order so that the customer knows all their items are included. Each template can be customized or disabled if you don't want to use it.
You can also use the plugin to automatically email invoice attachments. This is disabled by default in the plugin settings, so you'll want to turn it on manually.

If you choose to send an invoice PDF with each email, it's a good idea to save a copy of the PDF invoice for your own reference.
You can easily do this with WP Mail SMTP in conjunction with the WooCommerce Invoices & Packing Slips plugin. Let's try it.
In WP Mail SMTP » Settings, click the Email Log tab.

Next, be sure to turn on the options to:
Enable Log
Log Email Content
Save Attachments.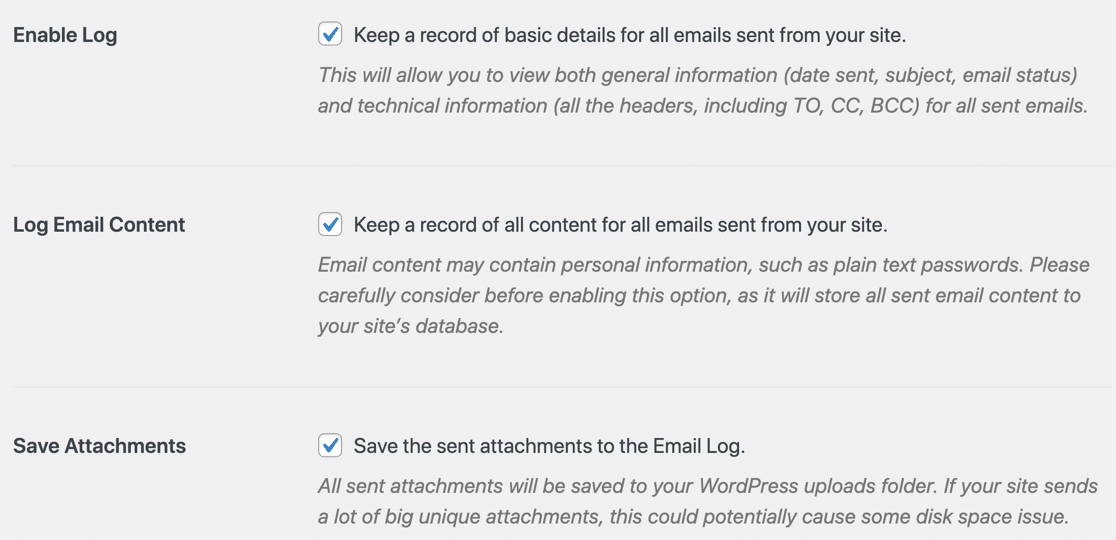 Once you've enabled this setting in your email log, you can automatically store the invoices that are sent to your customers when they buy products from your store. You don't have to go through and regenerate them manually every time.
It's really easy to check that your invoices are being sent, too. We can head back to the email log to see how it works.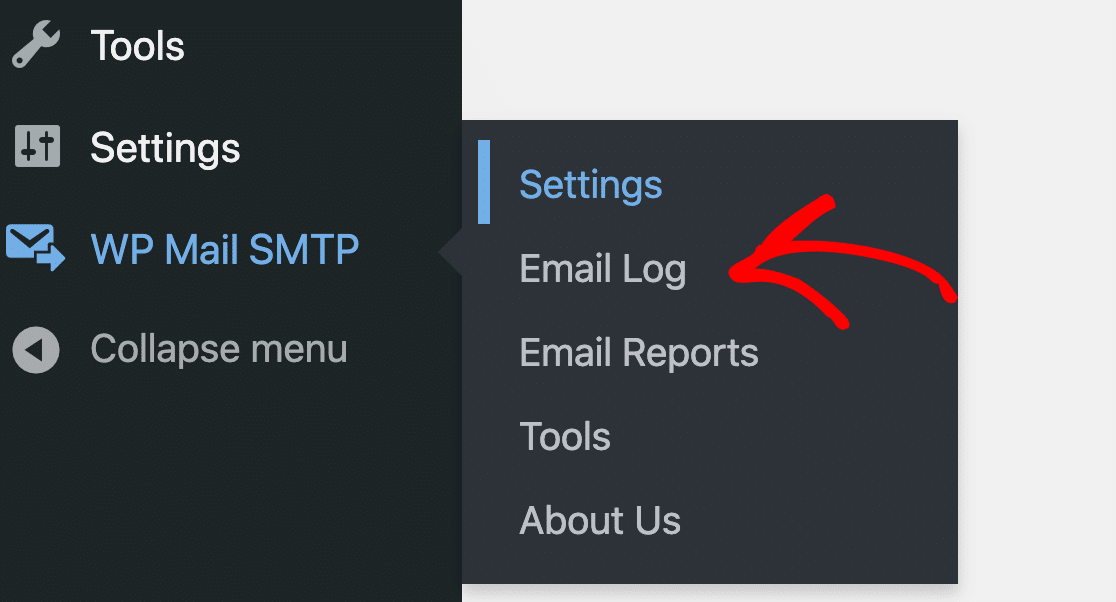 In the email log, you'll notice that this order email had 1 attachment when it was sent.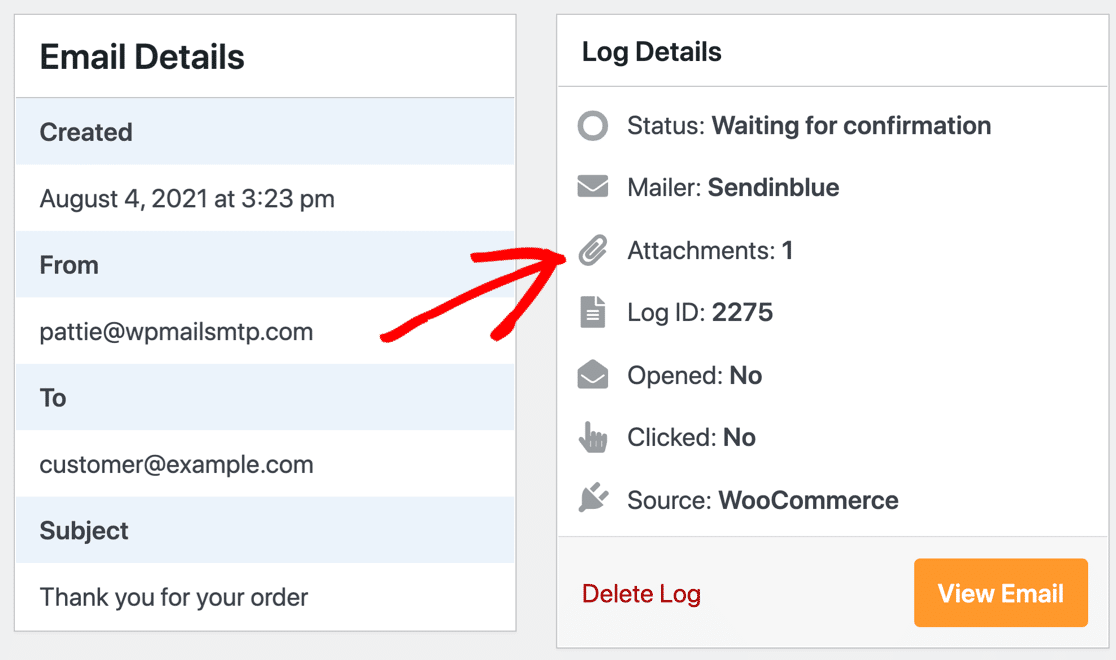 If we scroll down, we can see the invoice and click the link here to open it.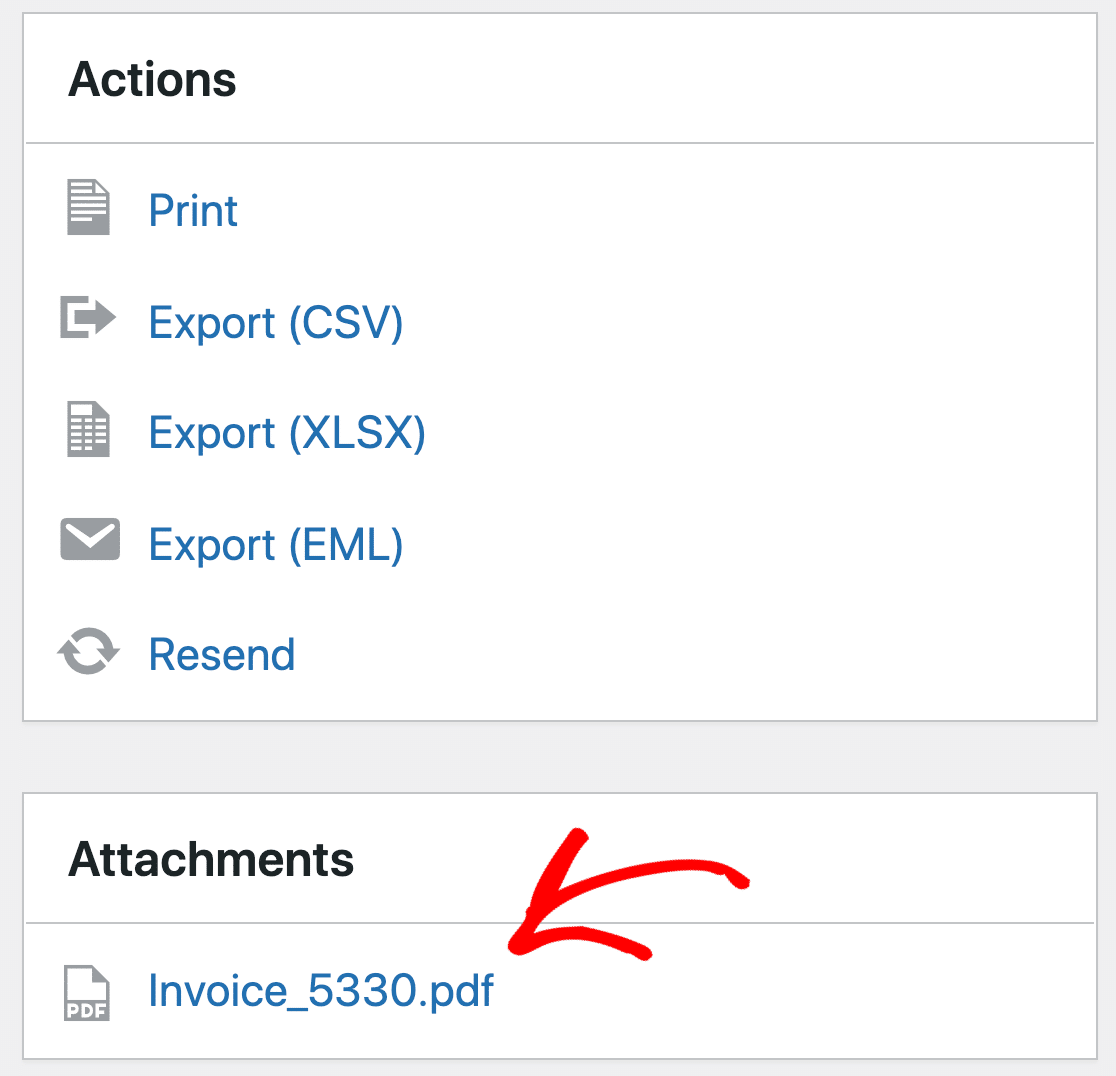 You can use this feature to easily print a copy of the invoice associated with any WooCommerce order.
And that's it! Now you know how to print WooCommerce order emails and save invoice attachments too.
Fix Your WooCommerce Emails Now
Next, Set Up WooCommerce Push Notifications
Do you want to automatically send a push notification during a sale, or remind your customer about their abandoned cart?
Get started with this guide on how to add push notifications to WordPress.
Ready to fix your emails? Get started today with the best WordPress SMTP plugin. WP Mail SMTP Elite includes full White Glove Setup and offers a 14-day money-back guarantee.
If this article helped you out, please follow us on Facebook and Twitter for more WordPress tips and tutorials.