Would you like a step-by-step walkthrough while configuring your SMTP mailer? WP Mail SMTP's Setup Wizard makes configuring an SMTP mailer on your site fast and easy.
In this tutorial, we'll show you how to use the WP Mail SMTP Setup Wizard.
---
Before getting started, be sure you've installed and activated the WP Mail SMTP plugin.
Once you've installed and activated the plugin, you can launch the Setup Wizard by navigating to WP Mail SMTP » Setttings and clicking the Launch Setup Wizard button.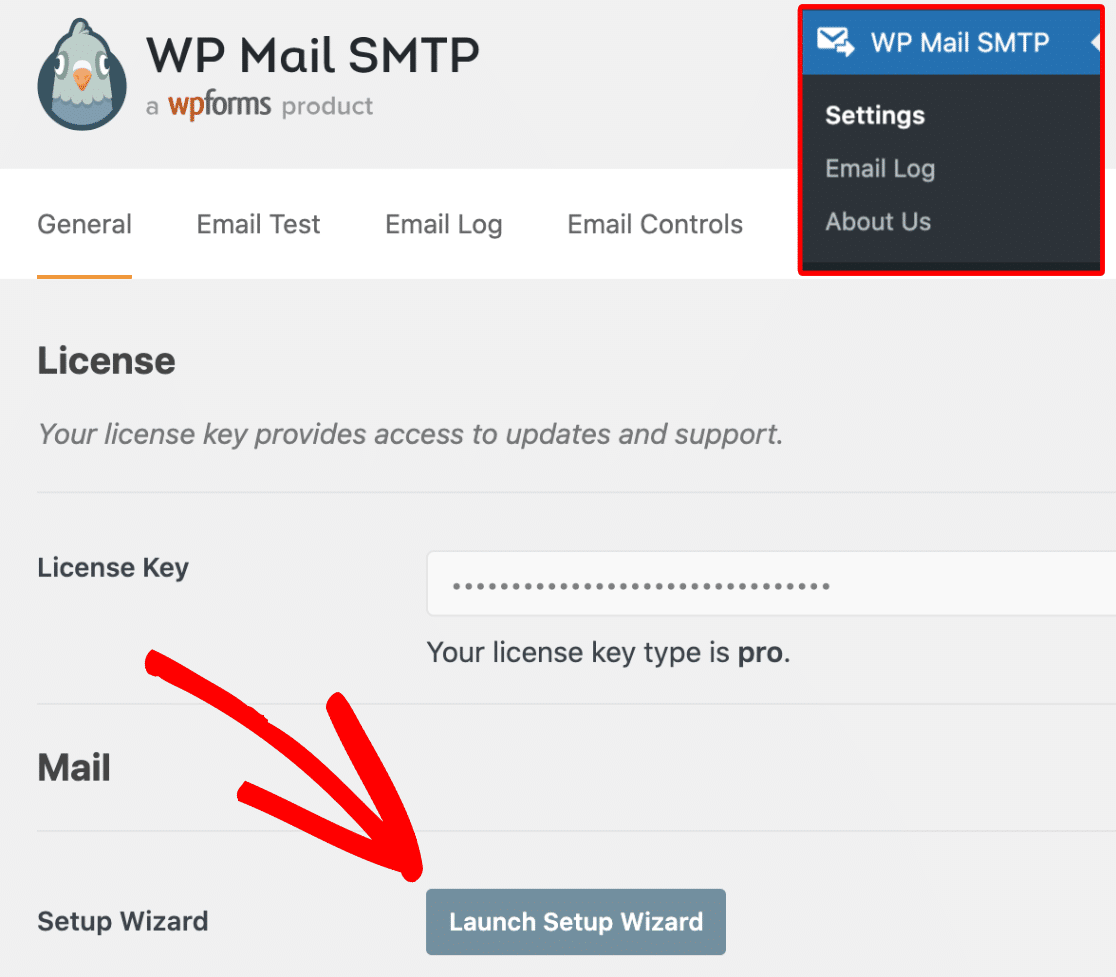 Once the Wizard has launched, click the Let's Get Started button to begin the setup process.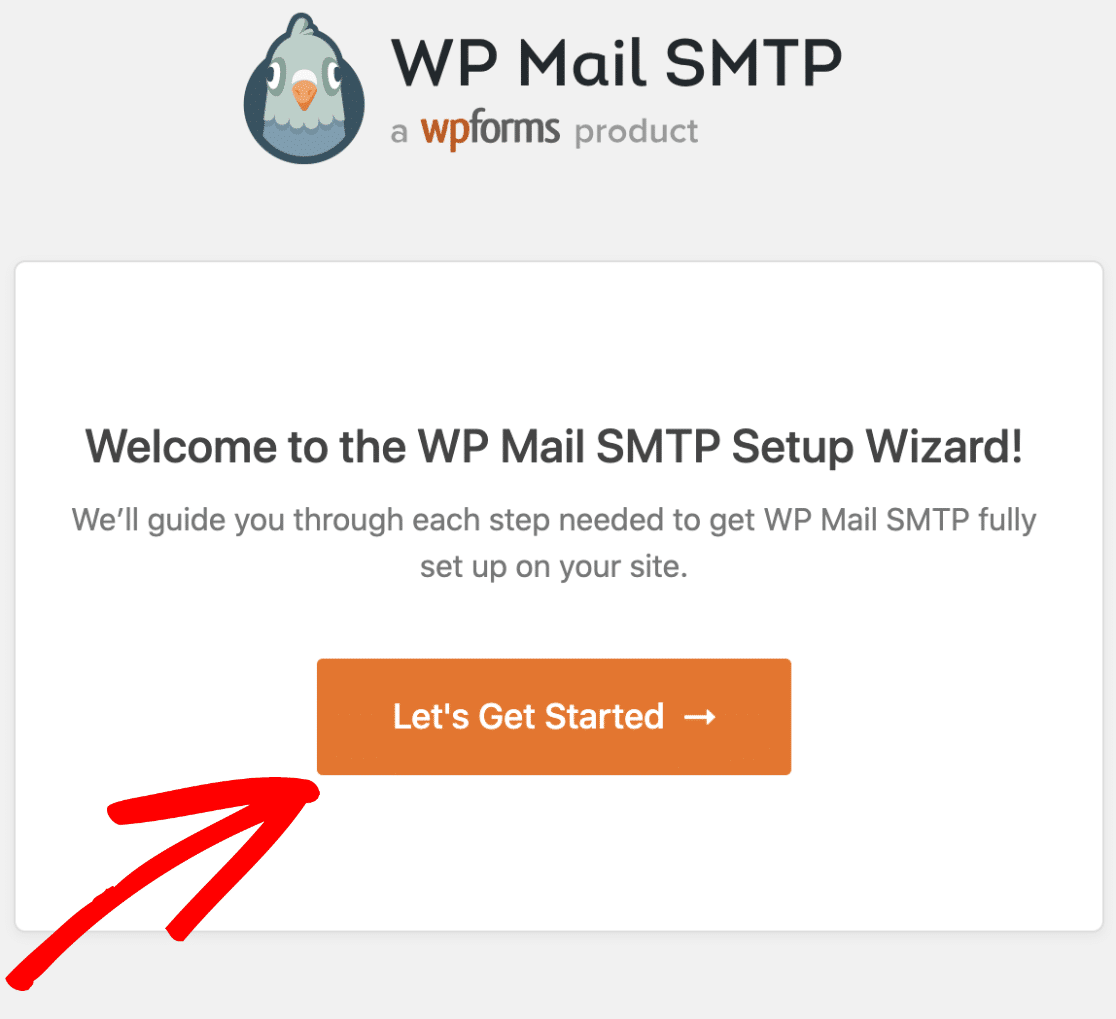 1. Choosing a Mailer
The first step of the setup process will ask you to choose which mailer you'd like to configure. If you're not sure which mailer is the best fit for your site, be sure to check out our complete guide to WP Mail SMTP's mailers for an overview of each mailer.
For our example, we'll choose the SMTP.com mailer by clicking on the SMTP.com option. Once you've chosen a mailer, click the Save and Continue button to move on to the next step.
2. Configuring Mailer Settings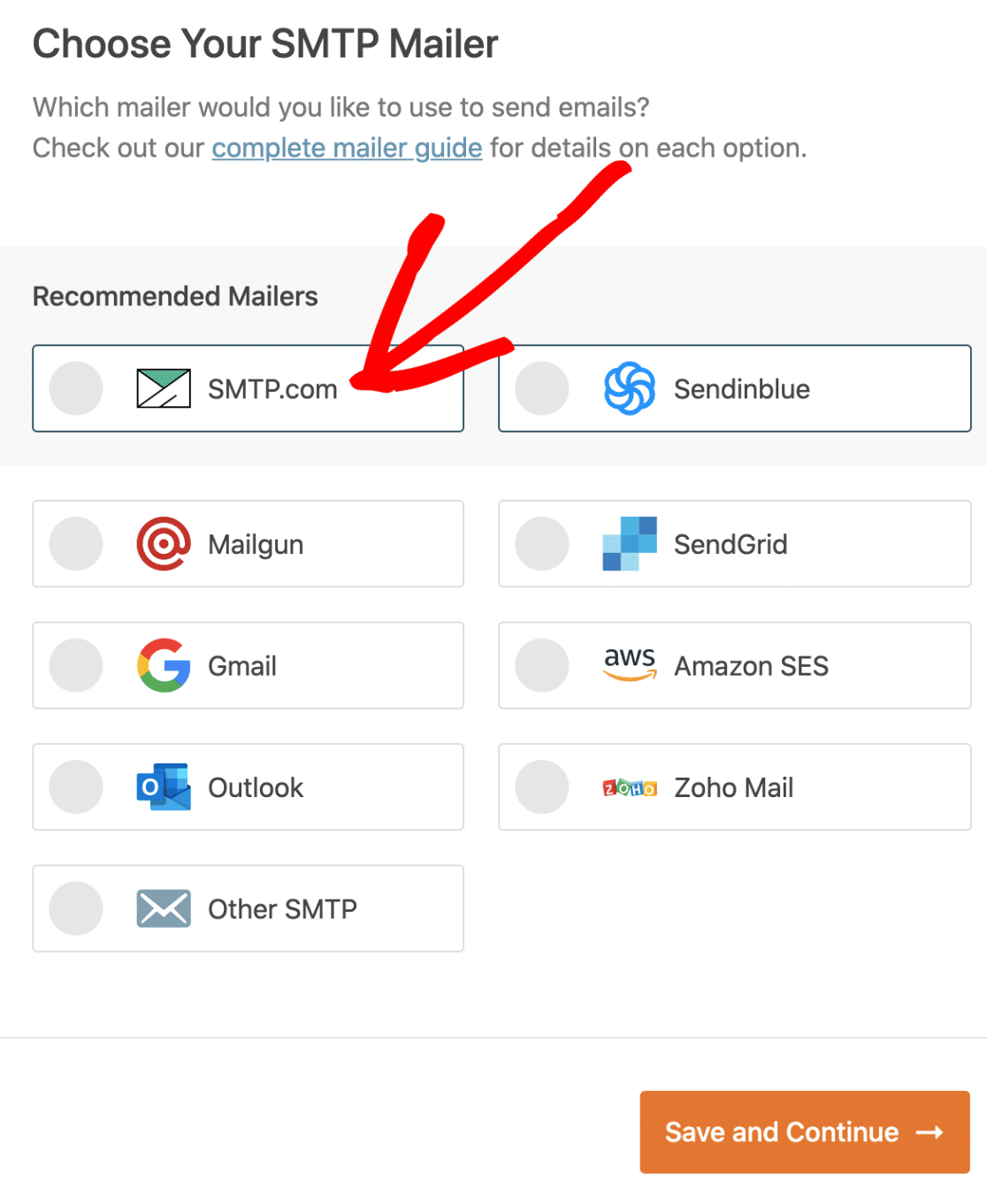 After you've selected a mailer, you'll need to configure the mailer's settings. This process will look slightly different for each mailer, and you can find a link to a full walkthrough for each mailer's settings in this step as well.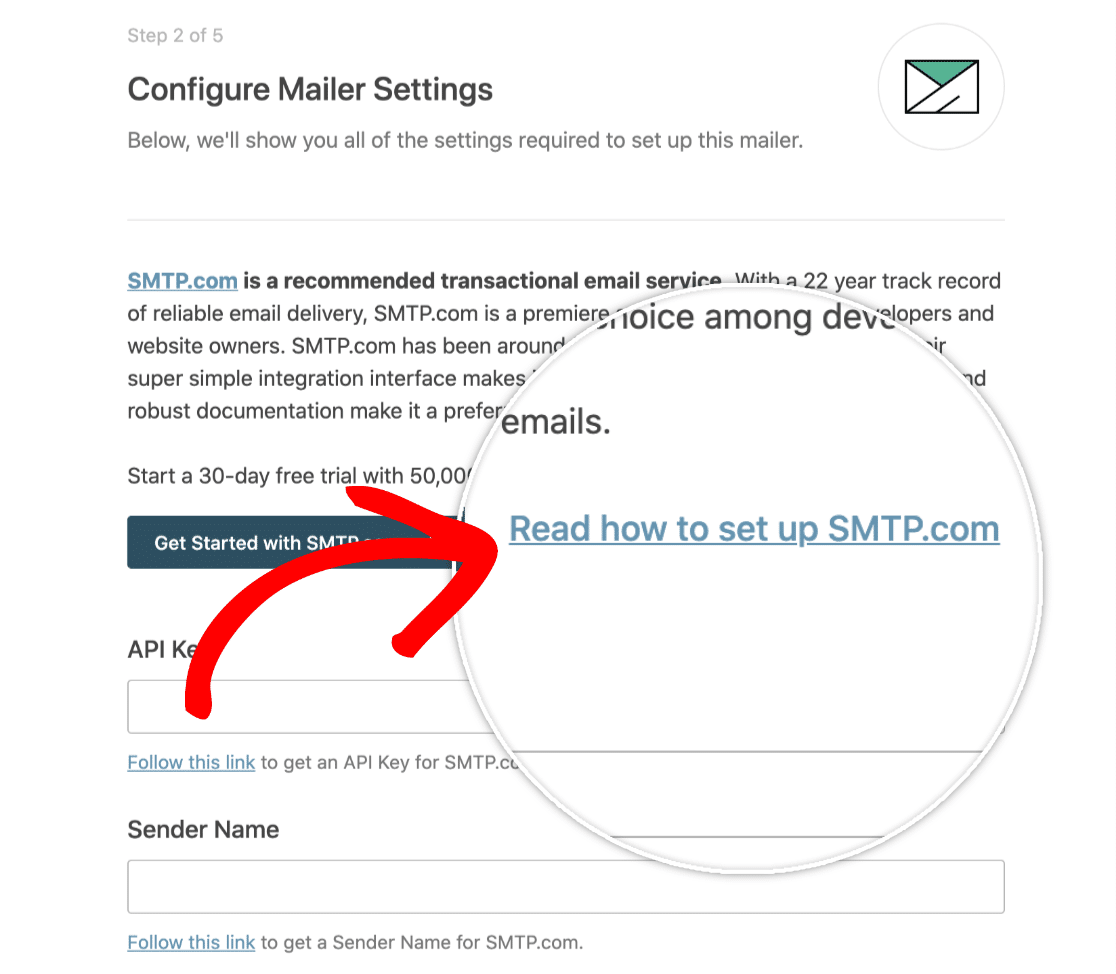 API Key
The API Key field is where you'll need to enter in your SMTP.com API Key. Go ahead and copy your API Key from within your SMTP.com account, and then paste the value into this field.
Sender Name
The Sender Name is a value specific to each SMTP.com account. In order to find your Sender Name, you can open your Senders page within your SMTP.com account. Go ahead and copy this value into the Setup Wizard, making sure there are no extra spaces.
From Name
The From Name will, by default, be set to your site name. However, you can change this to any text you'd like.
You can also choose to enable the Force From Name option to apply this name to all emails site-wide.
From Email
The From Email is the email address that all of your site's emails will appear to be sent from. In order for SMTP.com services to be able to work properly, this email address must be for your domain (ie [email protected]).
We strongly recommend also enabling the option labeled Force From Email. This will save you the trouble of editing the From Email settings throughout your site (in all settings where email could be sent from), and ensure that all of your site's emails are authenticated.
Once you've configured your mailer settings, go ahead and click the Save and Continue button to move on to the next step.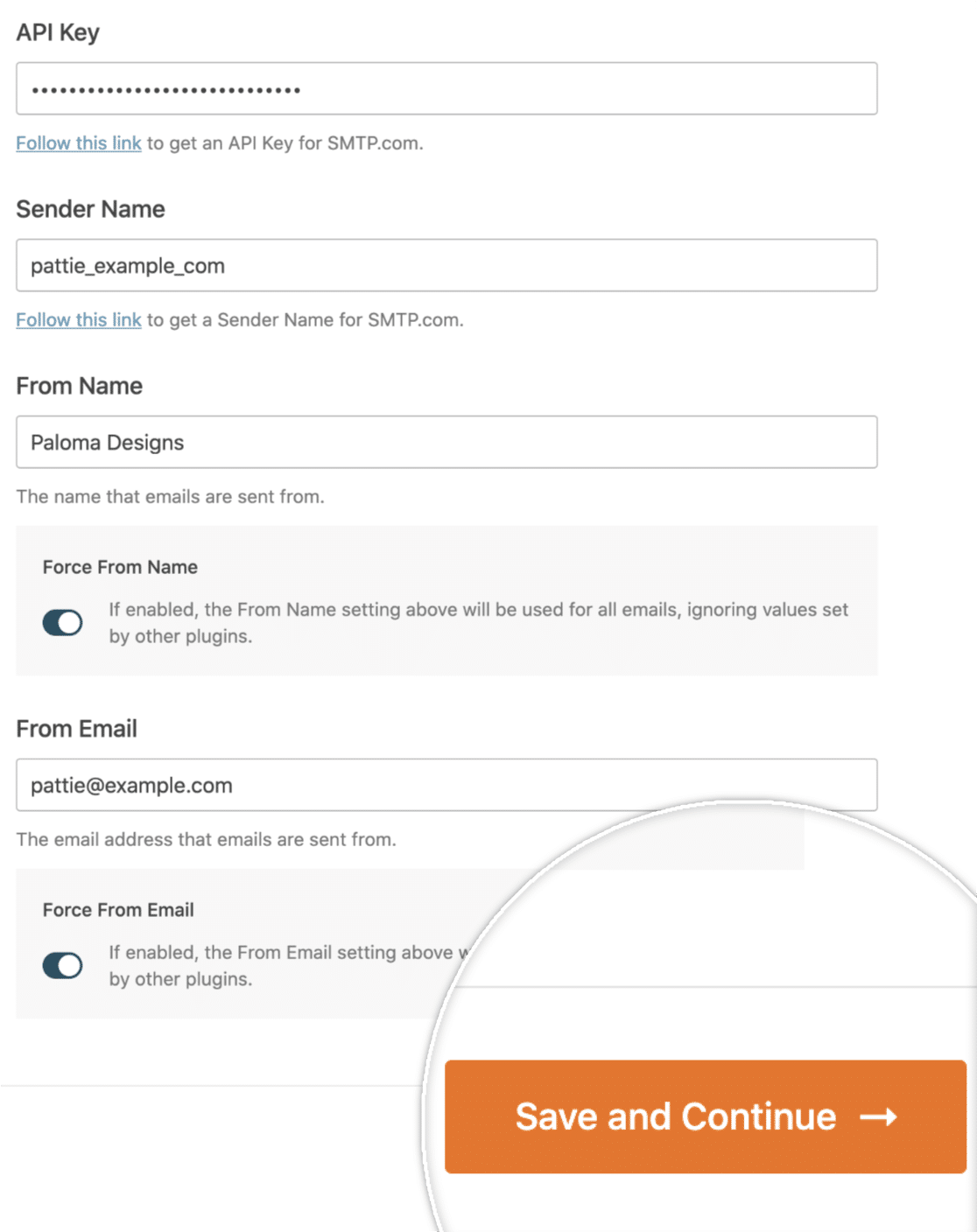 3. Enabling Email Features
After you've completed your settings, the next step is to choose which email features you'd like to enable. By default, the Improved Email Deliverability and Email Error Tracking settings will be enabled, but you can optionally choose to enable email logs at this step as well.
Note: Email logging is only available in the paid version of WP Mail SMTP.
If you'd like to enable or disable a specific feature, click the circle to toggle the setting.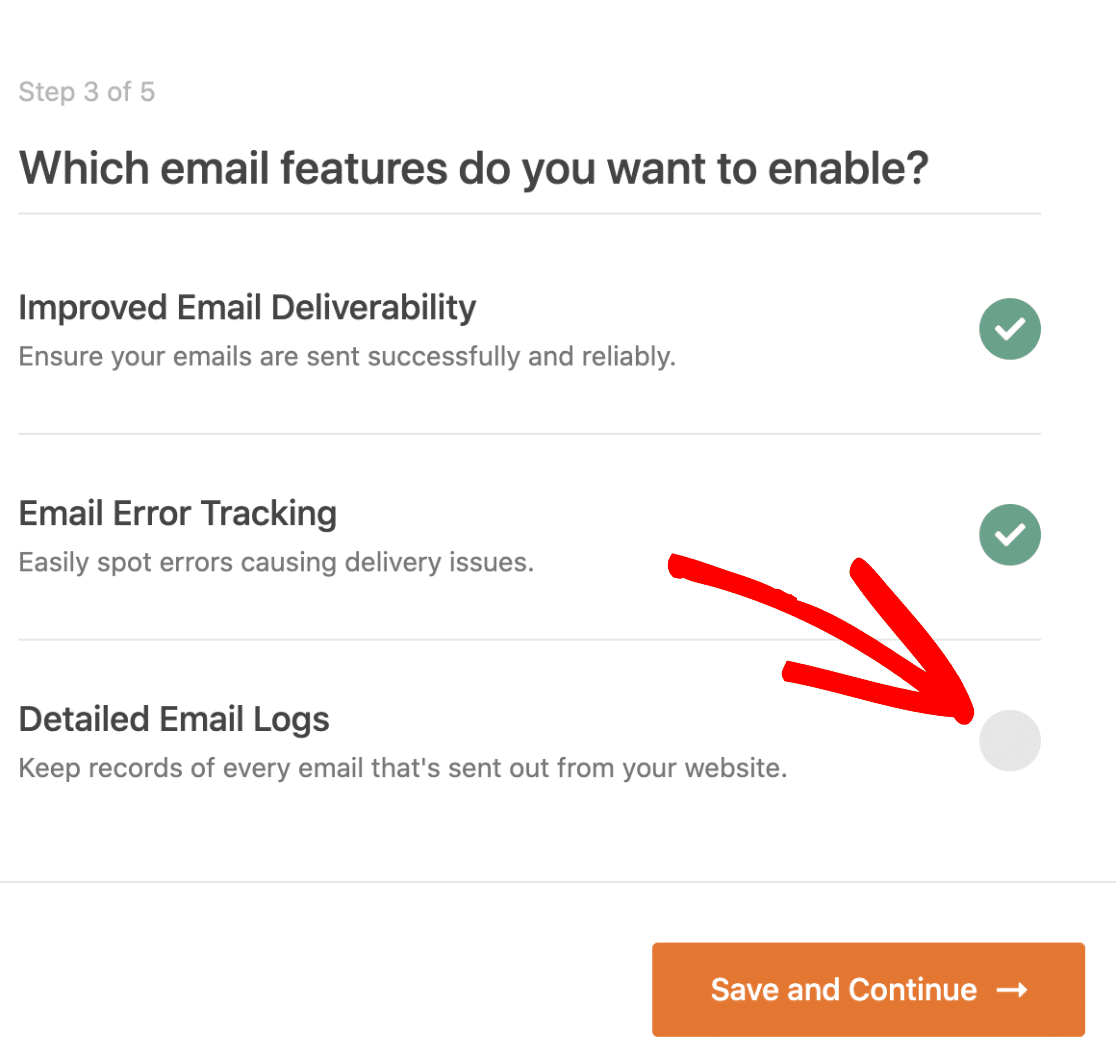 When you're ready, click the Save and Continue button.
4. Entering Your WP Mail SMTP License Key
Once your email features are configured, you'll then be prompted to insert your license key to unlock automatic plugin updates. If you have your license key on hand, you can paste it into this field and click the Verify License Key button to automatically activate your license.
Otherwise, you can click the Skip this Step button if you'd like to verify your key later.
5. Sending a Test Email
After you've set up your license key, WP Mail SMTP will automatically send a test email to confirm if your setup has been configured properly. If everything is working as expected, you'll see a screen with the message Congrats, you've successfully set up WP Mail SMTP! To complete your setup, simply click the Finish Setup button.
If there are any errors during the test, you'll be shown a screen that says Whoops, looks like things aren't configured properly. To begin the troubleshooting process, click the Start Troubleshooting button to view any error messages, and be sure to follow the recommended troubleshooting steps.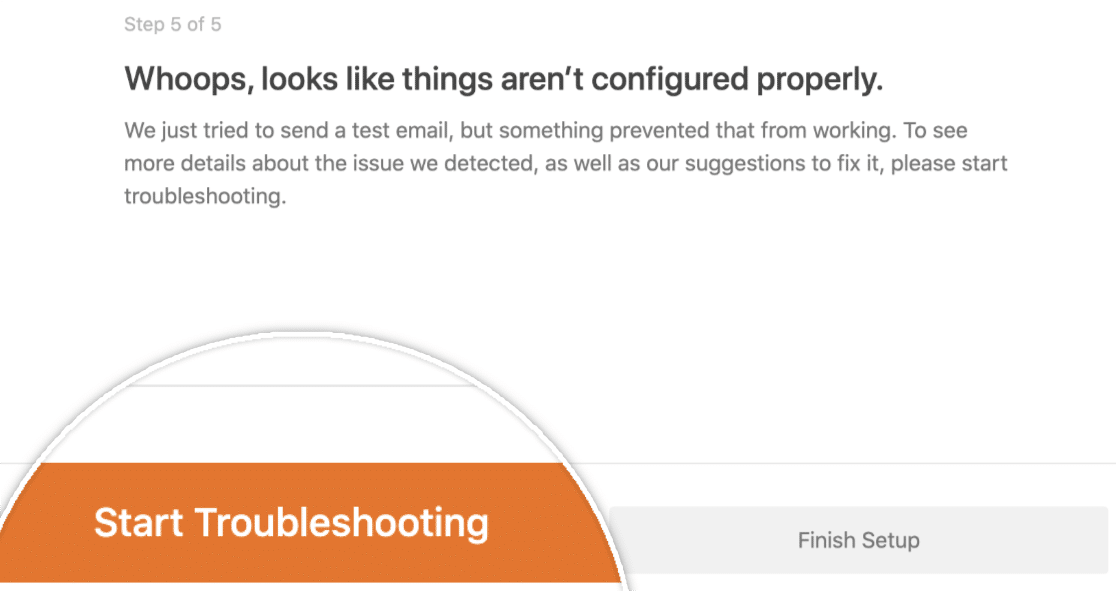 That's it! We just showed you how to configure a mailer using WP Mail SMTP's Setup Wizard.
Next, would you like help troubleshooting an issue within WP Mail SMTP? Be sure to check out our tutorial on how to troubleshoot WP Mail SMTP for more details.