WP Mail SMTP 2.6 has arrived and hold on tight because this big update has made setup easier than ever before.
The newest version of WP Mail SMTP has just been released and it packs a major punch. We're super excited about it and think you'll love what's new.
We know email deliverability issues can be intimidating for some website owners. So with this release, we think even beginners who aren't that tech-savvy will feel comfortable and confident setting up their WP Mail SMTP plugin and configuring their mailer when using the Setup Wizard.
Let's take a look at what's new in WP Mail SMTP.
Easy Guided Setup in Minutes
This new release includes some tweaks and fixes, but the real headliner is the new WP Mail SMTP Setup Wizard.
Let's talk about why we've built this new feature in our plugin.
WP Mail SMTP is a fantastic tool that solves a huge issue nearly all WordPress websites face.
We'll always be fighting for our users' success, and a huge part of that is making sure using our tool is as simple as possible.
Even though we have great in-depth documentation to walk users through the entire setup process, we wanted to make sure that it's as easy as possible for everyone to use WP Mail SMTP to fix their WordPress email deliverability problems.
So with that attitude in mind, we went back to the drawing board to see how we could improve things, and the Setup Wizard was born.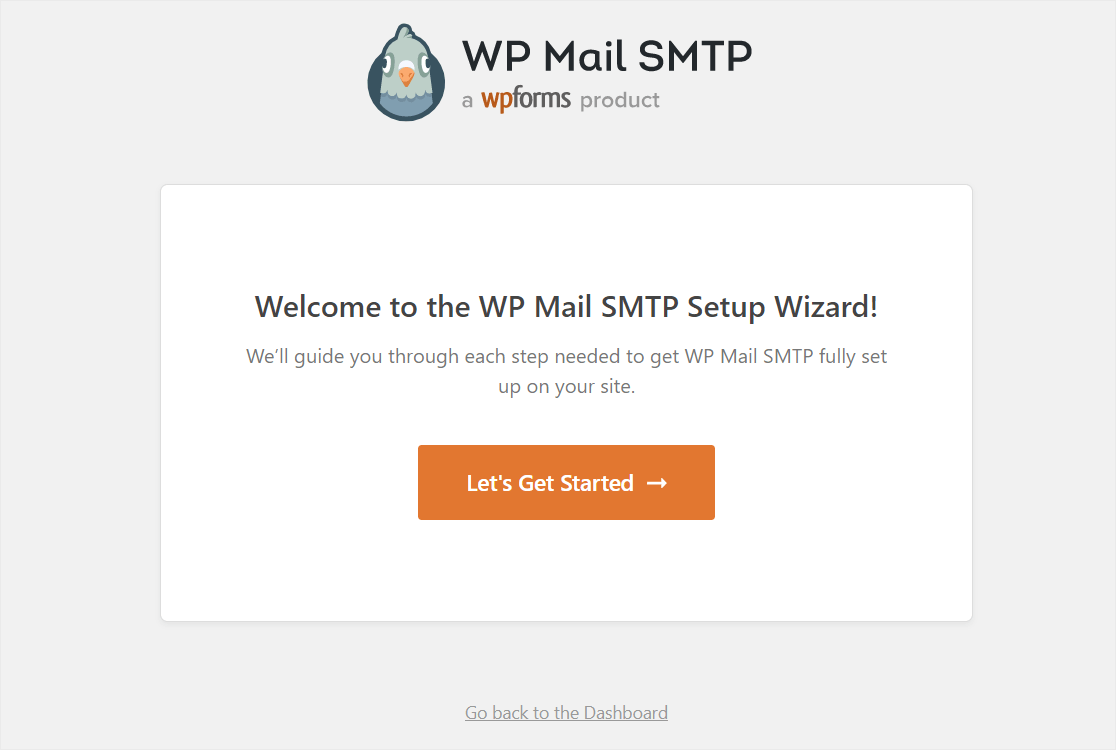 Once inside the WP Mail SMTP plugin, all users will now be able to launch and use a Setup Wizard that offers guided help. This step-by-step tool will get users quickly and correctly setup and configured with nearly everything you need for reliable email deliverability.
Once you've installed and activated the plugin, you can launch the snazzy Setup Wizard by navigating to WP Mail SMTP » Setup Wizard.
The new WP Mail SMTP Setup Wizard will walk you through:
Choosing a Mailer
Configuring Mailer Settings
Enabling Email Features
Sending a Test Email
Once users finish with the Setup Wizard, you'll see a reassuring checkmark that everything was done correctly. If there were any hiccups in the setup process, the wizard will identify any tweaks that need to be made to make sure things are working right.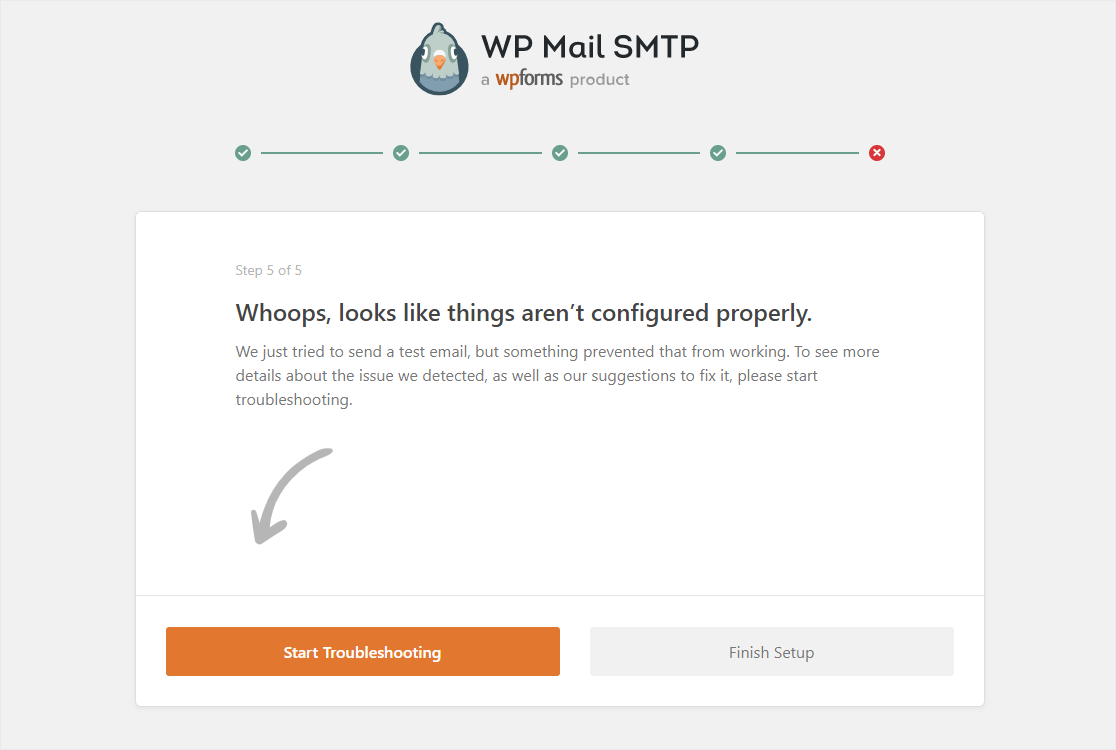 And there's a lot more to the Setup Wizard than meets the eye. That's because checking that the plugin settings are correct isn't the only thing this smart new tool does.
Additional SMTP-Related Configuration Checks
Because there's more than one thing that goes into setting up your site for proper email deliverability, the Setup Wizard doesn't just check your plugin settings – It takes things even further to make sure you're on the right track.
Sometimes users can configure things correctly inside the plugin, yet not everything is properly in place with mailer services or domain settings. So on top of walking users through the entire process of configuring their plugin, we now also run additional checks in the background.
Improperly configured DNS settings outside of the plugin can block it from working correctly, so we've taken care of this. Our "domain checker" has got you covered by attempting to verify not only that the plugin settings are correct, but also some additional requirements for emails to be sent smoothly.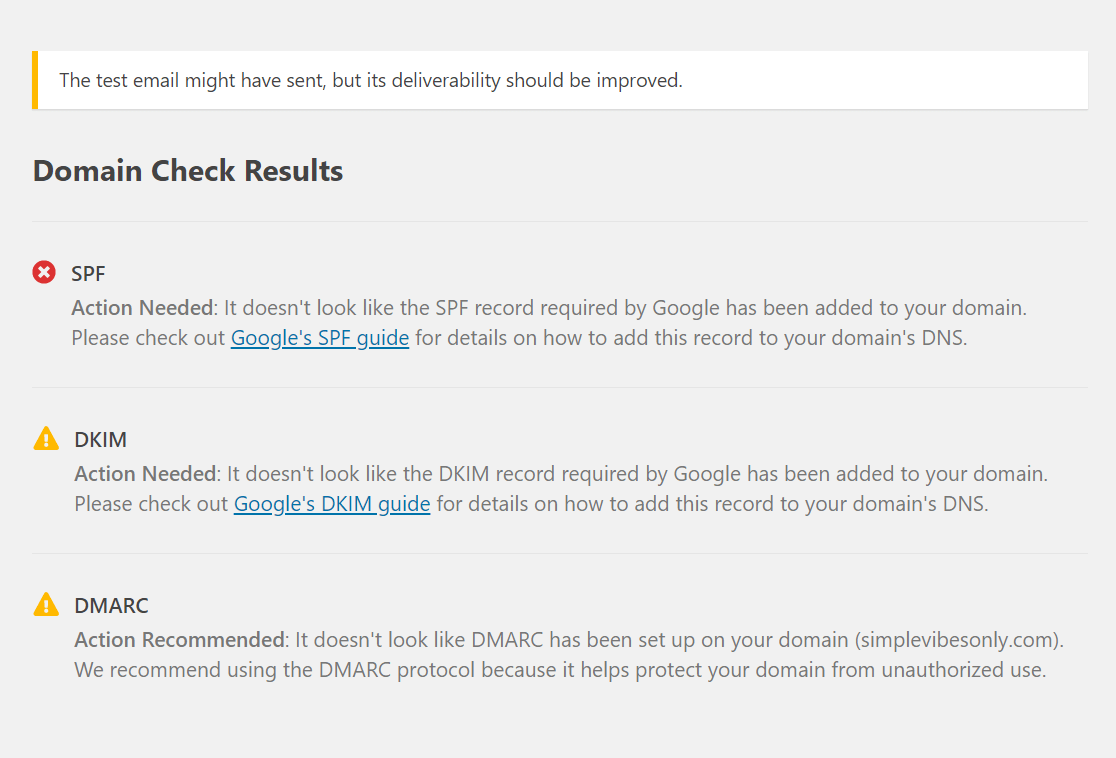 This includes validating the domain in a user's DNS settings to avoid those important website emails being delivered to the spam folder.
We know you want to know that you won't have issues sending emails in the future after setting up your plugin. So when you get through the Setup Wizard, you can rest assured it's done everything it can to make sure all parts of the process have been completed successfully.
Get Started With WP Mail SMTP Today
We genuinely believe it's our duty to follow our core values.
With our Elite-level plan, we offer a White Glove Setup option to configure the plugin for users if they'd like, but we knew making setup insanely easy for all users of the plugin was the right thing to do. That way, small businesses with any size budget could use WP Mail SMTP successfully.
And if you're a WP Mail SMTP Pro customer and you've already completed your White Glove Setup, this new tool will help you re-configure any new mailer yourself if you ever decide to switch to a different one.
We'd love to hear from you. If you have any thoughts, ideas, or suggestions for us on how we can make WP Mail SMTP even better, don't be shy, and make sure to please get in touch with us!
We're thrilled that the new WP Mail SMTP Setup Wizard is available on all versions of the plugin, including the Lite version.
We want to make sure that the average email deliverability rate of 80% is instead as close to 100% as possible for WP Mail SMTP users. We believe website owners deserve WordPress emails that function correctly, so you can keep thriving with your small business.
So, don't wait another second. Want automatic updates, email logging, and even more features? Start using WP Mail SMTP Pro today!
Jared and the WPForms Team