Are you looking for the best WordPress business directory plugin?
Creating a directory website could help you make money by charging businesses to get listed.
In this article, we list down some of the popular business directory plugins available for WordPress to help you pick the best.
What Is a Business Directory Plugin?
A business directory plugin lets you easily convert a regular WordPress website into a website that lists business information.
Users can visit your website to find information about the service provider in a particular niche or category. At the same time, it helps those businesses find customers, so they may be willing to pay for you to publish their information.
Most directory plugins are flexible and allow you to set up a paywall to accept paid submissions. We'll look at some awesome options that'll help you build your own directory site.
Best Business Directory Plugins for WordPress
Here's a quick summary of the plugins we're going to look at in this article.
We'll start out with one of the most versatile choices for building a listings site.
1. Formidable Forms
Formidable Forms is one of the best contact form plugins for WordPress.
It lets you collect and display different types of information on your site. And the highly customizable form fields make this plugin an awesome choice for collecting complex information.
To handle the frontend display of directory listings, you can use Formidable Views. This lets you dynamically display content from form entries.
We put Formidable Forms right at the top because it's so much more than a business directory plugin. You can also use it to:
Publish advanced frontend forms in WordPress
Auto-generate the forms and pages you need to create your site
Choose between Business, Team, and Member Directories and create an unlimited number of listings
Integrate payment options like PayPal, Stripe, and Authorize.Net
Connect forms to Mailchimp, Constant Contact, Campaign Monitor, GetResponse, and other email marketing platforms
Accept frontend submissions
Allow visitors to submit reviews and ratings
Embed maps in your listings so your visitors can find businesses easily
Accept file uploads for listings, like menus or rate cards.
Pricing: Formidable Forms Basic + Views costs $139/yea. The $299/year Business plan is an excellent option: it comes with pre-built directories, price calculation functionality, and digital signature addons.
Pro tip: If you're having difficulty receiving form notifications, check out how to fix Formidable Forms not sending email.
2. Business Directory Plugin
Business Directory Plugin is a dedicated directory plugin for WordPress. You can use it to make different kinds of directory listings, including:
Local business directories
Directories in a specific sector, like restaurants or hotels
Internal directories to store information about your employees
Review sites
And more.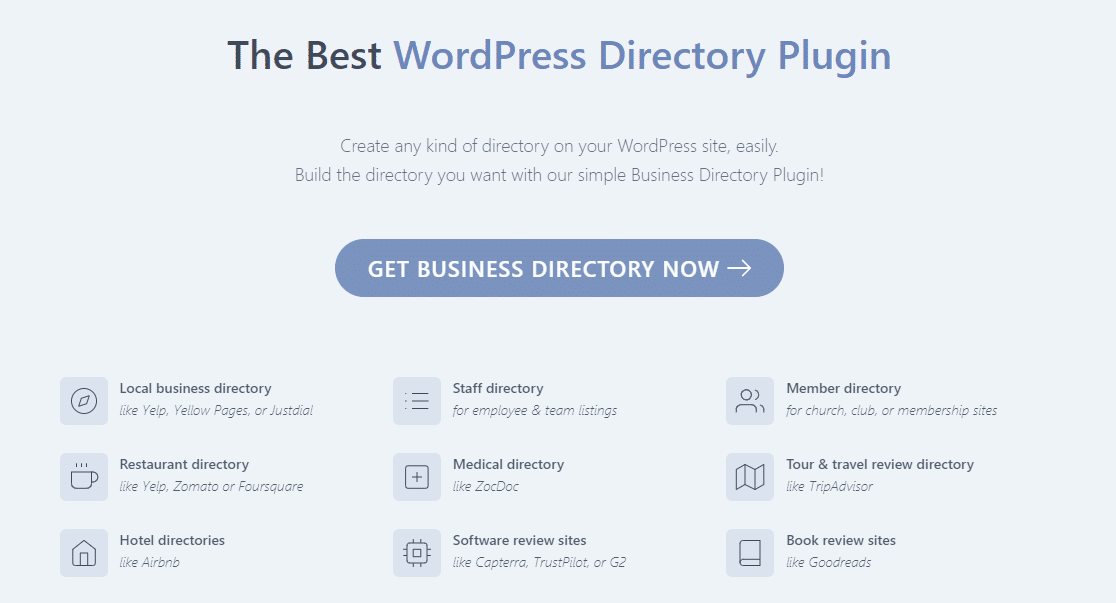 The main Business Directory plugin is free to download, so it's great if you want to start out slowly and build up your listings over time.
You can also:
Use pre-built templates and edit them to match the style of your website
Provide free listings for a limited time while earning revenue through subscription-based paid listings
Charge for upgrades and featured listings
Let business owners claim and manage their own listing
Add location details and Google Maps
Let visitors search for listings and filter by city or zip code.
Pricing: Business Directory Plugin pricing starts at $99 for the Basic plan. You can opt for a $199 Pro plan for more features.
3. GeoDirectory
GeoDirectory is an advanced business directory plugin designed for listings in a specific area. Like Business Directory Plugin, the basic plugin is free. For more features, you may need to buy addons.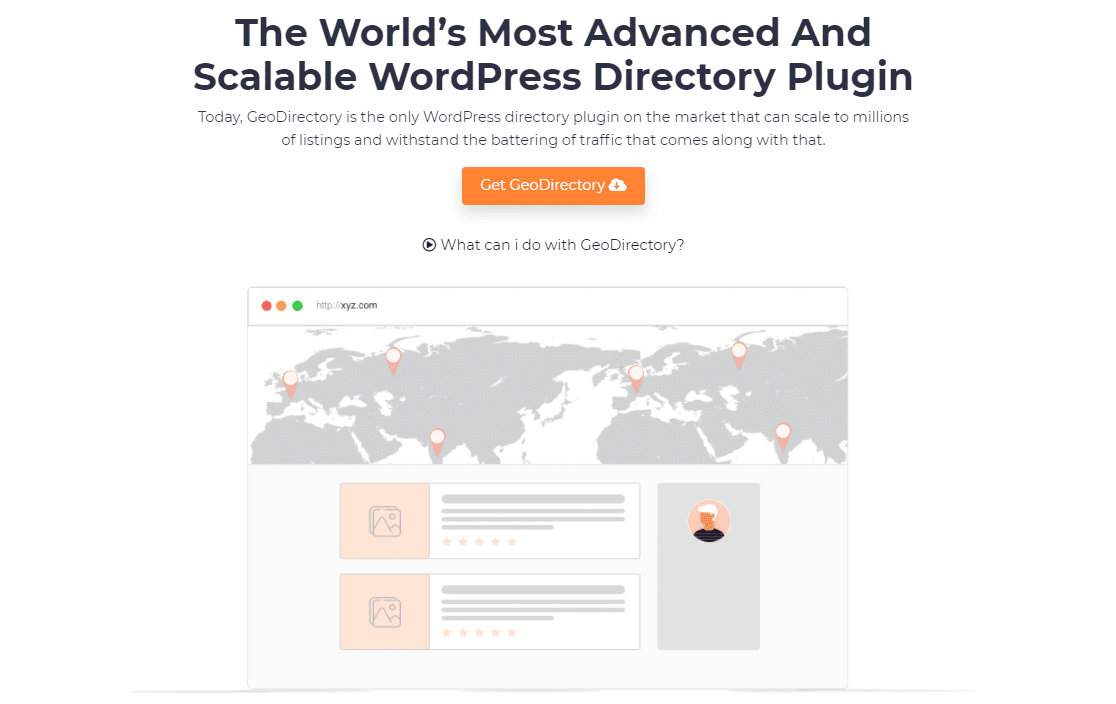 GeoDirectory is based around a drag and drop interface, and it says that it'll withstand high traffic as your directory site grows.
GeoDirectory also lets you?
Build your site with any theme or page builder plugin
Create custom listing pages with 40+ widgets, shortcodes, and blocks
Accept listings from businesses and give them access to manage it on the frontend
Let visitors filter listings based on zip code or location name
Publish business working hours and availability
Take payments for listings
Expand your site into multiple cities or locations
Pricing: The GeoDirectory plugin is free. You can buy addons starting at $19/year. The membership bundle costs $199 for 1 year, or $995 as a lifetime deal.
4. Advanced Classifieds and Directory Pro
Advanced Classifieds and Directory Pro is a powerful directory plugin that lets you create a directory or classified ads site. The plugin supports unlimited listings and locations and is an affordable option if you're looking for a plugin with a lifetime license.

Advanced Classifieds and Directory Pro lets you charge for listings on your site in different ways. For example, you can charge for an ad to be listed for a specific amount of time, or bill someone extra fees for a featured listing.
In addition, you can also:
Group your listings into as many categories as you want
Allow businesses to submit their listing from the frontend
Use shortcodes or blocks to insert listings into pages
Create an unlimited number of custom fields for your ad site or business directory
Take Stripe or PayPal payments.
Pricing: Advanced Classifieds and Directory Pro starts at $96 for a single site license for 1 year. You can also buy a lifetime license for 1 site which costs $289.
5. LDD Directory Lite
LDD Directory Lite is a free plugin that lets you create a searchable directory site for any purpose. This is a great option for a community or nonprofit directory if you want to start small or keep costs to a minimum.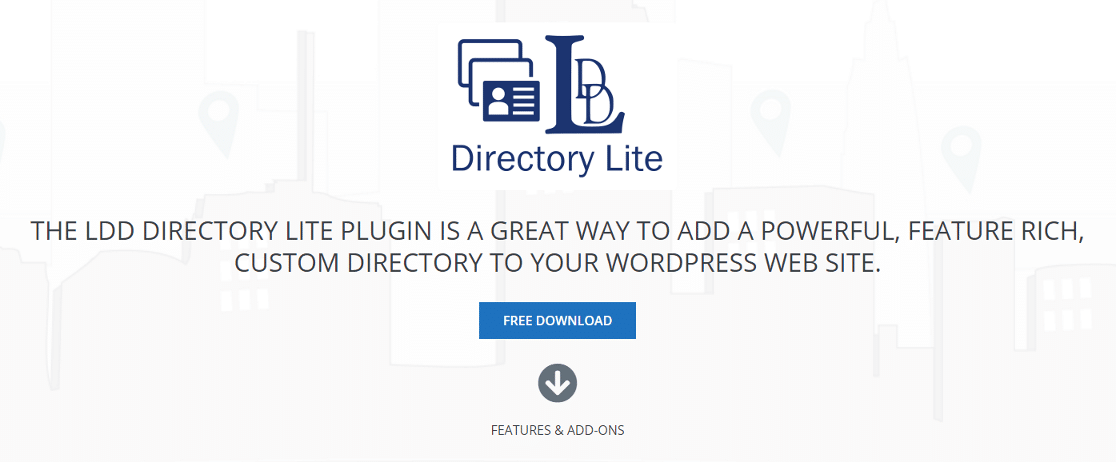 Overall, this is a more basic business directory plugin than some of the others we looked at. But on the plus side, you can buy individual addons if you want to add enhanced functionality to your site.
The plugin has 5 paid addons for data importing and social login. If you want your visitors to be able to add reviews, there's a premium addon for that as well.
In addition, LDD Directory Lite also supports:
Basic business details and social media information
Business logos and images
Simple shortcode embedding for pages and posts
Front end submission
Google Maps embedding
Pricing: The core plugin is available for free. Addons start at $19, and buying individually over time is the cheapest option vs another plugin with an annual pricing plan.
6. Toolset Directory
The Toolset plugin lets you add dynamic content to your website without touching any code. If you want complete control over your WordPress business directory, building it in Toolset will give you more options than some of the plugins we've looked at so far.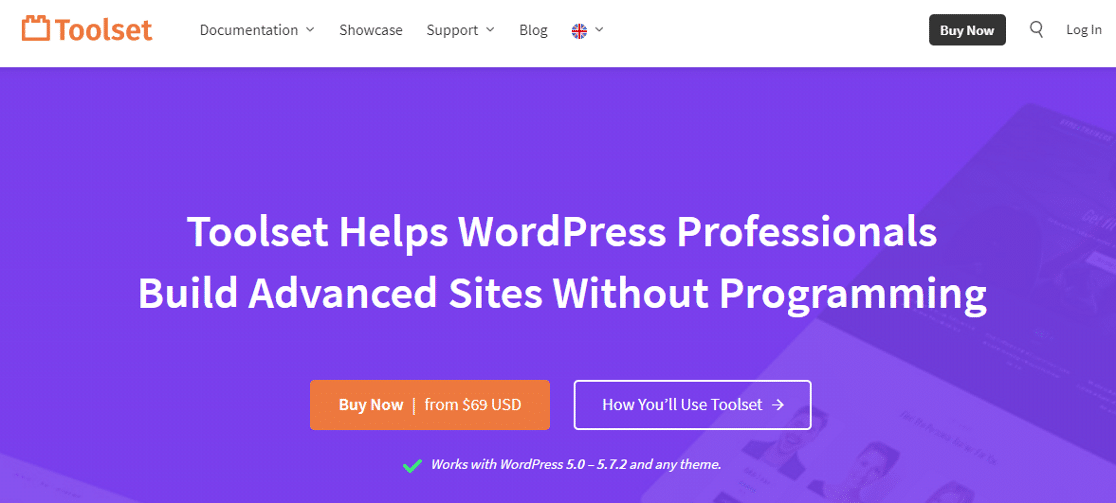 Toolset lets you build custom sites using the block editor, which is ideal if you want a no-code way to develop a totally custom layout. Your visitors can add data to your site using forms and frontend editing.
If you're considering Advanced Custom Fields or Pods, Toolset could be a more user-friendly alternative that's geared specifically towards business directories.
In addition to that, Toolset gives you these powerful features:
Flexibility to use any theme or page builder
Dedicated blocks to build business directory pages
Powerful search with multiple filters and AJAX
Multiple display options, including custom grids and lists
WooCommerce integration
Pricing: The pricing for the Toolset plugin starts at $69 for a single site license.
So, What's the Best Business Directory Plugin for WordPress?
After comparing all of the above plugins, we found that Formidable Forms with Views is the best business directory plugin for WordPress.
We love how Formidable Forms is a multi-purpose plugin. It combines contact forms, calculations, and business directory functionality in 1 package.
And even though it's a form builder at heart, you can still create a customized layout for all of your business directory pages.
Next: Make Sure Your Directory Emails Are Delivered
If you're setting up a business directory, getting your WordPress emails working reliably is essential. If your WordPress emails are going to spam, businesses won't be able to manage their own listings.
Check out how to fix WordPress not sending email and learn how to configure SMTP settings on your website.
Ready to fix your emails? Get started today with the best WordPress SMTP plugin. If you don't have the time to fix your emails, you can get full White Glove Setup assistance as an extra purchase, and there's a 14-day money-back guarantee for all paid plans.
If this article helped you out, please follow us on Facebook and Twitter for more WordPress tips and tutorials.