Would you like to boost your sales by turning your email receipts into email upsells?
Did you know email receipts and confirmation messages have the highest open rates compared to other types of business emails? This is an excellent opportunity for upselling.
In this article, we'll show you how to do this without annoying your customers. Let's get right into it!
What Exactly Is an Upsell Email?
Upsell emails are a smart email marketing tactic where you get users to buy additional products or services or to upgrade a product or service they've already bought by adding some marketing content to a transactional email.
Using transactional emails like email receipts is a great idea for email upselling, as transactional emails have the highest open rates of any email type.
In the rest of this guide, we'll cover some tactics and tools that will help you apply these tips effectively.
How to Use Email Upsells to Turn Email Receipts into Cash Drivers
1. Use a Straightforward Subject Line
With marketing emails, it's usually a good idea to get creative with your subject lines. But your email upsells should always be seen, first, as transactional emails.
The best practice for transactional emails is to keep subject lines plain and descriptive. While not everyone will open a marketing email, almost everyone will open an email receipt, so be sure not to put users off with overly salesy subject lines.
2. Personalize the Email
Including personal details in any email is always a good email marketing practice. You should aim to address the recipient by their name and make specific reference to the product or service they purchased, their respective costs, and any other relevant transactional details.
For email upselling, this is even more important, as, according to Experian, personalized emails earn up to 6 times more conversions.
3. Provide Shipping/Delivery Details
If you'll be shipping any physical products, it's a good idea to provide full shipping details in the email receipt.
The email below is a Dominos email receipt. In addition to providing comprehensive delivery information, you can see that it also includes all the specifics of the transaction, just as we discussed in the previous point.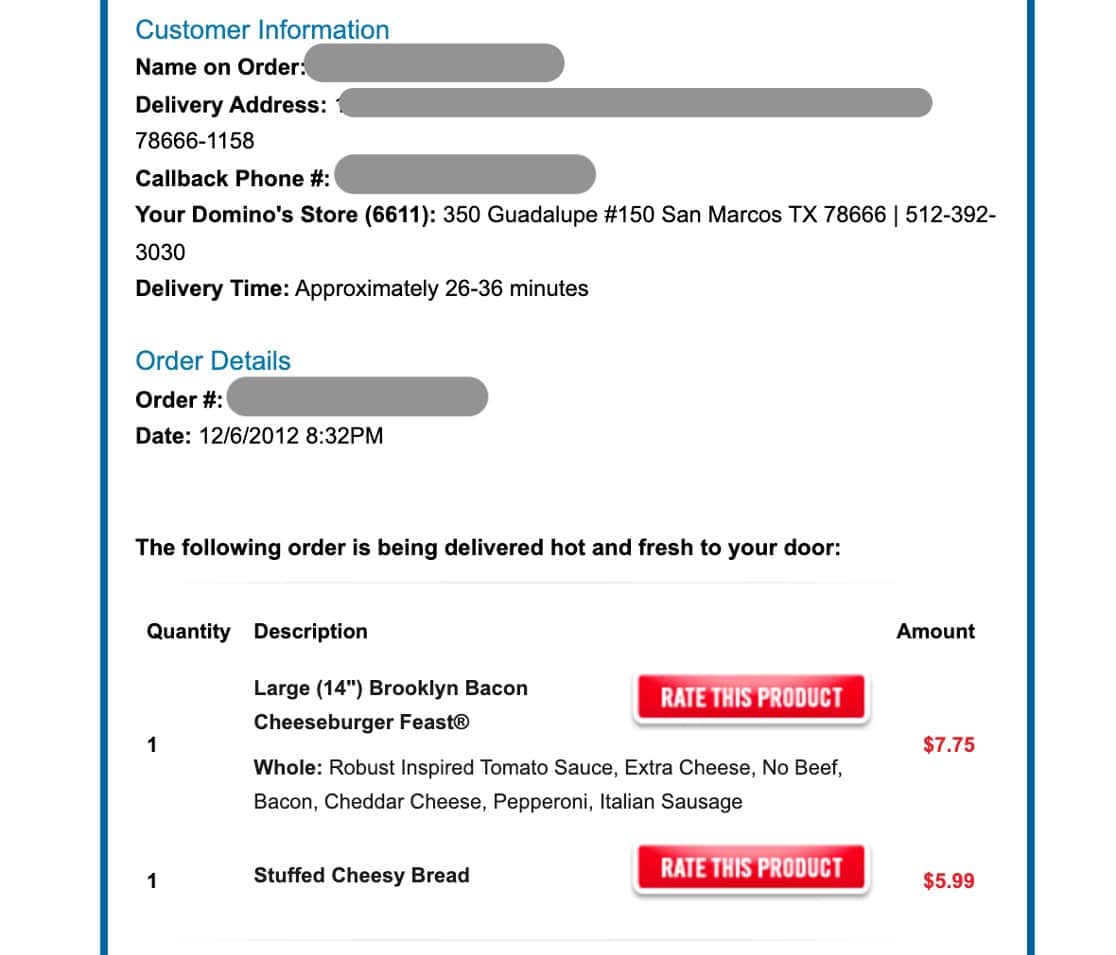 For your transactional email upsells, some details to include are things like expected delivery time, shipping method, tracking information, a contact number to follow up on the delivery, and so on.
While these details aren't necessarily going to be key to making the upsell, they might be key to ensuring your recipients read the rest of the email.
4. Focus on the Value Proposition
One of the reasons why upselling is so effective is because you've already gotten the user to act on the perceived value of your products or services. They've purchased this item from you because they believe it offers some value in helping them resolve a pain point.
They may be easily convinced to part with a few extra bucks to buy an item they believe will offer even more of the same value. So, to make the upsell, keep the focus on the value proposition of the product or service.
Walmart does this really well by focusing on the one thing everyone goes to Walmart for: Savings.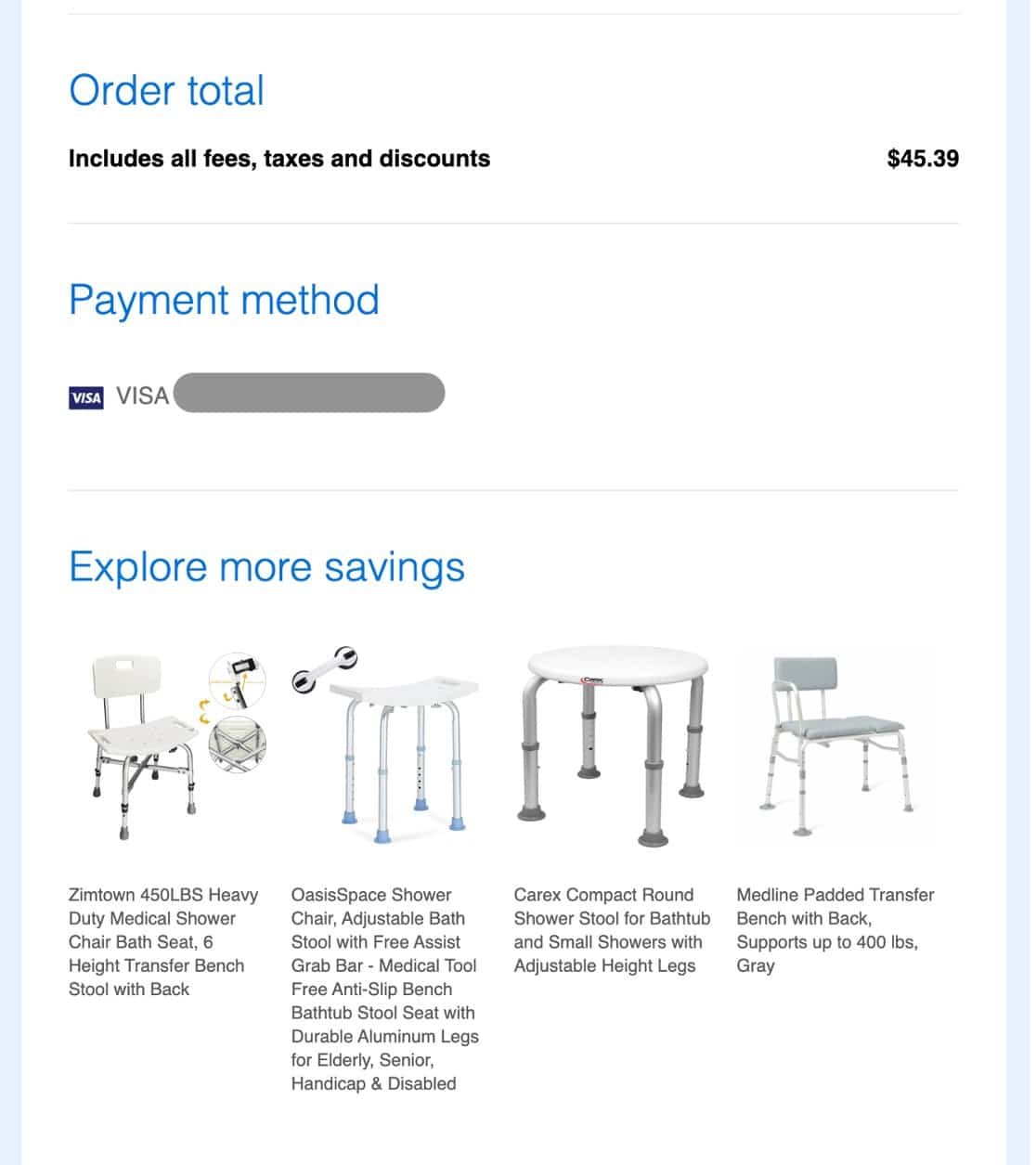 5. Include a Clear Call to Action
While your email should remain focused on providing transactional information, which is what the recipient will expect, you should also include a clear call-to-action.
Calls-to-action help show the user what steps to take next, and importantly, they may help users overcome the urge to procrastinate. A good call-to-action should be visible and should tell the user what the precise next steps will be.
Here's a brilliant example from Gofundme below. This is an email receipt for a donation, and right below all the transactional details, there's a call to action highlighted for maximum visibility.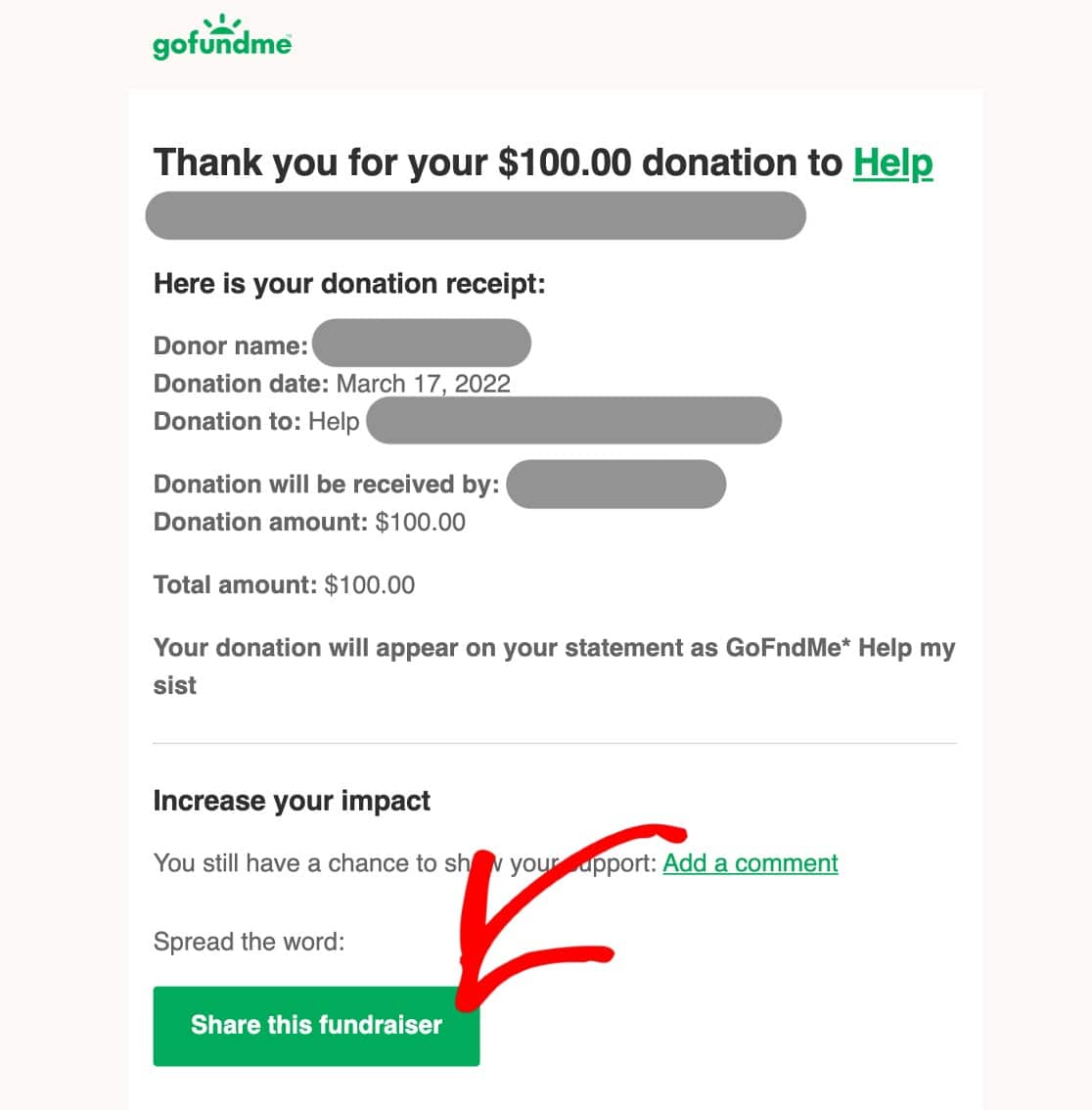 Also, remember to include links to your transactional pages so that they are able to follow through easily. Remember, the less work you make your users do, the more likely they are to complete the upsell.
6. Issue a Coupon for Their Next Purchase
Users who have already made a purchase are easier to convince to make another. One way to really drive home this advantage would be to give users an incentive to come back for more by offering coupons for their next purchase.
Here's some good news: you don't need to have a complex technical setup to offer your users coupons. All you need is a WPForms Pro license which allows you to add a Coupon Form field to any form.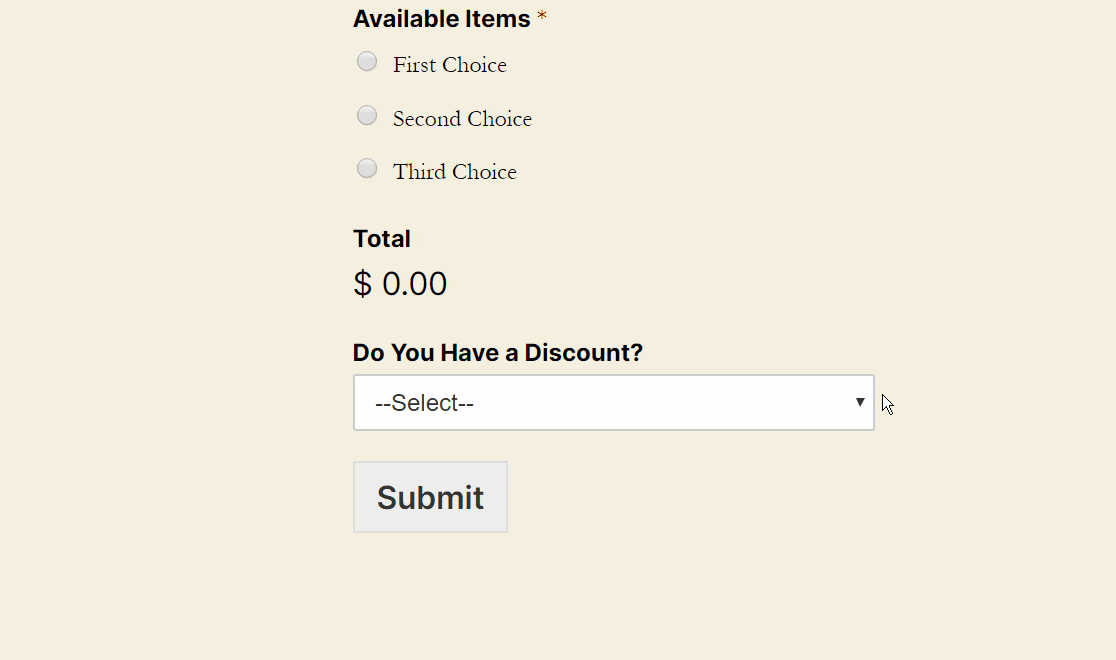 7. Promote Your Loyalty Program
Do you offer a loyalty program? Along with things like coupons, loyalty programs are a great way to motivate buyers to make more sales.
A receipt or confirmation email is a good place to drop a reminder about your loyalty program since you can be sure almost all your customers will see them.
Reviews are an excellent way to take advantage of the power of social proof. More prospects are likely to take the chance with an upsell offer if they can see that other users are happy with the same item.
In an email upsell, your recipient will have already made a purchase, so you should share reviews of users who made the upgrade to higher plans or products to convince them of their value.
You can also use your email receipts to collect customer feedback by leaving a link to a user review form.
9. Offer Helpful Content
In the traditional sales funnel model of the sales cycle, a purchase would be viewed as the end of the funnel. In modern marketing, the sales cycle is viewed as being closer to a flywheel than a funnel.
Even when the customer makes a purchase, they remain engaged with the brand and, hopefully, they end up buying again. One way to keep users engaged in the flywheel is by offering them helpful, valuable content even after they have made a purchase.
One way to do this would be to include a link in an email receipt to content that could help users make the most of a product they've just bought from you.
For example, a user who has purchased a new bicycle might be interested in learning how to fix a flat tire on their own. You can create some content to show them how to do this while talking up the benefits of upgrading to a superior bicycle.
10. Use Email Analytics to Track and Optimize.
Whatever tactic you use for email marketing, one thing you should always do is track and analyze user responses. Doing this regularly and effectively is a good way to understand what's working and what's not
There are several tools you can use for tracking emails, but the best one is WP Mail SMTP. WP Mail SMTP isn't a dedicated email tracking plugin, but it has powerful email tracking and logging features that can show you how users engage with your emails and whether they receive them at all.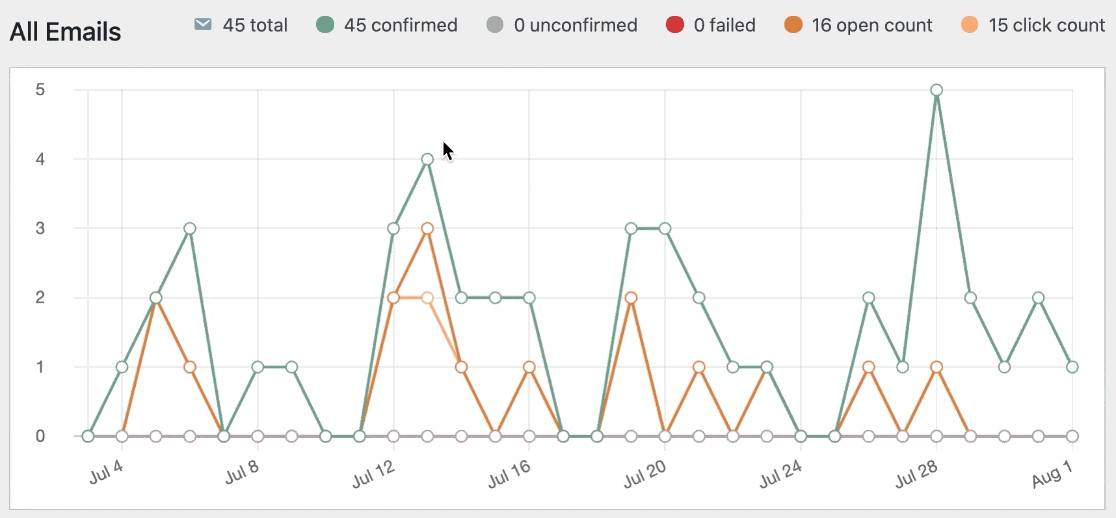 You can also set up WP Mail SMTP to automatically track email opens in a Google Sheets spreadsheet.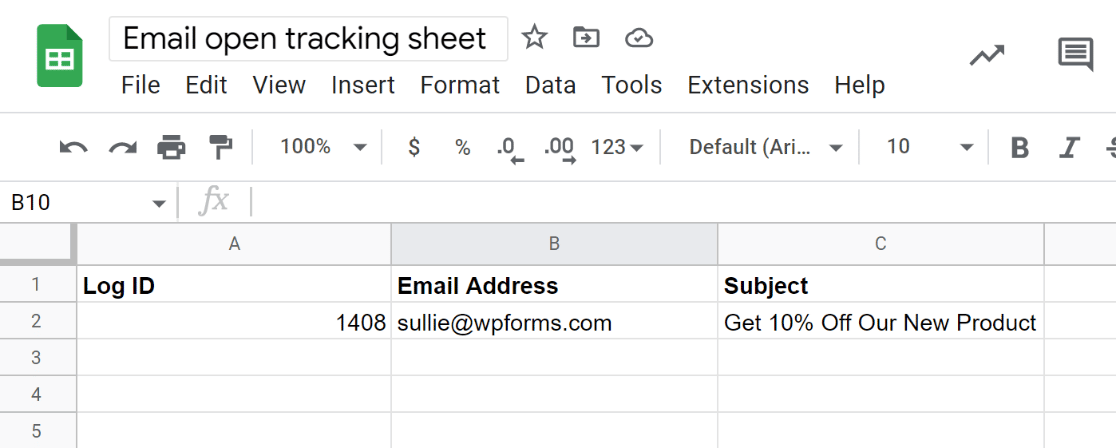 Another reason to use WP Mail SMTP is that it is the leading Simple Mail Transfer Protocol (SMTP) tool for WordPress sites, and it improves email deliverability by helping to authenticate WordPress domains.
11. Promote Your Social Channels
Even if users don't immediately buy something else, they may be persuaded to do so subsequently. So you'll want to keep them in the conversation for as long as you can. One way to do this is to get connected on social media. Transactional emails offer a pretty easy way to invite users to stay in touch, and this can be less promotional too.
And that's it for our guide to turning email receipts into email upsells! These tips will help turn your email receipts into conversion machines.
Next, Check Out These Top Email Marketing Services
To do any kind of email marketing, you'll need some tools to work with. Here are some of the best ones to consider, covered in our guide to the best email marketing services.
Ready to fix your emails? Get started today with the best WordPress SMTP plugin. If you don't have the time to fix your emails, you can get full White Glove Setup assistance as an extra purchase, and there's a 14-day money-back guarantee for all paid plans.
If this article helped you out, please follow us on Facebook and Twitter for more WordPress tips and tutorials.