Are you searching for an SMTP server to deliver emails from your site?
SMTP stands for Simple Mail Transfer Protocol and is a standard protocol for sending emails. So, a good SMTP server is often recommended for reliable email delivery.
But, the best SMTP server might depend on your specific needs.
Don't worry, though. We've already done the homework, and we're sharing it with you! Keep reading to discover more about SMTP servers and which ones we recommend.
What Should I Look for in an SMTP Server?
When choosing an SMTP server, you should consider these factors:
Ease of Integration: Does the server have a user-friendly interface? A great SMTP server can be set up easily and quickly.
Deliverability Rates: Is the server upfront about their deliverability rates? Rates include time to deliver important emails like password resets. Reviews and social media might offer some insight into others' experiences.
Scalability: Will the server accommodate growth? Choose an SMTP server that can scale with your business needs, supporting increased email volumes.
Data Analytics: What does the server do with the data collected? Select an SMTP service offering detailed reports and analytics to track the performance of your email campaigns.
Security Standards: Does the server have a solid record of protecting data and remaining secure? Prioritize servers with encryption protocols (TLS/SSL) to secure your email communication, and check for additional security features like authentication and IP management.
Keep in mind, too, that some web hosting providers offer their own SMTP services, so you may want to check if your hosting plan includes this feature.
7 Best SMTP Servers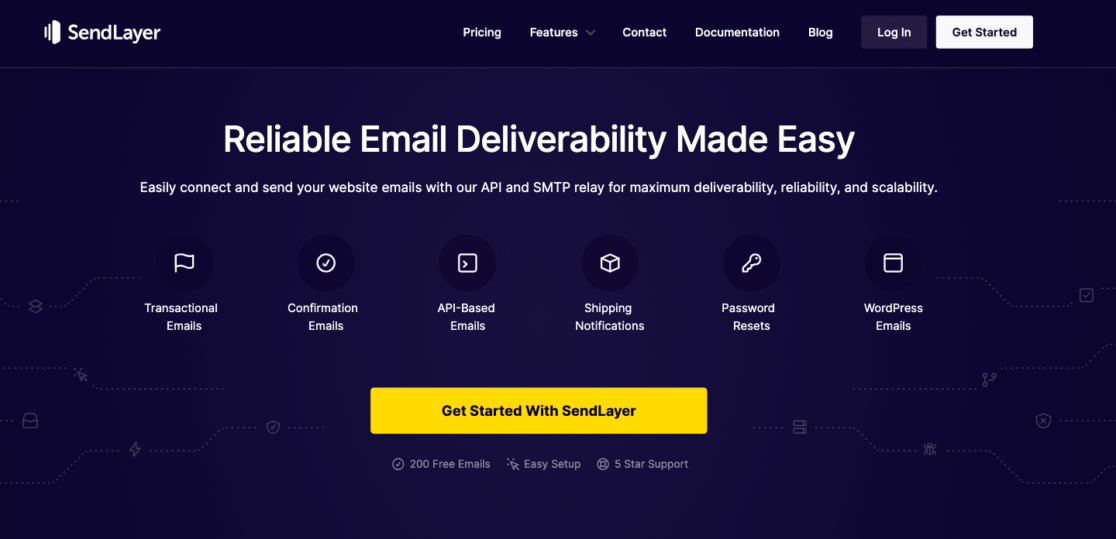 Starting off our list of recommended SMTP servers, SendLayer is a comprehensive email delivery platform that offers API and SMTP relay services, ensuring optimal deliverability, reliability, and scalability for various email types.
SendLayer seamlessly integrates with multiple platforms, including WordPress and WP Mail SMTP, and provides ideal features such as detailed analytics and industry-leading support.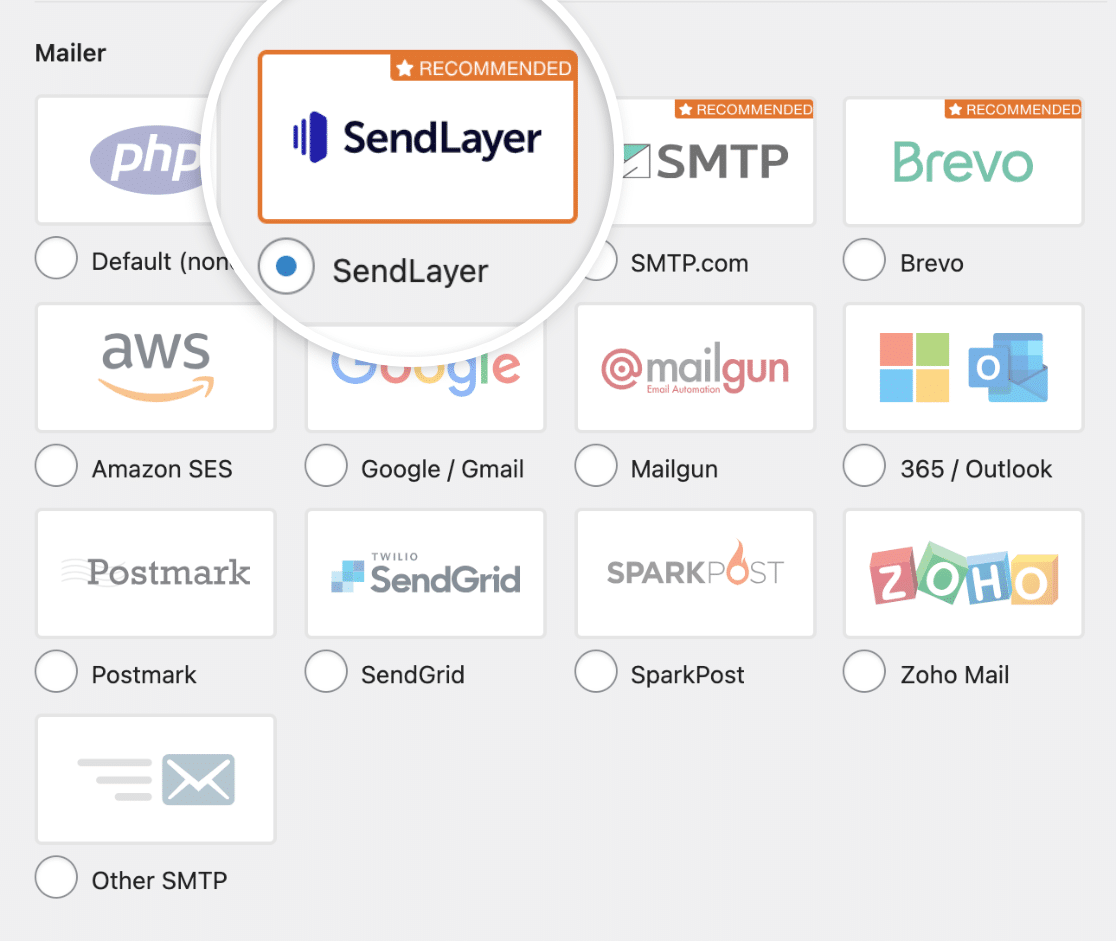 Overall, SendLayer is a great option for an SMTP server, and it offers a versatile and feature-rich solution for secure email communication.
Features We Love:
Deliverability: SendLayer boasts excellent deliverability to ensure emails reach the inbox consistently.
Easy Integration: Quick and easy setup offered with detailed documentation.
Scalability: SendLayer has a  powerful sending infrastructure for the instant delivery of transactional emails.
Logs and Analytics: Detailed email logs and open/click analytics are available on the dashboard. You can also track engagement on individual emails and manage mailing lists.
Webhooks and Credentials: Event-based webhooks for important notifications are available. SendLayer also supports both SMTP and API-based email relaying and offers multiple SMTP and API credentials for different domains.
Security: Two-factor authentication options for secured accounts. And create a simple suppression list to manage unwanted email addresses.
Price: SendLayer's Starter Plan for comes in at $5 per month, billed annually.
2. Brevo (formerly Sendinblue)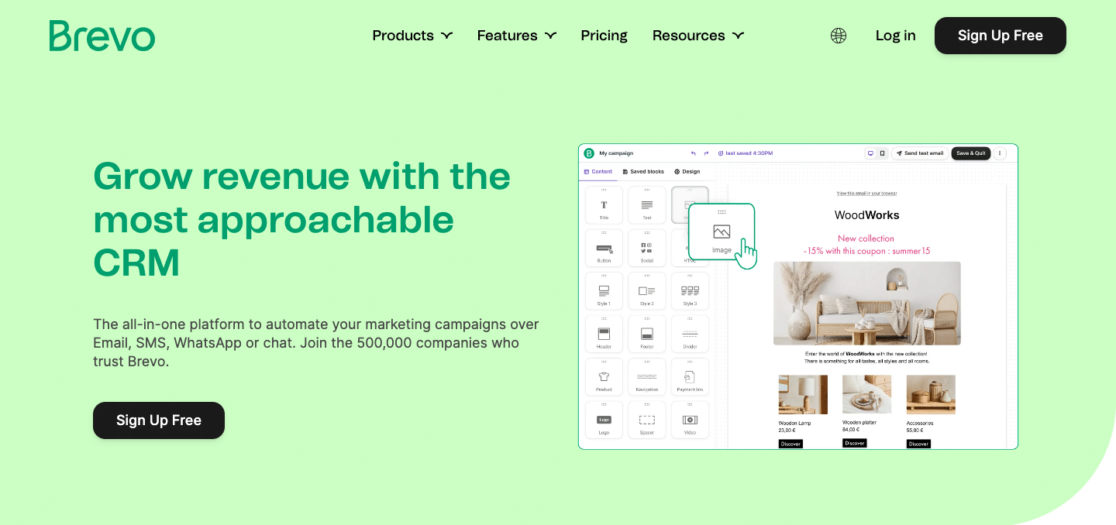 Next up, Brevo is a versatile platform that provides a comprehensive suite of tools for customer engagement, encompassing marketing and sales platforms, transactional emails, and various communication and management features.
Plus, Brevo offers extensive tools for analyzing campaign results, tracking deals, and meeting sales targets, making it a comprehensive solution for businesses seeking effective customer communication and growth.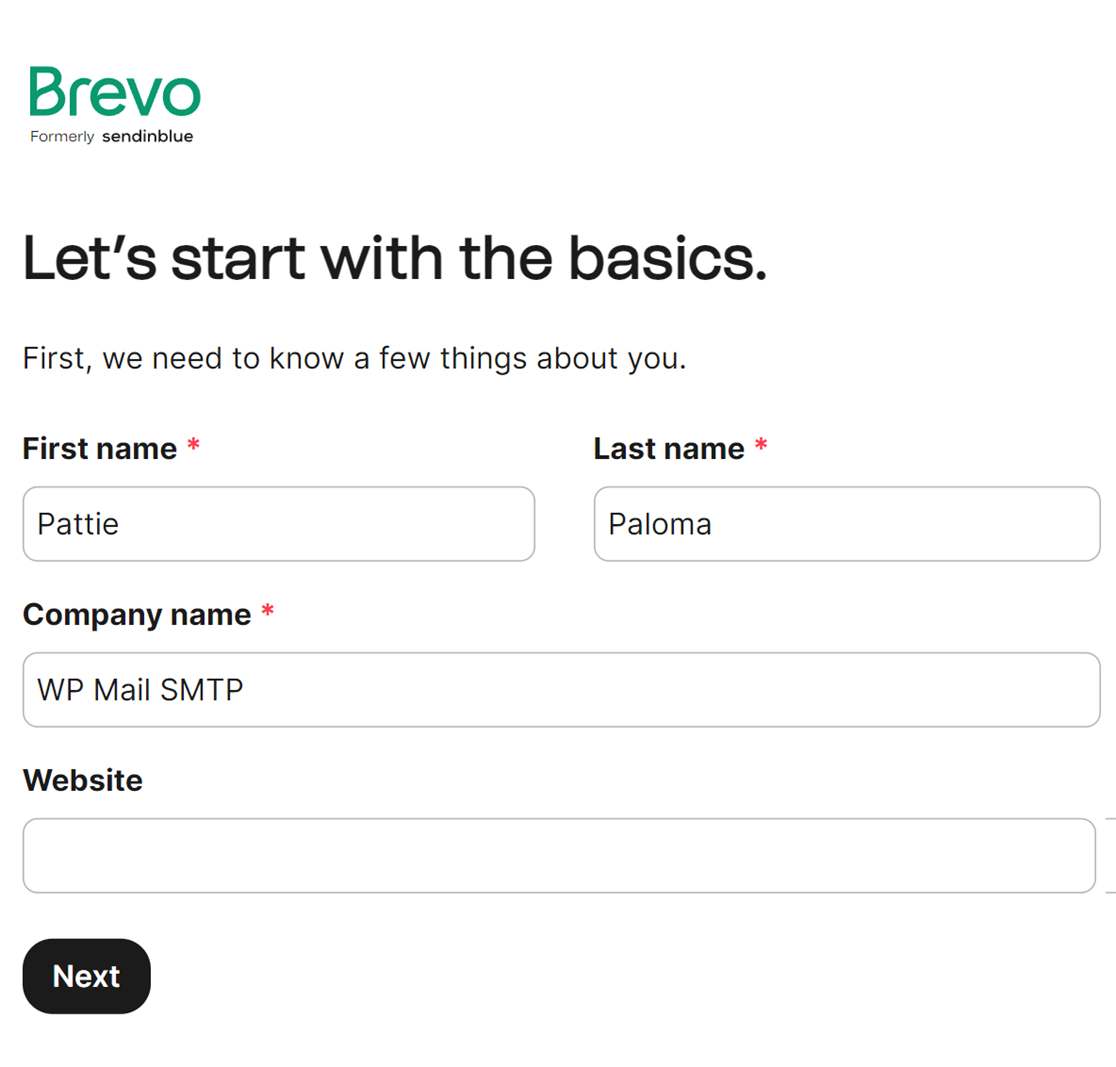 But it has to be the email API and optimal server design that lands Brevo on our list of recommended SMTP servers.
Features We Love:
Email API: Triggers emails straight to the inbox with a 99% delivery rate.
Deliverability: Brevo's servers are designed for optimal deliverability.
Email Design: Offers a drag-and-drop editor for creating stunning emails without graphic design skills.
Automation: Drives impact with advanced segmentation, supporting scalable growth.
List Growth: You can collect email addresses with landing pages and signup forms. And plans are based on email sending volume, not the number of contacts.
Results Analysis: Tools offered for analyzing campaign results. Brevo also facilitates the tracking of deals and staying on top of sales targets.
Price: While Brevo offers a free plan, upgraded plans start at $25 per month.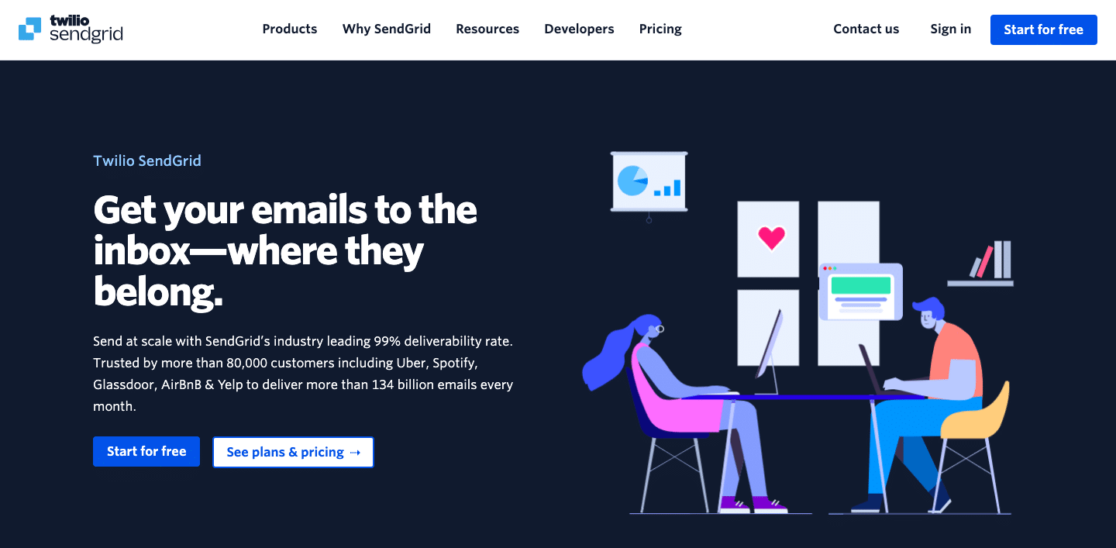 SendGrid, renowned for its industry-leading 99% deliverability rate, is a highly trusted email delivery platform embraced by more than 80,000 customers, including major brands such as Uber, Spotify, Glassdoor, Airbnb, and Yelp.
And with a remarkable monthly delivery volume exceeding 134 billion emails, SendGrid stands out for its reliability and scalability.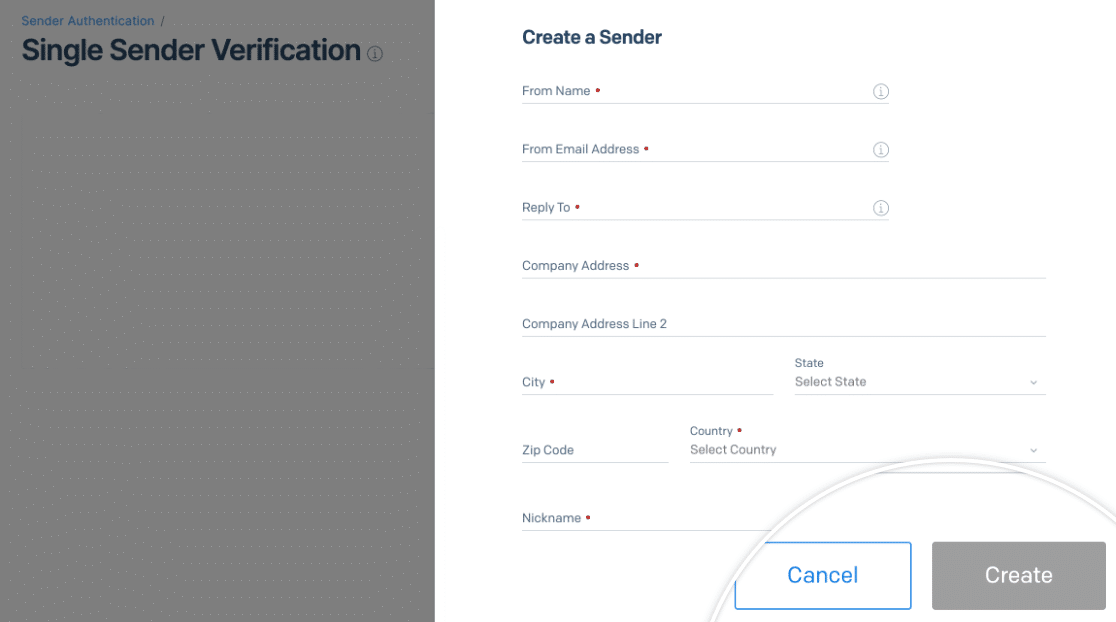 The platform offers seamless integration through its Email API, ensuring dependable inbox delivery within minutes, and it collaborates seamlessly with various partners and major platforms.
As a whole, we consider SendGrid to be an incredibly valuable resource for enhancing email programs.
Features We Love:
Easy Integration: Integration possible in minutes with an email API for reliable inbox delivery. Plus, seamless integration with partners and major platforms.
Email Statistics: Comprehensive analytics offered for informed, data-based decisions.
Deliverability: Utilizes globally distributed, cloud-based architecture. Cloud-based SMTP service for quick integration via relay or API.
Security Measures: SPF records, custom DKIM, feedback loops, and dedicated IP addresses are all part of the security measures. Plus, automated queue handling and throttle threat detection.
Price: SendGrid does offer a free version, with paid plans starting at $19.95 per month.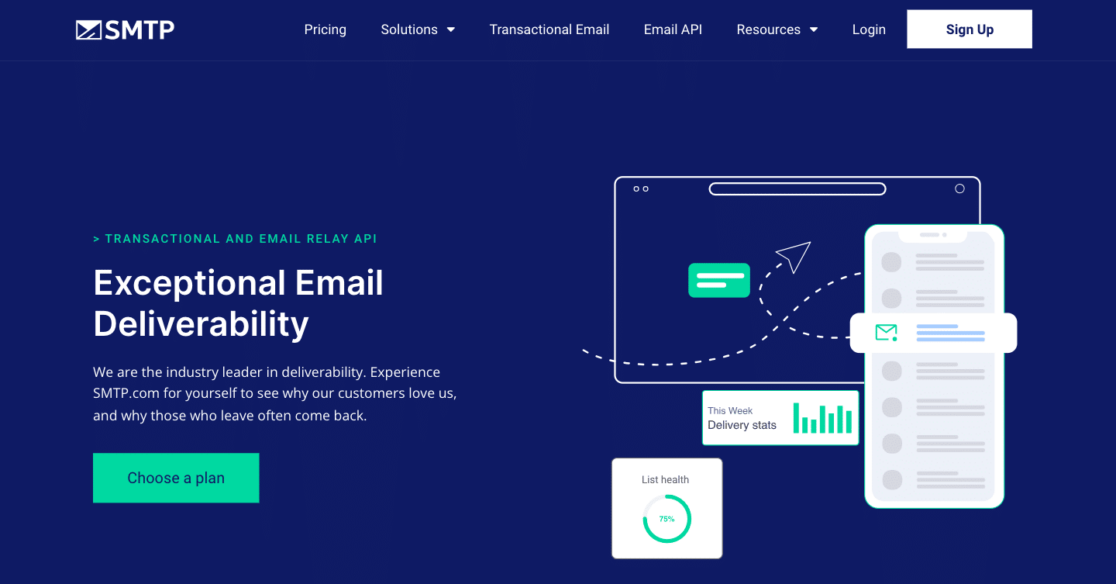 Securing the fourth slot on our list, SMTP stands out as a comprehensive solution for businesses' email delivery needs, offering reliability, speed, and special features like Reputation Defender and Managed Migration.
Features We Love:
Quick Integration: The easy-to-use email API offers a quick setup in 5 minutes or less.
Email Delivery Suite: A suite of solutions makes SMTP a reliable email delivery platform for over 23 years. Customers typically experience a 60% increase in delivery rates and 3x ROI after migrating.
Reputation Defender: A proprietary service that proactively protects IP reputation by removing problematic addresses from sends.
Managed Migration Service: Experienced migration team available for smooth transitions. Offers migration templates, API mapping, and seamless moves from other providers.
Price: Plans for SMTP.com start at $25 per month.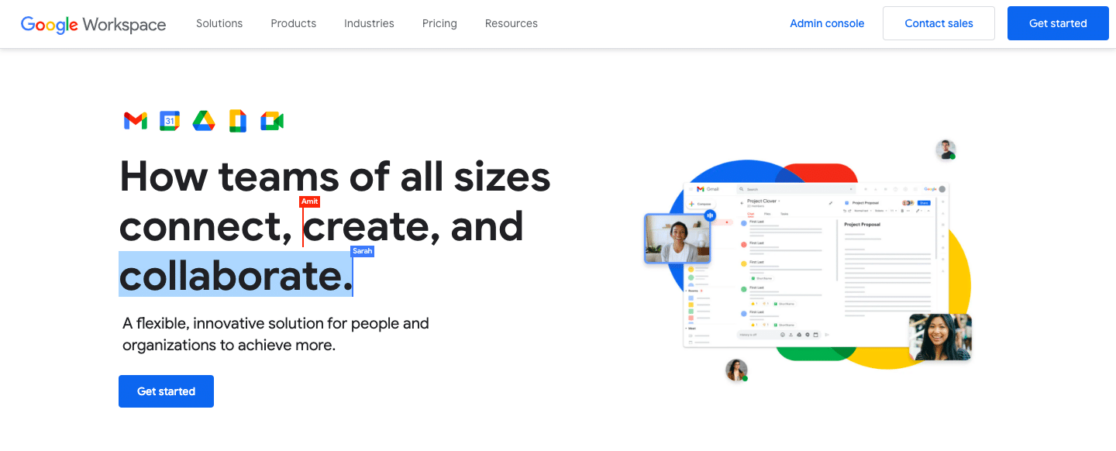 Next on our list, Google Workspace is a complete and secure option for an SMTP server, offering a range of collaborative features, enhanced by Duet AI, and backed by robust security measures.
Features We Love:
Seamless Integration: Google Workspace provides a seamless integration of email services with other essential business tools, ensuring a unified and efficient workflow.
App Compatibility: Gmail, a part of Google Workspace, is a widely used and trusted email service, ensuring compatibility and familiarity for users.
Global Scale Protection: With global-scale protection against phishing, malware, ransomware, and supply chain attacks, Google Workspace provides robust security without the need for additional add-ons.
Duet AI Enhancements: The introduction of Duet AI enhances productivity and creativity, acting as a valuable collaborator, making it a unique and advanced choice for email services.
Price: The Business Starter plan offered by Google comes in at $6 per month for a one-year commitment.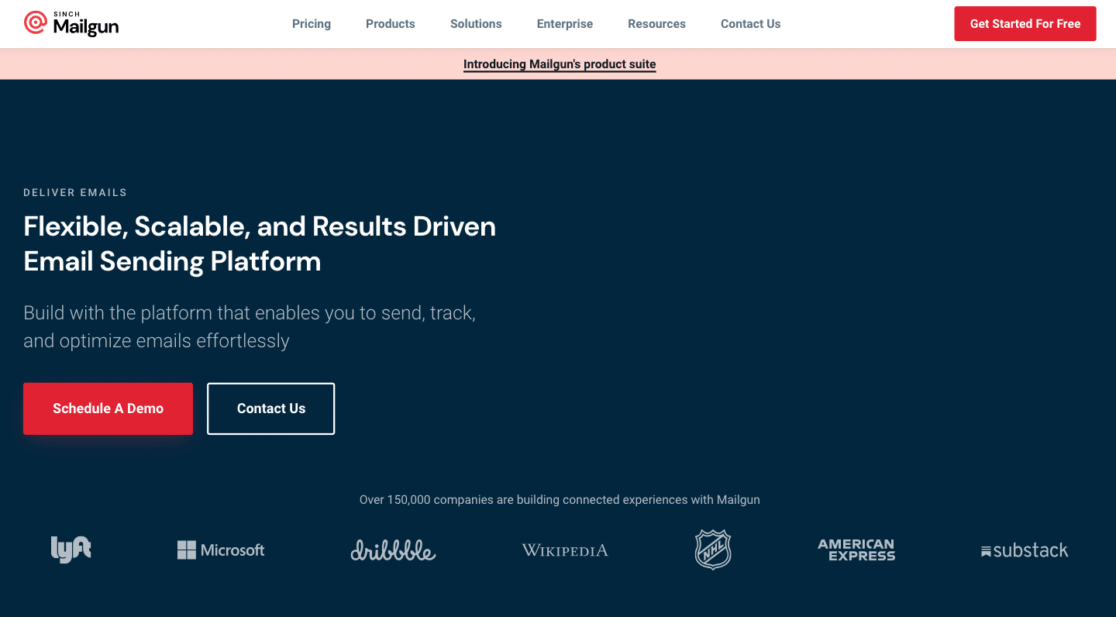 Mailgun is another great option for your SMTP server, as it offers a reliable, scalable, and results-driven email sending platform.
With customizable solutions and a focus on optimization and validation, Mailgun stands out as a trustworthy provider for businesses of all sizes.
Features We Love:
Seamless integration into systems.
Boasts industry-leading reliability, compliance, and speed.
Reliable Scalability: Mailgun is known for compliance and reliability. The platform handles sending thousands to millions of emails, effortlessly.
Effortless Performance (Mailgun Optimize): Insight and expertise for high-ROI email programs offered.
Price: Mailgun plans start at $35 per month.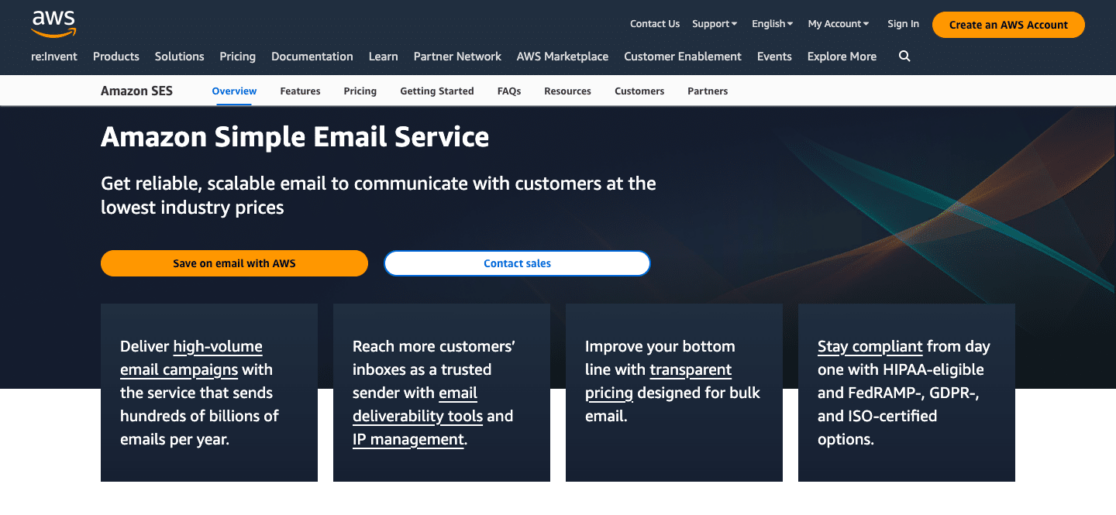 Rounding out our list, Amazon SES is a reliable, scalable cloud-based email service trusted by companies like Amazon, Netflix, Duolingo, and Reddit.
Amazon SES supports various deployments, including dedicated, shared, or owned IP addresses, and the platform as a whole offers an incredible selection of tools and features.
Features We Love:
Deliverability: Amazon offers tools and IP management to enhance email deliverability, and helps reach more customers' inboxes as a trusted sender.
Reliability and Scalability: Sends hundreds of billions of emails annually, and is suitable for delivering high-volume email campaigns.
Data Analytics: Offers eports on sender statistics and email deliverability tools.
Bulk Email Communications and Tracking: Enables you to deliver messages, notifications, and announcements to large groups with tracking capabilities.
Price: Amazon does offer a free tier, while upgraded pricing starts at $0.10 per 1,000 emails.
Which SMTP Server is the Best Choice?
So, which SMTP server is right for you?
Like we said, the SMTP server that is the best choice really depends on your needs. If you need to be frugal with your selection, then you might opt for a platform that offers a free version.
Or, you could utilize a combination of more than one. Some applications and services allow you to configure multiple SMTP servers for sending emails, which can be useful for load balancing or fallback mechanisms.
Be sure to explore all of our helpful tutorials and resources to guide you through using an SMTP server.
FAQs About SMTP Servers
These are some of the most common questions we receive about using SMTP servers.
What is SMTP?
SMTP, or Simple Mail Transfer Protocol, is a standard communication protocol used for the transmission of email over the internet. It is an essential part of the email infrastructure, enabling the seamless transfer of messages across different mail systems.
How does SMTP work?
SMTP works by facilitating the transfer of emails from a sender's email client to a recipient's email server.  It defines the rules by which email messages are sent and received, facilitating the exchange between email servers.
SMTP operates on a client-server model, where the sending server communicates with the recipient server to handle the delivery of emails.
What is the role of an SMTP server?
The SMTP server plays a crucial role in email communication by facilitating the sending of emails from the sender's email client to the recipient's email server.
The SMTP server verifies the sender's credentials, manages the outgoing email queue, and communicates with the recipient server to ensure the proper delivery of the email. Essentially, it acts as the post office of the internet, overseeing the reliable and secure transfer of electronic mail.
Do I need an SMTP server to send emails from my website?
While it's not strictly necessary, using an SMTP server is recommended for reliable email delivery, and many web applications and content management systems use SMTP servers to send emails.
Utilizing an SMTP server helps in managing email authentication, delivery, and handling potential issues, making it an essential component for reliable email communication from your website.
Can I use a free SMTP server for my business emails?
Some email providers offer free SMTP servers, but for business emails, it's often recommended to use a dedicated and reliable SMTP service to ensure better deliverability and support.
Free SMTP servers may have restrictions on the number of emails you can send or lack essential features for business communication, while paid SMTP services often offer better reliability, customer support, and enhanced security features.
Next, Check Out These Essential Plugins
Now that you have your SMTP server in mind, consider these additional plugins to help elevate your emailing strategy.
Ready to fix your emails? Get started today with the best WordPress SMTP plugin. If you don't have the time to fix your emails, you can get full White Glove Setup assistance as an extra purchase, and there's a 14-day money-back guarantee for all paid plans.