Looking for a way to set up hCaptcha on WordPress forms?
Having any Captcha tool enabled on your WordPress contact forms helps you fight spam and fake registrations.
So in this tutorial, we'll walk you through how to set up hCaptcha on WordPress forms (easily).
Fix Your Contact Form Emails Now
What Is hCaptcha?
hCaptcha is a popular free CAPTCHA service. It's an anti-spam tool that protects websites from hackers and spammers. And it's the best Google reCAPTCHA alternative.
The hCaptcha privacy policy is compatible with recent regulations such as GDPR and CCPA. So if you're concerned about your site's privacy, then hCaptcha might be the right anti-spam tool for your forms.
How To Set Up hCaptcha on WordPress Forms
Setting up hCaptcha on WordPress forms is super easy. Here's a table of contents for the tutorial:
So let's get started!
Step 1: Install and Activate WPForms
The first thing you'll need to do is download and activate the WPForms plugin.
For this tutorial, you can use WPForms Lite or WPForms Pro.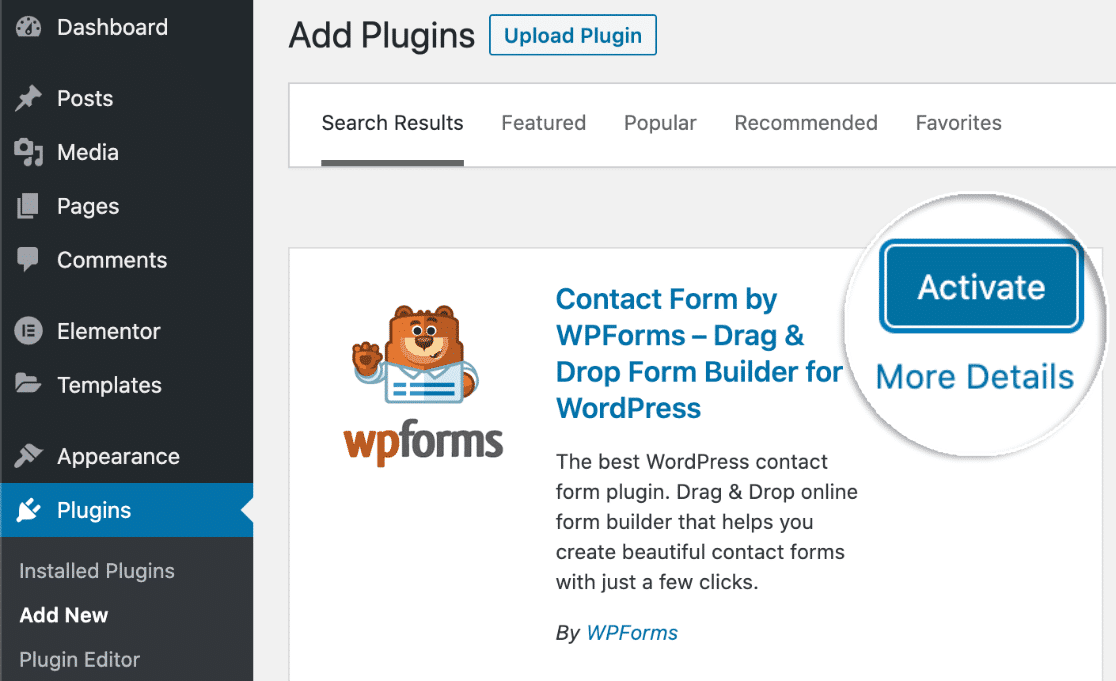 If you're new to WordPress, here's a step-by-step guide on how to install a WordPress plugin to help you get started.
Next, you'll need to select the hCaptcha option from WPForms' settings.
To do that, head over to your WordPress dashboard and click WPForms » Settings.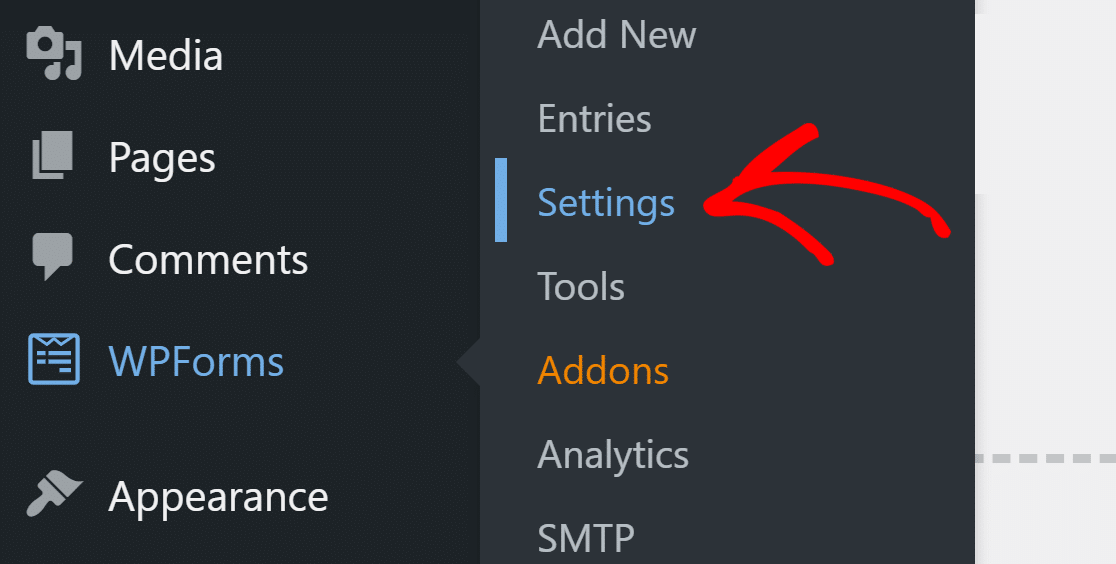 This will open your WPForms settings page. You can see multiple tab options at the top of the settings page. Click on the CAPTCHA tab from the tabs across the top.

You'll see two 2 popular CAPTCHA services, hCaptcha, and reCAPTCHA. Select the hCaptcha option.

As soon as you select the hCaptcha option, you'll see settings to add hCaptcha Site and Secret Key.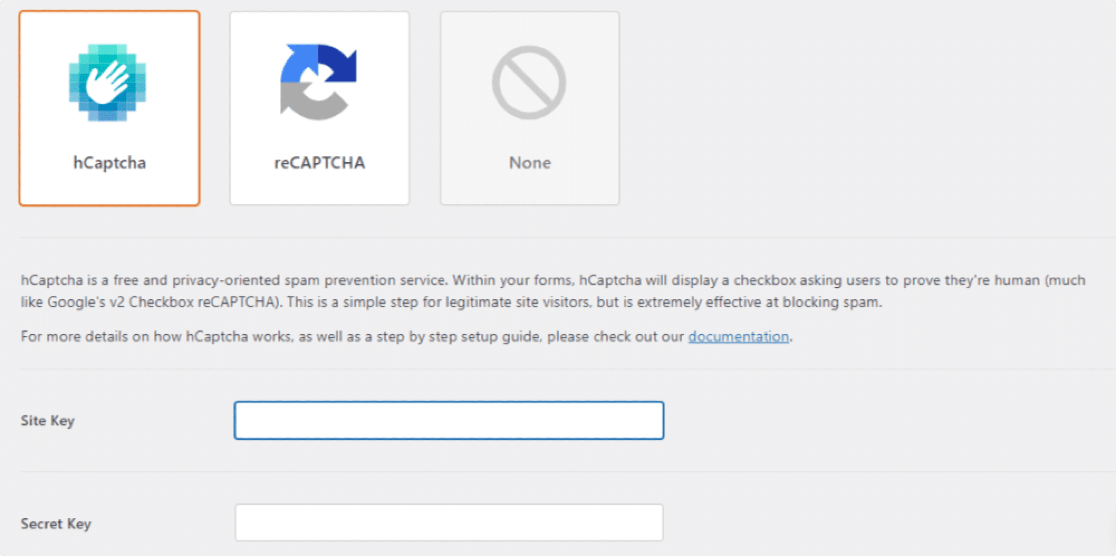 To enable hCaptcha on your WordPress forms, first, you need to generate keys in the hCaptcha account and connect it with WPForms.
Step 3: Set Up hCaptcha Account
To get hCaptcha keys, open the official hCaptcha site in a new tab and remember to keep open WPForms in another tab.
Click the Signup button to create the hCaptcha account.

Click the option under Add hCaptcha to your service (free) to use the free hCaptcha plan.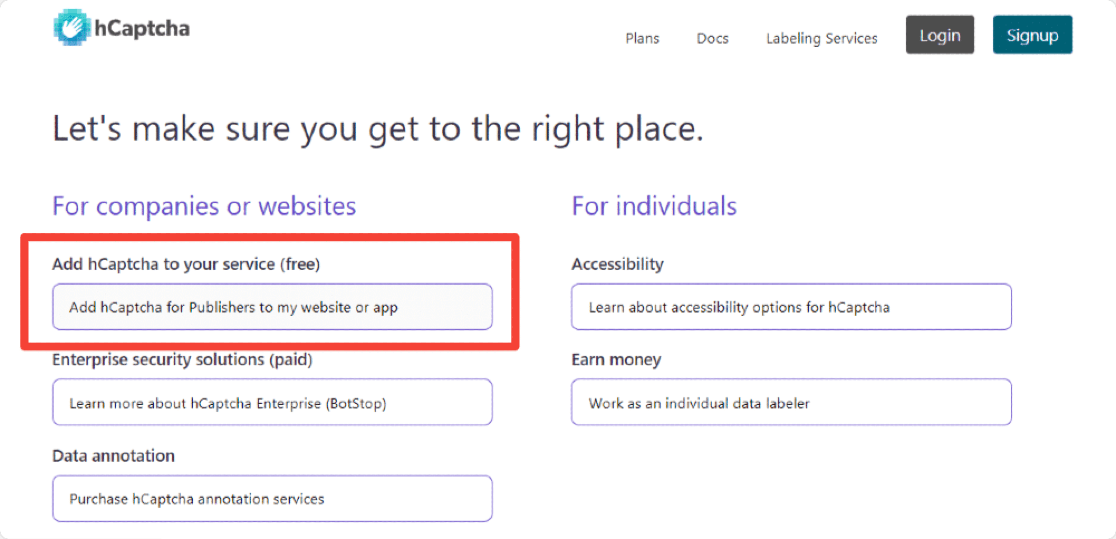 hCaptcha provides you with multiple signing-up methods. You either sign up directly with your Github, Google account or submit custom details.
Step 4: Generate hCaptcha Keys
Once your account sign-up process is done, you'll be redirected to your hCaptcha account. Now on your hCaptcha account page, click the New Site button at the top right.

This will open a page where you need to add your site details.
The first section you'll see here is the Add New Sitekey section. Here you can add a name to this specific Sitekey, but it's only for your reference and not mandatory to fill out.

Now in the second section, you'll need to define some General Information related to your hCaptcha. You need to add hostnames, choose the difficulty level of the CAPTCHA, and set captchas filters based on audience interest.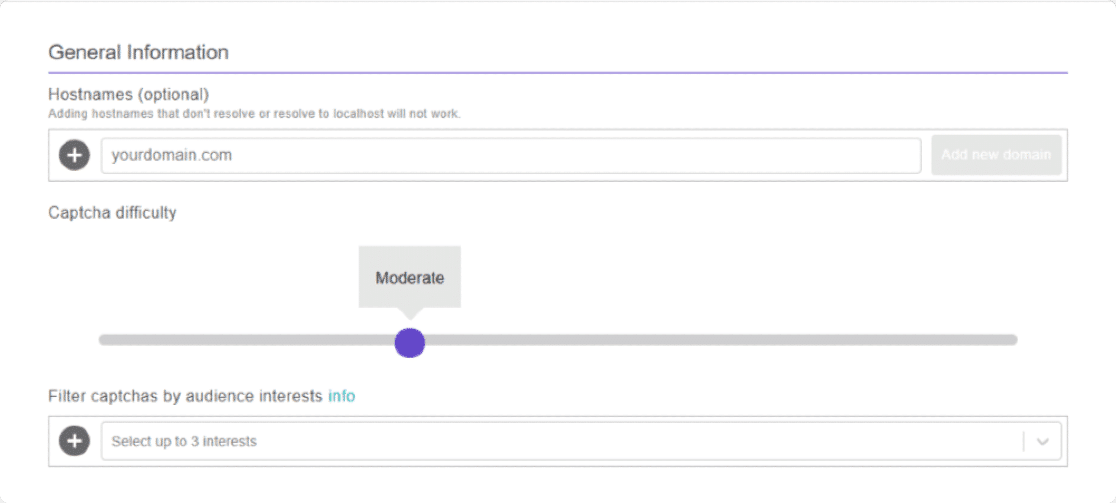 Let's put some light around hCaptcha difficulty level options; this will help you decide which difficulty option to choose for your website:
Easy: This is the easiest hCaptcha option. It displays the standard "easy" challenges to validate the users.
Moderate: This will show a slightly more difficult challenge than the Easy option.
Difficult: As the name says, this option will display more difficult challenge types than Easy and Moderate.
Always On: This option forces every user to solve a 'difficult' CAPTCHA before submitting a form. This option might affect your website's user experience but is the most secure method.
Once you select the hCaptcha difficulty level next, you can add filters to your captchas based on your website niche.

After configuring all form settings, click the Save button on the upper right corner of the page.

Clicking the save button will redirect you to the Sitekey's settings page. Here you'll find your Captcha SiteKeys.
Click the Settings button to get your Sitekey.

You can view the Sitekey for your website under the Sitekey section, copy your entire Sitekey.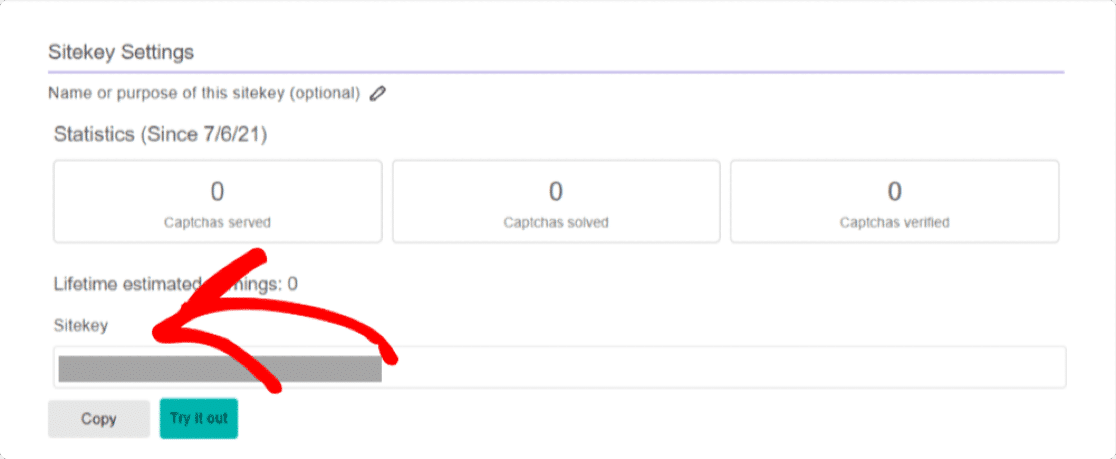 Now get back to the WPForms tab we kept open and paste this Sitekey into your WPForms settings under the Site Key setting.

Next, we need to add the Secret Key. The secret key is located in the Settings Tab of your hCaptcha account. Close the Sitekey settings page by clicking on the Save button.

Go to the Settings tab, copy your secret key and paste it into WPForms.

Once you've added your keys, you can also adjust other additional hCaptcha settings underneath.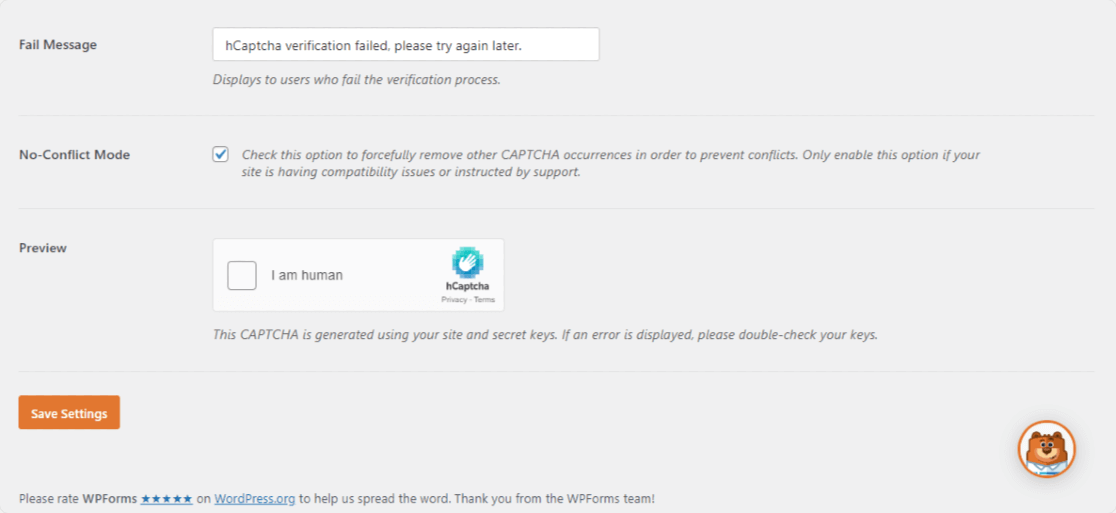 Step 5: Create a New Form
Now that you've configured all hCaptcha settings, it's time to enable it in your online contact forms.
For that, we need to create a new form using the WPForms plugin.
Go to WPForms » Add New to create a new form.
WPForms comes with a huge form template library that consists of several pre-built form templates such as:
Surveys and polls form template
Order form template
and many more.
The major benefit of using a pre-built template is that you don't have to build your form from scratch.
We'll choose the Simple Contact Form template.
Once you select the temple, WPForms form builder setup will open. You can see form on the right and a drag and drop builder on the left.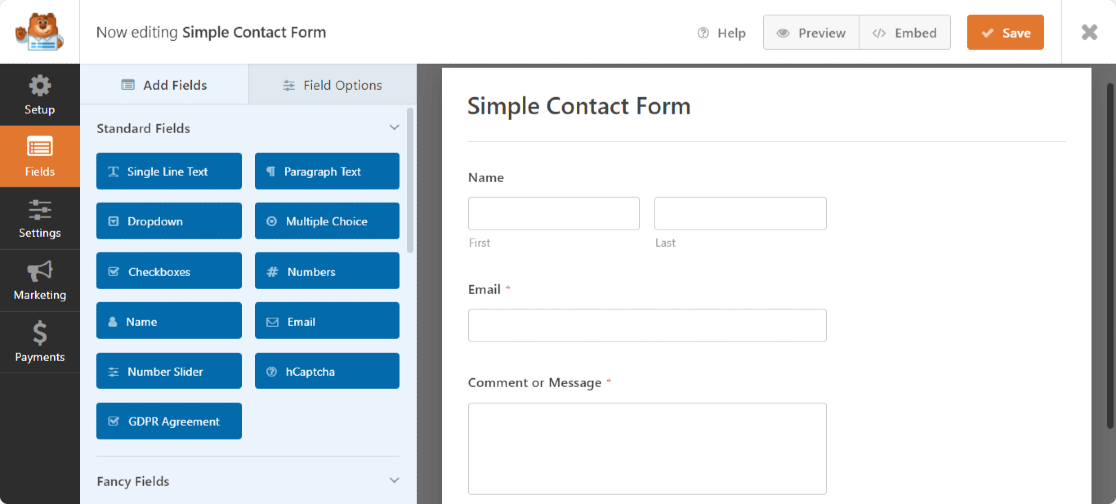 You can add additional fields to your online form by dragging and dropping them from left to right.
Step 6: Add hCaptcha Field on WordPress Form
Our online form is ready; it's time to secure it with hCaptcha.
To add the hCaptcha field to your form, on the left side of the form builder, under the Standard Fields section, click on the hCaptcha field.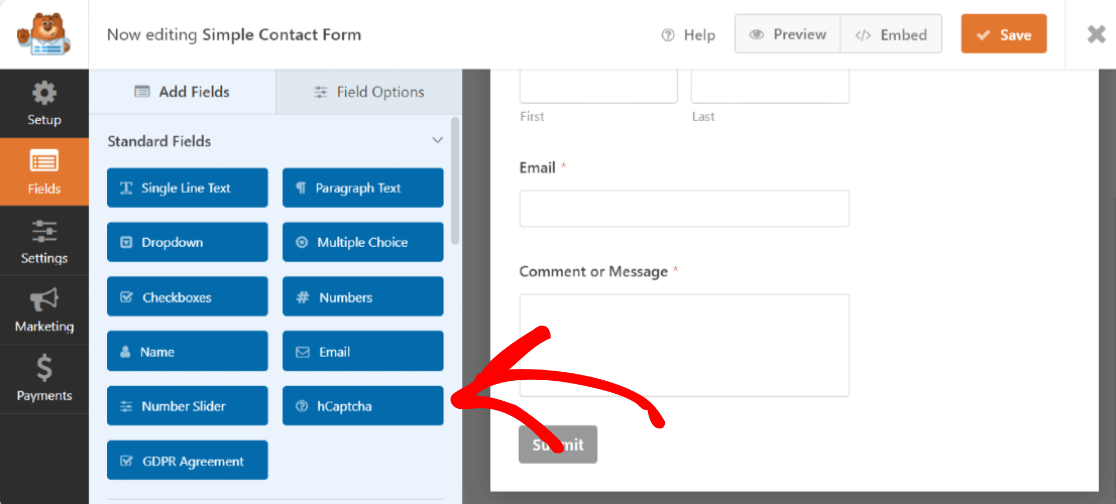 As soon as you click the hCaptcha field, a popup will be displayed to confirm that you've turned on hCaptcha for this form. Click OK.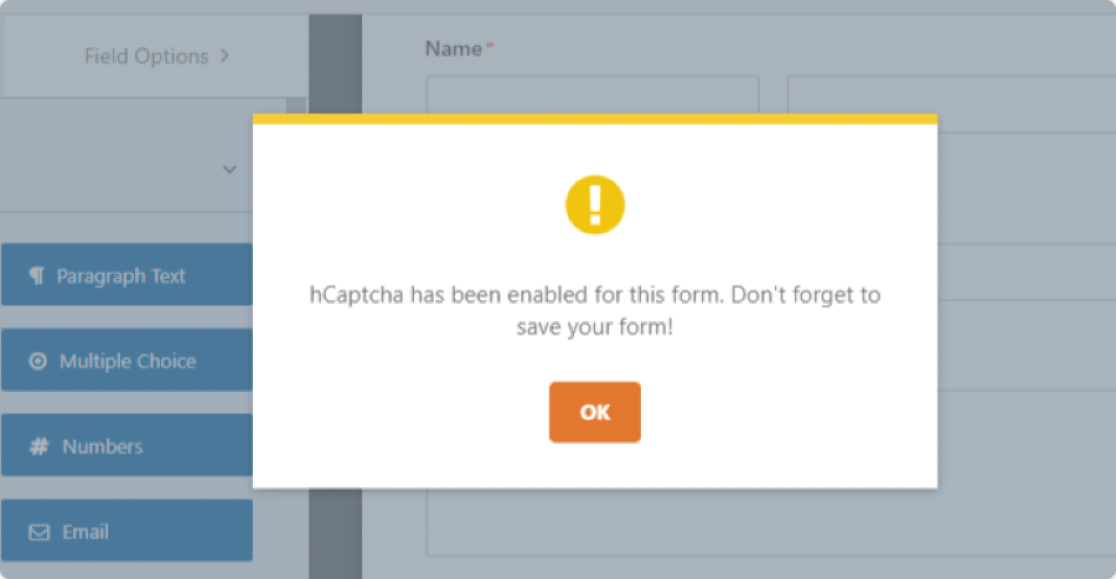 The hCaptcha logo on the top-right of your form will confirm hCaptcha service is activated on your form.

This logo is only to remind you that the hCaptcha is active on your form and not displayed on your published form.
Click on the Save button and add WPForms to a page in WordPress.
Step 7: Test Your New hCaptcha Field
Now you need to make sure that hCaptcha works properly with your contact form or not.
To test hCaptcha, open the contact form on your site's front-end, fill in your form entries and check the hCaptcha box. Depending on the difficulty level you chose, you may see a challenge pop up.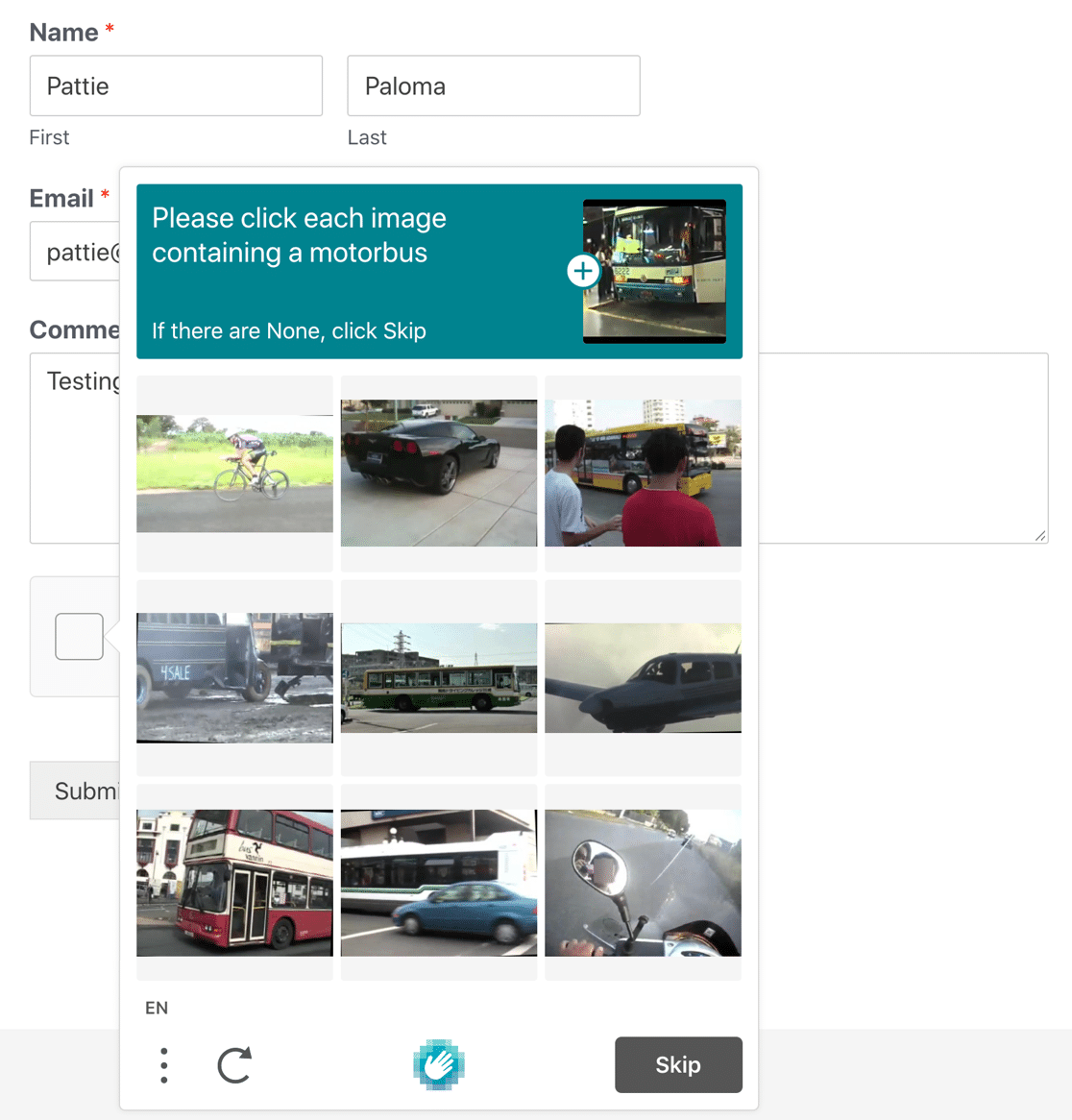 And that's it! Now you know how to use hCaptcha on WordPress forms.
Note: Remember to test your contact form in another browser or incognito window where you haven't logged in as an admin on your site.
Fix Your Contact Form Emails Now
Next, Add a GDPR Agreement to Online Forms
And there you've it! This is how simple it's to set up hCaptcha on WordPress forms. We hope this article helps you create more protected and secure online forms for your WordPress websites.
After adding hCaptcha, you might need to add a GDPR agreement to your forms. Check out our step-by-step tutorial on how to add a GDPR agreement to your WordPress forms.
We also have a guide that'll help you out if WPForms is not sending email.
Ready to fix your emails? Get started today with the best WordPress SMTP plugin. WP Mail SMTP Elite includes full White Glove Setup and offers a 14-day money-back guarantee.
If this article helped you out, please follow us on Facebook and Twitter for more WordPress tips and tutorials.